Upon my return from Tanzania, i was greeted in the office by a whole pile of packages, a couple of which were emblazoned with the Sephora logo.
Make up never fails to excite any girl, especially me!!
I noticed the interns nonchalantly hovering around trying to peek at its contents.
In the beginning i was a little perplexed, was this a Chinese New Year gift? A Valentine's Day gift?
After going through my emails my memory was jolted on the occasion behind all the make up spread before us –
Beauty fans can now shop for make up from the comfort of their desk or bed.
How utterly dangerous.
If you're already familiar with buying make up online, you'd know of online beauty store Luxola. It has recently been acquired by Sephora, and rebranded as Sephora.my. So now it's a one-stop online shopping site for the most coveted beauty must-haves from cult brands like Urban Decay, Make Up For Ever, Benefit Cosmetics, and tons more.
I can easily envision many-a-girl buying a lipstick on their lunch break.
If i was the head of IT at any company, i might see an influx of visits to Sephora from the office's IP haha.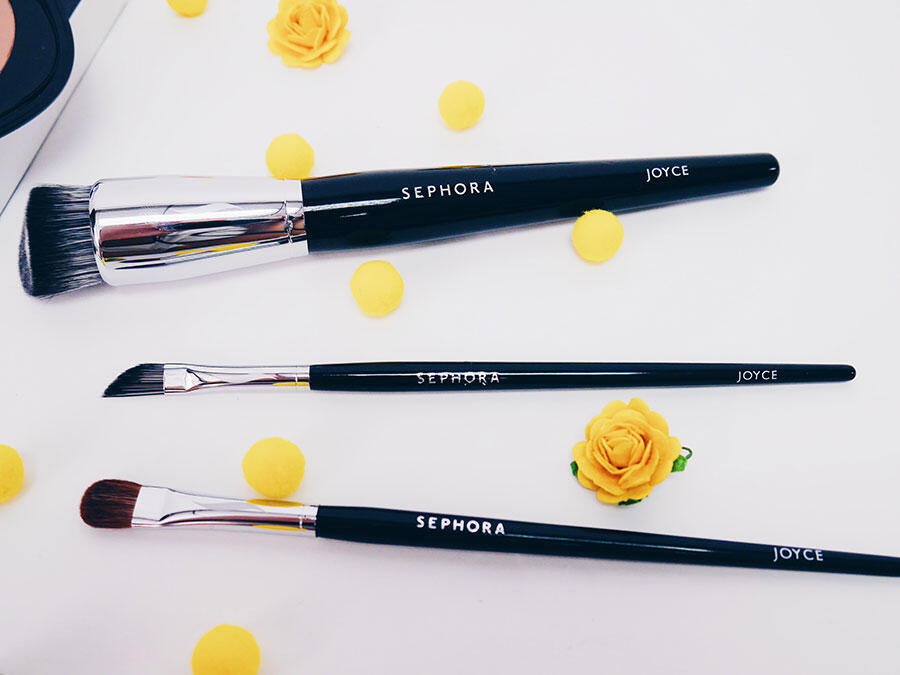 To celebrate Sephora Malaysia going online, the Sephora team kindly sent me personalized make up brushes (SO MUCH LOVE!!!) and a whole bunch of make up they thought i'd like: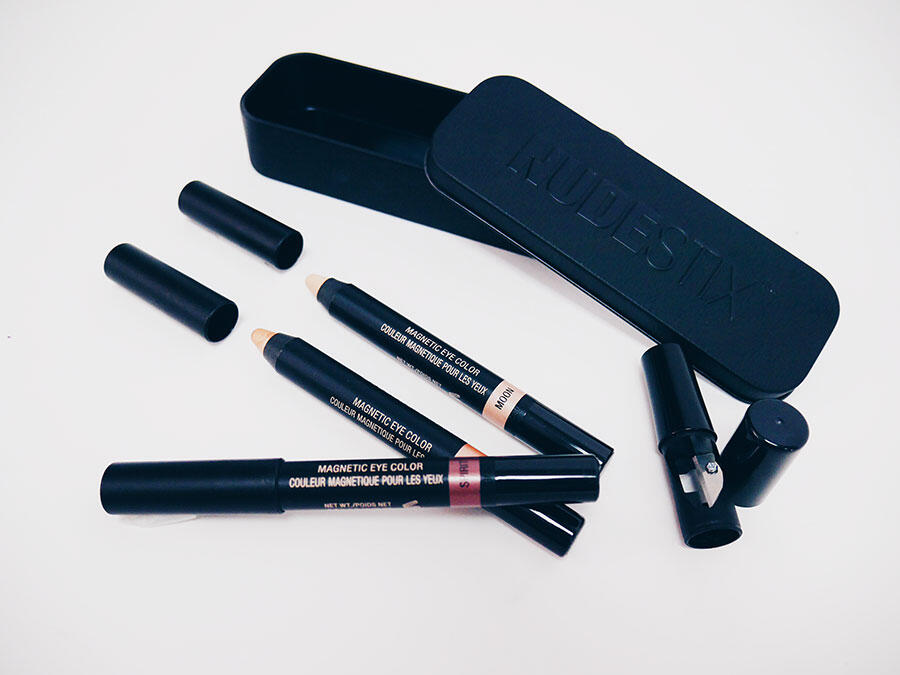 NUDESTIX Magnetic Eye Color Pencil in Moon, Angel and Spirit.
NUDESTIX is a Canadian brand made in Brussels. The long wearing eye shadow pencil provides highlights, intense colour, precise lining and primes lids for all day wear.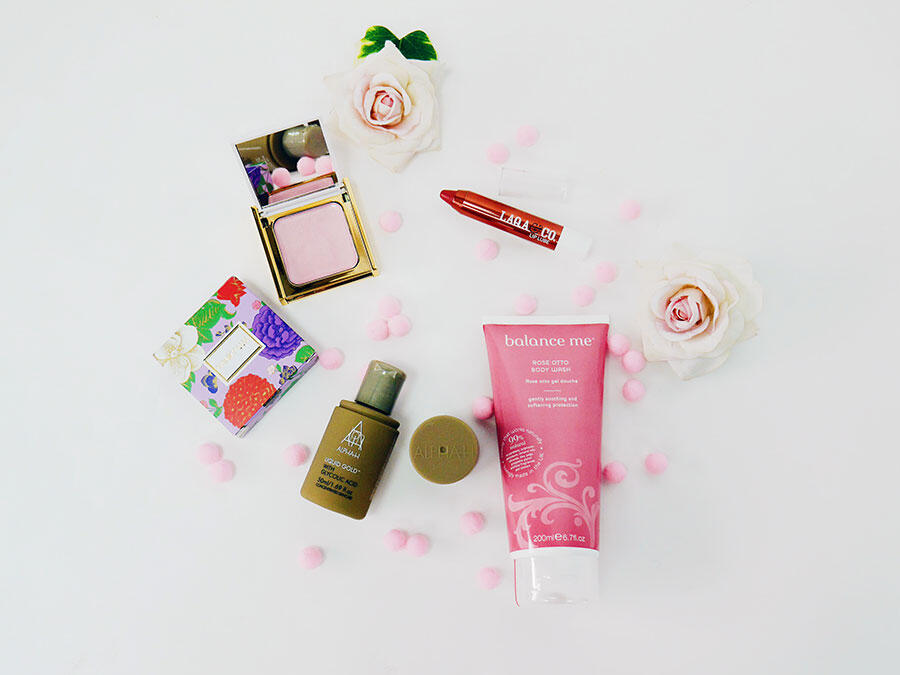 Clockwise from left:
Winky Lux ultra smooth cream in Radiant Pink;
Laqa & Co. Lip Lube Pencil in Gobsmacked;
balance me Rose Otto Body Wash (no parabens, yay!);
ALPHAH Liquid Gold (revitalises skin with silk protein and licorice).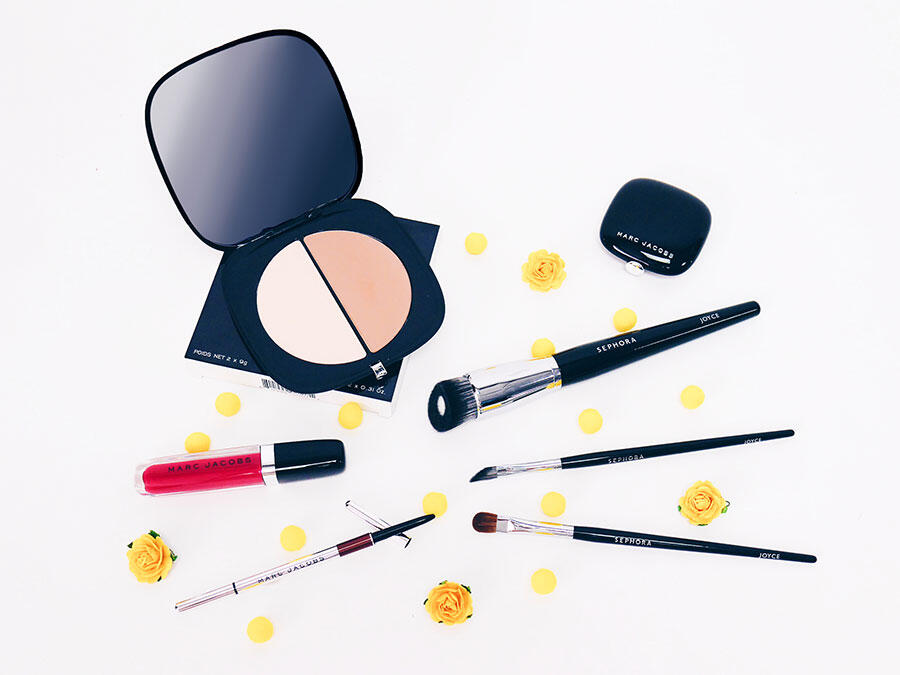 Clockwise from top left:
Marc Jacobs #INSTAMARC Light Filtering Contour Powder;
Marc Jacobs SHAMELESS Bold Blush in Obsessed 204;
Sephora brushes: PRO Ultra-liquid foundation 83, PRO Winged liner 37, PRO Shadow 14;
Marc Jacobs Brow Wow Defining Longwear Pencil in Auburn 10;
Marc Jacobs ENAMOURED Hi-Shine Lip Lacquer in Hot Hot Hot 332.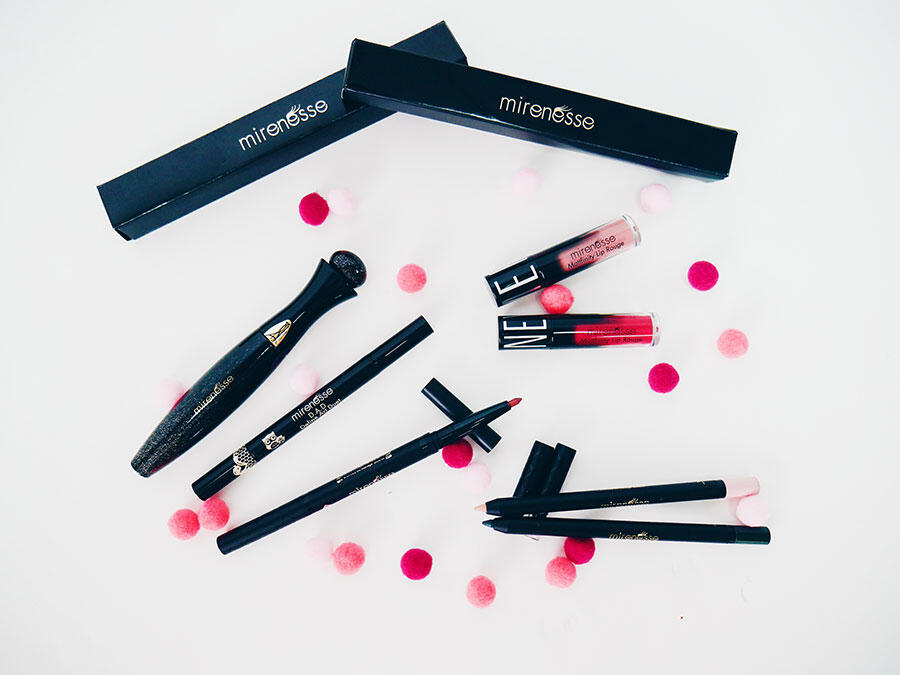 Clockwise from top right:
Mirenesse Mattfinity Lip Rouge in Rome;
Mirenesse Mattfinity Lip Rouge in Sydney;
Mirenesse Forbidden Ink Eye Liner in Orgasm;
Mirenesse Forbidden Ink Eye Liner in Envy;
Mirenesse Auto Lip Liner Duet in Crazy Coco;
Mirenesse Define Art Duet Thick + Thin 24Hr Liquid Eyeliner;
Mirenesse Secret Weapon Supreme 24Hr Mascara.
I'd never heard of Mirenesse before this, but it's certainly got my attention, as the 100% Australian-owned brand is free from parabens, alcohol, mineral oil, PG, SLS petrolatum, synthetic fragrance (which i'm allergic to); and it does not test on animals. Super win for me. Apparently it's a win for others too, having garnered both local and international awards with its innovative anti-ageing products.
+ + + + + + +
Over the next two weeks during Chinese New Year, i tried all the make up and came up with a 10-minute application routine using a handful of my favourites:

The wonders of make up, a confident hand, and a little time.
I swear it only takes me 10 minutes (i don't usually have the luxury of time to apply make up! Sometimes i run out of the house with just eyebrow pencil and eyeliner on. Sometimes… even barefaced. ?)
Read on for Steps 1, 2, 3, etc…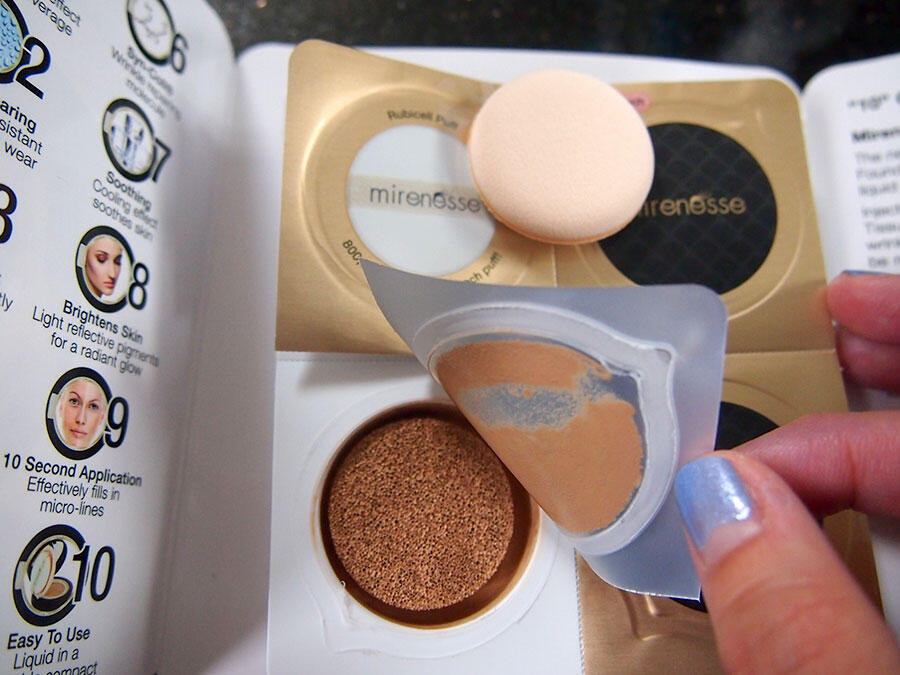 For coverage in this review, i used the Mirenesse "10" Collagen Cushion Compact Airbrush Liquid Powder.
1) I used the Rubicell Puff (non-absorbing and antibacterial) to pick up a small amount of foundation from the liquid-infused cushion compact.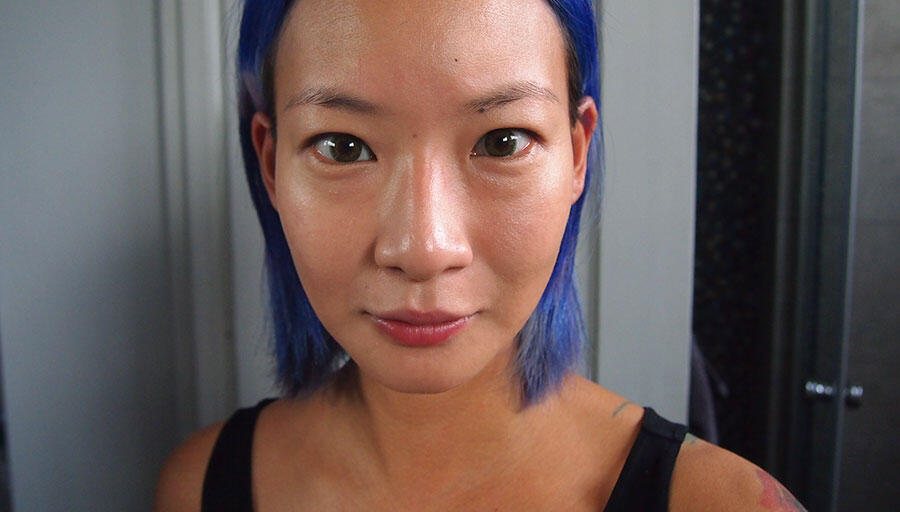 Me with a tad of foundation on, i don't like heavy make up cos of our humid weather!
2) I applied some highlighter [Marc Jacobs #INSTAMARC Light Filtering Contour Powder] on my brow bone just under my eyebrows so they'll pop more. It's okay if i get a bit on my eyebrows too cos… i'm gonna be drawing over it right after anyway.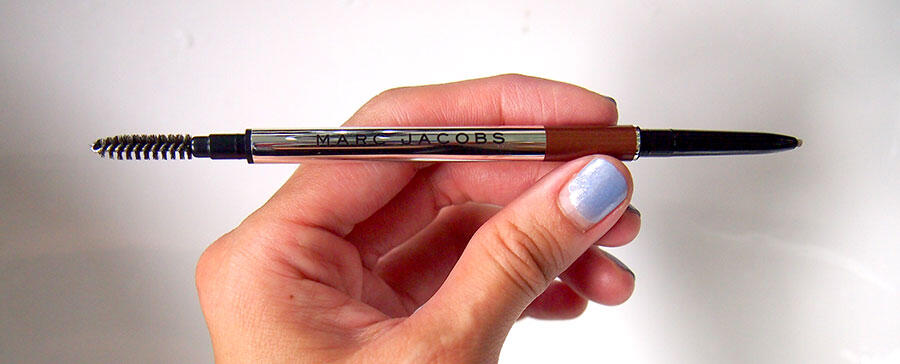 3) I used the Marc Jacobs Brow Wow Defining Longwear Pencil to colour in my eyebrows.
I like that the retractable pencil is so thin, it allows for much more precise drawing/shaping.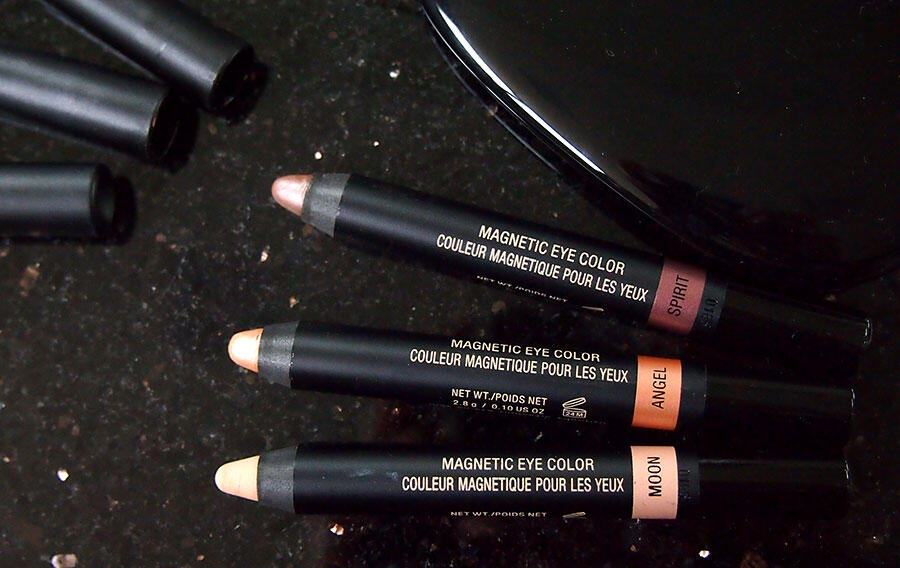 4) After eyebrows, i use NUDESTIX Magnetic Eye Color Pencil in Angel and Spirit.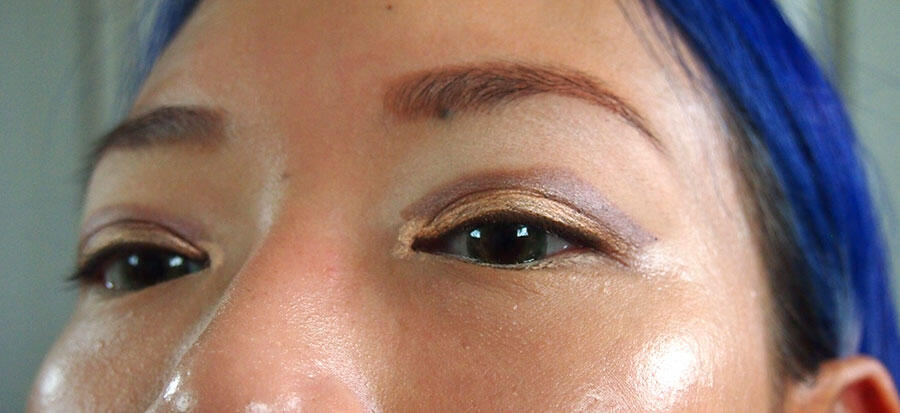 I used the lighter colour (Angel) to line the inner corners or my eyes to make them look bigger, and on my eyelids. Then i use the darker colour (Spirit) to draw simply on my eye crease where my socket kinda goes in. As you can see, i don't bother drawing them too neatly cos I can easily blend them with my fingers right after! They're soft and gliding but last all day despite my oily lids. I like that the trio comes with a sharpener with cover for neat travel.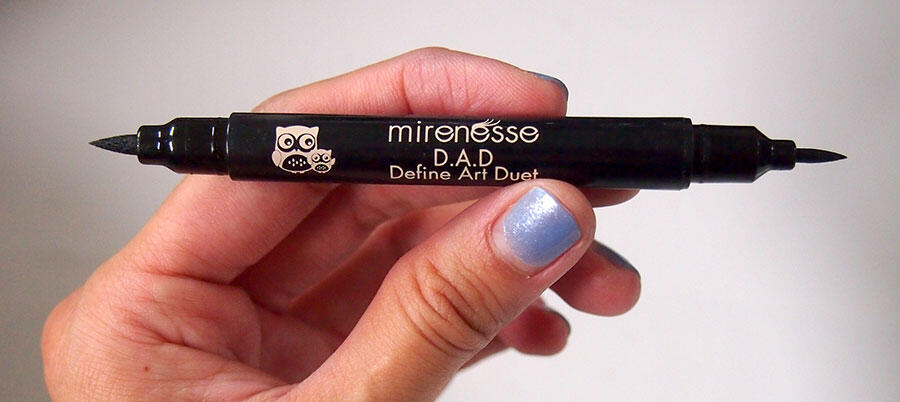 The Mirenesse Define Art Duet Thick + Thin 24Hr Liquid Eyeliner has two ends = clever + fabulous.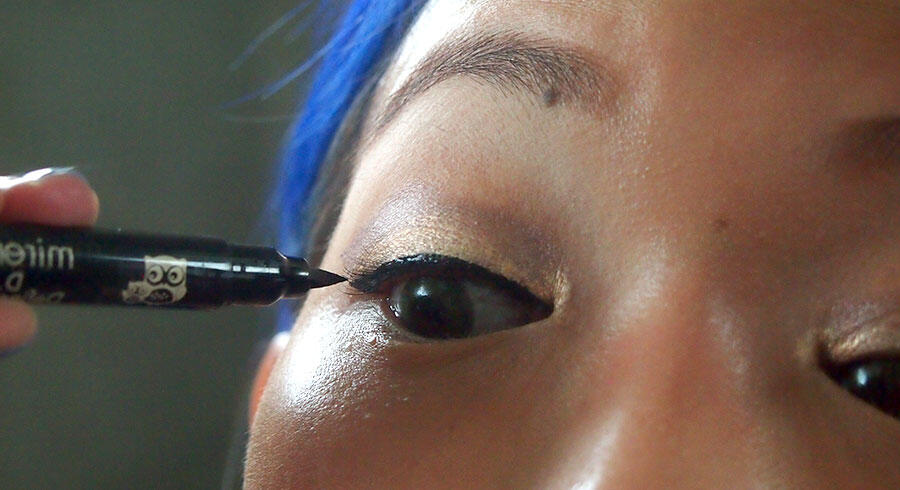 5) I line my upper lash line with the Thick side. (I usually flap my hands to dry them quicker before moving on to my lower lash line, so i won't smudge the top.)
6) I line my lower lash line with Mirenesse Forbidden Ink Eye Liner in Envy (a forest green eye pencil), before drawing a thin black line over it using the Mirenesse Define Art Duet Thick + Thin 24Hr Liquid Eyeliner again.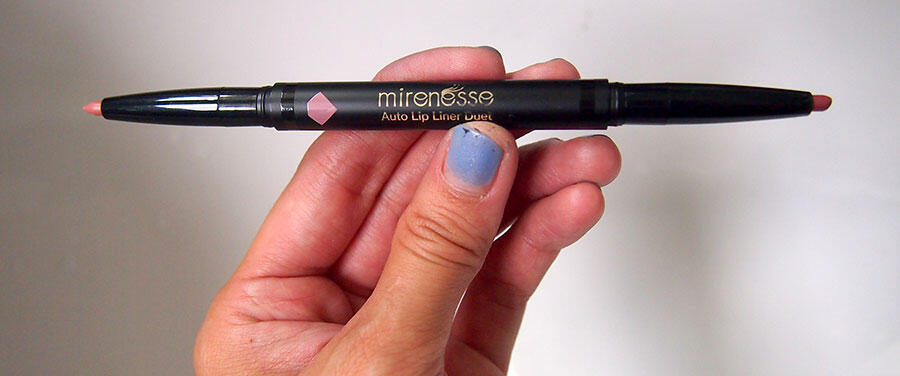 7) I use the Mirenesse Auto Lip Liner Duet in Crazy Coco to line my lips.

I don't usually apply lipliner cos i never found one that's so close to my lip colour… till now!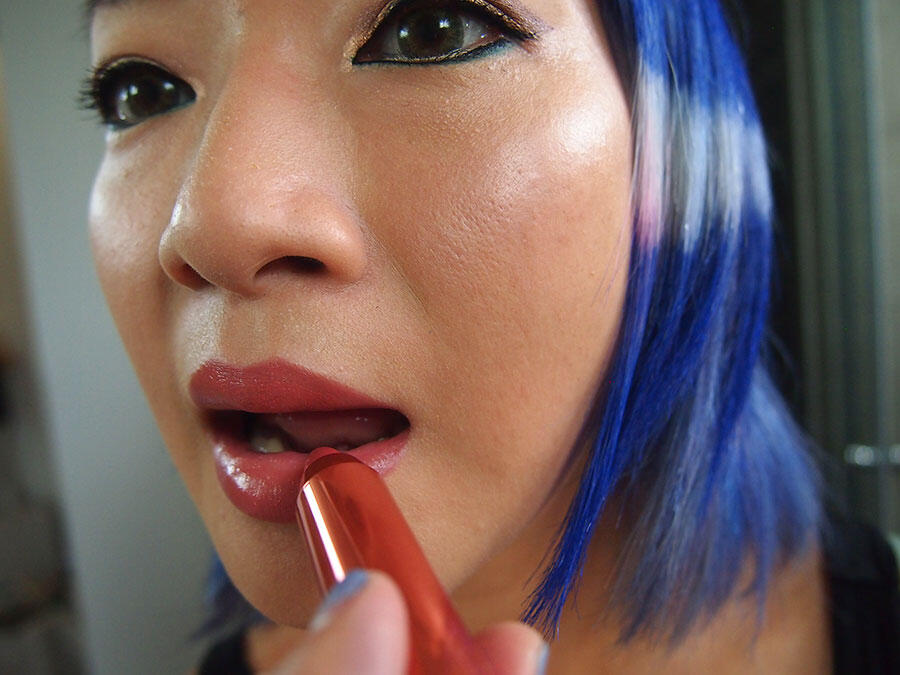 8) I colour my lips in using Laqa & Co. Lip Lube.
It's a great perky colour that's soft and easy to apply, i never thought i'd like a pencil lip colour so much…  They're usually too dry for my liking but this one is kinda lip-balmy.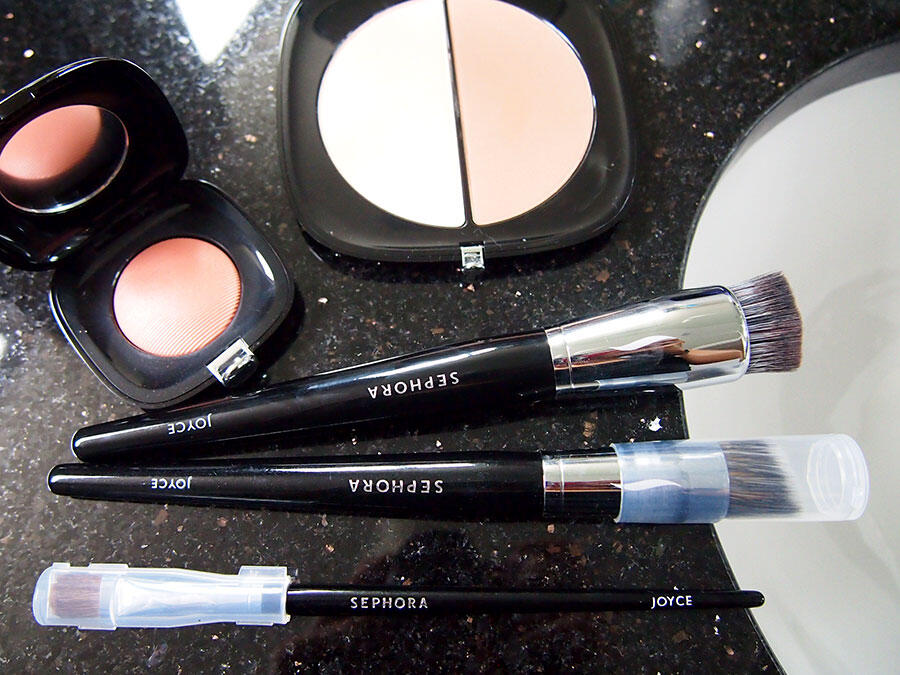 9) I use the Light Filtering Contour Powder and Bold Blush from Marc Jacobs to set my skin, apply some highlights, and colour to my cheeks.
It's my first time using powders from MJB and they're exceedingly silky soft to apply.
I love that my Sephora brushes come with clip-on caps too!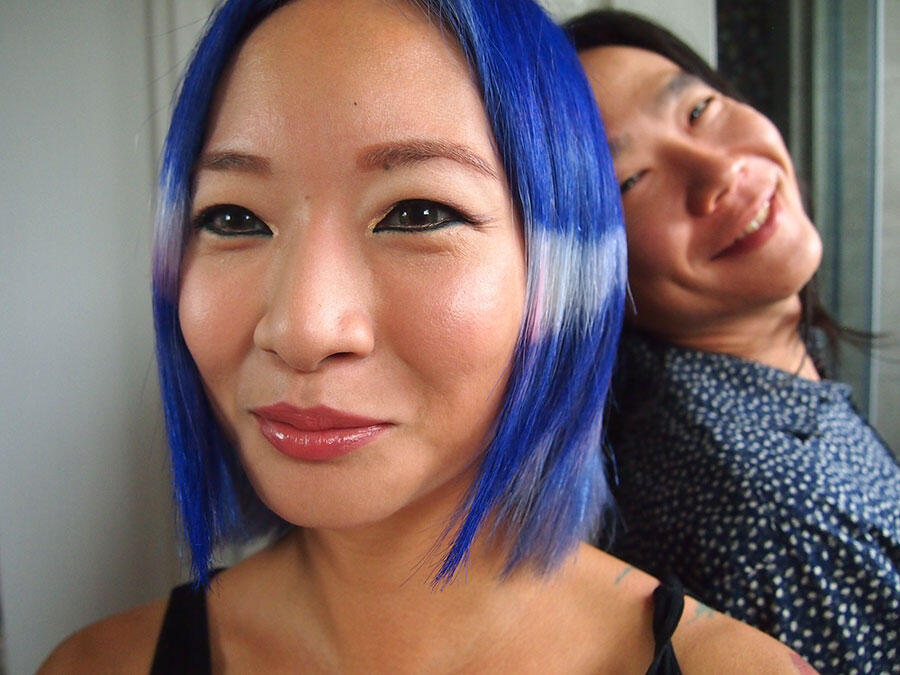 Got photobombed by a cutie.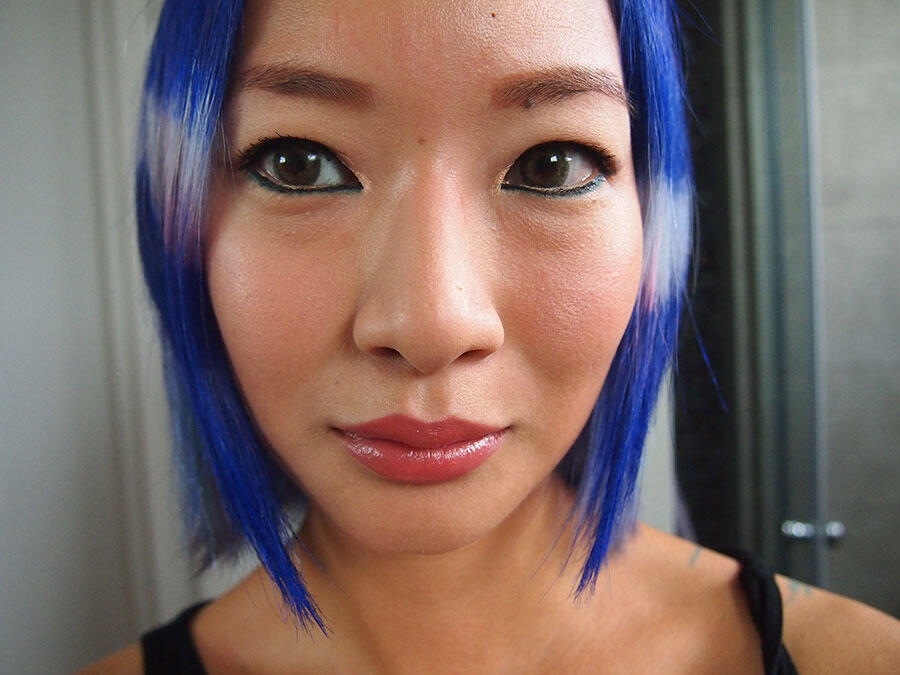 I applied this make up on Saturday morning before heading to a wedding in Ipoh last weekend, and i didn't need to reapply anything save for the sides of my bottom eyeliner in the evening (but i'd say that's because i cry a little when i laugh).
Ok for 10 minutes right?!
Thanks to Sephora for sending me that sweet beauty haul
Have a surf on *the new Sephora website here* for a beauty fix. Or a little browse. The latter won't hurt.