*written by Baby*
I have always been a fan of Kiehl's. I remember my first Kiehl's purchase was a pot of lip balm at Hong Kong International Airport 9 years ago. And then I proceeded with purchasing the Ultra Range as soon as I got back to Malaysia when they opened their first store in Pavilion back in 2008 (with my own fresh-grad money!)
When we got the invitation from Kiehl's Malaysia to the launch of the Nature Powered Masques, I was ecstatic! They're known for throwing very tasteful events and this did not disappoint. Akin to their aesthetics of natural skin care ingredients, the event was held at Glasshouse at Seputeh where the surroundings were filled with plenty of greenery and eco-friendly furnitures. Zennn… *proceed to do the lotus position*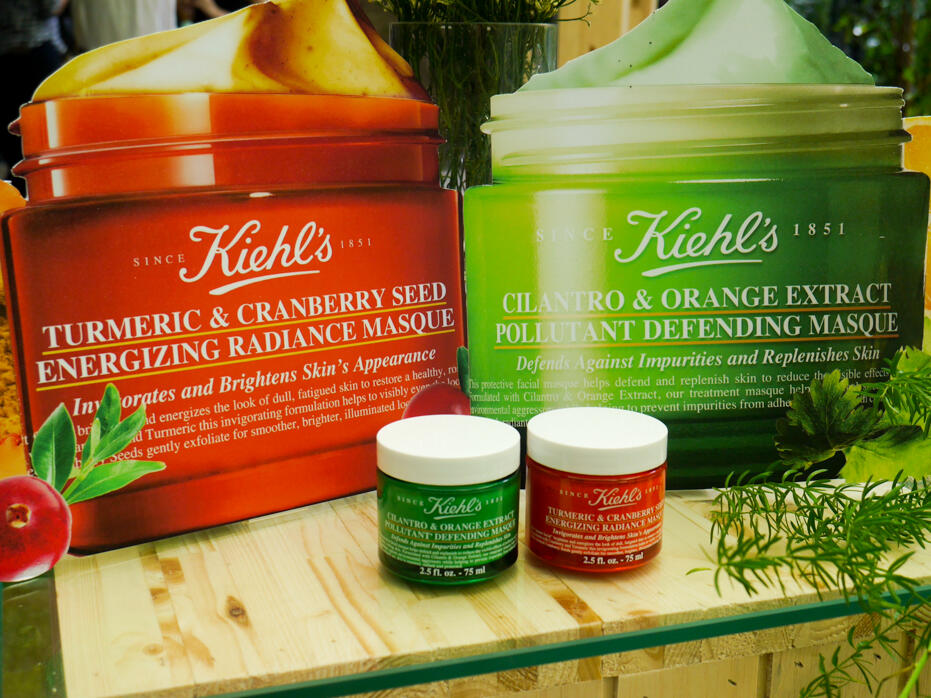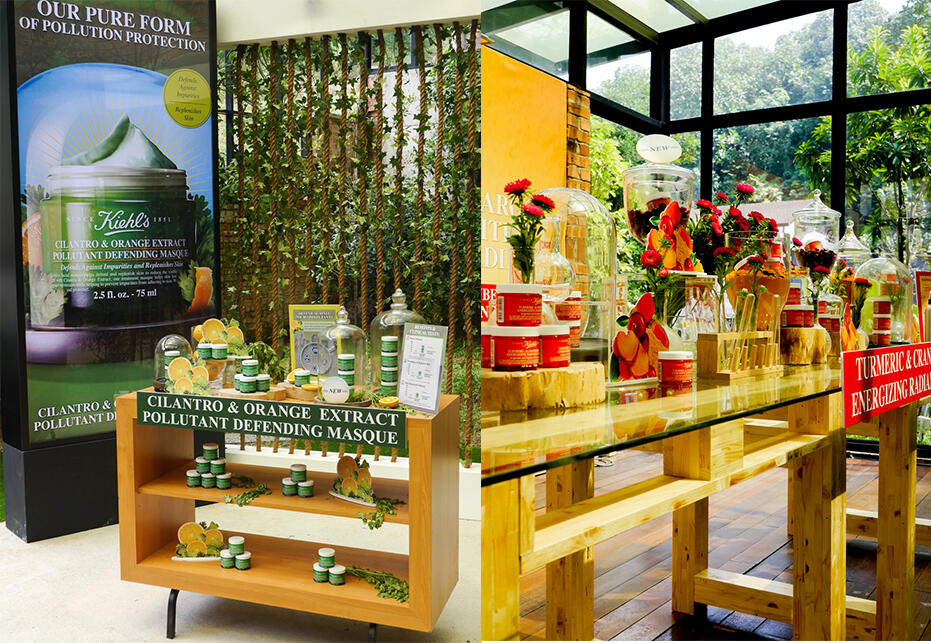 The two products that were introduced to us were the Cilantro & Orange Extract Pollutant Defending Masque and Turmeric & Cranberry Seed Energizing Radiance Masque.
Let's start with the green one first. This masque is a natural solution to a man-made problem = POLLUTION. The P word can (and already are, for some of us) result in older-looking, dull and discoloured skin (ewwww…), premature skin aging including increased melanin spots (nooo…) and pigmentation.
"Pollution and its negative effects on the lung and cardiovascular system have been well understood and more recently, studies suggest that pollution is also affecting skin integrity," said Dr. Jean Kruttman, Director of the Leibniz Research Institute for Environmental Medicine.
Based on this insight, Kiehl's chemists proudly concocted an innovative skincare treatment that takes the battle against pollution past simple cleansing. Kiehl's Cilantro & Orange Extract Pollutant Defending Masque defends and replenishes skin to reduce the visible effects of pollution while preventing impurities from adhering skin.
Kiehl's answered your prayers, people! The masque protects your skin from the evil UV-induced oxidation and oxidative stress (in simple term, it fights skin damage). There's more: the masque is jam-packed with goodies like Vitamin E and Cilantro Seed Oil to strengthen the skin. And finally, I'm obviously saving the best for last… this masque has the ability to shield our skin against pollution AND when used in the morning, the complete formula within the masque offers anti-adhesion properties to defend against environmental impurities by preventing pollution from sticking to our face!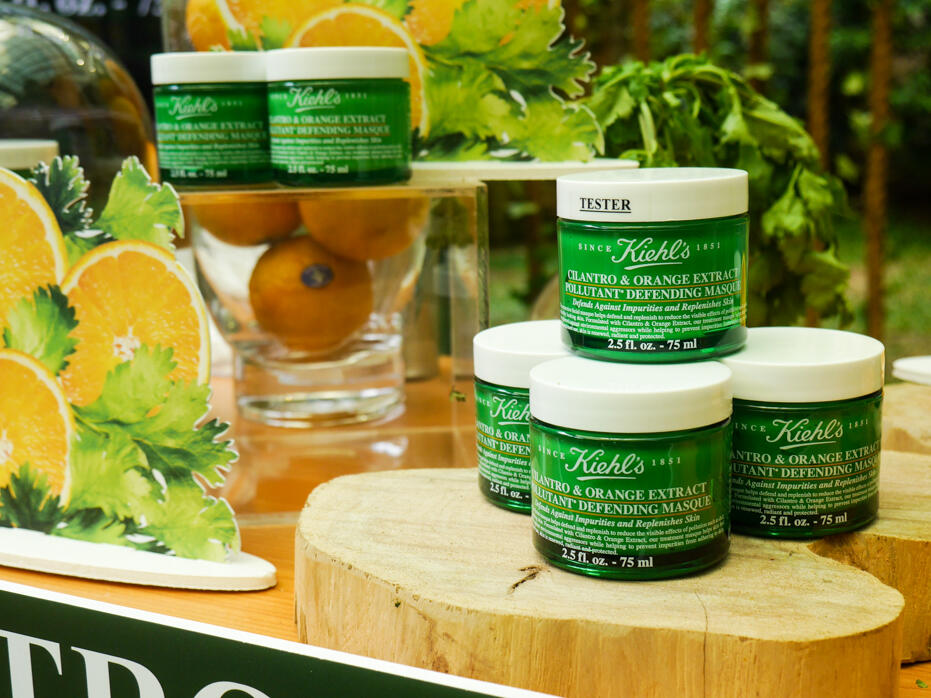 I AM SOLD!
Now waaaaait a minute. Don't go running to your nearest Kiehl's store yet. Chill, girl. I'm not done here…
The next product that I would like introduce to you is the Turmeric & Cranberry Seed Energizing Radiance Masque. Don't you just like that word? RADIANCE!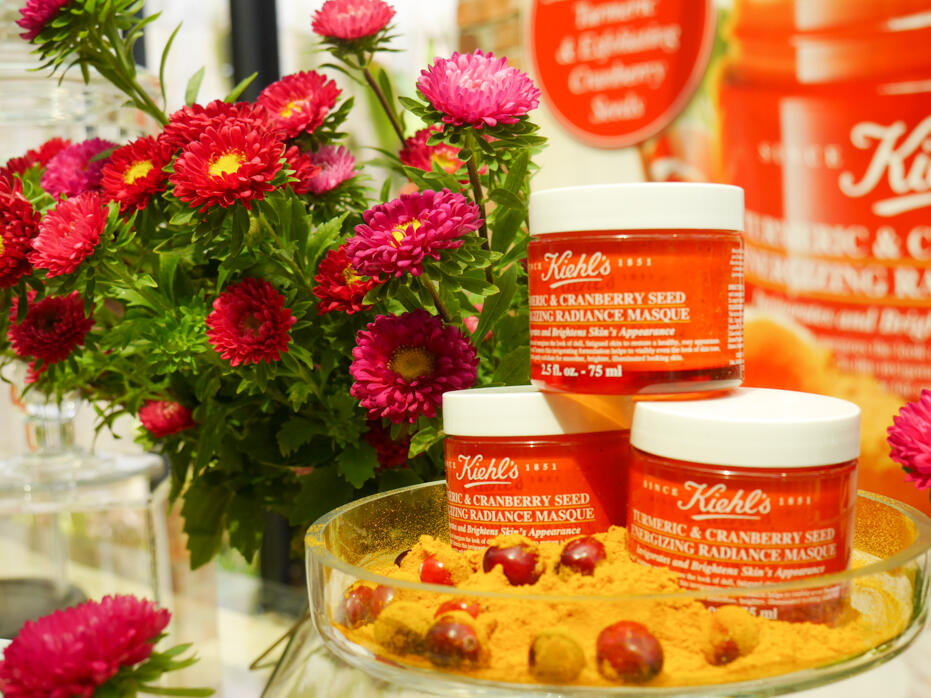 The formula works as an "instant facial" by brightening and energizing the look of dull, fatigued skin to restore a healthy, rosy appearance. With ingredients like Cranberry and Turmeric, this facial masque helps visibly improve the overall look of skin, while crushed Cranberry Seeds within the formula gently exfoliate for a smoother (yes!), brighter and illuminated complexion.
We should totally include masques in our beauty regime. Do you know that some of the world's most iconic women have relied on the benefits of natural ingredients found in facial masques to instantly transform their skin? For example, Cleopatra. She would routinely use a facial masque to cleanse, nourish and rejuvenate her skin. Another example would be Marie Antoinette where many believed she had her own signature facial masque made with egg whites. This method is still used by French women today for the purpose of tightening pores and repairing the skin!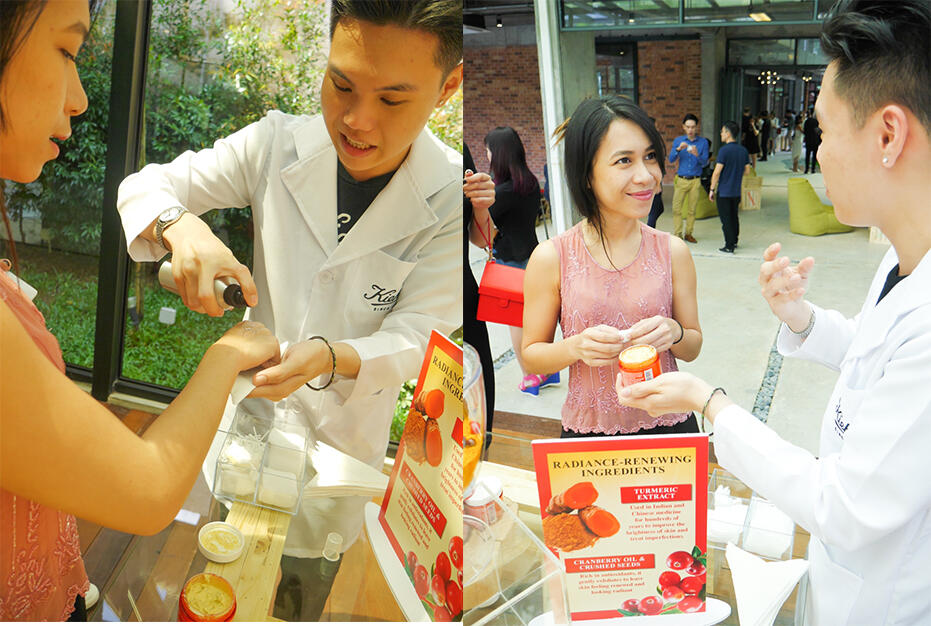 That's me thinking to myself, "This product is so great!" while the guy explains how I can include the masque to my routine.
While I was trying to make up my mind on which masque I want for myself, I participated in this fun activity courtesy of Kiehl's – build your own mini terrarium!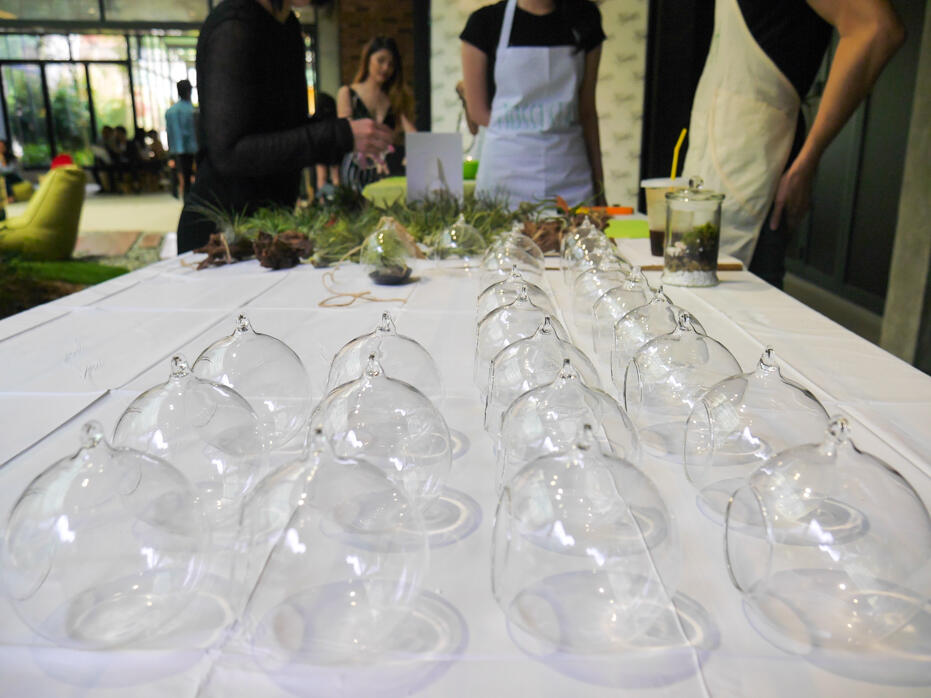 First, I was given one of these cute jars.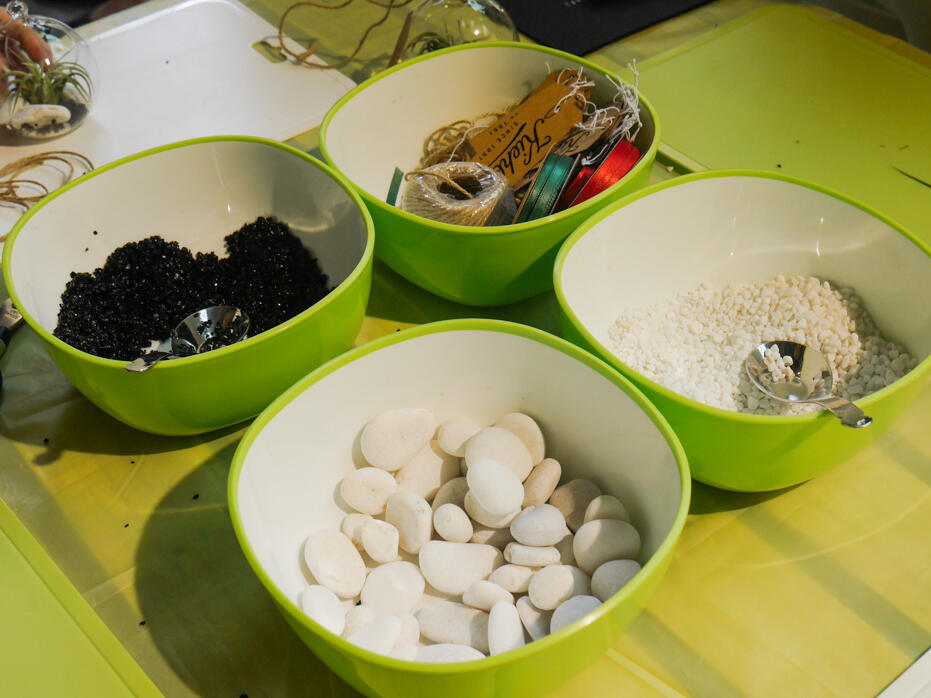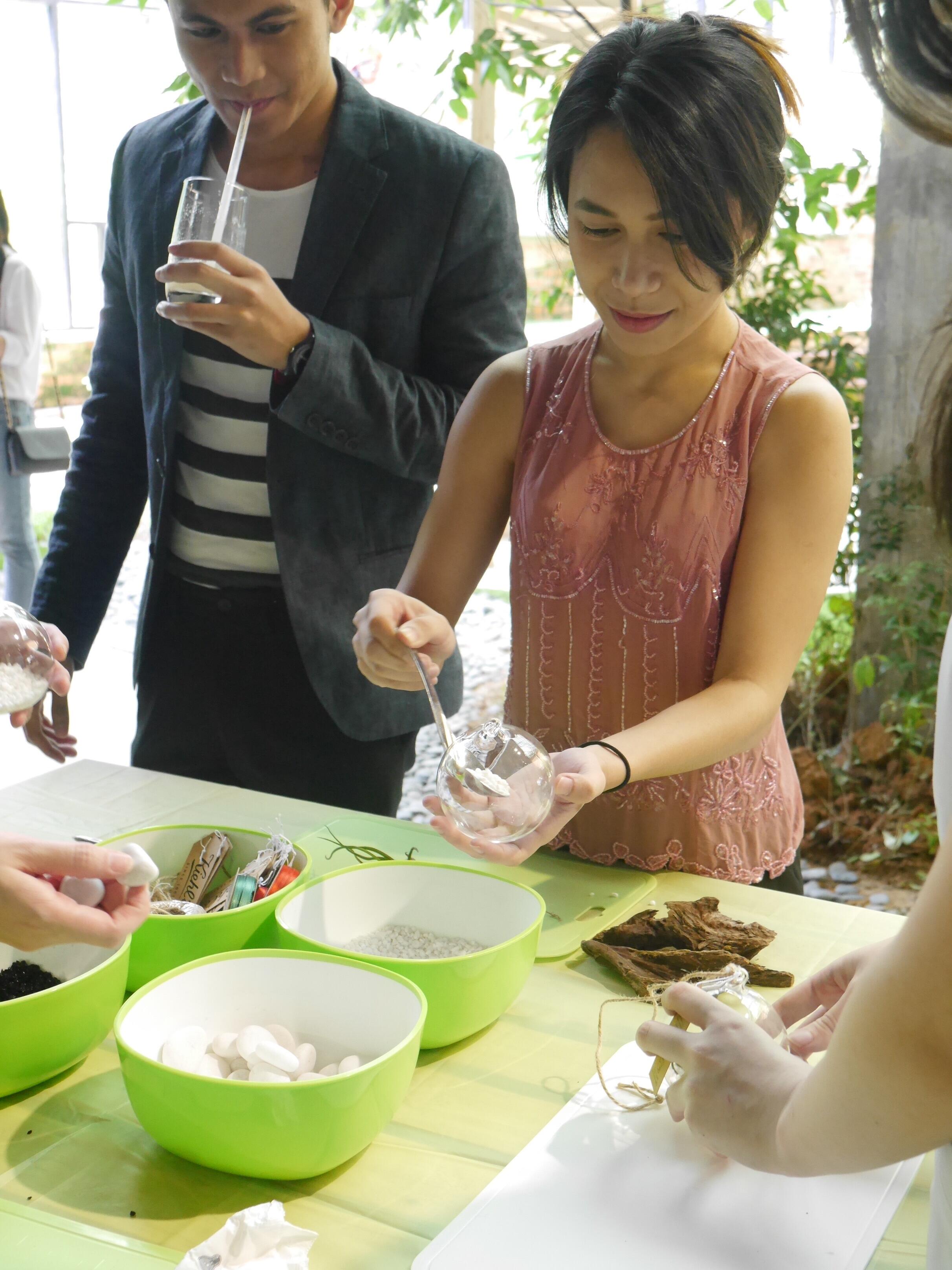 Then I have to choose my base – I chose the white sand and one pebble stone.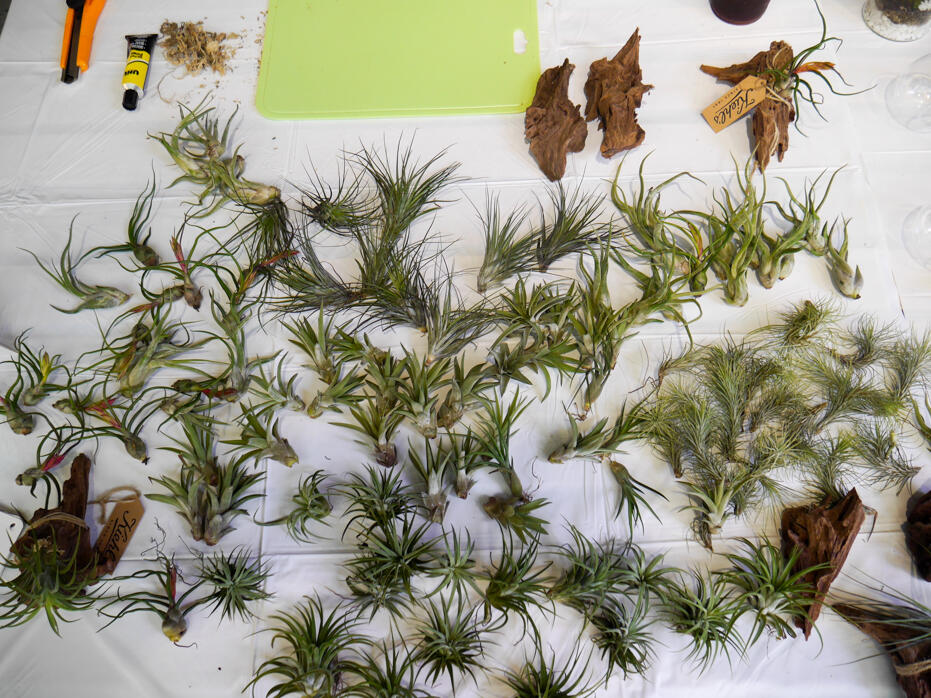 Then I had to choose one plant.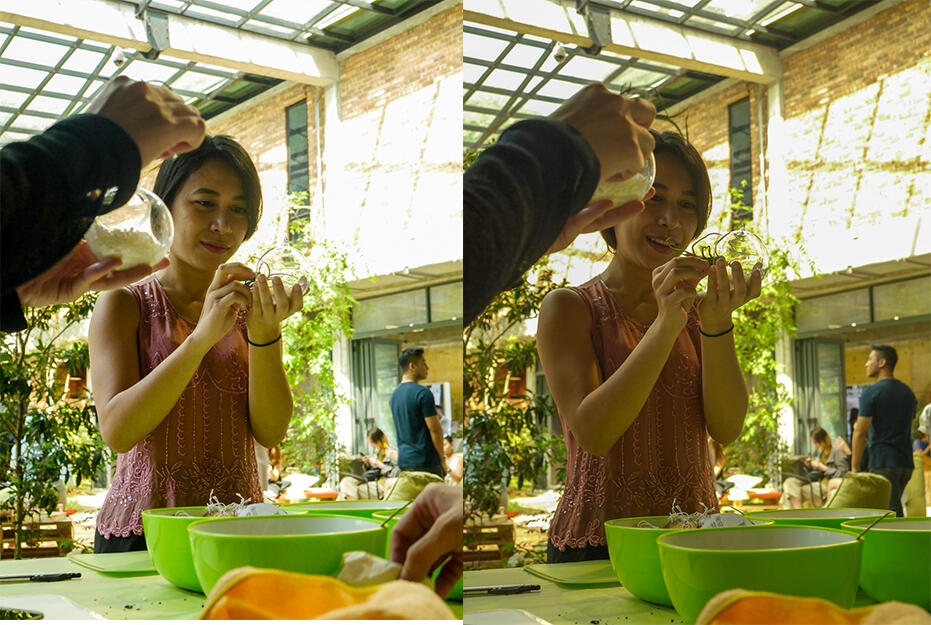 And shove the plant into the little orifice in the jar. That's it, the whole process! Haha.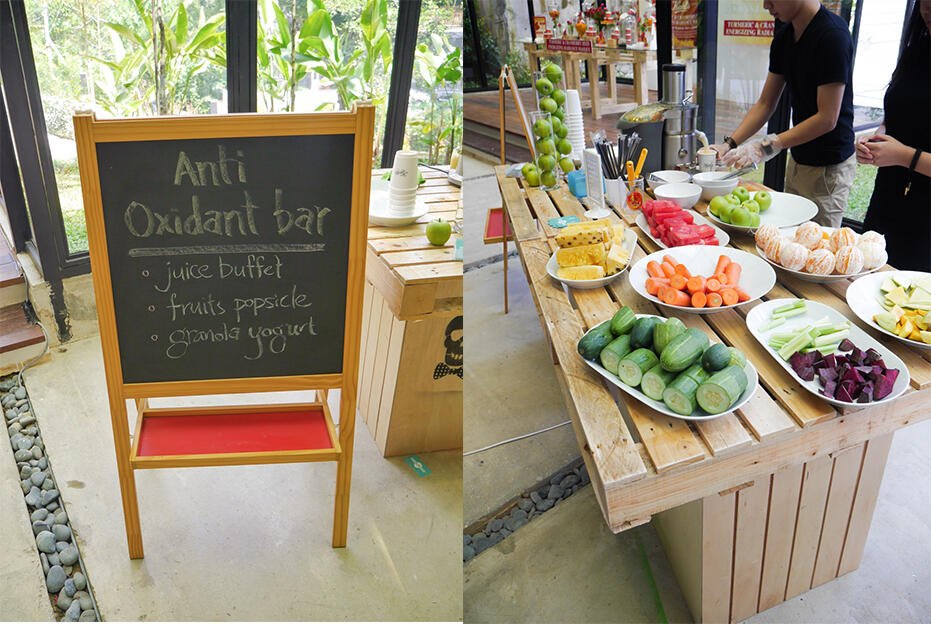 They have a juice bar too where they served a juice buffet, fruit popsicles and granola yogurt.
Still thinking about which masque I want for myself… I bumped into Sandra. If you know Sandra at all, she looooves being in pictures. I always love having her in my pictures so yeah…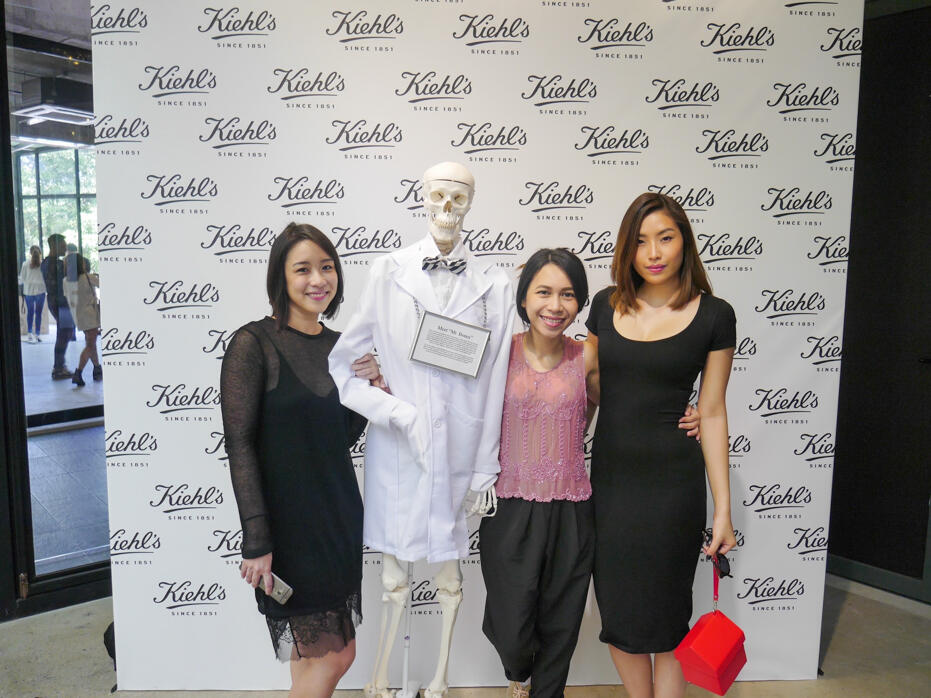 Here's Elaine Yong – Marketing Manager for Kiehl's Malaysia, Baby (ME!) and Sandra with Mr. Bones.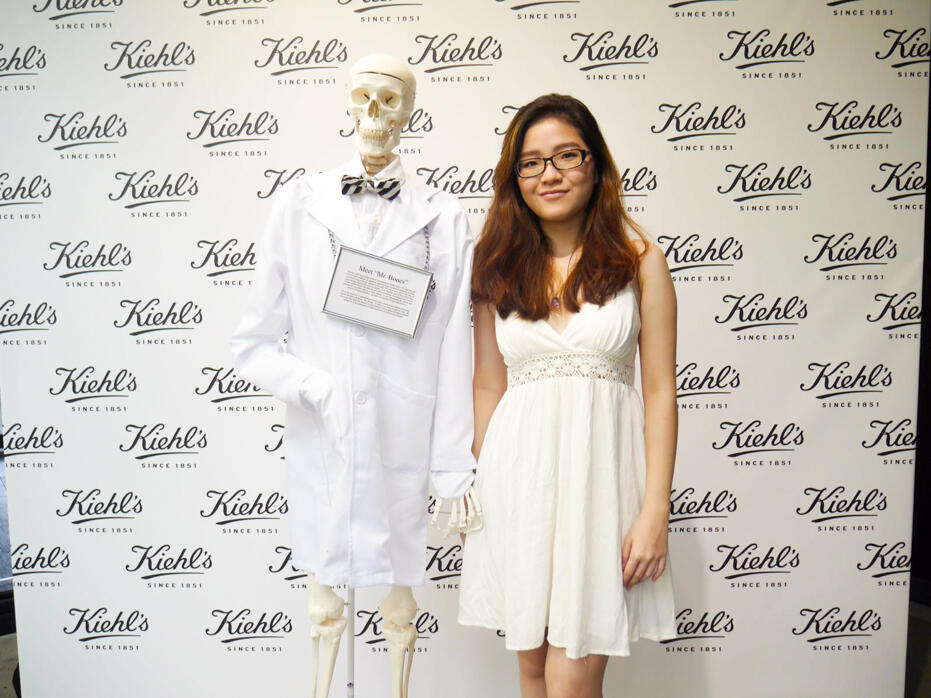 Here's Nicole who was such a darling for taking all the pictures for KBF at the event.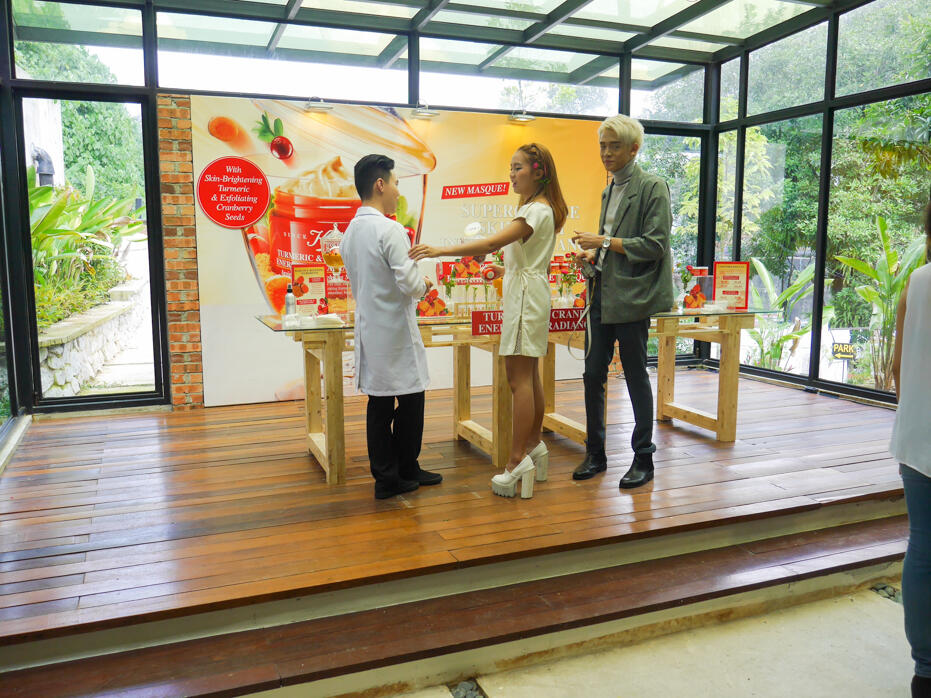 There's Kittie Yiyi and Brian See having a go at the Turmeric & Cranberry Seed Masque.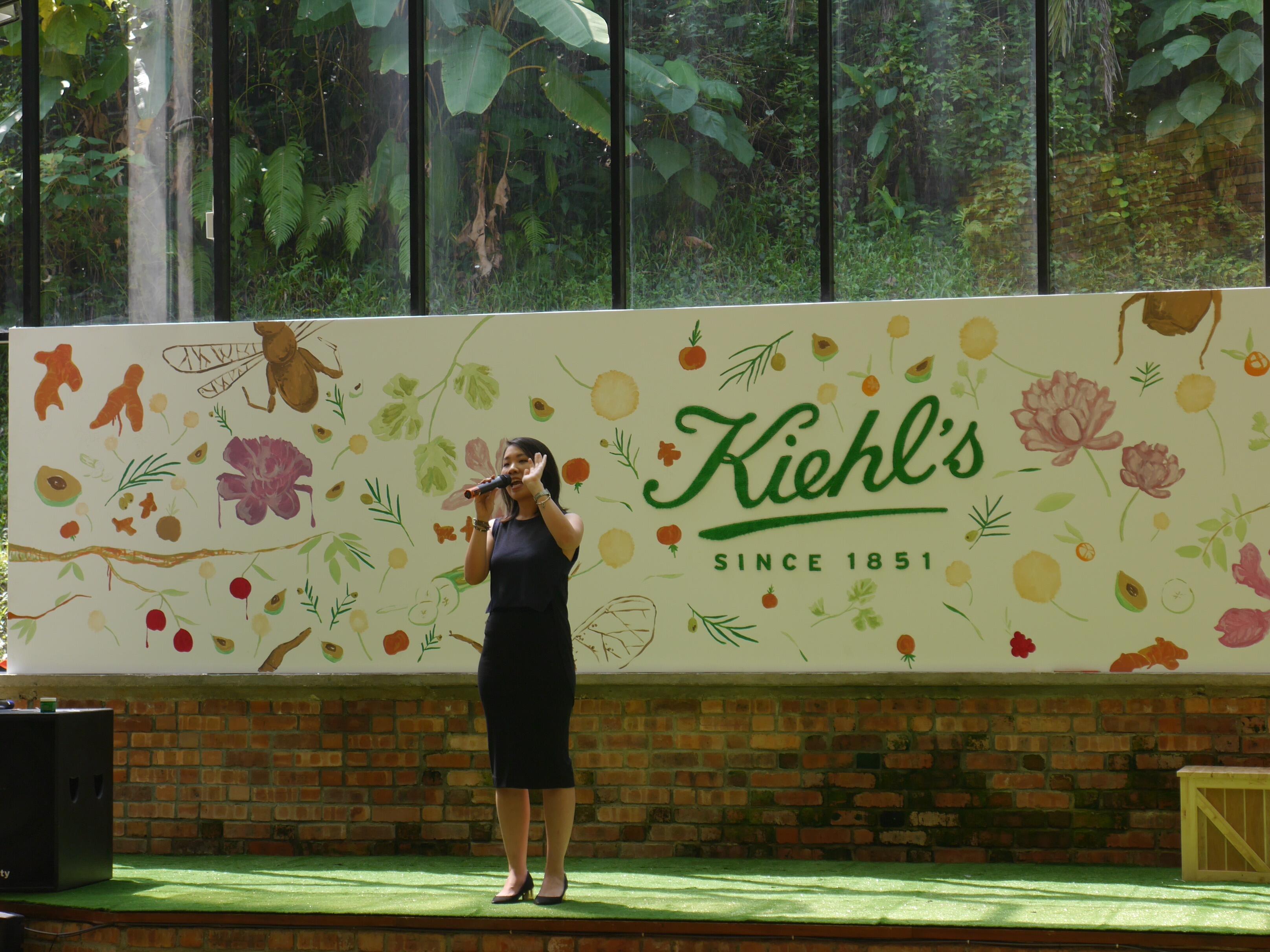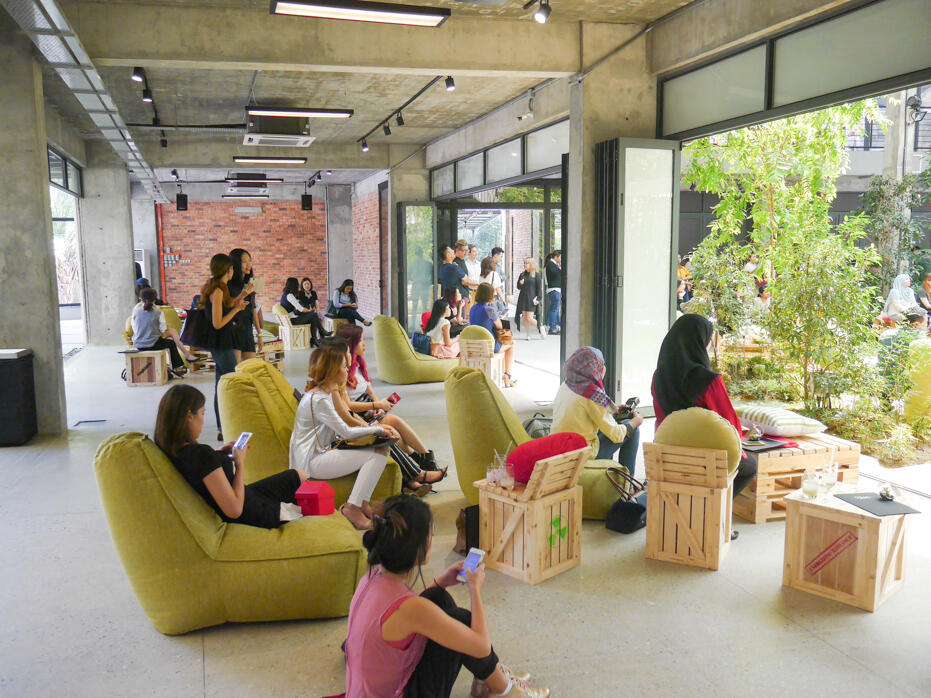 Members of the media listening intently to Joy while taking notes on our phones. We're such awesome multi-taskers.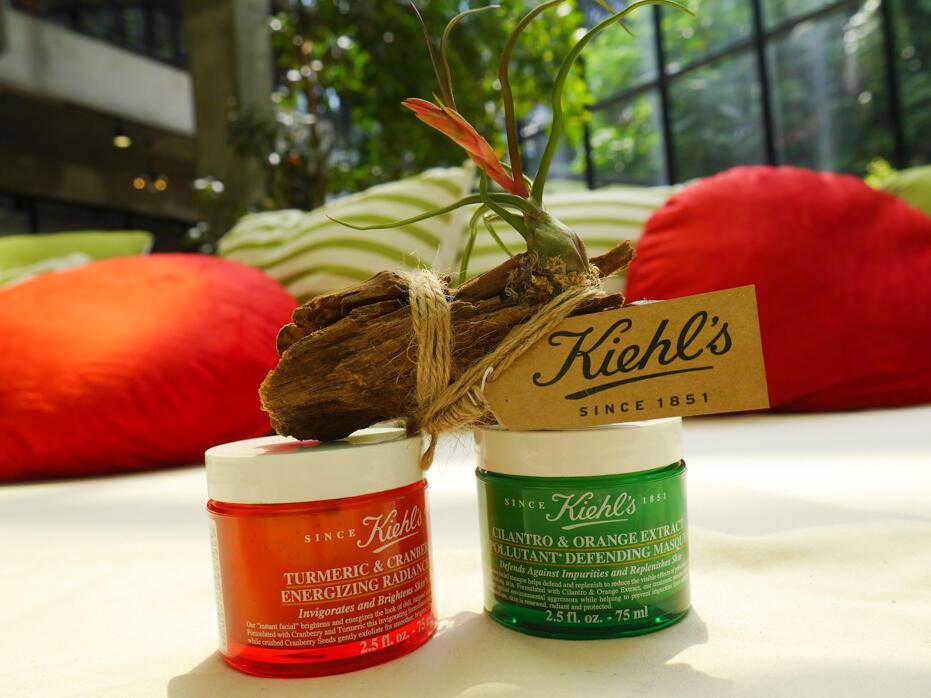 Okay, so… I made up my mind like, finally. I'm getting both!
You can get yours too at any Kiehl's store. Each masque is going for RM138 nett.
+++++
Kiehl's Bangsar Village II (they offer curbside pick-up!)
GF03, Ground Floor
Bangsar Village II
2, Jalan Telawi Satu
Bangsar Baru
59100 Kuala Lumpur
Tel: 03-2280 0033
Website: www.kiehlstimes.com.my