Malaysia Airlines got in touch with me a couple of months ago with the interest of running an Influencer Exchange program between me (as a blogger in KL), and another blogger in London. When they emailed me, i was actually in London for summer at the time, and figured if i was going to return in the near future, it might as well be for fashion week! So i suggested we coincide the dates so that the blogger from London could visit during KL Fashion Week, where i would host her for a day; and vice versa!
Danielle AKA Fashionista Barbie flew in for KL Fashion Week in mid-August. Prior to her flight to Malaysia for the first time, we had a casual google hangout sess where we talked about the things she would be interested in doing and came up with a list of suggested activities she could visit (besides fashion shows) to make the most out of her trip here. Of course, most of the things i suggested were to do with food or shopping… but there was so much going on that week, i told her that she should have just stayed longer. You need a good 5-7 days for KL if you want to experience it properly. I think that goes with any city, really!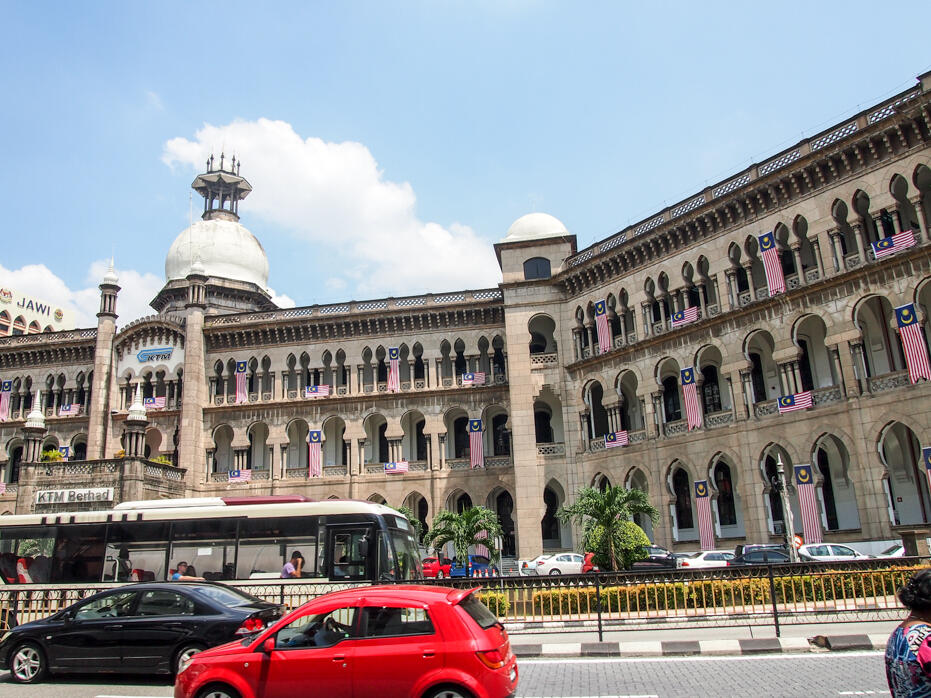 Danielle was staying at the Grand Hyatt, so for one of the days during Fashion Week, we headed out early in the morning to pop by places of interest before attending shows from 4pm till night. In the morning, she went to Central Market to look about, and i took her to Justin Yap's studio cos it's within walking distance. His studio is on the same floor as Peter Hoe's store (who's his uncle) and sells lots of cool contemporary Asian items i always want to splurge on. [As of September 2015, Justin Yap has relocated his studio to Bangsar.]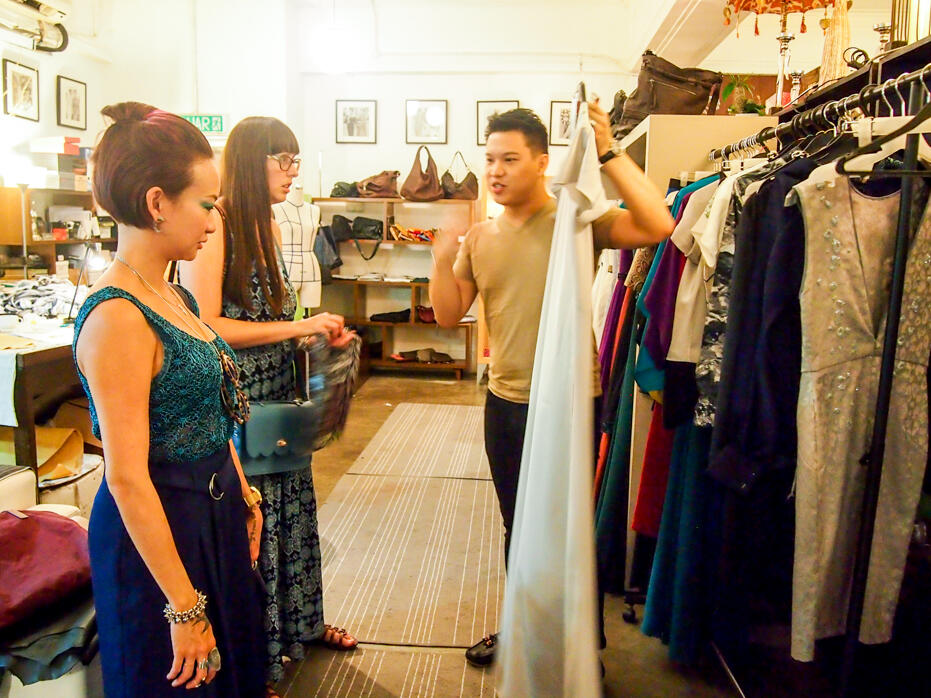 We had a sneak peek at some of his newest designs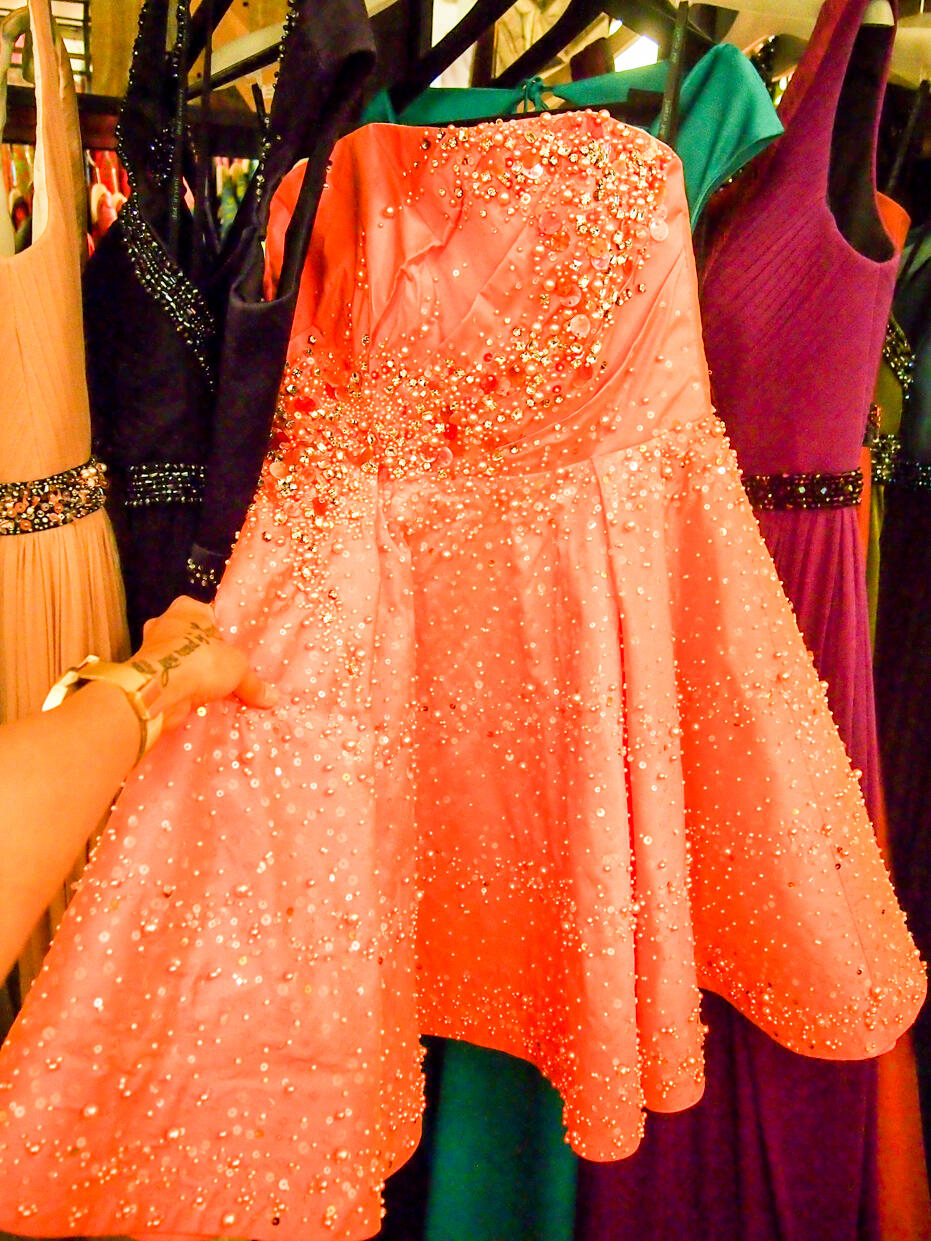 I fell utterly in love with this dress and practically ignored them chatting away for a little while. I was so enamoured by it and took so many pictures while cooing over its intricacy.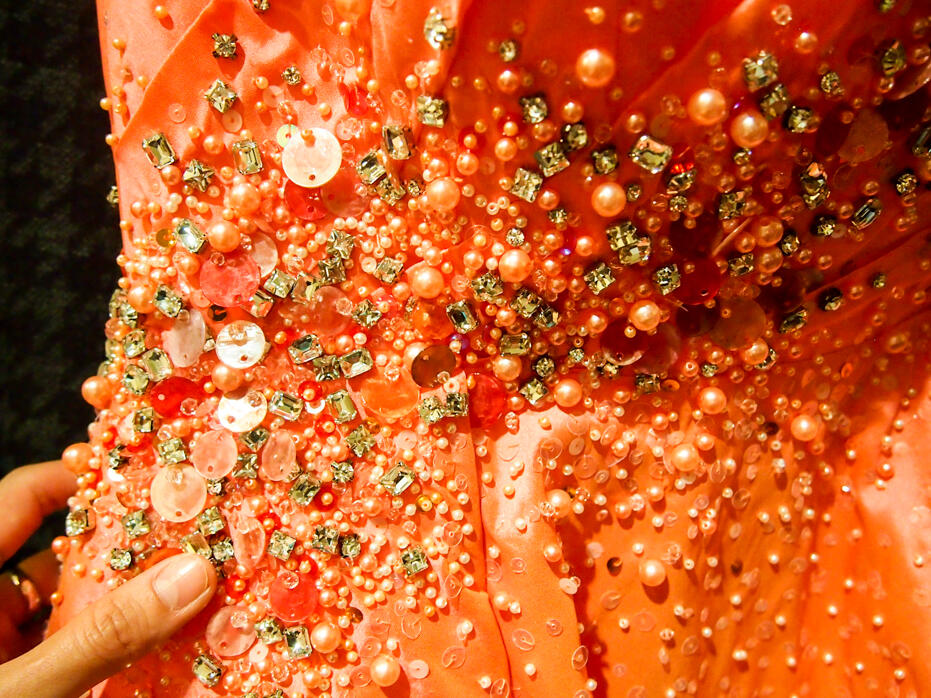 All the beading is meticulously hand sewn. Such an exquisite princess dress!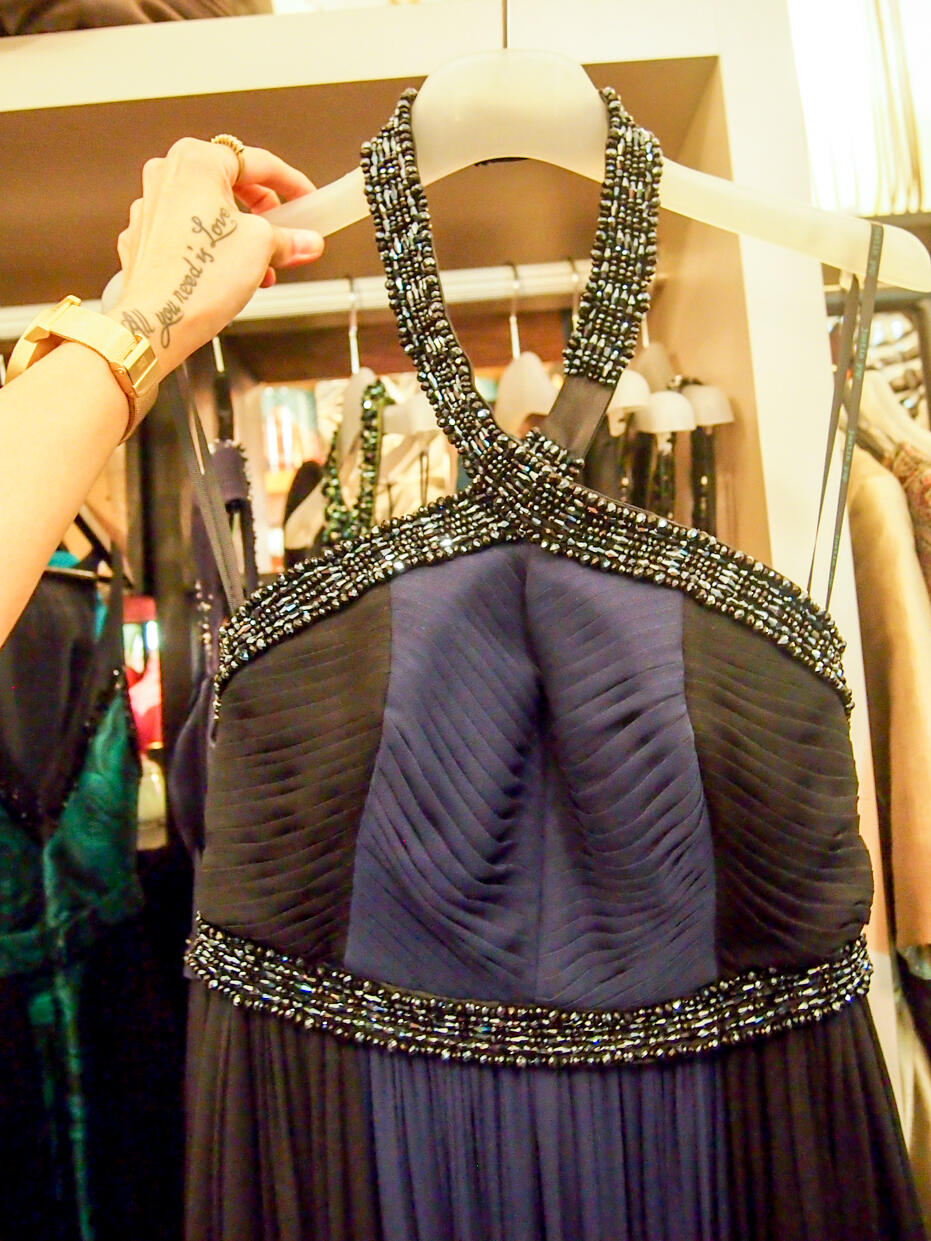 Justin won the award for Best Eveningwear Designer years ago and has continued his legacy in creating beautiful dresses that understand and accentuate a woman's curves. I can say this cos i've worn a number of his dresses for formal events/dinners and every time i put a Justin Yap on, i feel like a WOMAN. Ready to lounge myself sideways on a long couch and be handed a glass of malbec.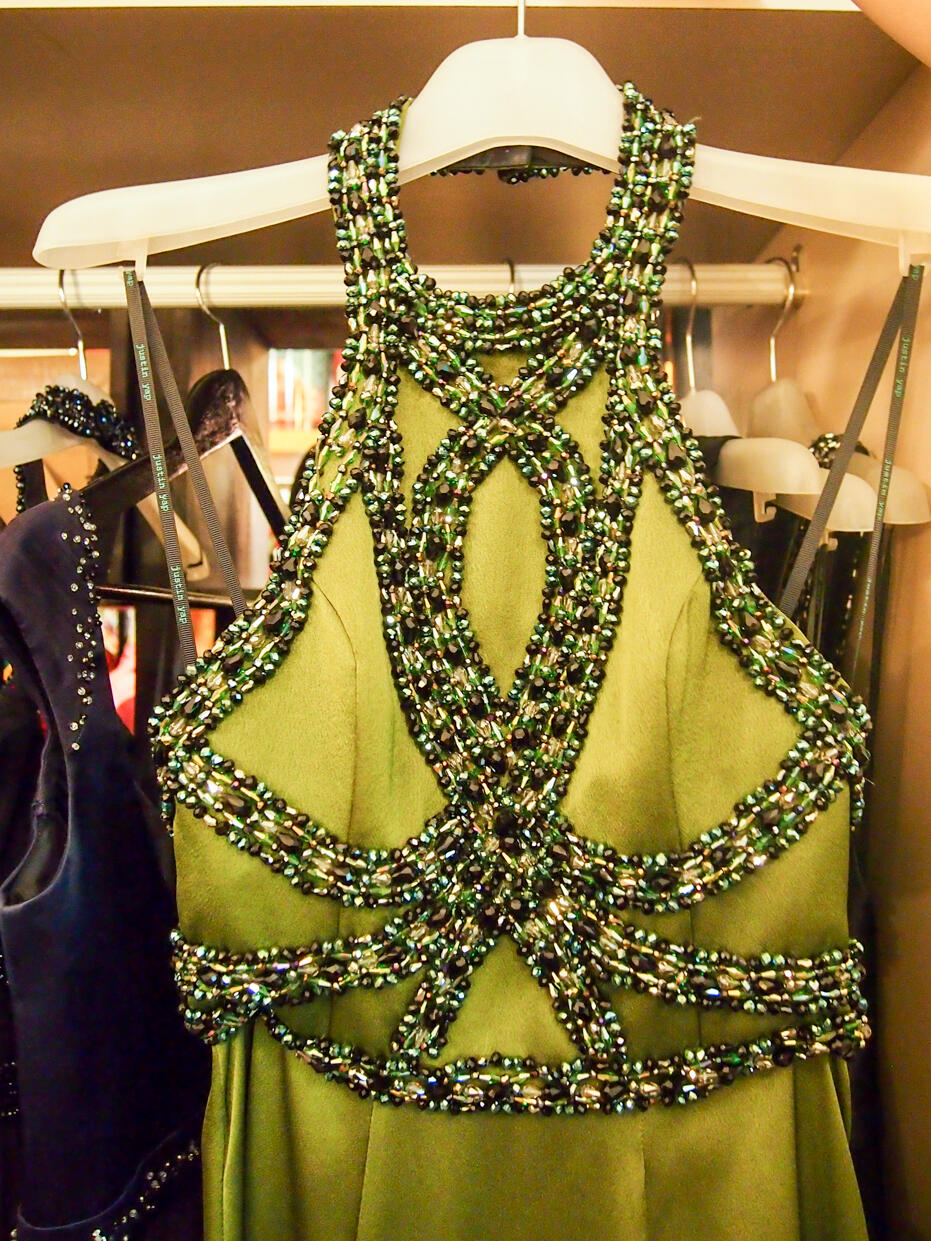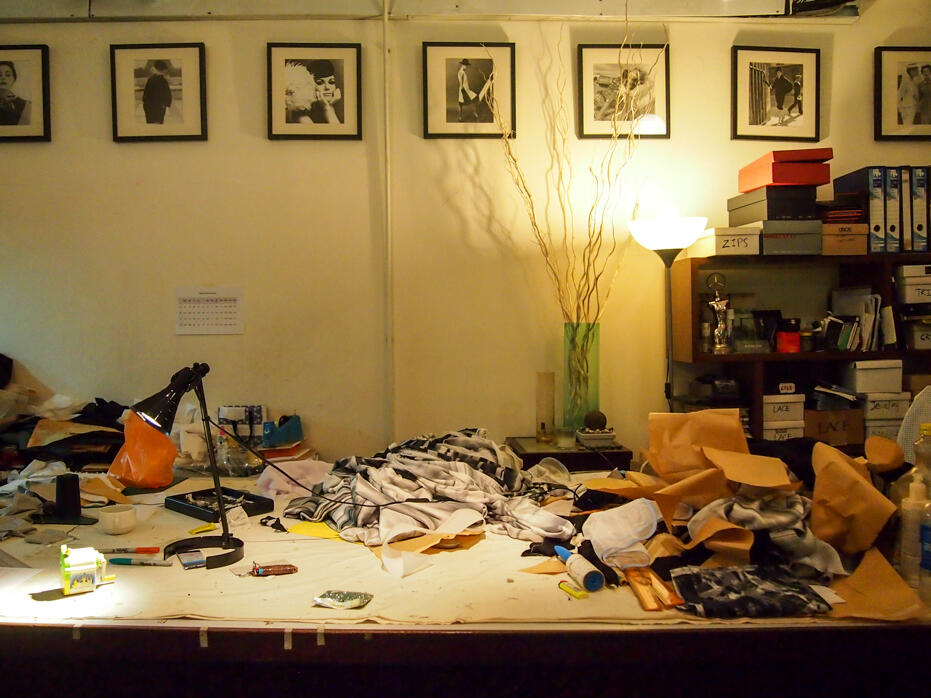 Justin was like, "Don't! It's so messy!"
But hey, this is the real deal, it's only expected a day before your show!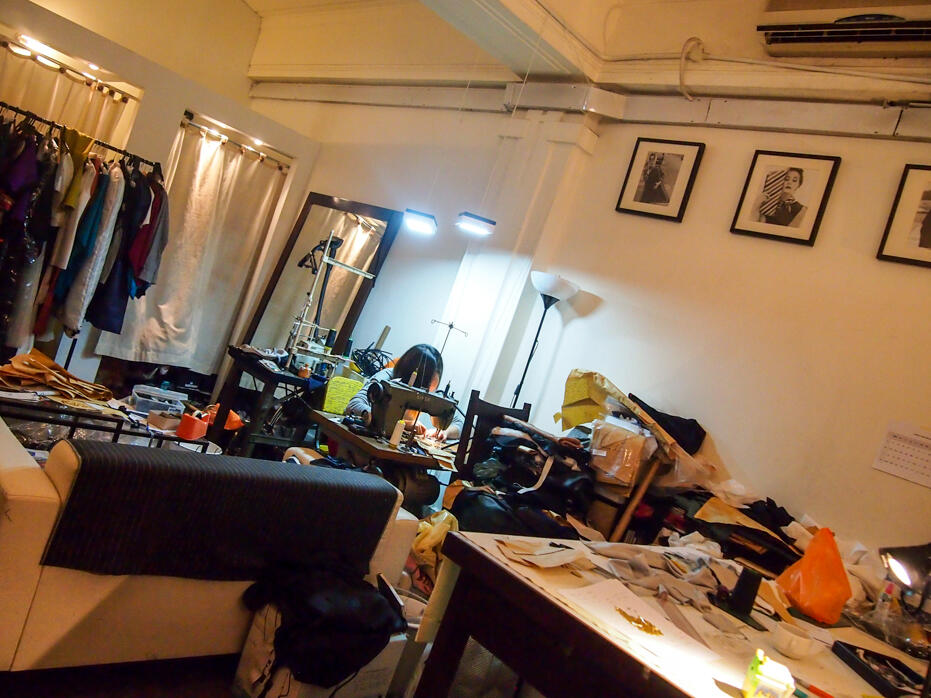 Tried not to kacau him for too long so Danielle and i pottered about Peter Hoe's store after that.
Oh there are so many cool things in there, great for Christmas presents, or presents in general! I saw so many things i wanted to buy for my new home, like these mini glasshouses, and giant metal jars that would look great in a corner, and oh, lots of knick knacks… you gotta visit it to see for yourself.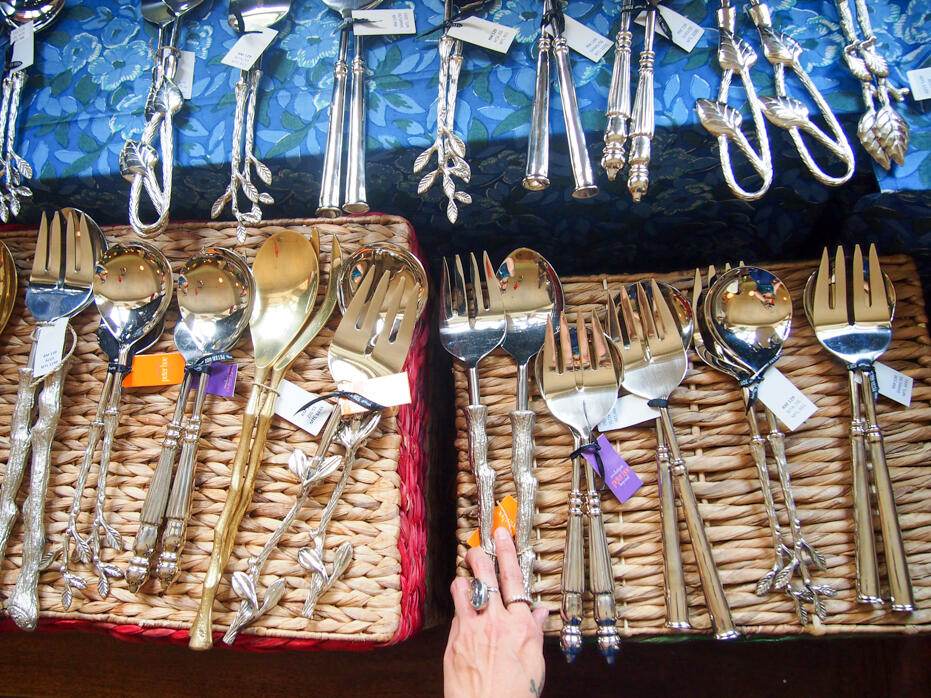 We went for lunch at the Grand Hyatt (where Danielle was staying) so she could grab her high heels before we headed for the fashion shows.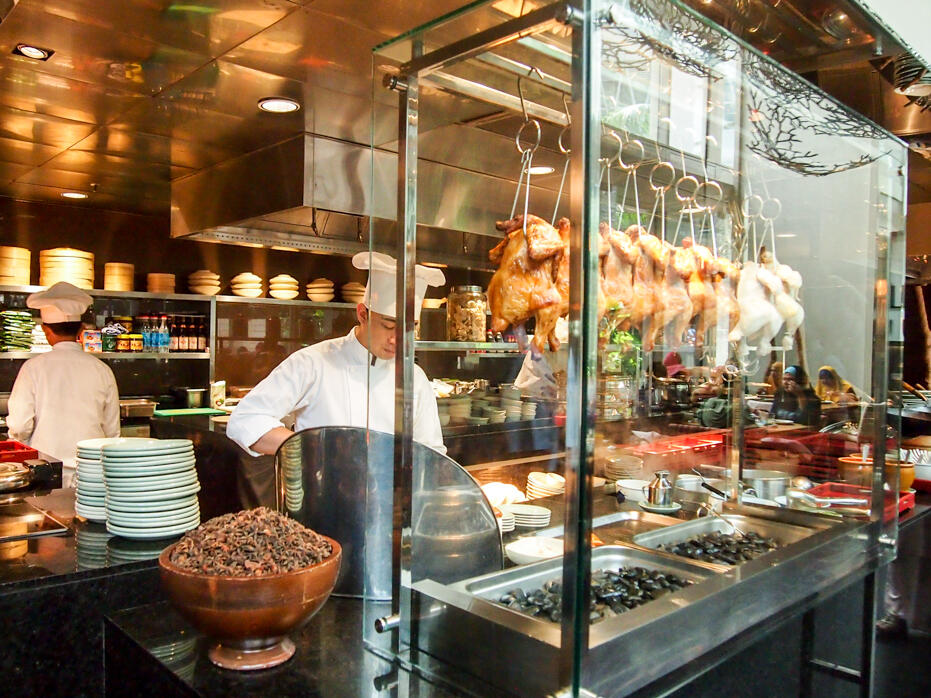 We had choices galore of Malaysian cuisine from the buffet lunch spread at JP teres. There was all sorts of foods like chicken rice, roti canai, beef rendang, satay, chicken rice, ais kacang, teh tarik, Indian curries, local desserts, etc.
I love the general atmosphere of their lively open kitchens and being able to dine while being surrounded by tropical greenery.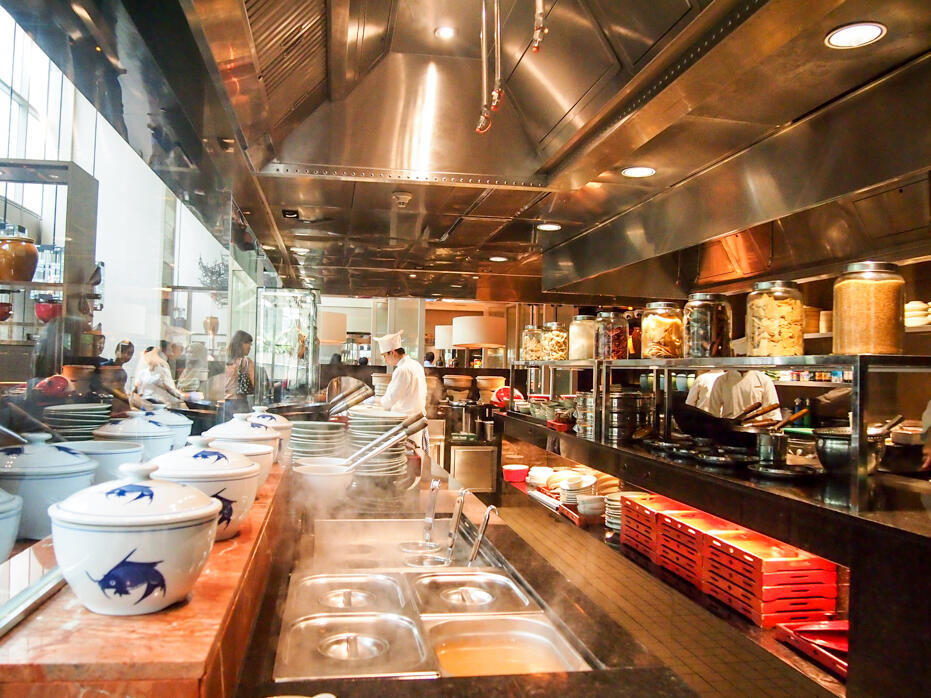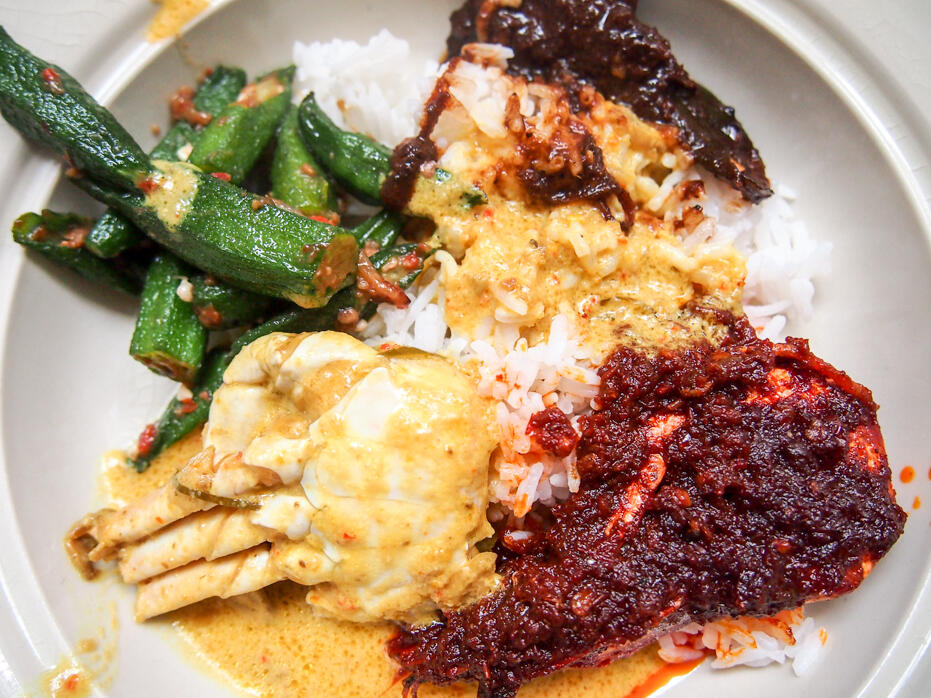 I was so hungry i didn't take too good care of putting the food on my plate nicely before hurriedly snapping a picture. Was starving! I went for the Malay dishes first and it was all so good. I sampled some crab curry, prawn sambal, beef rendang and chili ladies fingers.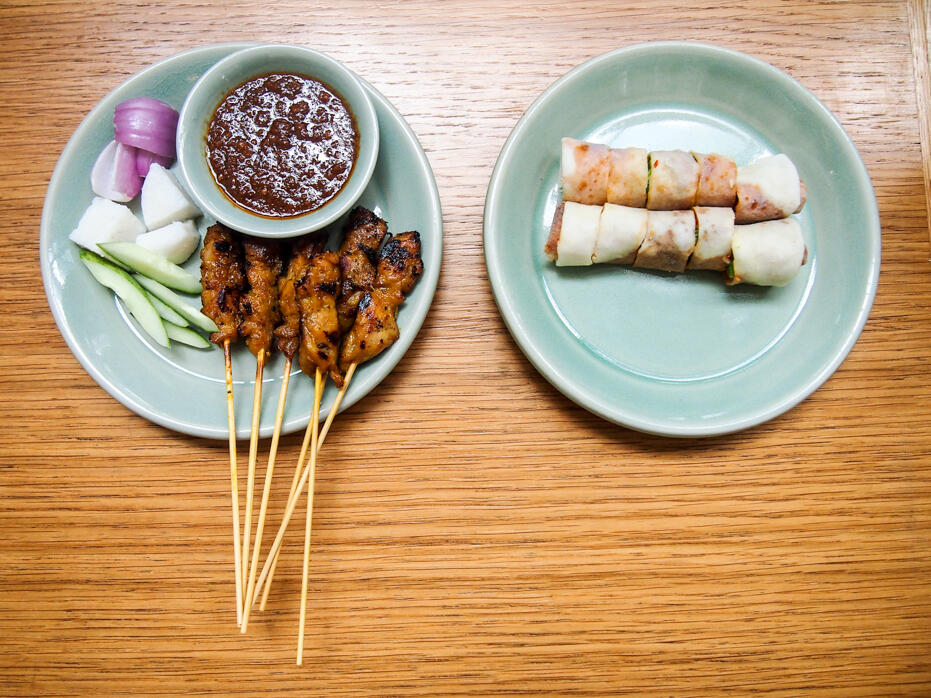 Then i tried the satay and popiah.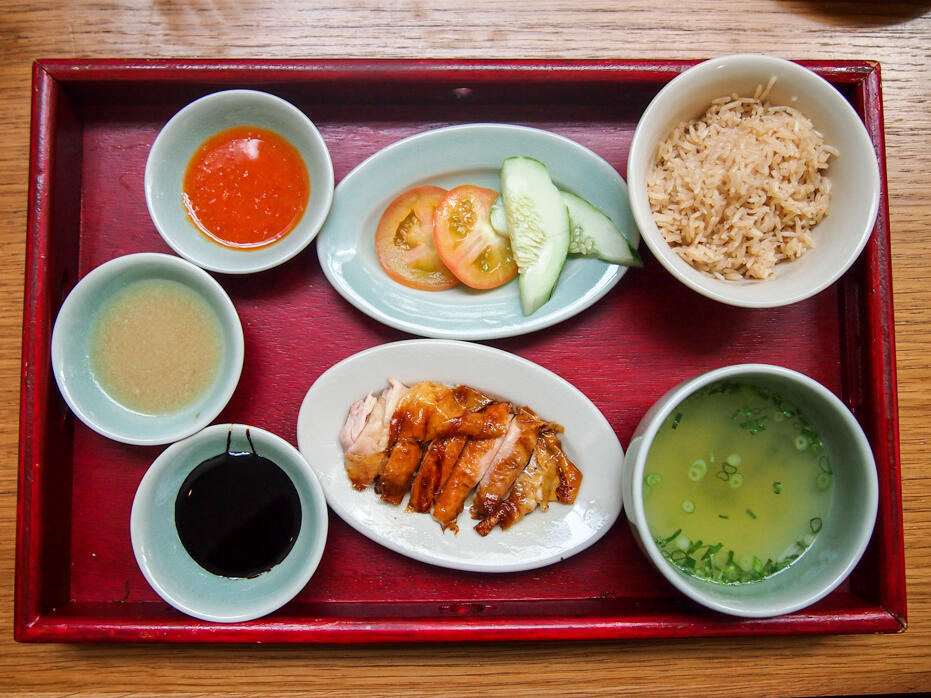 I really love chicken rice and it looked so tantalizing i decided i was going to go for it.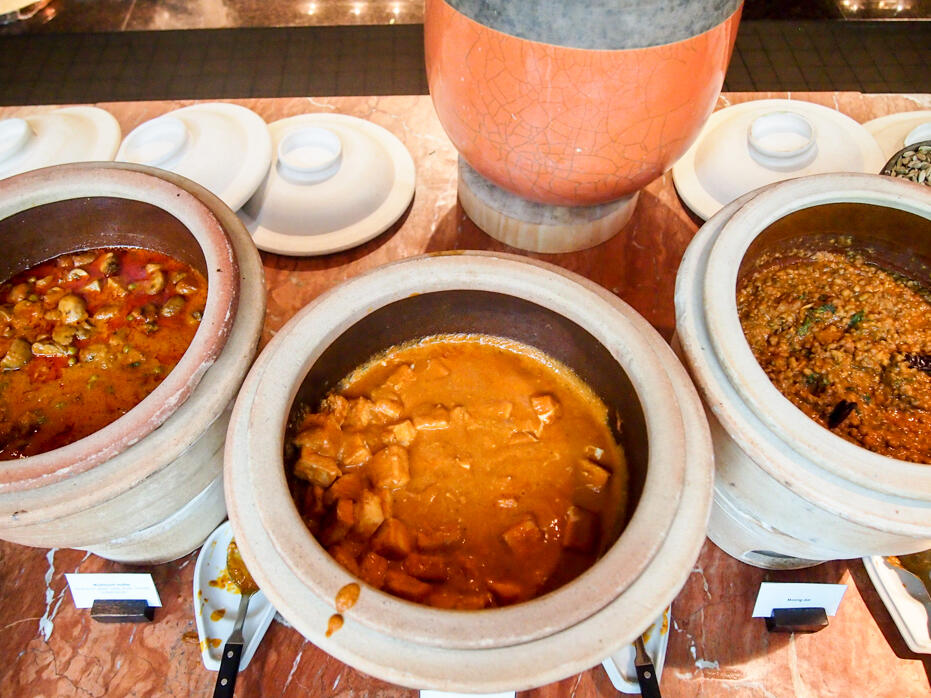 Then i sampled a bit of each of the curries too cos i do love curry…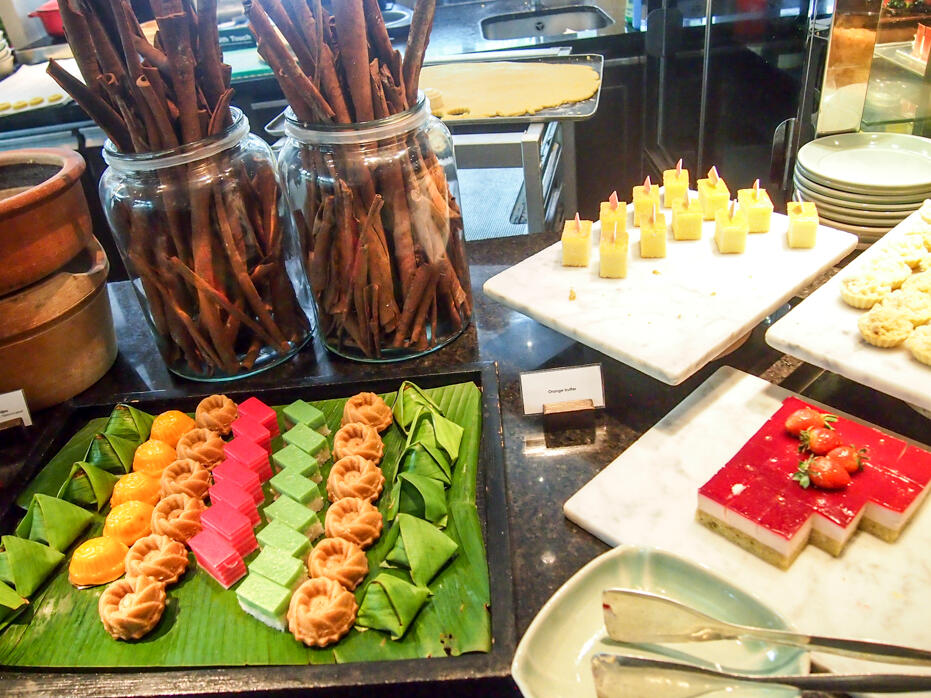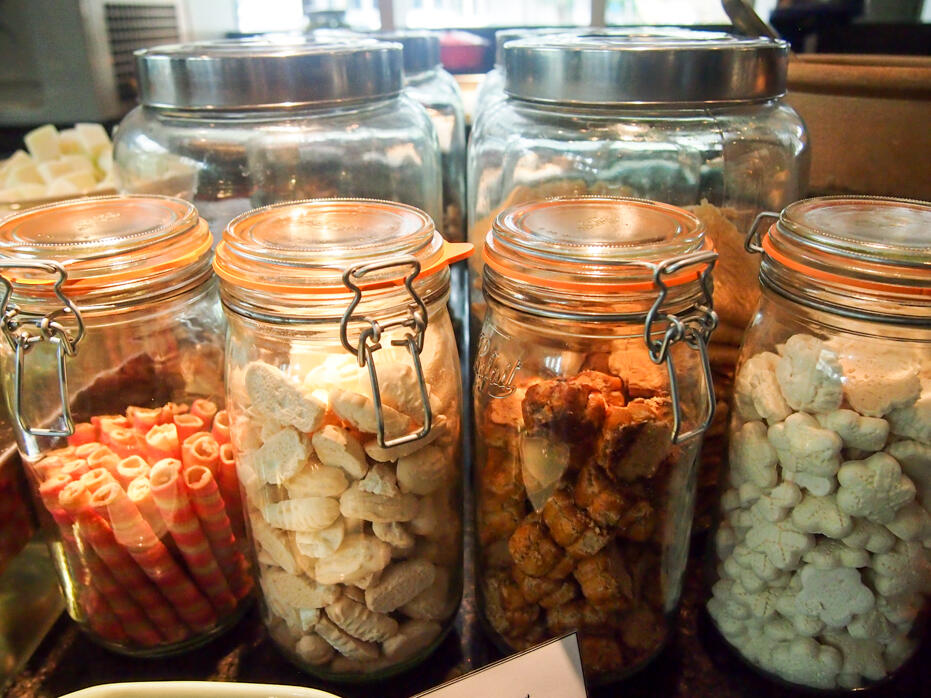 And. I managed to squeeze in some dessert.
Seriously, eating here before heading for a fashion show was a bad idea! My pants were so tight after that ugh! OK fine it was my own fault for being so greedy but i can't help it when there's all this delicious food in front of you…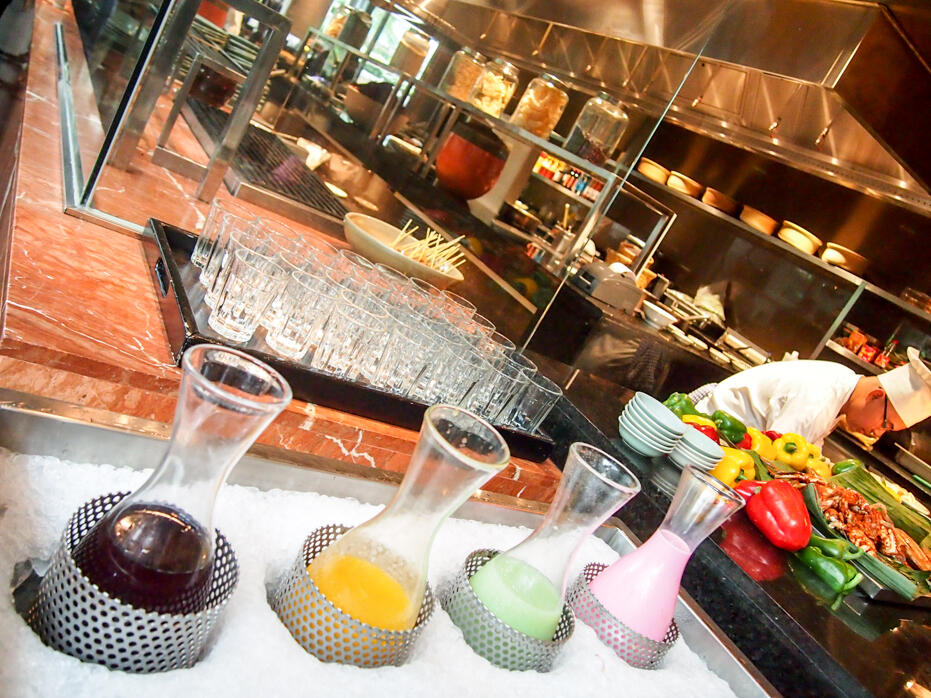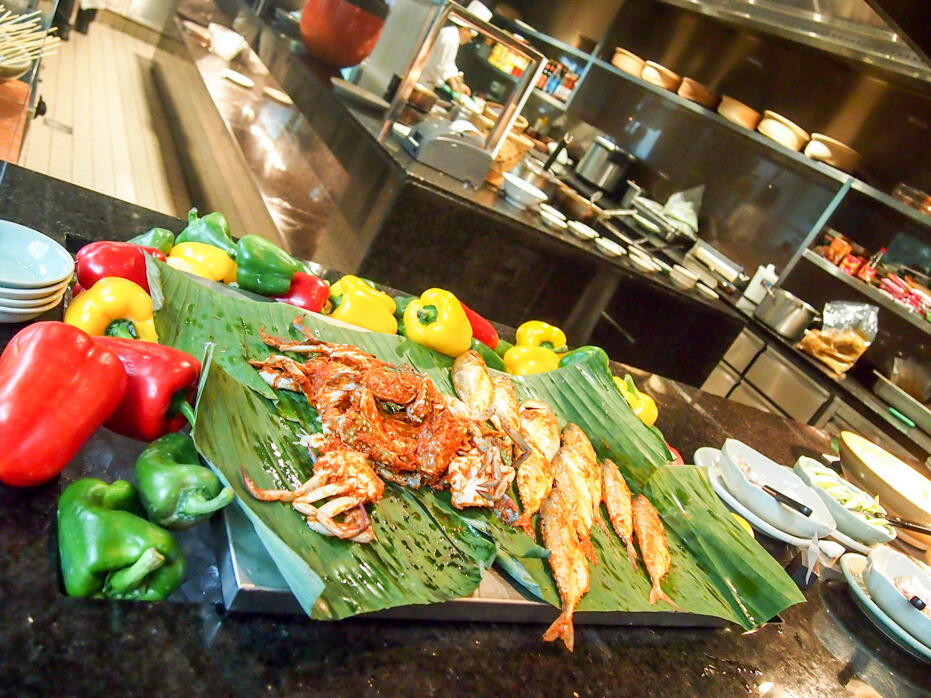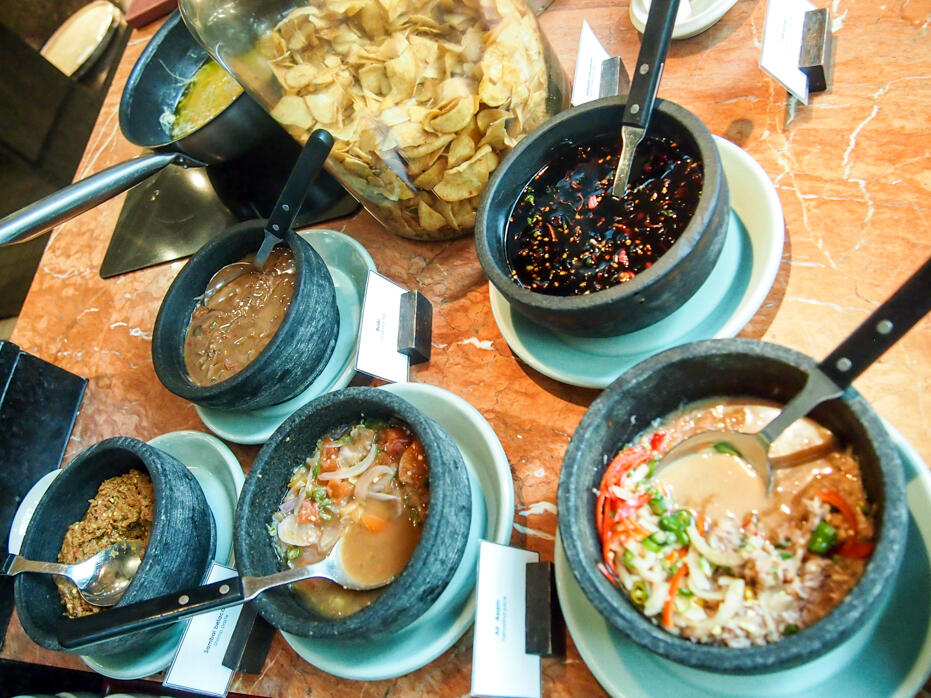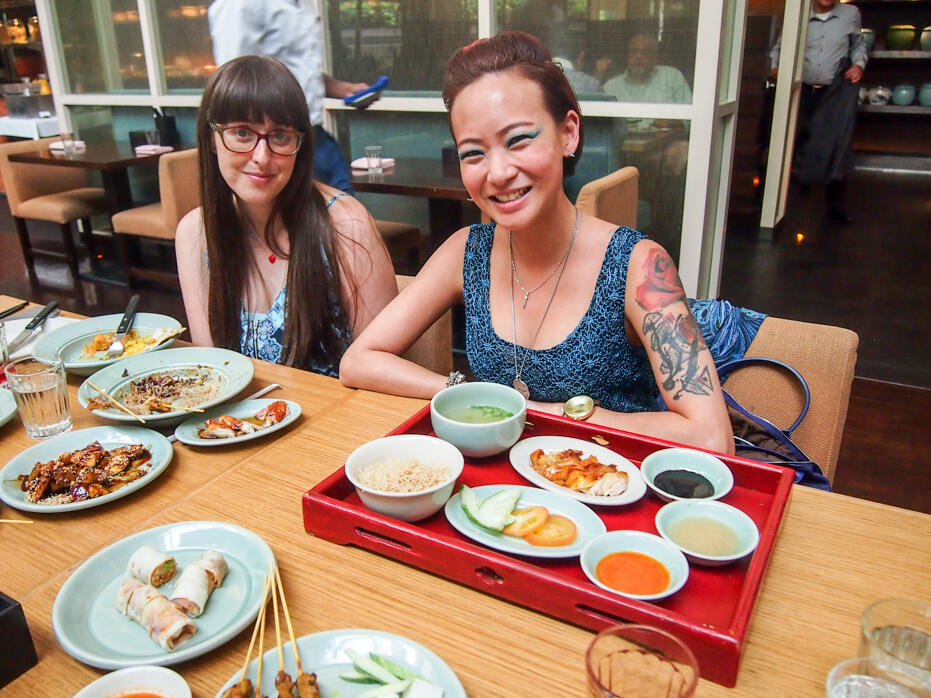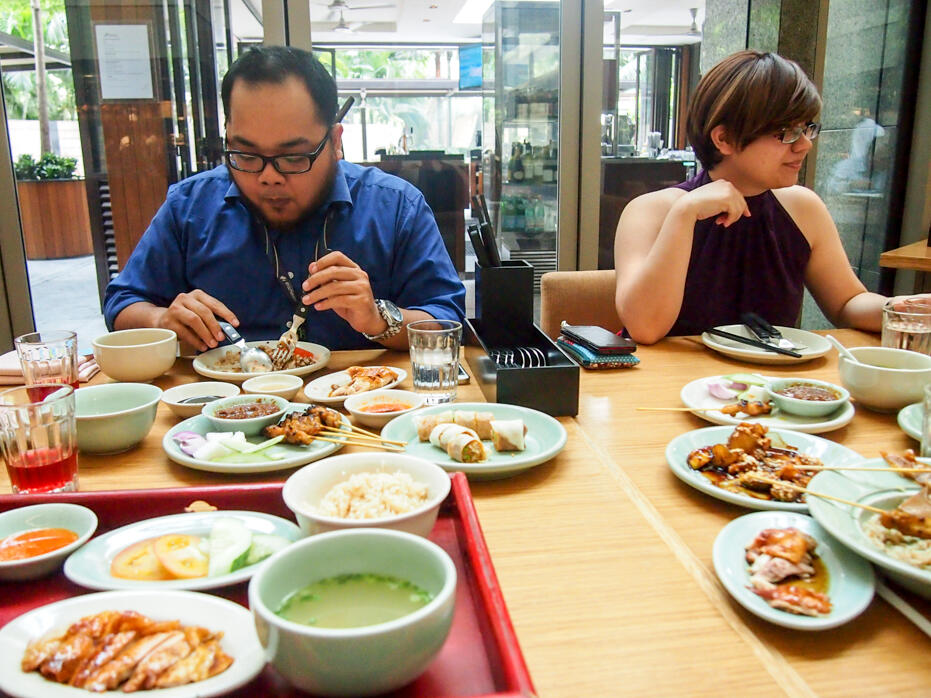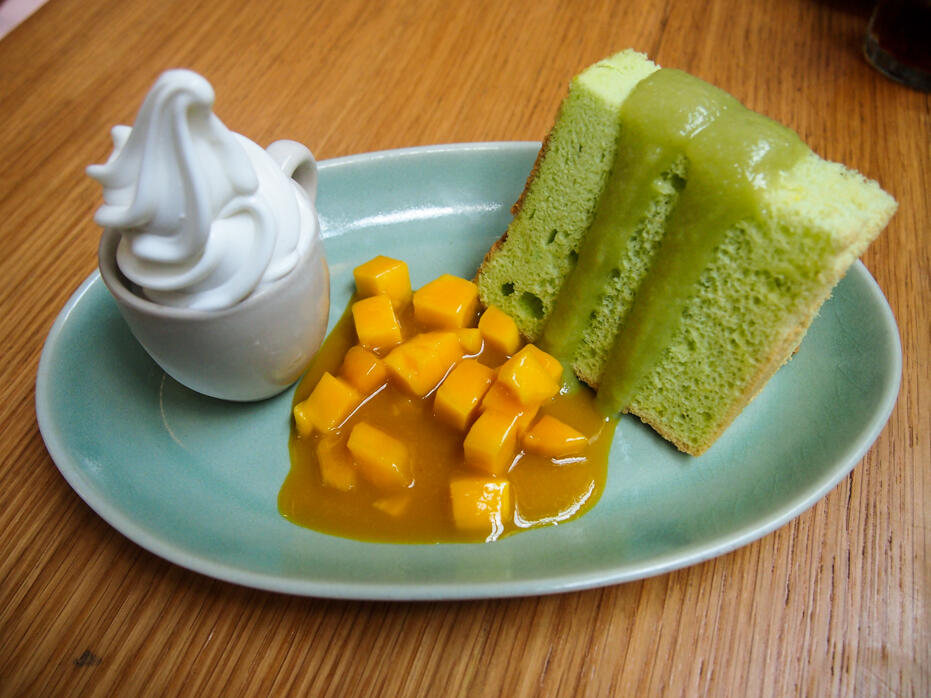 After lunch, we went to Starhill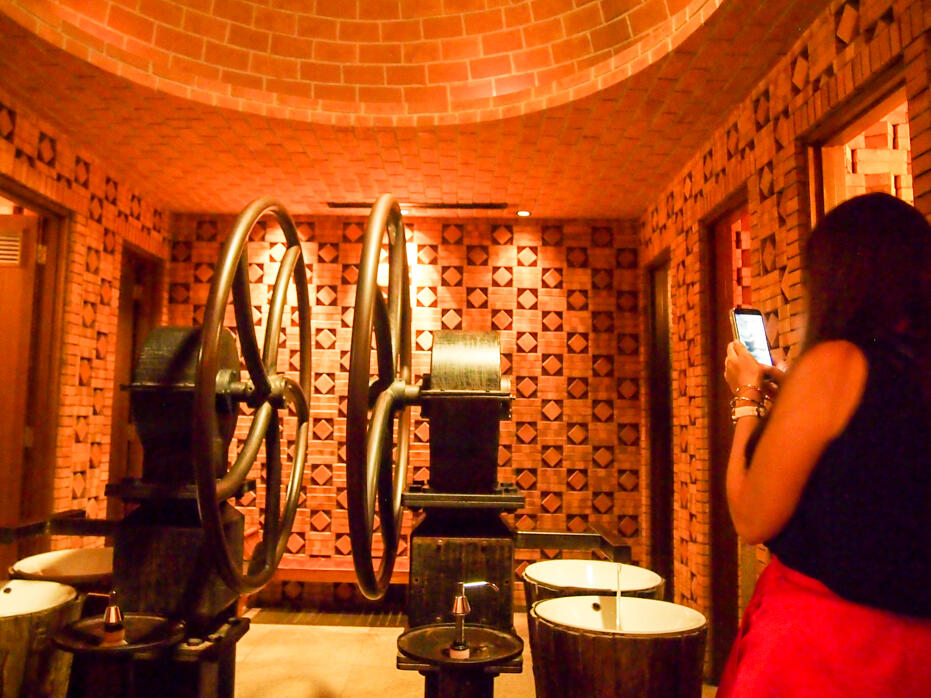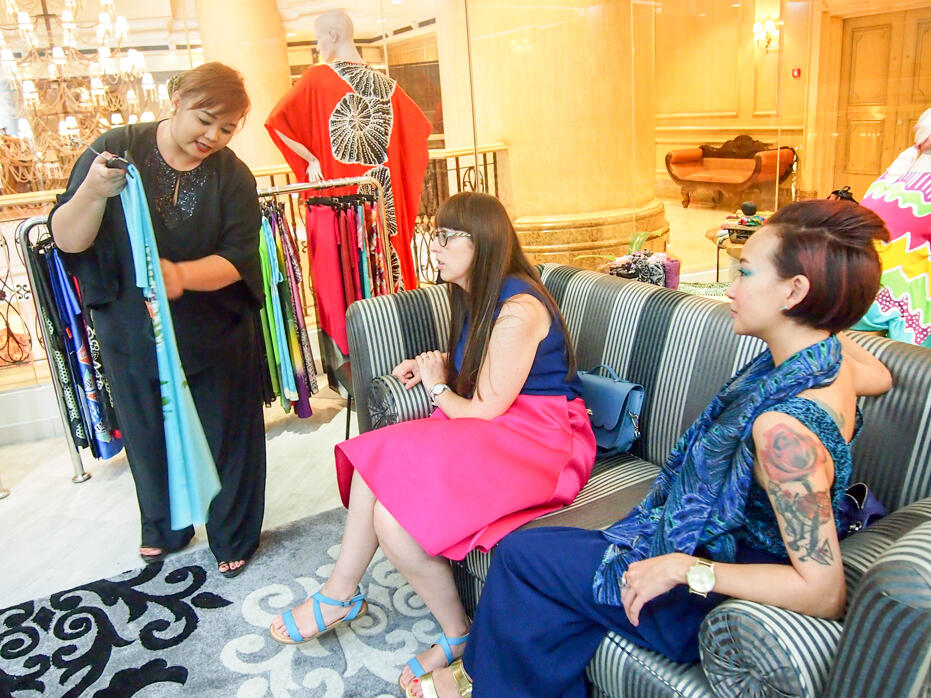 We had a scheduled visit to IKARRTiNi, a boutique in Starhill specializing in batik. For those who don't know, batik is an ancient art form whereby patterns are hand drawn onto silk or fabric using wax. Sometimes a stamp or block is used as a alternate technique. Once the wax has dried, the silk is painted upon or dipped into vats of coloured dyes, depending on the result intended. IKARRTiNi marries the traditional with the contemporary to form an iconic Malaysian brand that creates wearable art.
I love batik and have held on to pieces i've acquired from different countries across South East Asia cos every culture has a different style. They make such original gifts too!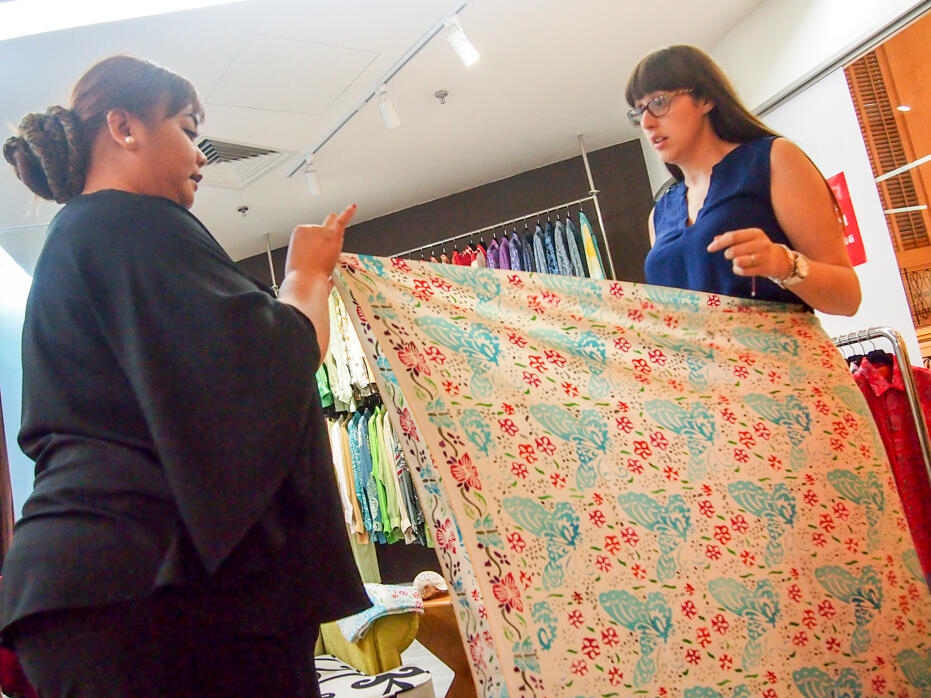 Showing Danielle how to wear batik in various ways. I picked up a tip or two too!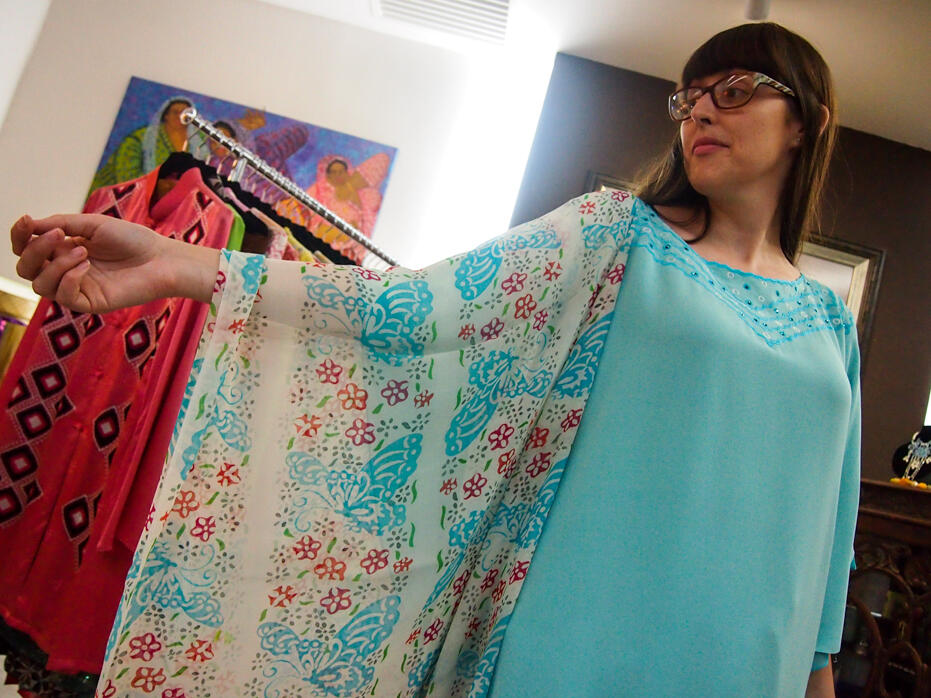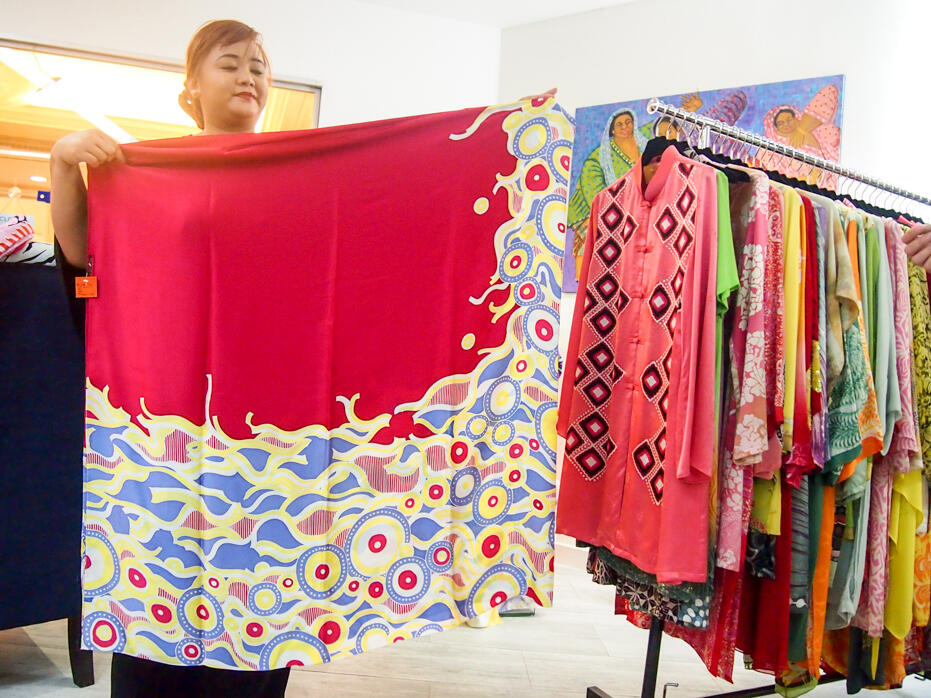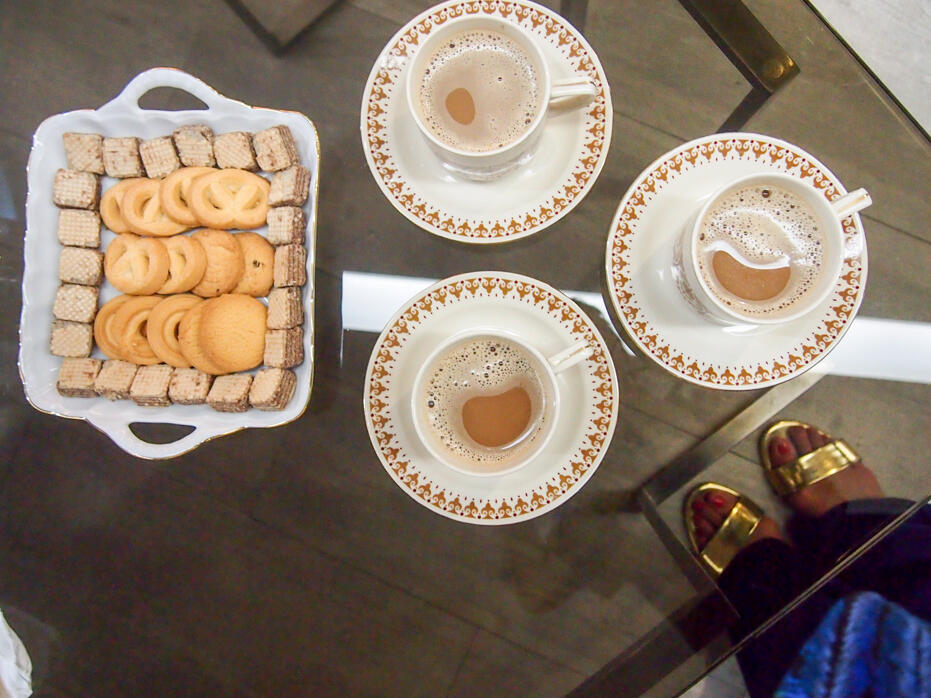 They were so sweet to offer us biscuits and tea but i honestly couldn't put eat another thing for the time being.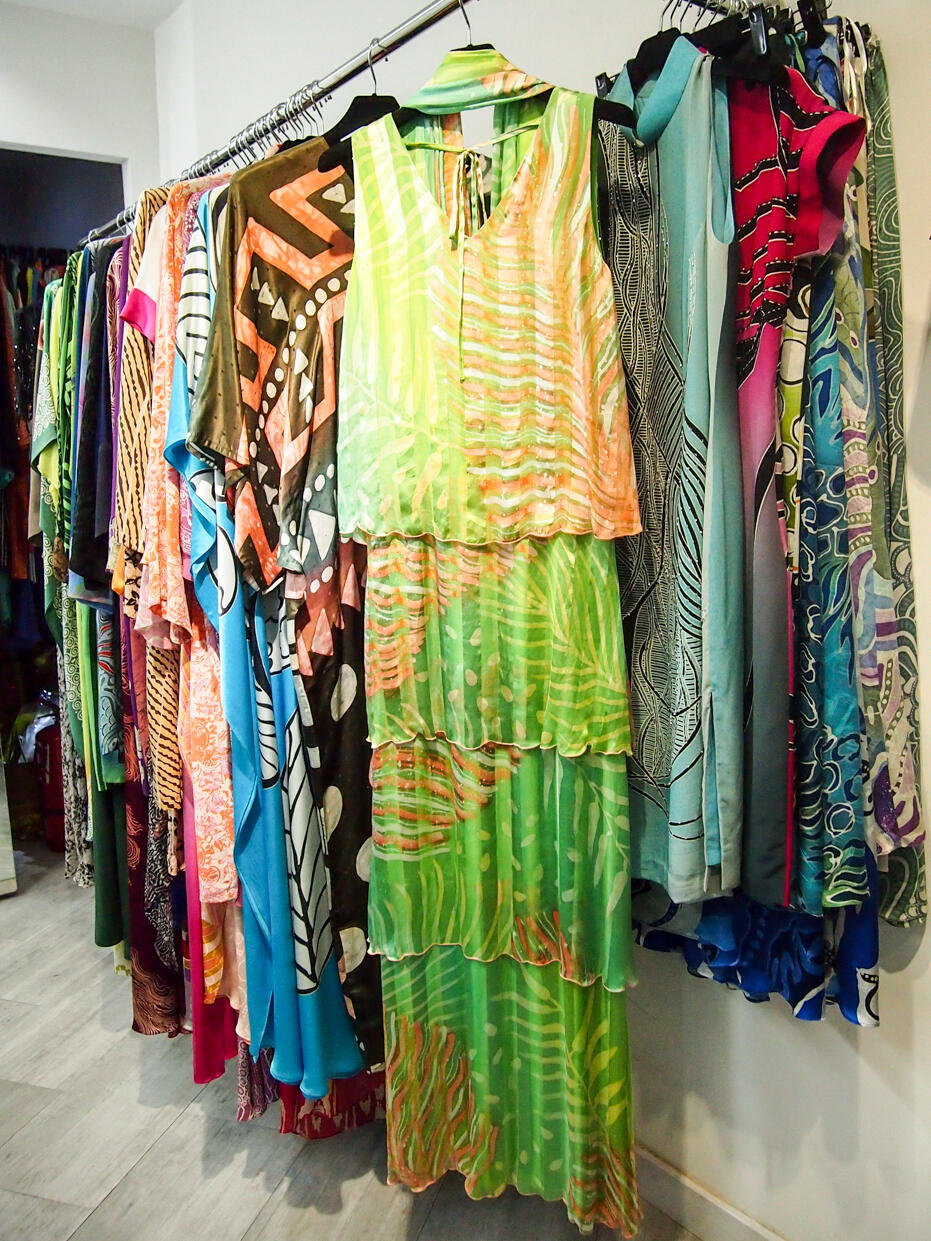 Wow i really fell in love with this dress, the colour combination and prints were gorgeous, and it just feels and looks so much better in person. I wonder when they'll invent an app where you can experience the sense of touch via technology.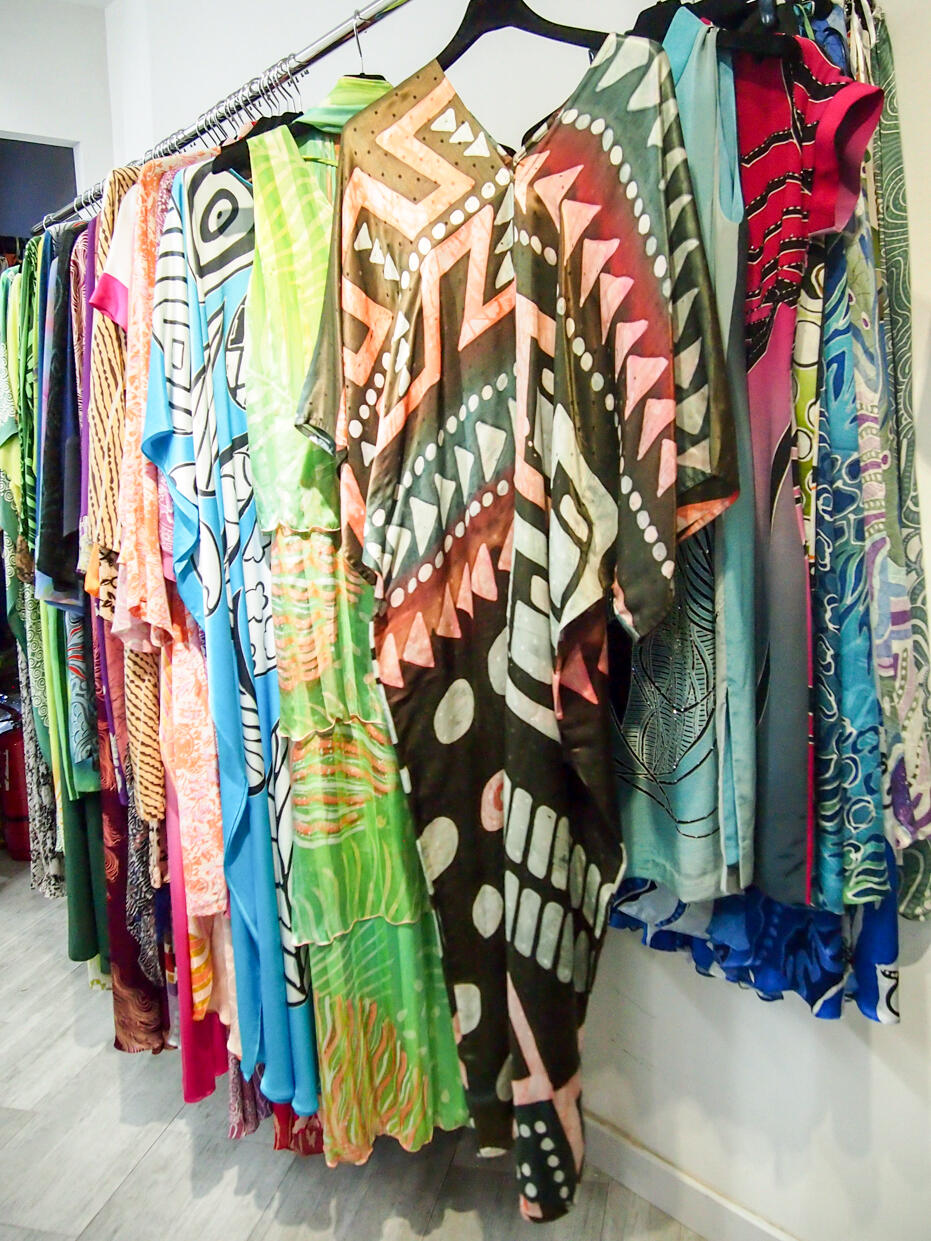 Loved these prints too. Yeah as you can see i go for all the bold ones XD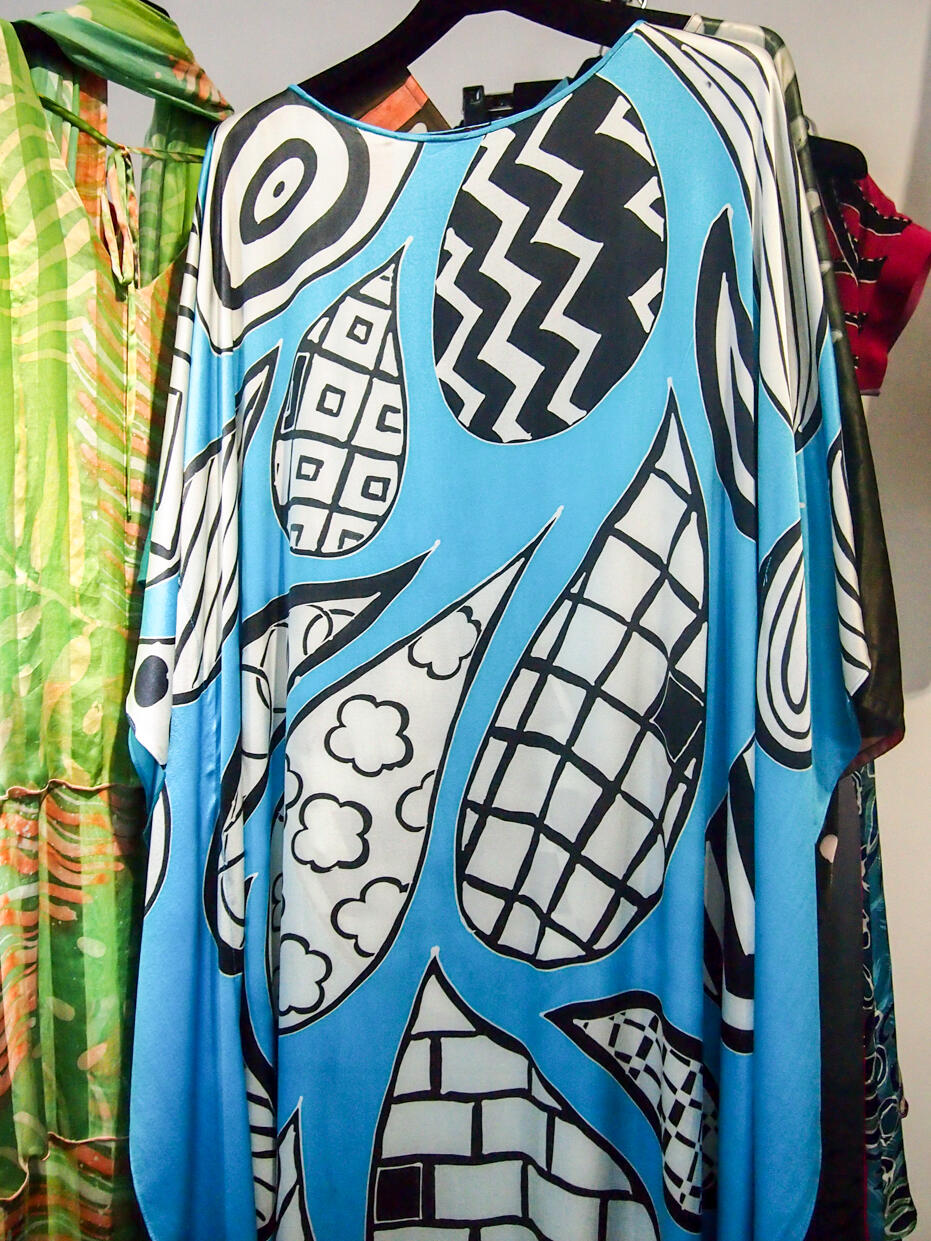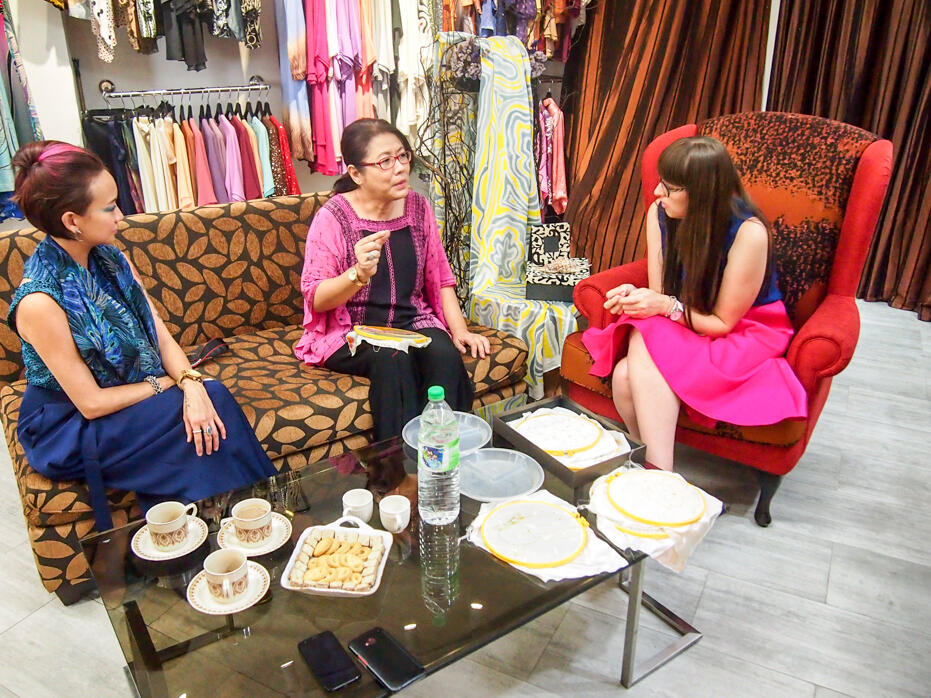 We had a private session with the founder of iKARRTini herself, Kartini Illias, who regaled us with how she learnt the art of batik from one the pioneer of batik. Before he went to Japan to pick up the art of using brushes to apply colours to batik, the practice of dip-dye was used so the colours on Malaysian batik were formerly quite limited till he revolutionized our batik scene.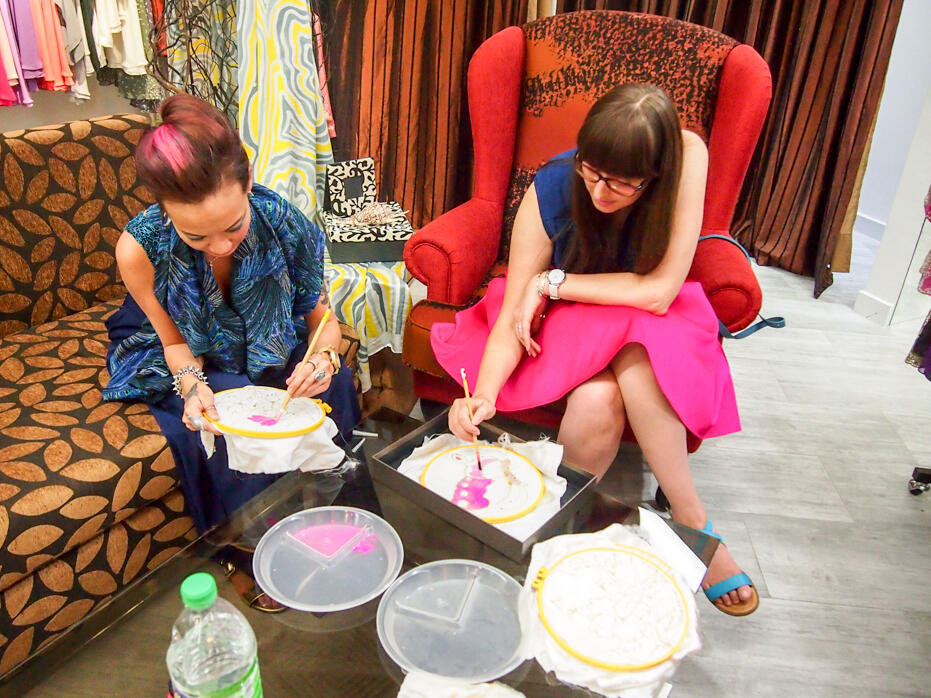 Danielle and i had a go at painting batik that already had wax patterns drawn out for us.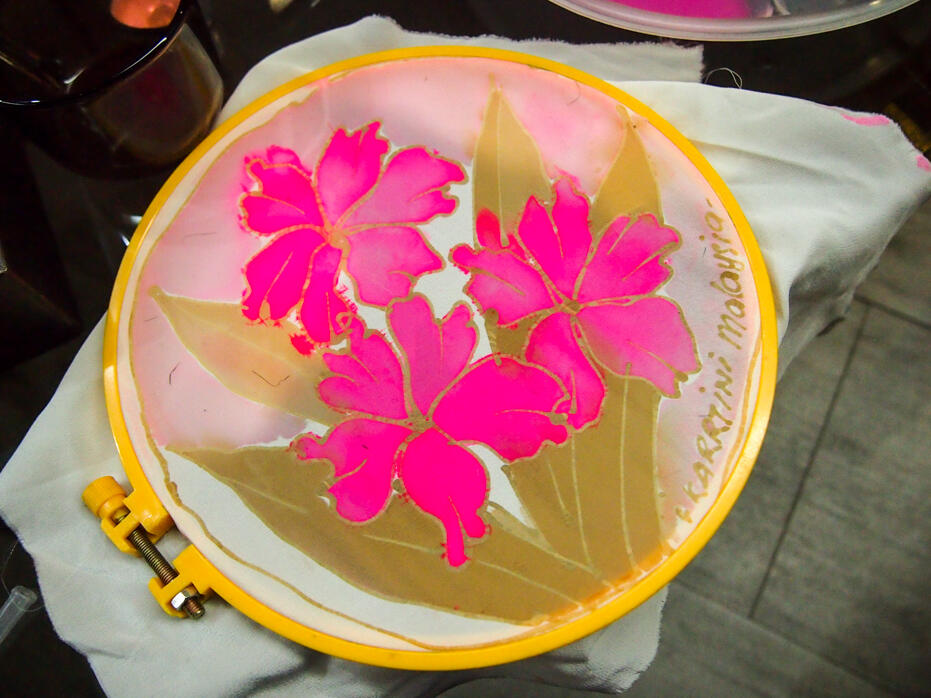 I'm not happy with mine. I could do better!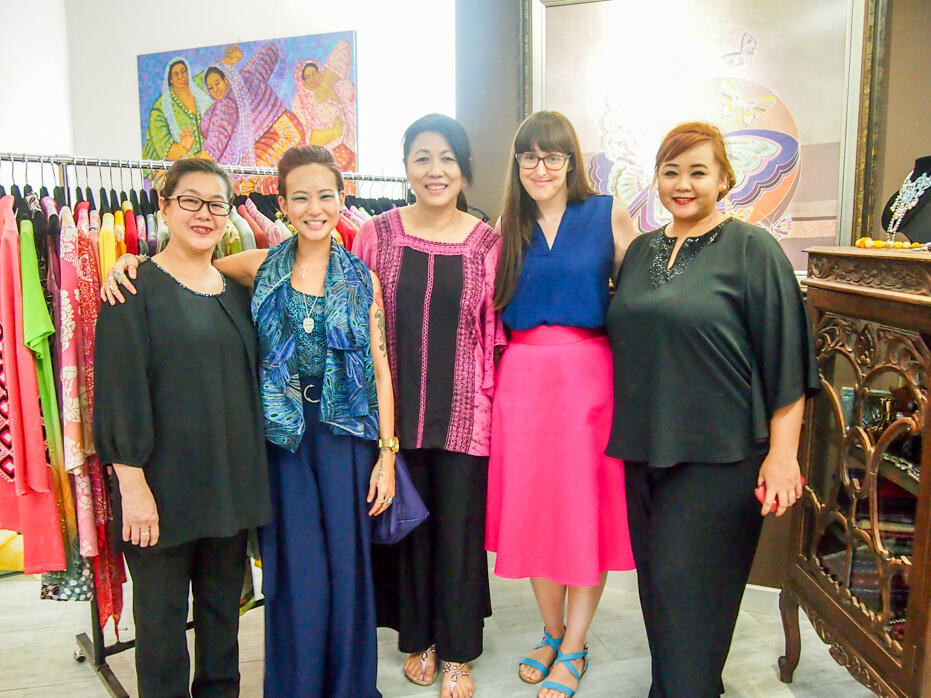 Thank you so much for having us!