For now. Come back and work for us!
April has been interning with us for the past few months and she's been fantastic.
Baby introduced her to Claudia after an event one day as, "My star intern."
And Claudia went, "Come work for me."
When i heard that, i immediately blurted, "Bitch!"
If you steal April, i think Baby will burn your office down. XD
Anywayyyy NOBODY gets to have April cos she returns to London next week to continue her studies.
Baby and i have been trying to convince her how since the pound is so high, she might as well stay and save her parents money.
April joined us while i was away in the States and Europe over summer, so i barely got much time with her. When i returned, i discovered how Baby and her got on like a house on fire despite their >10 year age gap. They even went on a holiday to Penang together, made up their own hashtag #TerribleTwoTravels, gave each other nicknames (Baby is King, and April is Tanggachi), speak in an Indian accent to each other (i really don't know how this cropped up), and have sleepovers.
They laugh ALL THE TIME.
They laugh so much, Baby had to go to the doctor late one night last week cos her chest ached and the doctor told her she probably pulled a chest muscle from laughing too hard.
Even her tiny body can't take the laughing!
Never heard before ok.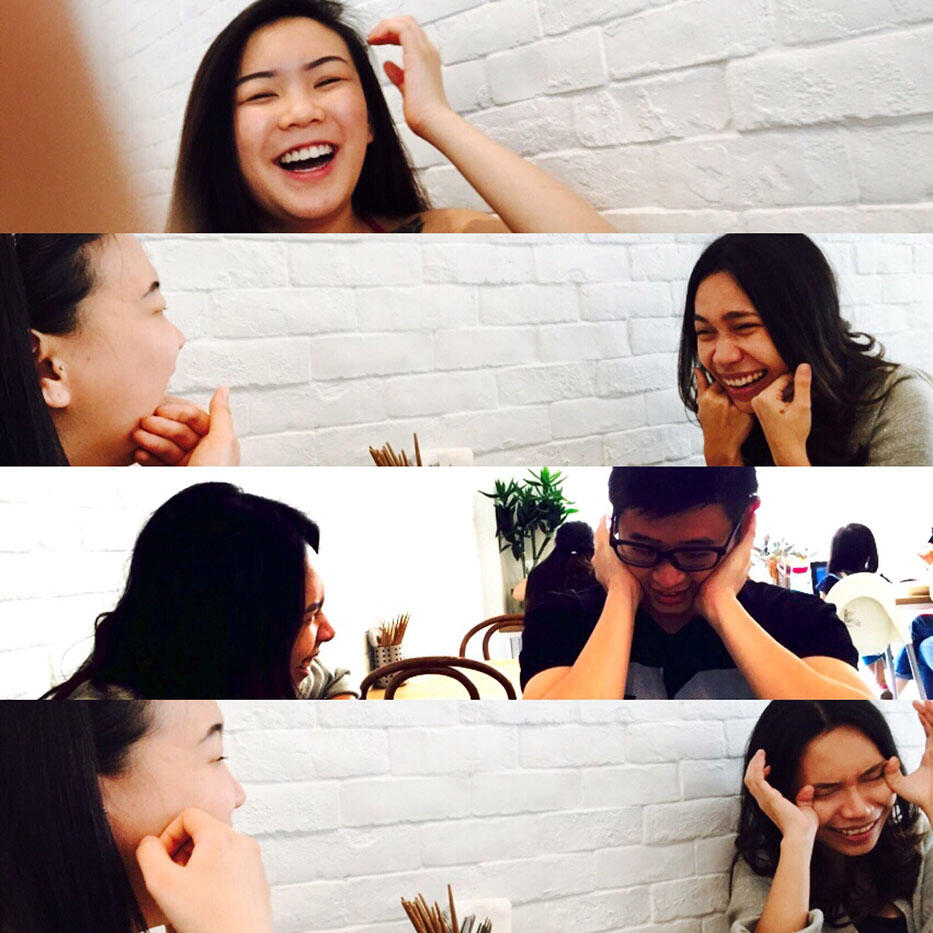 [Pic edited by
Baby
]
Tengok orang ini… laugh until they cry at Mei by Fat Spoon where we had lunch today.
Andrew held his face and said his cheeks can get a six-pack from laughing.
I was like, "Guys… if you pull a face muscle this time…"
Last night was the first and only time i had alone with April, since she was gonna leave KL soon. We went to the Topshop/Zalora event, and dinner and drinks after at Alexis. Baby merajuked at home so i prodded her further by creating our own hashtag #fairynapril *batu api*   🙄
This morning, Baby asked April, "How was your night with my arch nemesis?"
April laughed so much she wanted to pull her car over to the side of the road cos she couldn't drive.
Eh dangerous la you all…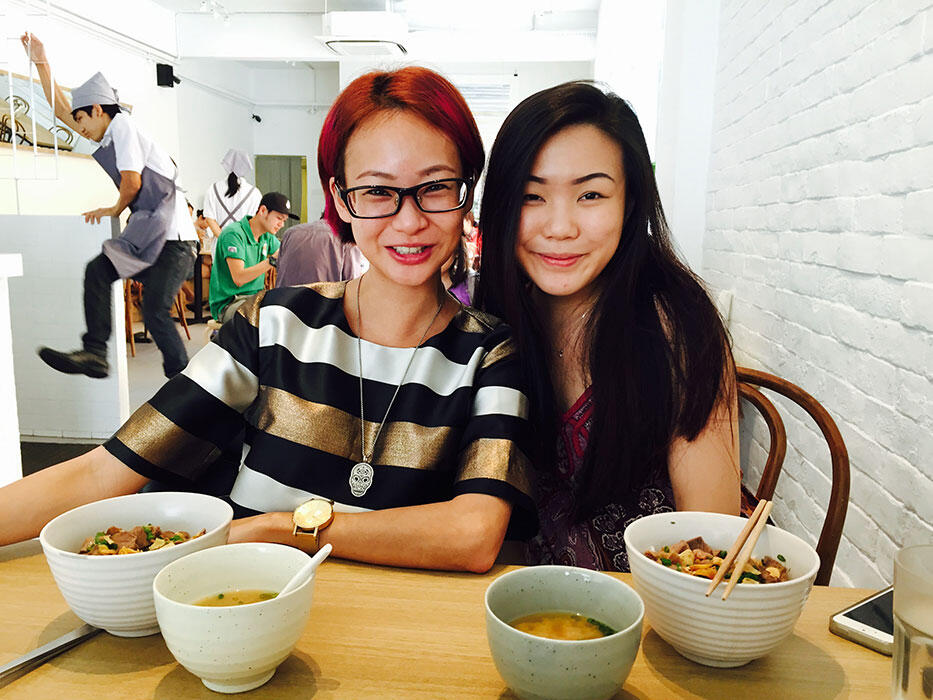 While Baby was taking this pic of April and i with my phone, i quipped Bart Simpson style, "Ha ha, Baby's not in the picture!"
I saw her stiffen and suspect she almost threw my phone back at me but maintained XD
(on a side note, the waiter in the bg moves like an action hero)
April's (official) last day as an intern at KBF is today.
She's still coming by next week (cos she can't get enough of us) and i'll see her in London when i'm there for LFW! (Jealous or not Baby? XD)
Thank you so much for being such a joyful part of KBF for the past few months April!
Whoever comes in next as an intern with us will have big shoes to fill… i can already hear Baby in my head going, "Nooooooo"