*Written by April*
Baby: April, we have (meetings/events/etc) to attend this week..
Me: Ok.
Baby: Eh no you're going to Jakarta.
Me: Where???
Baby: Indonesia la!
Mornings with the #KinkyBlueFairyTeam are always filled with surprises. One day its a 50 pieces of blondies and on others… it's a special flight with Miffy, a cute little rabbit who's been traveling from Netherlands to several European countries and made her way to parts of Asia!
Miffy was created by Dick Bruna, who used to tell his son stories about a little rabbit who would wander around the gardens while they were on holiday at a quaint Dutch village. She is also known as Nijntje, which derived from 'konijntje' – meaning "little rabbit" in Dutch. Dearest Miffy celebrated her 60th anniversary this year!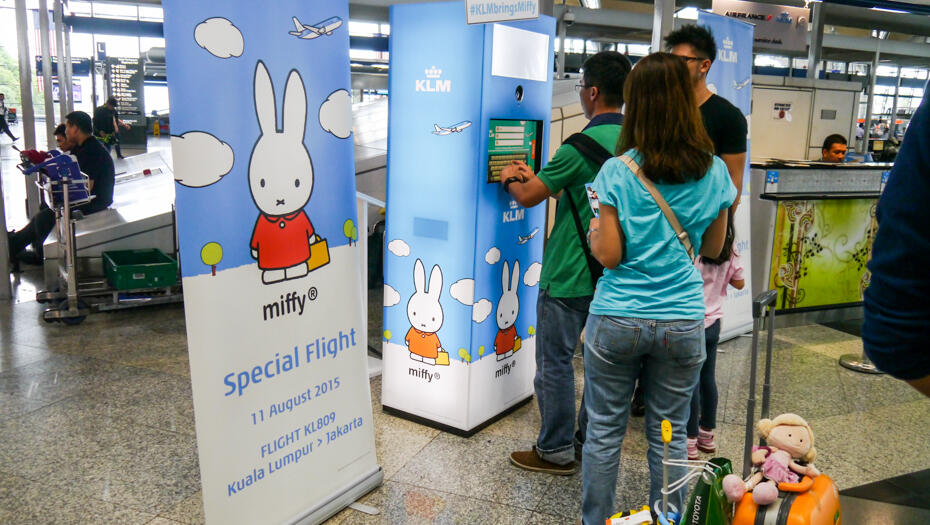 Jakarta was the last leg of Miffy's tour around South East Asia before returning to Europe.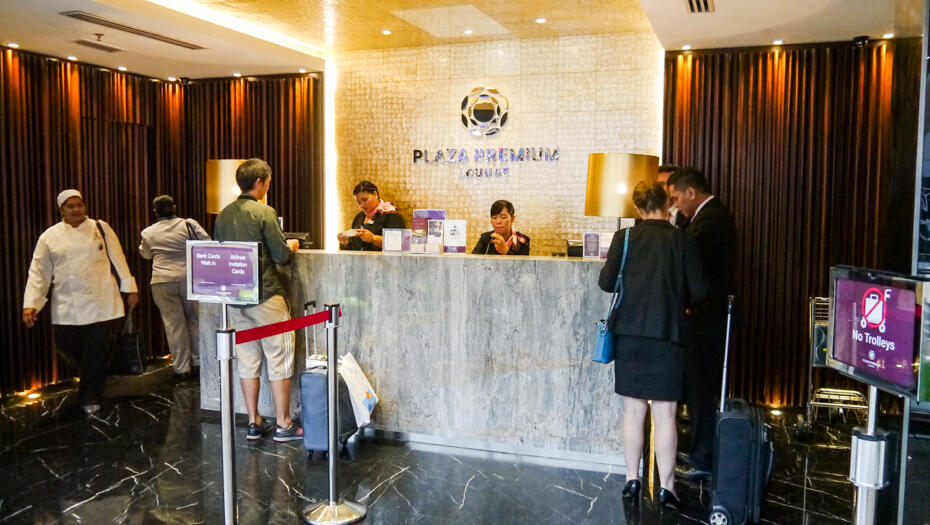 KLM really made sure we were comfortable throughout this journey. We arrived early for check in and were taken to the Plaza Premium Lounge to relax and mingle before our flight.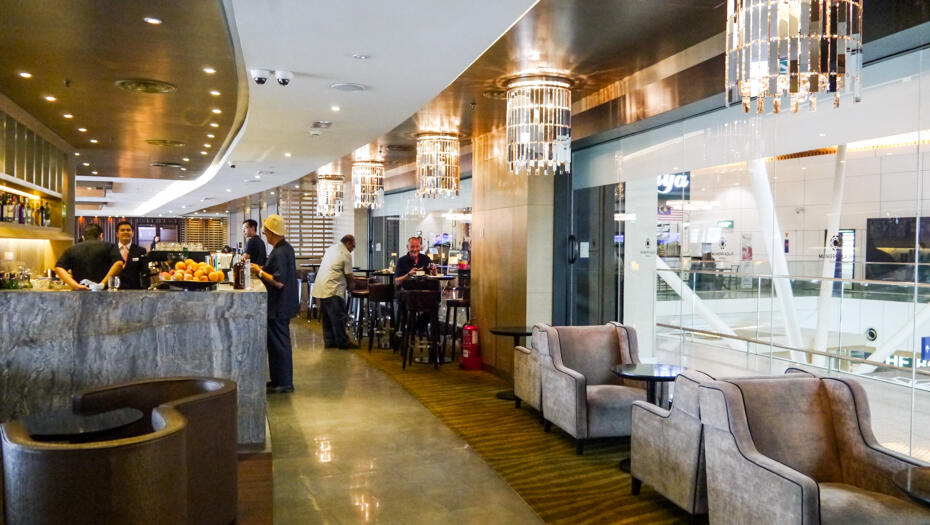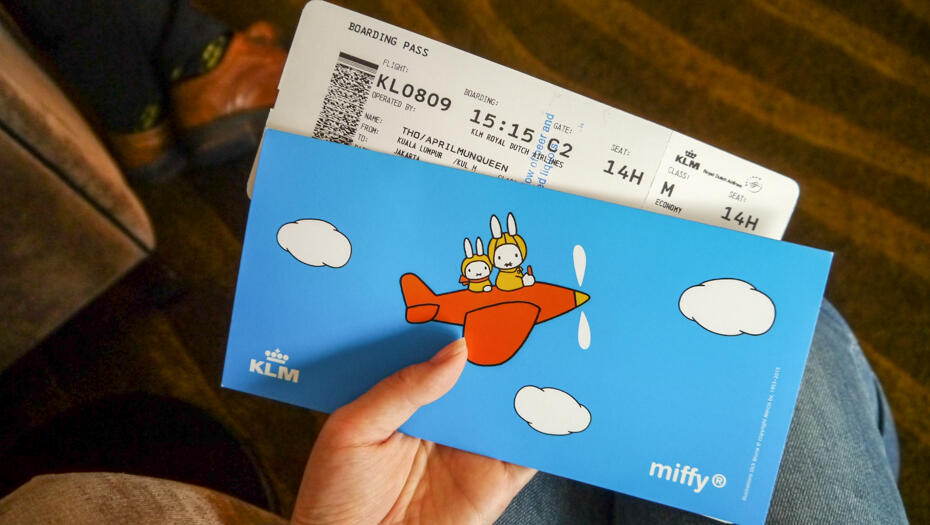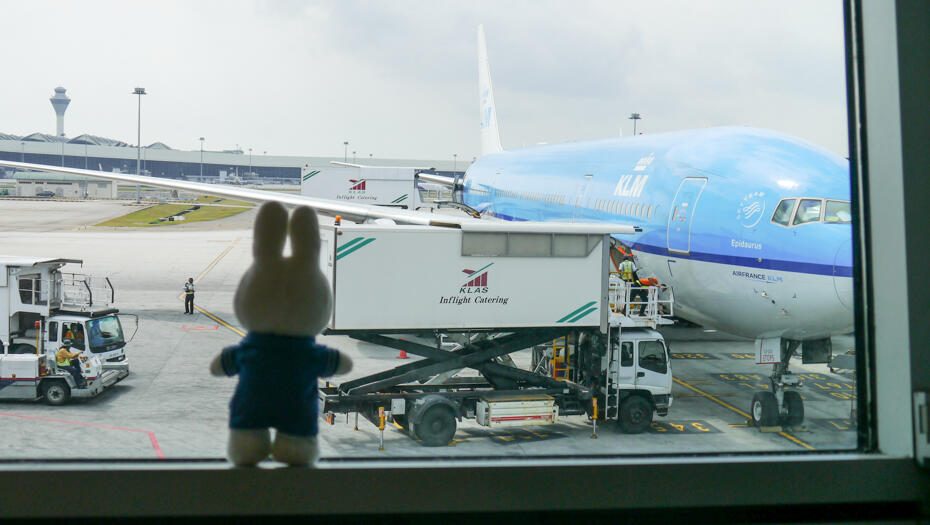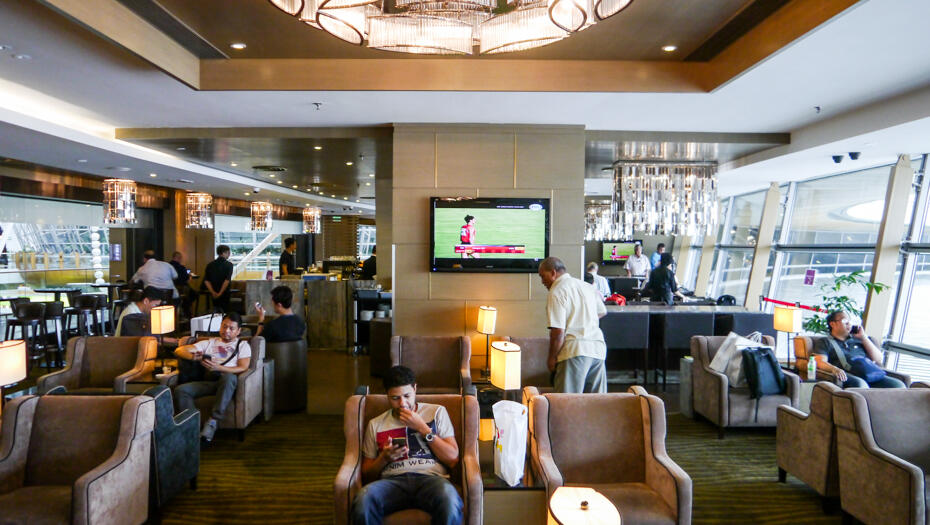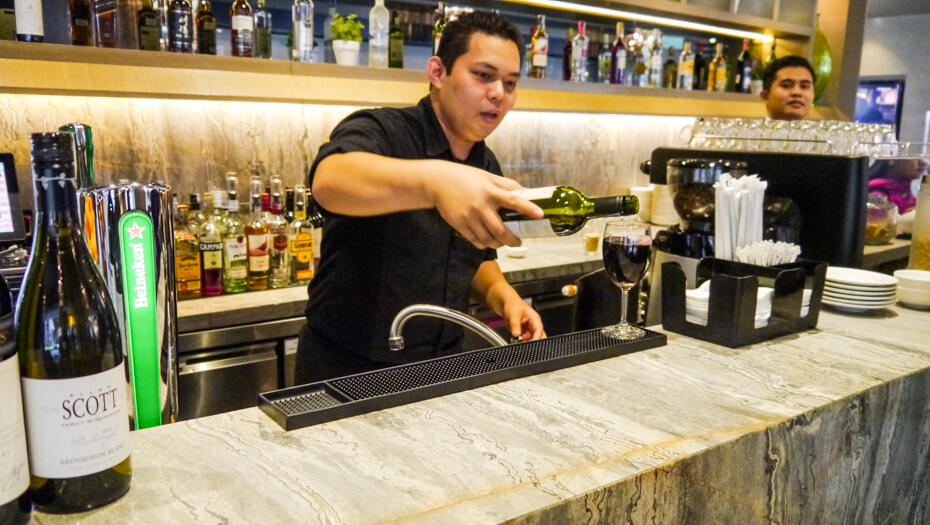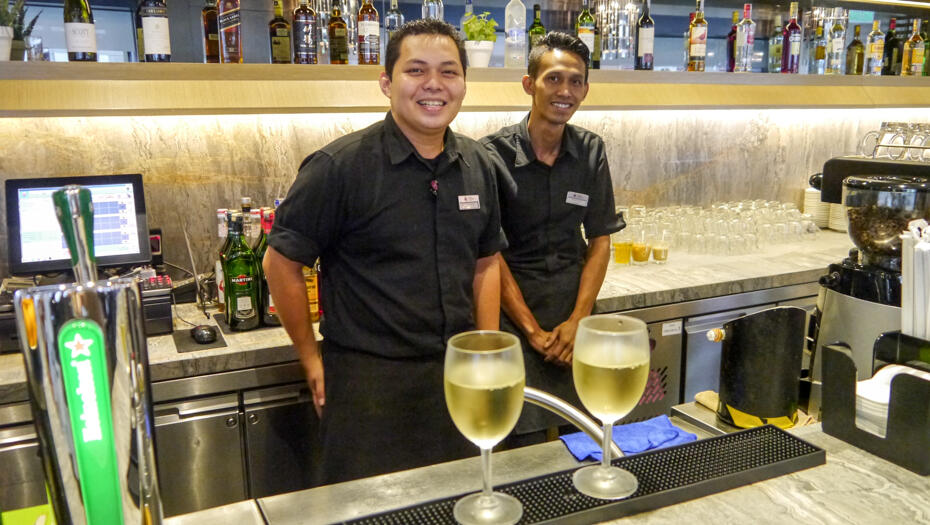 The friendly staff at the lounge made sure our alcoholic needs were met lol. Super charming guys!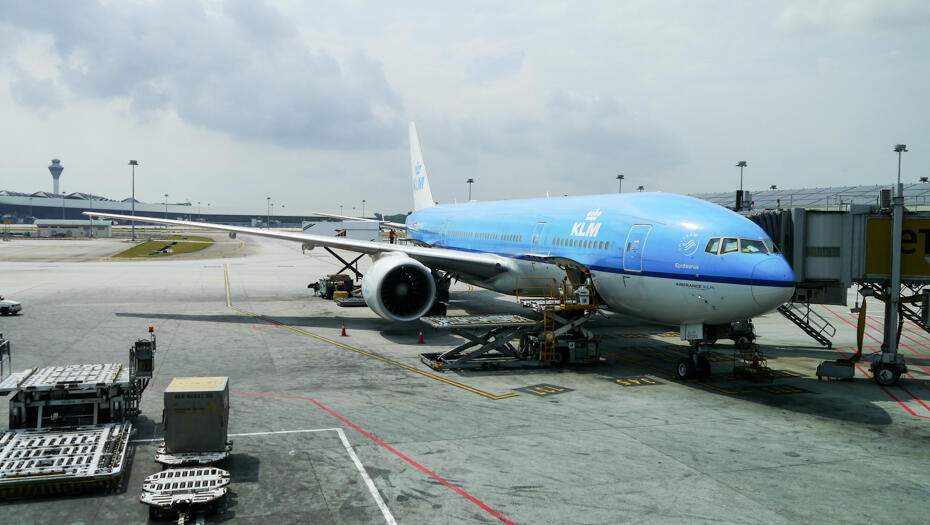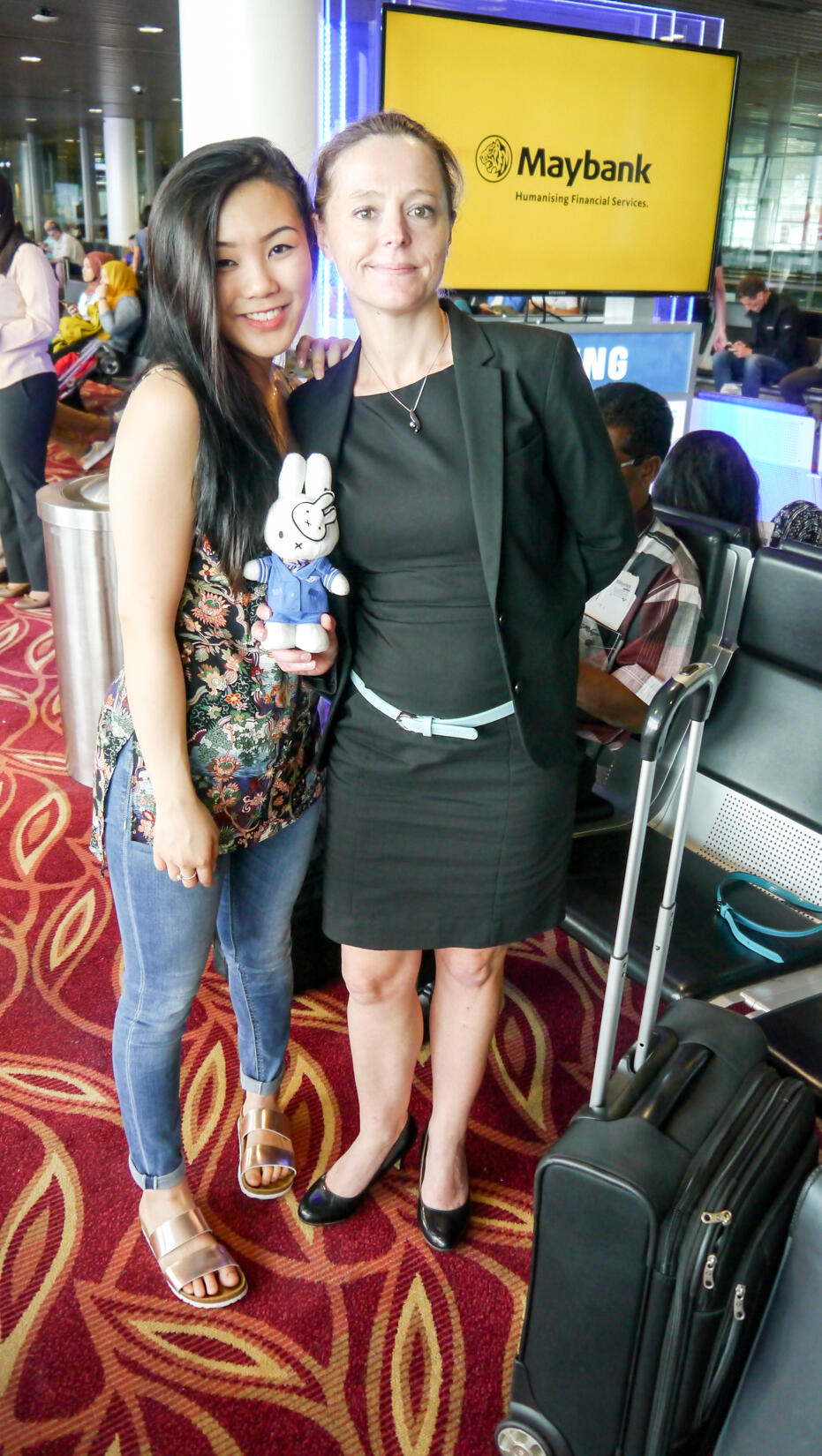 This is Aude-Lise, the Air France–KLM General Manager for Malaysia-Brunei and also our host for the special flight.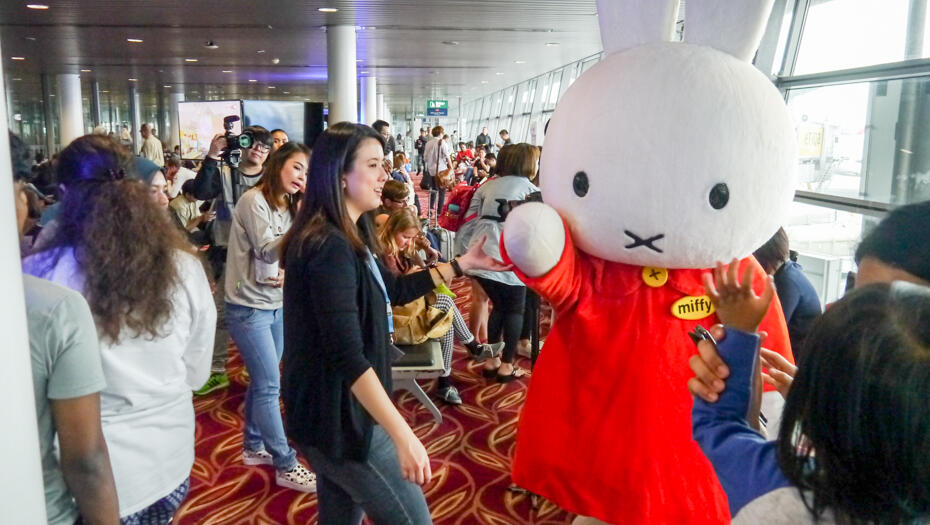 Superstar Miffy surprised her fans and made an appearance right before boarding. The crowd went crazy!!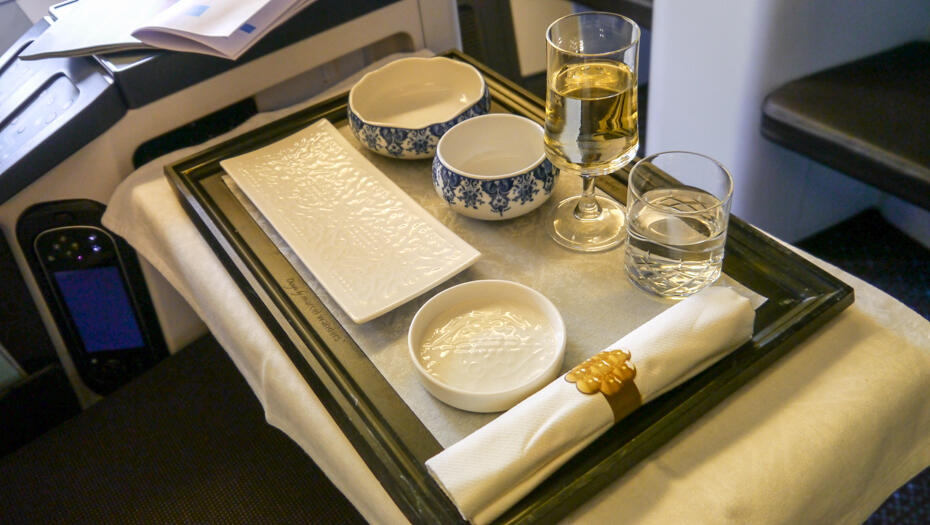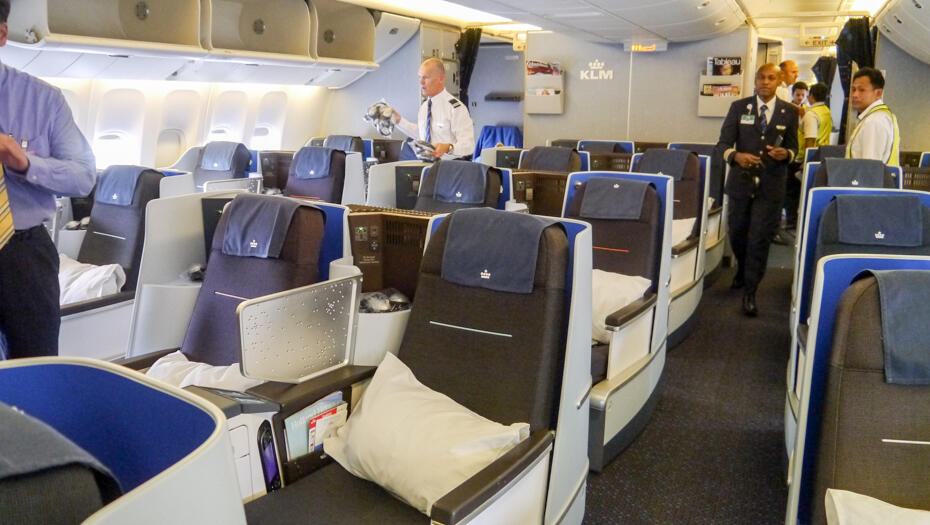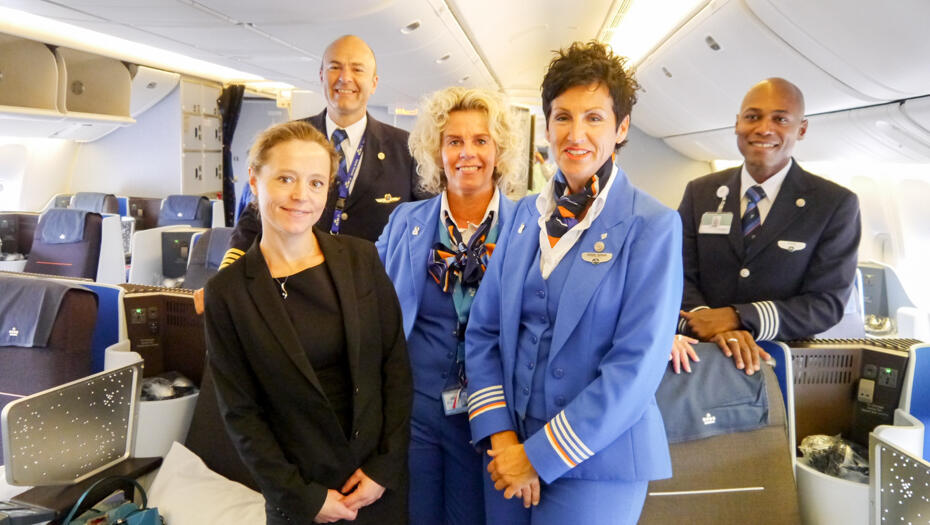 The KLM air crew for the flight were affable and ever-ready to make sure you have the best flight ever. They took us through the Boeing 777-200 that we were to be on en route Jakarta. The aircraft was equipped with a fully renovated cabin, including newly designed Economy Class seats.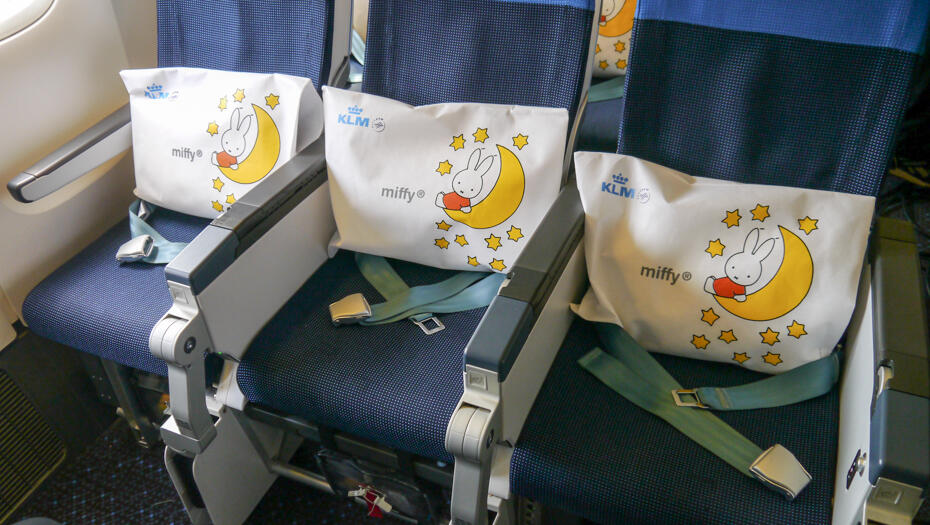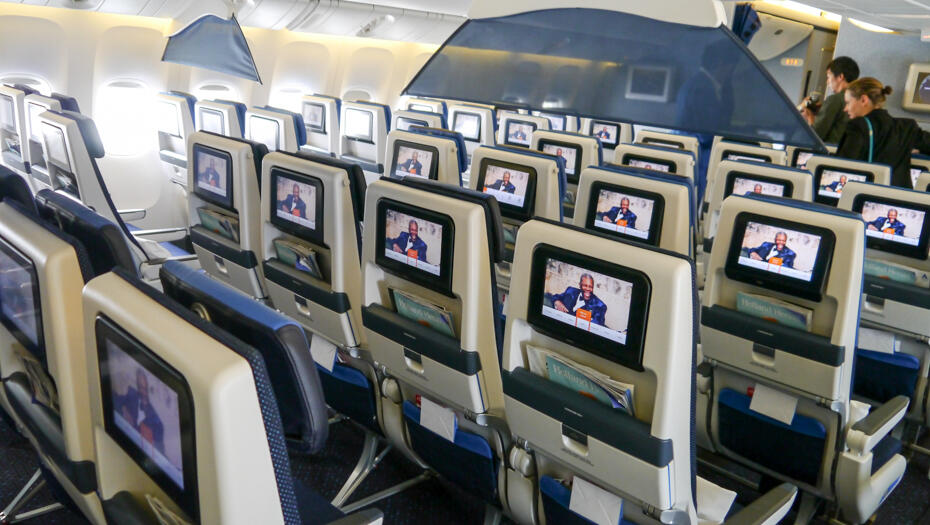 We were seated in Economy Class and the seats were super comfortable. These seats feature more leg room and neck support – totally important especially if you're napping during the flight ok.
For someone who's barely able to sleep during flights… I fell asleep instantly after departure.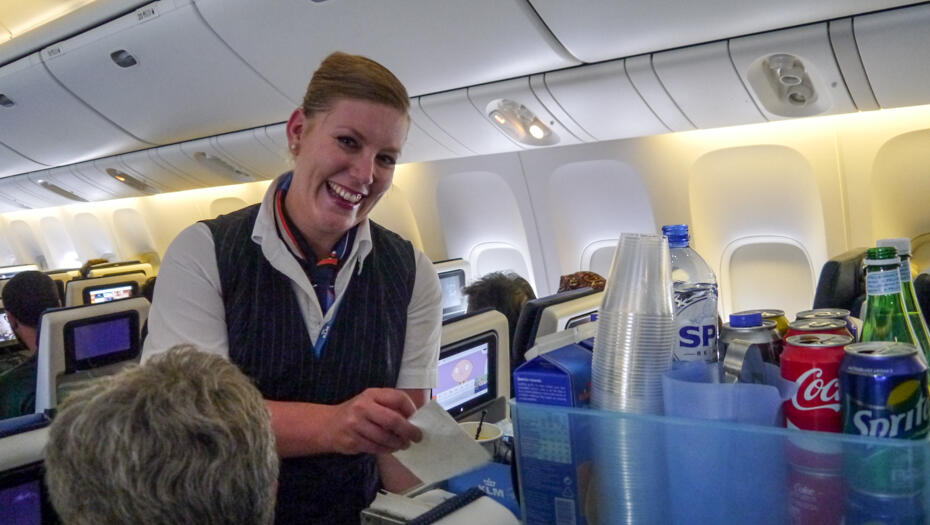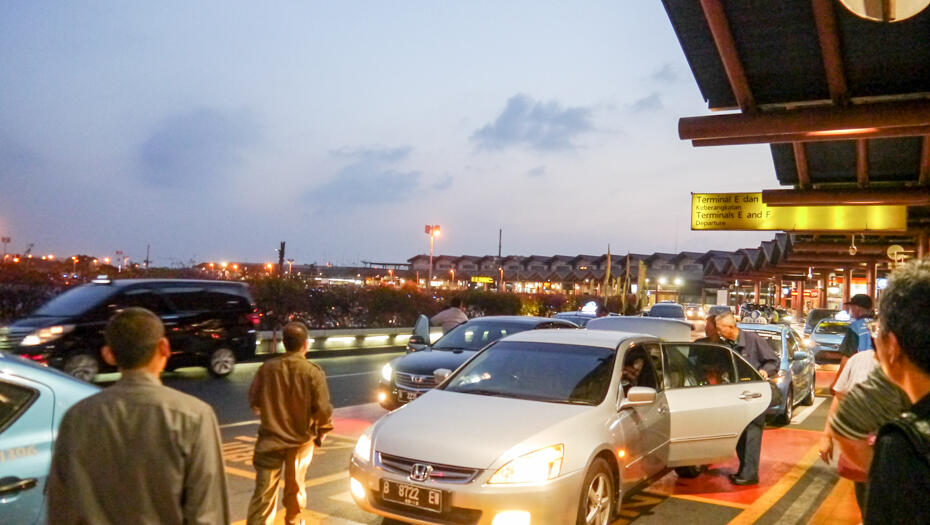 Hello, Jakarta!
We arrived slightly after 6pm and got stuck in the infamous Jakarta traffic on the way to Novotel Dua Mangga, where we were to stay the night. We took about two hours to get to the hotel, thats not too bad right??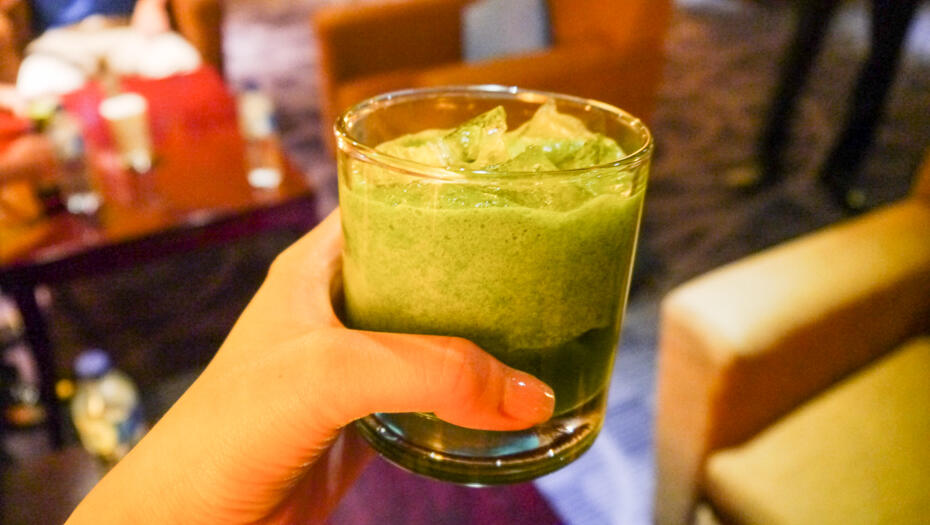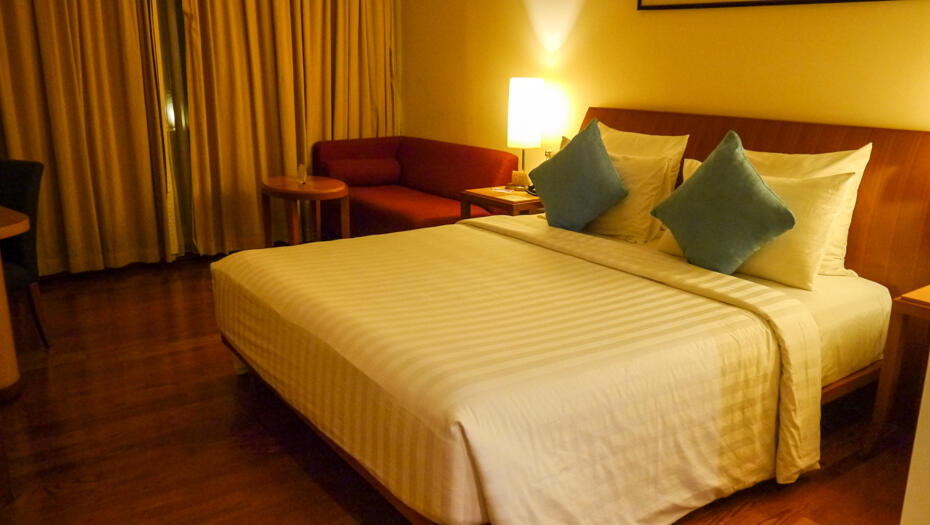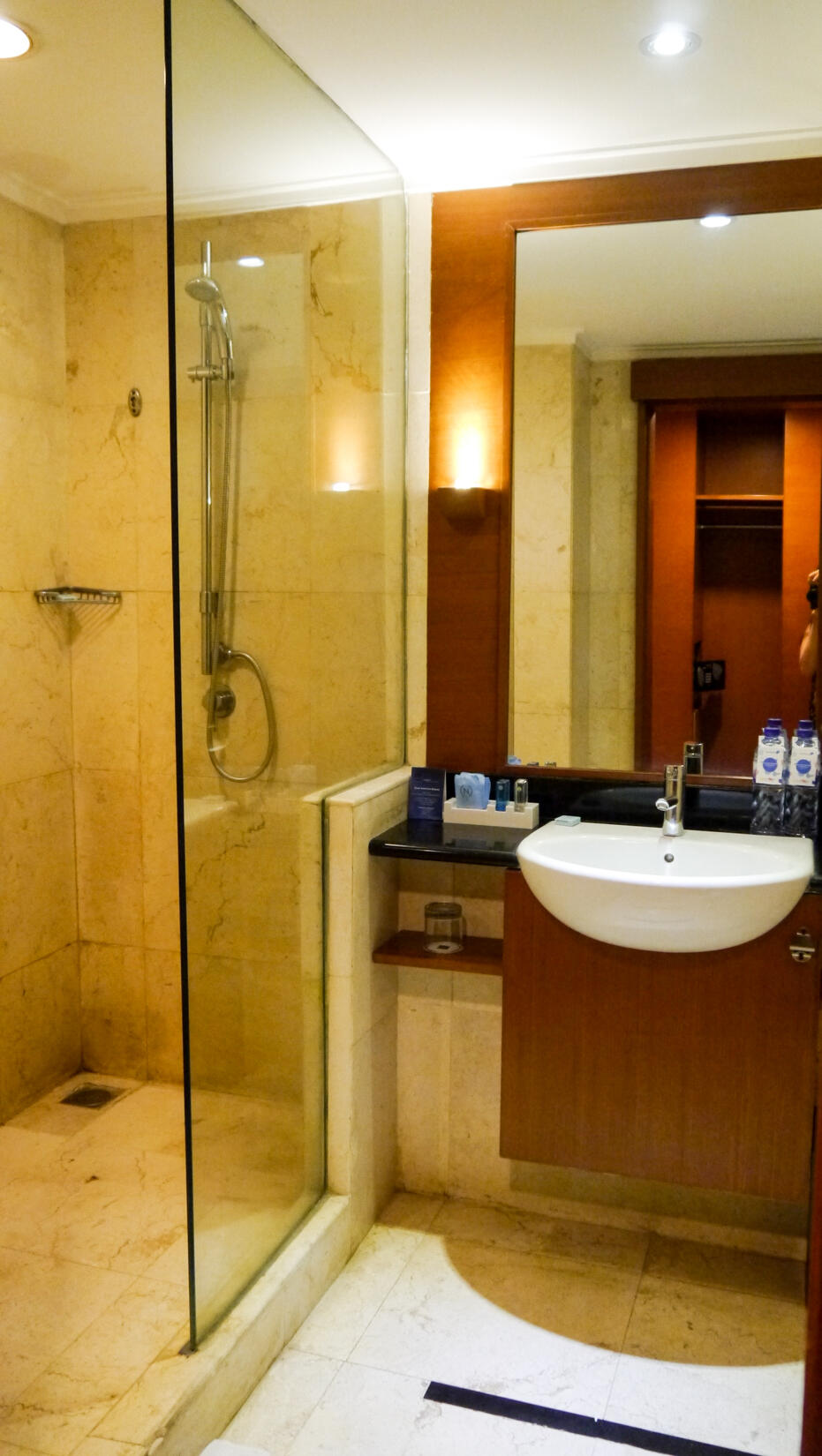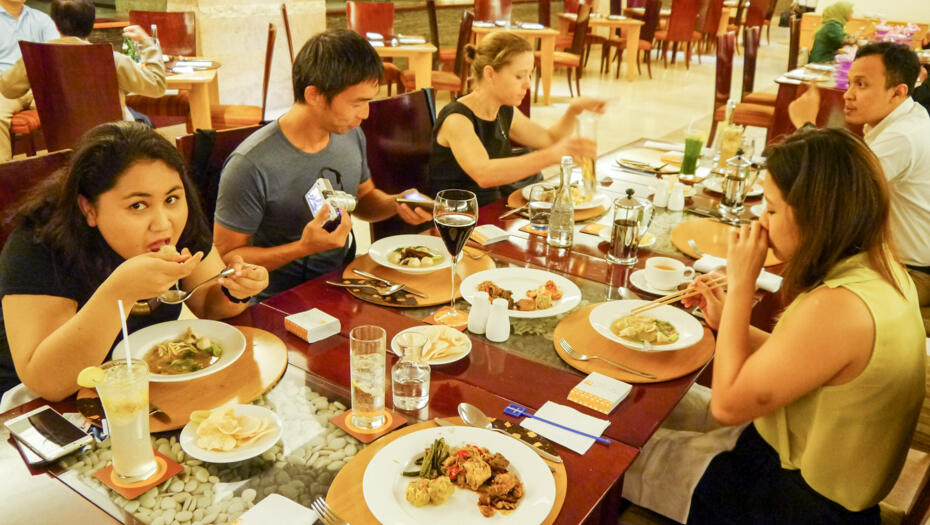 At dinner, we were given a choice to order from the menu or stuff ourselves shameless from the buffet spread. We decided on the buffet (the food looked too good to resist).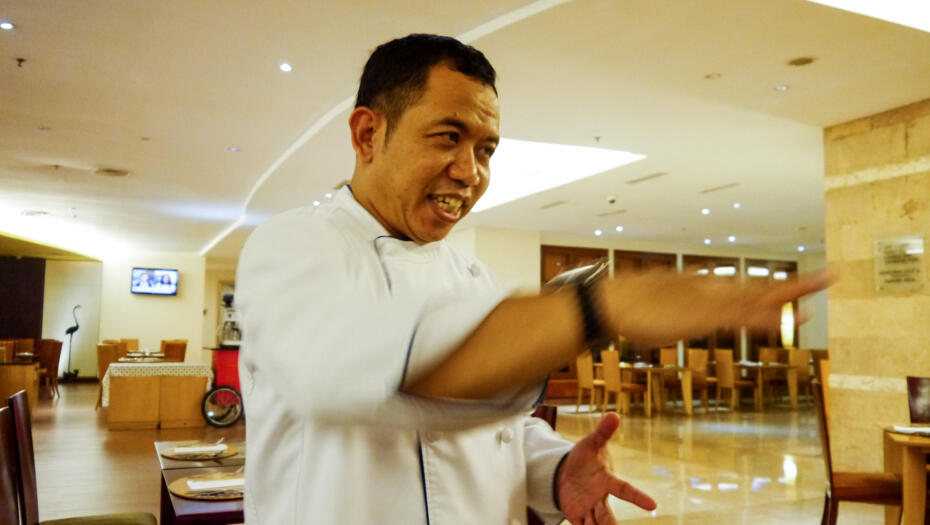 The Head Chef came to introduce himself and of course, spoiled us with even MORE food from his kitchen.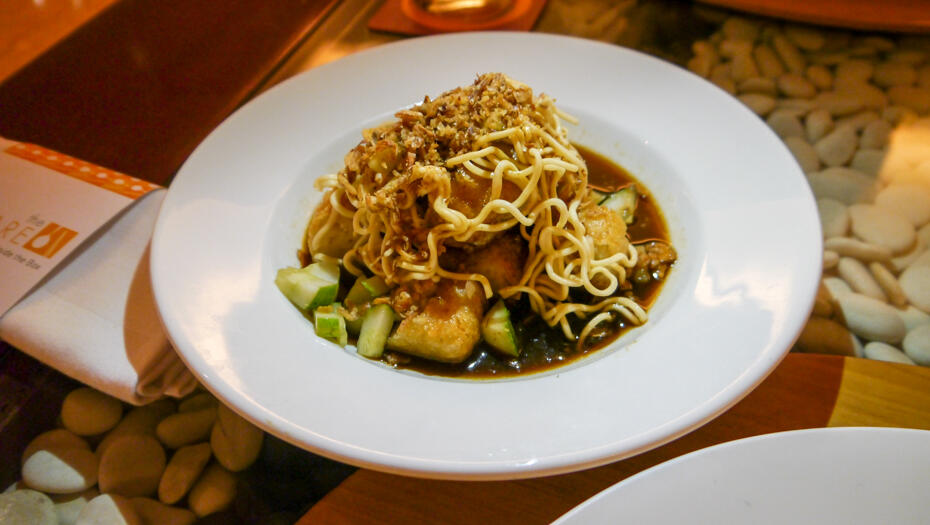 He brought out several Indonesian dishes which he thought represents the country's multiculturalism best. These dishes were his take on popular street food and boy, it was good.
I had A LOT more than I should that night. I almost had to roll back to my hotel room.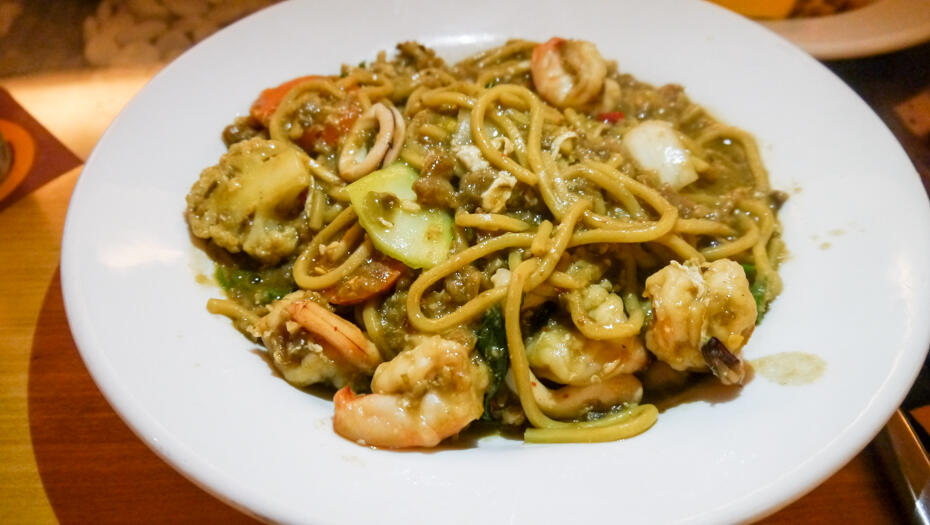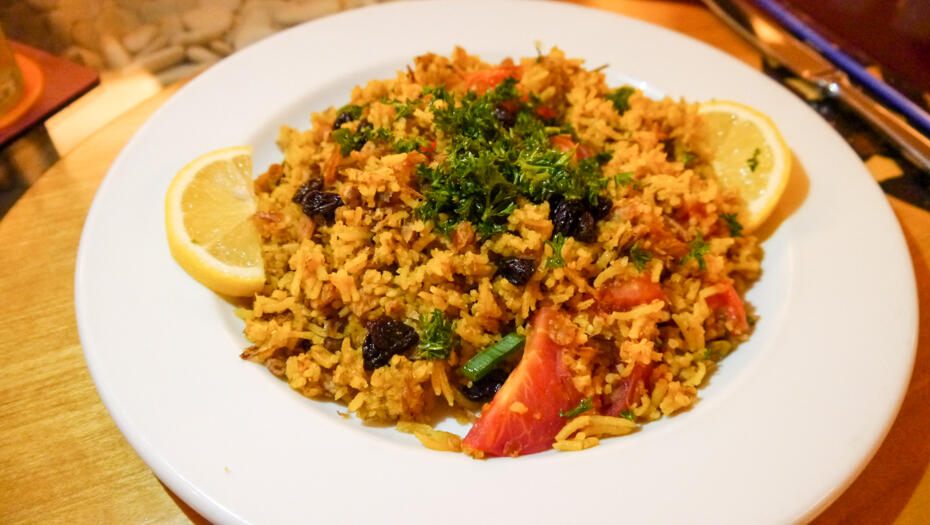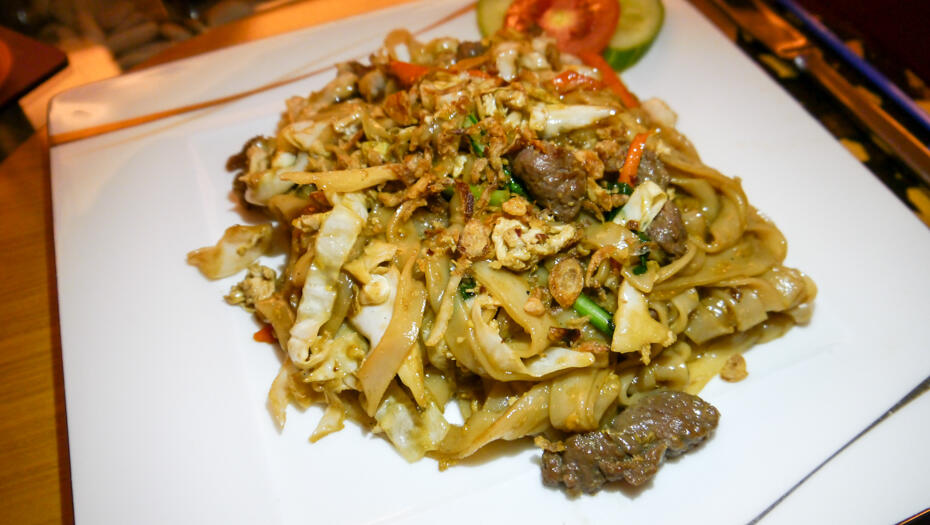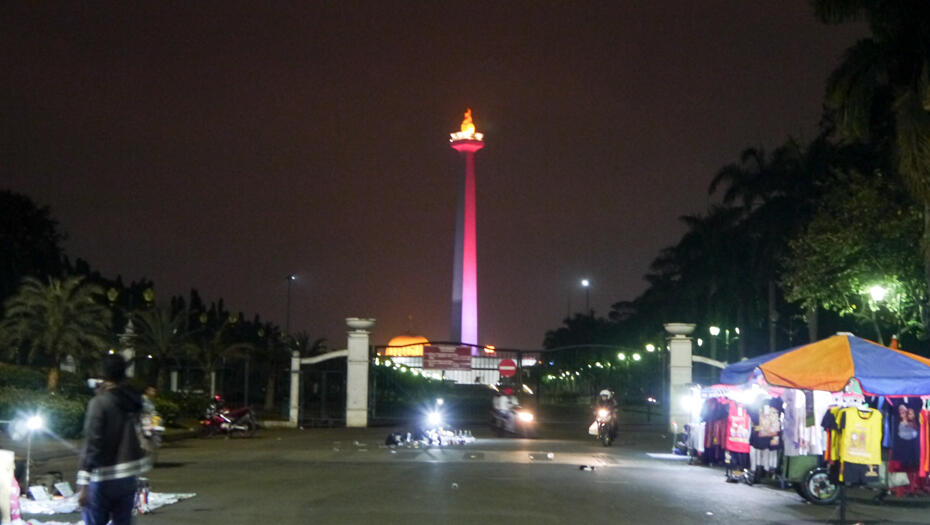 Novotel had a car ready to whisk us off on a late night drive around town and to visit some of Jakarta's most well known attractions. We wanted to make the best of the little time we had in this dynamic city. Also, traveling at night meant no fighting with big crowds and traffic hehe…
We managed to visit first, the National Monument (Monumen Nasional) or Monas, as the locals call it. The 132 m tower is located in the centre of Merdeka Square, Central Jakarta, and was built in commemoration of the country's fight for independence.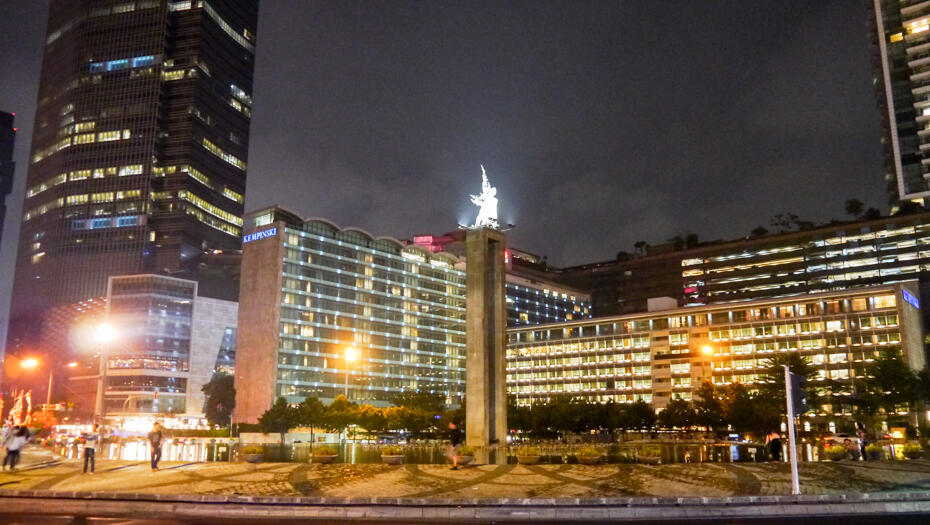 Then we made a stop at the Selamat Datang Monument, also known as Monumen Bunderan HI. This was really interesting because the monument was in the middle of a roundabout.. literally.
We were dropped off at the side of the road and ran through (fast) moving cars to get to the monument.
Quite an adventure. Apparently, this spot is a really popular dating spot for teens..
After that, we cruised around the city and made our way back to our lovely hotel. I thought of getting some work done before sleeping but crashed right when I climbed into bed. Did I mention how amazing the bed is?? It's like sleeping on clouds ok.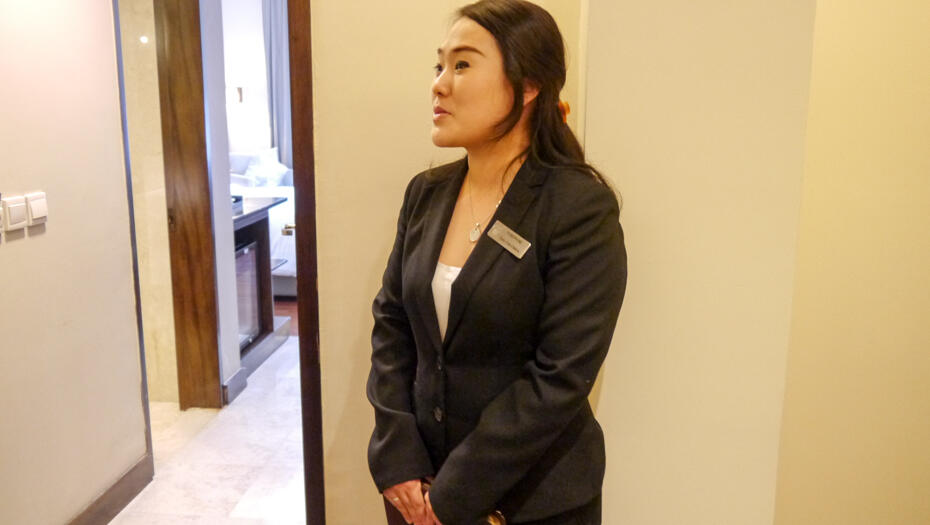 After breakfast the next day, we were given a tour around the hotel.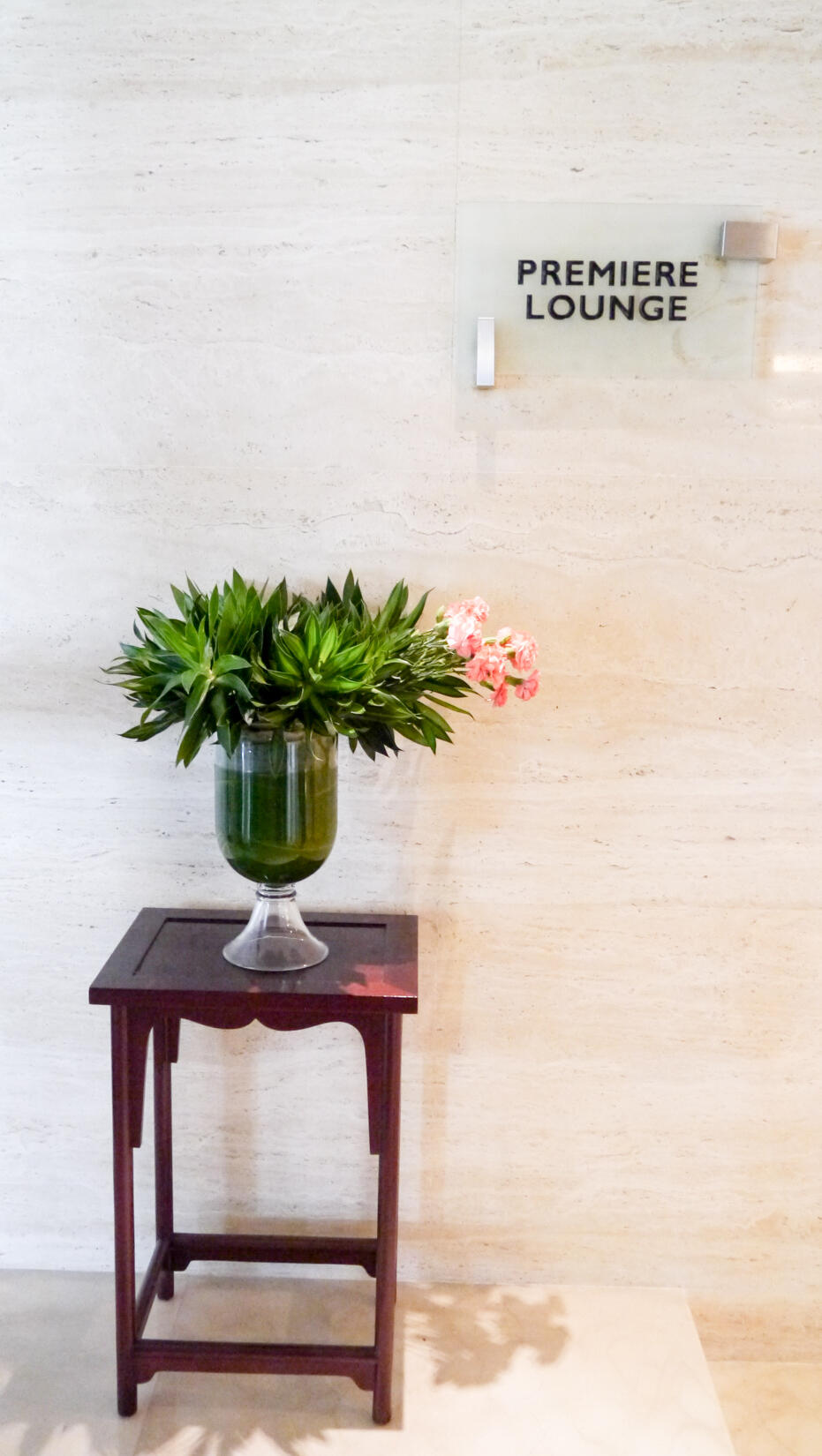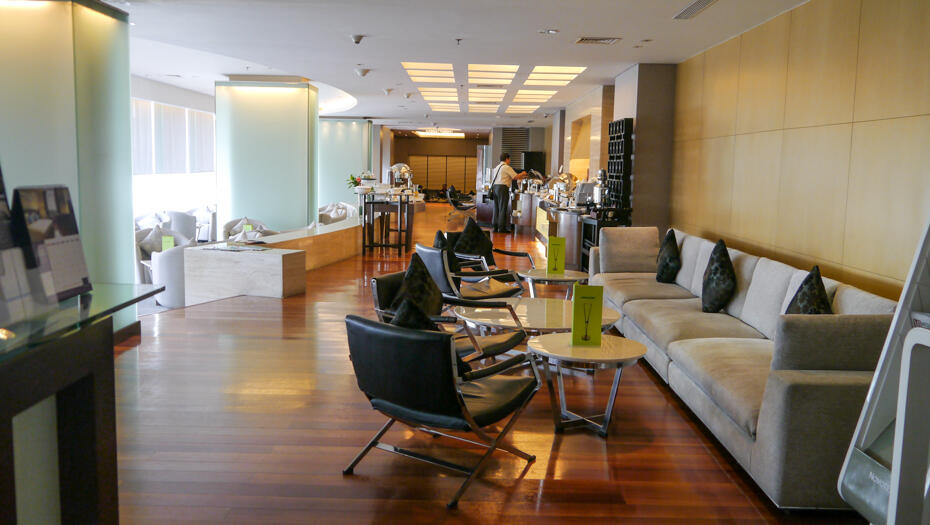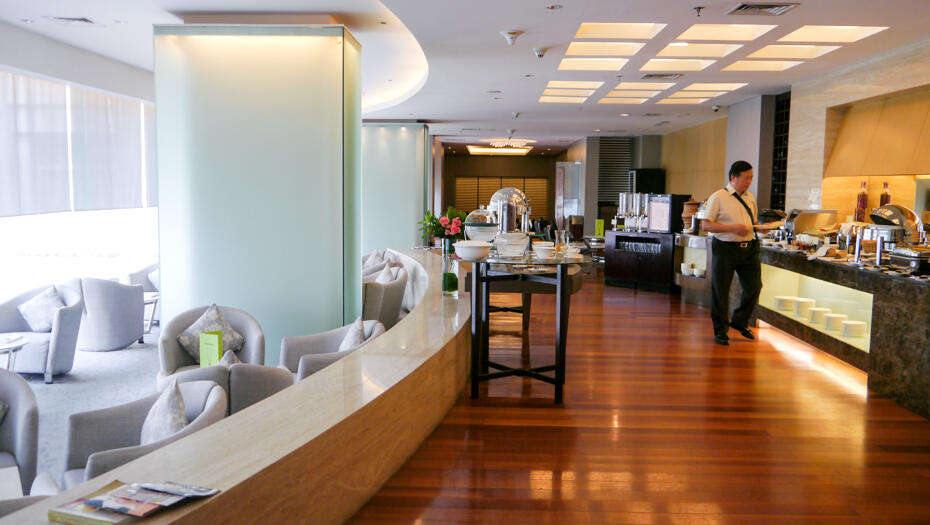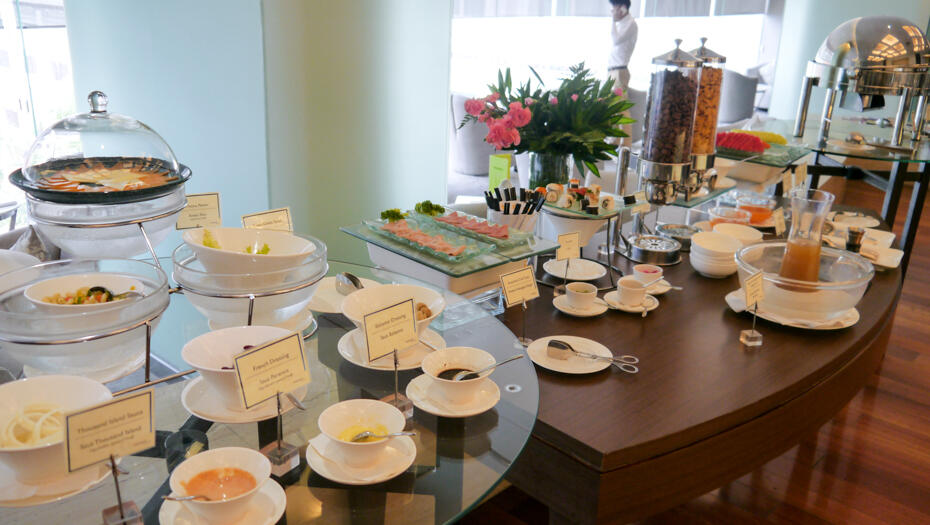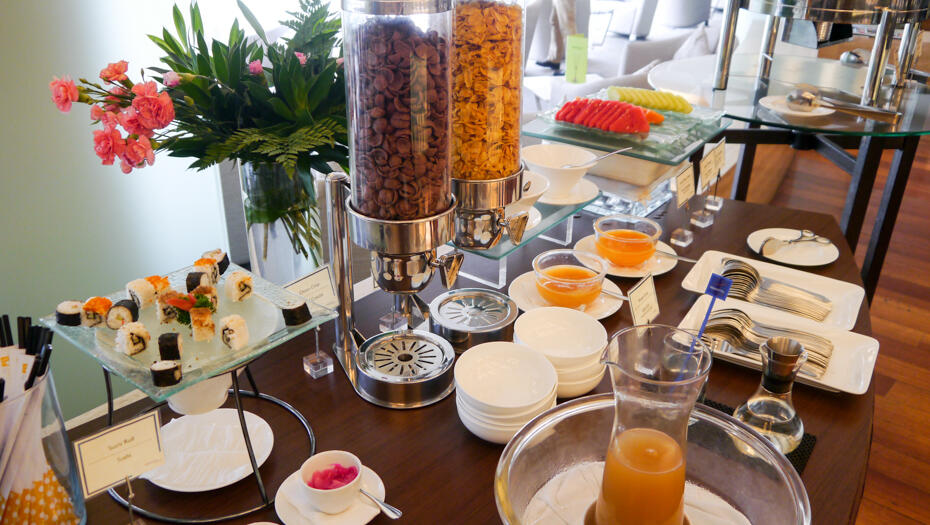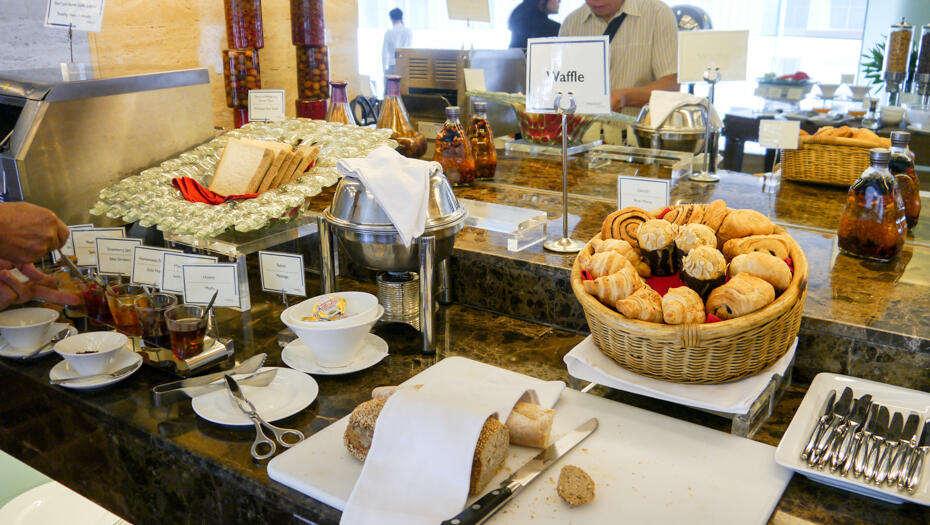 Novotel really makes sure their guests are fed well…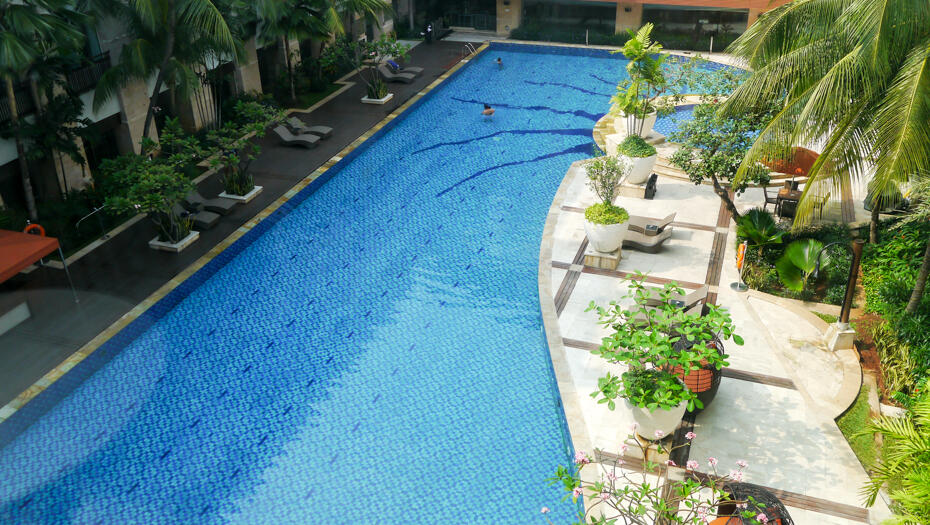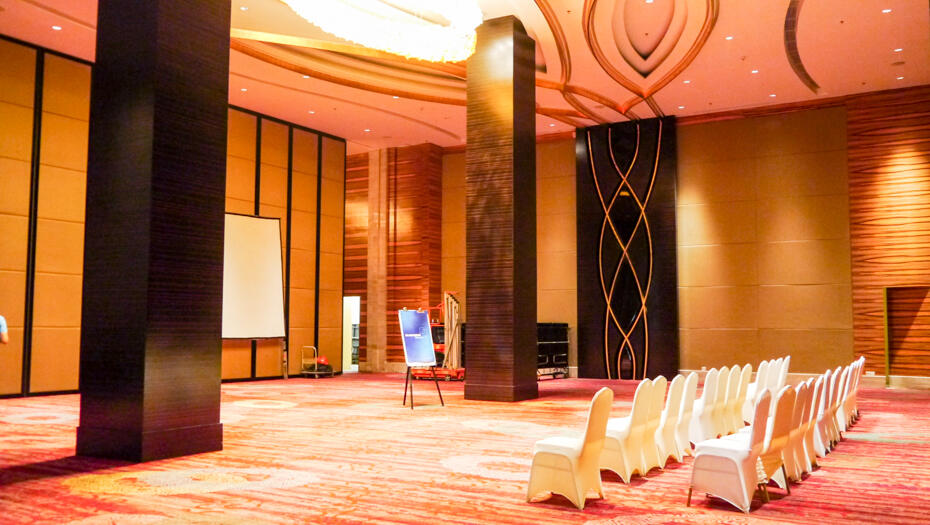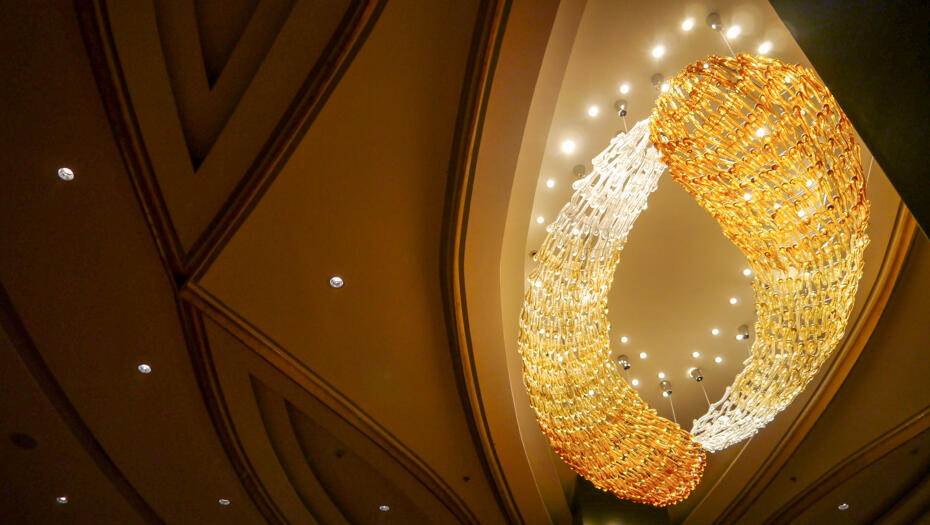 This is one of the hotel's most prized possession, the Bengawan Solo ballroom. This very space has become a notable venue and is said to already have held 6000 events!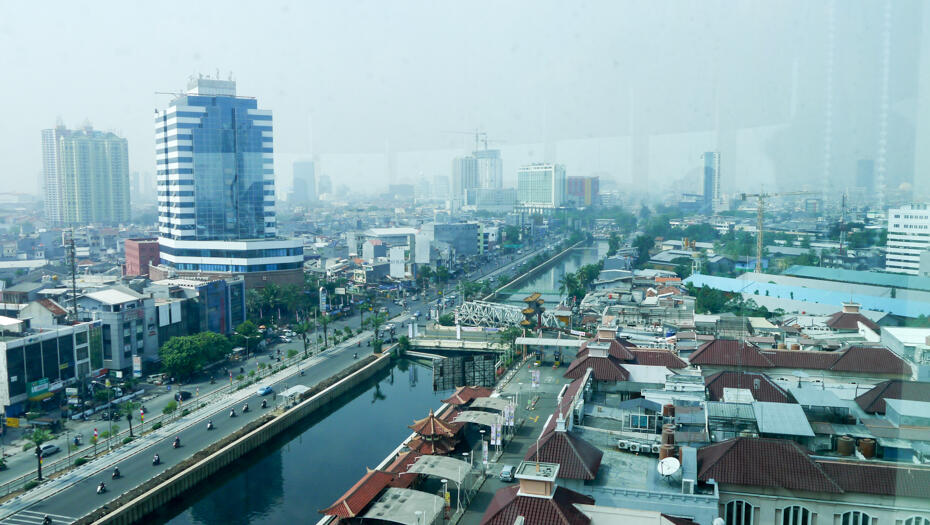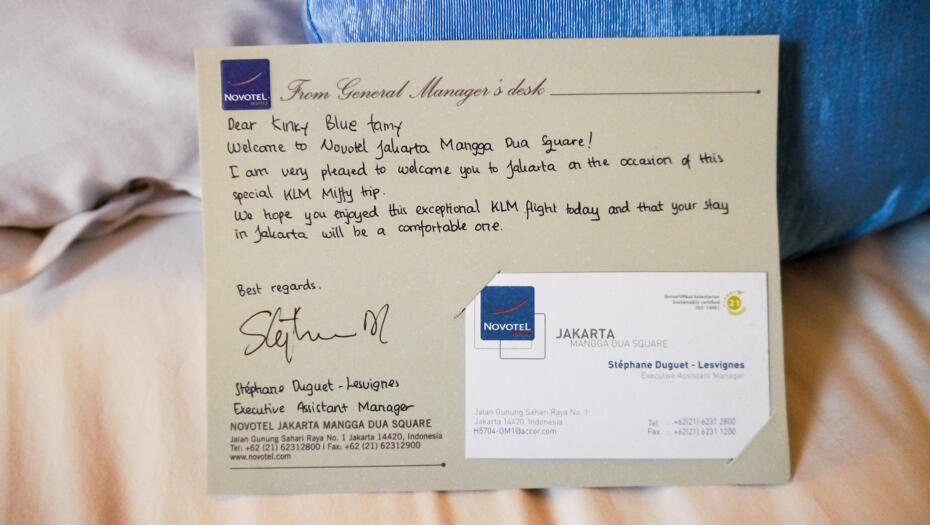 This made me so happy! I absolutely love little notes like these and its handwritten!!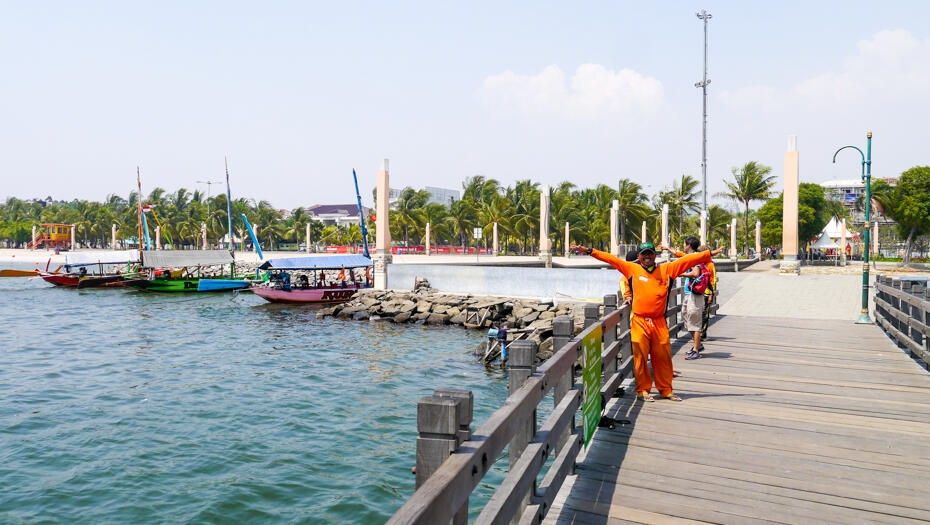 After checking out, we visited Ancol Jakarta Bay City, a beachfront resort that offers a theme park, water-based rides, multiple hotels, a golf course, high-end housing estates, an art centre and more.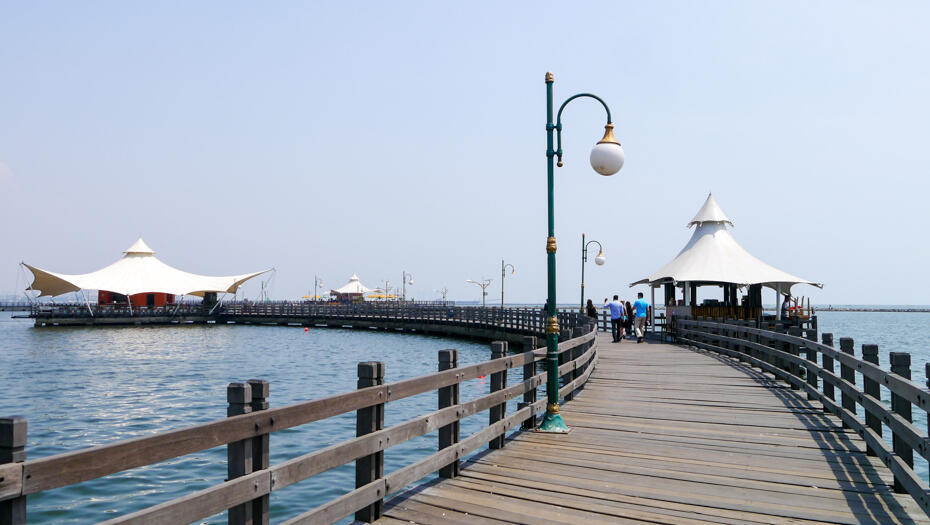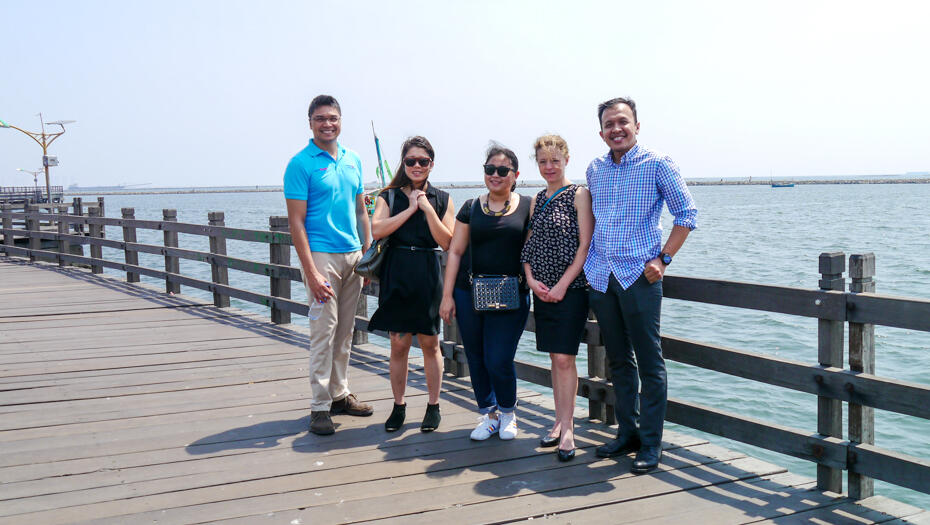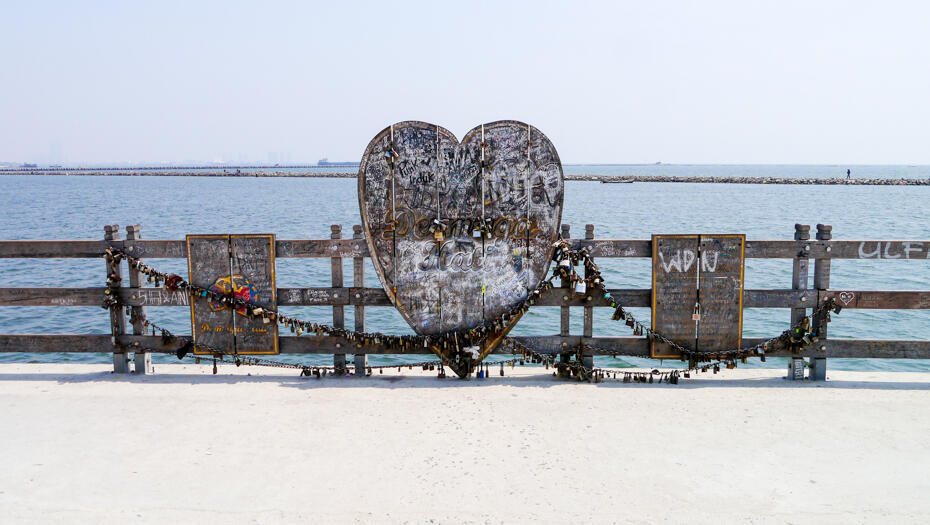 The Dermaga Hati, Ancol's version of Pont Des Art. Who needs to go to Paris? Pfft… [Joyce: LOL April!]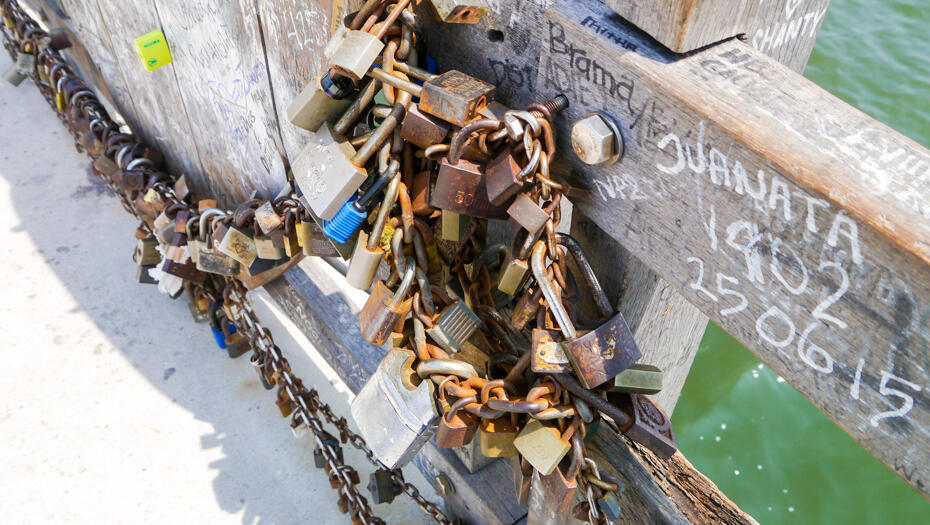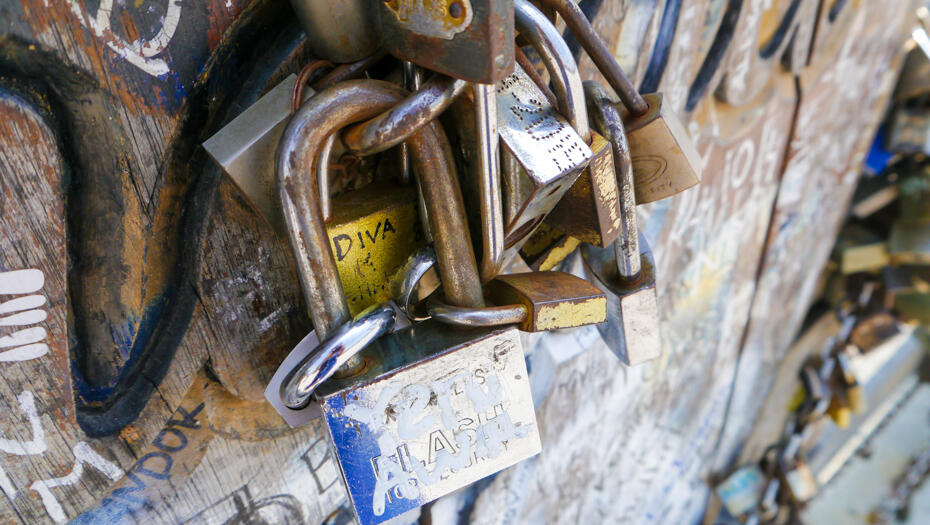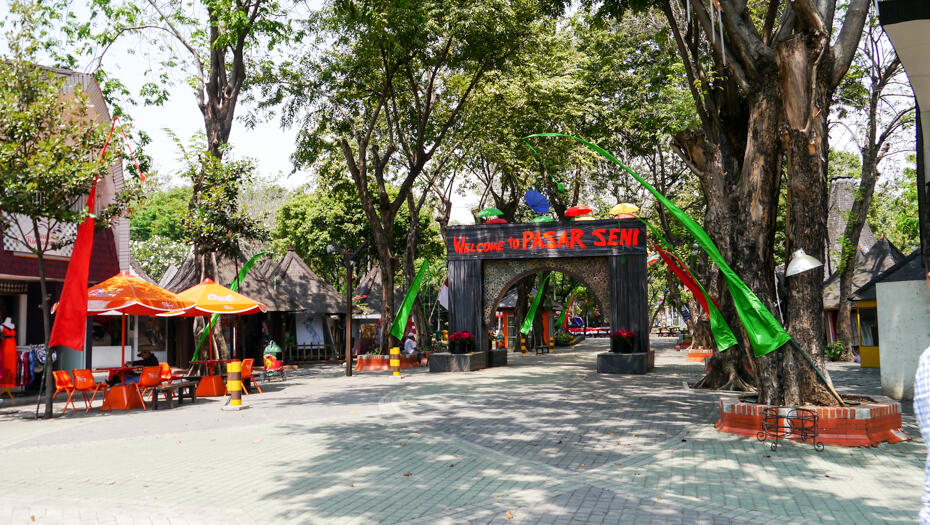 Ancol is really, really big… You would need a car to travel around the vicinity itself – walking is definitely not an option. It was quite a drive before we reached the art market, Pasar Seni.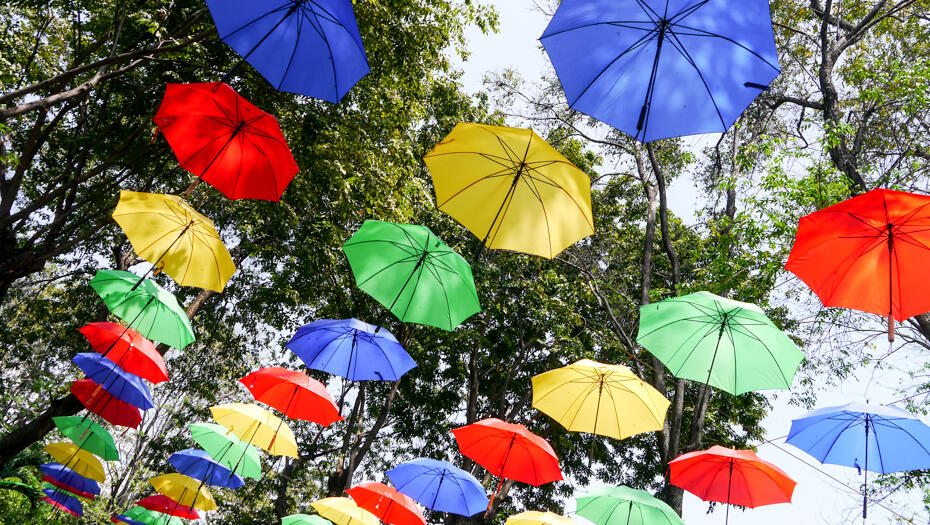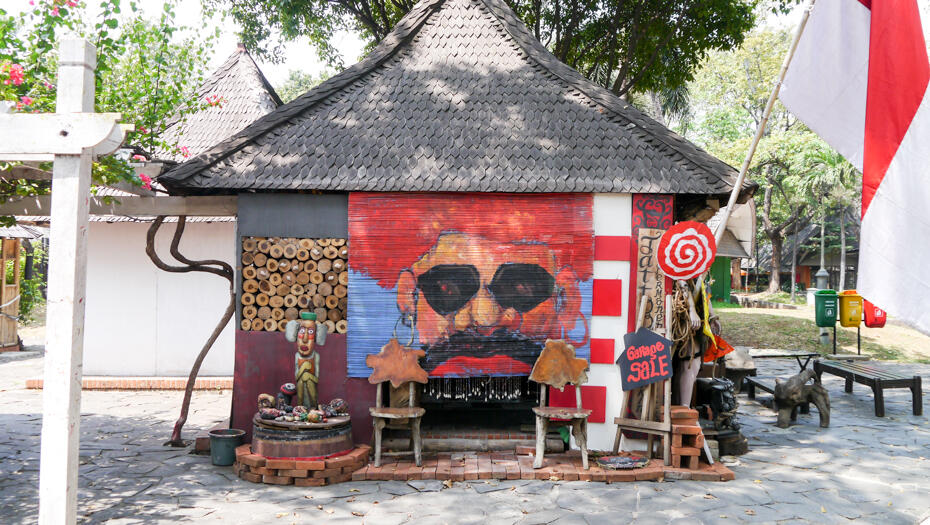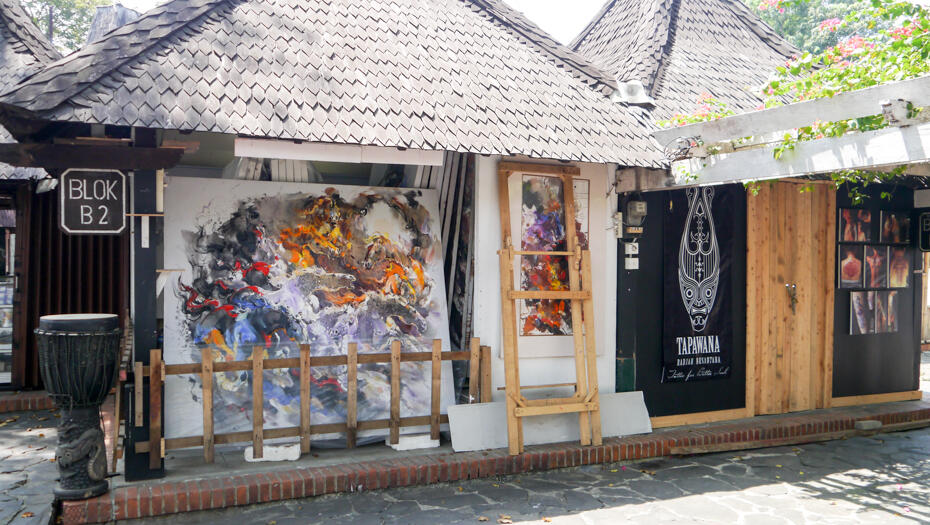 Although quiet that day, I easily felt the art market's vibrance.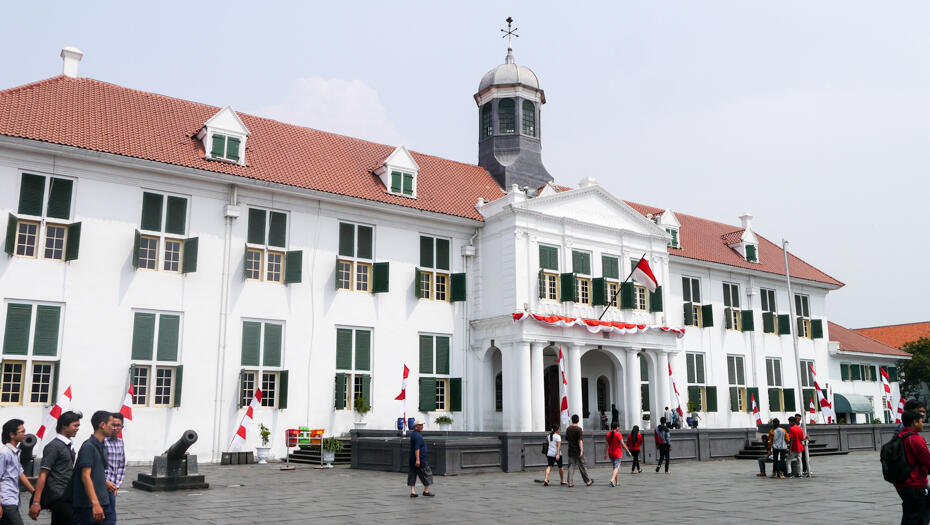 Then we were off to Fatahillah Square! It took quite awhile to get there so I managed to sneak in a little nap before we arrived.
The Jakarta History Museum stood bright, and the square filled to the brim with people. Fatahillah Square is located in Old Town (Kota Tua) Jakarta and was once the city centre when it was still known as Batavia during Indonesia's Dutch colonisation period.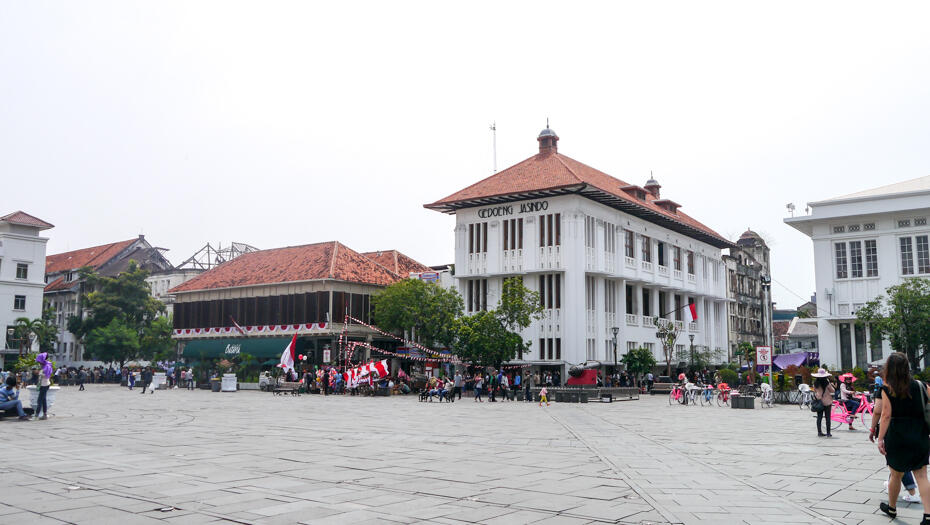 At the left corner lies Cafe Batavia, a restored 200-year-old building turned into a restaurant. The restaurant was remodelled to resemble opulent olden day Europe. We were all in awe when we walked through the door.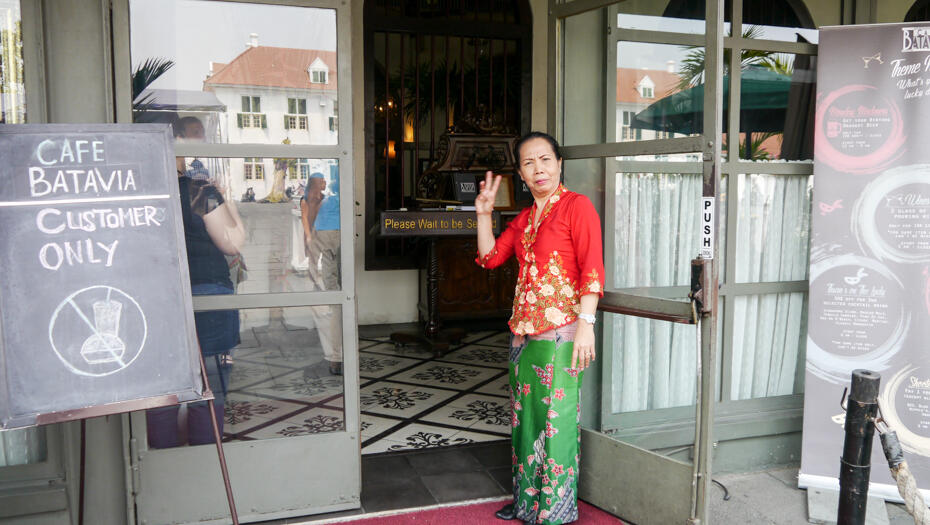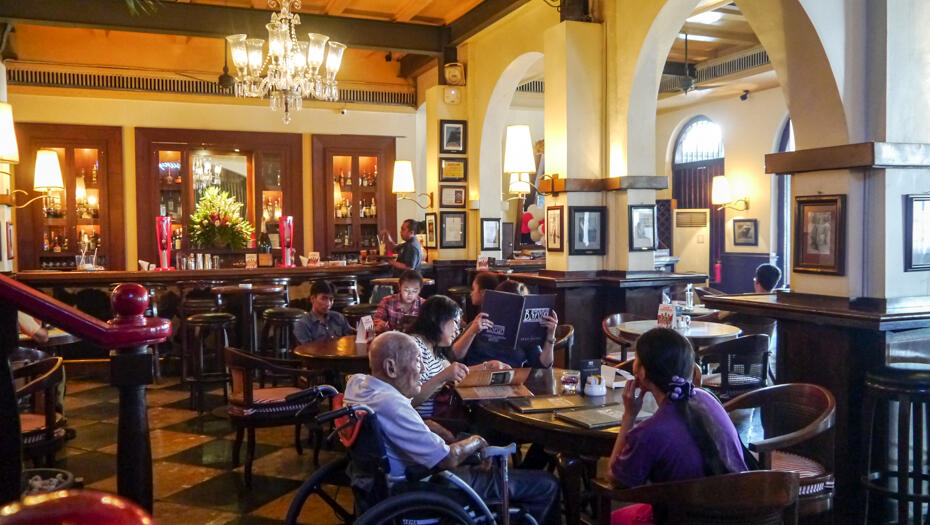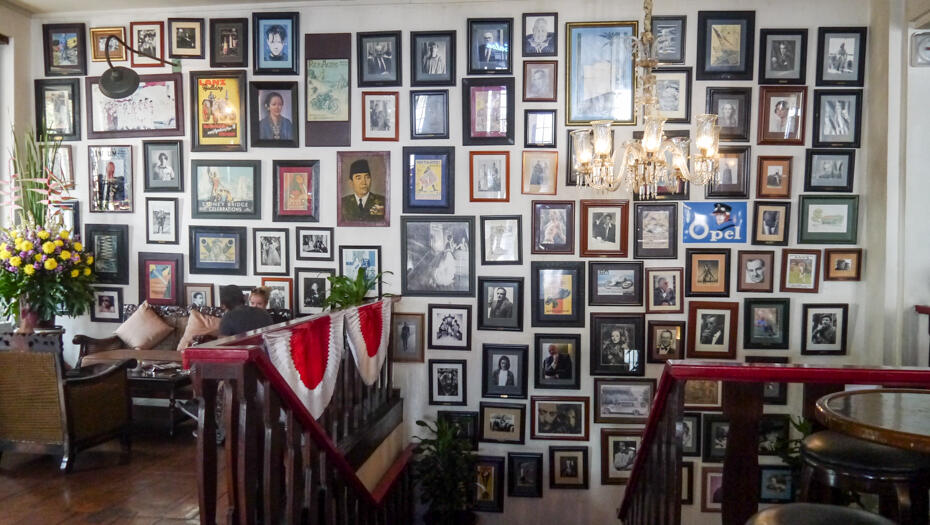 The interior embraced beautiful antiques and walls decorated with pictures of international celebrities – even in the toilets. I had Marilyn Monroe winking at me while I was in the loo.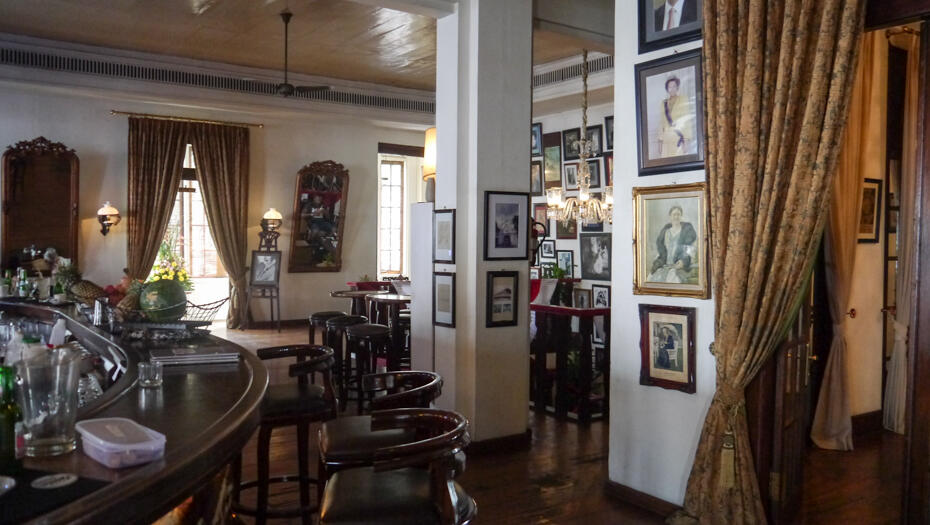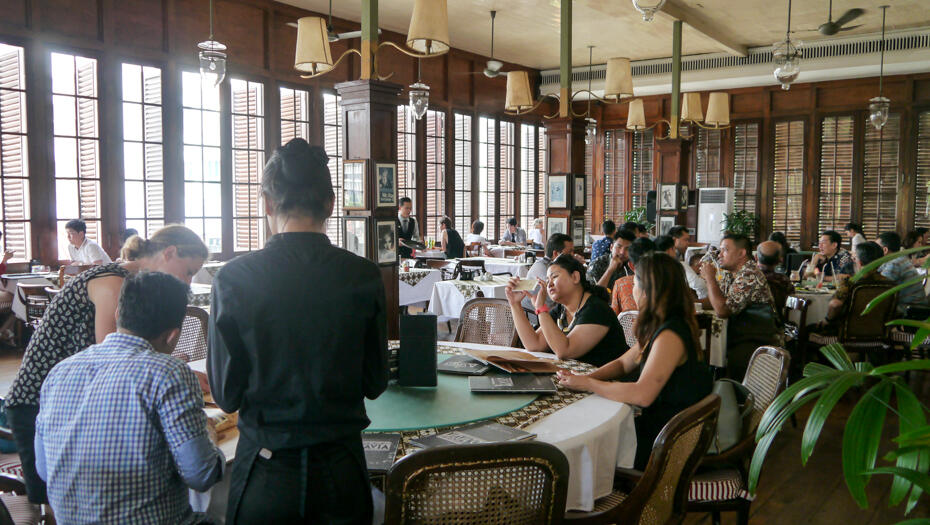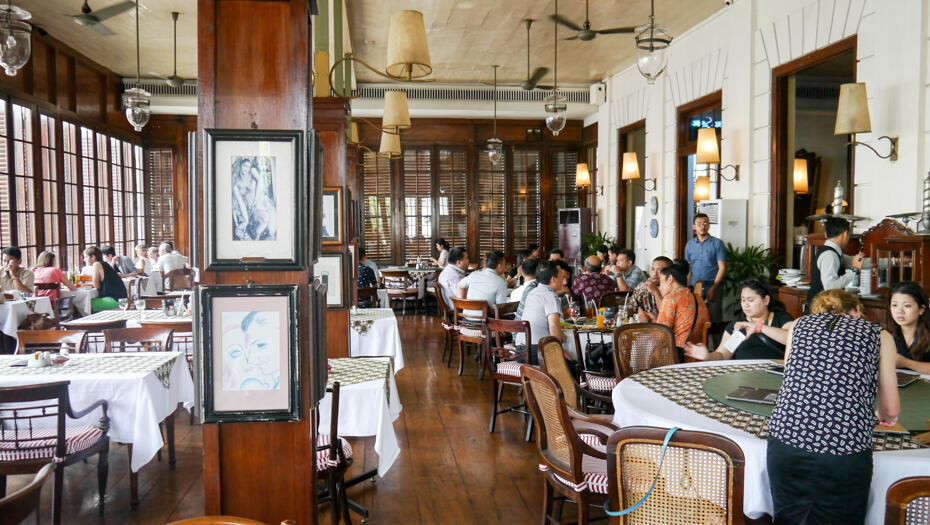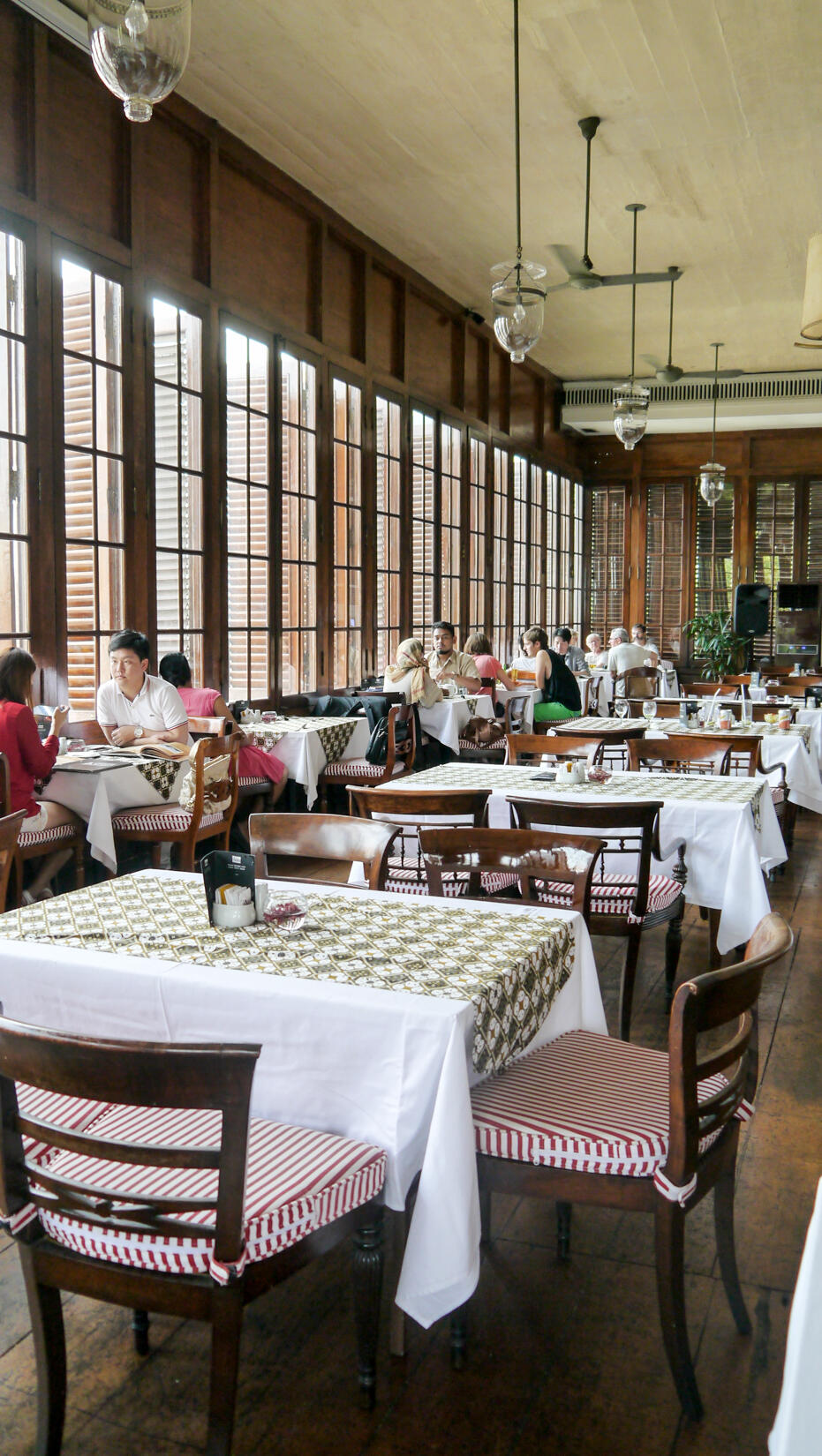 Expats, tourists and Jakarta's elite makes up most of the restaurant's patrons.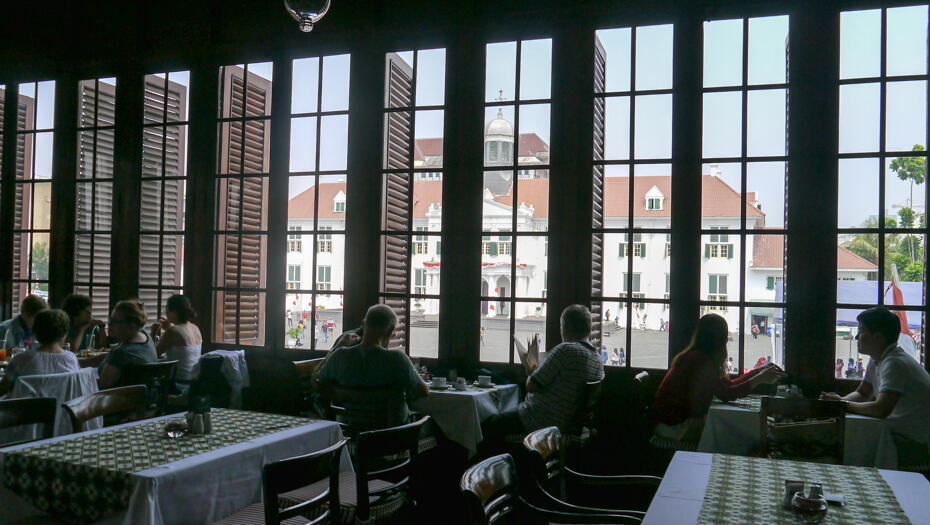 We had a hearty lunch (and a couple of drinks) before making our way to the airport for our KLM flight back to KL!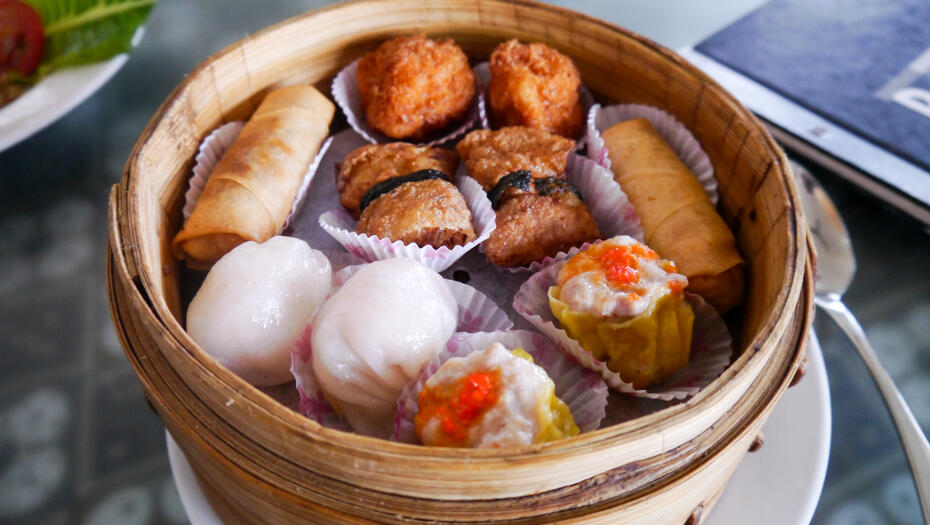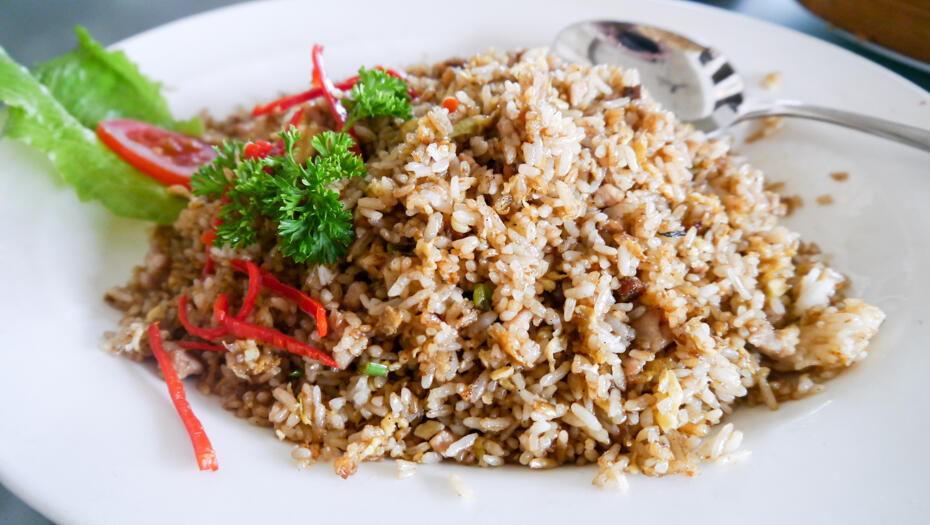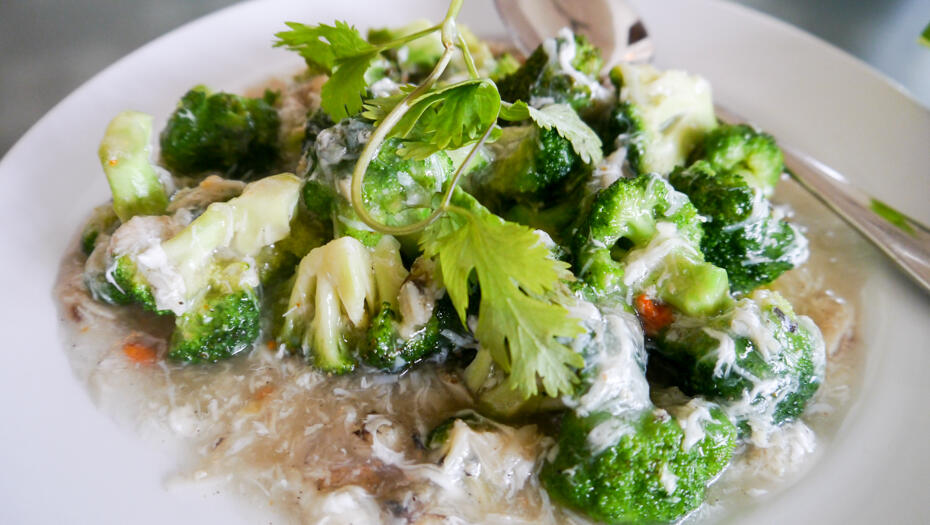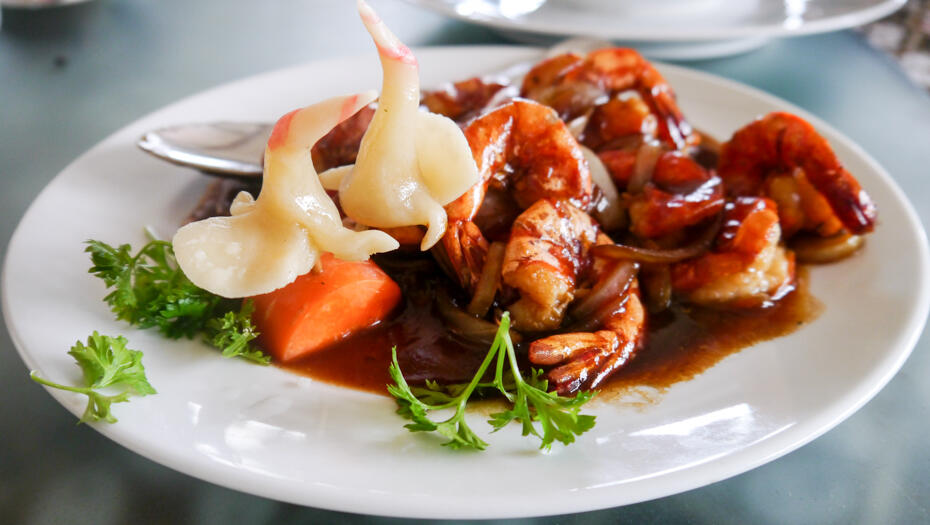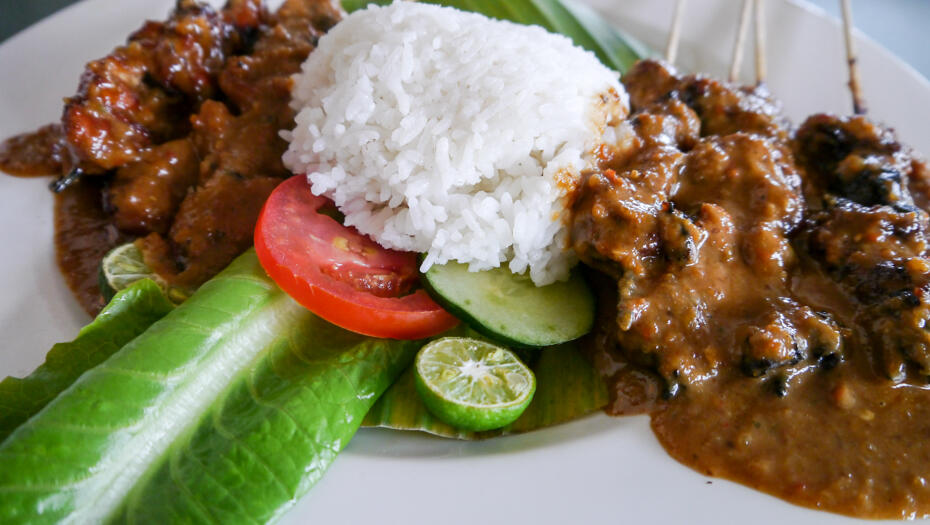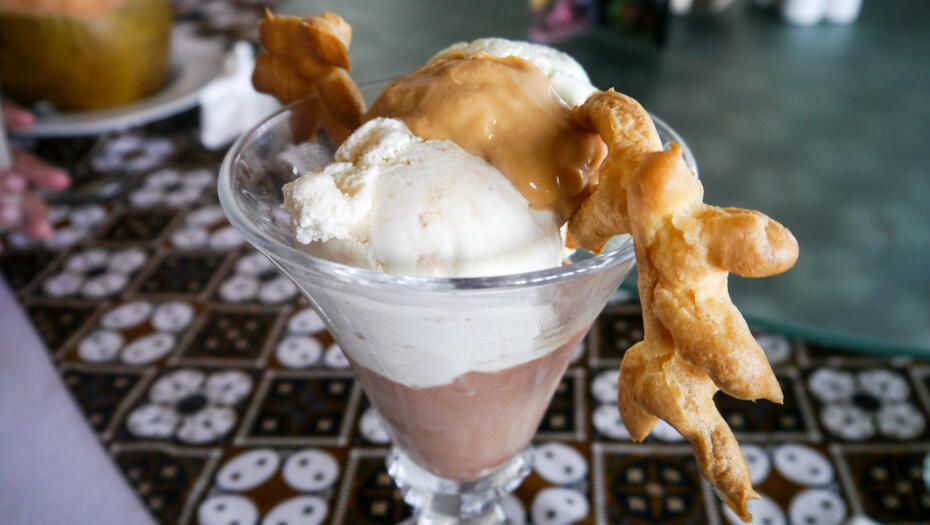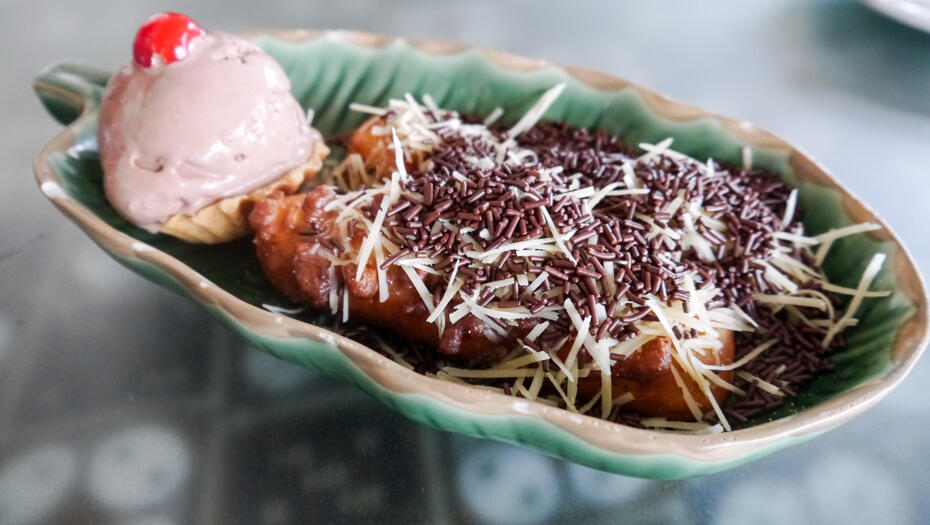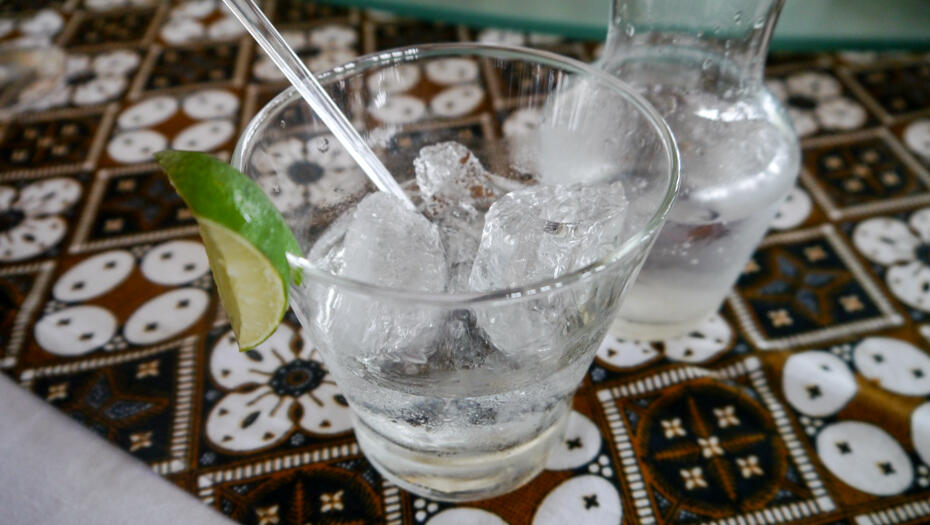 Oh and have I mentioned that this was my first time in Jakarta?
It was short but nonetheless sweet! (Hello Baby, next #TerribleTwoTravels destination? *wink wink*)
[Joyce: Why am i never included… 🙁 ]
Thanks for having KBF, KLM!!
+ + + + + + +
For more information about KLM:
Website: www.klm.com
Facebook: www.facebook.com/KLMMalaysia
Instagram: @KLM
Twitter: @KLM
Novotel Jakarta Mangga Dua Square
Jalan 1, Mangga Dua Square,
Jl. Salemba Raya No IV,
Daerah Khusus Ibukota Jakarta 14420, Indonesia
+62 21 62312800
Website: www.accorhotels.com/novotel-jakarta-mangga-dua-square