* written by Baby *
When we received the invitation from Jasmin to go to 44 @ The Row for the cocktail pairing a few weeks ago, the first thing that came to mind was, "Okay, Tanggachi (April) is not here anymore. Who can I invite to come with me who can help take good pictures AND enjoy this fantastic looking cocktail platter prepared by Chef Chester Low?"
*LIGHTBULB*
"I'll invite Vig!"
Vig is a photographer who runs Obscura Festival and an absolute delight to hang out with.
(You're still my No. 1, April!)
I told Jasmin and her reply was, "That sounds great. Pics will be amazing!"
So last Friday, Vig and I had a rendezvous at 44. Upon arrival, CK (the Head Mixer at 44) explained to me about the platter.
"Basically there are four courses; the first would be the Irish oyster with Yuzu Sake jelly with some edible flowers as garnishing. This would be the appetiser before you go on to the next one. The second course would be quite mainstream. It's something like an Old Fashioned but we infuse it with cigar smoke from real cigar leaves. There will be a hint of cigar flavour, and we serve it with cherry Heering flavour liqueur jelly on top so it's a blend of masculine (bitter and strong) and feminine (sweet and soft). Immediately after, take the Citrus Black Caviar to cleanse your palate."
I couldn't wait to see the platter!
"Moving on, we have the Jungle Bird (a signature cocktail at 44), a Malaysian-born cocktail but this time, we serve it in a coupe glass with pineapple-flavoured ice and Hibiscus caviar, and top it up with Rooibos Vanilla foam so it gives more aroma. The last one would be the Godfather cocktail which we turned into a form of ice cream."
When the platter arrived, I was blown away. It looked so pretty!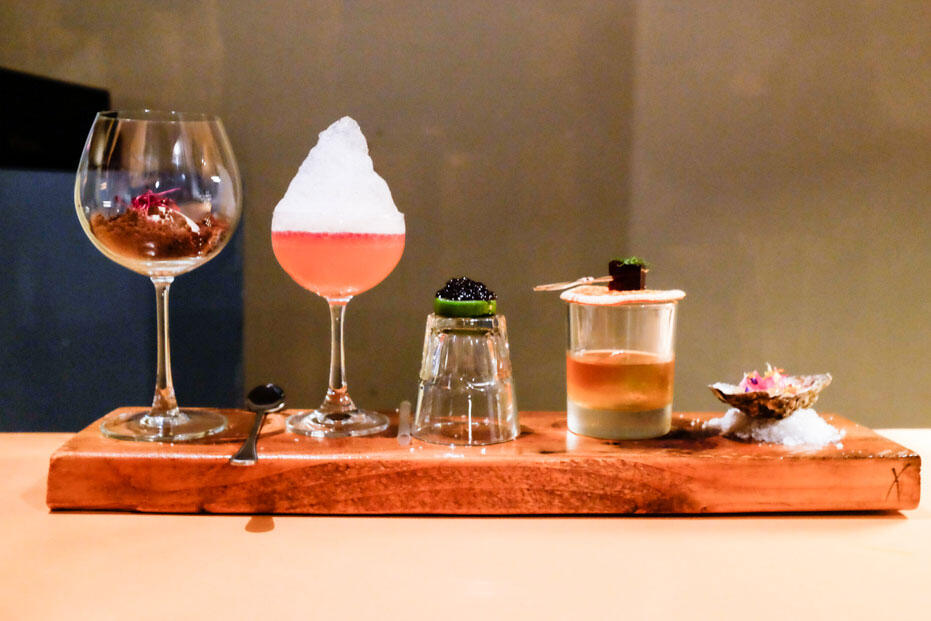 This is the platter! A brainchild of Chef Chester Low. Isn't it prettyyyyyy??!!
Vig: Fuyooo! What is this? Looks so atas (fancy)!
Baby: Yeah man. Oh, well… ENJOY!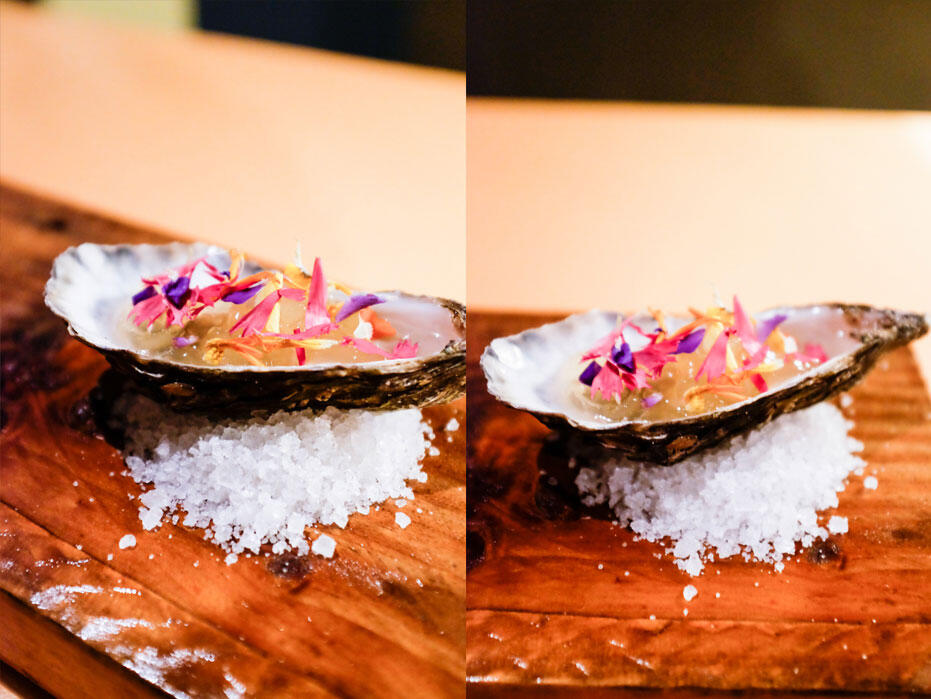 First course: Irish oyster served with Yuzu sake jelly and edible flower. Upon my first slurp, an instant rush of tanginess hit my palate. The oyster itself had a generous suppleness to it, with the edible flowers contributing an interesting contrast of texture.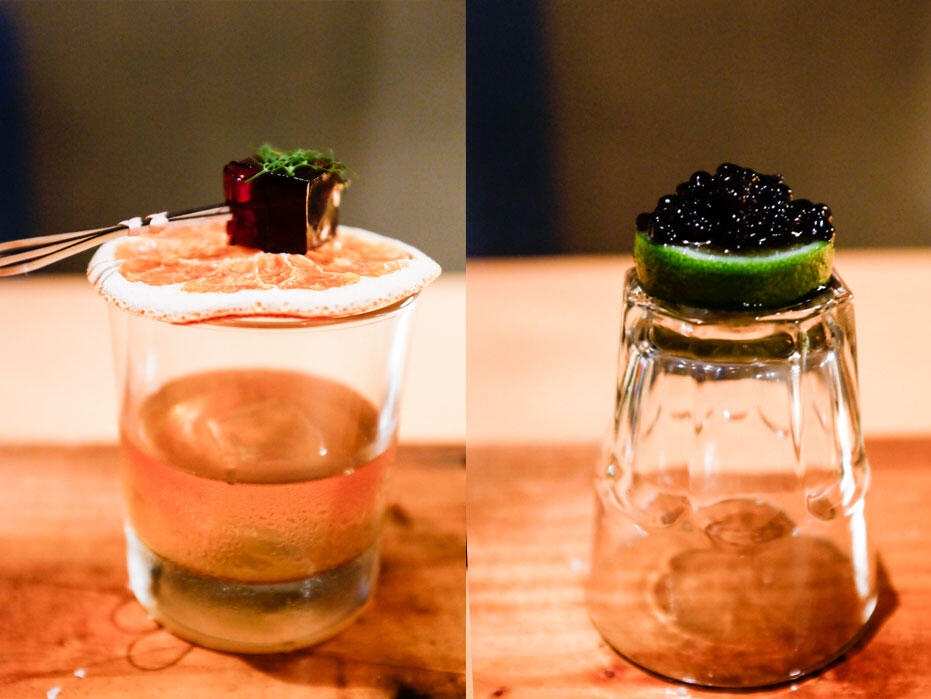 Second course: Cigar smoked Old Fashioned, served with Heering liqueur jelly and black citrus caviar. The bitterness of the whisky marries very well with the sweetness of the liqueur jelly. The way to enjoy this pairing is to take a sip of the drink and followed by a nibble of jelly. The black citrus caviar tasted so refreshing and it's also a palate cleanser to ready yourself for the next course.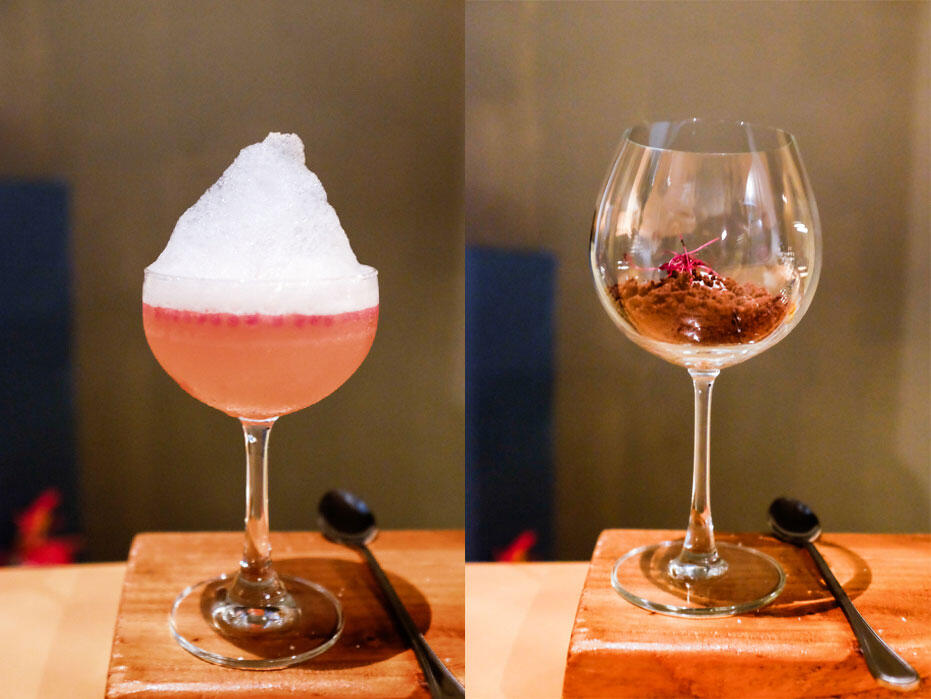 Third course: Jungle Bird cocktail with Rooibos vanilla and hibiscus caviar. The cocktail was pleasantly sweet and the aroma from the foam added to the overall taste of the drink. The hibiscus jelly was a good touch for its texture.
Fourth Course: Godfather cocktail ice cream with chocolate sable & crimson Amaranth. The bittersweet taste of the ice cream combined with saltiness of the crushed dark chocolate cookies won my heart! The feel and taste of the chocolate sable in my mouth after the ice cream had dissolved was AMAZING!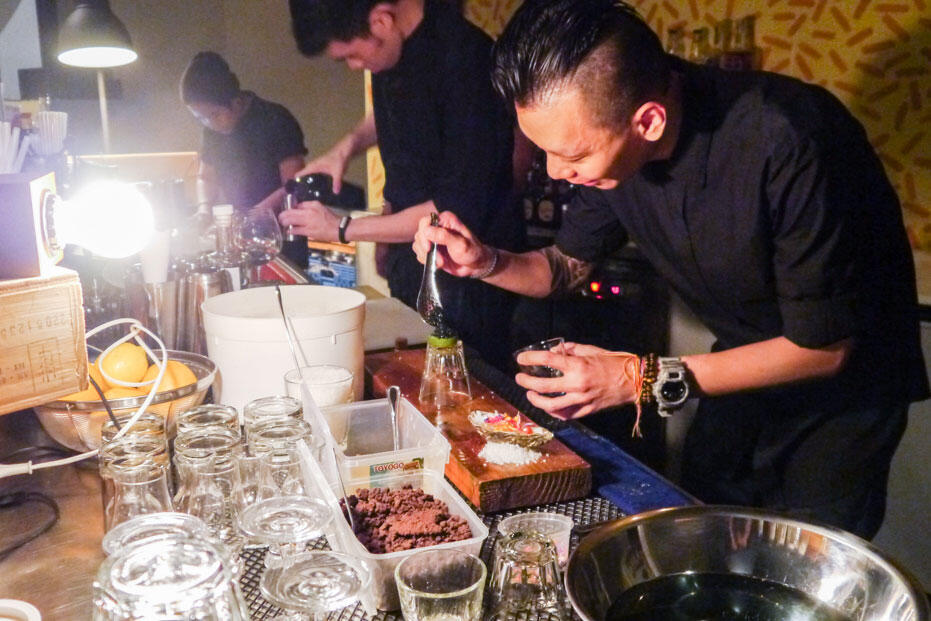 Chef Chester behind the bar preparing black citrus caviar.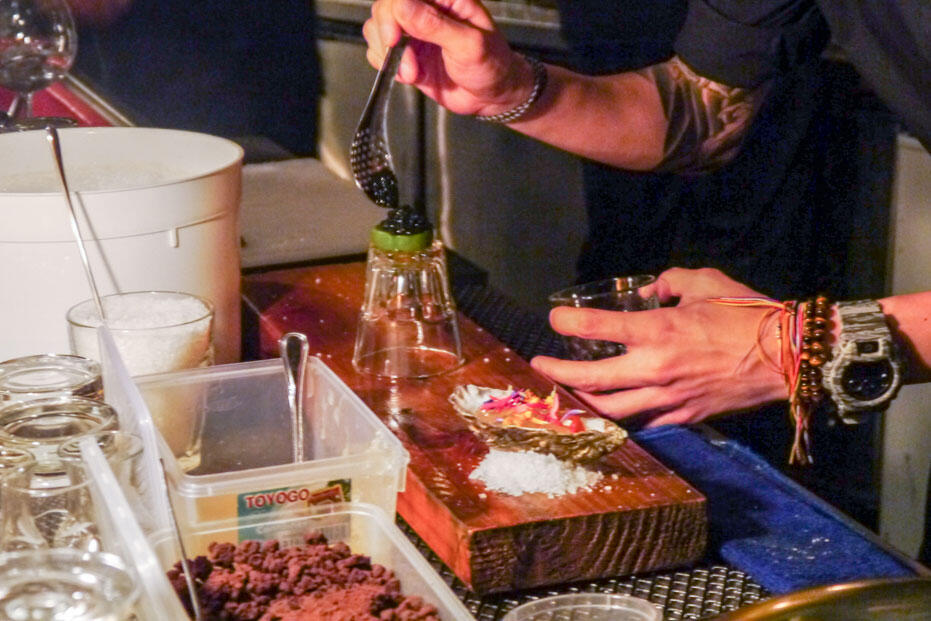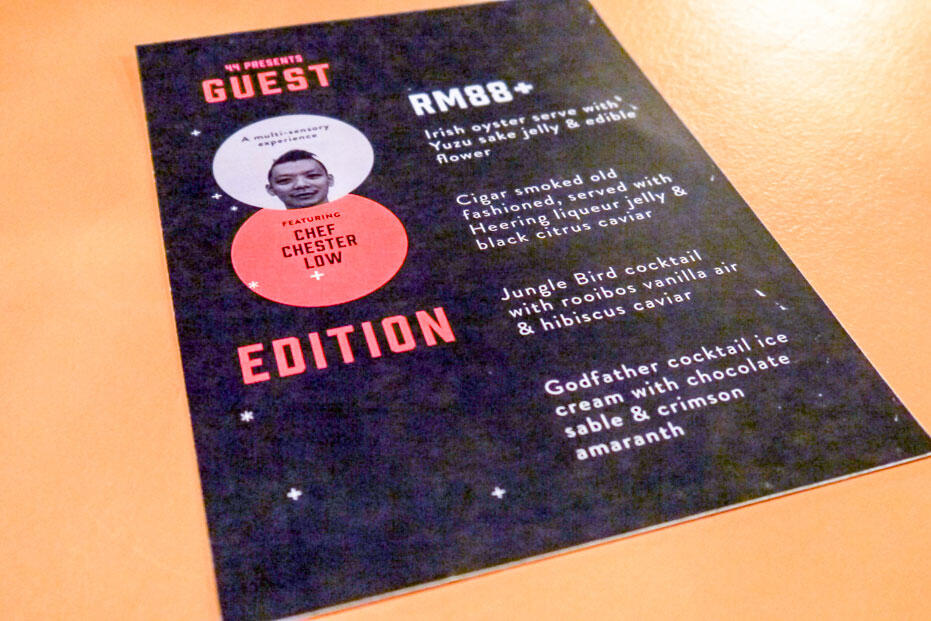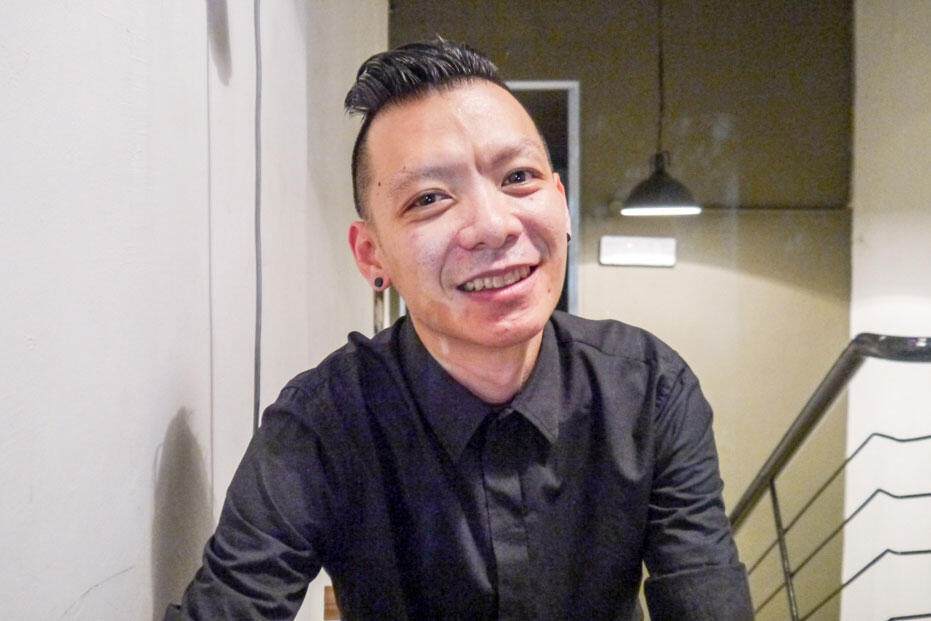 I'm so glad I got the chance to sit with Chef Chester and listen to him talk about his amazing platter.
"I just want to showcase some techniques to bring in some new concepts to the local scene. I'm trying to build a culture and also educate people that we (our culinary scene) could actually reach the advanced stage of countries like Singapore or Bangkok," he explained when asked about what inspired him to come up with the platter.
I also got to know that the Godfather cocktail ice-cream is quite personal to him because he'd always wanted to make his own ice-cream and to have his own ice-cream brand.
"I actually bought the ice-cream machine and it has been sitting at home for more than a year. CK told me to bring it over and do something with it. That's how we came up with the Godfather cocktail ice-cream," he shared further.
When I asked what we can expect for the next Guest Edition, he said… "Imagine Bangkok. Imagine Thai food."
I CANNOT WAIT!
Chef Chester will be back at 44 for the Guest Edition on 16th & 17th October. Don't miss out!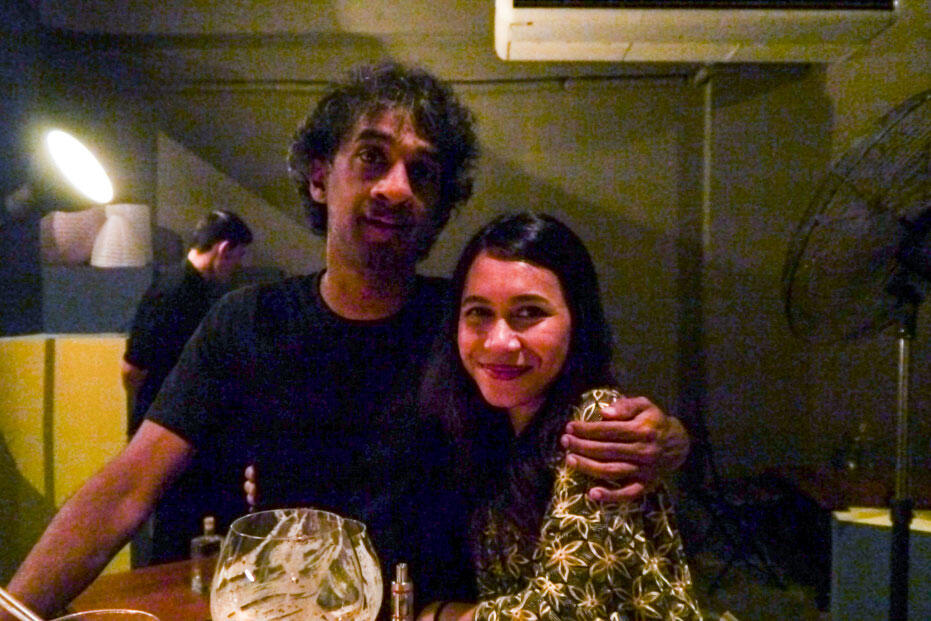 And oh, here's Vig, KBF's designated photographer for the night. Thank you!
+ + + + + +
44 @ The Row
50 Jalan Doraisamy
50300, Kuala Lumpur
Facebook: www.facebook.com/44Bar