Oh my god la what a crazy week!!! I literally had no time to pause or even go to the bathroom in peace without my phone ringing non stop and everyone trying to get me on my phone and email at the same time! Everyone wants answers or something now now now!
I'll be sitting on the toilet talking to the world, "Just stop. Wait. I CAN'T RIGHT NOW!"
I'm multi-tasking in between sorting out movers and boxes and apartment management stuff,
the Love Bonito fashion show which is happening in exactly two weeks time,
booking accommodation and flights for my summer trip,
blog stuff, event appearances,
and a million other things that just have to take a backseat cos the event is the most important thing i have to focus on right now. And the moving. I postponed my packing days from Wed-Fri, then it became Thurs-Fri, and now… i'm left with Friday.
I have 24 hours to pack ALL MY STUFF into boxes because the movers are coming on Sat morning
and according to a property agent, i have a lot of stuff.
Ahhhhhhhhhhhhhh
Work was so overwhelming today i screamed into a pillow (again. Last time was in March i think)
And the bills… i have so many BILLS.
I feel like i'm always opening envelopes to file bills away
and i'm getting bills i didn't even know existed.
Like what is this takaful thing on property i have to pay? RM1,500 bam gone.
Augh anyway. Bright side bright side… i'm happy my blog is still here!
All the posts and pix disappeared yesterday for a few hours and i'm so proud of myself for being SO CALM when i saw nothing on the backend or the front page. I just didn't think there would be reason to freak out till i knew for certain it was gone. And okay maybe it's cos i didn't have TIME to freak out, i just quickly told our programmer Phillip, who said Baby already alerted him. But she didn't tell me. Smart. She probably didn't want to add on to my things to worry about and hoped it would be fixed before i noticed, didn't you?
Anyhoo here's some stuff with me in it.
Happy Birthday Marie Claire Malaysia for turning 21!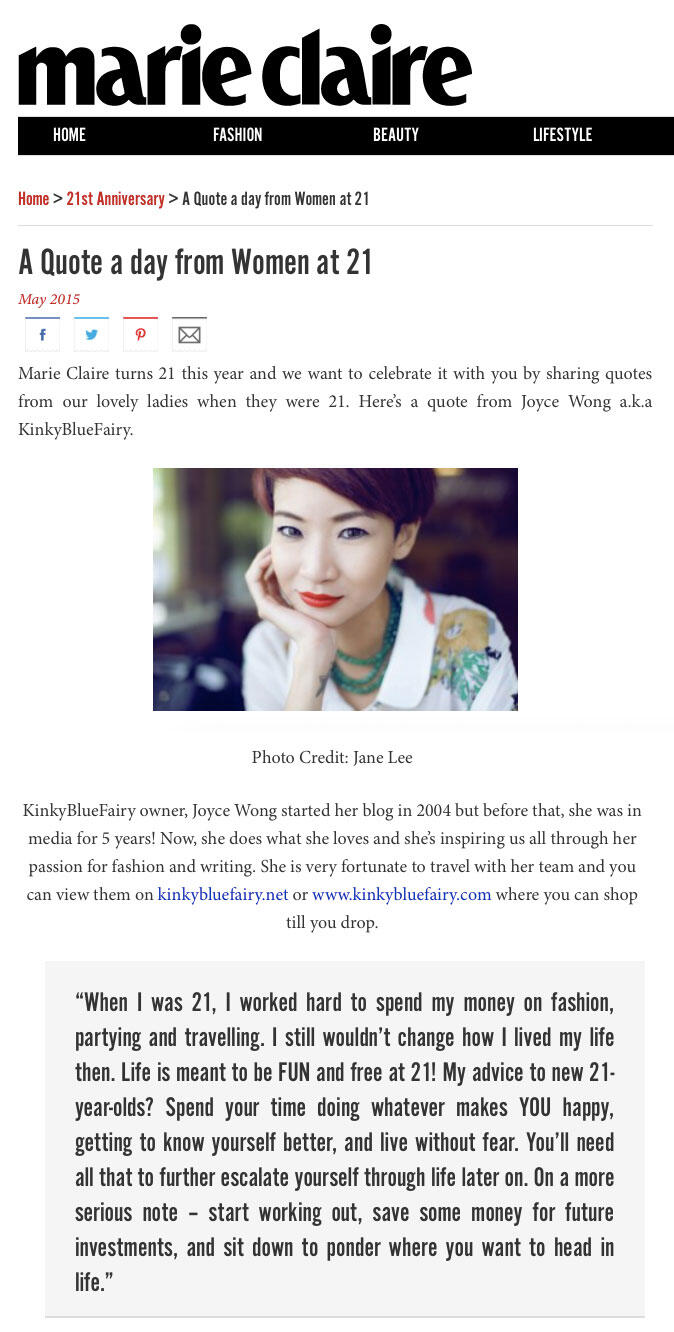 I'm giving advice on stuff i WISH i did at 21!
+ + + +
Was in a vid for www.rubberneck.me