After perhaps five-too-many cocktails at Potato Head, Clem and i hopped into a taxi back to One Eleven. We'd arranged to have an anticipated Japanese dinner at Shiro, the resort's sushi and sake bar helmed by Chef Shiro aka Shinya Kuwazoe.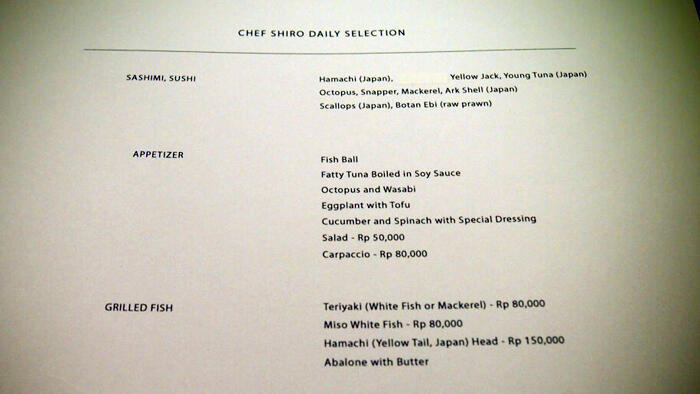 Shiro is a cosy restaurant on the first floor of One Eleven. Well it didn't feel so cosy when i first stepped in, cos we were the only customers there at first so i felt like too much staff attention was on us. But after we settled down and started talking to Chef Shinya who hails from Osaka, we felt more at ease and ended up spending a good few hours taking our time tasting all our food and chatting non stop. Oh, and having lots of sake. We must have ordered three bottles… and shared it with Shinya too, cos the food he served us was just too good that it felt only fair we shared our drink.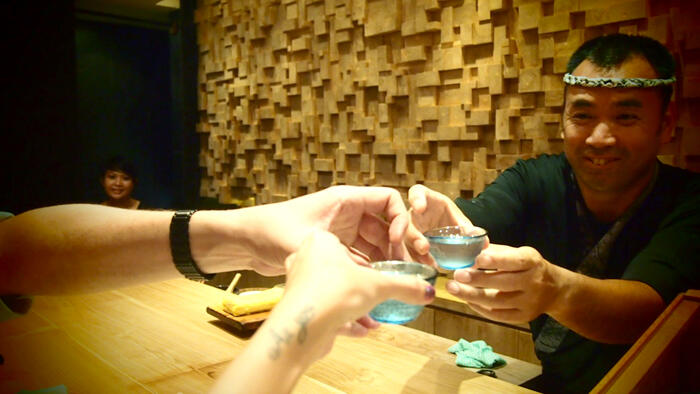 The restaurant itself is designed by the famed Shigemasa Noi, who's been experienced in store and display design since 1965. The most recognizable feature in Shiro are its raw walls made out of intricate wooden blocks placed in various levels. I don't even want to know how much work went into that…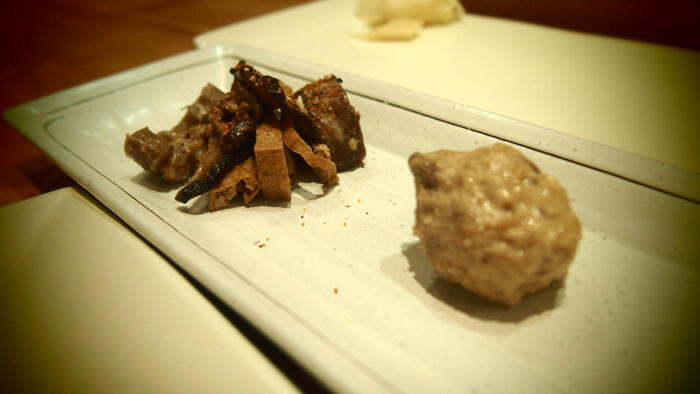 As for the food, never would i have thought that Bali would hold some of the best Japanese food i'd ever had. I still dream about the fatty tuna that melted in my mouth that night…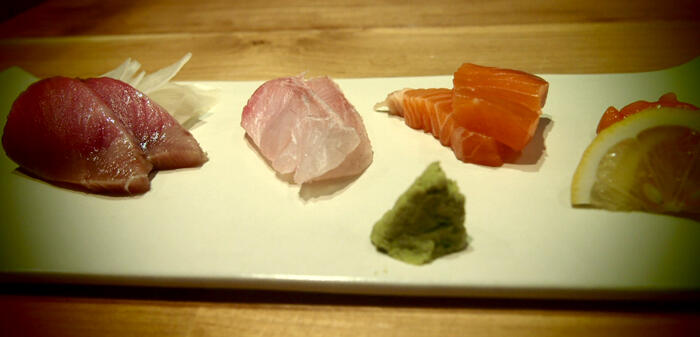 Being under the One Eleven umbrella assures us that Shiro uses only the best and freshest ingredients they can obtain.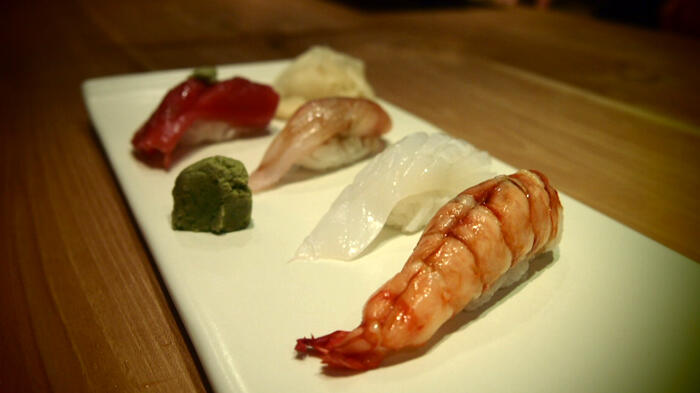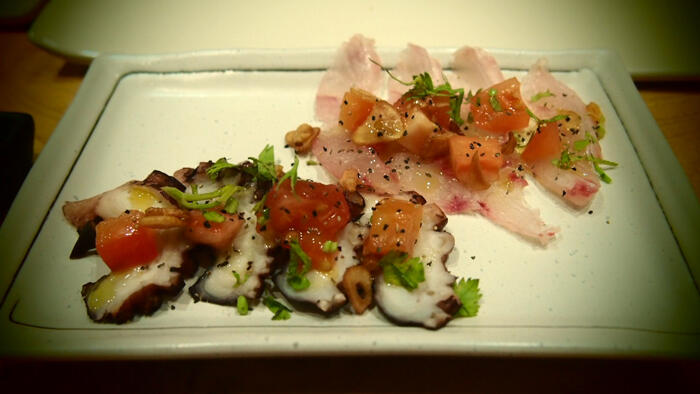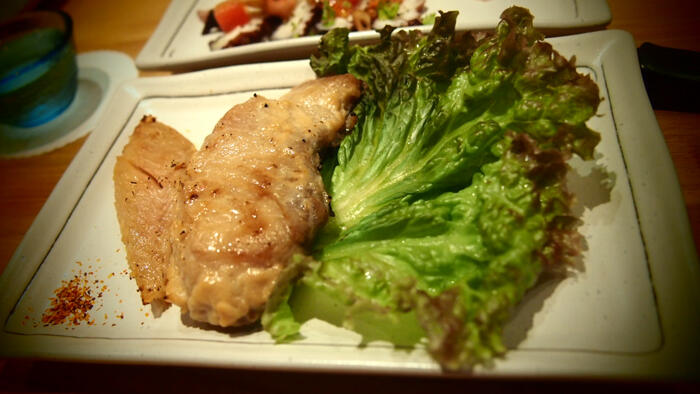 I think Clem and i shared a meal and had some other small things here and there… but i was incredibly full nearing the end of it. I honestly couldn't swallow anymore food! And i felt i just HAD to cos it was so good and i didn't want to waste anything!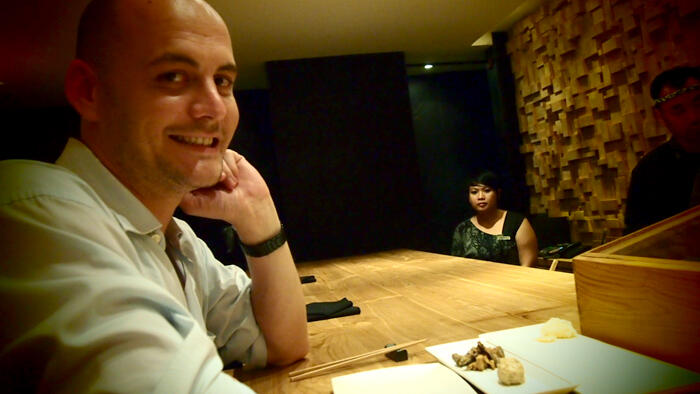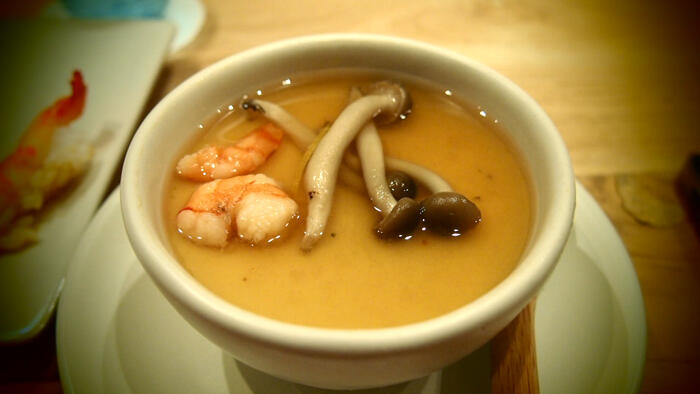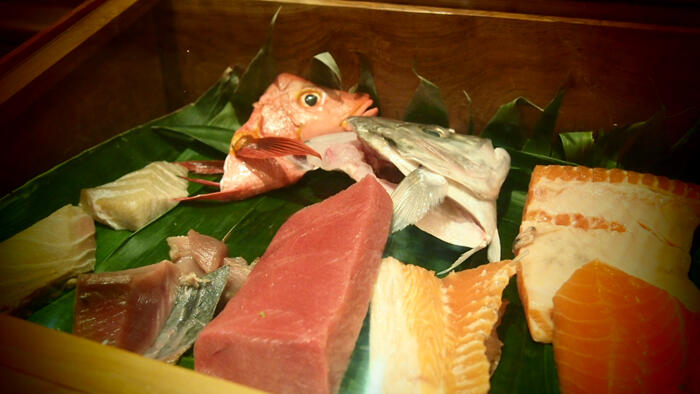 That fish was just staring at me all night.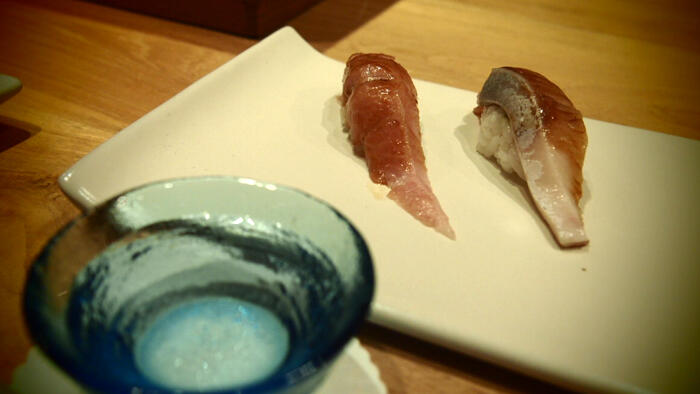 Sake and sushi… seriously one of my favourite meals.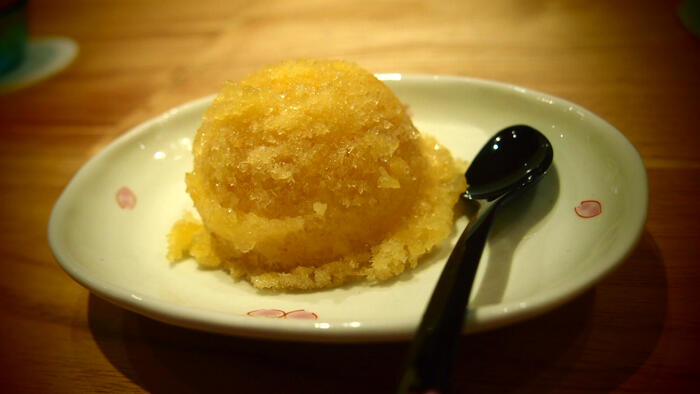 Was so relieved that dessert was a light sorbet, perfect to cleanse my palate with.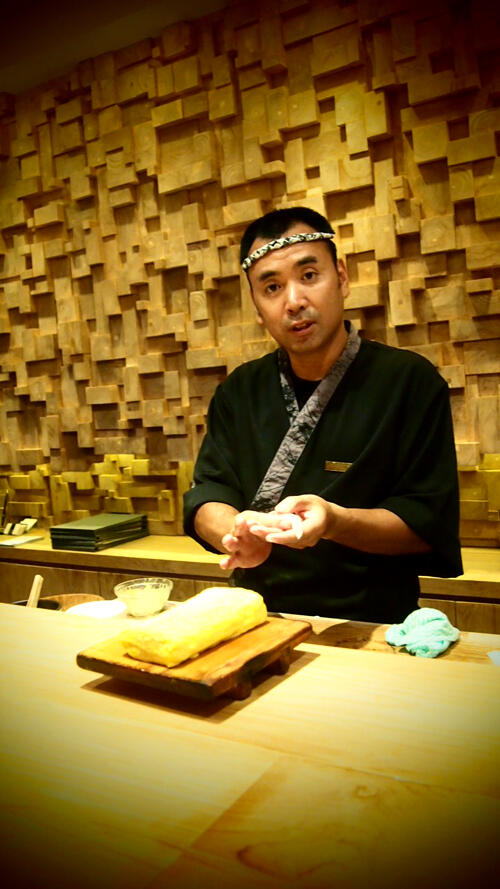 Shinya is so cute! He's so shy at first, but the sake loosened him up, heh. I even teased him whether he's going to get a girlfriend in Bali cos he's still single.
When we went back that night, i finally *got* it on what it's like to eat in a proper Japanese bar. I've gone to nice Japanese restaurants where there's only two people in a large room in a garden, but i somehow prefer sitting AT the bar, watching the chef make the sushi in front of you, gently place it on your plate, and subtly watch your reaction as you taste it for the first time. There's more communication going on between the person who prepares the food and the customer who eats it. I had such a wonderful EXPERIENCE in Shiro.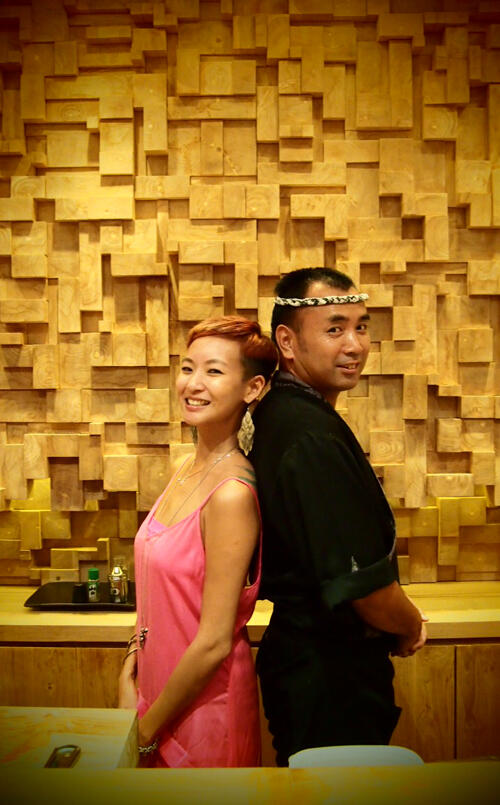 Arigato gozaimasu Shinya-san!
**** EDIT ****
As of May 8 2013: A new chef now sits at the helm of Shiro – Chef Hiroki Mimaki, highly respected and with his vast experience of serving up delicacies with the freshest ingredients, creating an epicurean adventure with his culinary wealth in fine Japanese cuisine.
Japanese by birth, Chef Hiroki Mimaki is almost Indonesian, living on its soil for more than 20 years, impressing all with his spoken and written Bahasa Indonesia and his love for the culture and people. His resume begins with humbleness in his hometown of Osaka and igniting to top chef positions at some of the best 5 star restaurants in the capital of Jakarta and also Bali.
While dining in the midst of Shiro's wondrously intricate design of woodwork, guests can expect to forget their true beginnings of time and space, anticipating what's next, as Chef Mimaki introduces an explosion of pureness of flavors and the sweet nectar of the largest selection of sake that follows next. Personalising the desire of taste to each of his guests.
Chef Hiroki Mimaki said that he "is very pleased to be back in Bali and more so to be given the opportunity to be responsible for an authentic Sushi Bar and offering this to both residents and visitors to Bali alike, creating some truly authentic Japanese dishes using the best available produce that will vary from season to season, this will be reflected in the dishes I prepare for our guests at Shiro".
General Manager, David Beevers added that, "I am delighted to welcome Mimaki-san to Shiro Sushi / Sake Bar. I believe he will make a significant contribution to the success of Shiro and our guests will be delighted with his culinary treats. Mimaki-san joins us with an extensive professional culinary back ground and is obviously a man who is passionate about his trade and we are indeed fortunate to have him join us".
Given the intimate size of Shiro Sushi & Sake Bar, guests who may wish to sample the delights of Shiro are required to make reservations in advance. In-house guests of One Eleven are of course given priority. Shiro is open daily from 6pm to 11pm, Monday to Saturday and closed on Sunday.
You can check out Shiro's FB page – facebook.com/pages/Shiro-SushiSake
Shiro Bar
#3 Pangkung Sari
Seminyak 80361
Bali Indonesia
Tel: +62 361 730594
Email: reservations@shirobar.com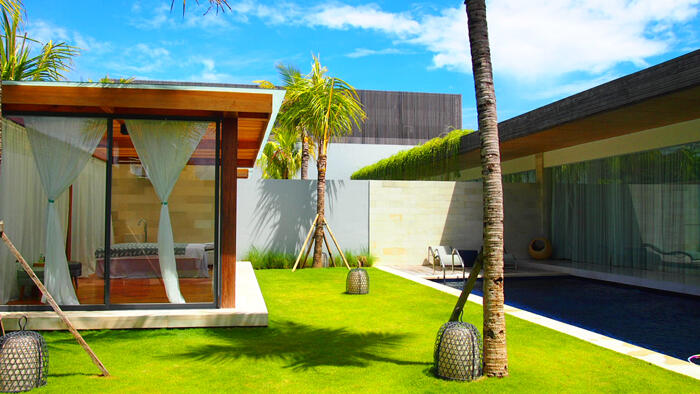 Read > Day 1: One Eleven Resorts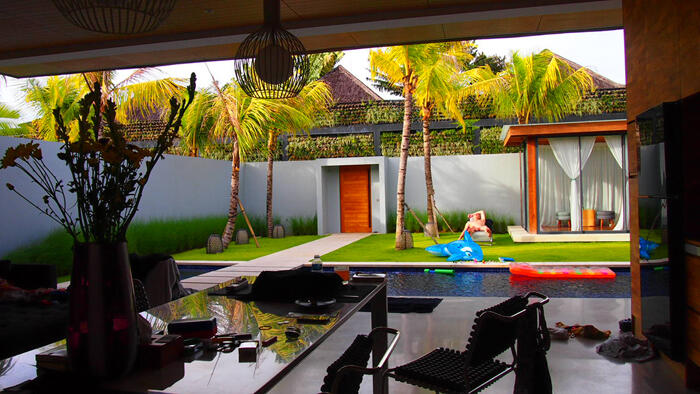 Read > Day 2: One Eleven Resorts