Upon my return from Koh Lipe a couple of months ago,
i sifted through dozens of emails to read a lovely invitation from a new villa in Bali
inviting me to come stay with them and blog about it.
The moment i saw Bali, i knew i'd say yes.
I love Bali so much… and have been trying not to return twice a year as i used to
and use our travel days to explore other countries instead!
(But Bali once a year is acceptable… XD)
The invitation came from Emma and later on,
David Beevers the GM, started answering my emails too.
I did a bit of research and discovered that
David has had 30 years of experience in the leisure and hospitality industry under his belt,
before being pulled to Bali to helm One Eleven Resorts.
He was incredibly friendly and down to earth,
and even assured me that a team of staff were waiting to blow up my pool floats
when he greeted Clem and i upon our arrivals at bvilla+spa and One Eleven separately.
How awfully nice of him!
I will love anyone who entertains my request to blow up pool toys seriously.
One Eleven was conceptualized to be a discreet and private sanctuary
that offers guests the newest high living lifestyle that fuses an 'in-villa' and 'resort exprerience'.
Discerning travelers enjoy privacy, attention to detail and personalized services
while being located in the bustling area of Seminyak – close to all the nicest shops and restaurants!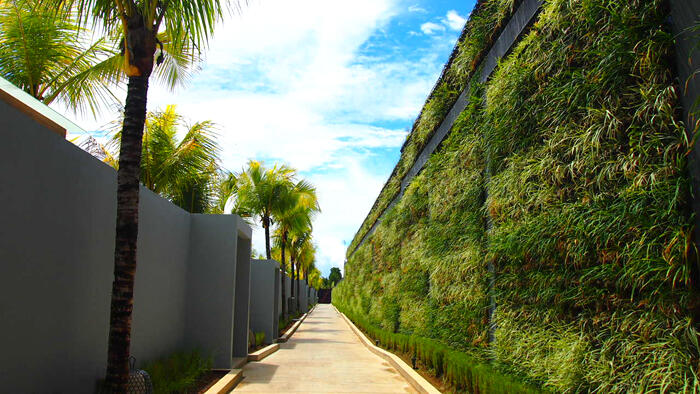 This is the gorgeous pathway with a vertical garden of over a million pots
that leads to the nine villas that are One Eleven, which takes up 5000 square metres of land in total.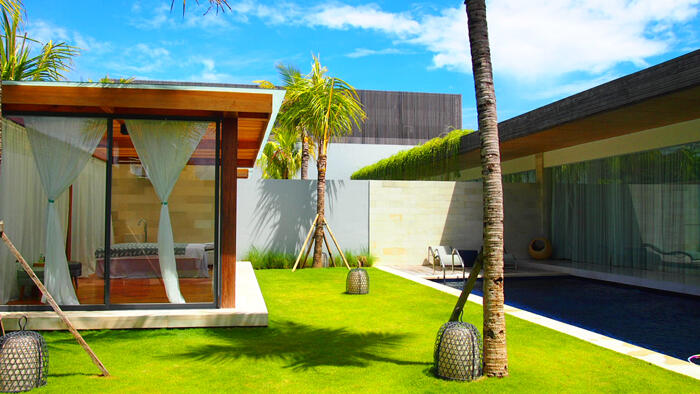 When i first stepped through our villa door, i just thought: "It's SO BEAUTIFUL!"
Each of the nine villas is 350 sqm. (3,800 sq ft) with a spacious 14-meter long swimming pool
and a 35 sqm spa gazebo, which is what you see on the left above.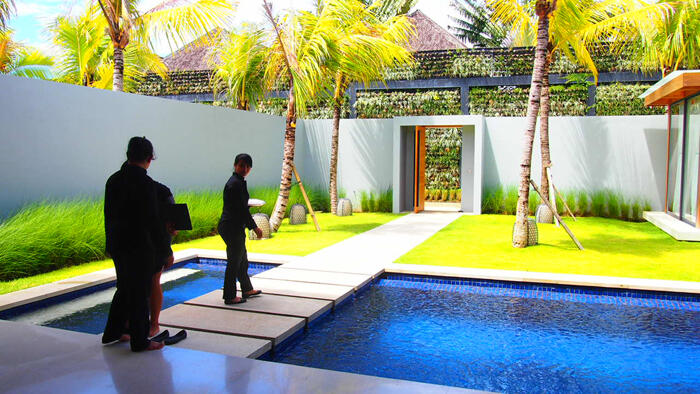 There is of course a butler service to ensure that every guest's various needs are met.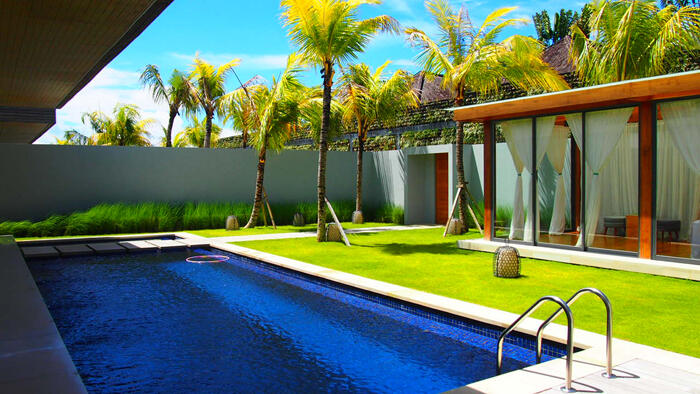 The 14-metre long swimming pool with my hula hoop already in it.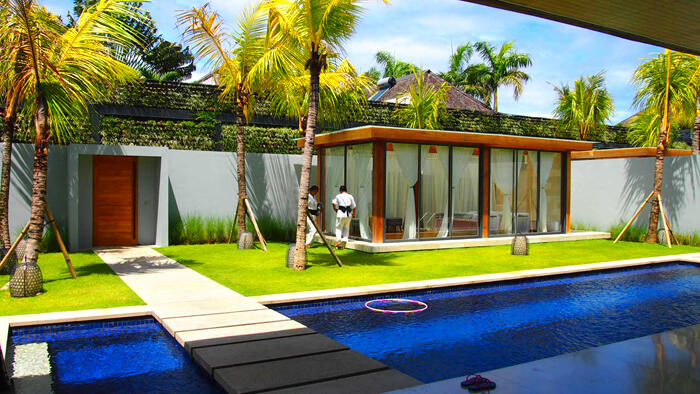 I like how every villa comes with a spa gazebo so you never have to leave your space for a massage.
There was an extensive menu of delicious aromatherapy treatments for me to choose from,
ranging from from Balinese, Invigorating or Holistic massages,
to having a Sea Salt Scrub or Hand and Foot Therapy,
and even a Hair Oil Wrap, or their Signature Facial.
There are even private yoga classes for yoga lovers 🙂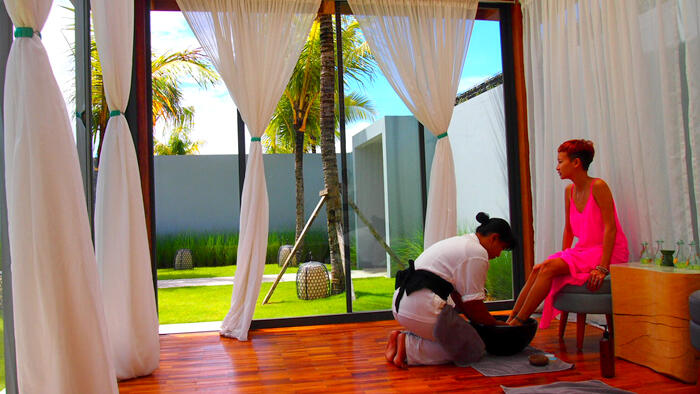 I had a foot bath when we arrived.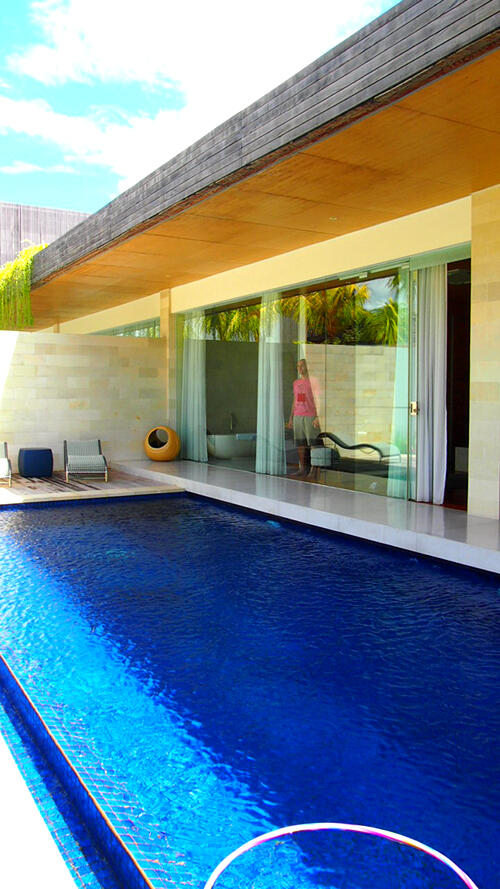 The entire villa is designed in a very contemporary manner with the use of natural wood and stone.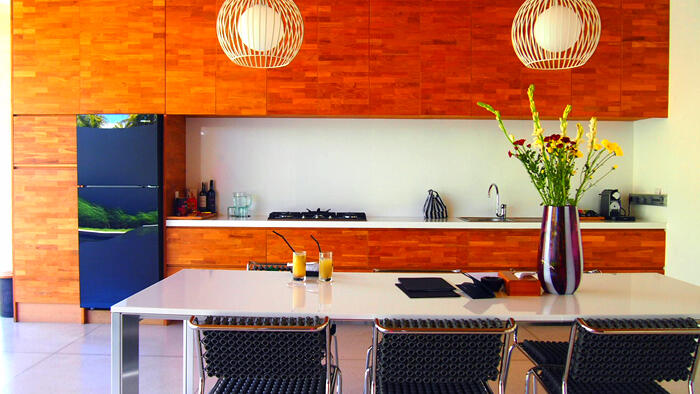 The kitchen – with dining utensils, microwave and 4-burner stove.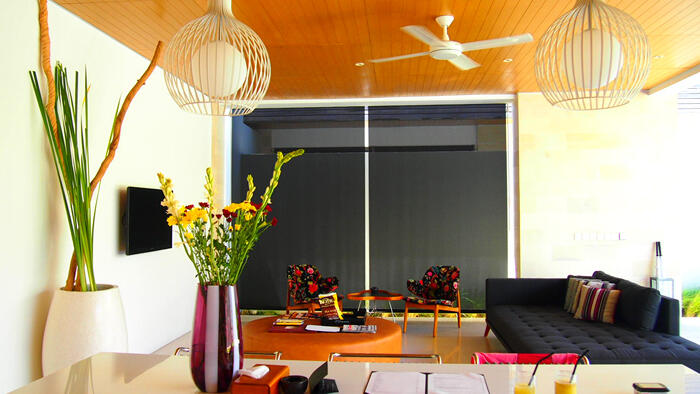 Living room, with these floral armchairs by Karma Living which i like.

In the lounge area there is a Yamaha Restio iPod dock – where we could play our music from an Ipod, CD, via USB cable, or just listen to local radio. And of course, a Nespresso machine with six capsules of different flavoured coffees.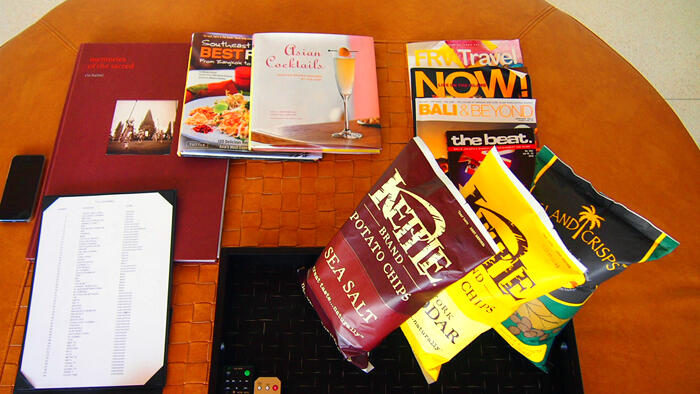 The villa comes with a well-stocked Maxibar of snacks and beverages though we never touched the snacks cos the food provided by the in-villa dining was SO delicious.
The culinary team is available 24 hours and the menu was simple (too many pages is too much for me on holiday) but with different types of fare that satiated whatever i felt like i.e. Thai, Indonesian, Italian, Japanese, Western; and even desserts.
Some dish examples that are making my mouth water as i type this:
– pan fried lamb rack with cauliflower mash and mint reduction
– grilled pork belly with pumpkin, bread dumpling and asparagus in red wine ginger sauce
– boneless ginger chicken with vegetables and red rice mengkudu in banana leaf
– white chocolate panacotta with raspberry compote
And that was just a smidgen of the menu.
If you feel like having a BBQ, the chef and his team could organize to have one in the villa!
Besides food, One Eleven also carries a fine selection of wines, champagnes, beers, cocktails, and other alcoholic drinks… like seriously, they make it so easy for one to NEVER LEAVE. There's even a menu for cigar lovers.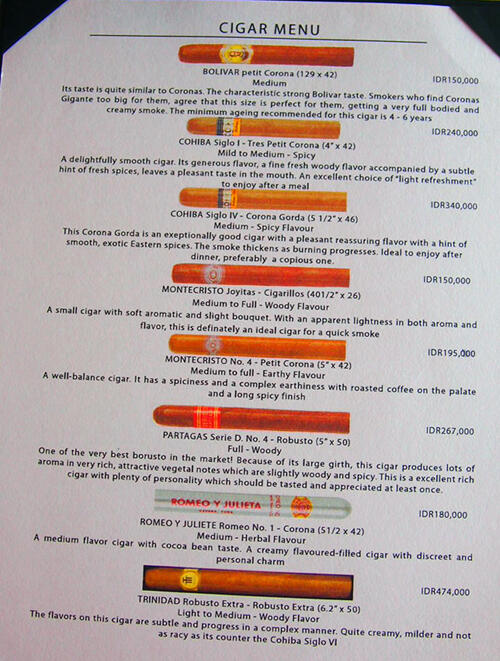 Right next to the kitchen and lounge is the bedroom aka my 'cold' area 🙂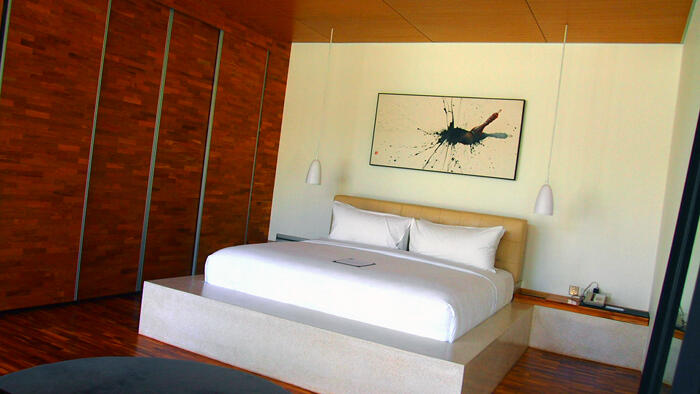 All the pillows and bedding is of 100% goose down, which is, the ONLY way i want my bed to be!!
Goose down is the best.
Next to the bed are many electronic adapters for different types of plugs,
so no one has to fight over who gets to use the adaptor to charge their phones/ipods first!
The 40 inch TV with Blue Ray DVD player in the bedroom has 60 channels for news, sport, art and culture, entertainment, etc from international and local TV. I forgot to mention there's also a 44 inch TV in the lounge outside. Not that we watched TV when we were there…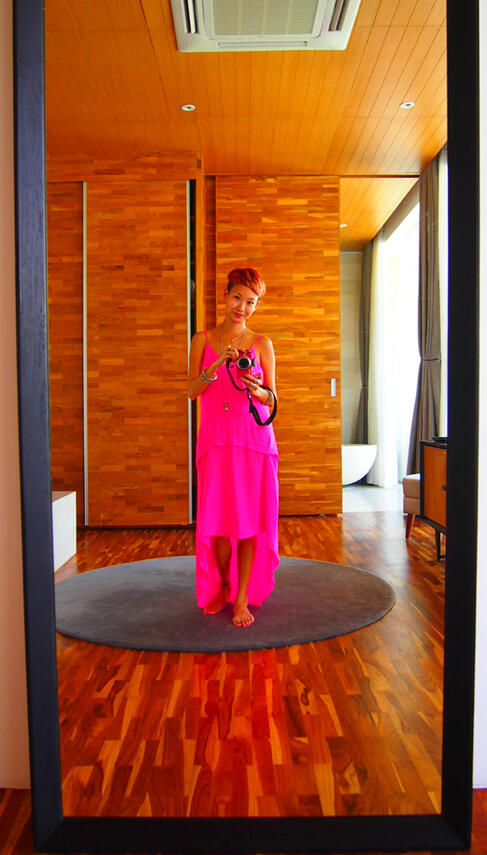 Picture of me in huge bedroom mirror. Couldn't help it.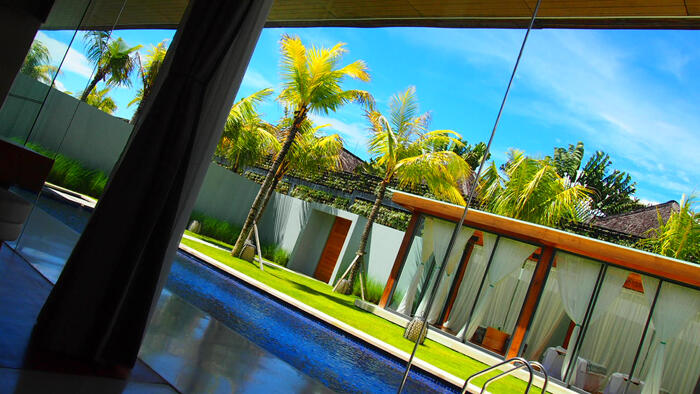 View of outside from inside bedroom/bathroom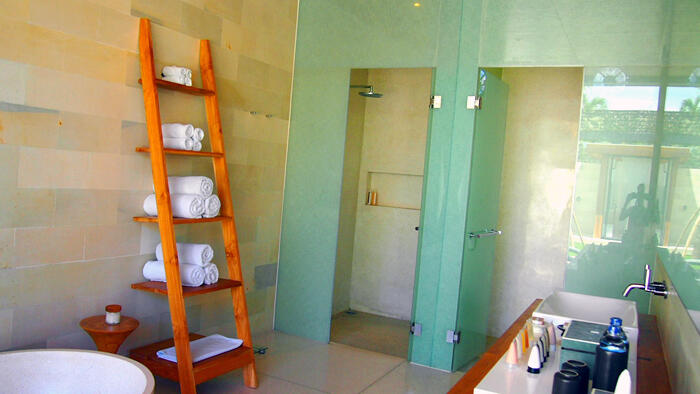 The bathroom has different stone and marble that make up its floors and walls,
which i found… soothing. I might take some notes from here when doing up my new bathrooms!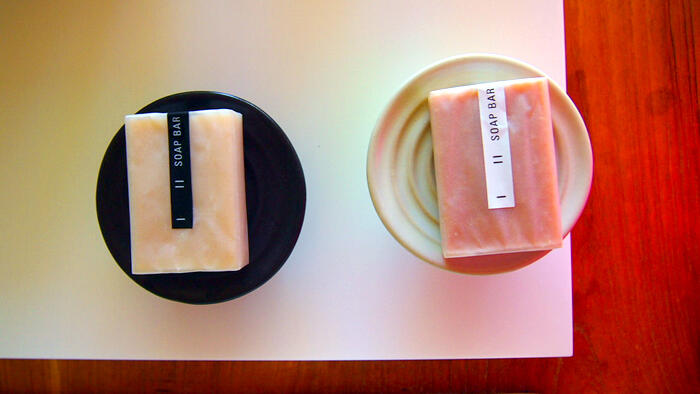 You even get to choose from his and hers custom-made toiletries by Republic of Soap.
I preferred the tomato and basil range to the coconut one.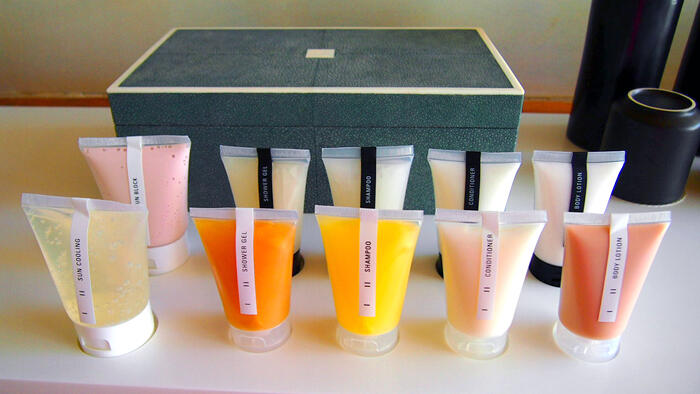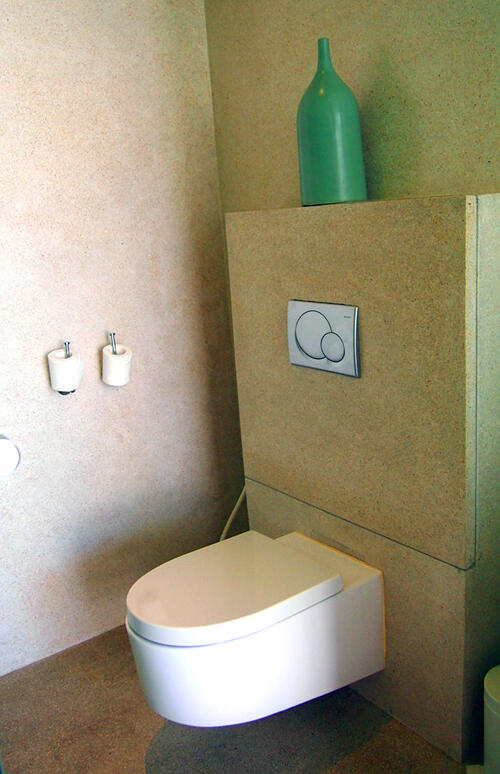 I was wondering whether to post up a picture of the toilet, but then i remember how some friends like knowing what it looks like cos it IS important!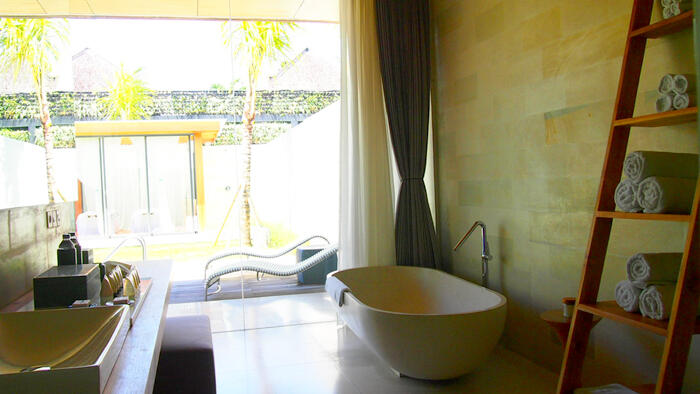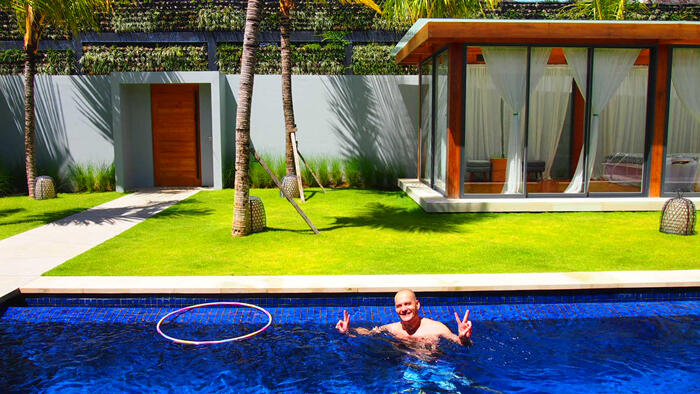 First in the pool…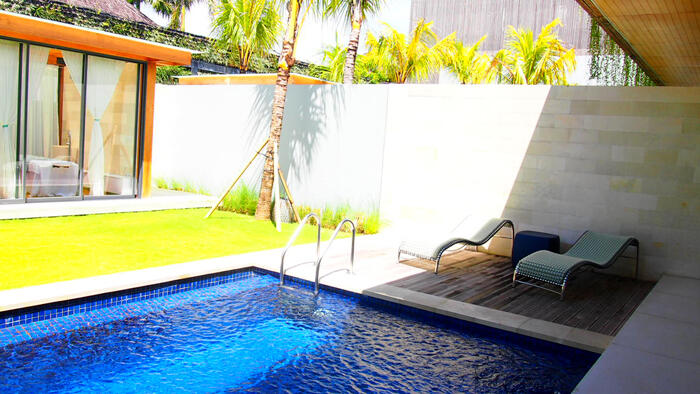 The area just outside the bathroom where i hung out in the shade (i had my skin doctor Karen's voice in my head telling me not to go under the sun -_-). The lounge chairs are one of Clem's favourite items in the villa. More on this lounge chair in my next post cos there are some priceless pictures of him on it.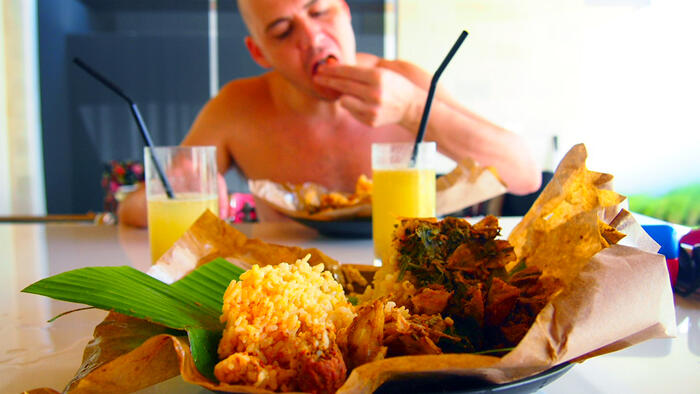 We got the driver to pick up some nasi padang with us before we checked in.
I can never go to Bali and not have nasi padang! I die for them green chillies and pekedil.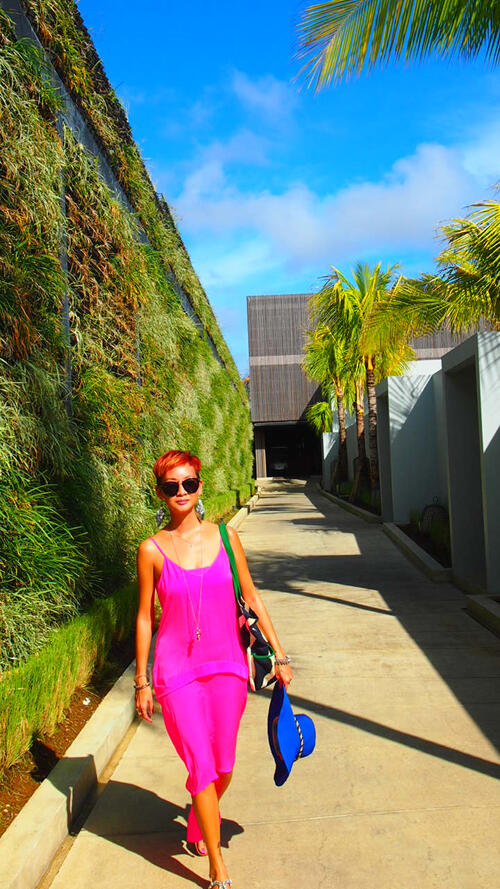 After eating and lounging, we went out to meet Aps and Fai for a drink at Potato Head (another post on that)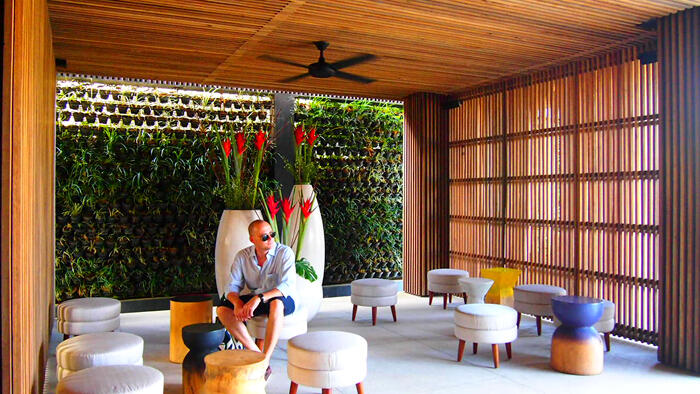 Waiting for the driver
Fast forward seven hours – after much eating and drinking, this was such a WONDERFUL sight to come home to!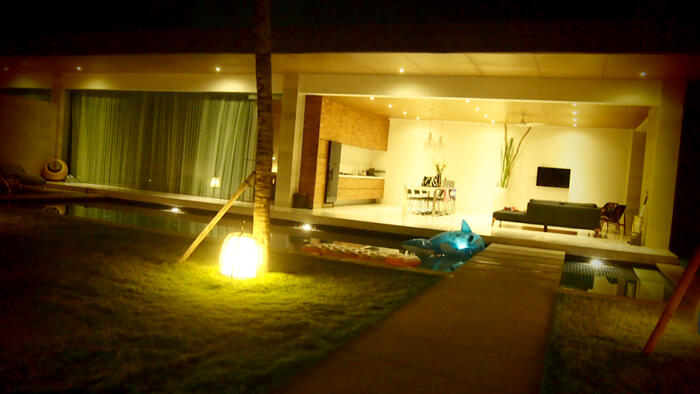 You can see more clearly the bathroom and bedroom (with curtains drawn) on left,
and the kitchen and lounge on right.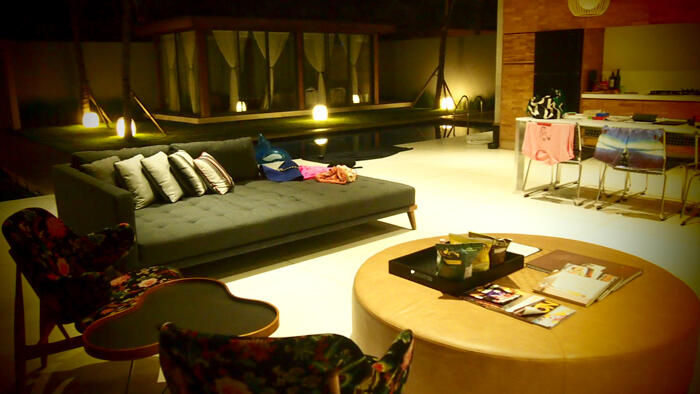 The place is so pretty even at night, in a very different but equally beautiful sort of way.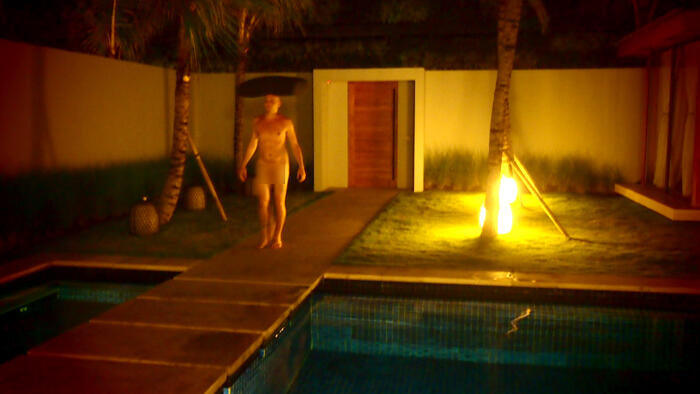 We tried to rescue a meowing cat on the wall but it didn't want to come.
That's Clem balancing a pillow on his head that he used to try to reach out for it with.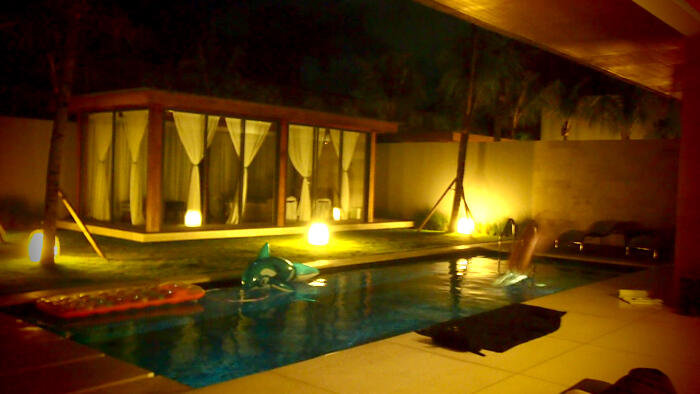 A blur image of Clem jumping in at the right.
It rained heavily after that, and i was (okay quite drunk and) having a great time pretending the lounge was my stage and my audience was in the grassy area. I was dancing and singing and going, "Wow! Thanks for staying in the rain! I LOVE YOU ALL!"
What a great place for make believe!
+ + + + + + +
A night in One Eleven is USD600 in low season to USD850 during peak season,
tho right now when you check on any date in their reservations calendar it's going for USD450/night.
Other personalized services you might like to know about One Eleven:
"TOURS & TRAVEL
Although we know you will want to while away your time in Bali relaxing in the luxury your villa affords, we also understand that you will have desire to explore all that Bali has to offer (and recommend you do so!). In order to make this simple and enjoyable, please let us help you organize this for you. Depending on your needs, we will be happy to arrange a suitable itinerary that we believe will offer you a unique and genuine Bali experience
DINING & NIGHT SPOTS
Whilst in Bali, do take advantage of the fantastic dining choices available to you. In addition to Chef Shiro's superb authentic sushi & sake bar at One Eleven, we have assembled a roster of accessible establishments boasting various local and international cuisines at each pricing level. We have established personal relationships with the proprietors and a warm welcome surely awaits you. Your butler will be please to make reservations.
GOLF
We would be delighted to arrange your tee times at one of the best golf courses in South East Asia – the renowned Greg Norman designed Bali Nirwana. Just 35 minutes from One Eleven, guests enjoy privileged green fees if staying at One Eleven. We would also be pleased to organize personalized golf events for you which could include, prizes, corporate giveaways and other logistics.
EXCLUSIVE PRIVATE EVENTS
Should you be organizing a small private or corporate event for up to 18 people, One Eleven is the perfect venue should you wish to reserve all nine villa's. If an exclusive reservation, corporate and personal branding may be applied. An ideal venue for small and intimate weddings, corporate retreats, themed events and parties and more. The One Eleven Event Team will be delighted to assist in all aspects of planning such events to ensure a success.
Euro Building Asia is the company behind One Eleven, Euro Building Asia recently celebrated its 12th Anniversary in Bali with the launch of One Eleven in July 2012.
Offering the traditional warmth and hospitality that Bali is renowned for makes One Eleven what it is and what indeed sets us apart from the rest. What we like to call our One Eleven Magic."
For more, visit www.111resorts.com