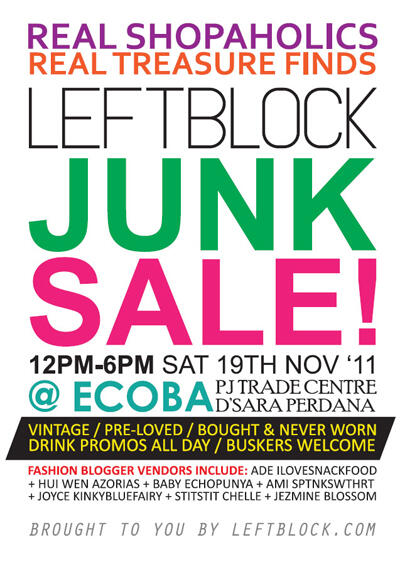 /// ** Facebook Event Page Here * * ///
Chelle and i initially thought of doing our Junk Sale more often,
cos so many people asked us to organize another one
after the first one we threw last year.

But we're just way too busy!
So… we decided to bring it back BIGGER this year in a larger venue so there will be more space and more friends selling their stuff!
Check out the Facebook event page for full list of who'll be selling on that day!
If you're a true shopaholic with a heap of cool stuff to sell off that day too,
you can email me at joycethefairy@gmail.com to join us.
If you're a musician/singer who would like to busk on that day for fun,
do email me too! You can keep the $ you collect!
We want to have a chill out day of shopping, drinks (promos all day long!) and music.
Can't wait to get rid of all my stuff and play new happy songs from my iPod!
xxx