This is gonna be my ultimate blogpost on Laos.
I'm so proud of myself for finishing a series all proper.
Doesn't happen often hah.
Previous posts before this: 
* Laos Day 1: Vientiane *
* Laos Day 2: Vang Vieng *
* Laos Day 3: Vang Vieng Organic Farm & Waterfall *
We SAVED tubing to do on our last day in Vang Vieng.
It's supposed to be one of the main attractions in VV,
and i thought it so sweet Steph saved it to do with us too (she was there with Nick a month prior).
So TUBING.
We were a bit scared, thanks to watching horror youtube vids of kids smashing their heads open while swinging on ropes and banging their skulls on the side of a pier.
People have actually died while tubing.
I also remembered my aunt G telling me how she saw two girls getting caught in strong currents and screaming for locals to save them.
Soooo we told ourselves that we're NOT gonna fuck around and we'll watch out for each other!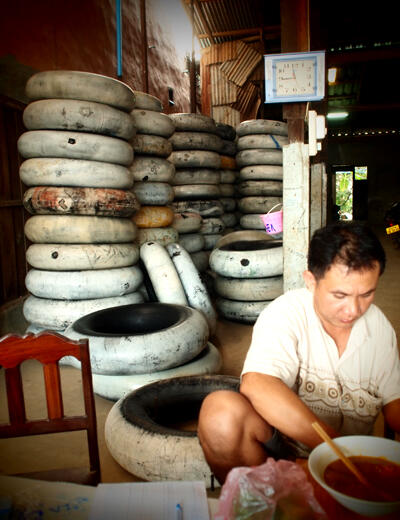 There's only one place to rent tubes in VV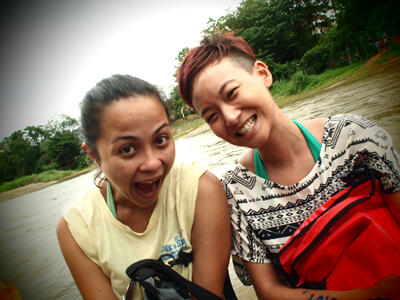 Steph and i
Before you start tubing, they take you and your tubes on a boat to the main 'starting point' which is (naturally) a bar.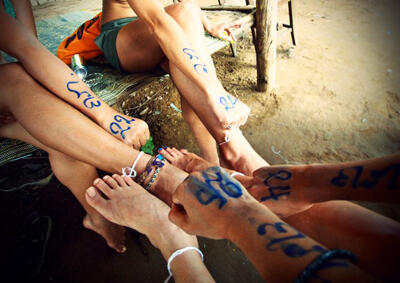 Numbers and Laotian characters are written on us to account for our tubes.
We sat at the 'starting point' bar for a bit,
chilling (gathering courage) and talking to some backpackers who were working there.
As is customary tubing tradition, we were given free shots of local whiskey.
At least the bars there have a system, for every free shot they give you, white string is tied around your ankles/wrists to mark how many you've had
(so if you've got HEAPS, they know it's time to stop giving you any more drinks lest you drown yourself -_-)
Seeing we wanted to be ALIVE and not mati lemas,
we paced ourselves cos we knew we'd be tubing all afternoon.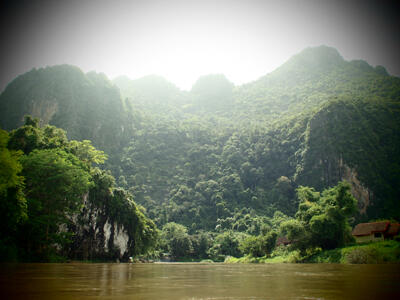 Seriously. This view. Is just proof of why tubing in Vang Vieng is so legendary.
We were really lucky that the currents weren't as strong as some horror stories we heard/saw on youtube,
and it was wonderful that there was no crowd seeing it was non-peak season (June).
'Twas surreal to just chill on the tube,
listen to the water gently rushing,
feel the sunshine on my arms and legs and face,
and watch nature's hills jutting out of the skyline next and in front of me.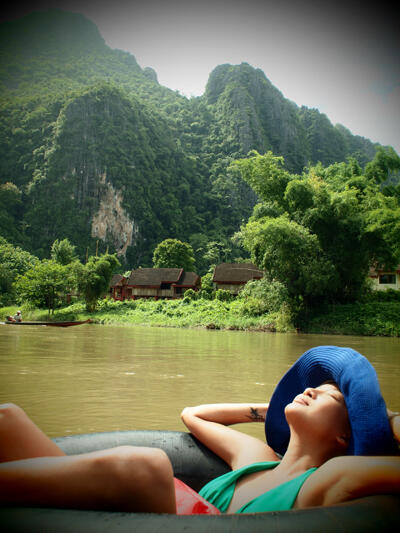 [mengada pose]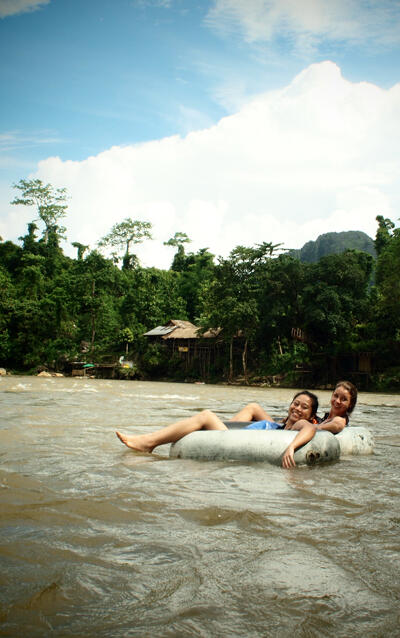 There are scores of bars next to the river just for tubers to stop by.
Most of the guys working there will be calling and waving for you to stop,
so all we had to do was yell and decide with each other that we'd take a break,
and give them a wave and yell back.
The bar guys would then throw thin rope (the kind that hurts your hands :p) for you to grab on to while they pull you onto the bar steps.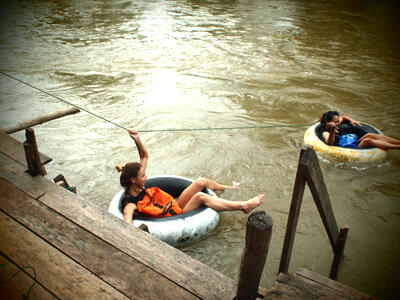 Jess & Tianna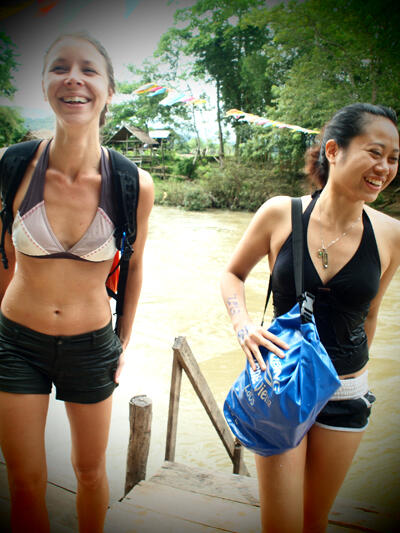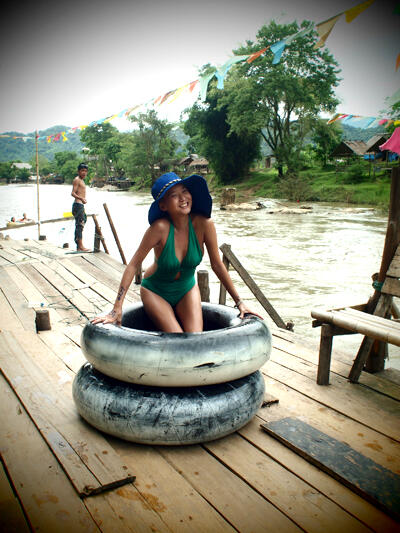 My green monokini is from Kyla Ruiz, hat from Mimco.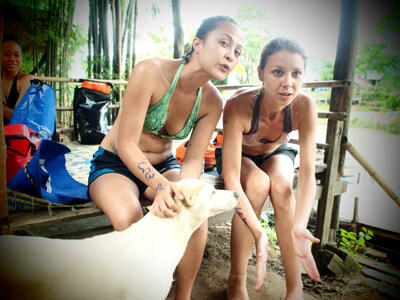 Lots of dogs to pet and spoil.
Steph and Jess spent ages calling the dogs … -_-
I found it hilarious that the first menu they gave us was this: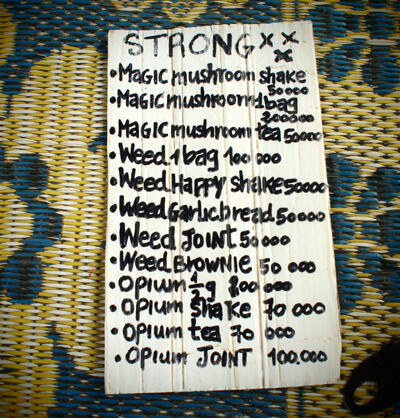 Us girls stared at it wondering… don't they serve alcohol?!
Called the waiter back and he got us strong cocktails served in buckets.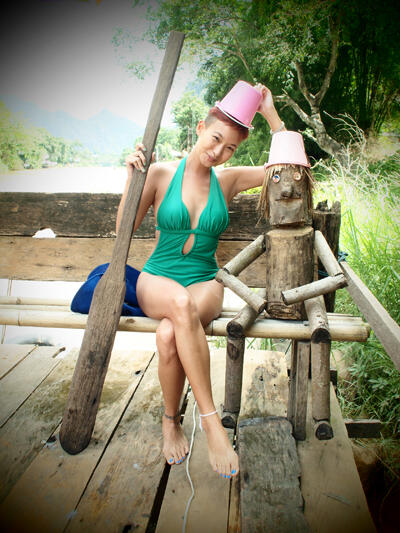 I made friends with one of the Pail People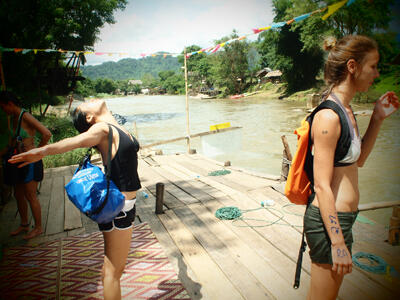 Hugging sunshine: Tianna shows how it's done.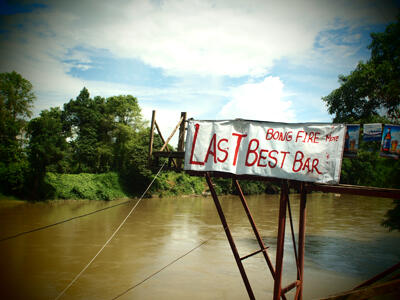 Another bar we stopped by that afternoon (i lost count, and also half the afternoon was admittedly hazy in my memory)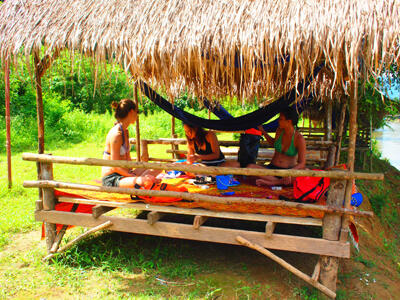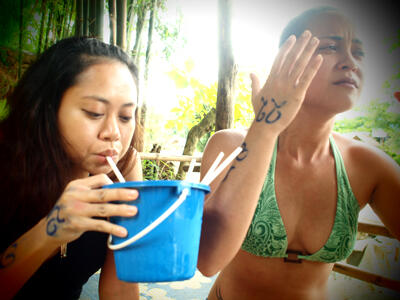 More killer bucket cocktails.
Steph getting worked up about something she's talking about.
I don't remember anything (that's why i took videos but erm shouldn't put them up).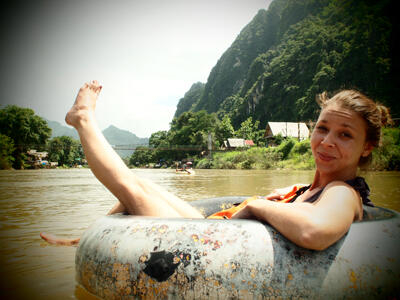 More tubing!
At this point i was getting dangerously comfortable with my camera on the river.
Am amazed i didn't drop it in the water :p *HUGS CAMERA*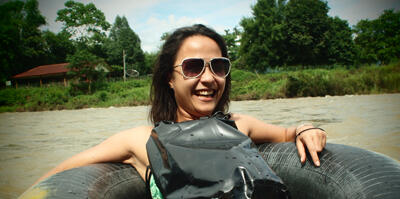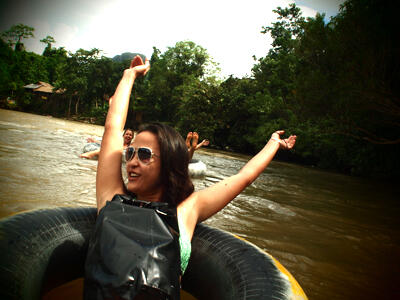 WooHOO LAOS!
Yay i'm done with Laos posts!
But not done with Laos.
I would so go back.