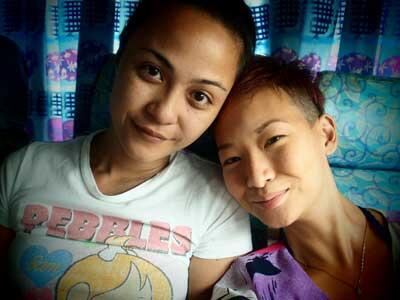 Stephy and i
After spending one full day in Vientiane [read full post *here*] we took a 4-hour bus ride from Vientiane to Vang Vieng.
One-way trip costs RM25 in an air-conditioned though somewhat rattly bus.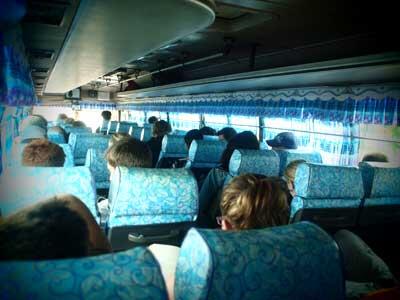 Couldn't help taking a pic of all the blonde + brown heads!
Look at all the white people heading to Vang Vieng!
Clem would hate it :p
He hates going on holiday in SEA if lots of white people flock there too haha.
Vang Vieng is famous for being a backpacker town,
and the NZ Herald has quoted: "If teenagers ruled the world, it might resemble Vang Vieng".
Apparently it's filled with lots of tourists aged around 20 who just get trashed a lot.
I must say… i wasn't looking forward to that sort of vibe,
cos i think i'm over my party-till-i-pass-out days.
But it wasn't peak season when we went so the town was nice and empty.
PHEW!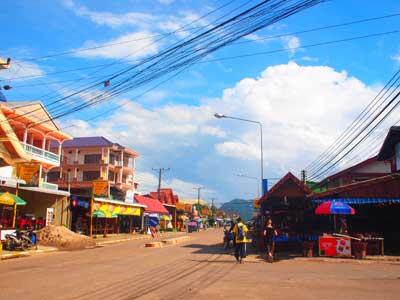 I thought Vang Vieng was really pretty (not the town so much la)
but the surrounding nature.
Ripe green fields, clouds you feel like biting,
hills that jut out of the earth,
mist flowing in between the hills in the morning,
giant waterfalls bigger than most i've seen in my life.
Well, we'll get to those pictures later!
First things first – FOOD!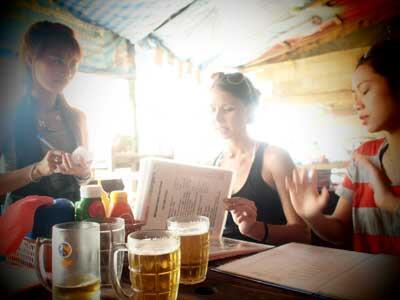 I was so hungry i walloped most of my green curry before even thinking of taking a picture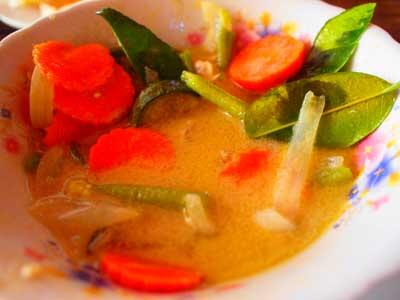 There's a ready supply of ham and cheese sandwiches…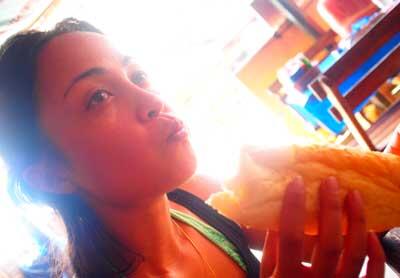 And because of the French colonization, a good number of bakeries selling huge varieties of donuts, pastries and the biggest cookies!
I felt pressured when everyone bought a giant cookie,
so i got myself a cinnamon bun (which happened TO ROCK MY RED LOCKS later that night!)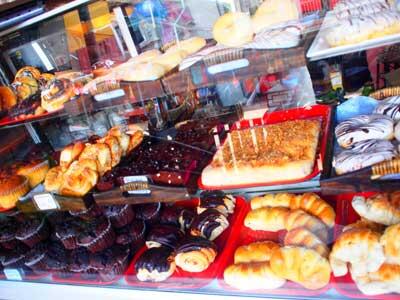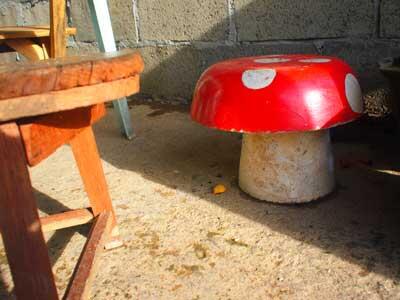 The thing about Vang Vieng that draws such a high number of young backpackers is the sale of weed, shrooms and opium.
They can be bought at every other bar in Vang Vieng.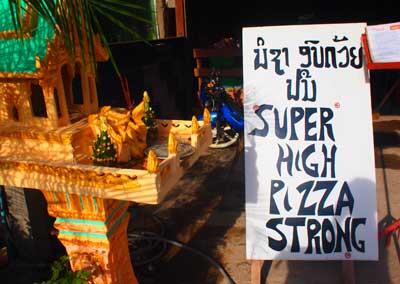 They even have special menus for it,
separate from the food and alcohol menu: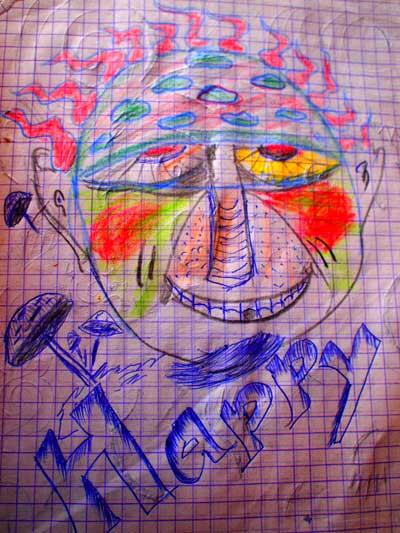 100,000 kip = RM35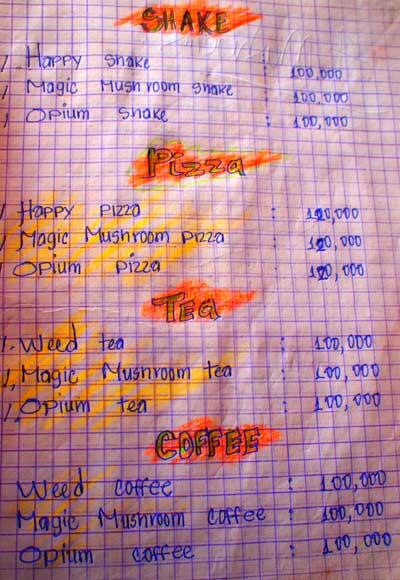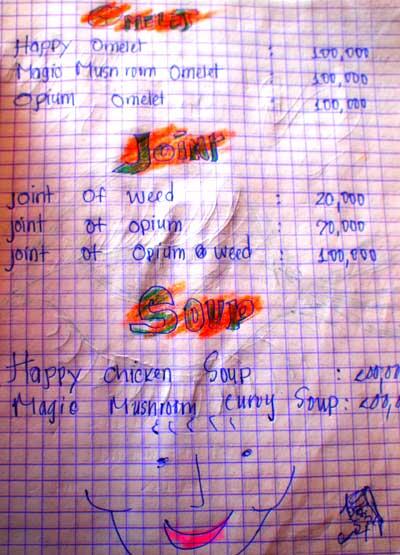 The four of us shared a mushroom pizza,
but nothing (much) happened.
It was just kinda hard to play cards, that's all!
Think our first mistake was eating it AFTER we'd had a meal so it took a lot longer to digest.
The second mistake was sharing one hahaha.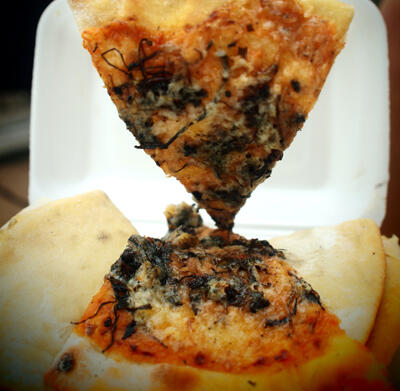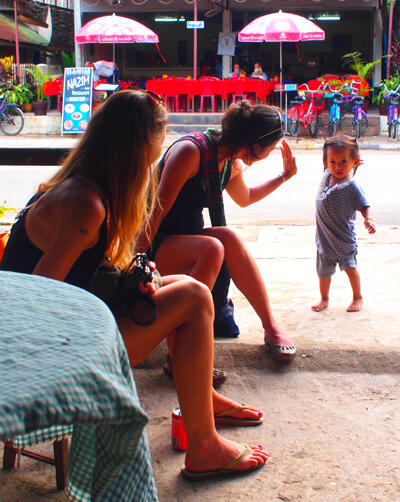 High five!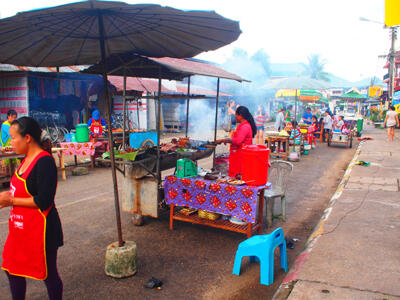 We were staying much further down the road, in a more peaceful guesthouse called Thavonsouk Resort,
so we stocked up on grilled rice patties and siew yoke(!) from the hawker stalls in the middle of town.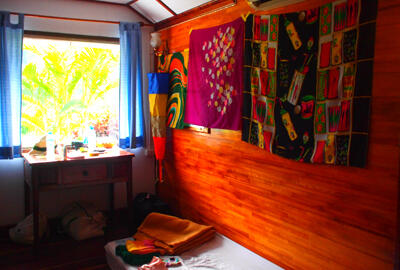 One side of our room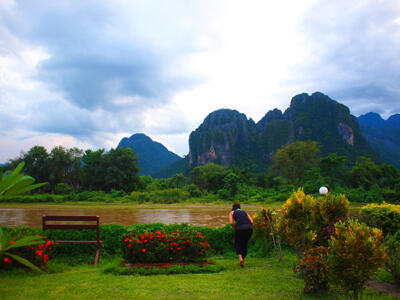 Our GARDEN! HOW AWESOME IS THAT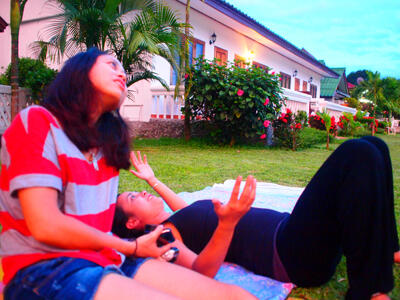 We hung out to watch the sun set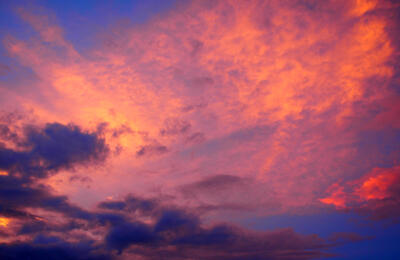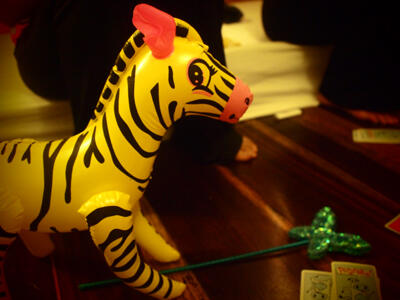 This is Pipette, my new blow up zebra with pink ears i adopted in Vientiane.
Tried playing cards when it got dark out.
We did sit on the grass for awhile, but all the mosquitoes attacking me made me run in.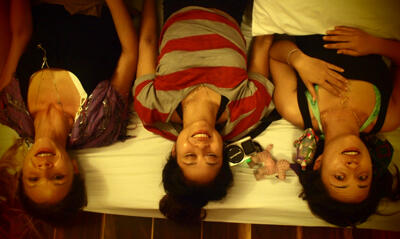 Jess, Tianna, Steph
Because i'm a Dove choc ambassador, i took advantage of the free chocs i get by bringing a box of 10 bars with me.
The girls were really happy, especially Steph.
And i returned to KL with 1 bar and a dissatisfied boyfriend because we didn't save him any :p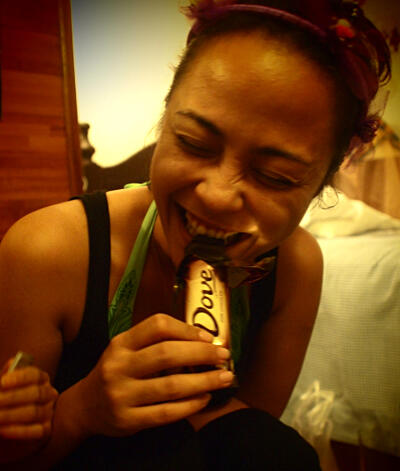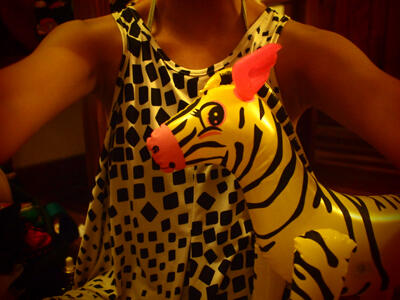 Pipette: CAMOUFLAGE!
Lastly, and you SO SHOULD WATCH THIS!
A wonderfully done video by Jess of our whole trip ala a music vid!
I have to commend her for semangatly taking vids while we're
bicycling / hiking / tubing !
Think i've watched it 5 times already