Before i blog about Vientiane, i gotta write down how we almost missed our flight…
We checked in on time and went to buy food to eat on the plane 

I couldn't decide between a McD's apple pie and Ipoh kaya butter toast, so i got both.
The 4 of us split up when we went thru immigration
cos Tianna and i have Malaysian passports,
but not Steph and Jess.
Ti and i went straight to the gate after that cos we knew we were running a bit late.
Lady at gate told us if other 2 don't show up within THREE MINUTES she'd just HAVE to close the gate.
I don't blame her la… our flight was at 3pm, and we were at the gate at 2:50pm :p
(i know the plane should be on the runway by then, but i think the long queues made lots of others late too)
We called their phones at least 10 times each but frustratingly,
noone picked up arghhhhh
I dropped my bags with Tianna save for my phone,
and RAN ALL THE WAY BACK UP to outside the x-ray area.
I ran so fast my bloody top flew up, and i flashed my bra at people, before hurriedly pulling my flying top down -_-
I scanned the crowd lining up to put their bags thru the x-ray
planning to scream at them to just CUT THE LINE
DO WHATEVER IT TAKES
cos we'd MISS THE FLIGHT OTHERWISE!!!
Couldn't see them.
Almost peed my pants in kancheongness.
FINALLY got them on the phone
Turns out the IMMIGRATION had a system jam so the line hadn't been moving since they started queuing!
I called Tianna who spoke directly to the airline steward at the gate to let them know it was a system problem.
Then i begged Jess and Steph to just excuse themselves and jump the line!
Saw them appear at the x-ray area,
got them to jump the queue there too,
and we RAN back to the gate
and got on the flight 30 minutes after it was supposed to take off  :p
Luckily we weren't the last on the plane…
there were some men who got on after us cos they were stuck in immigration too.
I tell you, the moment we sat down in our seats and buckled up,
Steph and i looked at each other and went PHEW!!!!!
Can't believe we almost missed the plane because… we wanted to buy food. 
What a close one.
What dismay if we had missed our holiday flight!
Thank you Holiday Godddddd
Initially my regular 4 girls and i were planning to go to Laos.
But Aps had a wedding to attend.
Cammy accidentally bought tix to Paris for her pre-wedding holiday with Kenny.
And Dhanya has to rehearse for Dreamgirls (showing in Istana Budaya next month!)
Then there were two – Steph and i.
We decided to invite Tianna and Jess along with us,
which was perfect cos they were looking for somewhere to holiday at too.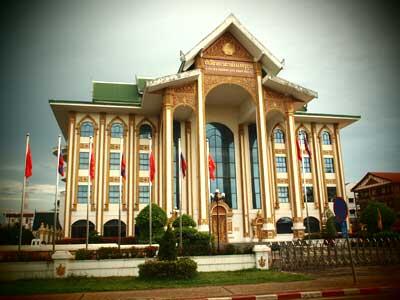 Brief history of Vientiane:
11th-12th Century – Laos and Thais migrating from Southern China settle in area
1354 – was important administrative city in  the kingdom of Lan Xang
1563 – made  capital of Lan Xang to avoid Burmese invasion
1707 – Lan Xang fell apart, Vientiane became an independent kingdom
1779 – conquered by Siam
1827 – Vientiane was looted and burned to the ground by Siamese armies
1893 – under French rule, became capital in Laos. They rebuilt the city and temples, and left colonial buildings behind.
1953-75 – Laotian Civil War broke out.
1975 – Vientiane achieved liberation.
[source]
Our plan was to explore Vientiane for one full day,
before moving on to Vang Vieng for 4 nights.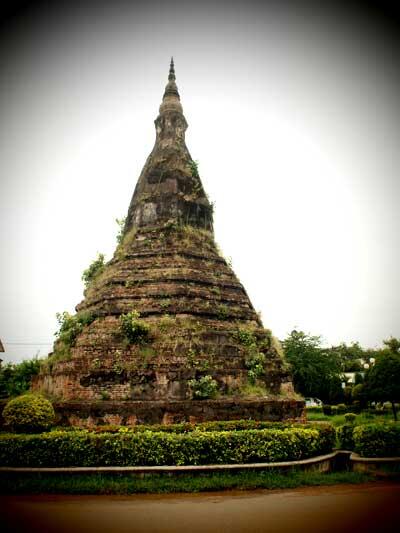 Vientiane is a pretty small city,
and one can easily explore most of it via cycling for a day before moving on to other areas in Laos.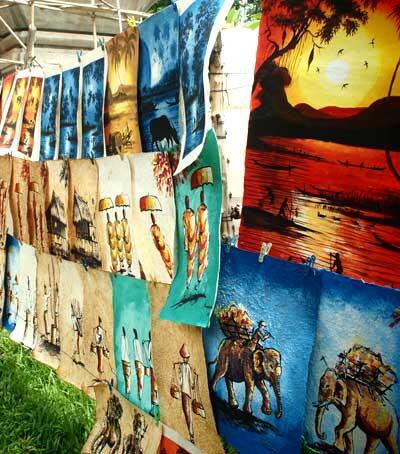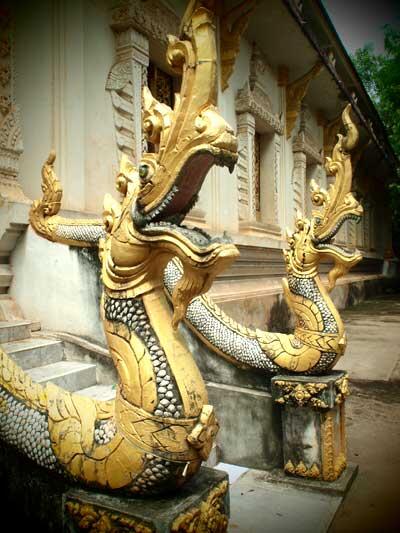 We stayed at Avalon Hotel, 
a bit further from the Mekong river cos it's cheaper
and not that big a difference to us anyway.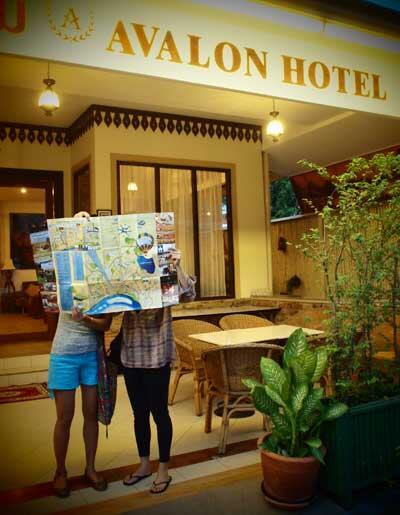 We landed in the evening, and after washing up at the hotel,
ventured out to find dinner yay!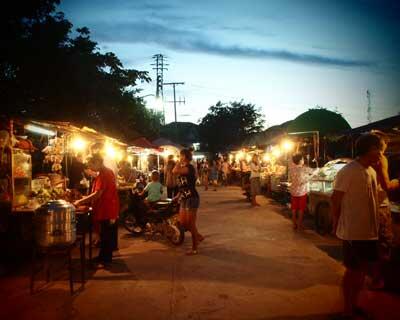 We were so lucky to stumble upon a local night market.
The best and cheapest introduction to Laotian food!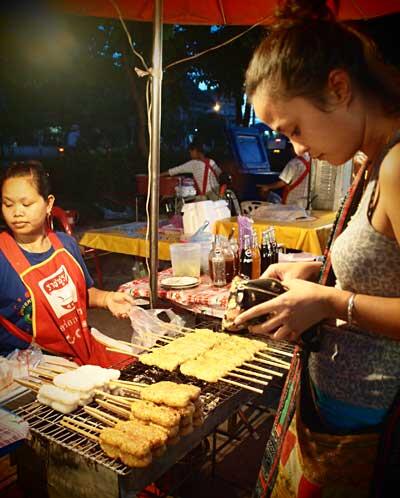 Grilled rice patties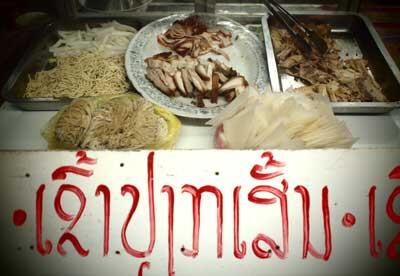 Pork noodles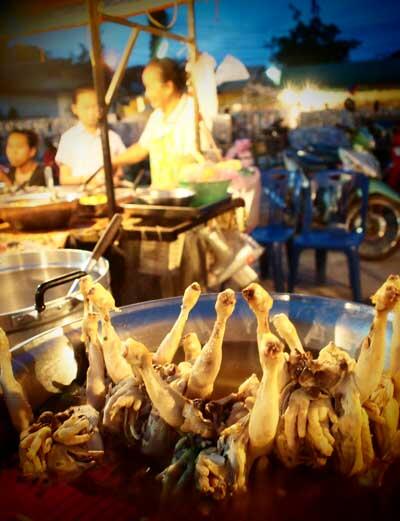 I got weirded out by how they twisted the chickens in the soup…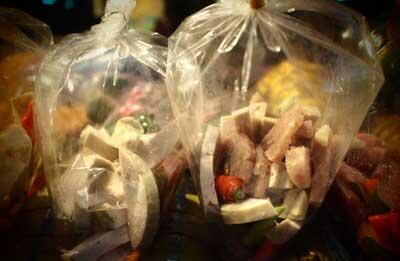 Laos food is pretty similar to Thai and Vietnamese food (yums!)
Well they are all in the same region…
pork / beef soup noodles, sticky rice, fresh veggies on the side…
one thing they have around a lot more are soups.
We got huge bowls of fish soup for RM4 a bowl (had to share it, was too big!)
Walked further down the market after dinner,
and discovered there was a funfair going on!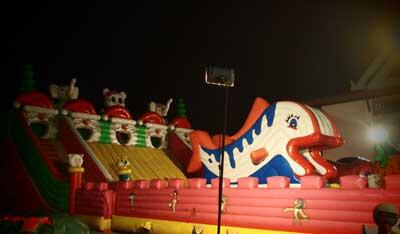 Was a lot bigger IRL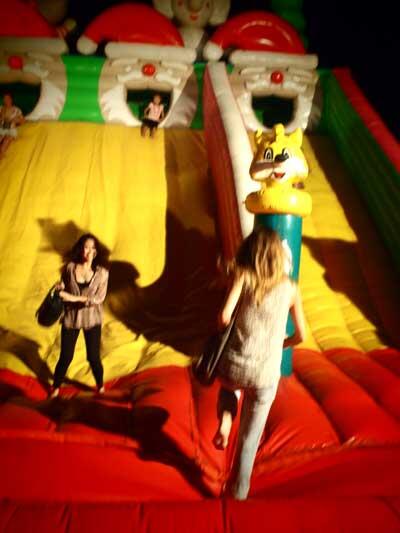 I love that Laos is not ageist like Jakarta!
They allowed the 4 of us big monsters to enter the play area for 5,000 kip / RM2 each!
Not many pictures cos i kept my camera to jump around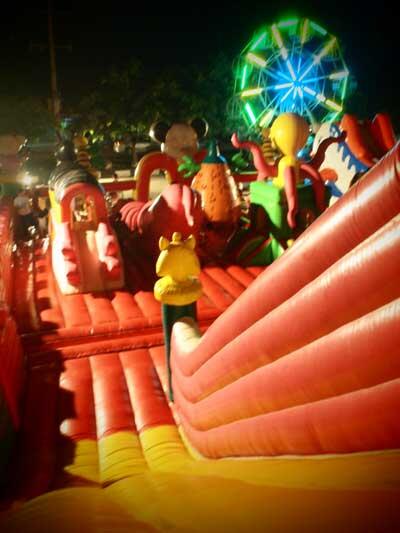 Next morning we rented bikes for really cheap
(i love Laos! Everything is cheap!)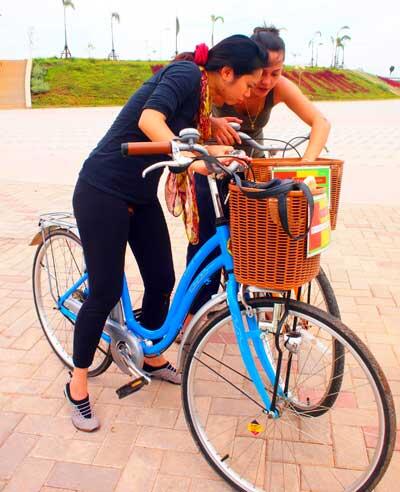 We were so excited when we all got on our bikes that we started singing Queen's Bicycle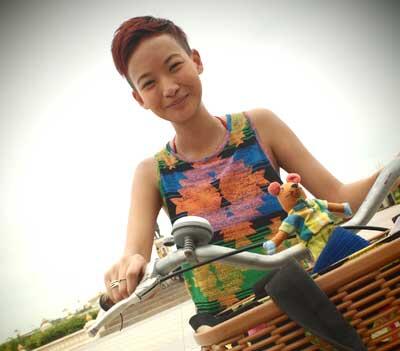 Maurice my mouse sat with me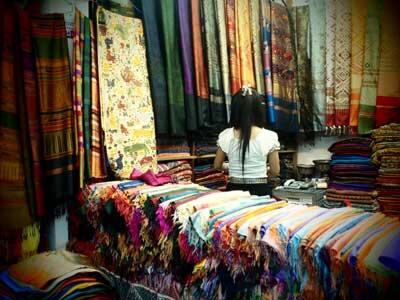 Went to potter about the local market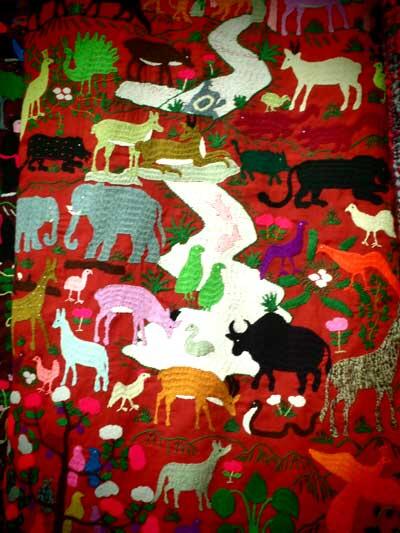 Love the traditional stitching of animals on large cloths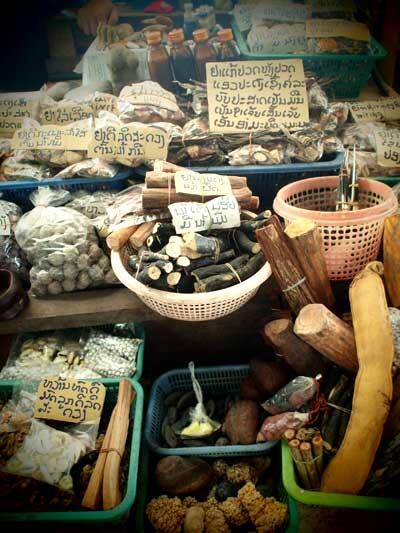 I had extra toy cars in my bag from Sri Lanka,
so handed them over to these two boys…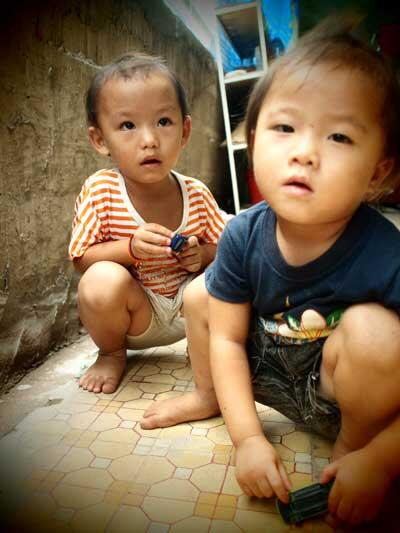 I didn't go near them much cos they had snot running out of their noses.
Unless its snot that holds my genes, i'm not wiping it…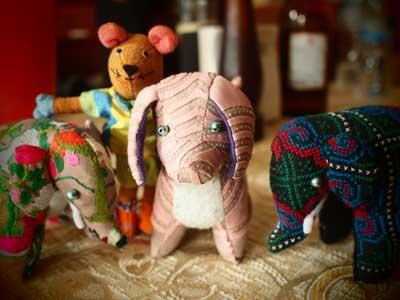 Waiting for lunch – Maurice with all our new toys from the market!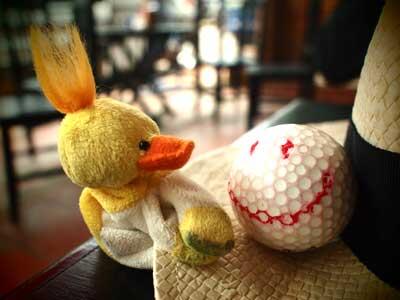 Tianna's Ducky and my Wilson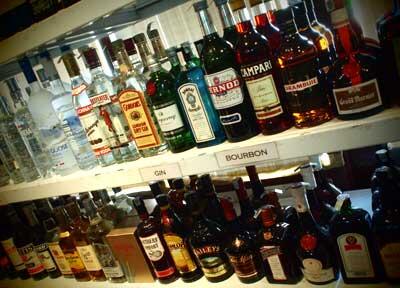 Alcohol in Laos is cheappppp.
Don't bother buying any in the airport!
A big bottle of Beerlao can be as low as 8,000 kip  / RM3 !!!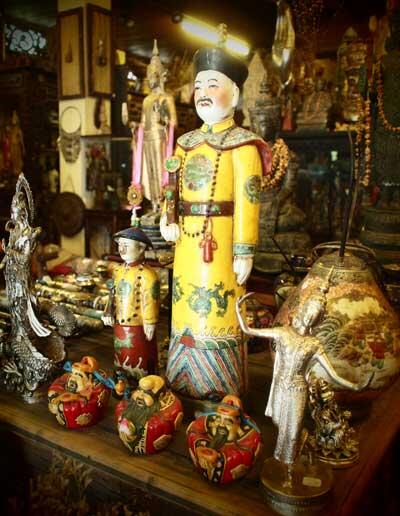 The necklace below caught my eye as we were cycling past the shop,
so i rang the bell to make everyone stop cos i wanted to have a looksee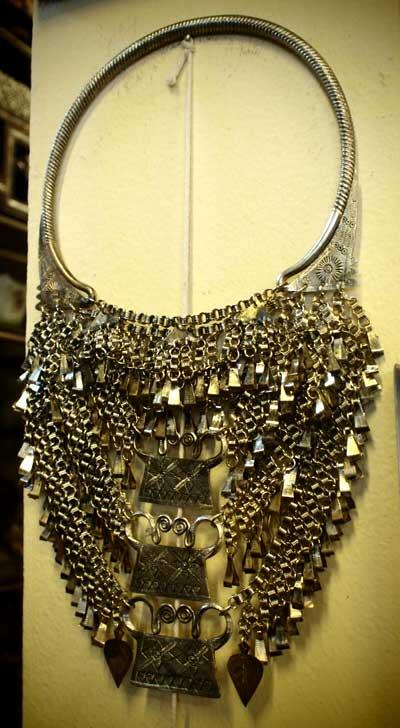 I would've bought the necklace if it wasn't so huge,
the ring could fit TWO of my necks!
That shop turned out to be a great stop!
We all got little antique trinkets and accessories.
I got some great authentic Hmong tribe bangles and necklace i can wear to events
 
(for cheaper than anywhere else in Laos, as we discovered later)
Everyone bought something and congratulated me on my shopping radar.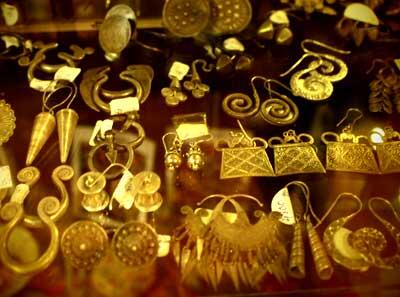 Next door was a shop where Steph and Tianna tried to bargain for hairpins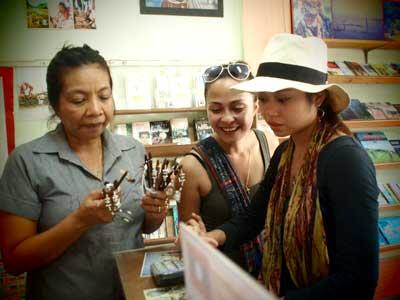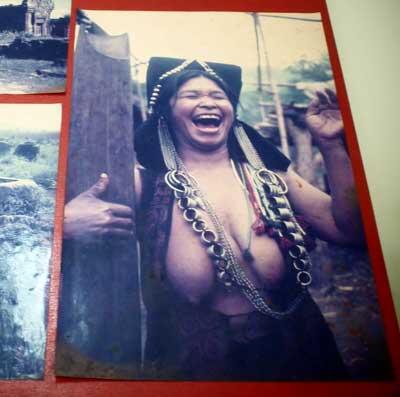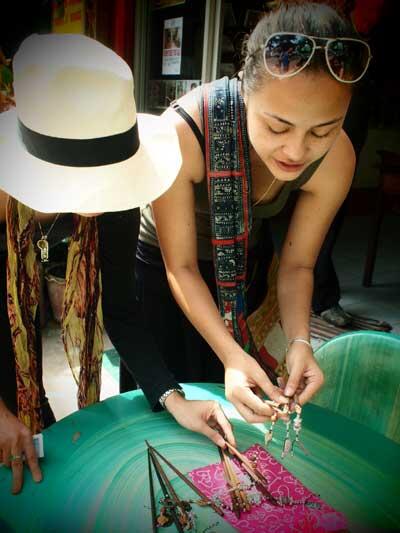 After all that hot cycling, Ti and i went for a massage (RM40 an hour)
which was well worth the money.
When the lady was done and walked away,
a voice in my head went no! where are you going? come back!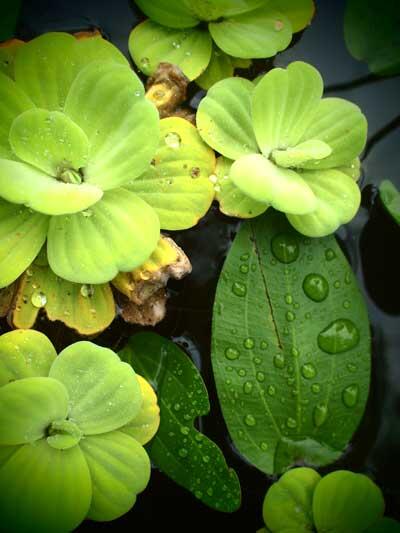 It rained while we had our massage.
Yummy smells all around.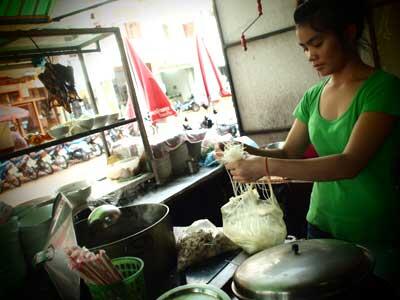 I got hungry between lunch and dinner (as i always do…)
so the girls stopped to teman me makan.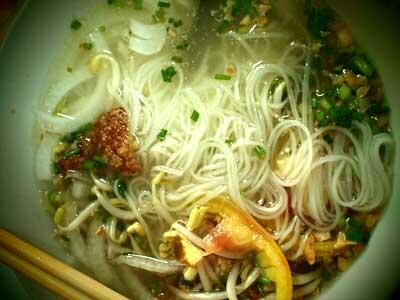 These noodles with fried pork skin was amazingggg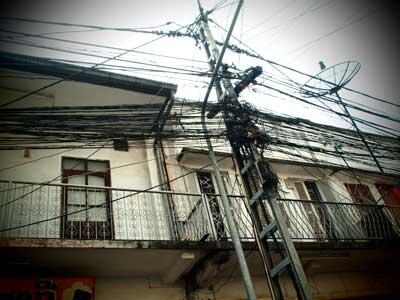 The spiderweb of telephone lines are just as intriguingly messy as Chiang Mai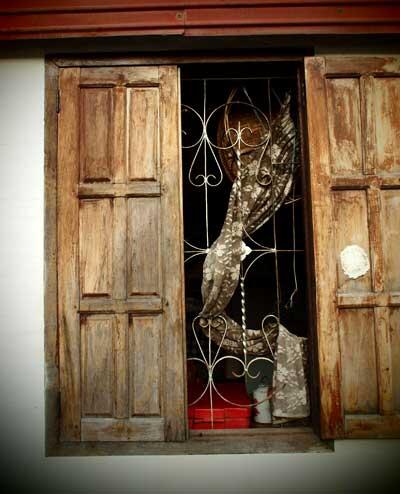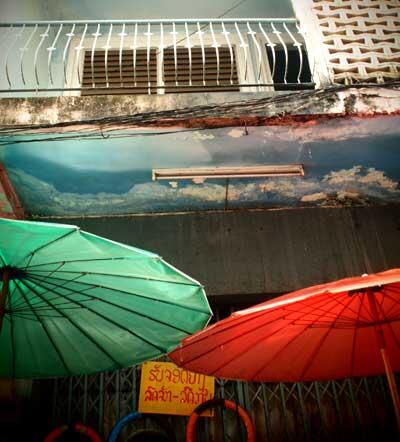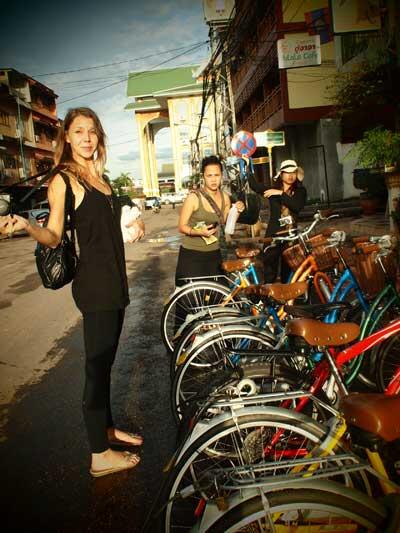 Returning the bikes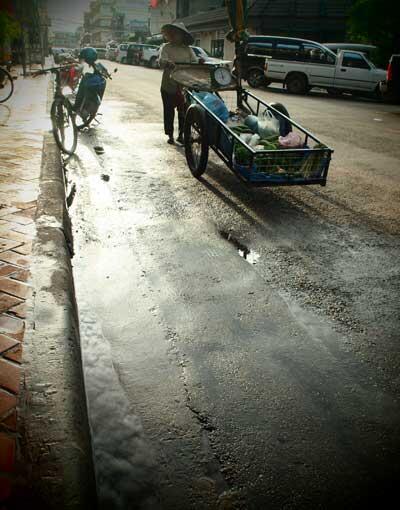 We had dinner at Khop Chai Deu Restaurant & Bar,
a 10-year-old restaurant set in an old French colonial villa.
The fact that it was filled with locals assured us there was good food!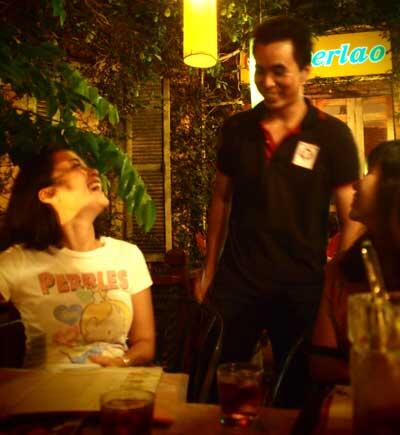 I had this massive meal called Laos Discovery: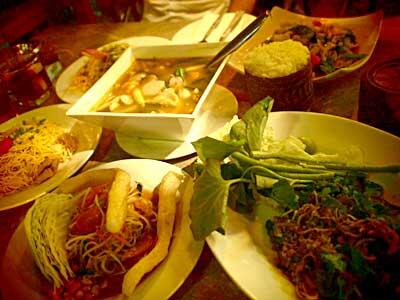 A big plate of mince chicken with fresh herbs (lower right),
big bowl of sour fish soup (square bowl in middle),
sticky rice (next to soup),
green papaya salad (lower left),
green rice jelly on crushed ice (dessert came later),
and local Laolao whiskey.
All for 75,000 kip / RM26
The girls helped me with the soup,
but i think i whacked most of the rest myself…
After breakfast of toast, eggs and fruit,
lunch of green curry chicken and rice,
tea of pork noodle soup,
and a dinner like that,
i definitely overate on my first day of holiday 
I was holding my tummy while walking home thinking
now i get it why pregnant people hold their stomachs!
IT DOES HELP to hold up the extra weight!