I'm trying in vain to blog more holiday posts before i shoot off for another holiday this Thursday!
This time, it'll be back to Bali with Clem.
When i was updating my dad where i'll be the following week,
he said, "Bali?? Again?? You want to live there is it?"
Well, actually, i do, i really do.
But it's getting quite commercialised, especially after Eat, Pray, Love
so maybe it's time to find a new second home.
Laos is a possibility!
Previous posts on Laos before you continue reading this one:
* Laos Day 1: Vientiane *
* Laos Day 2: Vang Vieng *
SO!
We woke up to a gorgeous misty morning on our 3rd day in Laos: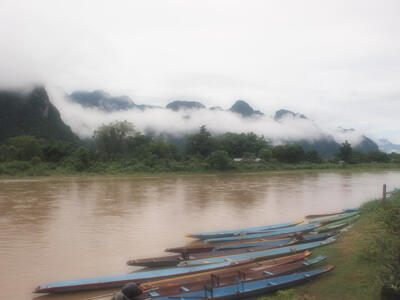 I mean really, how lucky were we to have a backyard view like that
to relish in the moment we woke up!
The air was fresh and cold,
my sinusitis broke out but i didn't care,
villagers were fishing across the river in the early morn,
and everyone was in a completely chilled out mood.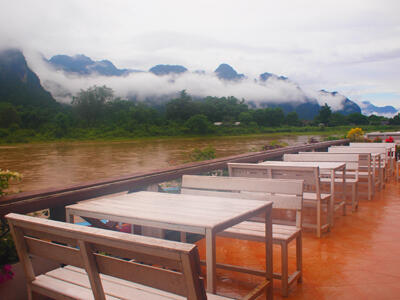 We all put on our spectacles (all of us are blind save Jess)
and pottered over to hotel buffet to have breakfast.
I went for the Laotian pork porridge every day i was there yummeh.
And half-boiled eggs and toast too.
Porridge alone is not enough for me!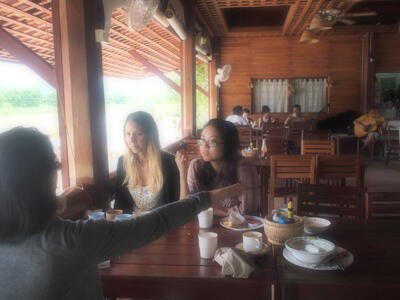 All of us go for yoga at the same teacher based in D'sara Heights in KL.
We were angelic yoga students for doing it on holiday,
and it felt so amazing in the cool air with grass in between our toes!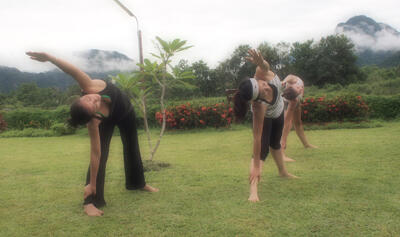 Look at Tianna, she even brought her headband *giggles*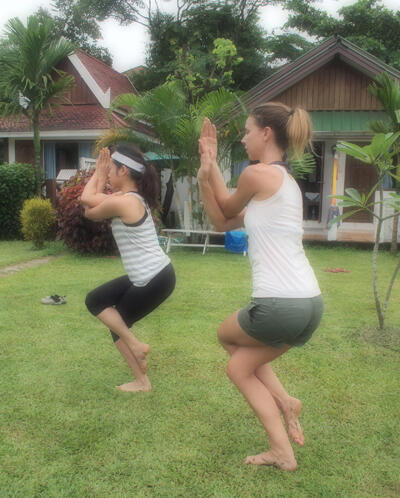 After that, i don't know what to describe we were doing except 'NOTHING'.
I sat on the bench facing the river and stared out at the hills and mist.
Steph was on a mission to get THE perfert macro picture of an ant.
She said they had tiny spikes on their bodies.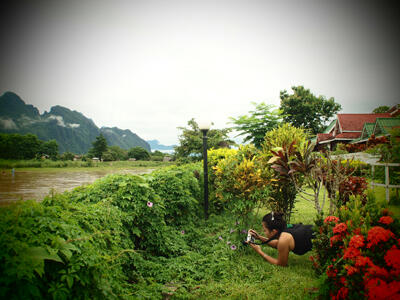 Then a butterfly came fluttering around and she went chasing after it.
Jess joined her too.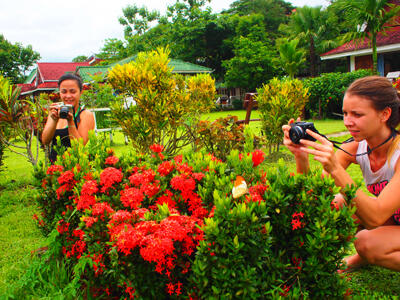 I was content sitting on the bench, not moving,
and playing with my blue butterfly.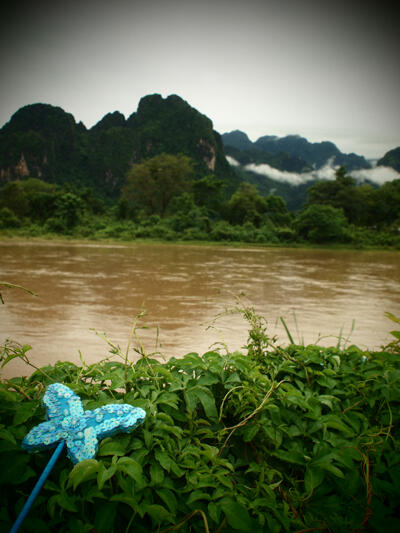 After 3-4 hours of doing absolutely nothing but crawl and bum around our back garden (it's a holiday!),
we all managed to get ready and head out for lunch and afternoon waterfall adventures.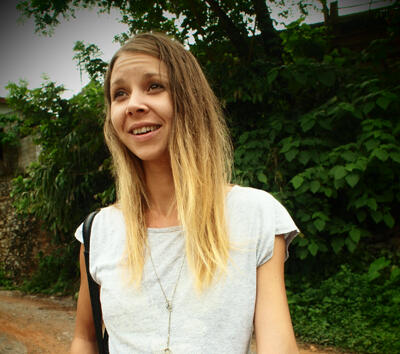 Open your eyes Jess.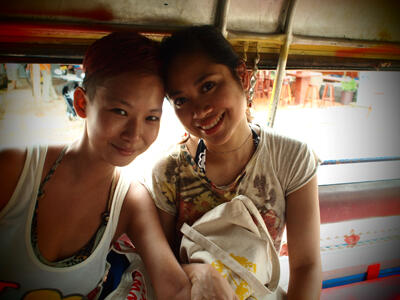 me & Tianna.
She can speak fluent French after studying it for a year.
Shame on me :p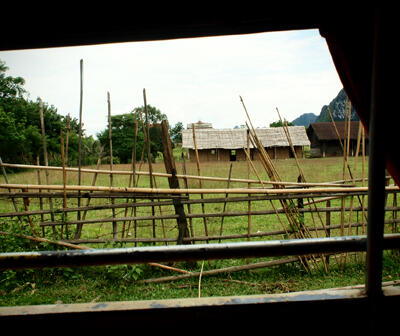 We took a clattering tuk tuk to the organic farm in Vang Vieng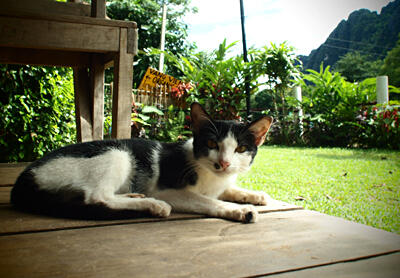 When we reached the organic farm, there was EXTREMELY LOUD RAVE MUSIC BLASTING from across the river…
i think i'm kinda so over my rave music era… (ok, except when i was in Copenhagen :p)
and so so hoped that not all the river bars would be blasting such crazy music the next day when we were planning to go tubing.
I much prefer happy indie rock pop clappy music to dance and drink to now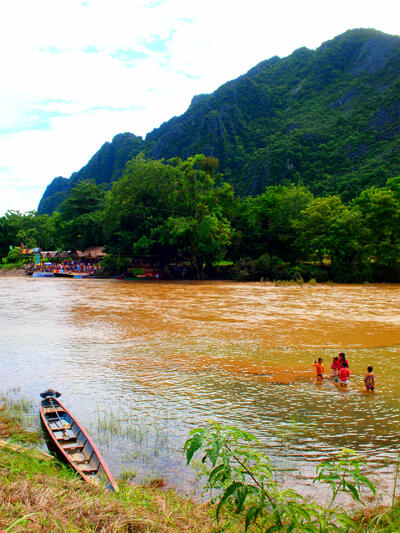 See the bar is crowded with ppl on the left of pic.
Little village children on the right bathing in river.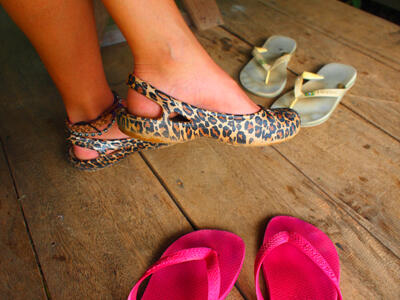 Steph actually warned me before we went on holiday,
how she was going to wear Crocs.
She knows how much i detest them till i threaten to throw my friends' Crocs away if they're around me.
But the ones she had were not so bad.
Leopard print saves some fashion sense.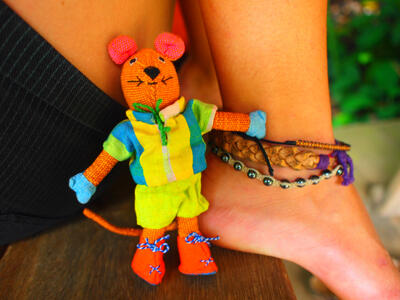 Maurice next to all the anklets Steph has collected from her travels.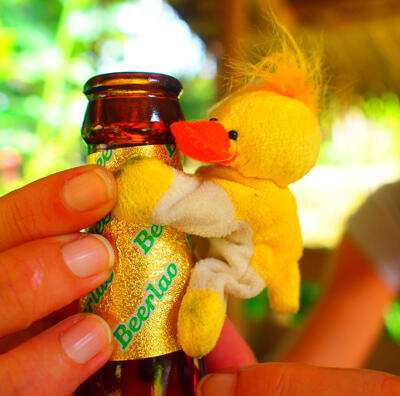 Tianna's duckie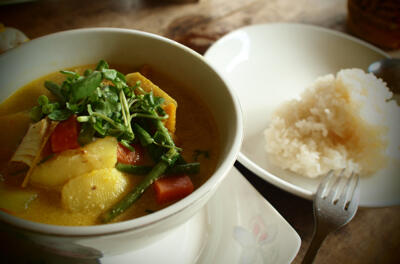 AWHHHH the organic food at the farm was fantastic!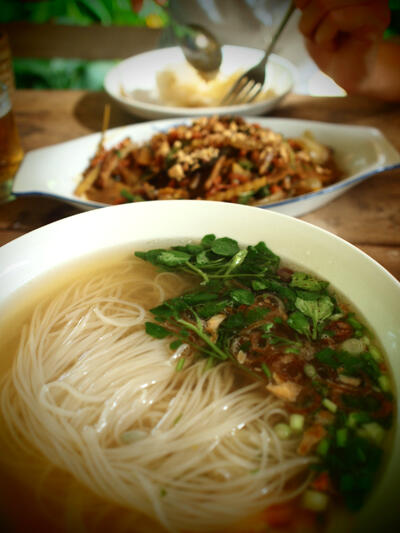 We ordered so much and stuffed our faces silly.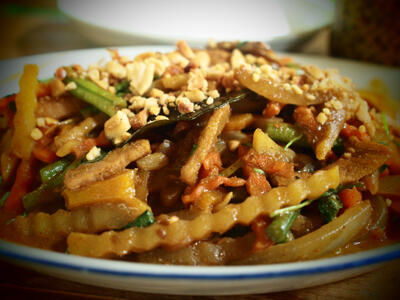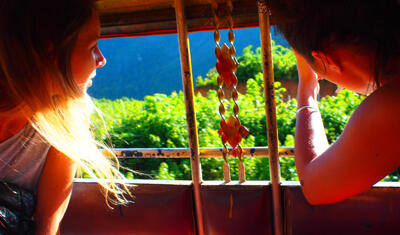 Hopped back on the tuk tuk to find a waterfall after lunch.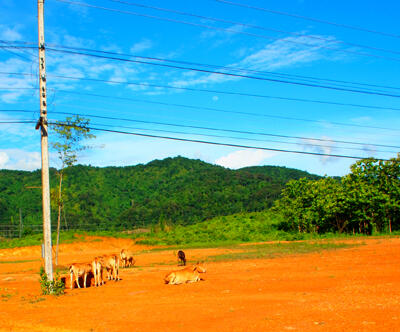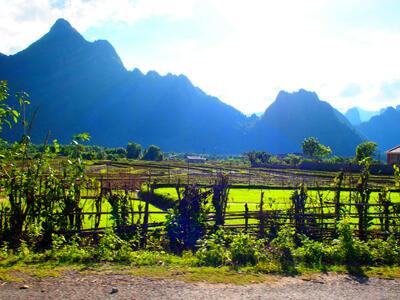 Scenery was wonderful, but i was passing out from eating so much at lunch.
Have to admit that i took some of these pictures without actually focusing on what i was taking!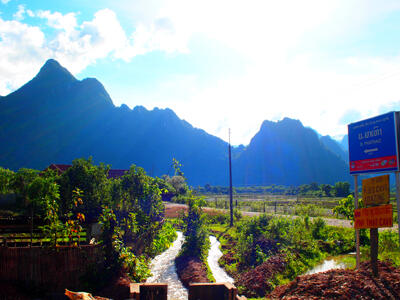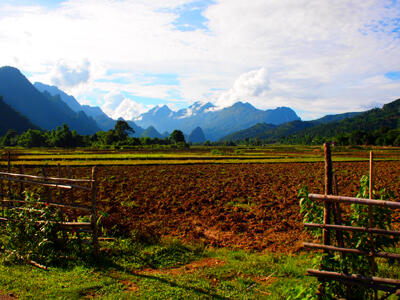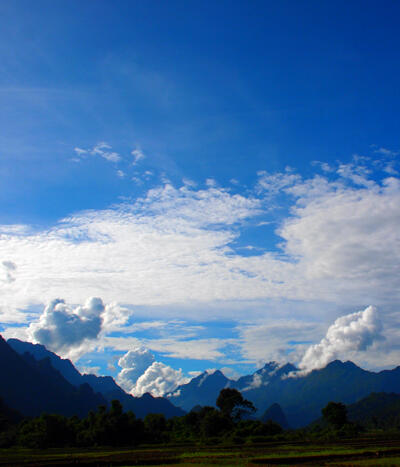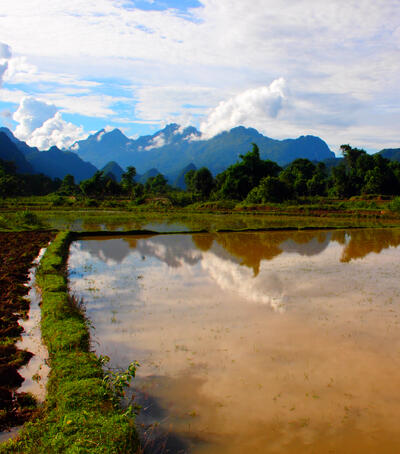 All we had was an photocopy of a roughly illustrated map of the waterfalls and caves around Vang Vieng,
and we crossed a river to find a cave.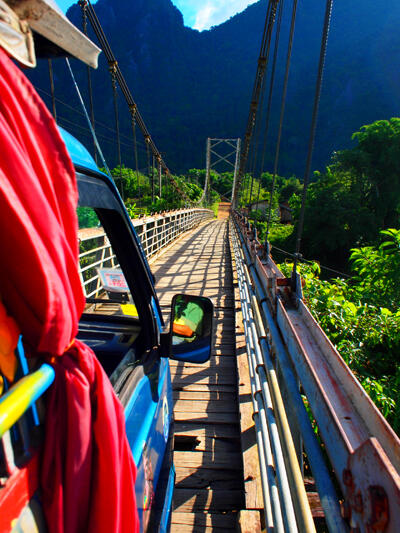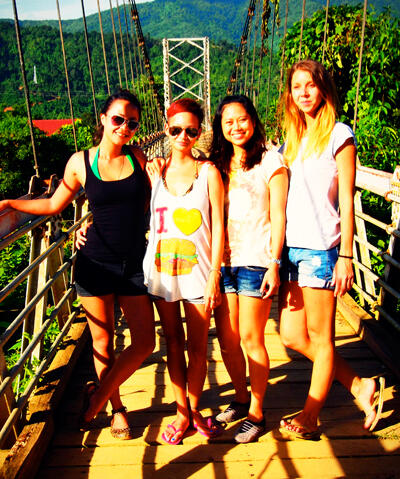 Steph, me, Tianna, Jess
My 'I heart burger' top is from Pop.Muse.Sic!
They've got some new stuff in,
and some older stuff is on sale, like this UNICORN SHIRT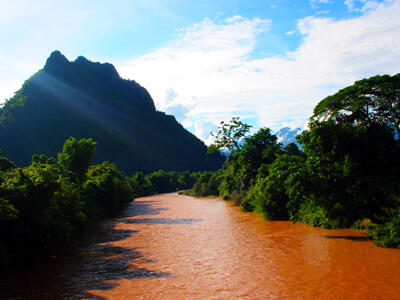 Maybe the map wasn't great,
maybe our sense of direction is just terrible,
but we couldn't find the cave.
Instead we found cows taking a walk…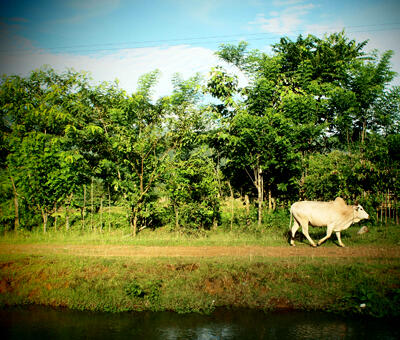 … a field of kiddos playing a game,
a nice Laotian lady and supercute baby who let me take a picture,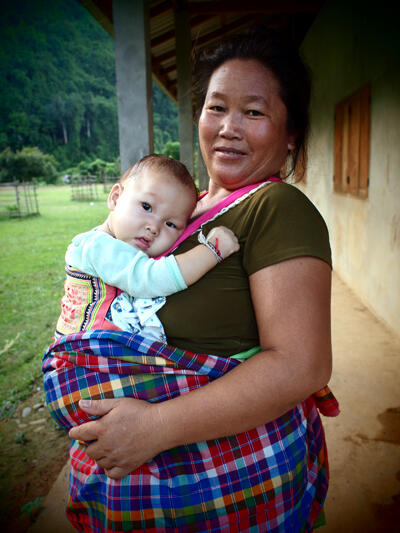 … and lots of Laotian children bathing in the river.
Most of them smiled and waved,
but this one scowled at me.
I don't blame her, i would've scowled at someone invading my bathing territory too!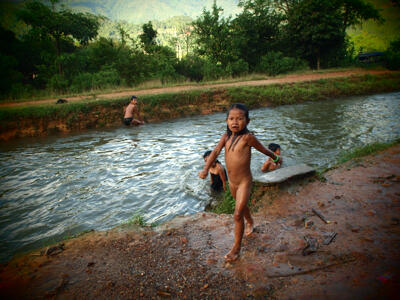 The last time i swam nekkid was in Tioman.
I miss being nekkid in nature! Best feeling.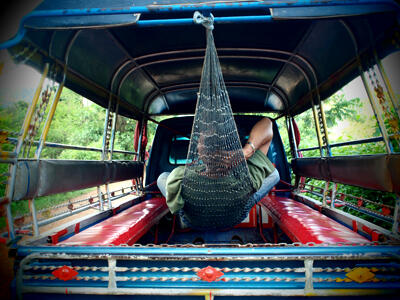 We gave up trying to find this hidden cave after walking around so much,
and went back to the tuk tuk where the driver was having a nappy nap.
Think he took pity on us, and brought us to another area,
where he personally walked us to a magnificent waterfall.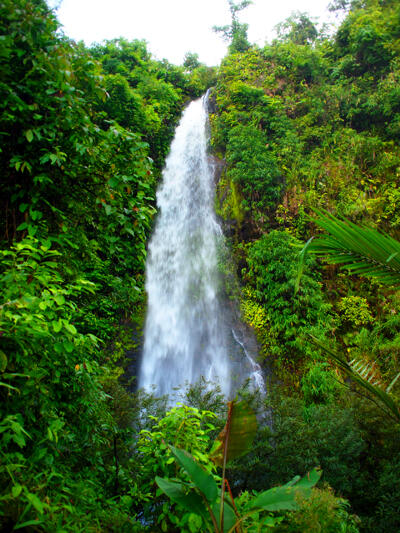 It was so big i didn't dare take my camera near it…
had way too much water spraying about like a storm for its safety!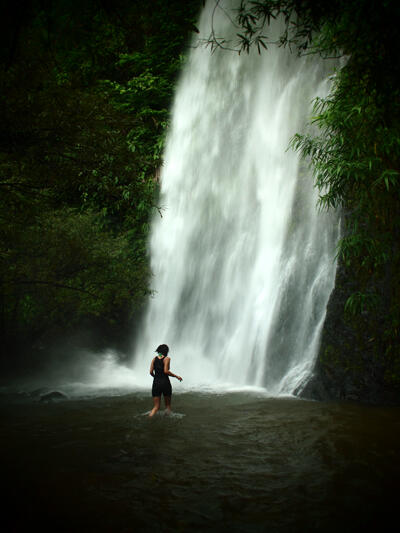 Water was icy cold! Steph is mad.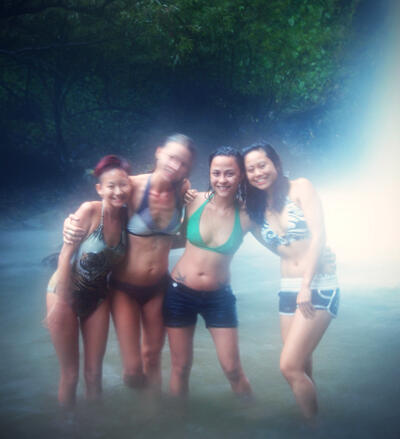 Look at all the mist!!
My tiger swimsuit is from Urban Outfitters in London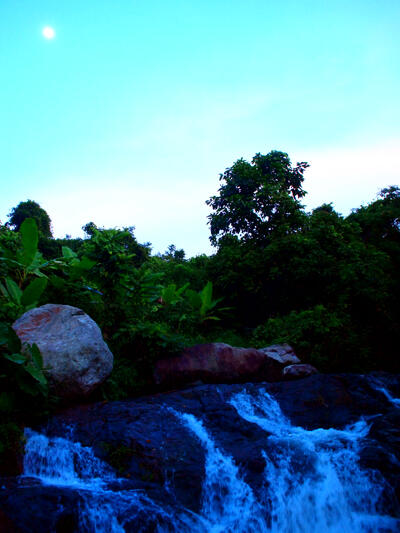 We hurried out of the forest before it got dark,
cos hiking over sharp rocks and slippery mud ain't fun.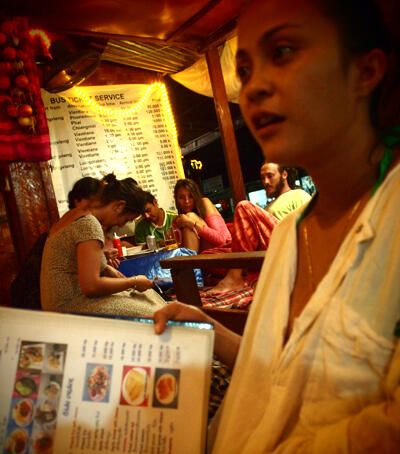 Dinner time back in town yayyyy!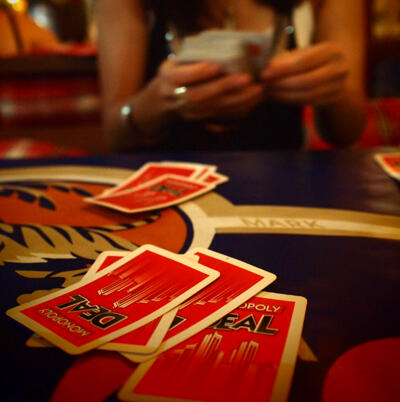 Dessert for me was banana nutella pancake the local women fry to a precious crisp.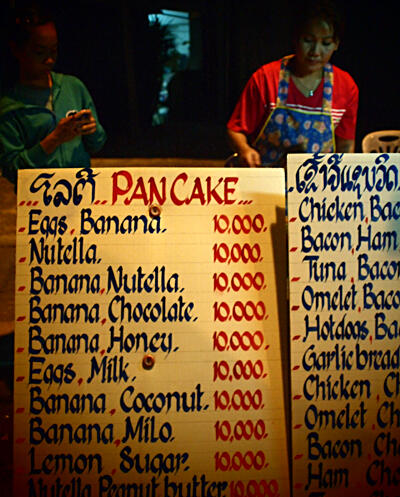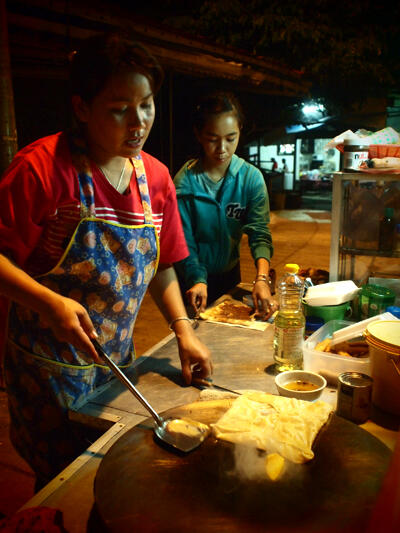 Next post on Laos will be the last one,
where we do what every backpacker comes to Vang Vieng to experience – tubing down the river!