Just got back from HK last night and am happy to be home!
City holidays are always tiring…
cos it's lots of running around and trying to see as much as possible.
Nothing like a beach holiday..!
When we were in a taxi in HK,
i noticed a poster advertising The Flaming Lips were to perform there…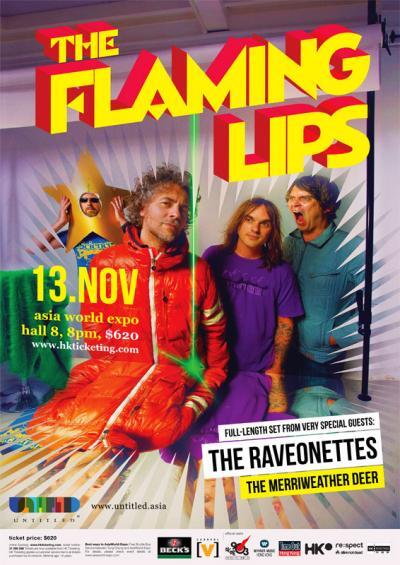 I don't know any of The Flaming Lips' songs.
I know about them.
And i know how some friends were making their way to Singapore for their concert,
but seeing i wasn't a fan, i wasn't going to go for someone i don't listen to!
So it was really impulsive with the chance that we were in the right city at the right time!
Clem didn't mind going cos he hasn't been to a concert in a while.
I didn't mind going cos i thought it looked like the sort of whacky band i'd like (after watching their YouTube vids)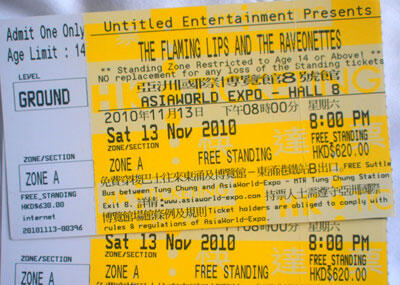 Since we bought our tickets at 6:30pm and the show was an hour's train journey away at the Expo (i know, damn last minute right!)
we had half an hour to rest after a whole day's sightseeing before shooting out the door again.
The expo was crowded cos some other events were going on with old Chinese people,
and it was quite funny how the expo staff kept trying to point obvious concert-goers to the right direction.
Even when i wanted to use the bathroom in another area,
someone blocked my way and said, "Flaming Lips or toilet? Flaming Lips not here!"
Me: "Erm… toilet…"
Got beer for HKD60 a pint (RM24)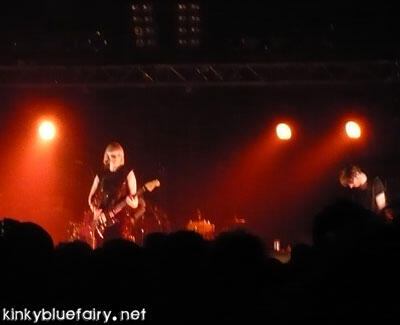 The Raveonettes opened for them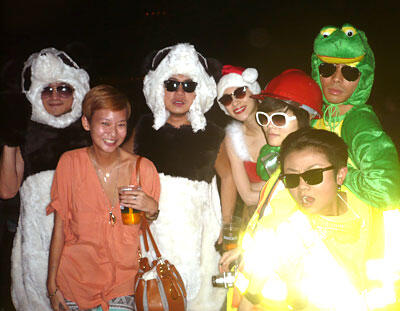 Met a couple of pandas, a dinosaur frog (?) and some builders!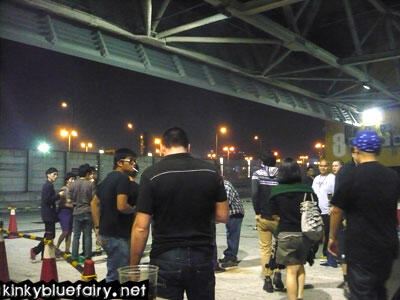 Really long intermission in between the two bands,
so hung around outside.
In HK, just like everywhere else except KL, smoking isn't allowed indoors.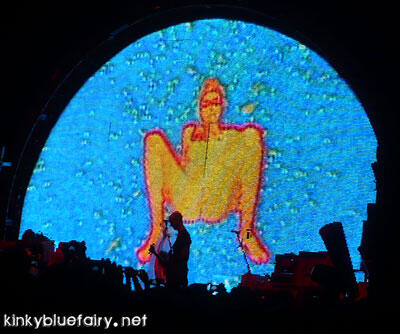 Some crazy psychedelic visual of a naked girl…
zooming into her youknowwhat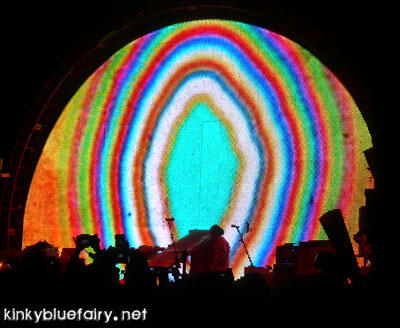 And out of there, the band members appeared one by one through a doorway!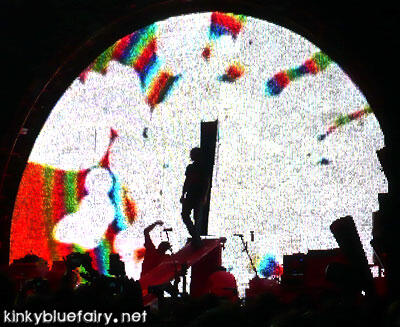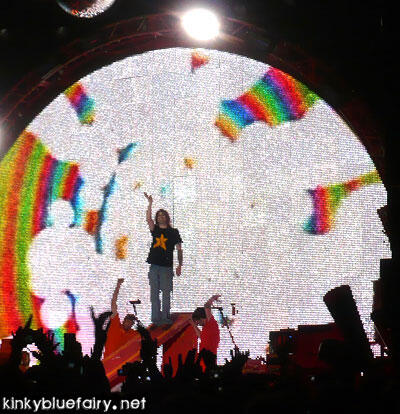 The performance was quite long but crazy to the point i didn't get bored a single bit!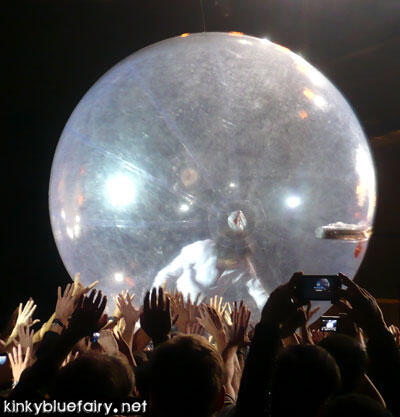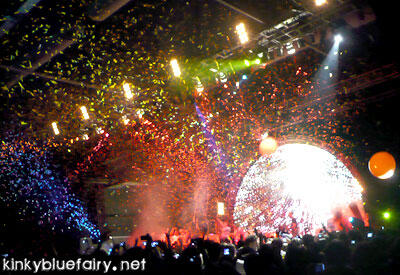 'Twas RAINING CONFETTI and STREAMERS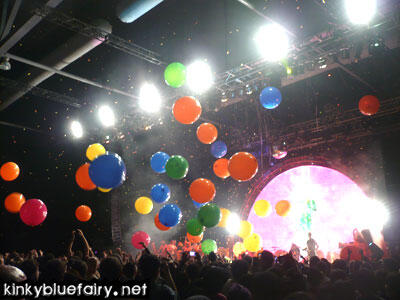 Then heaps of giant balloons were set upon the crowd!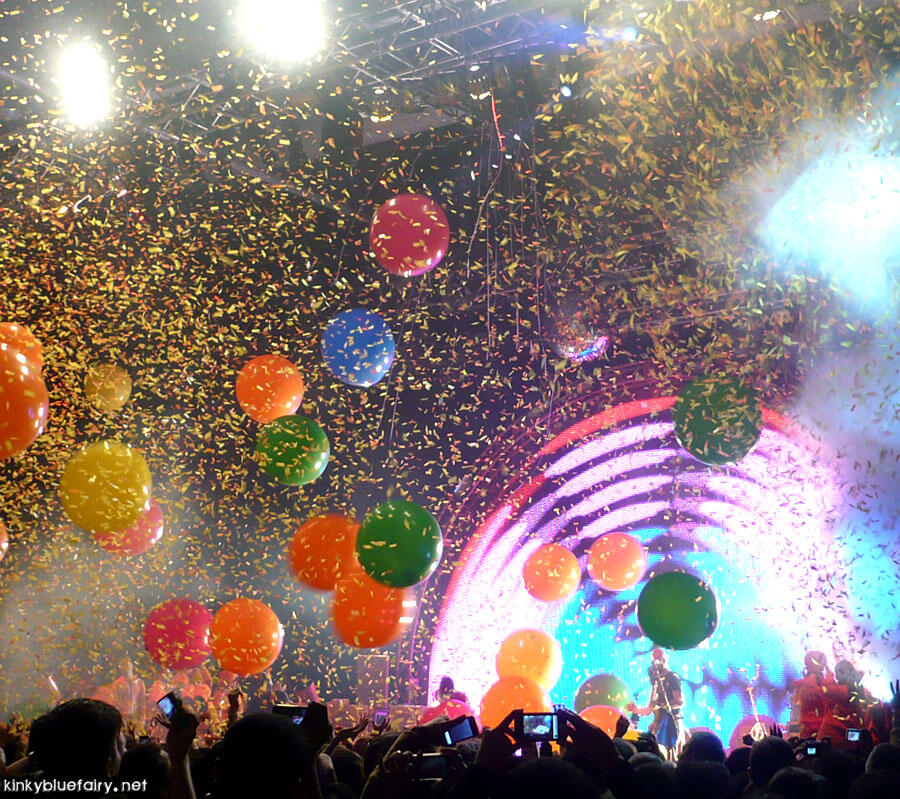 [click for larger view]
Then MORE CONFETTI AND STREAMERS AND BALLOONS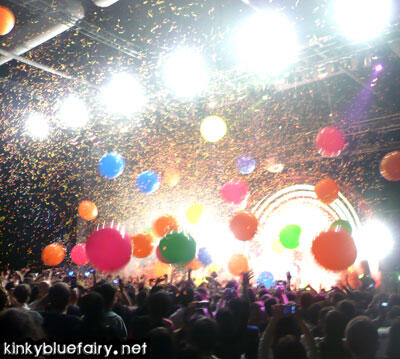 The crowd went crazy, and it was such a brilliant happy atmosphere!
I was just looking up at the balloons the whole time, going to Clem, "I wanttttt…."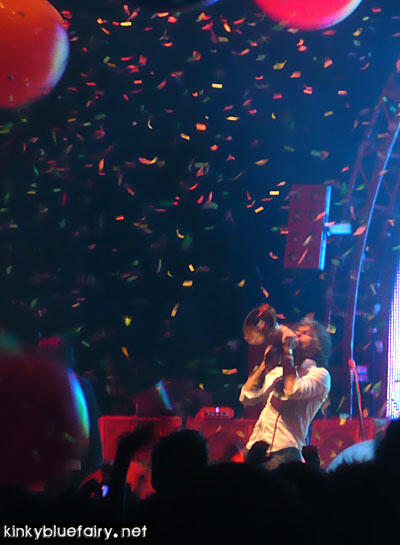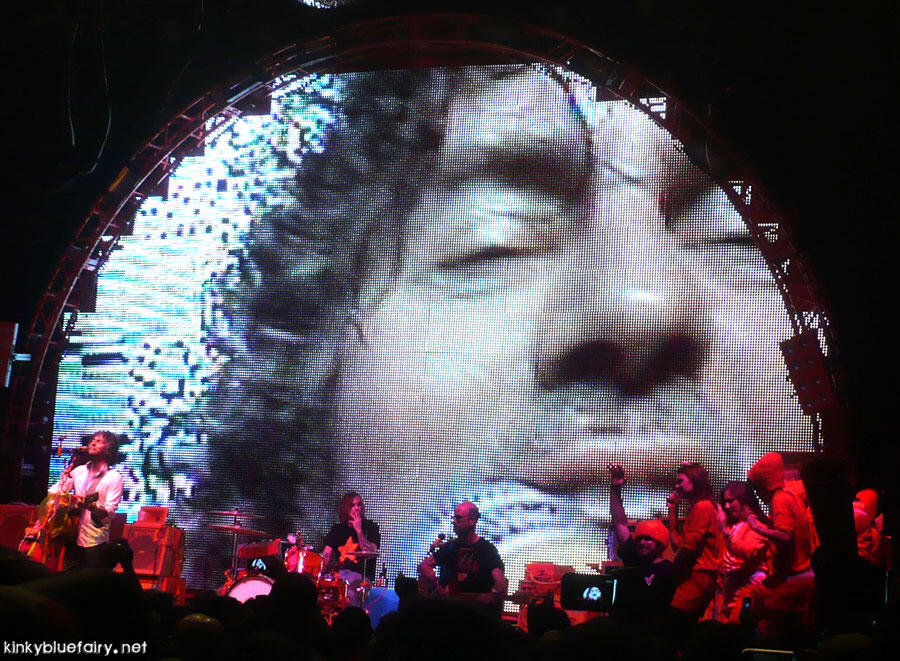 [click for larger view]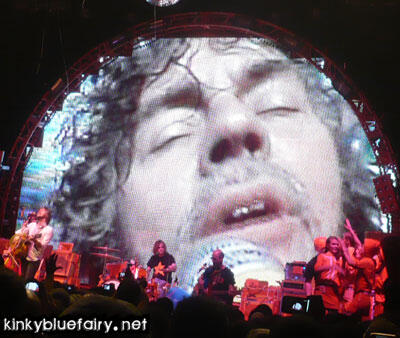 Lead singer Wayne Coyne put on these giant hands which looked totally bizarre but something that you'd still want to have.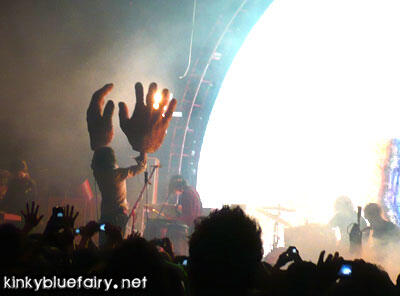 It went dark,
and out of these giant hands he wore shot laser lights,
which he focused on a suspended disco ball which of course,
reflected unto the crowd!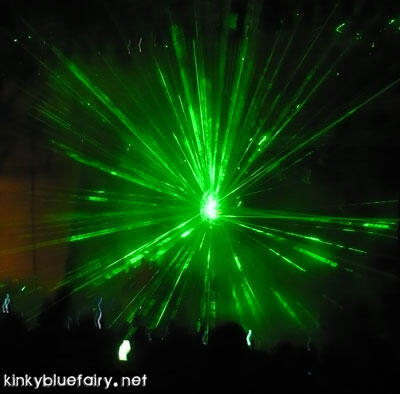 They sang 'I Can Be A Frog' as one of their last songs,
and it was so fun to make animal noises!
I felt like i was in adult kindergarten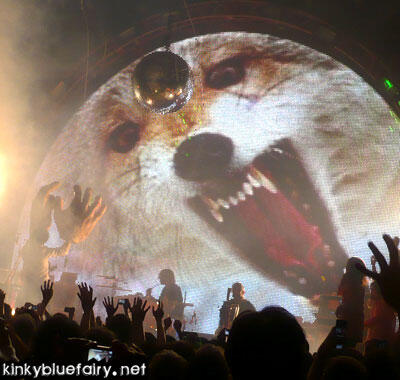 So glad we decided to go for it,
even though i got REALLY SLEEPY and wasn't allowed to sit on the floor (just like in Singapore, why?!)
But it was freaking awesome.
The Flaming Lips are crazy, bizarre, OTT and seem not to know what 'normal' means.
LOVE THEM NOW.