Cat Got Your Tongue this SUNDAY 5pm @ Palate Palette! *click here*
+ + +
Am gonna be blogging lots today and tomorrow!
Pix from FaiTheMai's birthday,
this new wax boutique in BSC called Honeypot i went to try,
and other stuff!
So glad my Streamyx works fast else i'd lose semangat and not do anything!
+ + +
Why I Can't Scold Ppl Drunkardly
When i went out to Barsonic last Friday,
the feeling of being out again made me all pumped up,
and indulging in infamous Barsonic long island tea got me
hugging people
clapping along to songs
singing along
and bopping like a boat
In the lift at Hotel Maya,
some guy stepped in and the lift buzzed,
so i said he's overweight or something like that and that he should get out.
He went, "Joyce?"
And i was like "ERRRR" then the lift door shut
Suddenly i get a message on Facebook from him:
dumbo joyce … !!! scold me in maya hotel car park lift sumore!!! GRRR!!! >:(
LOL!!! SORRY! was drunk!!!
haha that was funny!
erm what did i scold you about anyway?!
ARGH SORRYYYY!!!
still laughing about it :p
Stupid or something or overweight I think.. Lols cuz the lift went "taaaat" -.-"
LOL NOO!!!
that's horrible!! hahahah i'm sorrryyyy
Sorry Noah 
+ + +
For Goodness Sake
I was woken up with a phone call from AshleyTheMonkey on Friday
"Hey, wanna go for lunch at Bangsar Village?"
"Man, i can't… i have a lunch meeting, who you going with?"
"Brian, Fai, Aps, bla bla bla"
"Ha? What's going on? A party?"
"What's wrong with you? You high or what?"
Sleeping la!
And since when can so many of you all meet up so slumber for lunch on a Friday!
I happened to bump into them at For Goodness Sake (where i was having lunch with Tong)
Saw Ash, BrianMak, FaiTheMai, Aps, Olivia, JP and some others too.
And still wondered WHY everyone was so free suddenly.
Only realised at 5pm it was a public holiday  -_-
And there i was thinking the Universe loved me,
cos the roads were so clear when i had to rush home during peak hour.
… No, i'm kidding!
I KNOW the Universe loves me!
Unjinx unjinx unjinx!
Had lunch with Tong at For Goodness Saké,
a new Jap restaurant we walked past on the top floor at BV2.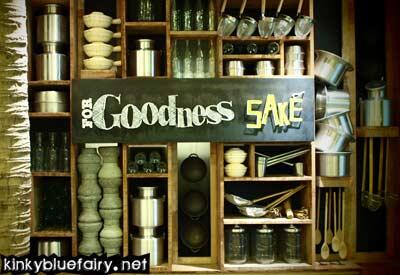 I had the grilled saba and salmon sashimi
Saba > good and reasonable!
Sashimi > ok la, didn't seem super fresh/cold to me
Bumped into Marvin who later smsed me:
"Order the deepfried maki with chilli inside and the spinach with the black sesame"
So guess i'll give that a shot next time i'm there, i like the atmosphere!
Related post: A Whiff of Lemongrass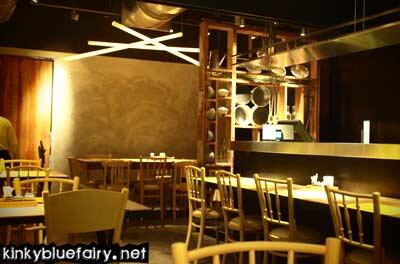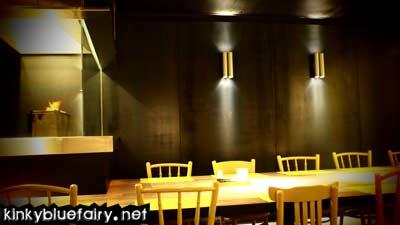 + + +
I Paid RM600 for 2 T-shirts -_-
Now i can be classified with PassedOutBen
for spending $ on streetwear 0_o

Followed Tong back to H5,
and got suckered into buying a Hype Means Nothing tee 
The series of Ts from Colette are a collaboration between Hype Means Nothing x various celebs
paying homage to various Ray-Ban designs over the years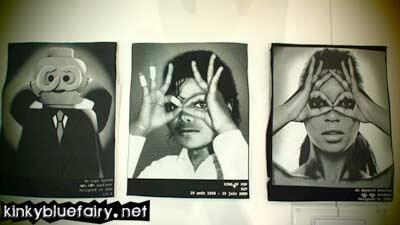 Legoman, Michael Jackson, Beyonce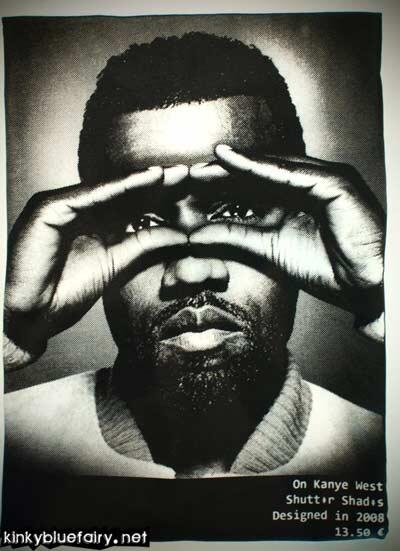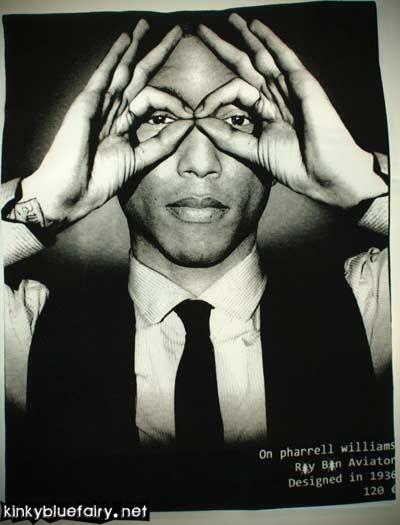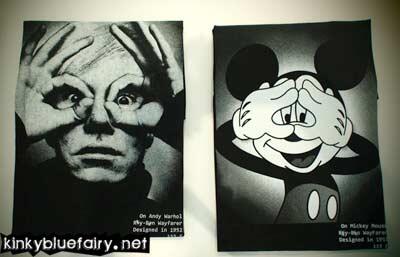 Andy Warhol, Mickey Mouse
I ended up choosing the Hype Means Nothing x Andy Warhol one in black

'Twas the last one too! Lucky me 
Ts are RM289, available while stocks last at H5.
+ + +
Then went to get my nails done (randomly chose KukuBar)
and picked a nude shade.
JUST BECAUSE OF ITS NAME I'M SO A SUCKER CAN DIE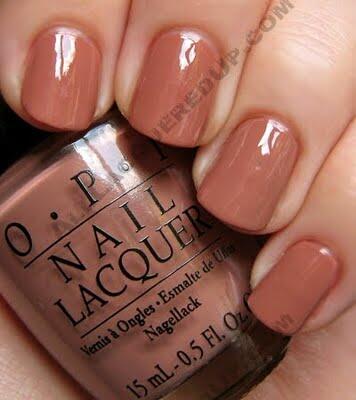 [
Source
]
It's called Barefoot in Barcelona
And everyone knows how much i heart Barco.
Another half-reason i got that colour
is cos i always get superbright colours…
and i thought i'd get something more, erm, mature,
as to not scare off this man i'm dating.
Just now, he told me he didn't like it,
and preferred my toenails (which is sky blue).
I guess i should just stick to being colourful me,
and let him like me for it, weirdness and all.
KinkyBlueFairy History:
2 years ago, i blogged in detail what an unemployed person does;
and almost died with the way my brother described my new shoes.
4 years ago, i posted heaps of random pix
5 years ago, i had a mild obsession with buying rubber balls
6 years ago, i sounded like a psycho kid on crack -_-