i was invited by owner Tong to visit new watch store H5 last week,
just two days after it first opened its doors to shoppers.
I'd never met Tong before this (tho he said he's met me once, but you know how AWFUL my memory is!)
and i immediately loved the vibe about him.
But wait, this is about H5, not him..!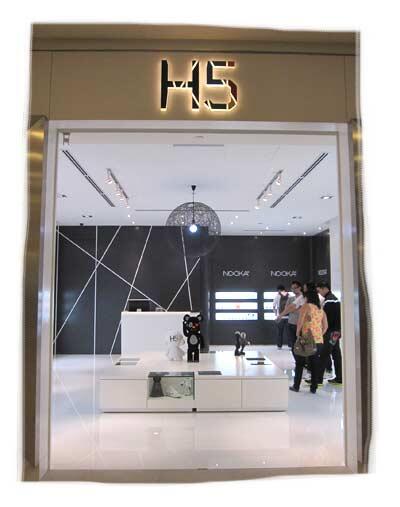 H5 (which stands for Haute 5) stocks some of the coolest cult brands for watches and sneakers;
including Nooka, FeiYue, Noon Copenhagen, LIP from France, Alive Tokyo and Philippe Starck.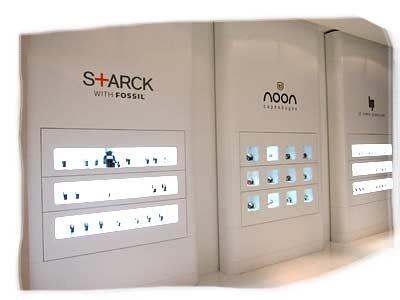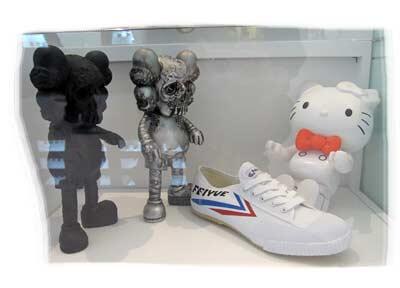 One of the very limited range of items H5 have in store are FeiYue shoes.
The legendary shoe was originally used by the monks in China
before die-hard sneaker freak Patrice Bastian took it to Paris and marketed it to great cult success in Europe.
It was available in Hong Kong just earlier this year, and if you want to get a pair of the shaolin shoe for yourself,
you'd better hurry as H5 only stocks one pair per size.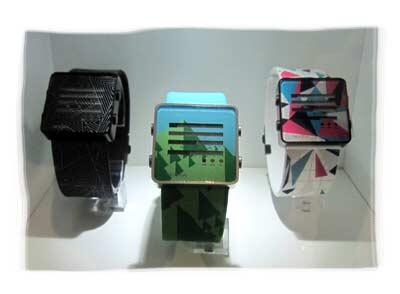 However, the brand most make a beeline for when in the store,
is for Nooka.
The NYC brand is worn by the cast of Gossip Girl,
and has even made a limited edition line for Kanye West.
Even Fall Out Boy wears them.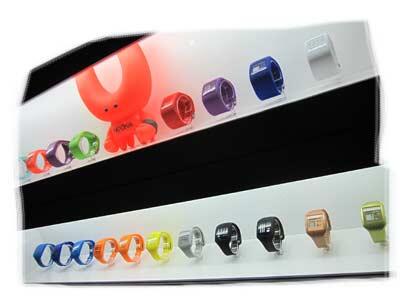 The watches are really colourful and celebrate pop art,
but i must admit, my attention (and myself) GRAVITATED to the gold ones 
I went for a gold mesh one,
and swear i've been on a high since then.
SO PRETTY.
Cannot. Stop. Looking at it.
Even while typing / driving / eating, i'd stare at Bella.
Yes, i call her Bella.
My new Rocker Bella!
(I heard HenryIsGold bought a gold one too)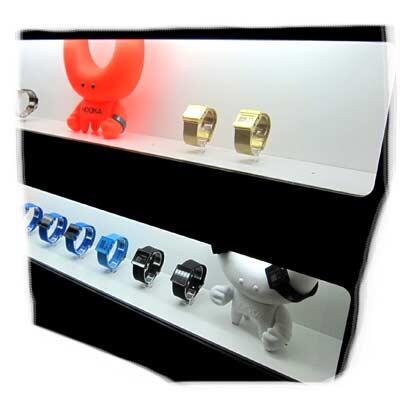 The Spongebob x Nooka one makes me think of SpankyCammy
cos the woman is obsessed with her Spongey (which she takes traveling with her and made a facebook account for)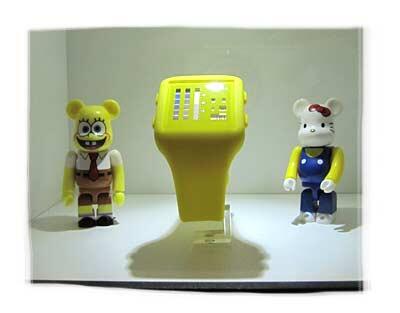 It's just across Delicious in Bangsar Village II
I wrote more about H5 here.

GF-27 Ground Floor
Bangsar Village II
2 Jalan Telawi Satu
Bangsar Baru
59100 Kuala Lumpur
Tel: +603 2288 1932
Fax: +603 2288 1903
Website: h5concepts.blogspot.com
Email: h5concepts.tcw@gmail.com
+ + + + + +
I did LOTS over the weekend actually.
Saturday was spent rushing errands in morning,
having quick meeting in Bangsar,
then meeting up with Dhanya and Mary Jane to go to KL Convention Centre for the Popular Book Festival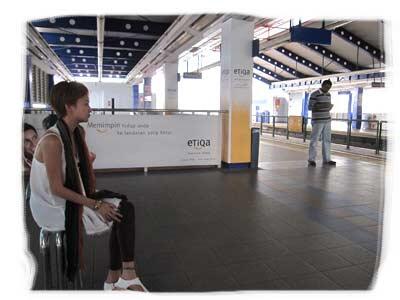 We took the LRT since we're going straight to KLCC.
Gosh i haven't taken the LRT since… urm a few years ago?
But i'm thinking next time i go to KLCC i'm going to take it for sure.
You save:
– parking money
– petrol money
– the environment
For RM2!
Okay la, RM4 if you count return :p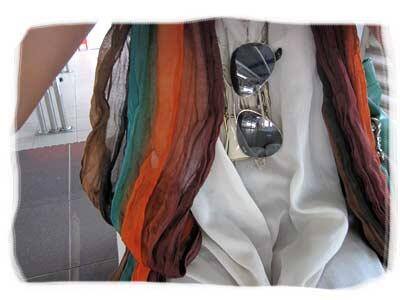 scarf; gift from Justin
top; bangkok
necklaces; aldo + baci
sunnies; rayban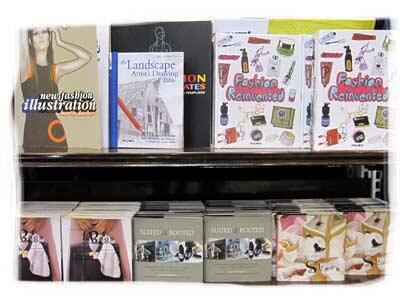 I spent 2 hours and RM240 getting 10 books.
Fantastic… it's such a great feeling to have so many books to go through,
and not knowing which one to pick first cos i heart them all!
I saw about 4 Haruki Murakami books i don't have yet,
and placed them all in my shopping bag without thinking twice

But i started on A Long Way Gone first,
memoirs of a boy soldier by Ishmael Beah.
After book-shopping, Dhanya, MJ and i lugged all our books on the LRT home
then went for a massage to reward ourselves for the great finds!
The massage was SO GOOD, i had images in my head of marrying my masseuse.
I can just envision it > Tired Joyce comes home from work, and masseuse greets me at home,
and kneads all my problems away, the end. Then next day all over again.
Why not?
Had dinner in La Bodega after that,
and rushed to meet PassedOutBen
whom i promised would have me all to himself to go out with on Sat night.
Picked DozyDidjital aka Ah Hoong aka SUPERSTARRRRRRRRRRRRRRR up
cos he was playing at Barsonic that night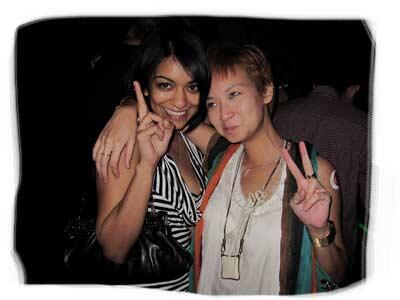 Aps, and me rolling my eyes cos i hate doing the kawaii peace sign thing and they forced me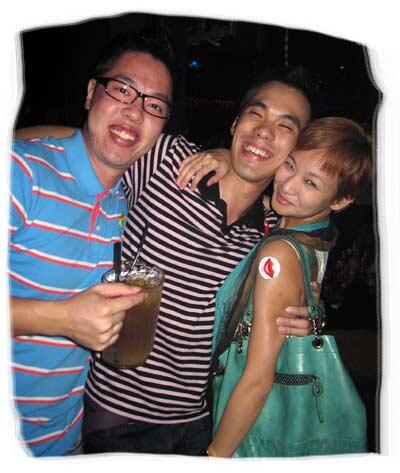 Guy (that *is* his name) is gonna get hitched real soon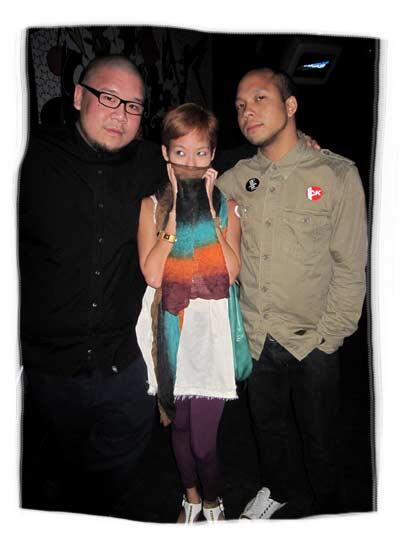 POB, me, FaiTheMai
In the end, i took on POB's nickname that night -_-
Was so tired from the whole day's activities that i just KO-ed.
Even the presence of the superstar couldn't wake me up.
+ + + + +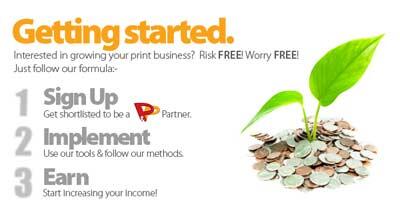 On a side note, JinnyTheGiraffe started a photo printing business!
Check it out on photonprint.net