Many pictures to come in a bit.
I'm gonna go lie down for a while cos i had very little sleep last night (thanks to Rahul and Hans. Let's just say i woke up this morning with chewing gum on my face. Highly unattractive.)
and am SO SLEEPY even tho it's not 10pm yet!
+ + +
Will be blogging about our Jakarta trip in chronological order so i don't confuse myself!
It was my first time traveling with ClaudiaOnCrack or MaintainMing,
and i felt like we were a dysfunctional family (Daddy = Ming, Mummy = Me, Kid = Claudia, obviously -_-) who also paraded as a traveling zoo,
cos so many people were staring at us constantly from the moment we reached the airport,
to all around Jakarta,
to returning back home.
From the beginning, i felt like i was Claudia's legal guardian or something,
cos her mum willingly let her go on the trip when she said i was going too.
Stress.
At the airport in KL, i turned around for TWO SECONDS and when i turned back,
Claudia HAD DISAPPEARED.
I swear this is the closest i have felt to losing a child,
and tried not to look too frantic,
when WALA.
She suddenly pops out from nowhere.
"Where did you go? Oh my god, thought i lost you..!" i screeched.
"I just went over there…" she said with big innocent eyes.
MaintainMing: Did your mother lose you a lot when you were young?
ClaudiaOnCrack: Oh! All the time!
Me: 0_o … Die.

Ming: 0_o

Me: We really should have bought one of those child leashes for this trip…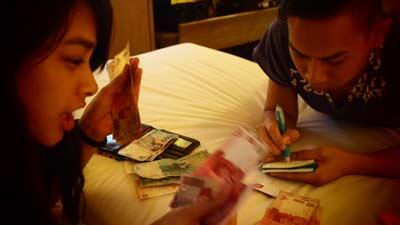 Getting a hang of the rupiah conversion in the hotel room.
Currently, 100,000 Rupiah = RM35.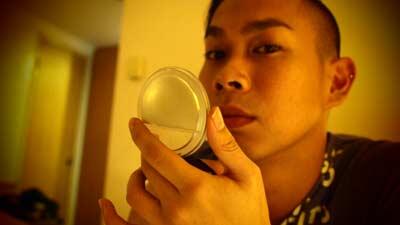 I simply guessed out loud that MaintainMing brought more make up than ClaudiaOnCrack and i combined,
and i don't think i was wrong…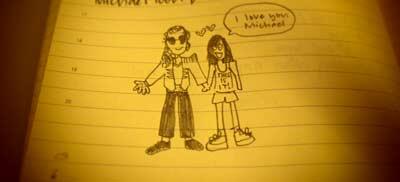 ClaudiaOnCrack doodling her love for MJ in her moleskine.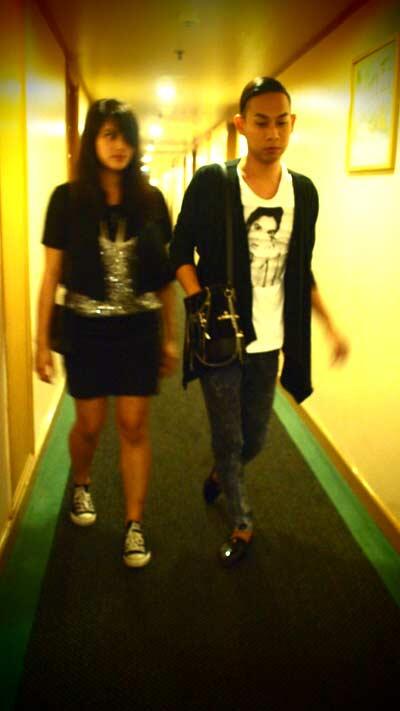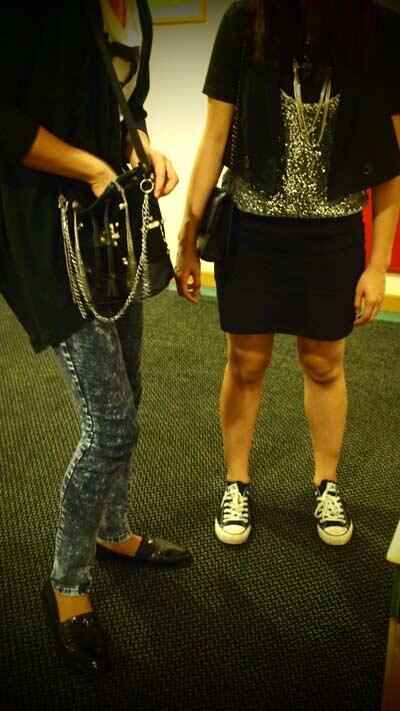 We stumbled into this place called Casa in Kemang.
Had a great bookstore downstairs, along with a shop selling Nooka and Vivienne Westwood for Melissa stuff.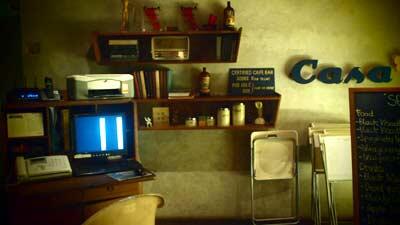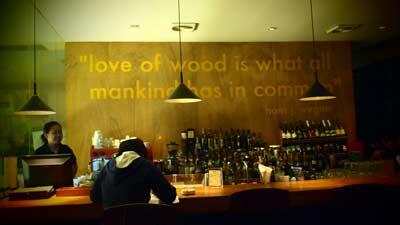 We just hung out over Heinekens (roughly RM10 a bottle there! So cheap compared to P2's RM18+15%tax per bottle in KL -_-)
before going home to sleep.
'Twas interesting sleeping with Claudia and Ming…
I woke up a few times in between sleep,
and noticed that Claudia stays in the SAME position all night – lying on her side smiling in her sleep like a Disney princess.
Seriously.
She smiles like such a sweet child in her sleep, you'd think she's having the most amazing dreams (which she usually does).
Ming, on the other hand, sleeps like what i'd like to call a cartoon dinosaur.
He tosses, turns, sleeps on his tummy, turns unto his back, paws in air,
while snoring in different tempos throughout the night.
It's damn cute, with some variations of grunts and scratching. 

(sorry if i make your saham jatuh here, lemme know and i'll remove ok :p)
On Wednesday, we decided to potter about town and check out Mangga Dua for cheap shopping.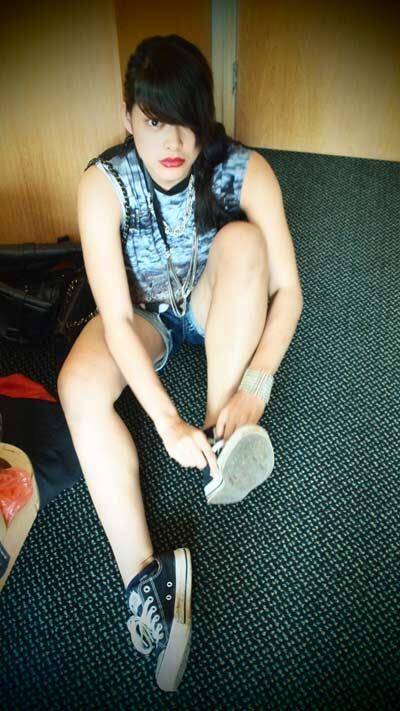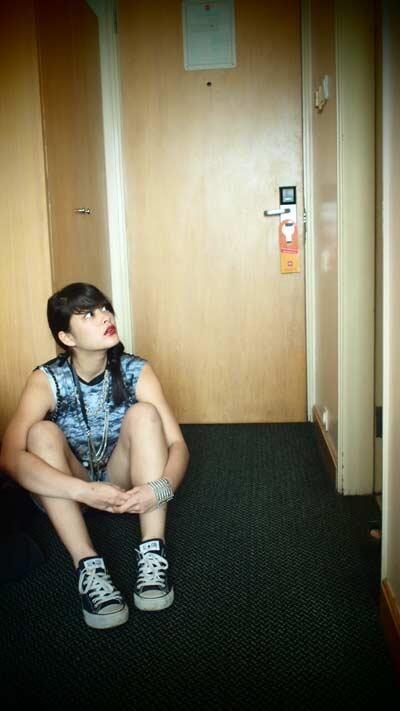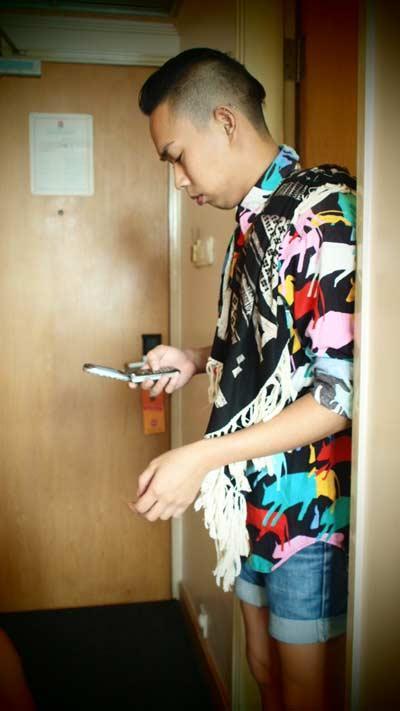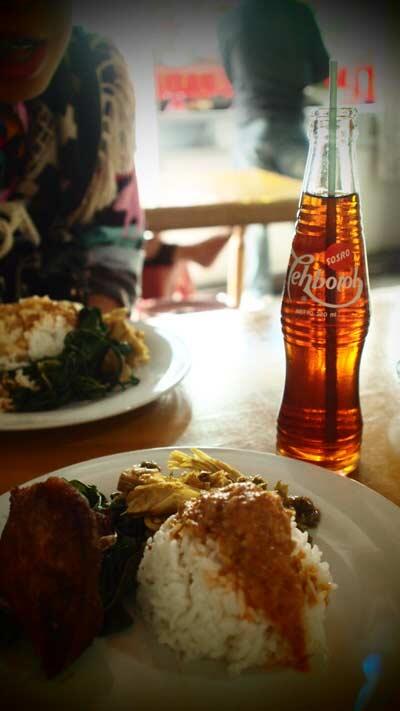 Most of our diet during the whole trip consisted of nasi padang + teh botol
So sedap ok their nasi padang… we told ourselves confirmed we'll crave it when we're back in KL!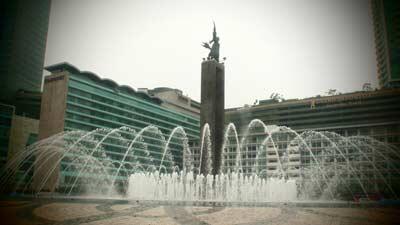 Big ass fountain in the middle of Jakarta city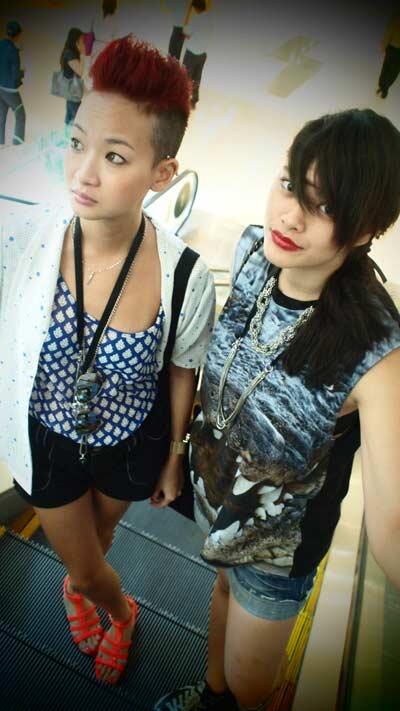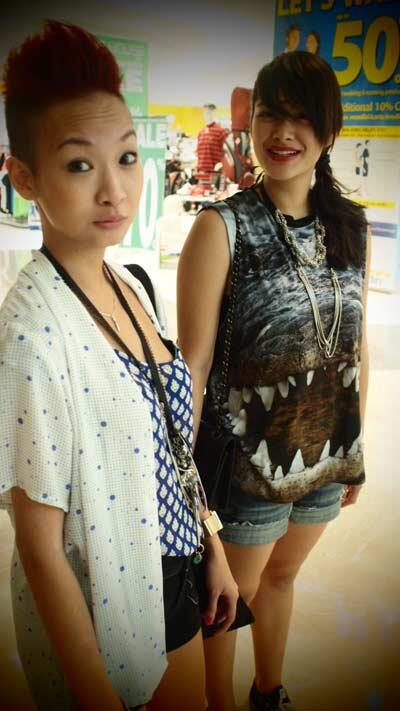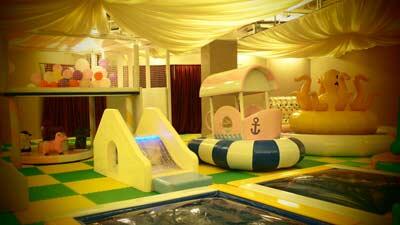 We saw a kiddy area in Grand Indonesia mall, and ClaudiaOnCrack and i were sorely disapointed that they wouldn't let us in unless we were to chaperone a kid.
(Reminds me of the time i wanted to go into a Thomas the Tank Engine bouncy castle)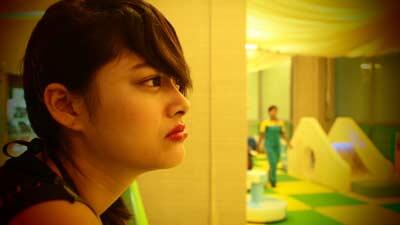 We went on to say how life is unfair, and people are being ageist cos there should be nothing wrong with adults wanting to play in kiddy areas 

Then we plotted on how to 'borrow' a kid.
I said maybe we could ask someone nicely.
Ming said he highly doubted anyone would lend people who looked the way we did, a child.
I paused, thought about Ming's and my mohawks and agreed in disgruntlement.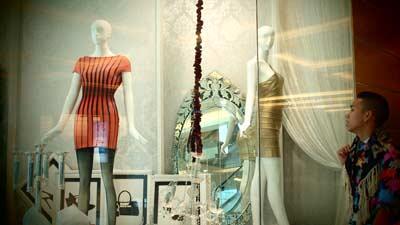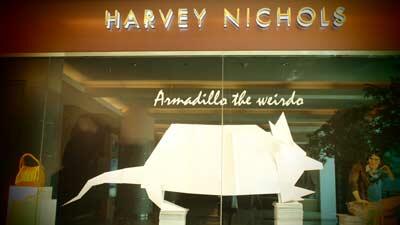 Armadillo the weirdo tee hee!
Saw some nice McQ, and Alive + Olivia pieces in there.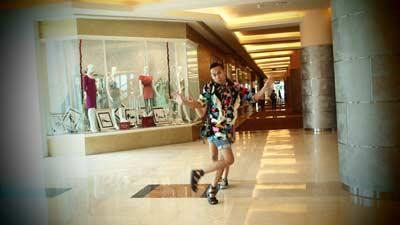 Hop, skip + a prance.
We get tired so easily -_-
So we went to Starbucks for some pick-me-up caffeine before continuing to Mangga Dua.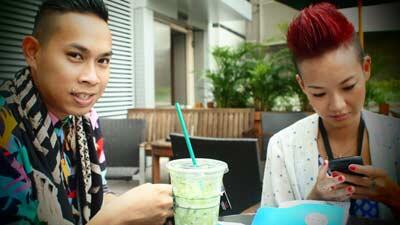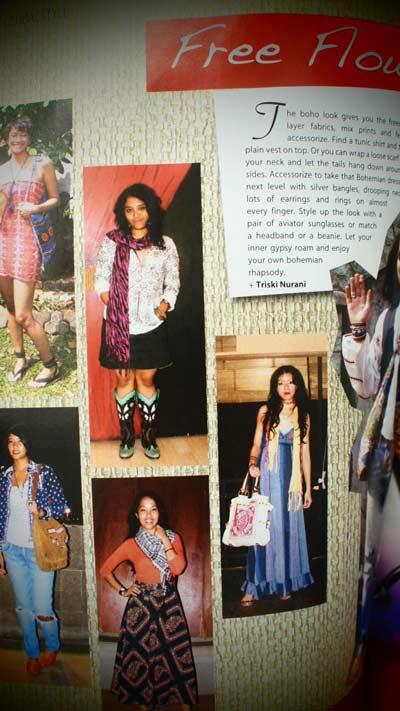 Just so happened we bumped into an article by Triski, whom we were scheduled to meet that night.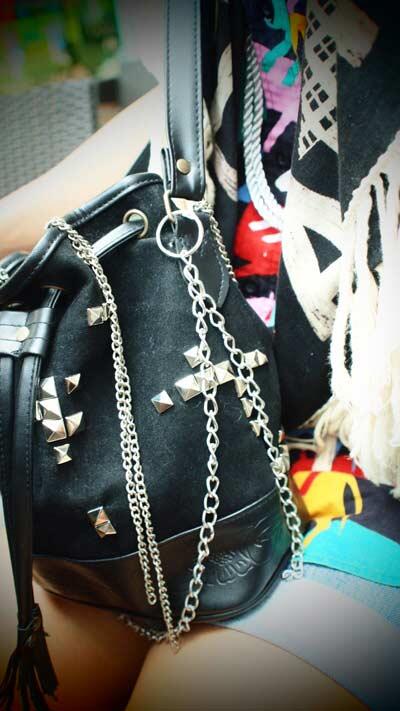 So many peeps in Jakarta loved MaintainMing's DIY studded bag.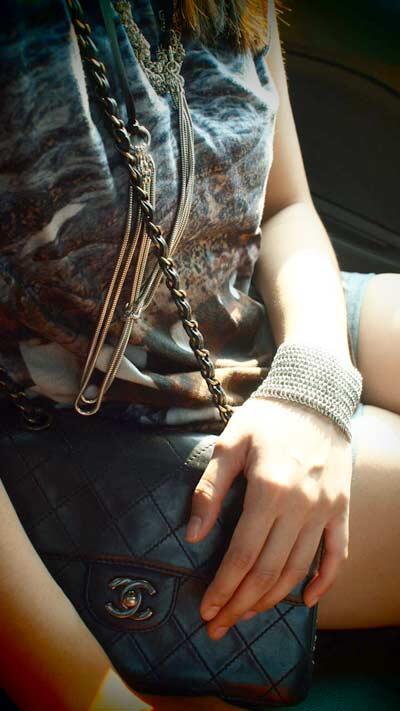 ClaudiaOnCrack wearing accessories from Kang and Justin Yap, with her Chanel in hand.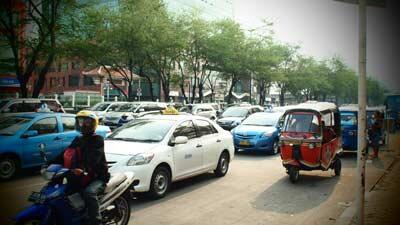 Jakarta is as jammed as i remember it.
I swear we spent 20% of our time out in a taxi.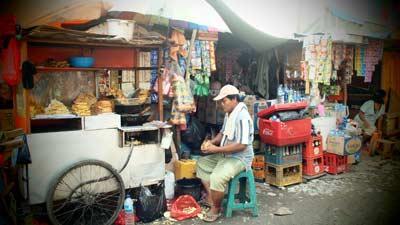 I didn't really like Mangga Dua.
So many people were asking us to go there (even from my first time in JK)
and maybe it's because i'm spoilt with nicer and cheaper things in BKK.
A lot of the things there were like the stuff i'd find at any wholesalers place in SEA,
with the exception of a couple of shops.
MaintainMing spotted one first, led us girls there,
and we went a bit mad picking out stuff.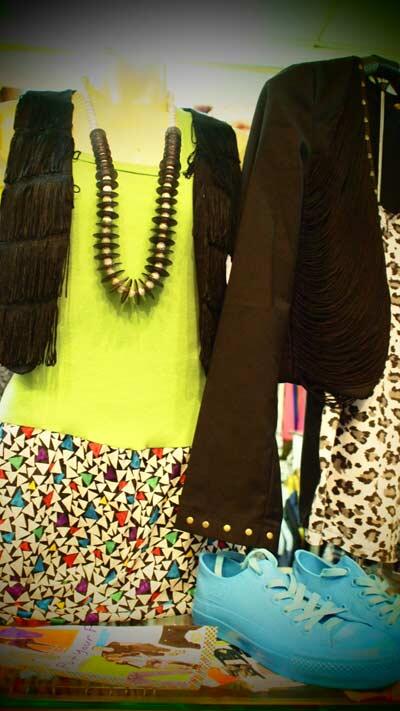 We met Amanda Putri, co-owner of Iconia
She's not smiling in the picture below, but she's actually really smiley the whole time we were there.
Girl was working a pose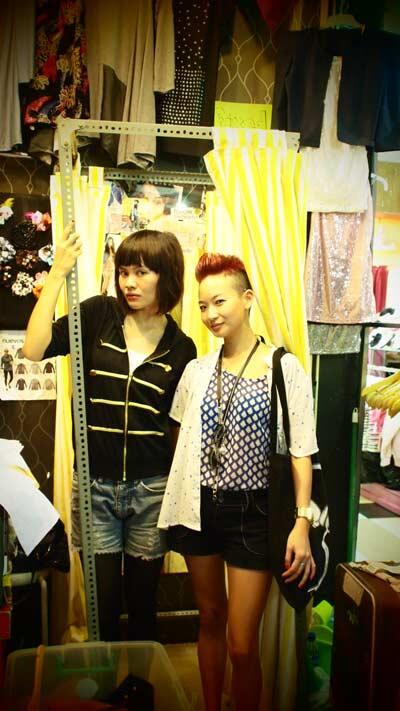 Putri chatted to us for a long time, asking us to drop by her other shop (in ITC Kuningan) on Friday for new stock and discounts


Back at the hotel, us three kept FTV on ALL THE TIME.
Below was when some male models were parading about.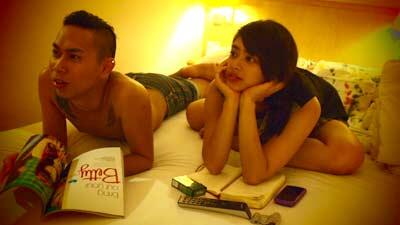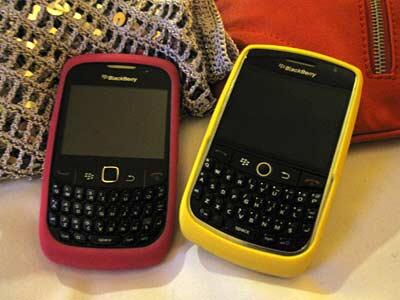 ClaudiaOnCrack and i bought new covers for our Berries in JK
She got yellow, and i got bright pink 
/ / break for advert, last BB one i promise! / /
Get your own BlackBerry access at only RM998 when you reload RM50 at any Blue Cube outlets.
I'm using the prepaid package where i get unlimited data and push mail for RM2.50 a day
For more, check out www.xpax.com.my/blackberry or click here for price comparisons with other telco brands.
If you haven't seen the vids yet, have a look at what Lapsap and TAG had to say about their Blackberries too!
If you're not sure about which Berry suits you best, have a look at this easy outline of features *here*
/ / advert over / /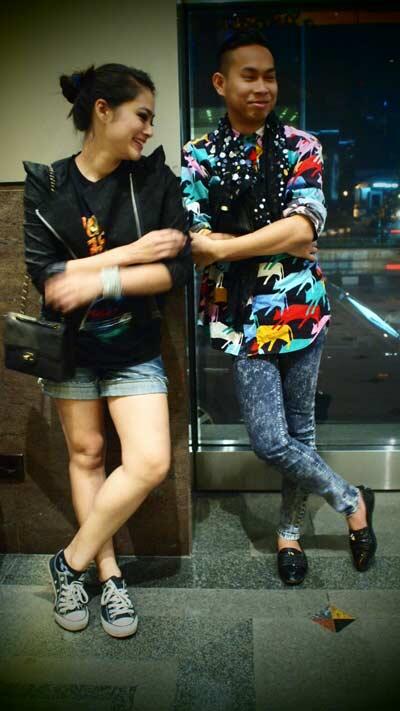 Wed night we went to Potato Head to meet Kiki for the first time.
Drinks weren't cheap, so Claudia and i opted for a bottle of wine to save cost :p
The bill came in a Lion King storybook cover! SUPERLOVE!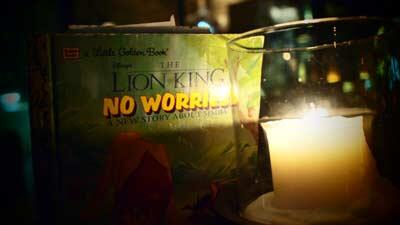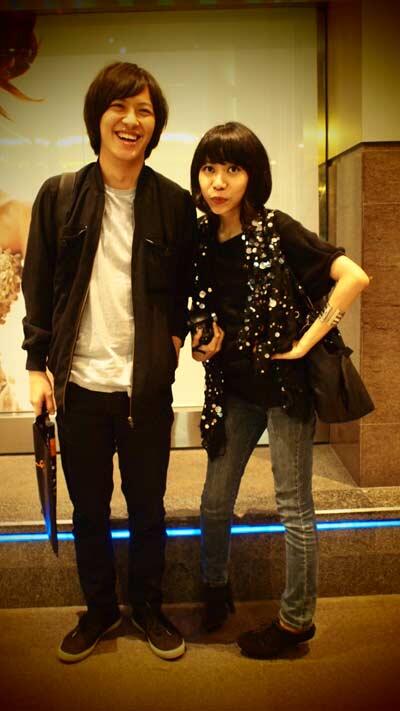 Betet aka Albert Judiyanto; and Kiki aka Triski Nuraini
Betet is Art Director for DailyWhatNot.com,
and also has two other sites – albertjudiyanto.com and thisisbetet.blogspot.com
I first knew about Kiki after an article Annisah wrote about her on TIC,
and msged her on FB about us going to Jakarta for The Misshapes.
She contributes to RottenFresh.com, and also has a blog at iloveglam.wordpress.com
Betet and her took us to Donna + Bobi's house,
where the rest of the Blackout crew were preparing invites for Fri night.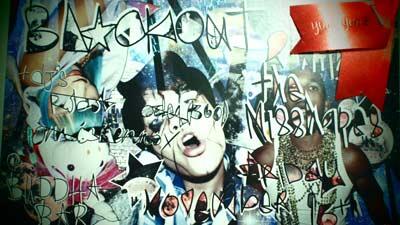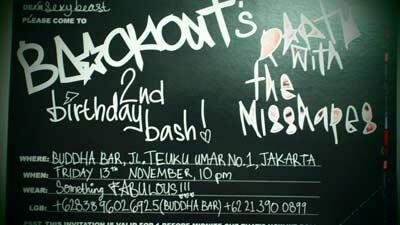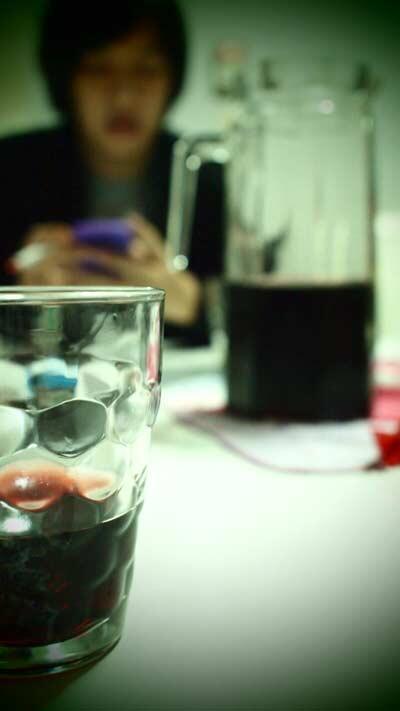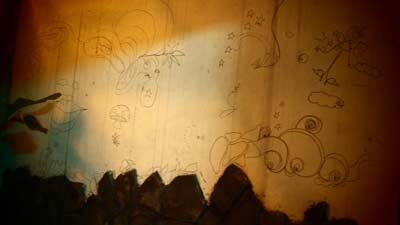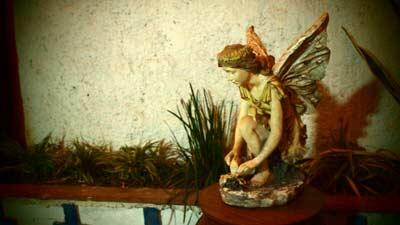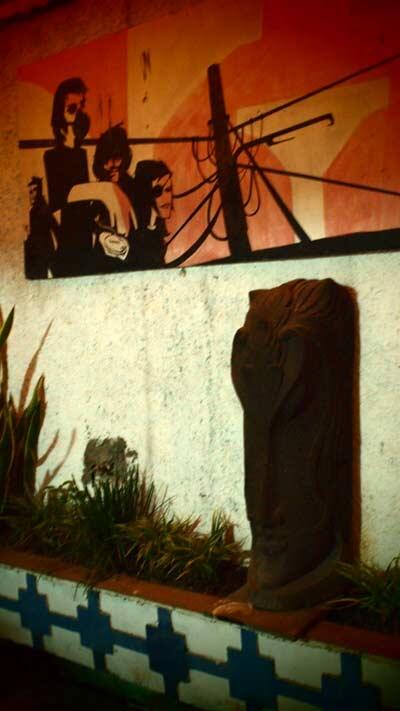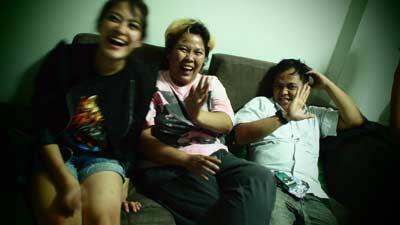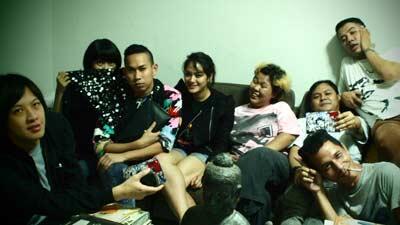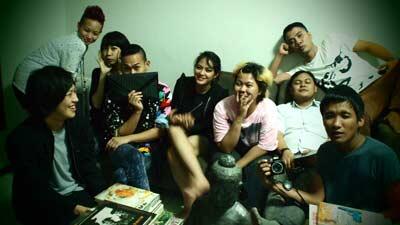 I must say a BIG THANK YOU to Kiki, for being an absolute darling,
introducing us to all her friends from Blackout and making us feel like a part of your group for a few days.
You guys are truly beautiful, and i hope to see you again in KL
or when i'm back in Jakarta  <3
After hanging out at the house,
Claudia and i were WELL TIPSY,
and started partying back at the hotel room – playing SalahWrong songs, doing hand puppet shows with our socks, and singing along to Disney songs.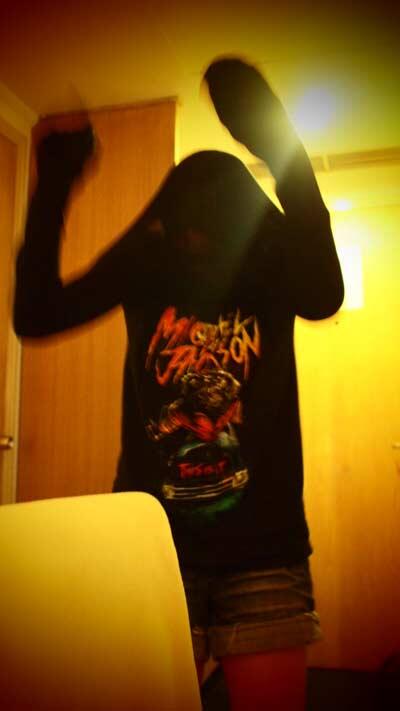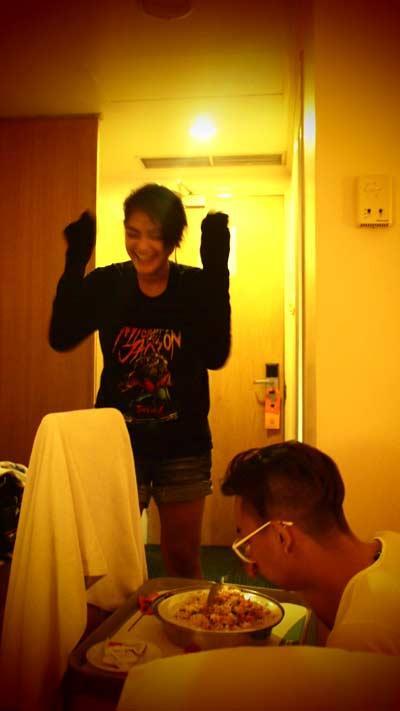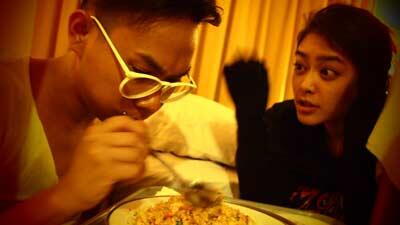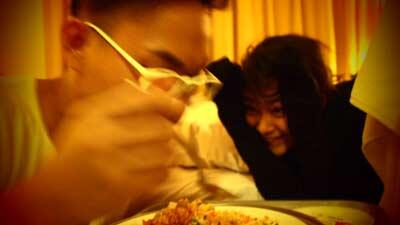 Poor Ming, to be stuck with two girls on Disney crack.
He seemed unperturbed, but i don't know whether he put on a good front.
:p
Related posts:
The Misshapes @ Budha Bar Part 1 on DailyWhatNot.com
The Misshapes Blackout 2nd Birthday Bash on RottenFresh.com
Tongue in Chic feature on Triski Nuraini
.