Not your typical sort of baring, but another kind that does make one feel quite naked at any rate.
It all started when Bonnie Yap casually asked me whether i'd go bald for a charity event a few months ago,
I immediately said 'Omg sure!' without really thinking
Cos i used to have thoughts of going bald
That desire was at its peak when i was 20 (obviously the then-bf wasn't too pleased at having a bald gf so i controlled myself)
And kinda died down as time passed and work increased
Going bald for fun isn't something i'd consider doing at this time when it comes to my job
Even though some might say, "It's okay wut, you're in media!"
The absolute absence in hair does affect other people's perception of you as a female –
"She's so wild, don't think she's serious about work" and such
Anyway back to how this happened, Bonnie got back to me with the dates and got Bee Kong from ZJ Advisory to contact me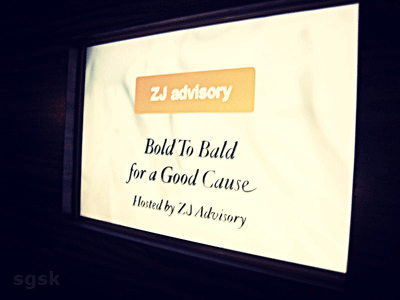 ZJ Advisory organises a charity event every year in aid of underprivileged children
In 2006, they sent money to Mongolia so abandoned children there wouldn't have to suffer so terribly through the winter
And one thing different is they don't simply give money to charity organisations lest not all the cash is channeled directly to the children
This year is the first time ZA Advisory did a 'balding' event for charity, in aid of children with cancer (hence, the whole concept of people going bald)
Money was raised by requesting corporate clients to sponsor accordingly to number of heads being shaved
I agreed to do it, thinking it's for a good cause and it's just hair, it'll grow back, no worries
First person i smsed was my hairstylist Milcah – "Don't kill me… but i just agreed to shave my head for charity…" – cos the woman pretty much owns my hair.
Then i told Daddy and Mummy so i wouldn't be held responsible for heart palpitations or them calling the police if they didn't recognise me driving my own car, or lurking in the garden
Then i waited for the day to come.
The agreeing part was easy.
The waiting part was shite.
One week before it and i was fine…
Three days before it and i was feeling just slightly jittery
Two days and the day itself i was feeling light-headed from the tension
-_-
Tak sangka wei
Bee Kong called me on the day itself asking how i'm feeling
I laughed back nervously saying, "Are you calling cos you think i'm going to cancel on you? Don't worry cos i'm not!!!"
I made my way to Flo @ Equatorial with StephTheVolcano and QueenKanch for the event
"I hope there's alcohol…" i blabbered to them
"Why?"
"So i can calm down!"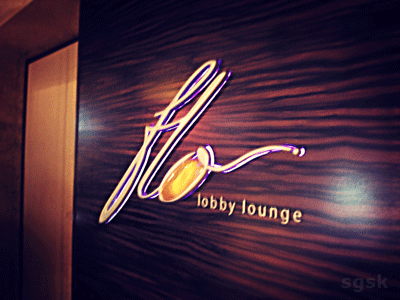 Once at the event, i met some of the people there
The few friends i thought would be free to come along (QueenKanch, Apsara, StephTheVolcano, RowdyRudy) went at the food
I didn't eat cos i didn't FEEL like putting anything into my mouth (except wine -_-)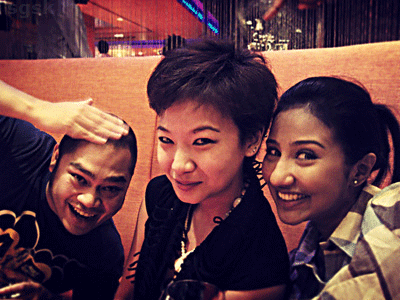 RowdyRudy, me, QueenKanch
Some speeches were made and some of them were really sad
A doctor said that many underpriveledged families neglect their cancer-ridden child with treatment simply because they cannot afford it
And the depressing thing is that a large percentage of children with cancer CAN be cured
There were two chairs on stage where we were to take turns on it
(Alarmingly reminding me of an electrocution chair at the time, i swear)
With two types to go – Number 1/2 shave by some stylists, and a clean shave by Indian barbers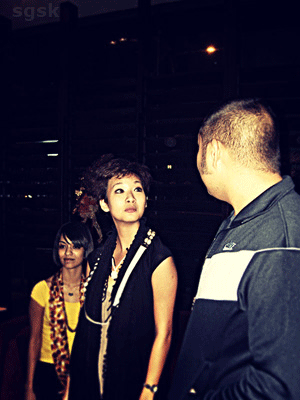 I think this picture is hilarious
Rudy prollie said something really nasty and shocking to me and my face is like, "Wha..?!"
Then came my turn and (thank god for muchos wine calming my nerves!!!) i stepped unto the stage to get shaved…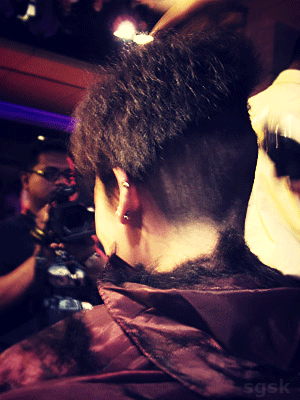 They shaved the sides first, and i look ridiculous here
Like i have a plant
Which chose the wrong place to grow
And started drooping in misery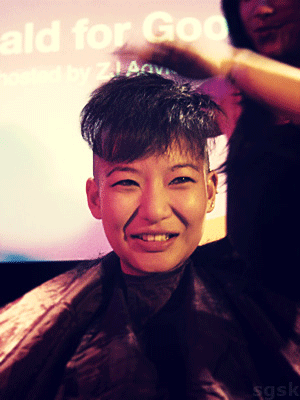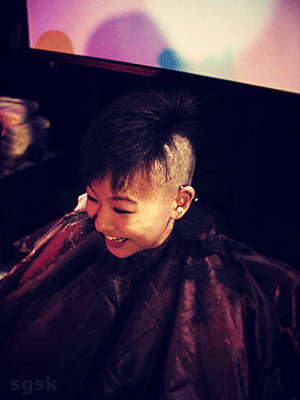 Me grinning. Unbeknowing of the sad plant on my head.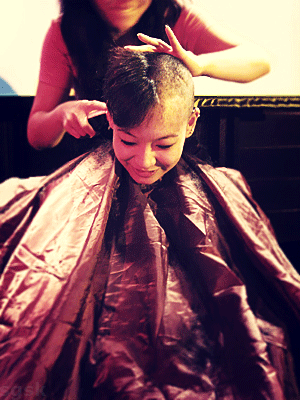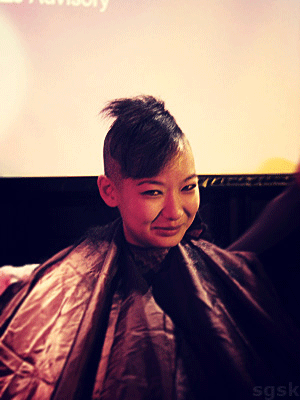 Plant totally died.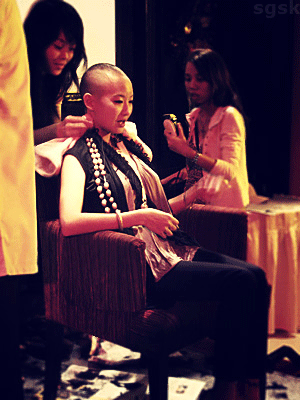 Honestly, i didn't feel nervous WHEN it was being done
And i didn't cry THANK GOD
But the worst was the half hour BEFORE the damn shave…
After i was done, the organisers got the pool going again that i would go skin (at the hand of the Indian barbers) if an extra 10k was raised
And sponsors were really generous to push it up to that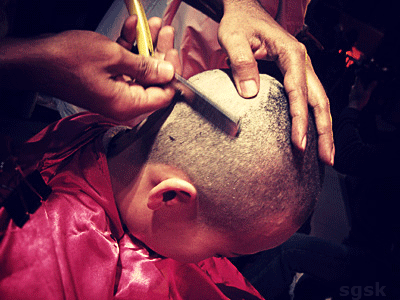 SkinheadFairy 0_o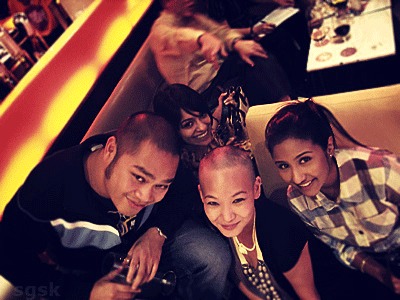 RowdyRudy, Aps, me, QueenKanch
Some of the organisers recognised Rudy and asked him whether he'd go bald if they got extra money
I was incredulous
What?
He's already ALMOST bald!
Who would pay to see him shave off a centimetre!
They managed to scrape up 8k for him to go bald
-_-
20k for me to lost 4 inches of my hair and i'm a girl
And 8k for him to lose ONE cm and he's a guy?!
No contest whose hair is more expensive here
-_-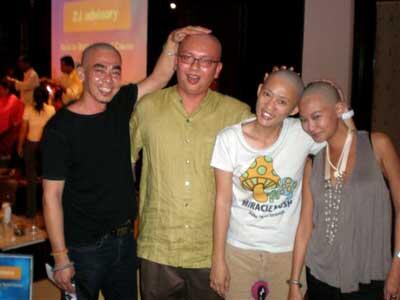 Bonnie Yap in a mushroom T. I approve.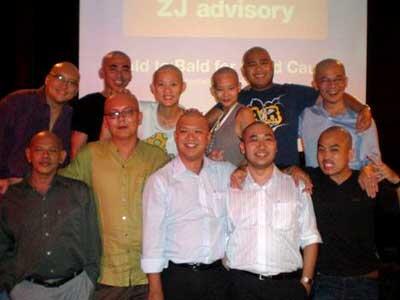 If you'd like to contribute to the charity, please read on.
Bee Kong assured me that none of the money is abused –
Event expenses were fully borne by ZJ Advisory and they don't make any money from the entire thing.
You may donate by issuing a cheque (please ensure it is a crossed cheque) to MALAYSIAN PAEDIATRIC FOUNDATION and send by post to:
Tai Bee Kong / Jeannie Poon
ZJ Advisory Sdn Bhd
Suite 22B Wisma Denmark
86 Jalan Ampan
50450 Kuala Lumpur
Any amount above RM100 will get a tax-exempted receipt from Malaysian Paediatric Foundation, so please indicate your name , correspondence address, and contact details when posting the donated cheque.
Alternatively, you can bank in money online to a charity account ZJ Advisory has with Hong Leong bank, since they do charity events anually
Money will be channelled to Malaysian Paediatric Foundation and Rumah Shalom (which ZJ supports on a long term basis)
Donations can be banked into account number – 04600089874
Once you bank in the money, email bee@zj.com.my or samantha@zj.com.my if you need a tax exempted receipt
Think about it, RM100 is very affordable to many of us, especially those who are able to read this blog…
And a collective of donations is a meaningful sum to families who can ill afford their sick child's treatment
Maybe it'll help you get an extra fuzzy feeling during Christmas 😉