Woke up in a mad rush last Saturday because we already hosted a party on Friday night (equals: got very mabuk and crashed late)
Girls being girls, it took us some time to get together and head off to Malacca in one car.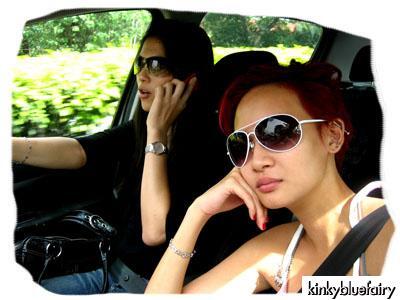 Fran drove.
I… sat in the passenger seat and was pretty much useless since i have no sense of direction to navigate.
In the end i got demoted to backseat with DatinTini, and Fran's friend (yes i know it sounds like a tongue twister) sat in front.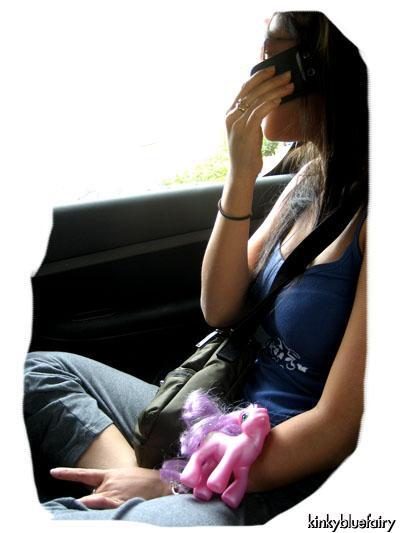 I brought a Little Pony to lend, i repeat, LEND, to DatinTini.
She gave me big puppy eyes and asked me to give it her.
A 28-year-old. Wanting a Little Pony.
-_-
I couldn't say no to her so i donated one of my Ponies.
Spread the Pony love yo.
Our new team leader was very pandai.
He thought the rave was somewhere else and got the company to book us rooms in Equatorial.
Padahal, Equatorial is a 45-minute drive away from A Famosa, where the rave was held.
-_-'
Fail wei.
I brought devil horns i got in Bangkok for RM5 for DatinTini to wear so it'll be easy to find her lest we got separated.
I wouldn't need them due to my red hair.
And the devil horns… look like, why, they BELONG there. On her head. Perfectly.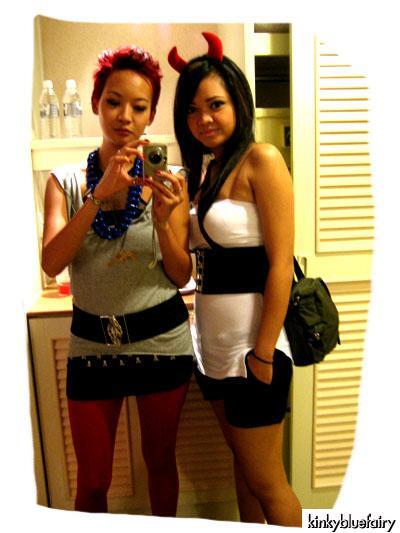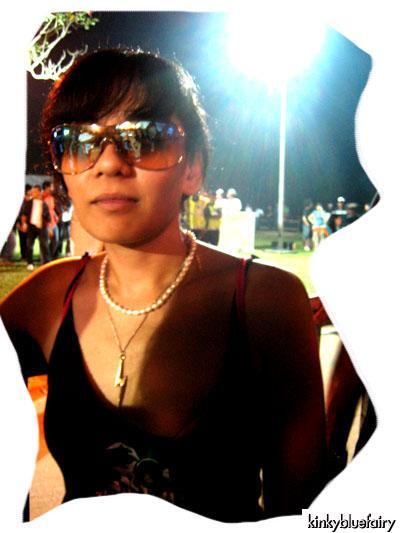 Shamin from Juice mag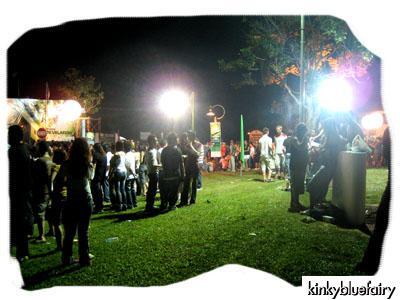 Outside the main entrance, people were just waiting around for friends to show up with tickets, etc.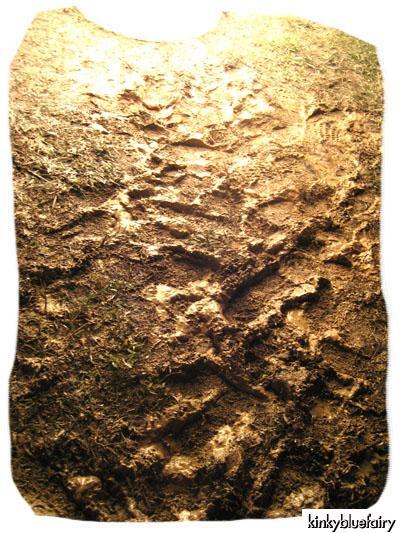 Inside the rave area, it was mainly… MUDDY.
It was mostly really slippery and super smelly.
I think the reason i didn't bump into alot of people at the rave (as did many others, i heard) is because we were way too busy looking down at the ground to ensure we didn't ter-slip and terbabas.
At points, i even had to lift my feet firmly so my Superstar wouldn't get sucked and stuck along with the mud.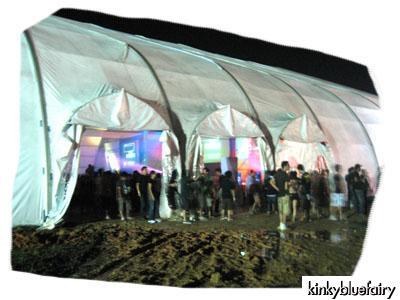 But oh! Besides mud, there were also big pools of mud and water.
Sweet. -_-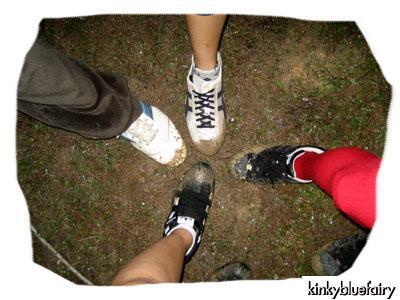 Oh, this was just the beginning of the night.
Where we had yet to venture into Mud Supreme whereupon our entire foot was covered in mud.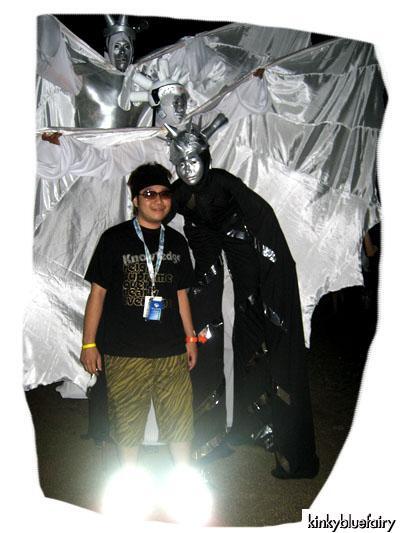 Took a picture of some random dude and white-winged stilt walkers.
I think the dude's super shiny shoes totally stole their thunder in the photo though!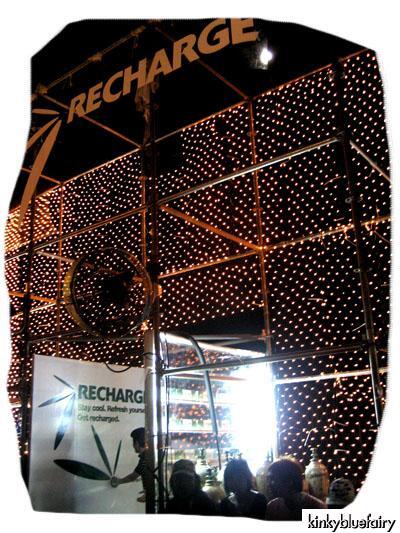 Recharge Spa where people get to turn on some cooling mist to refresh themselves.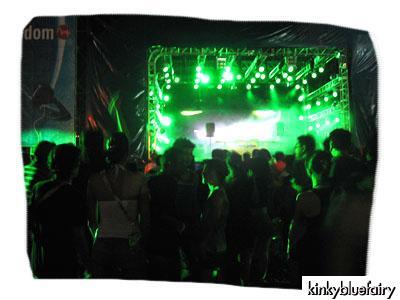 I swear i have a similar picture like the one above from previous Recharge raves…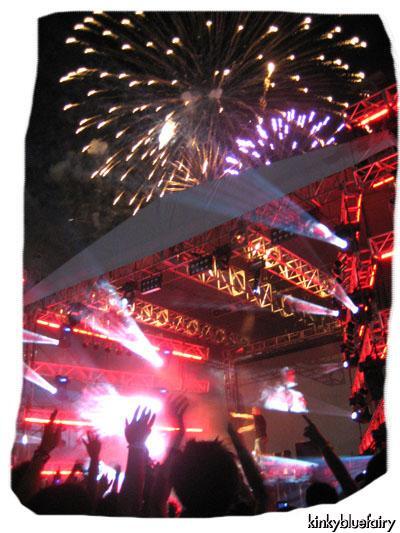 The picture above quite semangat.
I took photos over and over again with slow shutter while the fireworks went on till i got one kinda right (i was using an Ixus btw).
I walked all over the Godskitchen area with DatinTini to look for POB and gang… to no avail.
So i stood in the middle for a bit, trying to enjoy myself till i felt mud splashing all over my red stockings cos some idiot started shuffling in front of me in wellies.
Who the fuck can shuffle with wellies?!
Use your head wei!!!
DatinTini gave a yelp and scooted to the side while i went, "What the fu…" and looked up to glare at the culprit.
Culprit was still too busy shuffling -_- till his companion saw me giving evil eyes and gestured an apology while asking him to stop.
Culprit turned around and i see… someone i met before at a birthday party.
GarfieldChak's birthday party to be exact.
-_-
Culprit = William
-_-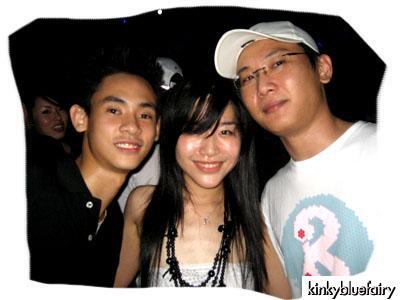 AmateurShufflerWilliam, JeanGoon, PapaSeong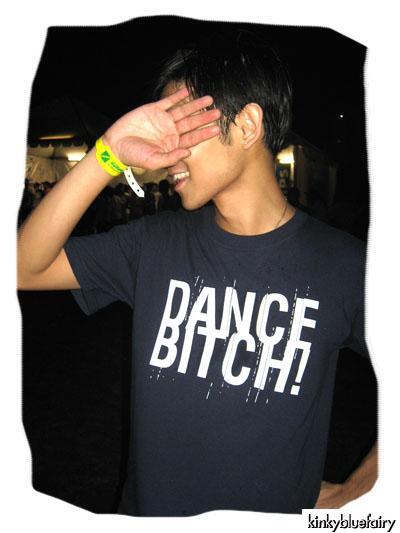 Mark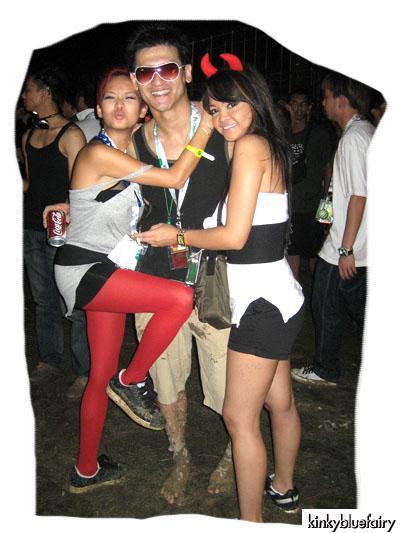 Bumped into Allen who removed his sandals altogether to dance.
I wanted to go on the rides first but DatinTini scolded me like the older sister she is and said to finish work first.
Fairy obeyed.
See the cranes that you swing from!!!
So high!
So exciting!!!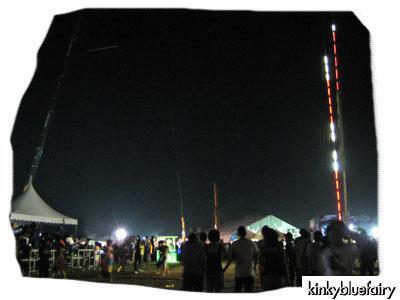 Wooooo…..
We were freaking hungry as we didn't have time to grab some grub before the rave, so we looked for the food area to appease ourselves before we pengsan-ed.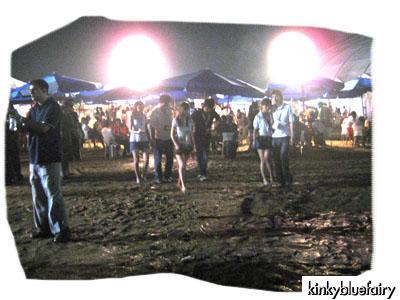 Kev goes local!
See puggy, i thought of you while i was there.
😀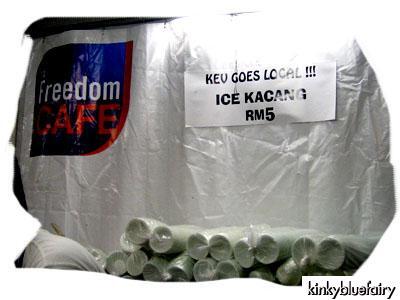 The most popular stall by far was Burger King's, read: super long queue.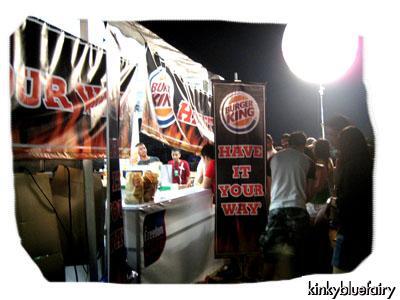 DatinTini and me couldn't tahan so we went for local fried rice + chicken going for RM10 each.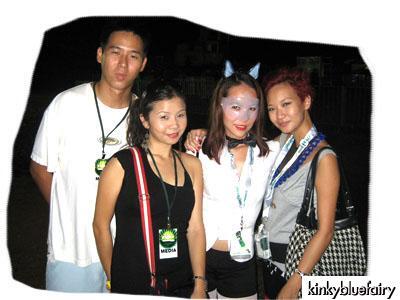 TL, MaryBerry, Jessie (Halloween came early!) and moi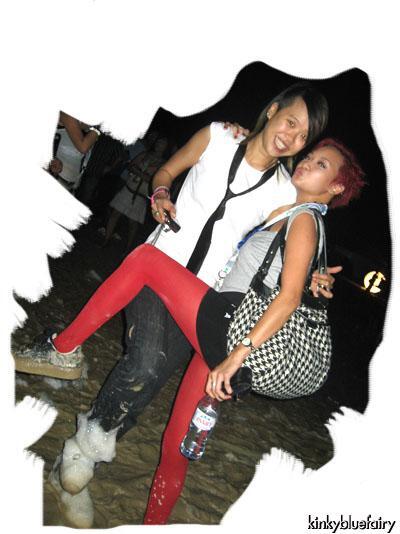 SiewWai + me
While DatinTini and i were eating, we bumped into NikThePimp and Caspar who were looking for someone to go on the Swing ride with (shite, i don't even know the proper name for it -_-) and i jumped at the chance.
They'd already bought a ticket, see, and it costs RM150 for 3 people for one ride.
I couldn't believe that noone else wanted to go on it with them!!!
And as Fate would have had it, Azuan from AJ Hackett found me at the same time.
I was looking for him all night cos he Facebook messaged me saying he'd hook me up for the rides.
😀
AJ Hackett sponsors Kinkybluefairy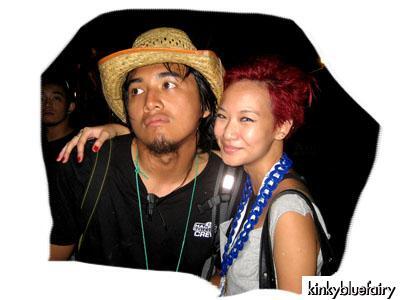 This is Azuan. I have no clue why he's not looking at the camera.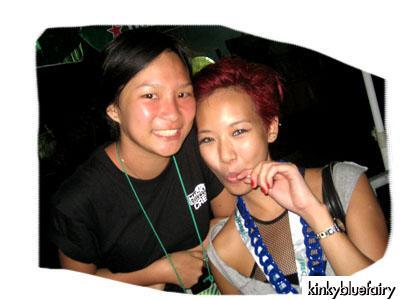 This is LittleSandra.
She was working for AJ Hackett that day.
I call her LittleSandra cos i've known her from church days (erh yeah) since she was a teeny 8-year-old.
She's 18 already.
0_o
I took Caspar on the reverse bungy ride with me cos DatinTini didn't wanna go (the woman has asthma and i really don't want to be responsible for giving her an attack!) and NikThePimp had gone before.
Truth be told, i'd gone twice before in Singapore and KL Tower.
Greedy. Hee hee!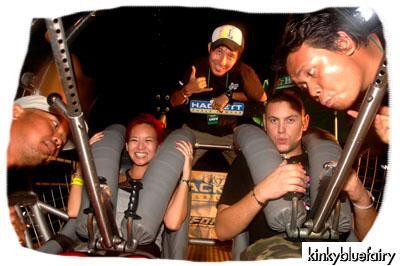 It's seriously fucking awesome.
They strap you into this globe thing and releases you high into the air (like a catapult) as the globe spins you around.
You lose all sense of gravity as your butt lifts off the seat and you see sky, ground and the adrenaline just sucks the breath out of you!
It's insanely scary but bloody glorious at the same time!!!
Caspar and i got off the ride, legs-a-shaky, but whooping from it all!
The line for the swing one was kinda long, so we waited it out a bit.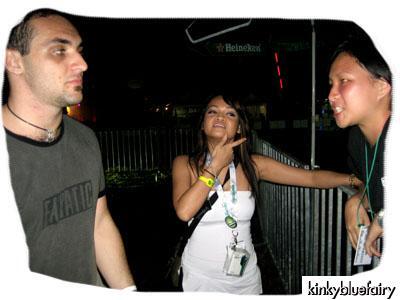 NikThePimp: What're you looking at. Small punk.
LittleSandra: You suck!
DatinTini: Oh! My hair must be arranged properly… there!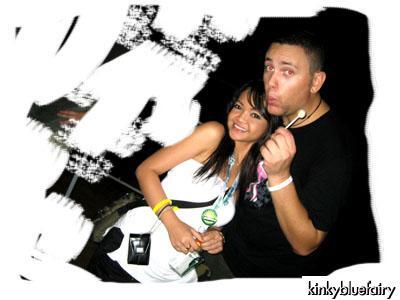 DatinTini + Caspar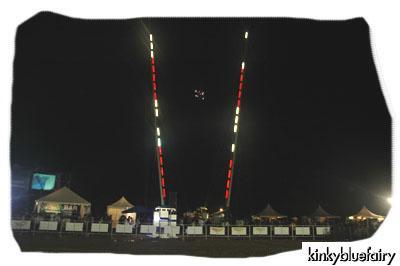 These are the cranes that they swing you from.
Three people are strapped together from one, and lifted to one side by another crane.
Then the person on the left has to pull a release that swings you ALLLLL the way down and swooping up the other side!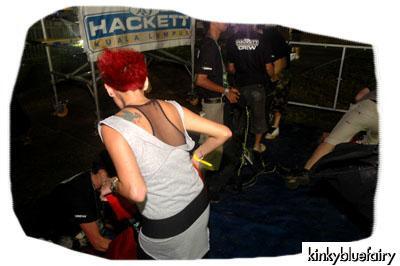 Being strapped in…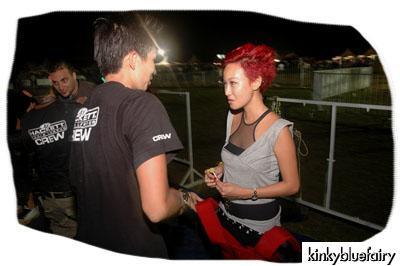 "Are you going to kill me? Are you sure?"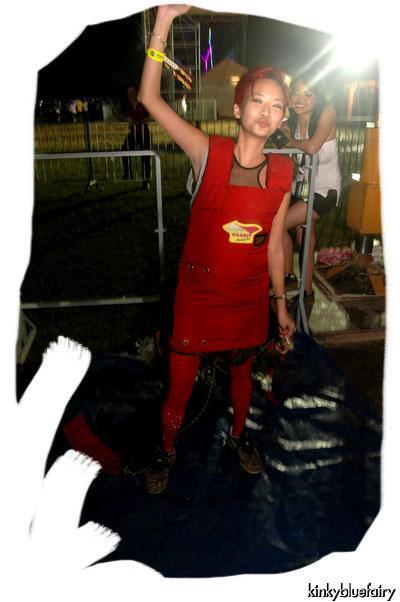 Coincidentally, the vest they put on me was red.
So it matched my hair and stockings!
How fucking awesome is that!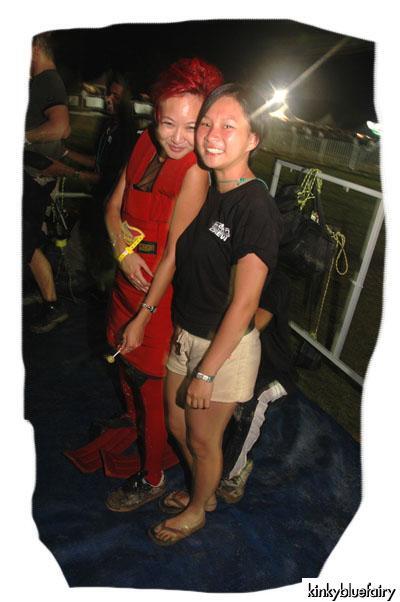 JoyceTheFairy + LittleSandra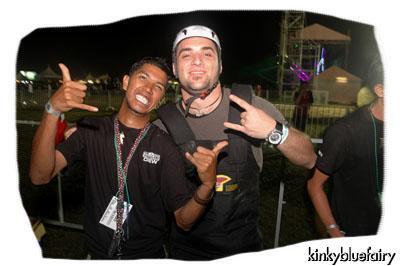 NikThePimp is ghetto. For real.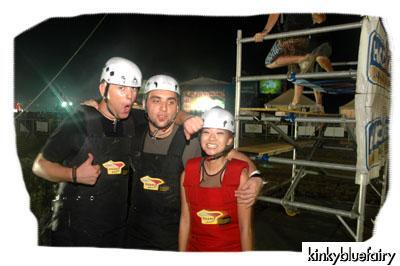 Getting ready to go on the platform behind us…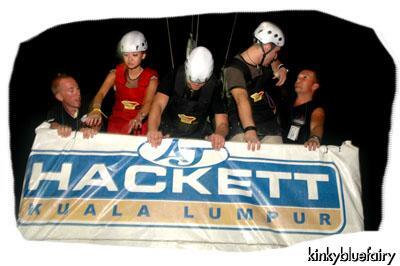 The AJ Hackett dudes make us kneel on the platform as they buckle the cords to our vests… or something.
Yeah. *cough*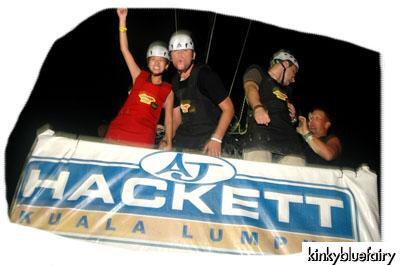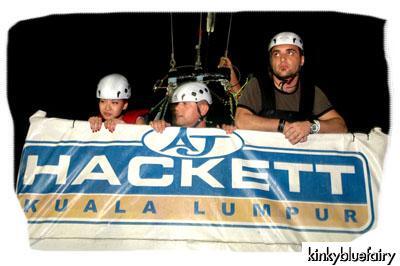 Waiting as they do their thing.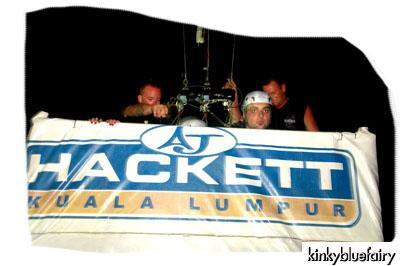 Then they push the platform away and we're lying horizontally already.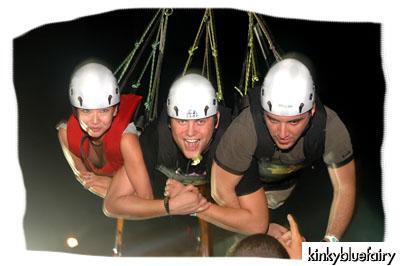 We're made to hook arms as we're lifted up to be swung off.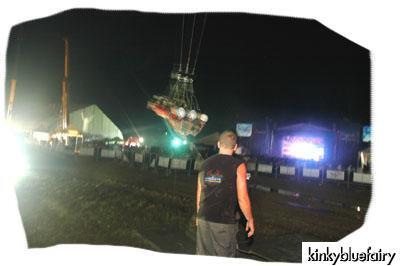 It's such a rush. The swing isn't as scary as the reverse bungy, it's more relaxing actually, despite still being pretty high up. Or maybe cos we were high as well.
I don't know, ha ha!
We were all shouting and screaming from the top even before we pulled the cord to release ourselves to swing.
So it was basically us three going, "WOOOOO!!!!!! YEAH!!!!!
ALRIGHT BABY!!! LET'S GOOOO!!!!"
Azuan said we were mad.
Just remembering it is making me all happy now
The cool thing was because we swung from such a height, we heard music from one end of the rave to the other as we swung back and forth.
As we stop swinging, the guys below throw us a rope to catch a hold of to stop our momentum and lower us back down on the platform.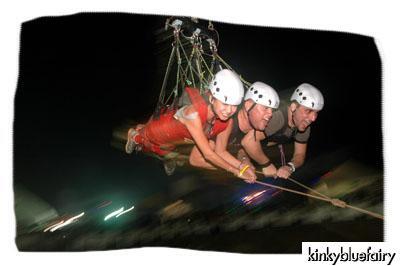 I didn't get unstrapped cos i went on it thrice.
Thrice okay!
Just check out my gleeful grin!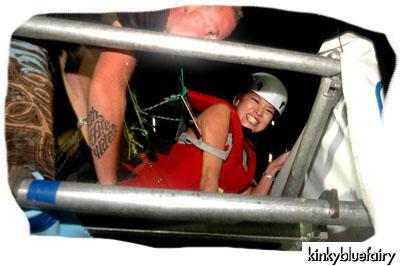 Partying on the platform.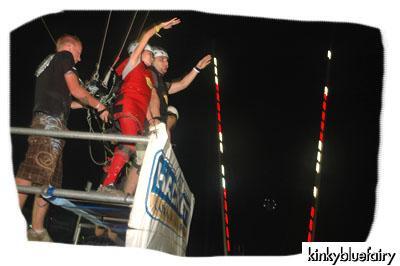 NikThePimp went twice, as did Caspar and DatinTini.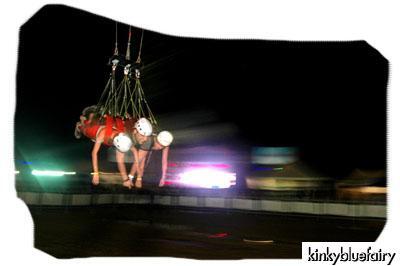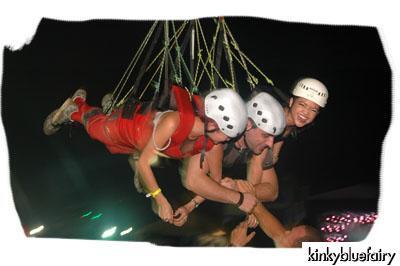 Me, NikThePimp + DatinTini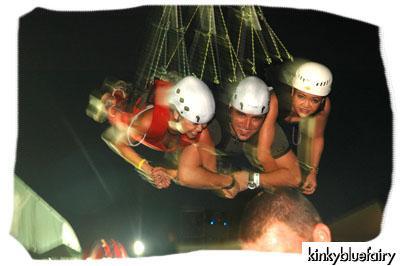 Eh, DatinTini looks a bit worried here ha ha.
We were being a tad naughty at the end, not wanting to grab at the rope to be let down and shouting, "No! We don't want to go! We want to hang here forever!"
After the rides, i ran around hugging LittleSandra and Azuan for the amazing rides and making my rave just so DAMN ENJOYABLE.
Us four left after that, all giggling and screeching from the adrenaline high.
Bumped into Emmeline, who looked so fresh for a rave.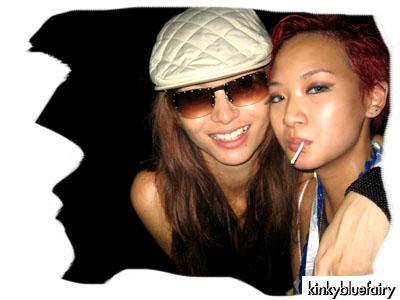 Below is the foam area, which was dis.gus.ting.
I didn't even step into it cos i already heard from Nur, Mira and FlirtyFi that they all got molested in there.
Apparently the foam went as high as your neck, and they got hands down their pants and tops, pinching at their nipples.
GROSS!!!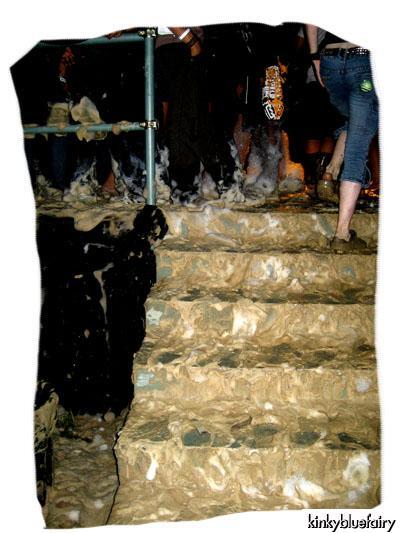 Mud and foam.
What a combination, eh.
Caspar didn't bring his camera so i obliged his camwhoring with random strangers.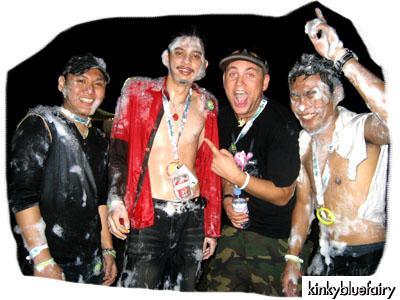 Caspar + some Foamboys
He got gatal so he disappeared into the foam area himself and came out…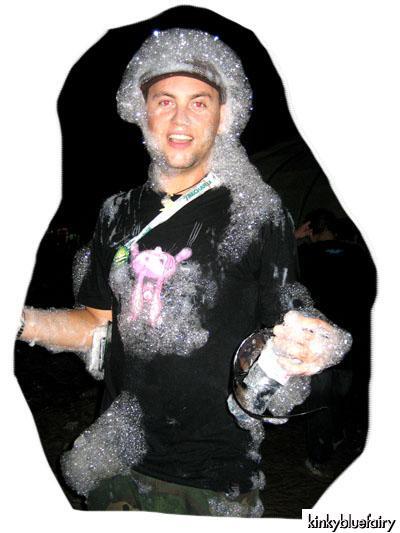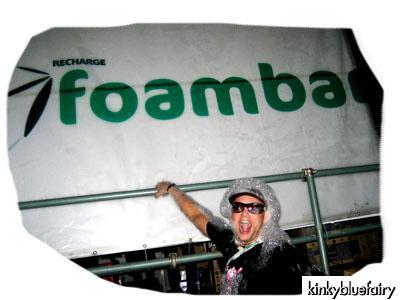 He's already put the pictures on his FB proudly.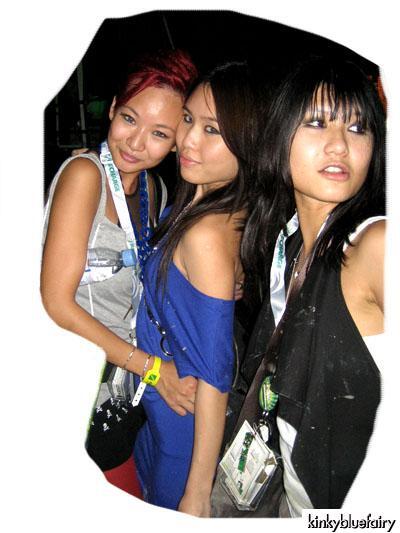 Me, FlirtyFi, Mira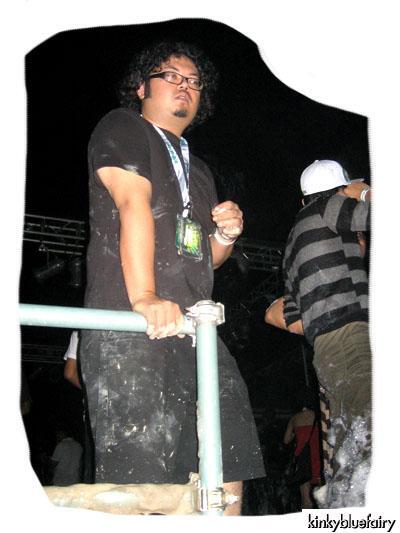 TeddyBearIshaq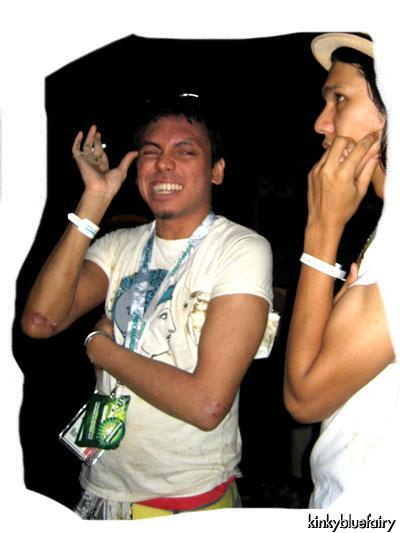 ClubbersGuideToShah (i know la a bit panjang, i gotta think up of one for you and Mira soon okay!)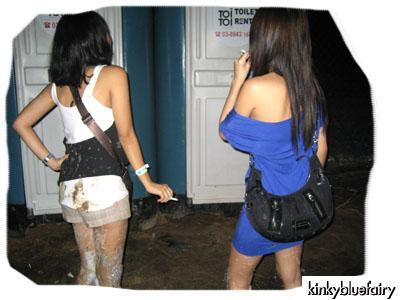 Mmm nice view while they wait for the (icky) mobile toilets.
Nik and Caspar were persuading me to after-party with them at their bungalow.
I was a bit reluctant cos i had to get back to the hotel before checkout time to head back to KL with my colleagues.
Nik: I'll fetch you back to the hotel. I promise.
Caspar: Yeah, see! Nik can fetch you back!
Me: Are you SURE you won't pass out and i'll be stuck here!? I MUST get back to the hotel by noon okay!
They swore and la di da, so i said my byes to the girls and pranced along with them.
Caspar started his photo-taking rampage again, he saw this guy wearing huge Spiderman glasses and borrowed them to camwhore.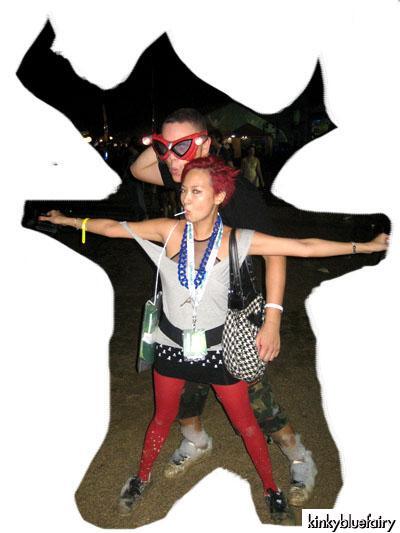 Then he spotted some Nu Ravers and got all excited.
Caspar: Take pictures of them! Individual ones!
Me: Okay okay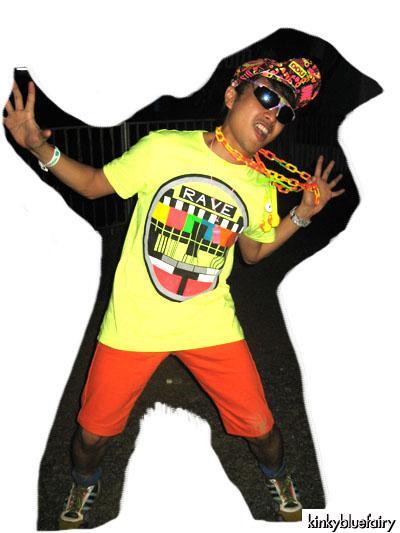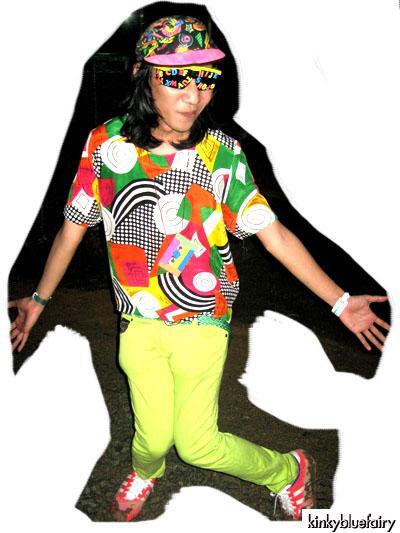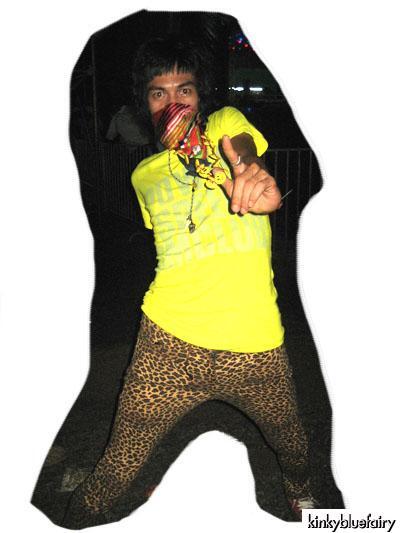 I took pictures of them cos he asked me to, then one of them came up to me and said, "Eh! You go to Lap Sap right?! I've seen you there!"
And i was like, "YEAH! We're Lap Sap!"
Caspar: 0_o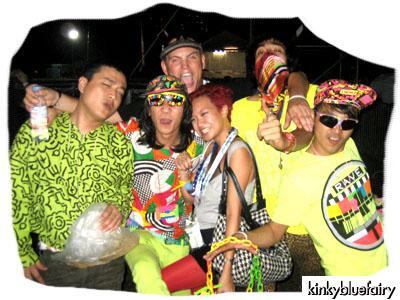 Lap Sap bonds yo.
Then they found some guy with a mannequin.
Damn weird wei, bring mannequin to a rave.
Maybe he didn't have anyone to dance with
… but it was still cool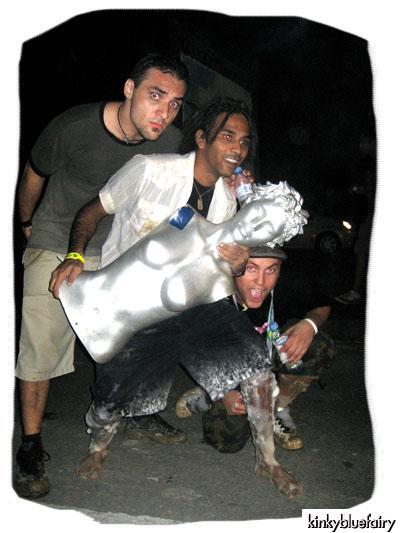 Caspar was mad.
He was running around looking for things and people to take pictures with.
We saw a bunch of people sitting outside the rave and he said they looked like a refugee camp.
So he happily plopped himself in the middle to look like he belonged.
-_-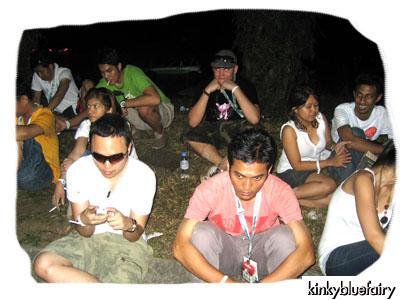 As i snapped the picture, i heard my name being called and hey… not surprising to find Deep and Co. among the Raver Refugees.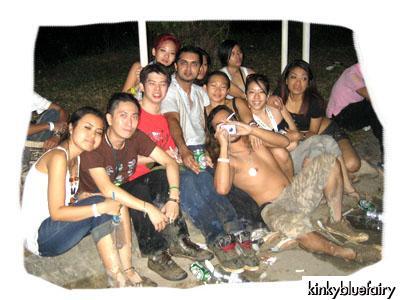 Got a ride from a Malay dude who was waiting for his friends to meet up with him.
NikThePimp gave him ten bucks for giving us a lift back to the bungalow.
There, the girls were super semangat with some animal theme going on.
They even hung cloths from lines in the garden for 'added atmosphere.'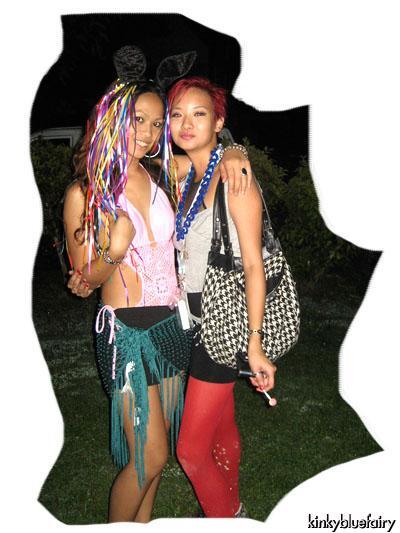 Roz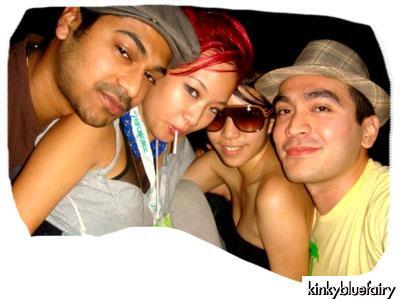 ReubenSamuel, moi, OvidiaPumpkin, ReubenThom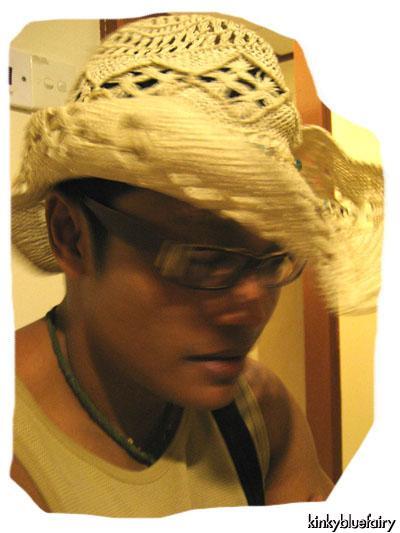 Ghazali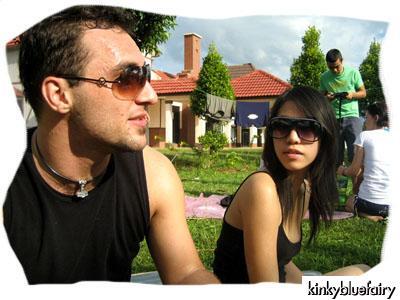 NikThePimp + OviPumpkin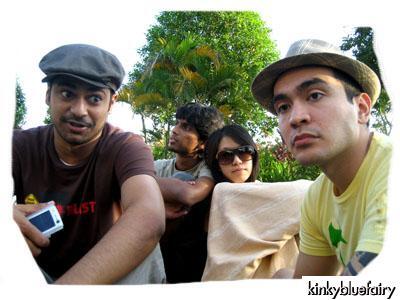 ReubenSamuel looks like Mickey Mouse here 😀
Raj is looking at birds.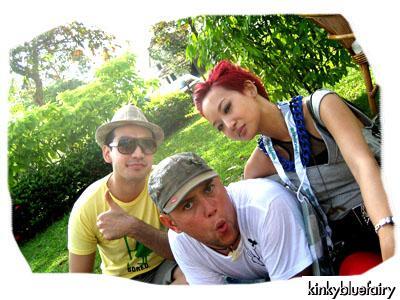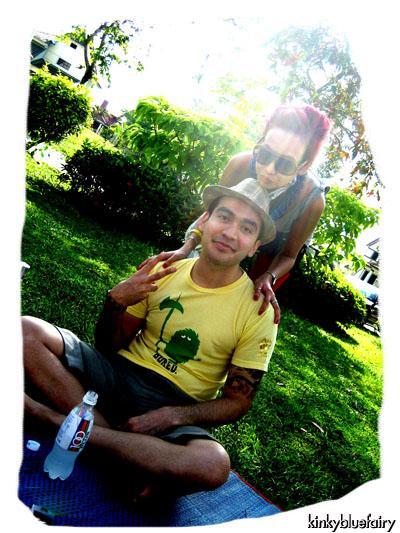 ReubenThom lent me sunglasses.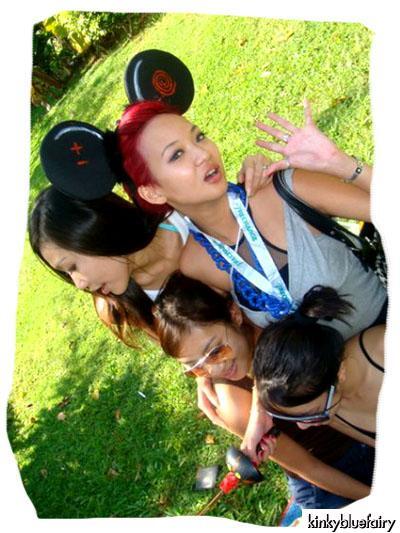 Camwhoring with Joycie Mouse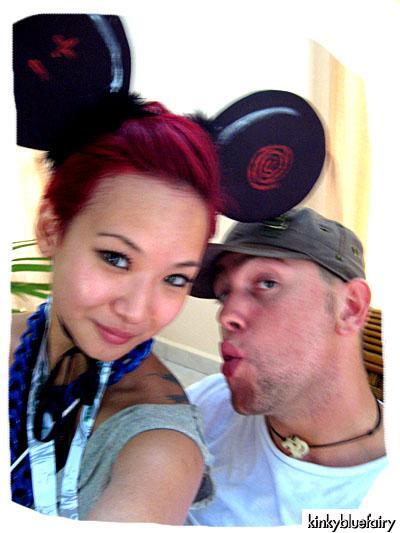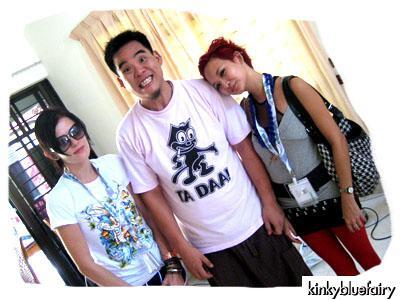 Vic, John and me.
Vic has a fairy tattoo *and* she brought a fairy t-shirt as pajamas too!
I left my fairy shirt in the hotel room cos i tak sangka i would be spending the night at the bungalow.
>_<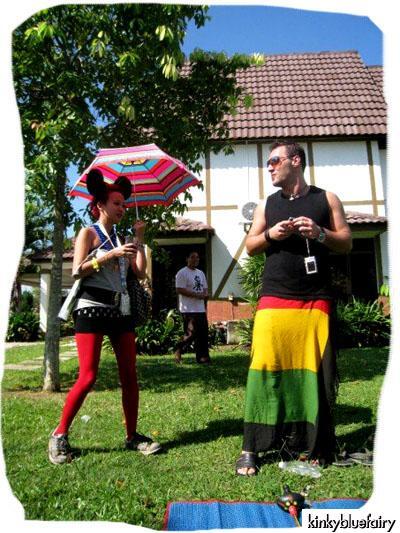 Psychedelic!
NikThePimp sent me back to the hotel as promised
Thanks guys for the great time
As for the rave, i did blog about Recharge Revelation last time and it wasn't a good review as well.
And i had to write a review for it for a magazine, with which i was very fair with – i wrote all the good and bad points about it.
What the editor failed to mention was that it was an advertorial write-up.
So the client wanted ONLY good things written about it.
I hate advertorial write-ups cos they're fake and the publication is basically being paid 3k to write something good.
I wouldn't mind so much if it's stated there that it's an advertorial… but anyway.
Changing the statements in the article like they wanted, i requested they remove my name from the article as well.
Malu okay if people read it and think i liked it when i didn't.
Wah so bitchy. >_<
Anyway, i was asking around the whole week what people thought of the rave.
At first there were mixed reviews, i think all those that got high loved it, though there were those that *were* high hated it and said it was a waste of time.
Most people stayed an hour or so, got bored and went back to their bungalows/rooms to party sendiri instead.
NotYourAverageJo said that people in Malaysia are spoilt when it comes to raves here cos overseas it'd be muddy and shit.
But i was thinking that hey, it's a dance event, not some rock concert or music festival like Glastonbury.
If it were the latter, then it'd be fine cos getting messy is bound to happen.
For a rave… people expect to dance and how the hell are people gonna plop around in mud…
I couldn't help laughing when someone told me he saw shufflers walking out of the rave rather dejectedly cos their expensive shuffling pants would get ruined.
Oh well, thank the fairies for the rides, minnie mouse ears, colourful brollie and fabulous company.