'Twas a busy Wednesday afternoon with clients to please and reports to be done. When suddenly Joyce spoke to me from across the room, "Would you like to go for a cocktail tour with me next Thursday?" Seeing I have faithful love for cocktails as a solid adoration of mine; plus, I came in third in the Amateur Bartending Challenge organised by Locker n Loft a few weeks back – the decision was easy. "YES!"
Come Thursday, the two KBF cuties – #BabyandFairy – in our super matchy outfits and hairdos embarked on our Ultimate Cocktail Tour hosted by The Bar Awards.
The Bar Awards has been celebrating the best of Singapore and Hong Kong's bar scene since 2014. It has finally arrived in Kuala Lumpur this month where ten bartenders and bar awards are up for grabs. For the whole month of October, you can look forward to:
• An Opening party @ Opium, Thursday 19.10.17
• Various Guest shifts on Friday night 20.10.17 @ MO Bar (5PM), Junglebird (8PM), The Pawn Room (8PM), 1 Monarchy (8PM), Hyde (8PM), The Locker & Loft (8PM), Coley (9PM, Omakase – Appreciate (9PM) and Skullduggery (9PM).
• Barback Games @ Jack Rose, Saturday 21.10.17
• Winners will be announced on Sunday 22.10.17
We started the evening by hauling our cute butts to Coley! A speakeasy bar buried in the back of DrInc on Lorong Kemuja, Bangsar. It is my favourite hangout spot and also because my favourite mixologist, CK, is there. We ordered our drinks and started socialising with other media friends whom we adore!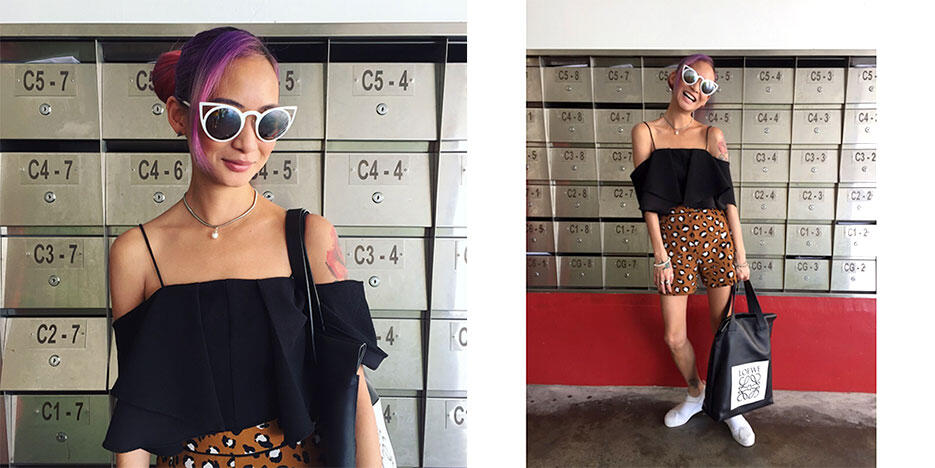 Joyce wore a top from Love, Bonito!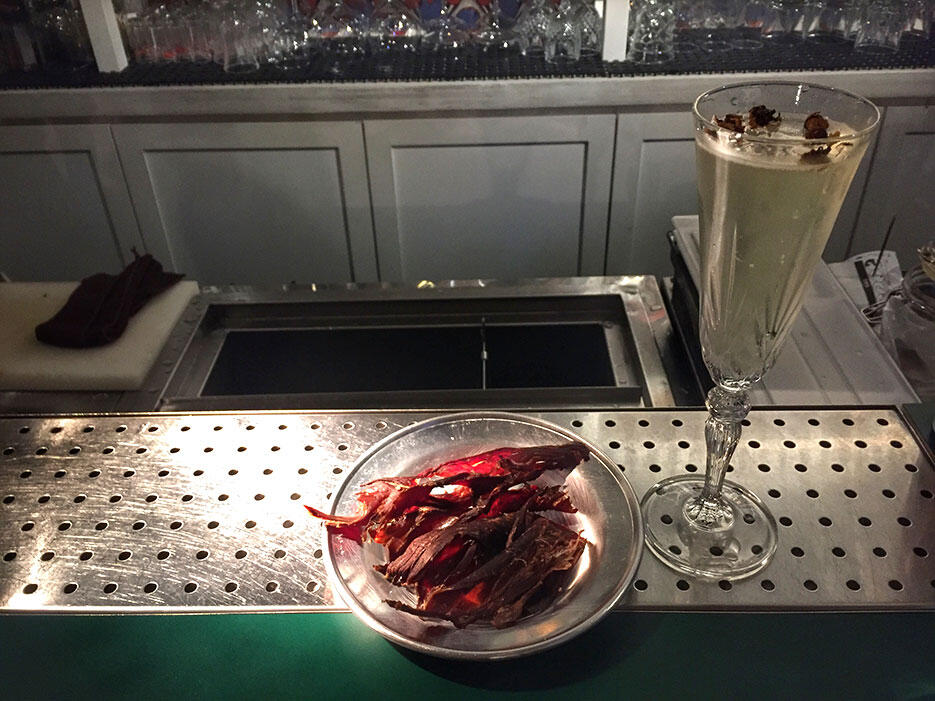 Joyce's first poison would be the Elderflower Spritz (St Germain Elderflower and Prosecco) because you know, she's classy!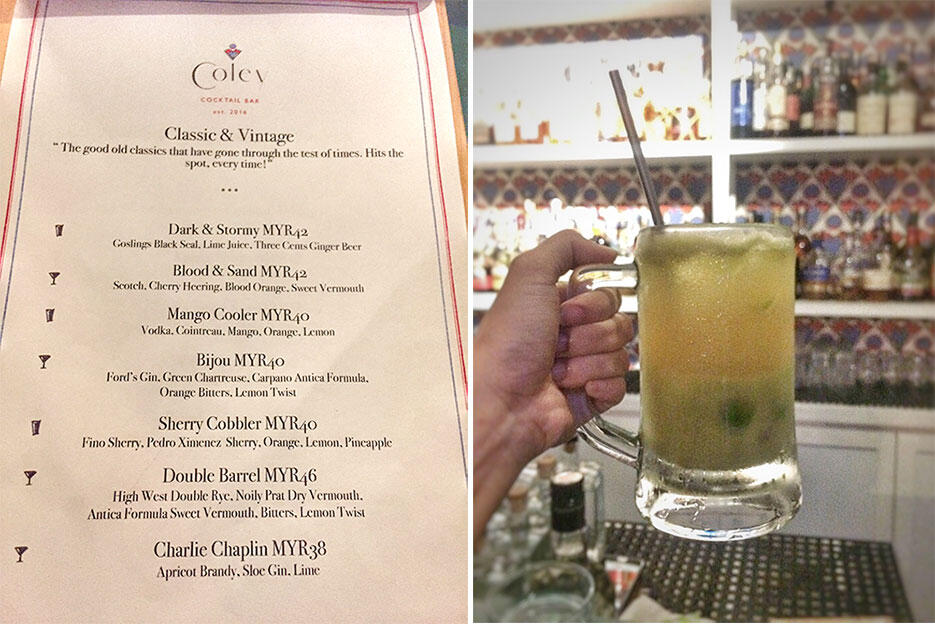 And myself, being the kampung girl that I am, my first cocktail of the night would be the Rum & Ambarella (got asamboi!)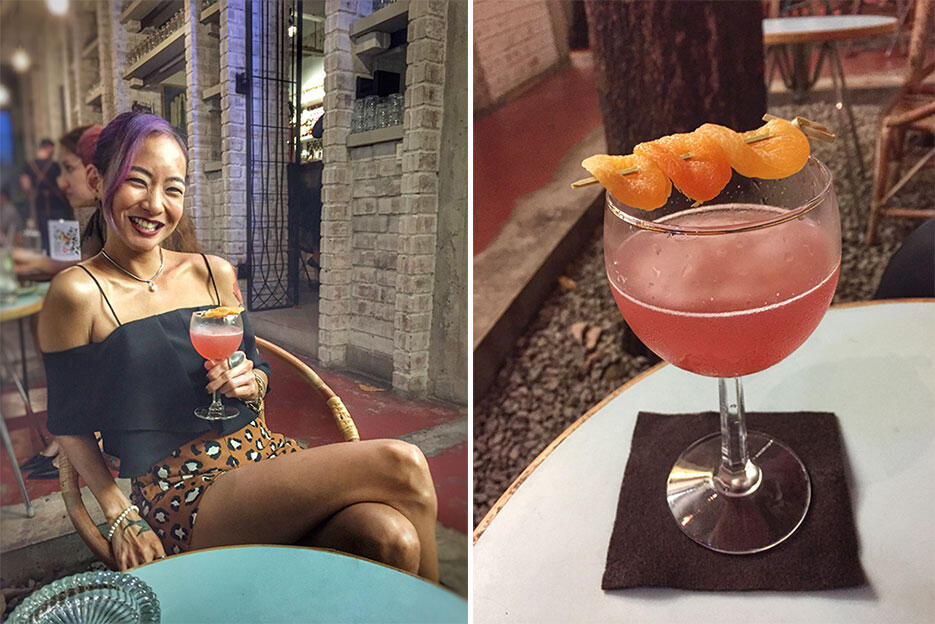 Joyce and I coined this plan where we would hang out with different people but regroup for hugs. This was our first break from socialising. I was still on my first drink and Joyce, on her second (because she champ la. Representing KL since 2004!). We shared her pretty pink drink called Charlie Chaplin, which was Apricot Brandy with Sloe Gin and Lime.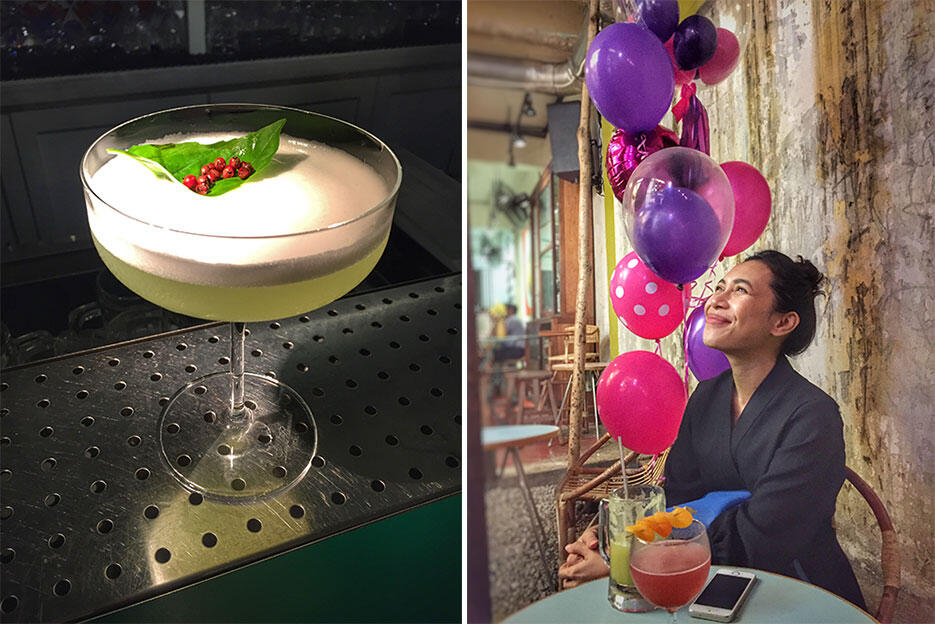 Joyce's third drink was the Truffle & Jade (Truffle-infused Vodka, Sweet Basil and Pepper Tinture). It was spectacular!
The Bar Awards organised a bus to ferry us from one bar location to the next, and I excitedly told Joyce "OMG WE HAVE A PARTY BUS!" and her reply: "You're so easy to please…"  😆
[Joyce: She was squealing every time we got on the bus… Either it was the alcohol, or she really LOVES buses…]
The second bar was Birch at the new DC Mall in Damansara Heights, which I knew of from Instagram. It's a very modern and chic restaurant with a very busy bar! The star mixologist there is Yoma, who used to work at 28 Hong Kong Street in Singapore. I have to say, his concoctions are for those with a mature palate. Definitely not for amateurs!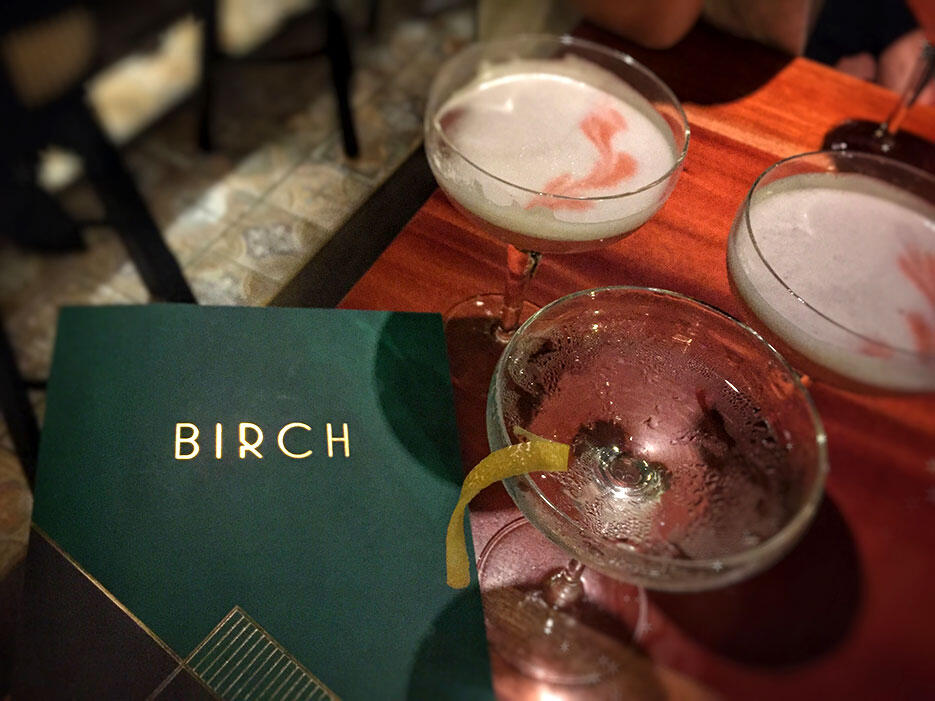 We started off with Pisco Biscuit (Waqar Pisco, Lemon, Applejack, Grenadine, Egg White and Angostura Bitters)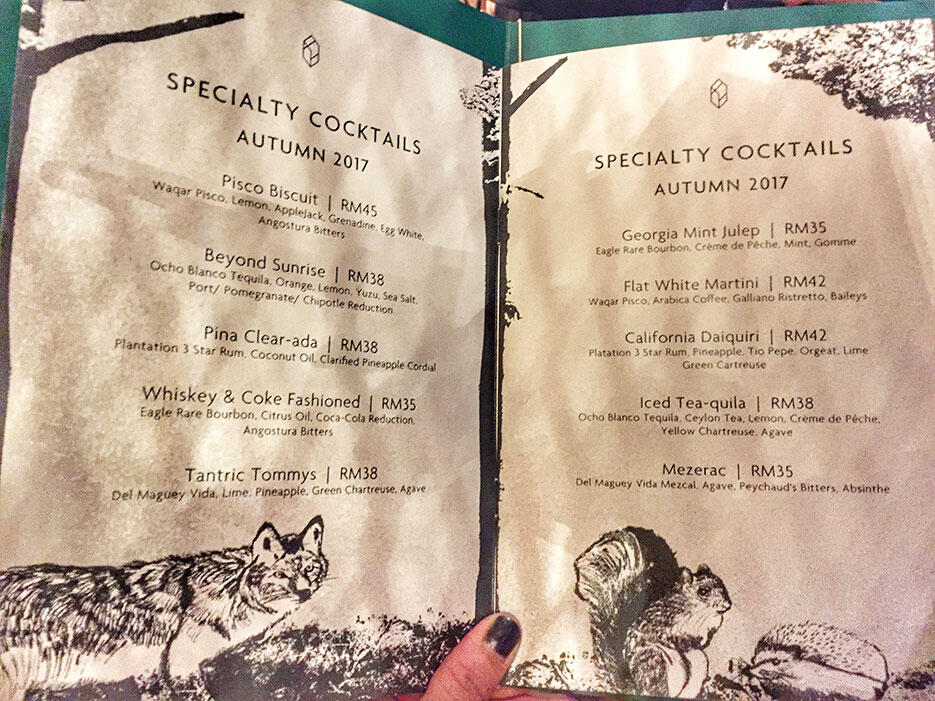 How cute is the cocktail menu! Squirrel, skunk and a fox!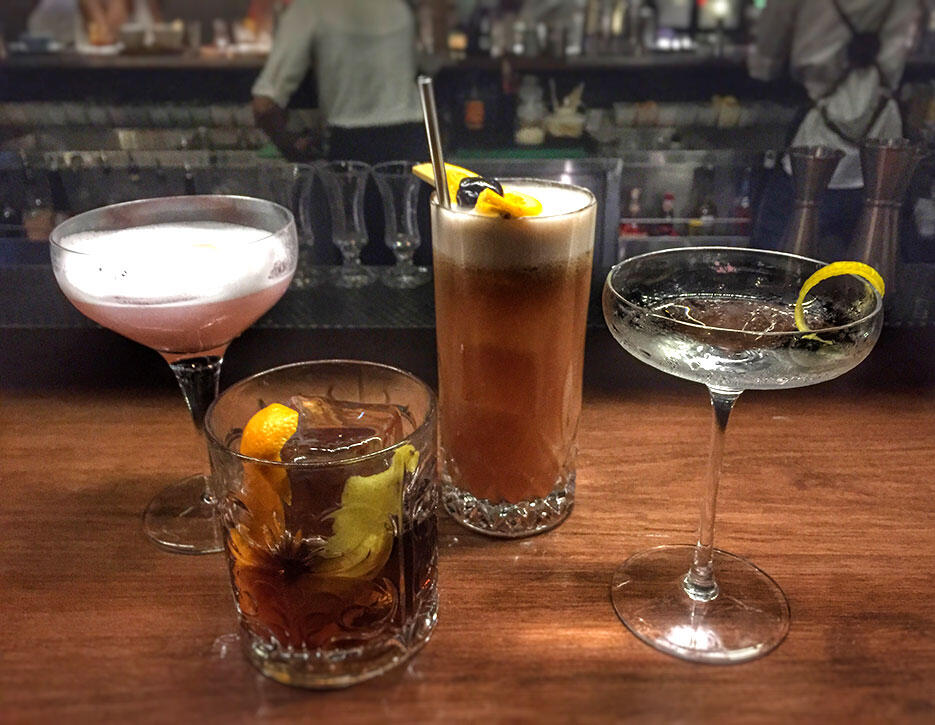 Four drinks were introduced to us. They are all based on classic cocktails namely Pisco Sour, Tequila Sunrise, Whiskey & Coke and Pina Colada but prepared with a special Birch twist!
1. Pisco Biscuit (Waqar Pisco, Lemon, Applejack, Grenadine, Egg White and Angostura Bitters)
2. Beyond Sunrise (Ocho Blanco Tequila, Orange, Lemon, Yuzu, Seasalt, Port, Pomegranate and Chipotle Reduction)
3. Whiskey and Coke Fashioned (Eagle Rare Bourbon, Citrus Oil, Coca Cola Reduction and Angostura Bitters)
4. Pina Clear-ada (Plantation 3 Star Rum, Coconut Oil and Clarified Pineapple Cordial)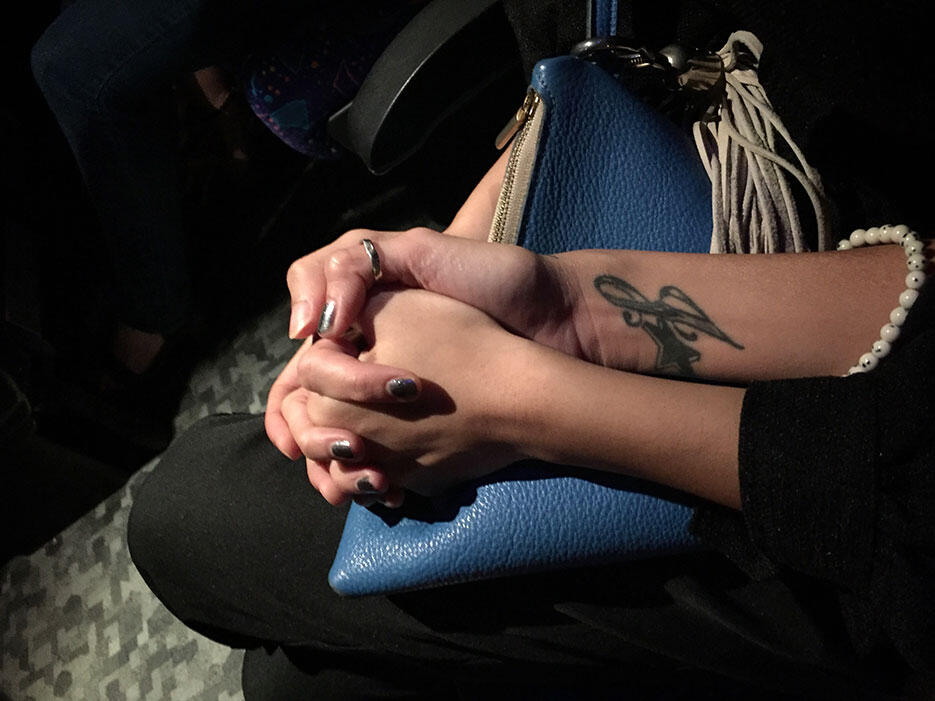 I could never ask for a better friend, confidant, party friend, colleague, sifu. For better or for worst til death do us part. #BabyandFairy
The third bar was Jack Rose, located in the basement of Wisma E & C. The vibe is super awesome – doesn't feel pretentious at all – which is right up my alley! Jack Rose is run by Callan C. Green from Melbourne, and James Estes from California. Both have been mixing drinks from around the globe before deciding to open their own place. And they insist that Jack Rose is NOT a speakeasy.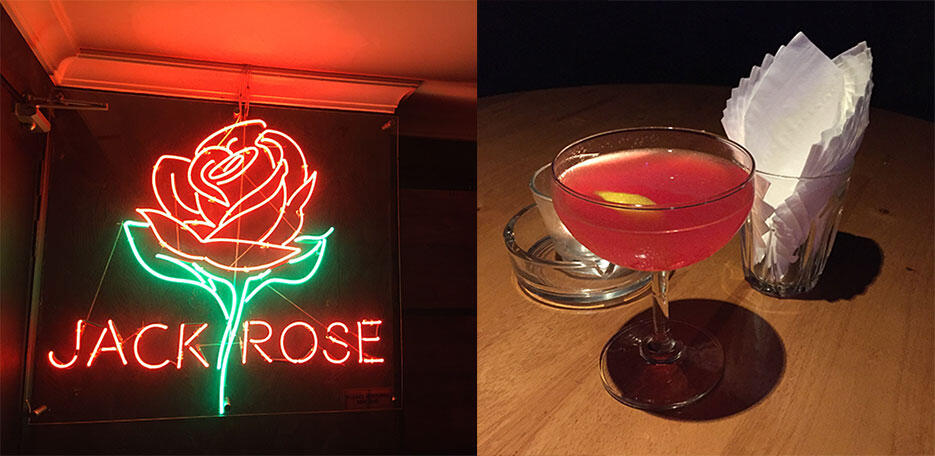 The first drink introduced to us was Ophelia. Why Ophelia? According to Callum, he wanted her (yes, the drink is female!) to be confused. Like any good aperitivo, the balance should be sweet and bitter, just very much so like Ophelia from the play Hamlet.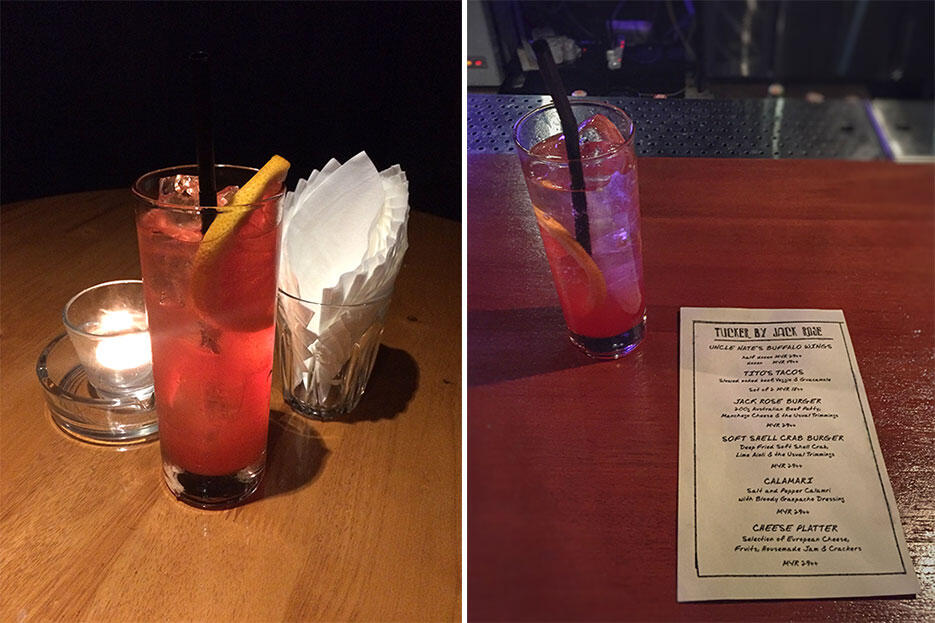 The second drink is called Jack Rose. Well, Jack Rose is a classic cocktail invented in 1910 and made popular in 1920s, notably appearing in Ernest Hemingway's The Sun Also Rises.
The 4th bar we hit up was Skullduggery. Now, Skullduggery is some sort of an institution for the legally-aged Millennials in KL. They throw the best parties (imagine Loft circa 2006), have the best DJs, you will always bump into familiar faces, have awesome drinks and a super-hot bartender! To be honest, by this time, we were all pretty buzzed!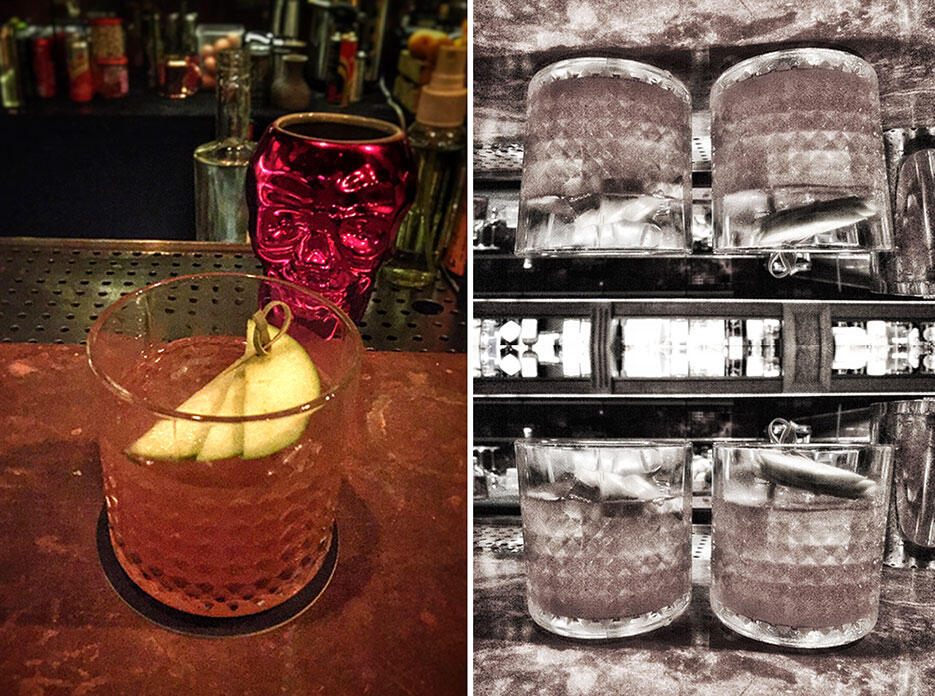 We were served an alcoholic punch from a punch bowl. It was mad! All I could remember was that the concoction for it was apple cider liquer, oleo-saccharum syrup, lemon skin syrup and cider. According to the hot bartender, it's an Autumn drink.

Oh, Joycie…
[Joyce: It was for the gram!]
The 5th and final bar was Jungle Bird in Bukit Damansara. You can probably imagine that by now, everyone was pretty 'happy' and we totally forgot to take pictures of the drinks, the name of the drinks and everything else. Joyce started doing her sexy dance for me and to return the favour, I twerked for her a la Nicki Minaj. You know, normal best-girlfriends behaviour!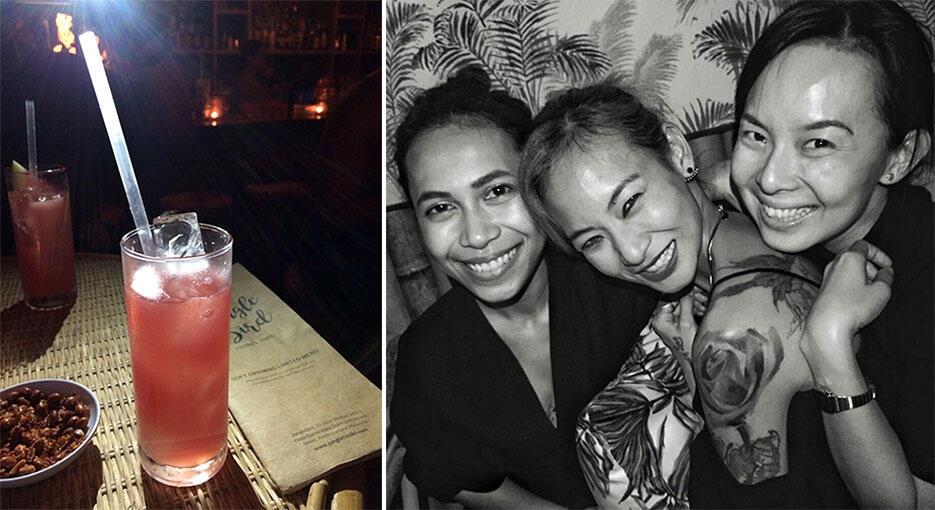 That was one of the best Thursday nights I had in awhile and I don't have many. Thank you Tron and The Bar Awards for the invitation and for having two absolutely kerrrrazy girls on your Cocktail Tour! See you at the after-party!
+ + + + + + + + + +
COLEY
8, Jalan Kemuja,
Bangsar, KL
Tel: 019 – 270 9179
FB: www.facebook.com/LongLiveColey
BIRCH
DC Mall,
Jalan Damanlela,
Damansara Heights, KL
Website: www.birch.com.my
FB: www.facebook.com/birchkl
JACK ROSE
B1, Wisma E & C,
Bukit Damansara, KL
Website: www.jackrosekl.com
FB: www.facebook.com/jackrosekl
SKULLDUGGERY
2M, Plaza Damansara,
Jalan Medan Setia 2,
Bukit Damansara, KL
FB: www.facebook.com/skullduggerykl
JUNGLEBIRD
15, Jalan Medan Damansara 1,
Bukit Damansara, KL
FB: www.facebook.com/junglebirdkl