Disclosure: My treatment was sponsored, but so are others i've been invited to and decided not to blog about.
+ + + +
I'm incredibly wary of facials and the products i put on my skin… i have sensitive skin and recently went for a facial that make me break out so badly that i had to cancel meetings and had trouble eating and speaking cos the skin on the lower half of my face was sore and cracking. Horrible. And painful!
Went to Facial First @ Tropicana City Mall for my virgin visit and was recommended to do the HydraGlacial facial before i go into the StemYouth one so that my skin is absolutely hydrated as to maximise on the StemYouth treatment.
Other facials i've gone to have either been very fancy but not extracted everything thoroughly, or relaxing and decent but again – i don't feel like all my dead skin cells have been removed or that my skin condition has improved drastically.
This is the first time in MANY YEARS that i've had a facial so satisfactory, i'm in awe and bliss about how much better my skin feels and looks. I'm quite a lazy person when it comes to facials btw, i prollie go for one every 6 months (if not a year) much to the horror of all facial spas when i fill in their questionnaire on my skincare regime. Because i go so rarely, the results after each treatment is obvious and i decide very easily on whether i'd return.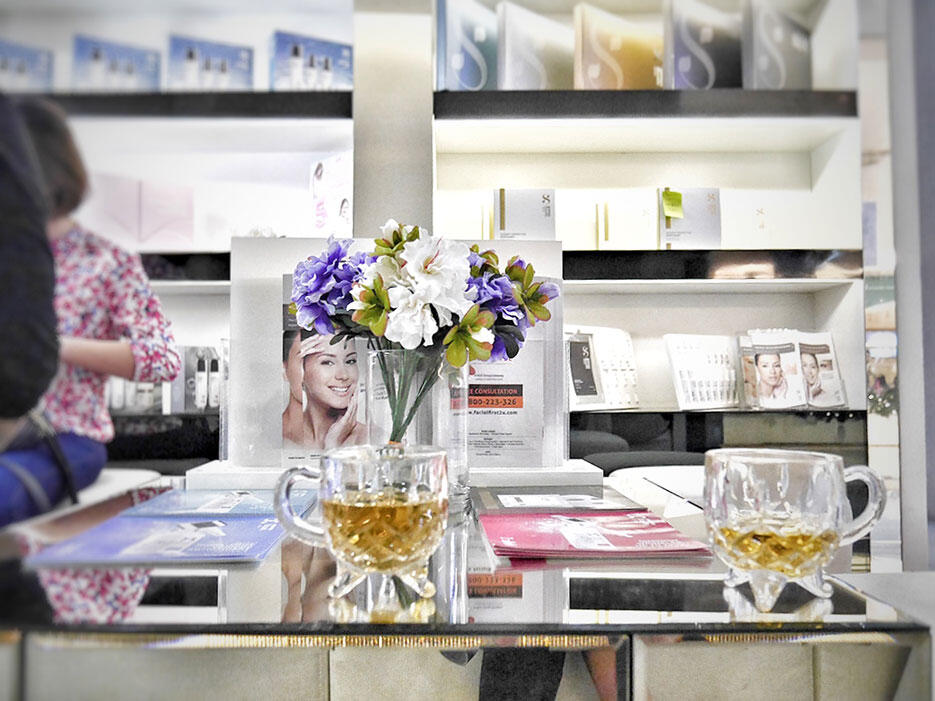 The facade of the outlet is average upon first glance, but once i stepped inside and chilled out in the sitting area with mirrored tables and hot tea in fancy glass cups, i eased into the atmosphere. What grabbed me most are the people there… or more specifically, my therapist Yuki.

Yuki, Bee Kong & i.
We stepped into a little room for her to do a skin analysis and she asked me how often i put on a facial mask at home.
I stared at the ceiling with a sheepish expression and she knew off the bat that i was terrible at it and scolded me rather comically, "Don't be lazyyyy!" I couldn't help bursting into laughter and liked her immediately.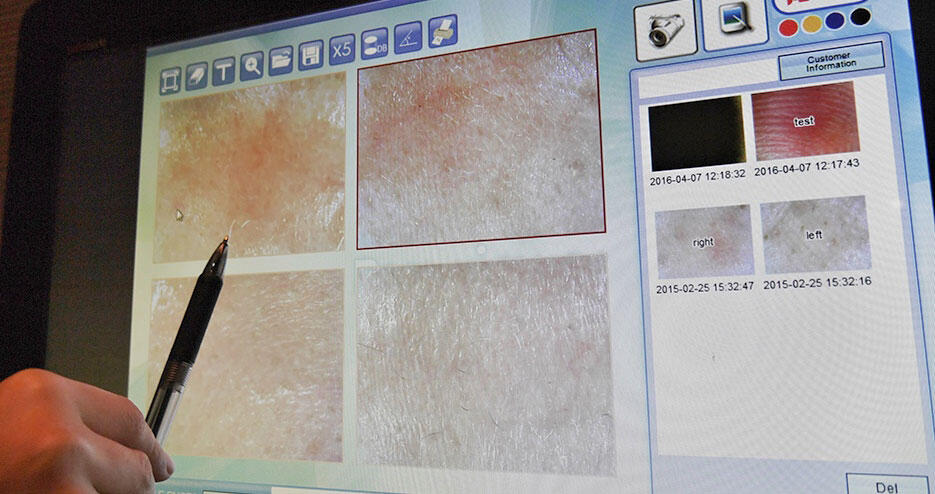 She told me how i must keep my skin well hydrated to avoid pigmentation. I didn't know this, now i'm getting paranoid about if i'm keeping my skin sufficiently hydrated!
According to the test, I have dehydrated and sensitive skin, and should wash my face with cold water when in the shower (which concerned me cos i love taking hot showers and therefore, washing my face with hot water!). They're totally against having beauticians wash one's face with hot water or use steamers cos "how are they going to close your pores after they've opened them?" Lesson: Keep pores closed!
Yuki's skin was perfection (flawless and dewy), and i felt that if i was gonna trust someone's opinion with my skin, they'd better have the wares to prove it!
I was advised to have the HydraGlacial™ Moisture Quench Facial Treatment (a Swiss Glacial Water-formulated facial treatment with hydro-rich actives that immerse the skin in deep hydration) a couple of times to adequately hydrate my skin, before graduating to the StemYouth treatment to reduce fine lines and wrinkles + lift and firm the skin. Only once my skin is properly hydrated can the necessary nutrients be carried via moisture to treat lifting / pigmentation issues.
Across all that, they'd also carry out the Eyenergy ATP Defense System (ATP) eye treatment as to take care of the skin surrounding my eyes with the promise that once the crow's feet and dark circles have lightened, I would see a significant difference in my complexion and skin tone. I know I have little smile wrinkles at my eyes in pictures now, but kinda just gave it up to ageing instead of urm really tackling it. The vain pot in me battles with the hippie who doesn't abhor the onsets of being human and growing older.
According to Bee Kong and Yuki (and i suspect the rest of the Facial First team), the No. 1 solution to all skin problems = DEEPLY HYDRATED SKIN. A sufficiently hydrated skin on the cellular level (not just the surface) is the answer to most skin problems.
The HydraGlacial™ Moisture Quench Facial Treatment seems to be revered at Facial First, and boasts one of its main active ingredients as Hyaluronic Acid (HA) – a compound our skin naturally has a high level of when we are born which keeps our skin plump and smooth (think baby skin)!
Hyaluronic Acid works by acting as a cushion and lubricant for our skin, and is a major component of our skin, helping tissue repair. As we age, our body produces lesser HA, causing our skin to degrade faster, resulting in signs of ageing: wrinkles, dark spots, pigmentation… all our skin woes come our 30s!
"As we age, skin moisture drops significantly, which makes the skin lose elasticity and expose the signs of aging. HA plays a critical role in slowing down skin aging due to its unique ability to hold 1,000ml of water per gram of HA. The more HA you have, the more moisture your skin is able to retain."
The 2-hour HydraGlacial™ facial treatment locks up to 1000 times skin moisture for 21 days, with its 3 main Unique Selling Points being to 1) Replenish SKIN MOISTURE; 2) Retain SKIN FIRMNESS; 3) Resist SKIN AGEING.
Due to my skin type, I was advised not to use cream-based products unless proven effective for my skin (another woe, cos i prefer creams, to gel creams i occasionally find sticky) and because of that had my cream-based product (in my HydraGlacial facial kit) swapped for a soothing essence.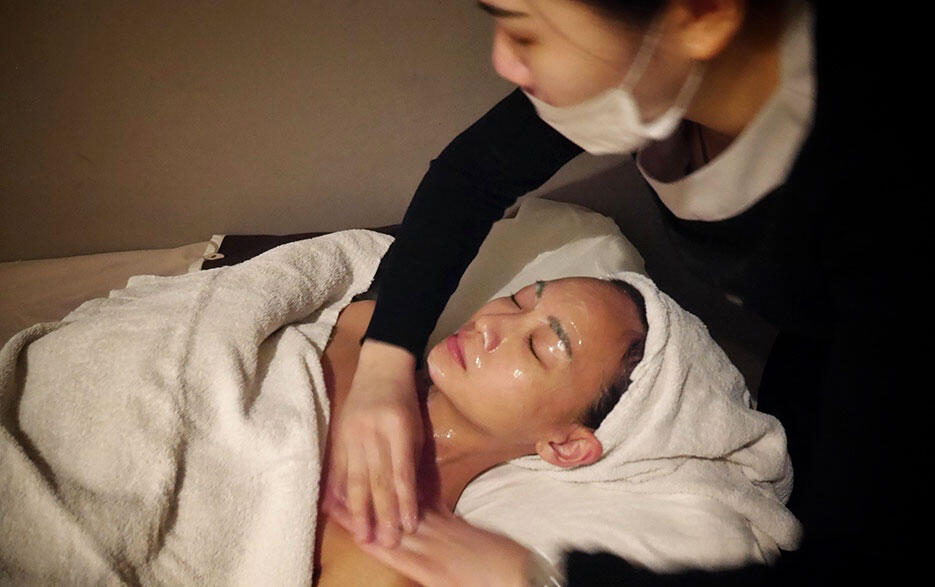 In the room, Yuki cleansed my face and applied an exfoliate to sit for 5 minutes before washing it off.
"This is to clean off the dead skin cells so it's easier for me to do extraction," she informed me.
Well ohkay, all i gotta do is lie here and let you do the work anyway.
The extraction was more painful than other places i've been to, but so damn thorough. When i go somewhere and they do a little bit here and there, i feel like they're not clearing my blackheads properly. She commented on how there were some which were there for a loooooong time and i thought about the 2 other facials i'd been to this year and how they didn't clear it. What were you guys doing!?
"Do you all do for men as well?" i asked.
"Yes, did you see all the guys outside?"
"Actually i didn't see them, but okay good! I'm gonna make my boyfriend come here."
"Ah usually girls can tahan the pain, but guys always complain."
I thought of Jun wincing when i tried to remove them sometimes and sniggered. Girls do have a higher tolerance of pain than men when it comes to beauty.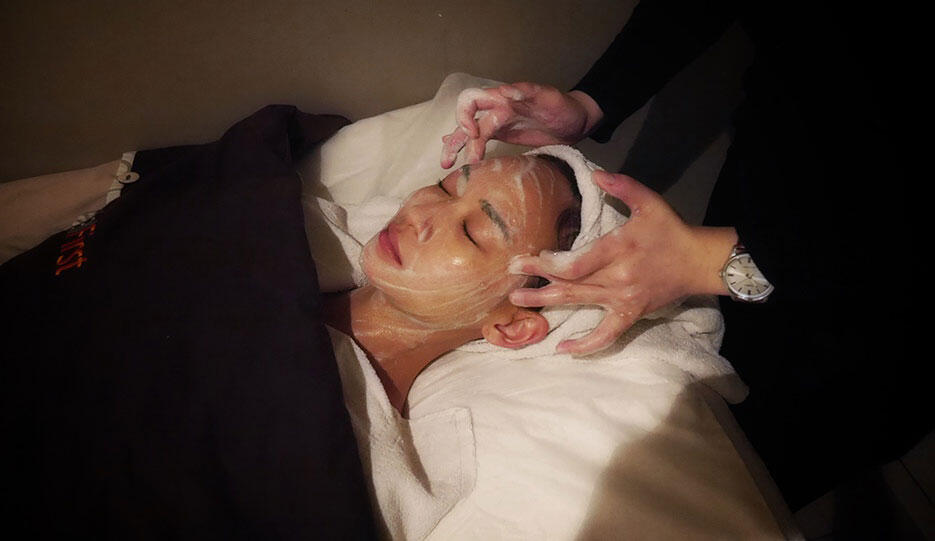 4 Treatment Steps & Key Ingredients in a HydraGlacial Facial Treatment:
Step 1: Exfoliate with Bee Wax
Bee Wax "attracts" water molecules. It contains Vitamin A which helps exfoliation and rejuvenates the skin.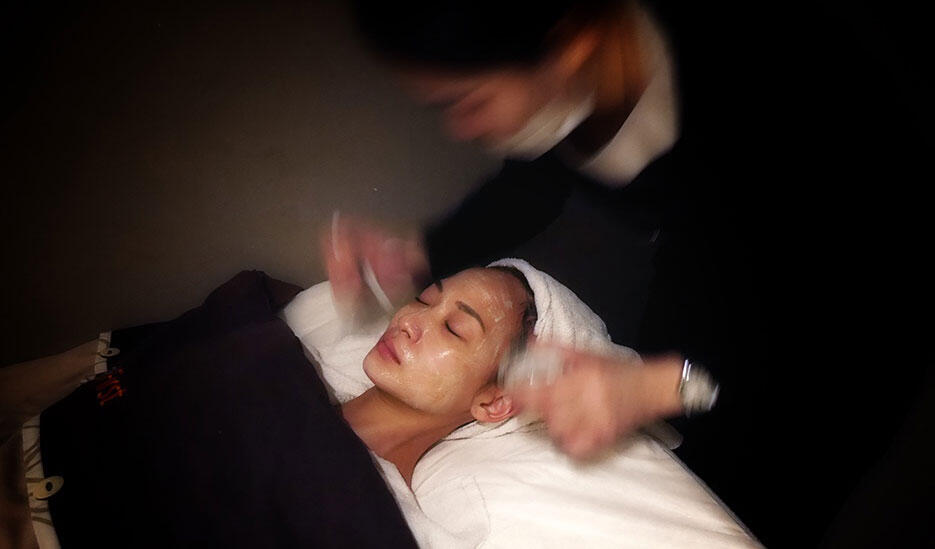 Step 2: Revitalise with Brown Seaweed & Chamomile Flower Extracts
Brown Seaweed contains high levels of vitamins A, C and E along with essential amino acids which helps to restore balance to skin's moisture levels.
Chamomile is known to calm and soothe red, dry and irritated skin. It also has antioxidants that help protect the skin from environmental stressors.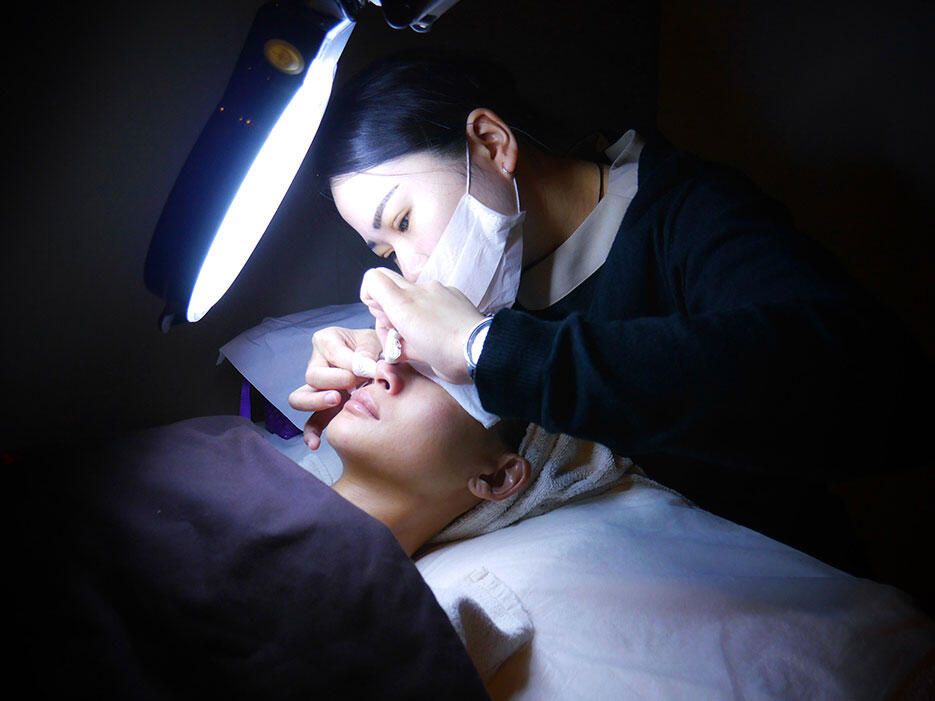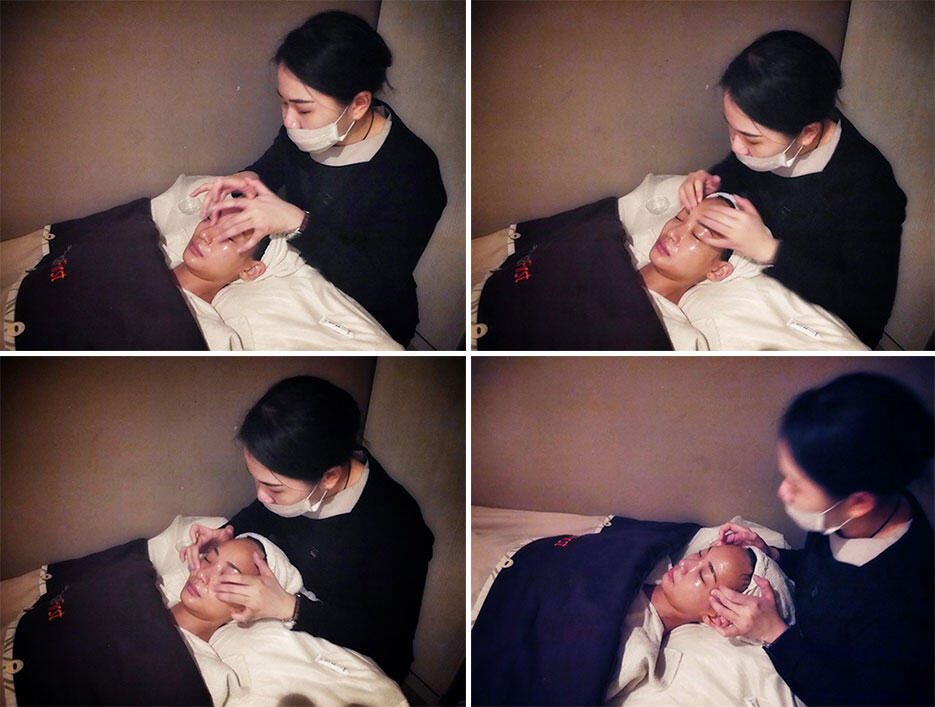 Step 3: Regenerate with Fermented Sweet Black Tea Extract
Polyphenols and tannins in black tea accelerate skin regeneration and protect us from premature aging and wrinkles.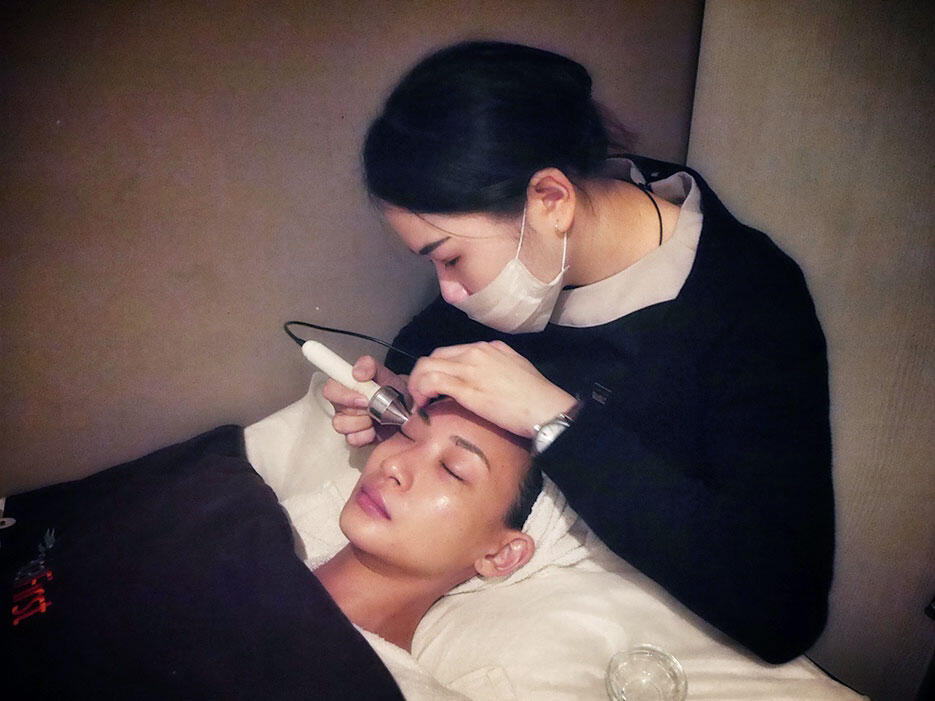 The treatment lauded by celebrities and media is performed using a vacuum-based skin abrasion tip which is loaded with various serums that are clinically formulated and prescribed according to one's needs, to improve the appearance of fine lines and wrinkles, congested pores, hyper-pigmentation and acne-prone skin.
The probe removes dead skin cells while bathing the healthy underlying skin with deep cleansing, exfoliating and antioxidant serums to work them deep into the skin to take effect.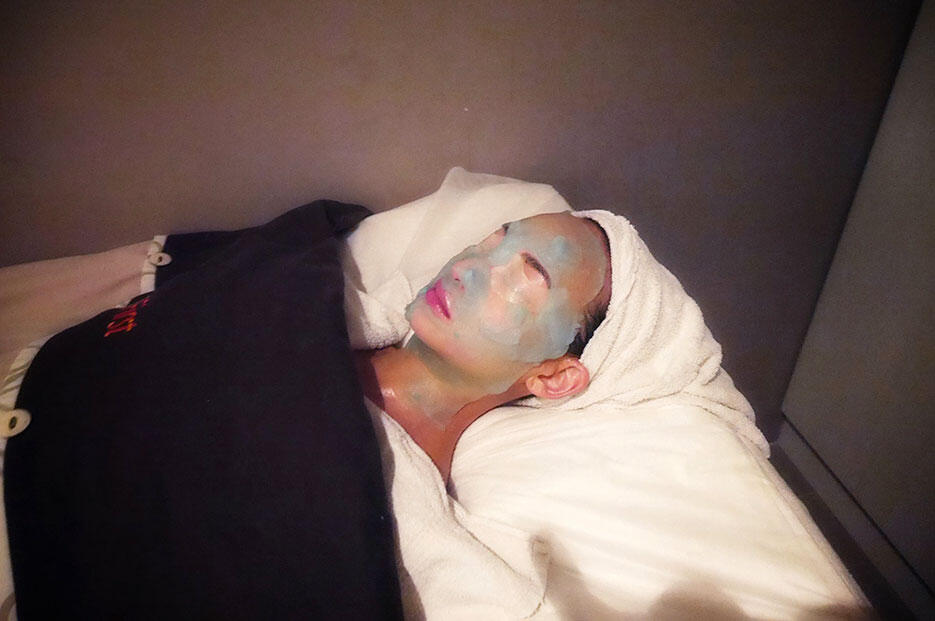 Step 4: Intense Hydration with Algae, Sea Buckthorn Seed Oil & Jojoba Seed Oil
Algae extract is rich in a compound called Alguronic Acid, known to increase cell regeneration and the synthesis of elastin that gives skin the firmness and elasticity.
Sea Buckthorn is a type of berry and Skin Super Food that contains 190 active nutrients including Vitamins A, B1, B2, C, D, E, K, carotenoids, flavonoids, amino acids, phenols, folic acid, and 20 different minerals. To top it off, it is the only plant known to contain Omega 3, 6, 9 and 7.
Jojoba oil is rich in iodine, which fights harmful bacteria growth that leads to breakouts. The antioxidants present in jojoba oil soothe fine lines, wrinkles and naturally slow down other signs of aging.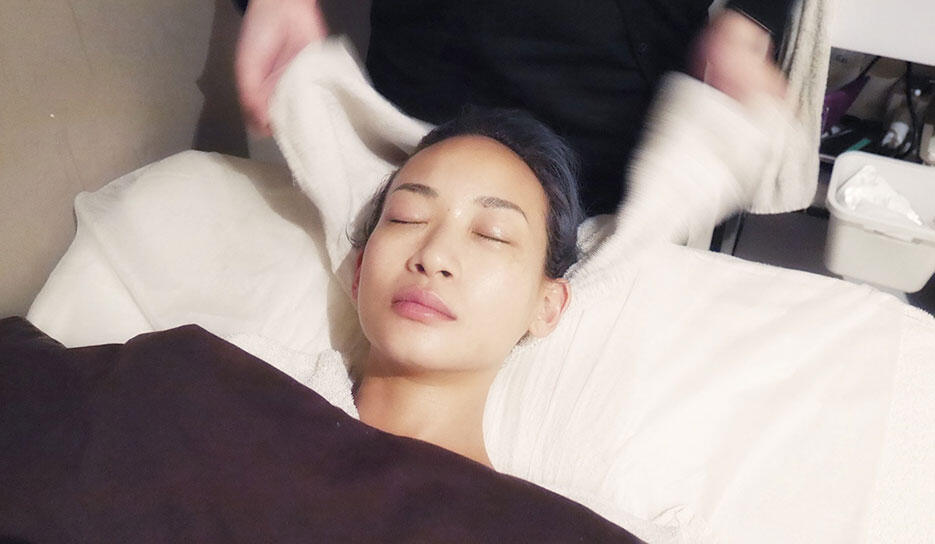 My before and after pic taken by Yuki under the white light, no editing.
I was fascinated by how my skin looks a little brighter after all that…
Exclusively for my Malaysian readers, *click here* to experience HydraGlacial™ Facial Treatment for RM48 (RP: RM340).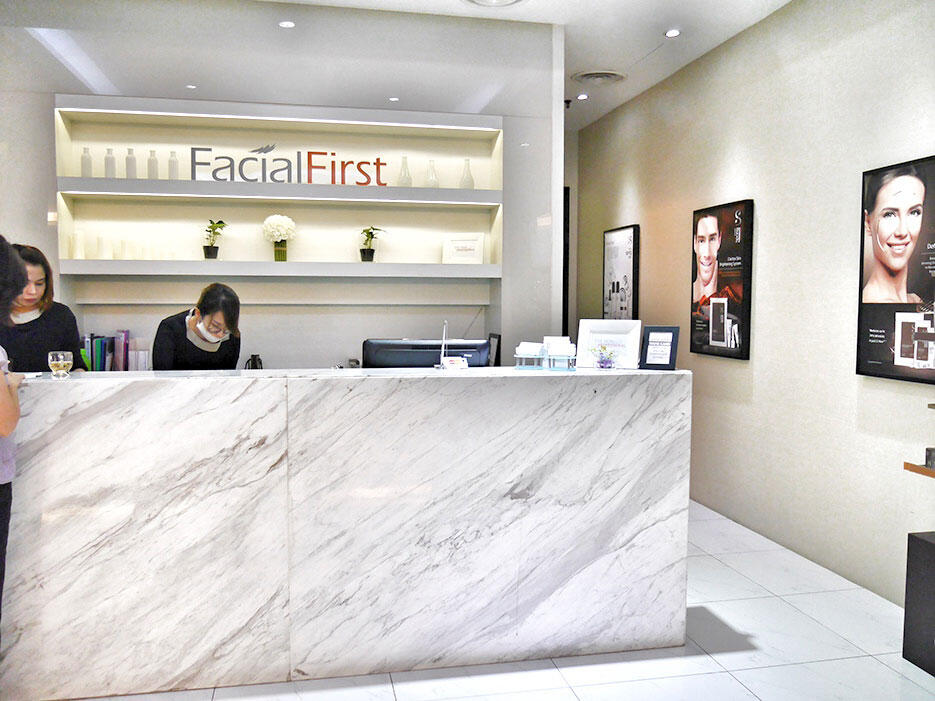 "About Facial First
Our philosophy is to give every skin the pampering and care it deserves. We are born with perfect skin but external aggressors and age rob us of our flawless complexion. Facial First constantly acquires proven skin care technology and nature-inspired ingredients to help our customers achieve firm, supple and glowing skin. At Facial First, we aim to give our customers the confidence and deserving glances of admiration."