Car breakdowns suck… and they almost always happen at the worst possible times.
As King/Faridah and I were on our way back to KL from our annual Penang #TerribleTwoTravels trip last year, we sulked and hummed ♪ back to life, back to reality ♪, when our car suddenly decided to stop working on the North-South Highway. In the middle of the mountains, trees and all! Also, we weren't even close to a helpline.
King: Penang doesn't want us to leave!!!
Me: I know! But… we can't even go back now…
We were stranded for quite some time before two friendly Abang Polis came to our rescue. We ended up having to wait a little close to two hours for a tow truck to come, and then sat in our poor car that was ON the tow truck with the windows down all the way back home. It took us over 8 hours to get back and it rained halfway. The worst part about it all was how difficult it was to get help! I almost resorted to calling up some friends to shamelessly ask if they could come help haha.
When Joyce was telling me about CARPUT, I just thought about how great it would've been if we had known of a service like that then! CARPUT is a free app that connects drivers with trusted roadside professionals who will come and get you and your car safely back on the road as efficiently as they can.
Started by the guys behind The Battery Shop, CARPUT offers services such as on-site battery replacement, flat tyre replacement, tow-truck services and will even rush to your aid if you've run out of petrol. The #KinkyBlueFairyTeam got in touch with Mark Chew to find out more about CARPUT and what they do.

KBF: Tell me briefly about yourself and your partner(s).
MC: Eugene Tan founded The Battery Shop in November 2014 after returning from Melbourne. Seeked out a strong core team in Ezra Tay (Head of Operations), Mark Chew (Head of Product) and Mike Kee (Head of Business Development) to bring automotive assistance in Malaysia to greater heights.
KBF: What is CARPUT / TBS?
MC: The Battery Shop is a service that delivers and installs car batteries within the hour. Ever been stuck behind the driver's wheel unable to start your car? We want to help drivers get back on the road, with great products, customer service and reliability. What initially started out as a website spun another idea. What if we could use technology and the same excellent customer service we stand for to other parts of automotive assist?
Thus, the CARPUT app came along – an extension of The Battery Shop. We envisioned an easier, quicker, safer and more transparent way to call for help when your car breaks down. Instead of limiting ourselves to just car battery problems and jump-starts, we are expanding along the lines of spare tyre replacements, towing and petrol delivery when you run out of petrol (shame on you!), making sure that you're well taken care in a time of distress. If Grab/Uber is the app for people who don't drive, then CARPUT is the app for people who drive.
KBF: What are the charges like for your services?
MC: We offer competitive pricing for our batteries, but they vary between car makes & models (delivery and installation is free). Jumpstarts are RM50, Petrol delivery RM50 (10litres), spare tyre replacements RM50. Towing varies and is based on towing distance.
Also – we will inspect your battery, we won't change it if we don't need to! Sometimes a jumpstart is all that's required.
KBF: What are the coverage areas of your services?
We currently service Klang Valley and we're aiming to optimise CARPUT & The Battery Shop in KL & PJ before heading out to be nationwide. We expect to be up and running in the key cities of Malaysia (Penang, Johor!) in the near future.
KBF: Are the technicians that you send over to save the day all trained in-house?
MC: Our professionals, are the frontliners and pride and joy of the company. We have successfully instilled the customer-first culture and they carry these values throughout the job. We are known for our friendliness, transparency and reliability throughout the service and we're committed to getting you back on the road.
Towing services are outsourced to towing companies that we know and trust. They undergo strict vetting by us… We do our due diligence to ensure that our customers are not exposed to unfair industry practices.
KBF: What are the available avenues to get access to your services?
MC: When we started The Battery Shop, we created a new culture of getting help online through our website (www.thebatteryshop.my). Majority of our customers still get help through our hotline (1800-1800-10), but we are seeing a momentum shift towards mobile. Hence, we created CARPUT to provide an easy way to get help with just a few taps! We're committed to increasing transparency and reliability that a phone call wouldn't provide.
KBF: What type/brand of car batteries do you carry in The Battery Shop?
MC: We primarily carry ATLAS and GP batteries.
KBF: What happens if a customer calls for help and you do not have a compatible car battery to replace at hand?
MC: We stick true to our purpose, which is to get drivers back on the road. In the event we don't have access to the car battery size, we can still offer a jump-start for a very reasonable fee (RM50). Sometimes, the customer's alternator may also be faulty, and that's when CARPUT comes in and we can arrange a tow for them. We can even recommend them to trusted workshops nearby!
KBF: Why should drivers call your team instead of their usual mechanics/workshops? What makes you different from them?
MC: We're making roadside assistance easy. We're fast, reliable and safe.
Our mobile app provides the customer with features:
Transparent pricing for tow trucks – We provide you with an estimate based on the distance of your tow.

Track our professional / tow truck that's on his way to you, similar to Uber/Grab. You have their direct contact number as well, so no more relying on call centres.

Know where your car is being towed to, you're able to track the tow truck as he's on the way to YOUR preferred workshop or service centre.

We match your car battery automatically so you know what you're getting and how much you're spending.  

Our focus is the customer, always, we go above and beyond in ensuring they get the best experience possible in their moment of duress.
KBF: We noticed that The Battery Shop is running a battery recycling initiative. Could you tell us more about that?

MC: Yup, if you give us your old batteries, we'll get them recycled for you! We never throw away used batteries.
KBF: What are your plans for CARPUTs expansion in 2016/2017?

MC: We intend to expand into a nationwide service, even regional South East Asia!
+ + + + + + + +
Here's how the app looks: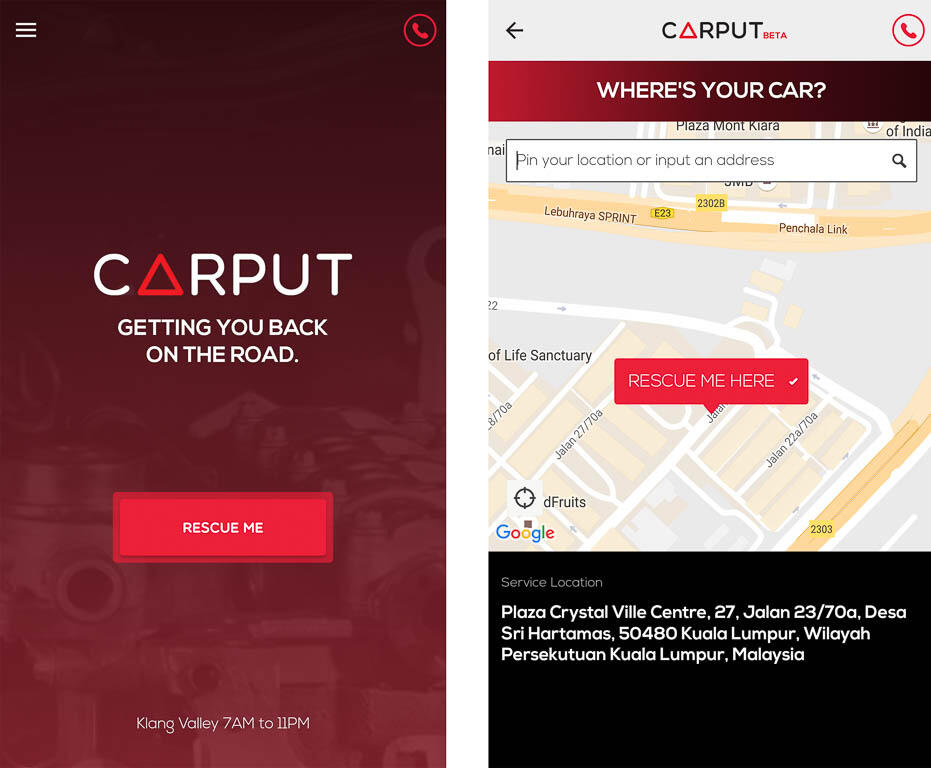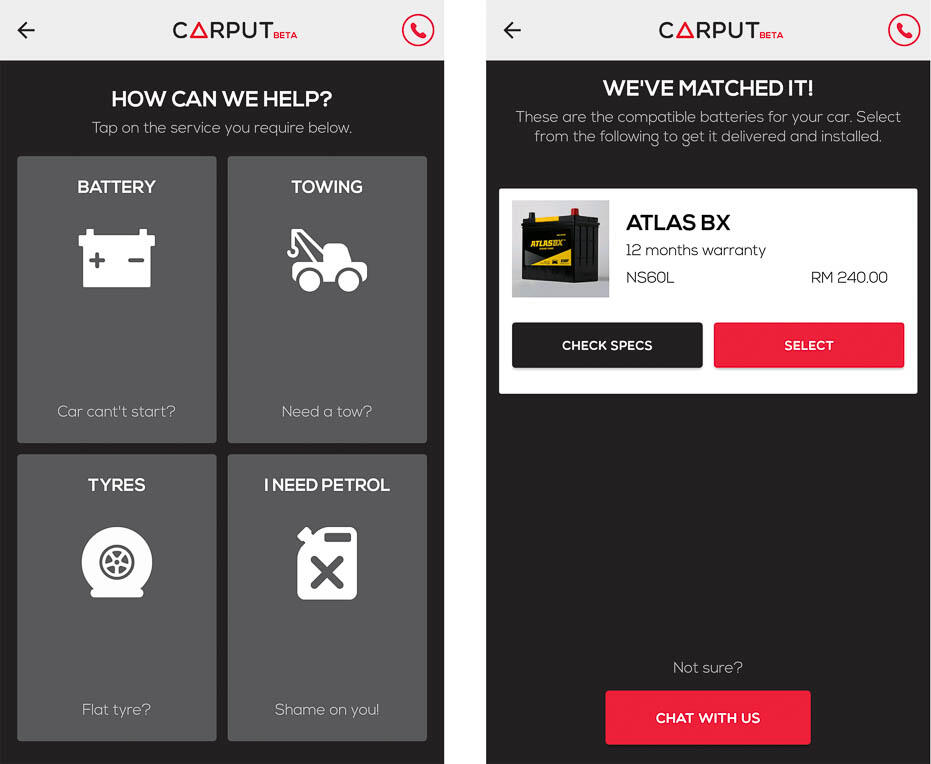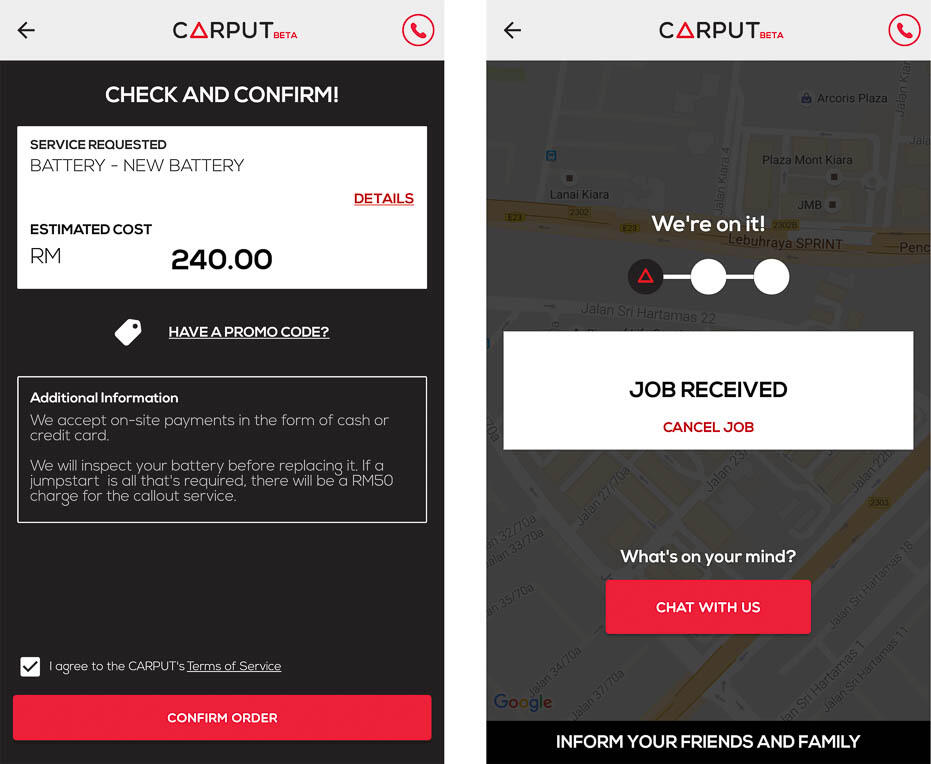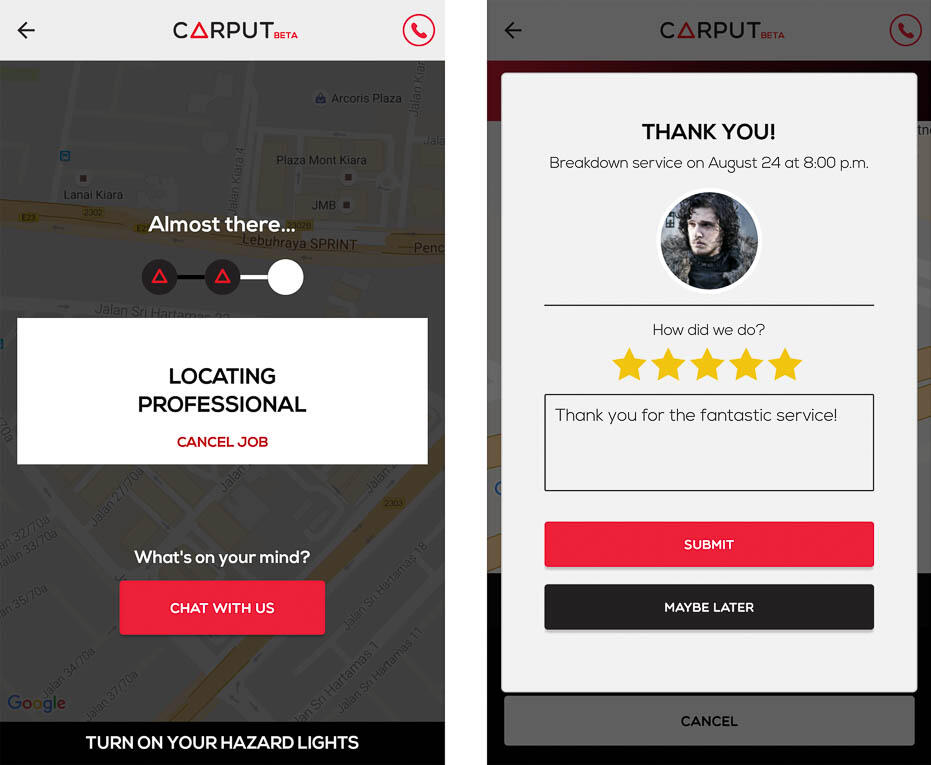 CARPUT is available for download on iOS, Android and Google Play.
+ + + + + + +
Website: carput.my
Facebook: facebook.com/carputapp