This post has NOTHING but food pictures, so if you're fasting for Ramadan, don't click to view more unless you're a sucker for self-torture.
Anyway there's a lot of tak-halalness.
+ + + + + + +
Dating a chef has its perks (FO SUREEEE). I love not having to move my body out of the apartment while having yummylicious dishes laid out in front of me. And Jun (usually) insists on doing the dishes after, despite my fighting him over it.
Me: Let me do the dishes
Him: No, i want to do it
Me: No la, you cooked already, let ME do it
Him: Cooking is like conducting an orchestra and doing the dishes is like ending it properly…
Me: … … Well, *throws hands up in air* by all means, don't let me ruin the end of your symphony… *walks away to netflix*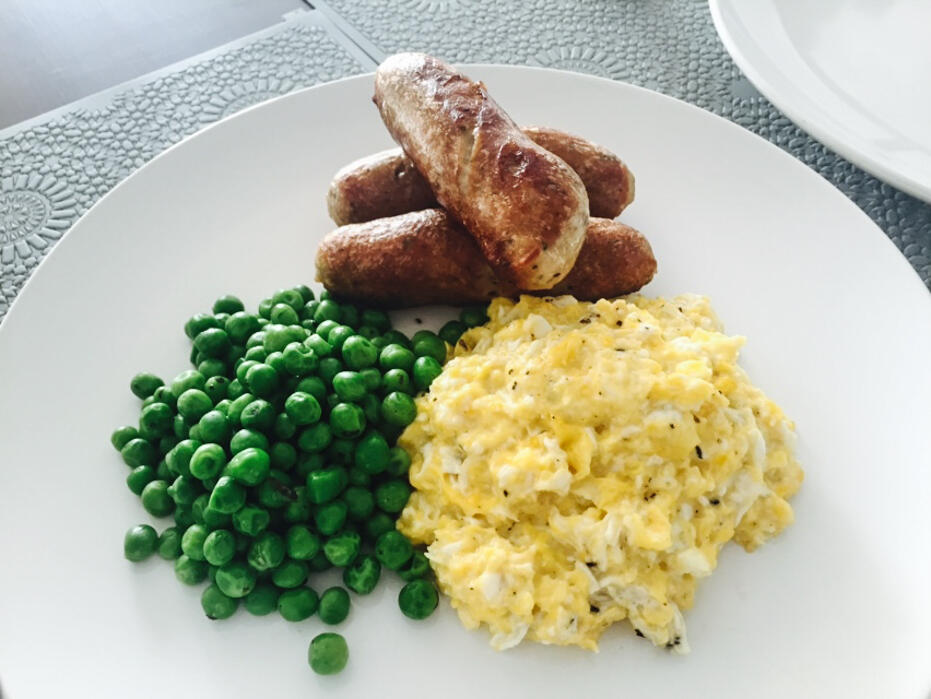 One weekend morning he cooked scrambled eggs with peas and english sausages i bought from Village Grocer.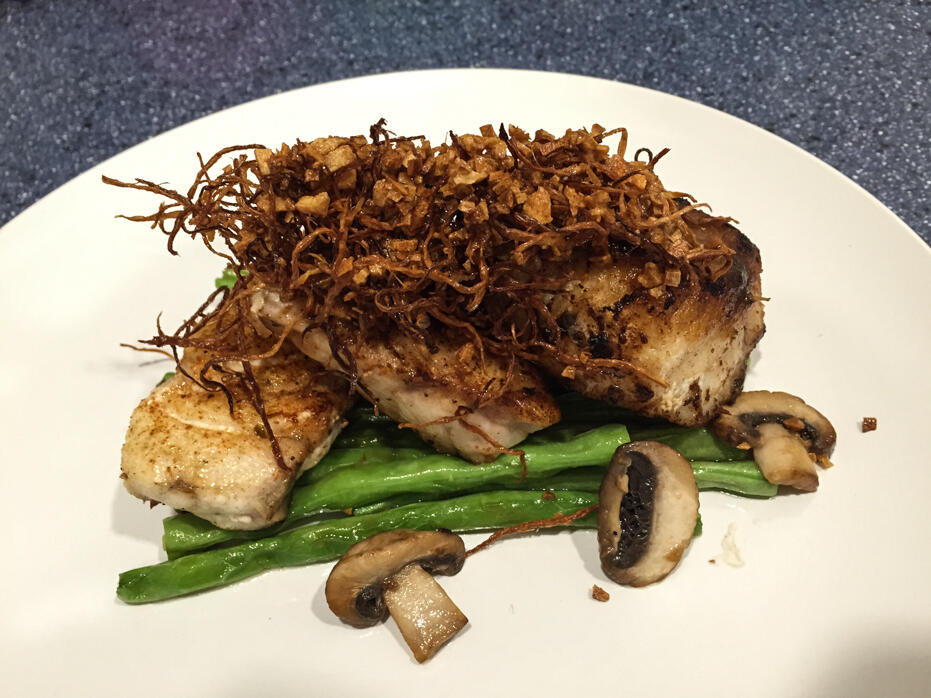 Dinner one weeknight – pan-fried fish (ikan kurau) with crispy ginger + garlic and mushrooms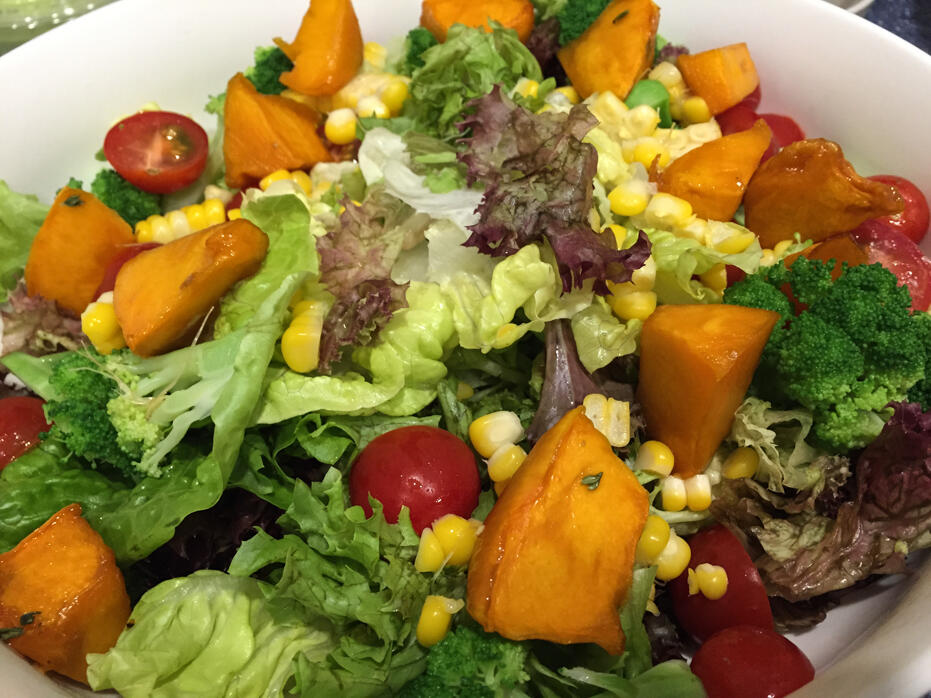 Most weeknights we eat healthy and he throws together a salad with weekly dressings he makes. This is a far cry from the boring salads i'd make myself with organic coconut oil and lemon juice. I haven't touched my coconut oil since we started going out :p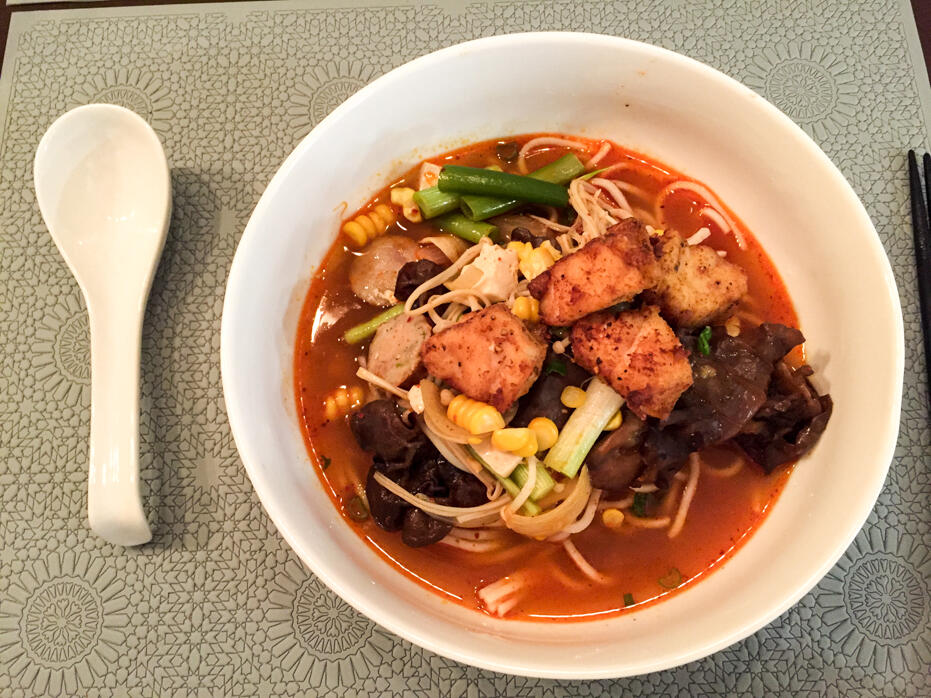 He experimented some seafood soup noodle dish with fungus and kimchi. (Edit: He said it's his version of Korean fish head noodle soup)

I'd promised Andrew since Christmas that i'd cook him my slow-roast lamb for his birthday in April, so i did.
Let him invite his gang over to mine.
Jun did the 'sides' which everyone was looking forward  to (way more than mine -_-) and it was also his way of saying thanks to the team for helping him with my birthday.

Jun made karage (Japanese fried chicken) which was really crispy, deviled eggs, vongole and salad.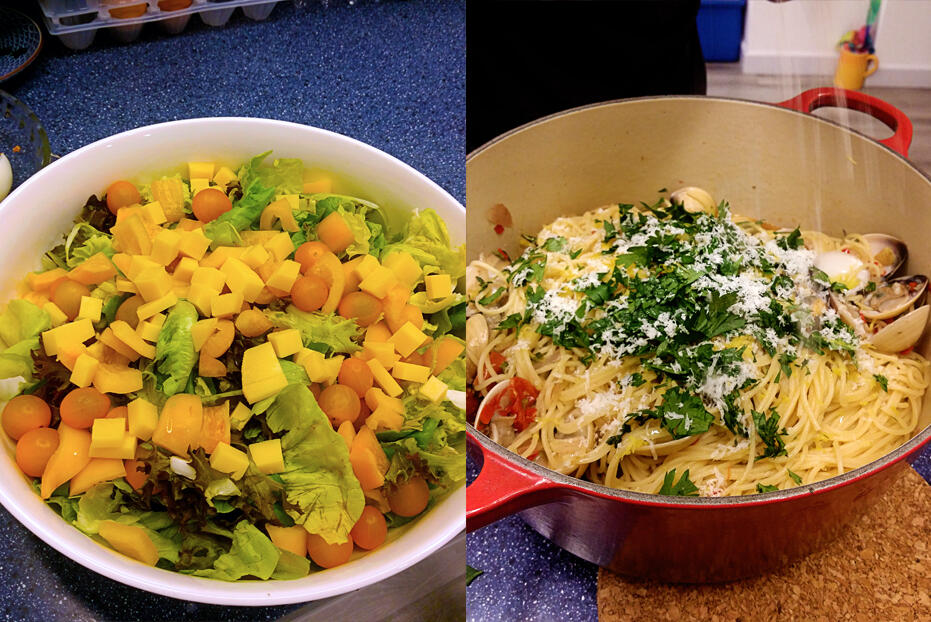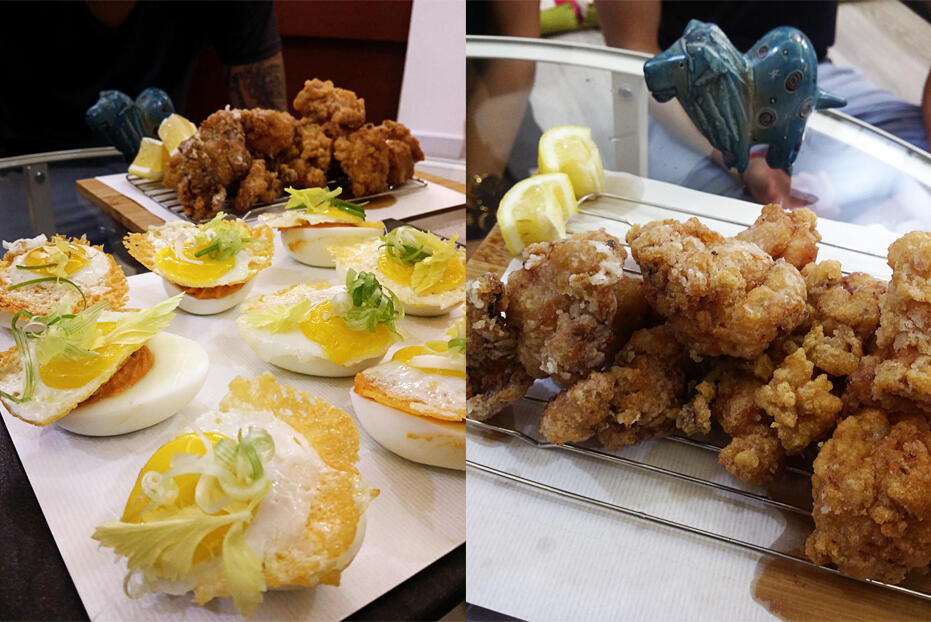 + + + + +
One weekend; Jun did a champion marathon of partying till late on Friday night, moving furniture on Saturday morning, cooking brunch for his cousin Adrian, then dinner for my Aunt Gerry and Uncle M at night. I offered a lot of moral support and set the table. And gave him a massage on Sunday. ?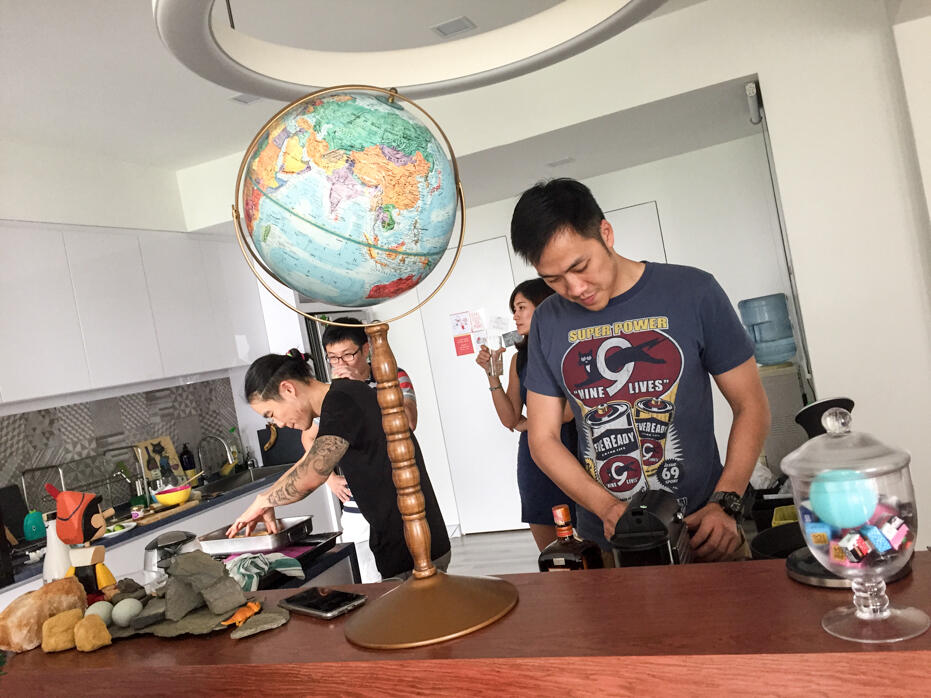 That's Adrian in the Super Power shirt- he's Jun's cousin who enormously helped plan our Tanzania trip (which i still haven't blogged about cos it's so overwhelming…), took real good care of us there, went for holiday with us in Zanzibar, and shipped back furniture and paintings we bought from Africa in his container during his move back to Malaysia. When we were all having a brunch in Dar es Salaam, everyone was raving over this bacon + avocado on toast as their fave. Jun said he could make it better and promised to have them over when we were all back in KL.
If you're wondering about that globe, i bought it from ilovesnackfood 4 years ago. All the stones on the right are some of my collection from Krabi and Kilimanjaro #HoarderMuch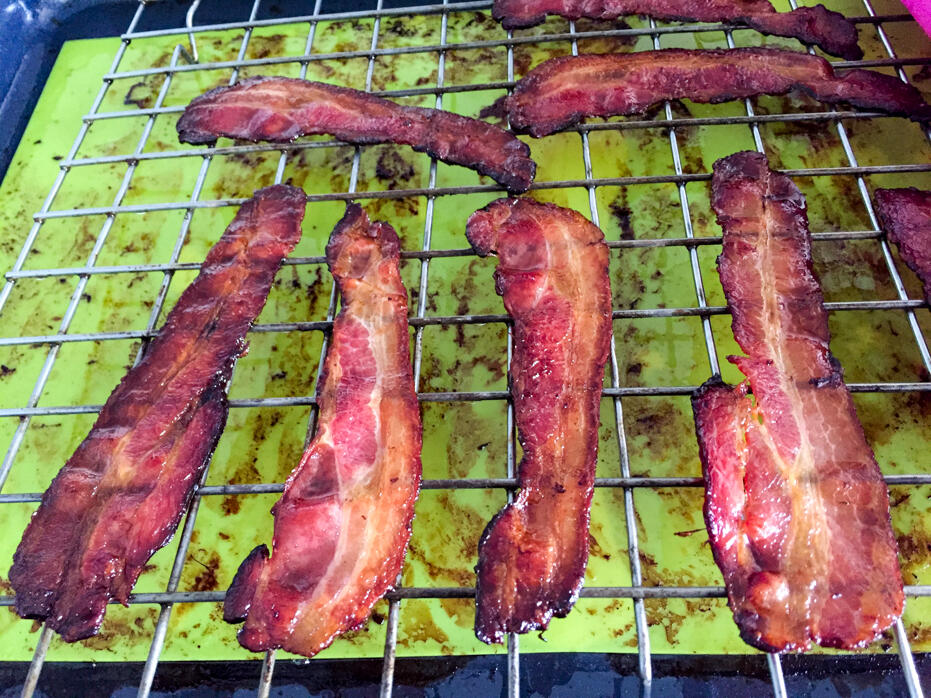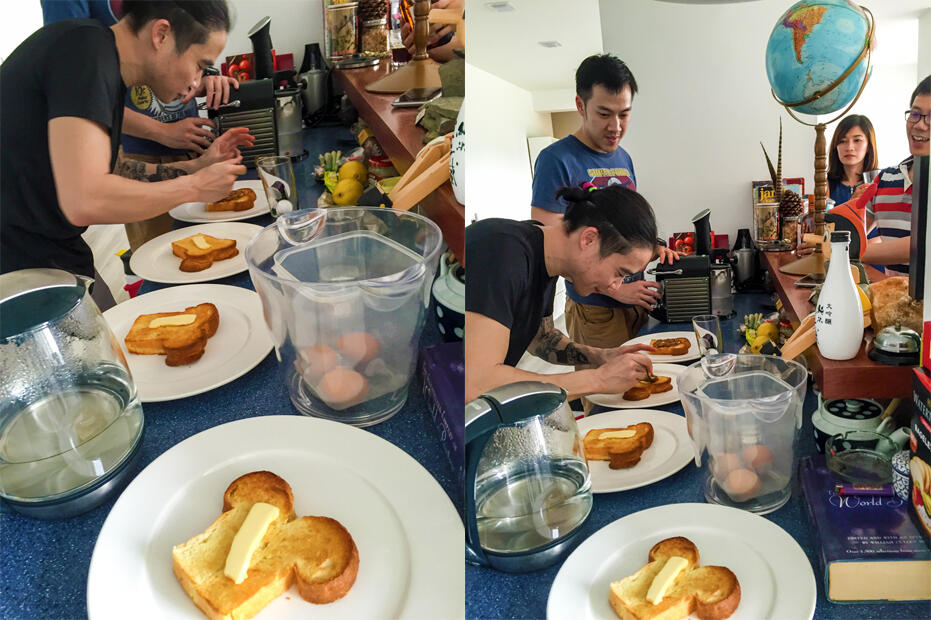 Jun was a baker before a chef, so he made his own brioche (WHICH I LOVE)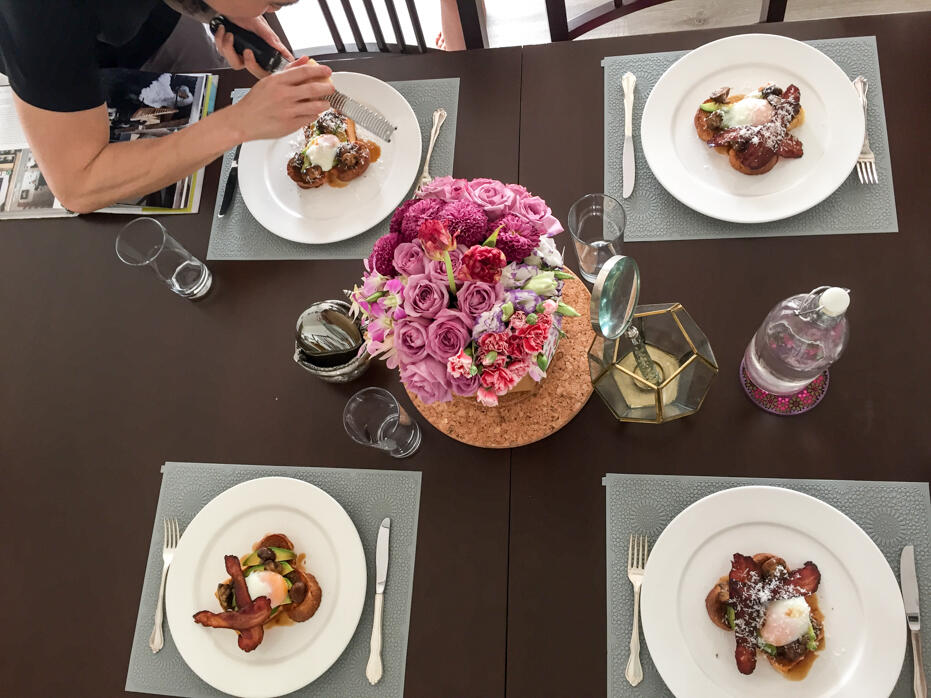 Flowers on my dining table are from BloomThis, and hexagon glass deco from Peter Hoe Beyond in Chinatown KL (they're having a clearance sale now). My magnifying glass is from India Jane in London, but you can get some from Peter's shop too.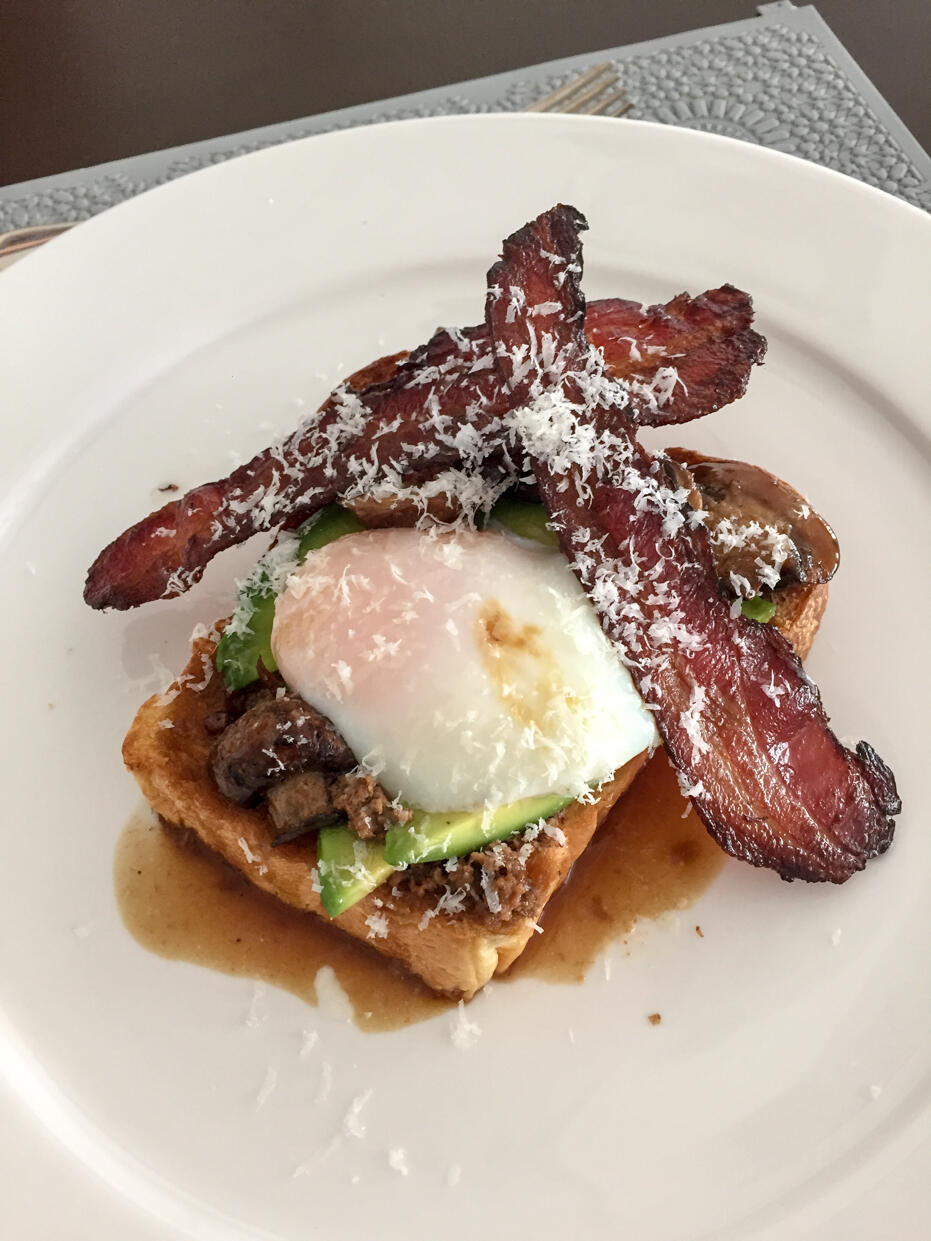 This was the best breakfast i've had in my place… the rest left saying thanks for inviting,
and i said, "Thanks for coming! If you didn't come, i wouldn't get a brunch like this too!"
Jun: *shock* Don't act as if i don't cook you this!
Me: The last time you cooked me a breakfast like this was last year, in your place, remember? … when we first started dating.
Everyone: Oooooo
Poor Jun ?
One week when Jason and Neena were in KL, Jun wanted to test out a chicken adobo recipe after his trip to the Philippines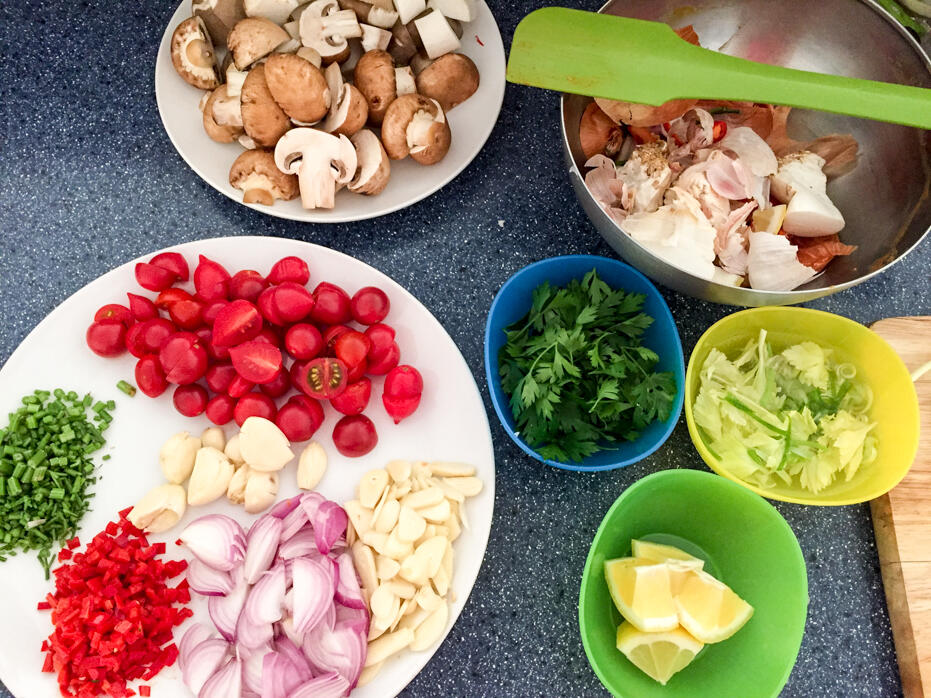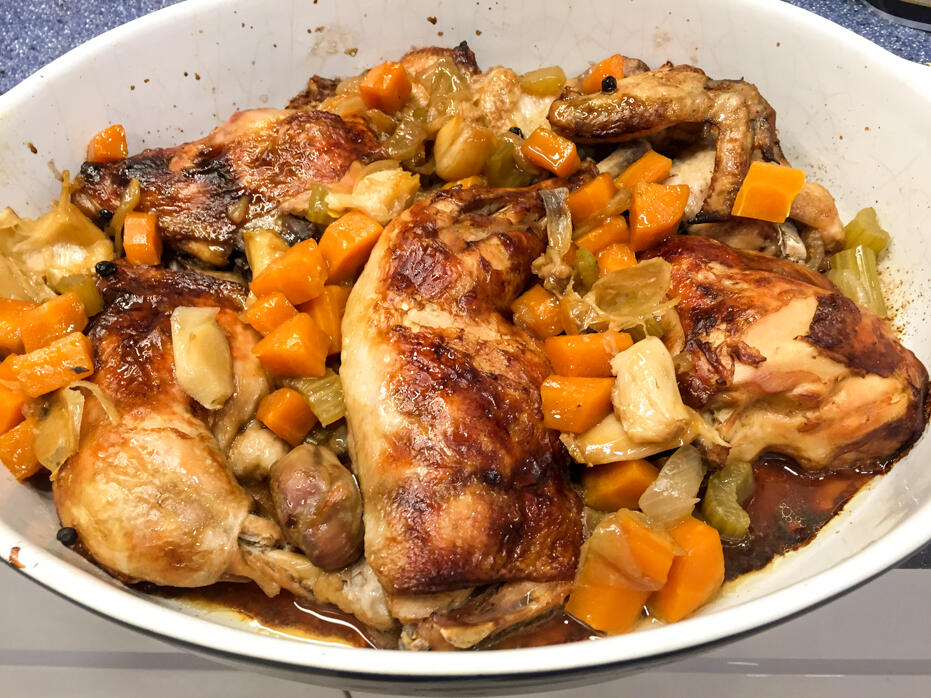 Chicken adobo, and kimchi fried rice, and fried beehoon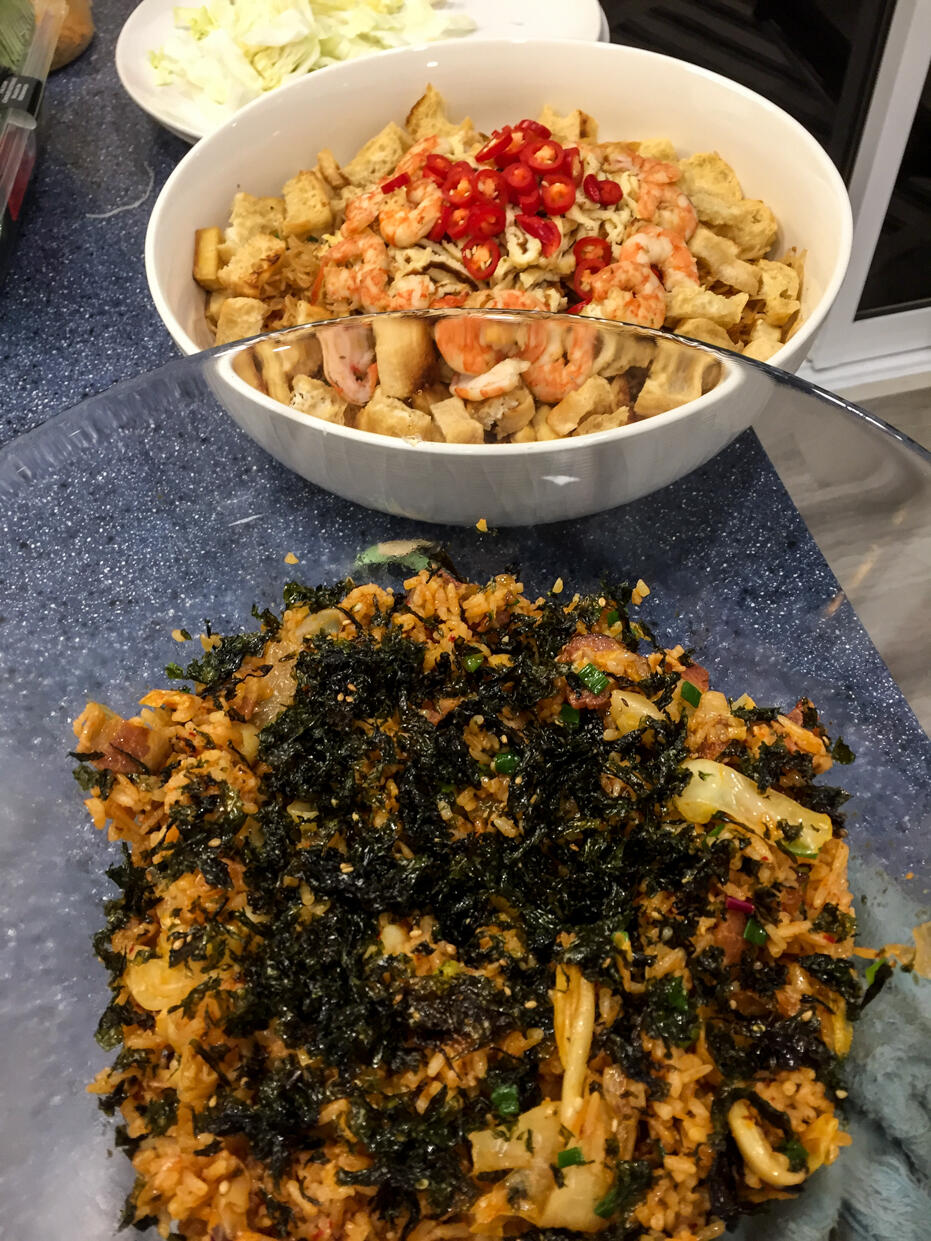 Most nights he's very semangat to make supper, my fave that he whips up is maggi goreng… there's nothing like his version i loveeee it.
No picture here tho.
He likes throwing together things that are gonna go bad in the fridge as not to waste food >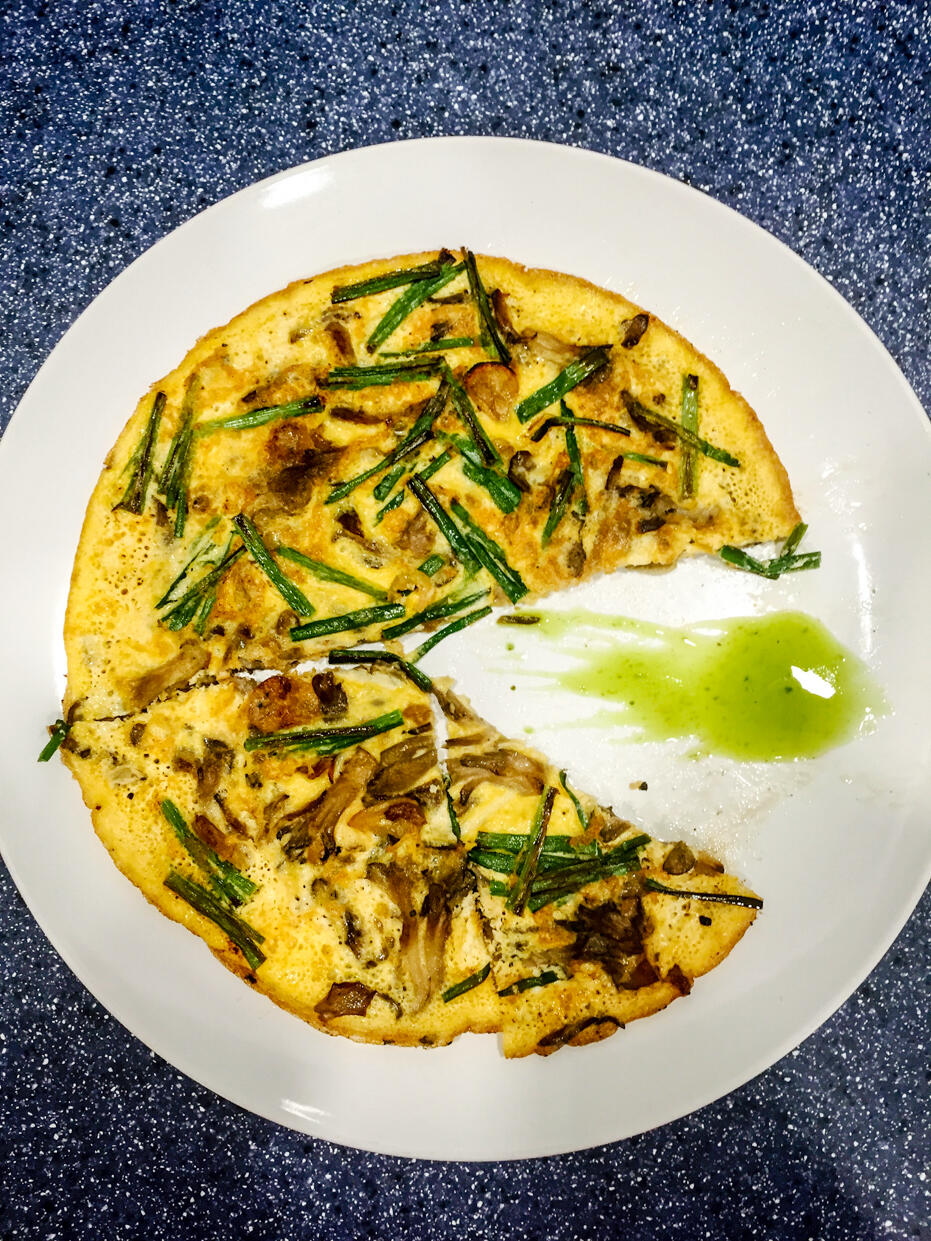 Pacman omellete
+ + + + + + + + +
Besides eating Jun's cooking, i eat out a lot too… as do most urbanites in KL.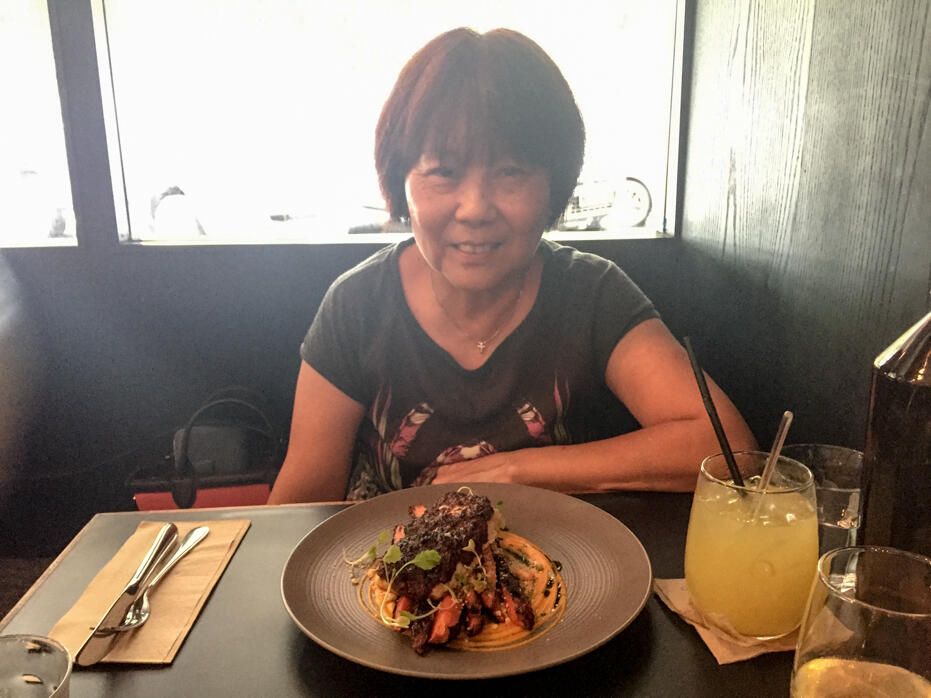 I took my mum for lunch at Sitka on her birthday, she loved it. I keep telling friends to take their mums there especially if they're more prone to Asian food (because Sitka is not, but done so wonderfully that it's a fail-proof stepping stone to trying new cuisine).
On another day, my Ah Ee was down from Penang and we joined my parents and her for dinner at Pho Viet in Atria. They serve pork rib pho!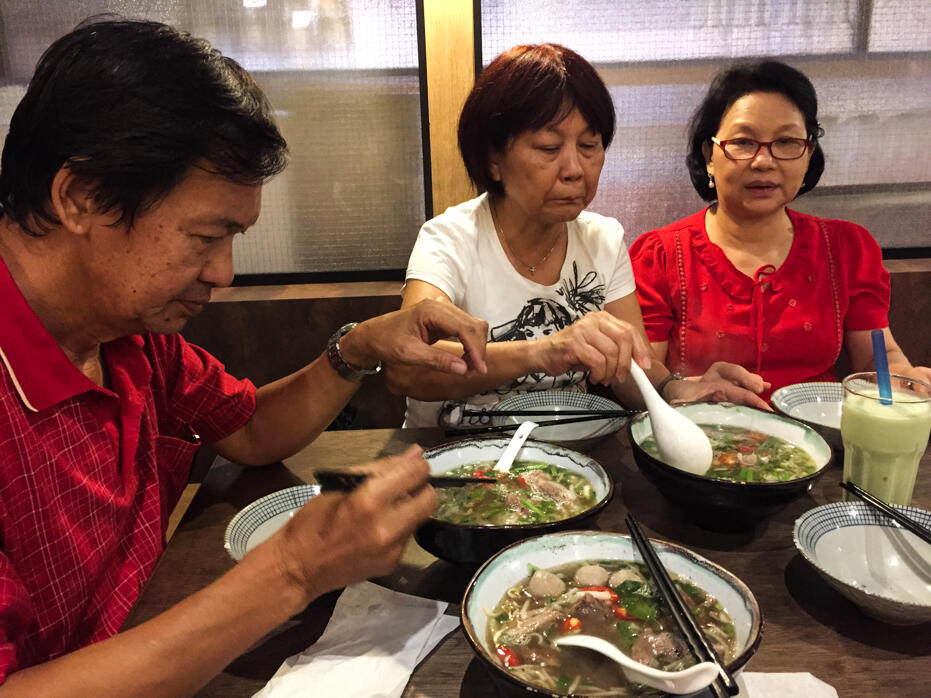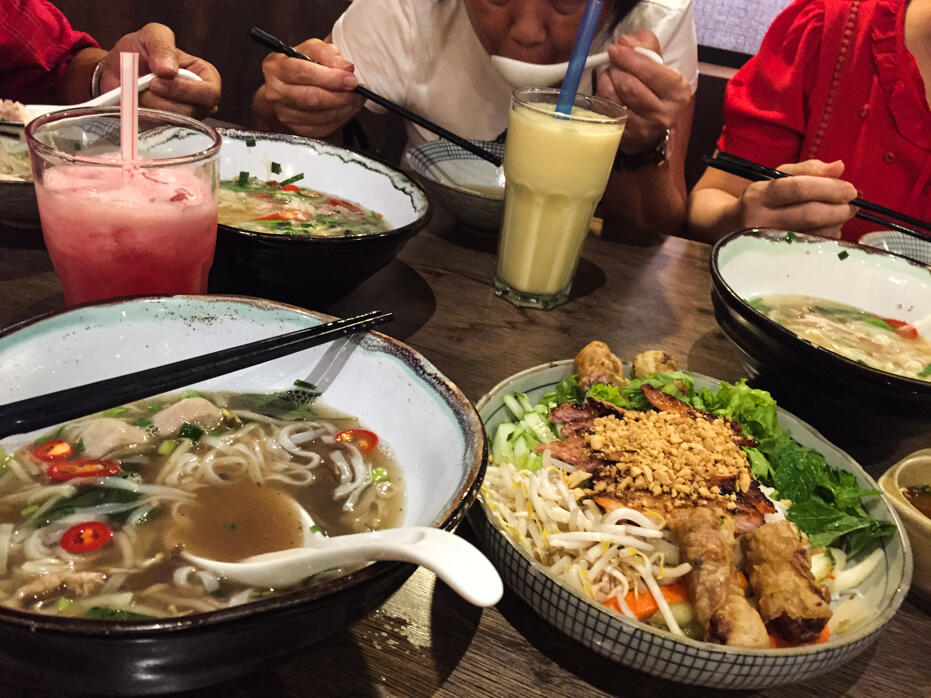 One of the guys served us our drinks and there was a bit of confusion on whether it was the right one
Waiter: Yes, this is coffee!
Dad: I thought you said it's not?
Waiter: No it is coffee. Magic trick!
We laughed.
10 mins later, he brought us a dish we didn't order
My dad: Wrong magic trick!
And the waiter was jovial enough to laugh along.
So rare to find enthusiastic and genuinely happy staff! I truly feel it makes the food taste better XD
+ + + + + +
After the Urban Decay summer pool party, Chelsia and i hit up Limablas in Changkat for some hearty nyonya food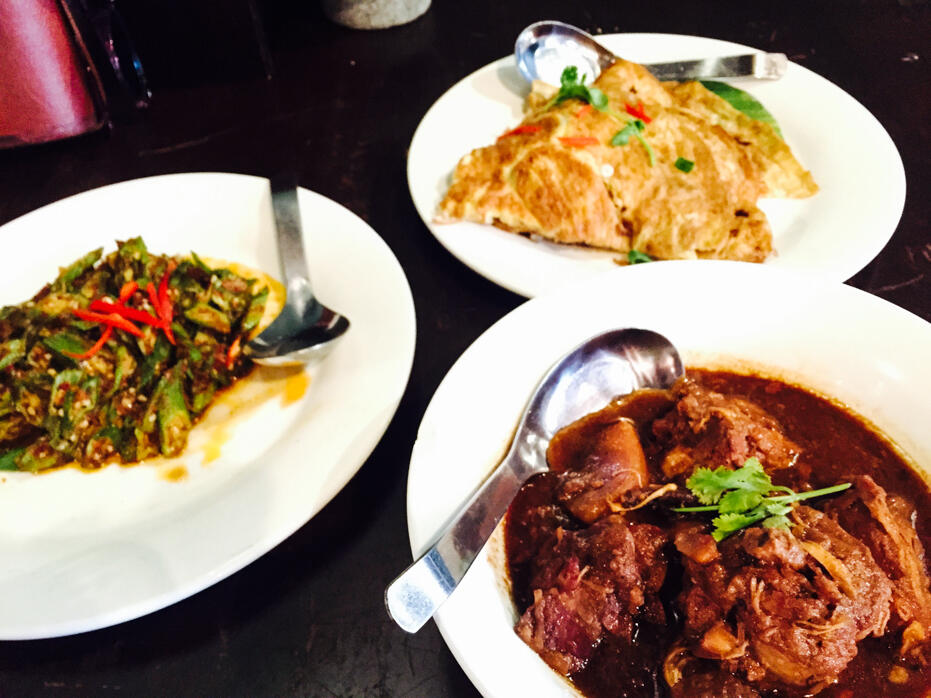 I always order the SAME thing – ayam ponteh, fried egg and a vege
+ + + + + + +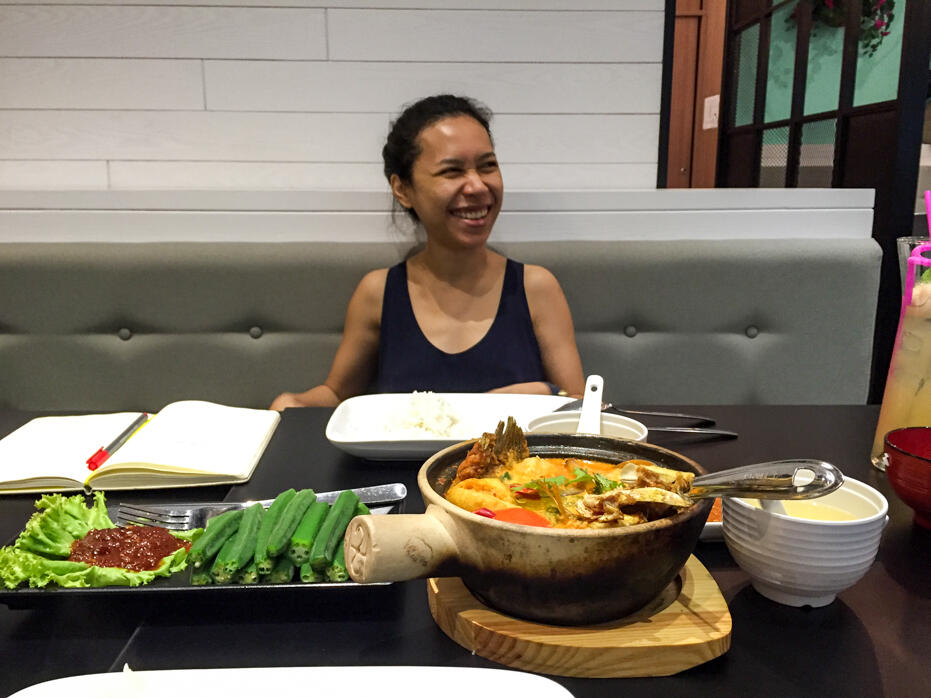 Baby and i went to try Baba Nyonya @ Atria. It's a cute place featuring mint green and pink walls, and waitstaff who wear aprons from Nala Designs #BonusPoints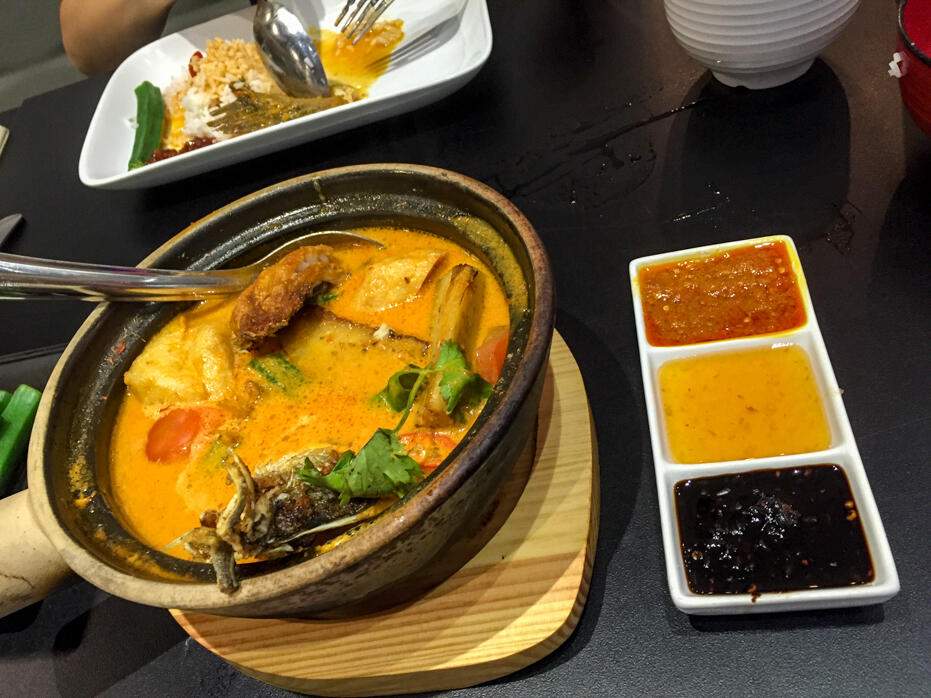 + + + + + + +
There's NOTHING like simple home-cooked food by Mummy. Nothing. Even Jun attests to home-cooked food by our parents ANY DAY. They follow no recipe and it's all touch and feel and 'agak' (estimate).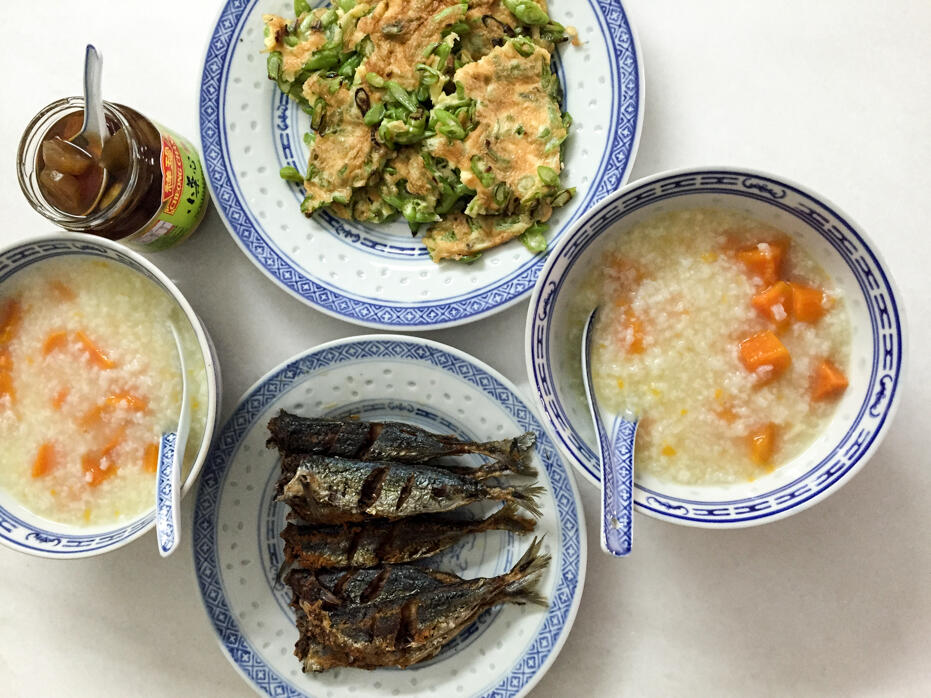 My dad was outstation one weekend so i went to layan my mum for a meal at home, where she cooked pumpkin porridge, fried ikan kembong and fried egg with long beans. So simple but so satisfying.
+ + + + +
I eat at Goodness Greens a fair bit but i like to go when it's off-peak hour. This may seem unlike me but i get a little kancheong when people catch me on a day i anticipate working and dining alone… and it freaks me out. I'm starting to accept i'm actually quite an introvert, and more often than not there's someone i don't know saying hi to me there.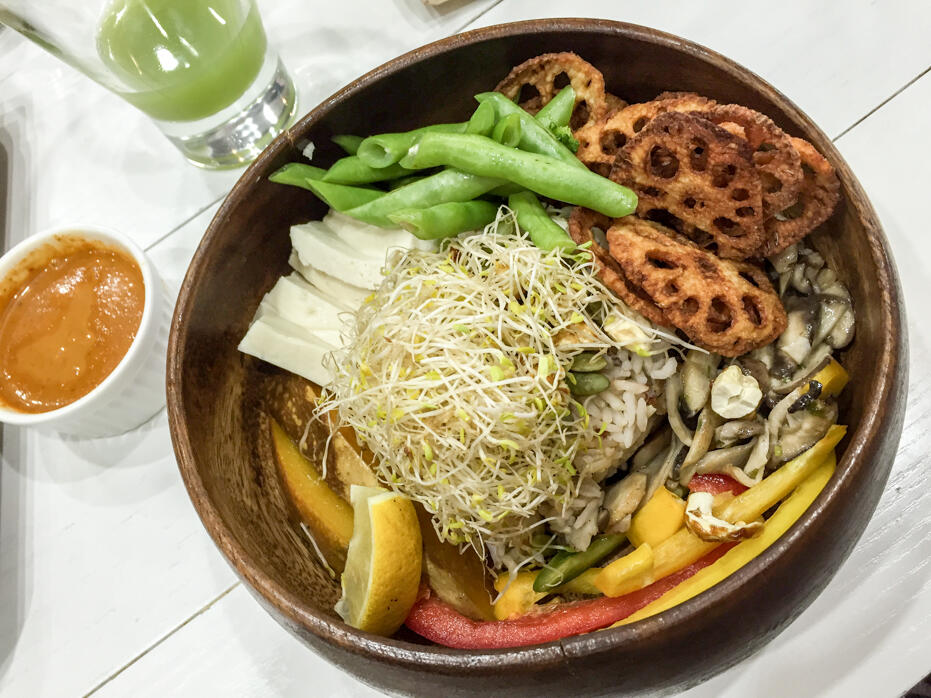 The KBF team LOVE the Buddha Bowl so i tried it one day – great collision of textures coated in curry dressing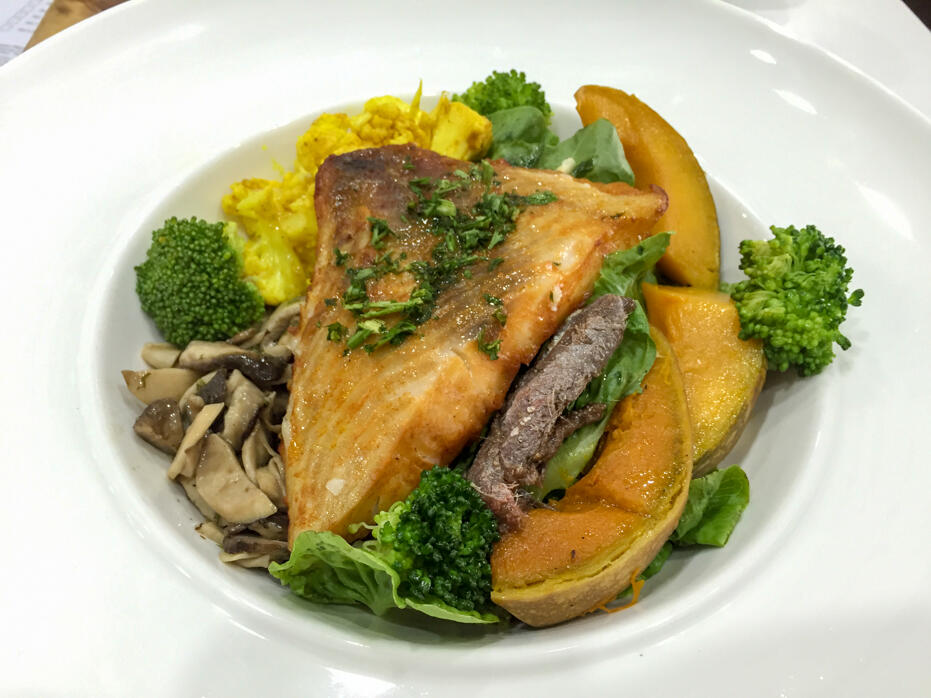 They've added an option of fish and chicken to the make-your-own-salad menu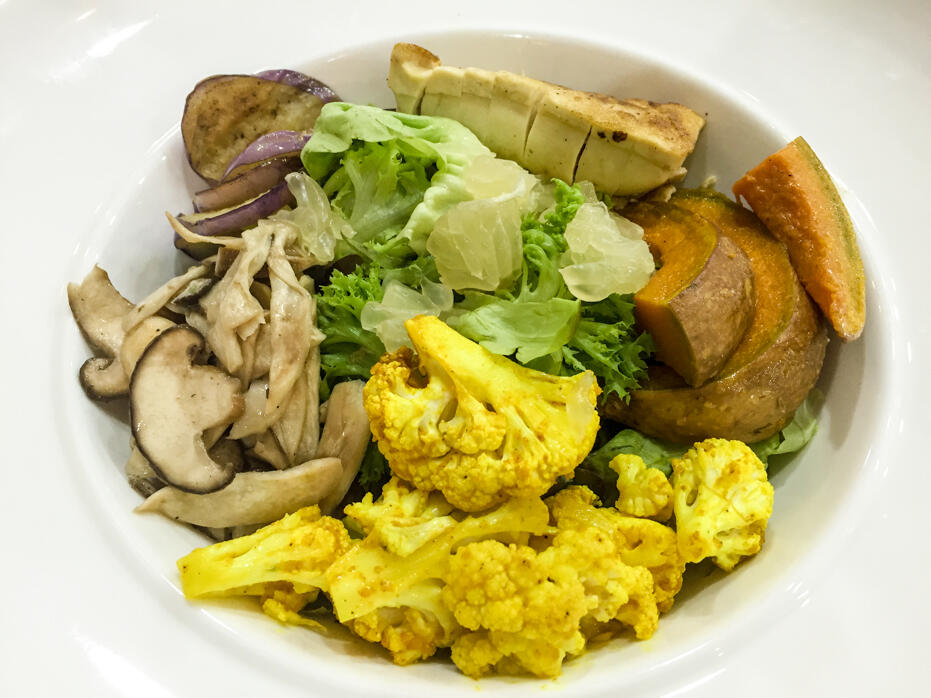 I'm such a creature of habit, i keep on ordering the SAME bunch of ingredients for my salad – baked cauliflower, pumpkin, mushrooms, anchovies, jalapenos (for a kick at times), broccoli.
+ + + + + + + + +
One night, Clem and i caught up over dinner at a place i will not name… cos the food was so disappointing!
We both felt like a steak, and our portions came like this >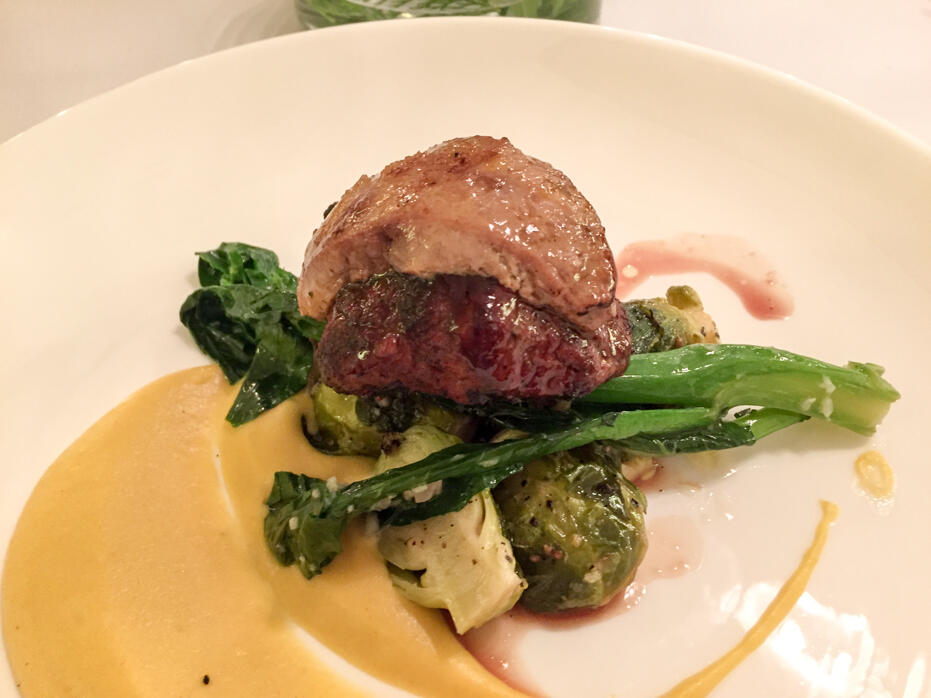 Mine.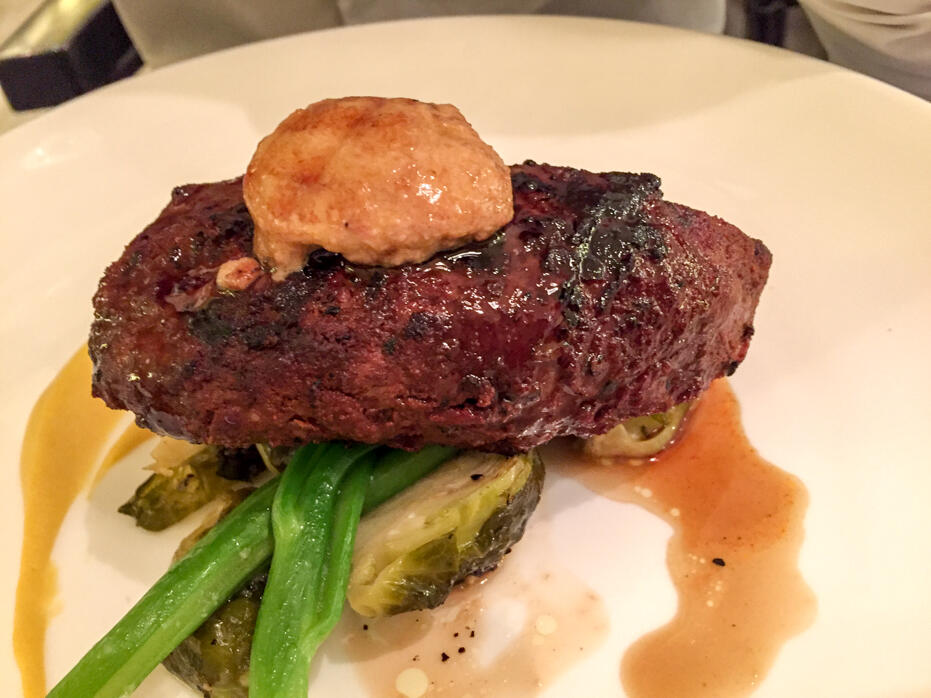 His.
-_-
Steak was dry, so not worth the money, and reminded me why i already told myself years ago that if i want steak – it's best i buy great meat and sear it at home.
+ + + + + + +
Clem invited me + Jun, Dawn, Maybelline + Adam for raclette and hams at his place one night. When we broke up he got custody of the raclette machine but forgot, thought i had it for months, and finally found it in his own cupboard. ?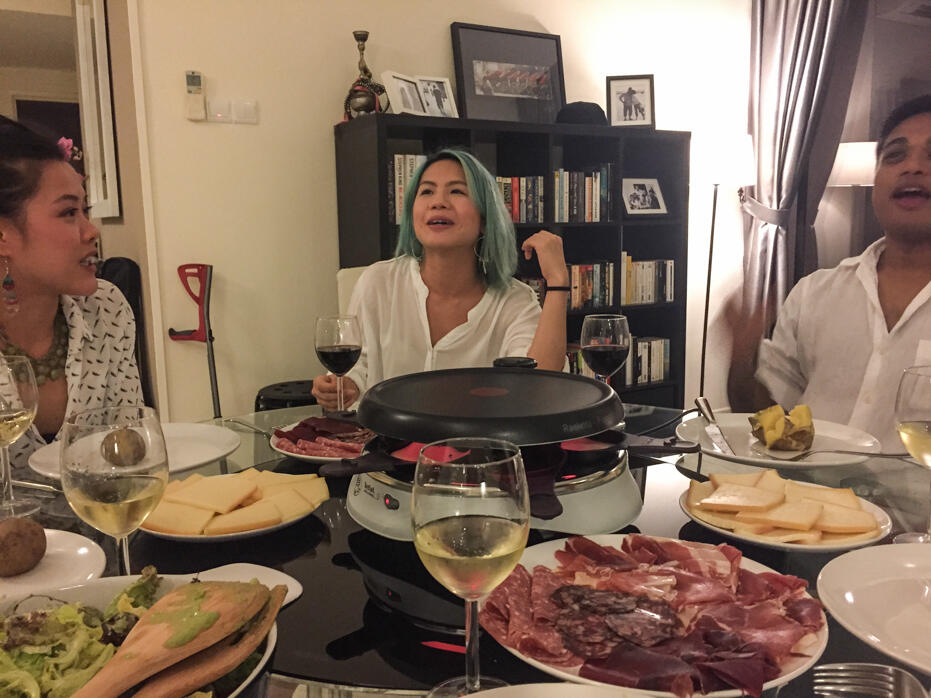 + + + + + + +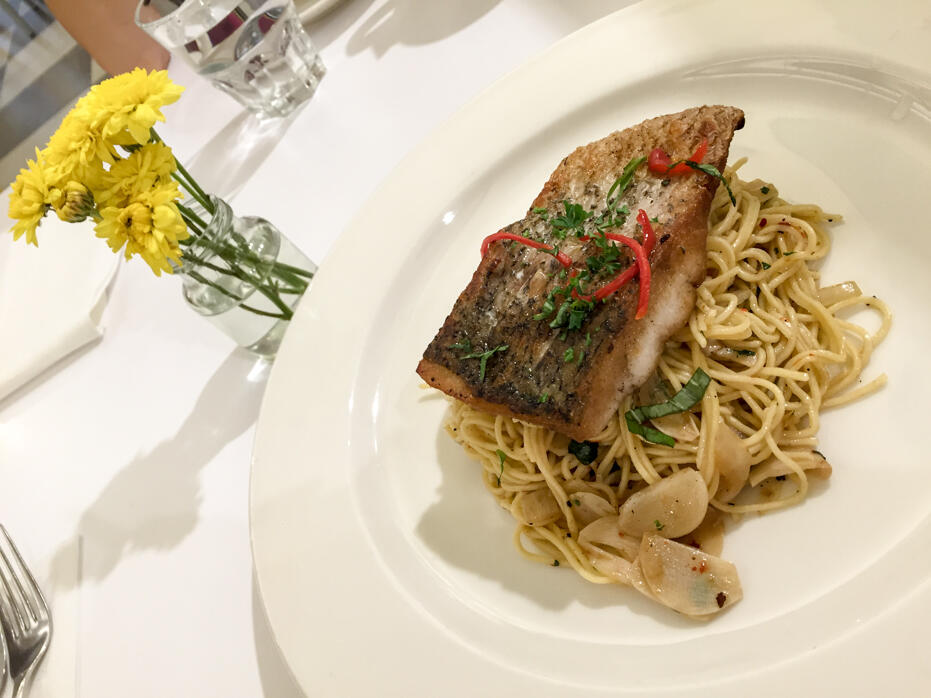 Mei Sze and i had a long-awaited lunch catch up at NOM KL @ Bangsar Village 2 one weekday.
I was late and very sorry, she was graceful (as always) and we did a speedy catch up over fish vongole (very good).
+ + + + + + + +
Jun and i eat Japanese food ALL the time. Every week.
Our regular spots are Uokatsu (Plaza Damas), Ju Ne (Publika), and Ichiro (1U).
Pic below from Ichiro.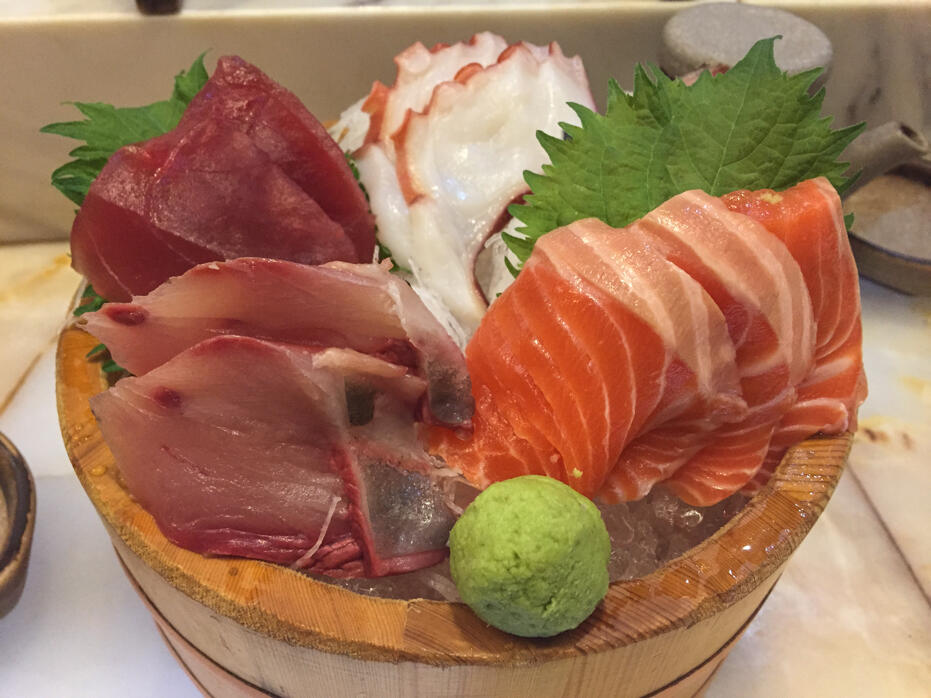 + + + + + + +
I'm a real noodle kinda girl tho i love my salads too (or i'm just eating it cos i know it's the only food that rebuilds my cells :p)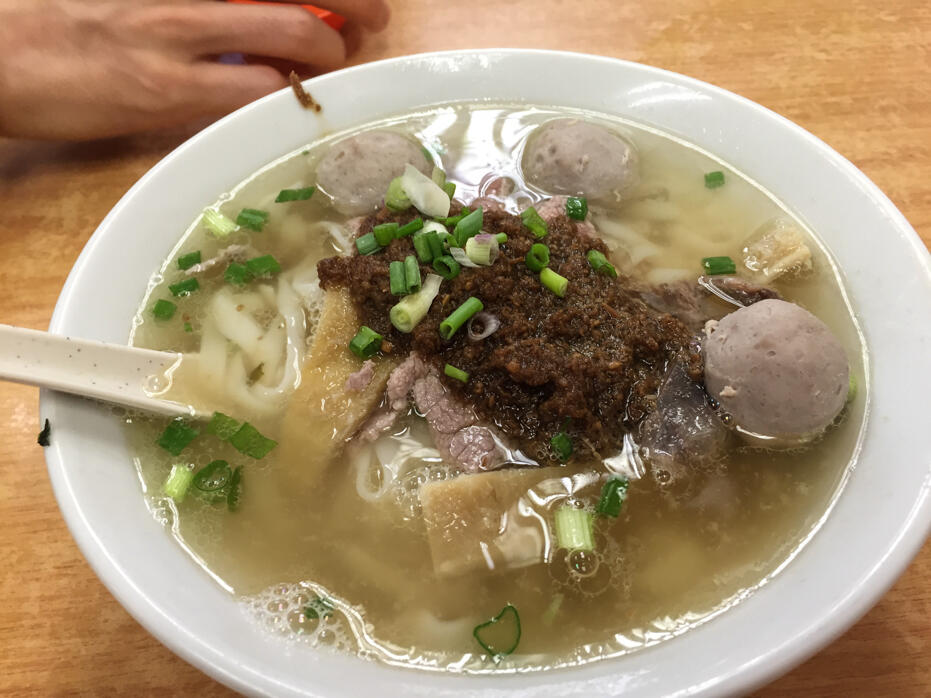 Beef noodles at Petaling Street! Food still good, wish they didn't repaint their wall that shitty brown, it's so dreary!
But the food is what's important! Still go here when we feel like it
+ + + + + + +
My parents like going to Goon Wan fish noodle in Damansara Jaya, where we'd order the fish noodle, loh shi fun and pork man tau. But you can only share all this if you're in a group of four, or a very greedy group of three.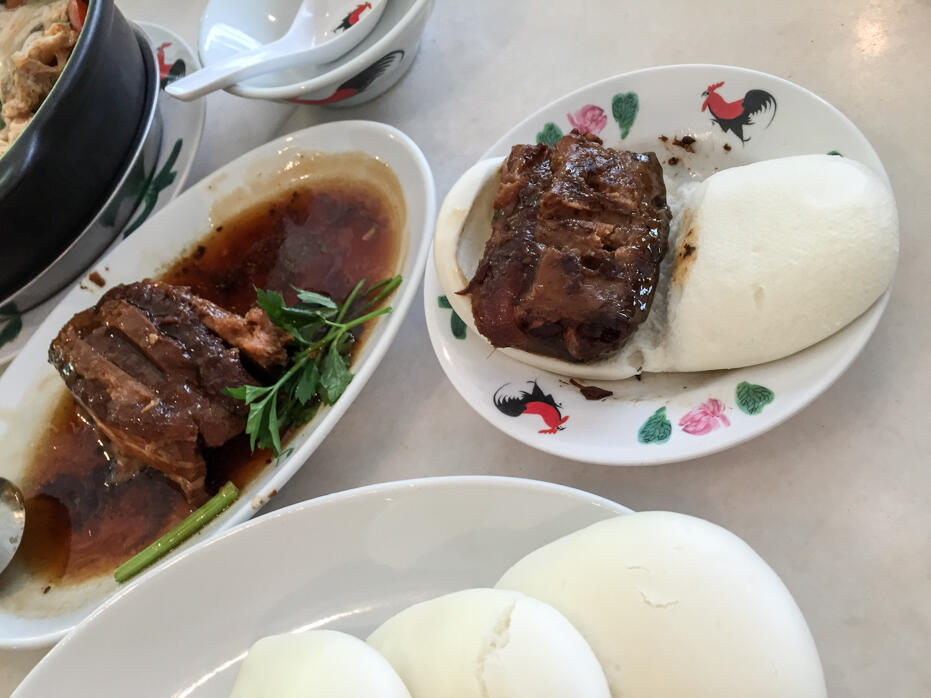 I don't usually go for man tau cos i think it's carb points that i'd rather spend on noodles, pasta or rice; but THIS man tau was soft and fluffy!
I told Jun that the lo shi fun was so nice i took him there just a few days after.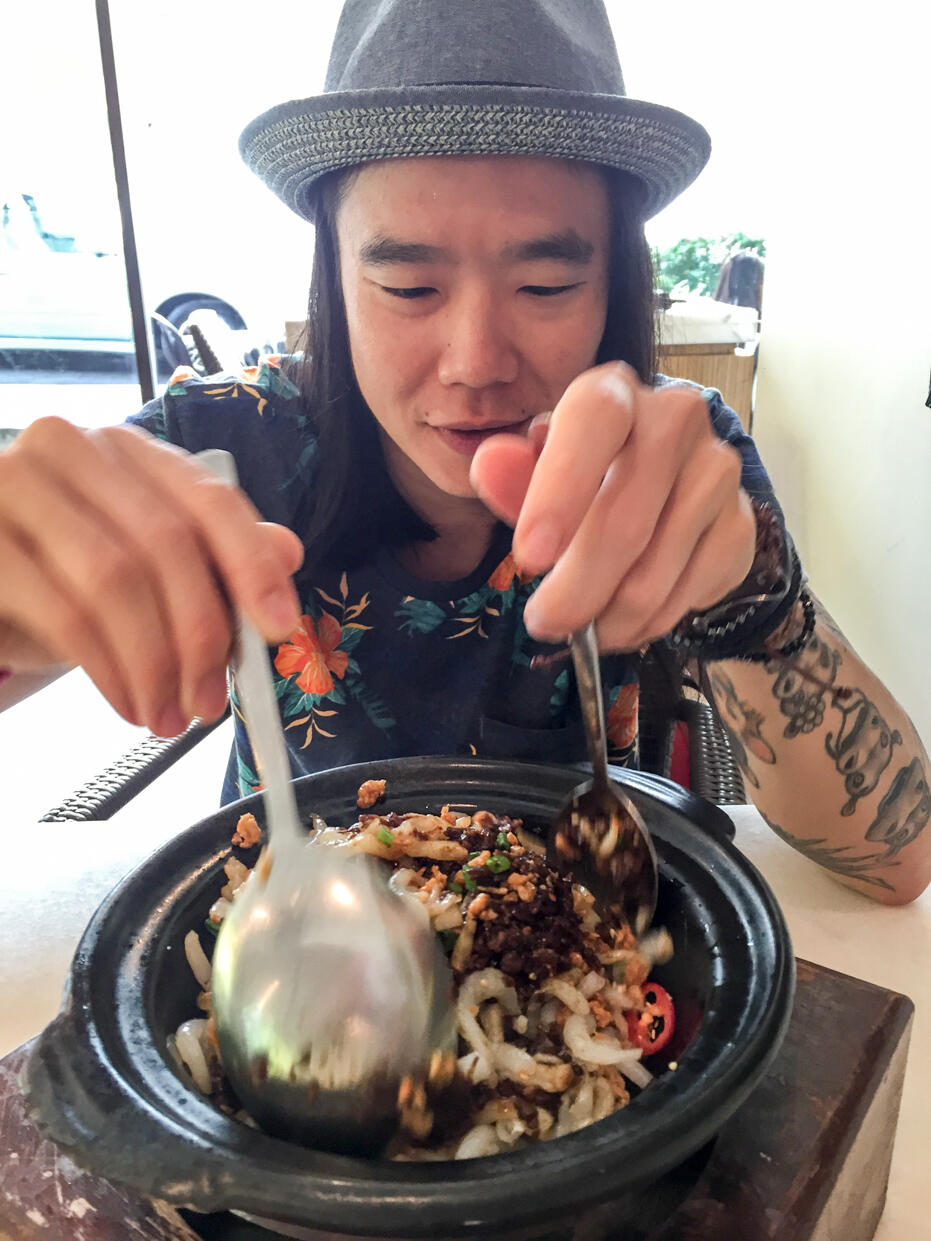 I love their lo shi fun, it's got mince meat that's really fine and crispy, and the noodles isn't too fat.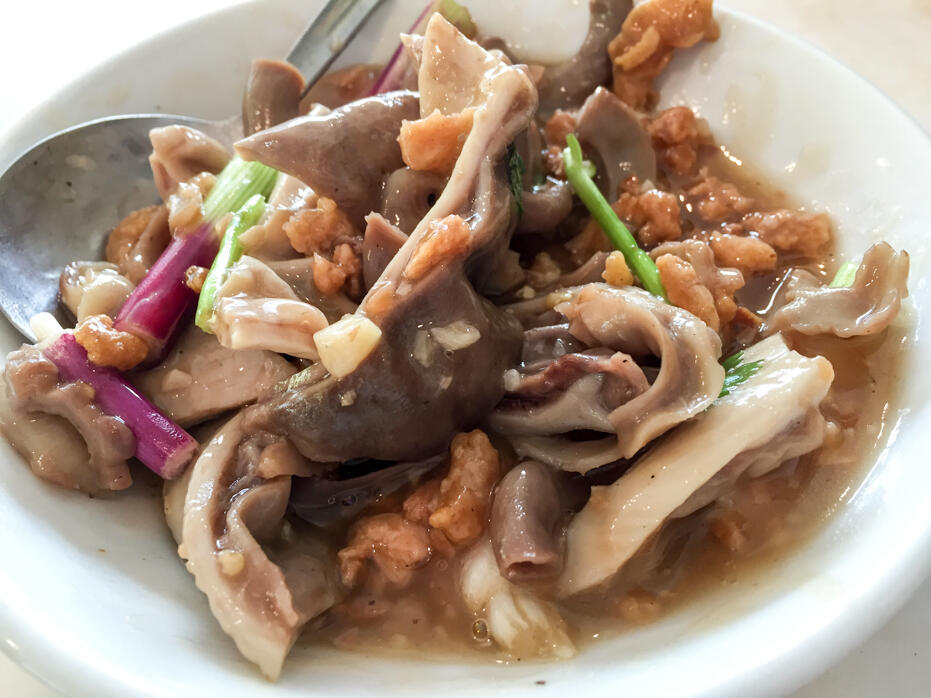 I loved their pork intestines when i went with my parents, but that time with Jun we both think they prepared it wrong in the kitchen cos it's supposed to be fried with dry chilli but it came out like this. Tried to tell the aunty that it's a mistake but she insisted it's to be like that (when i had it diff before!) and we didn't insist any further cos Jun said 'Chinaman restaurant won't replace the food and…' I don't want to eat people's spit!
+ + + + +
One afternoon i took Mama for lunch at Fish & Noodle House in Damansara Kim that Baby introduced me to. I only used to go to SS20 Fish Head Noodle, but Fish & Noodle House serves it with salmon and yee mee, and i'm a big fan of yee mee.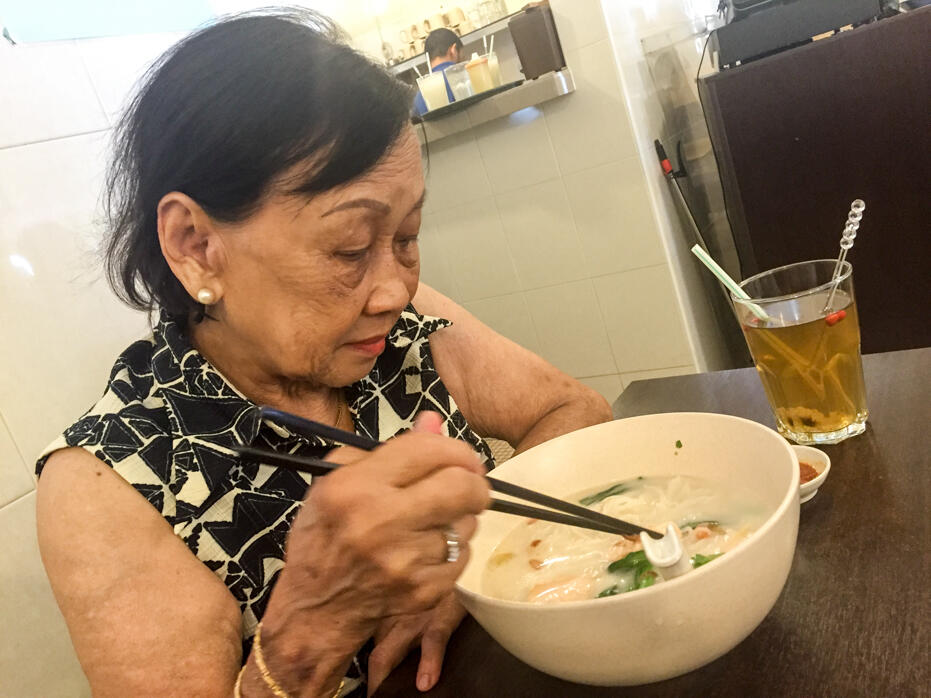 My grannie had the koay teow one.
OK that's SOME of the food i've been stuffing myself with!
xxx