*  Written by Rachel *
1 Mont Kiara mall is currently running a New You campaign till 1st May 2016. Revolving around fashion, health and beauty; it's something all of us girls can relate to cos we're always reinventing our looks innit?
I was invited by the team from 1MK to ignite the fashionista in me and parade around in pretty clothes!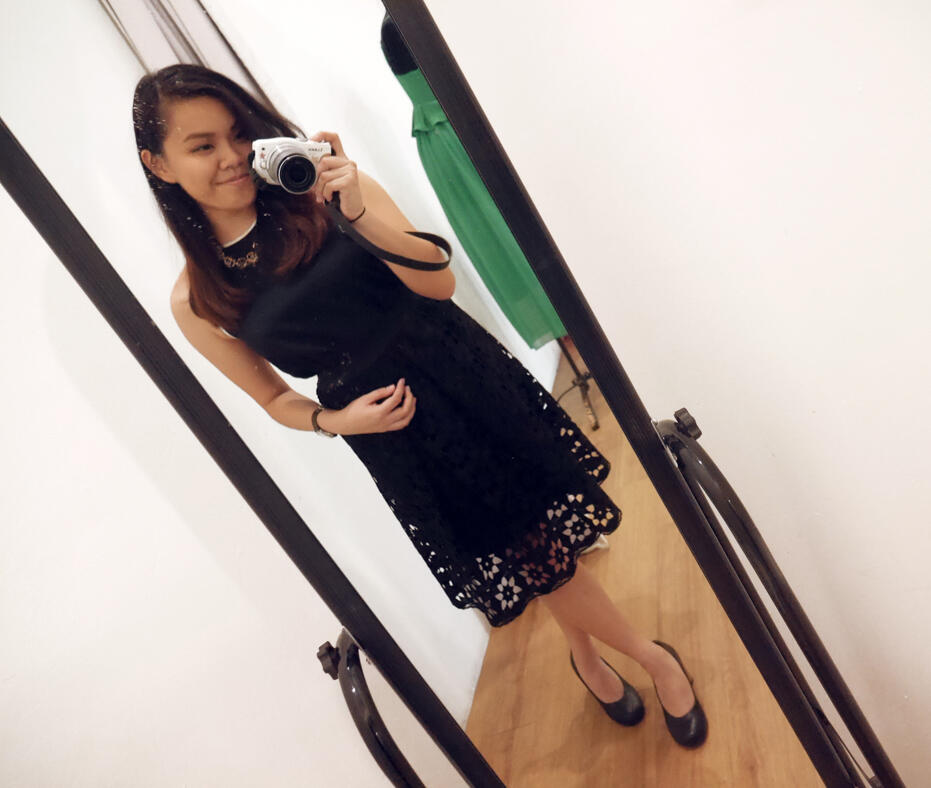 I posted this on my Instagram and received comments about how it's a pretty dress. It's actually a 2-piece outfit that I put together, guys. Haha.
Feather's Boutique in 1 Mont Kiara carries fetching Korean fashion that's perfect for any occasion. The girls from the boutique were such darlings. I had such a great time putting together and strutting out looks for formal, dinner and casual occasions.
Feather's Boutique is located at L1-13. Contact Ms. Sandra at 03-28569371 for any latest promotions!
Formal: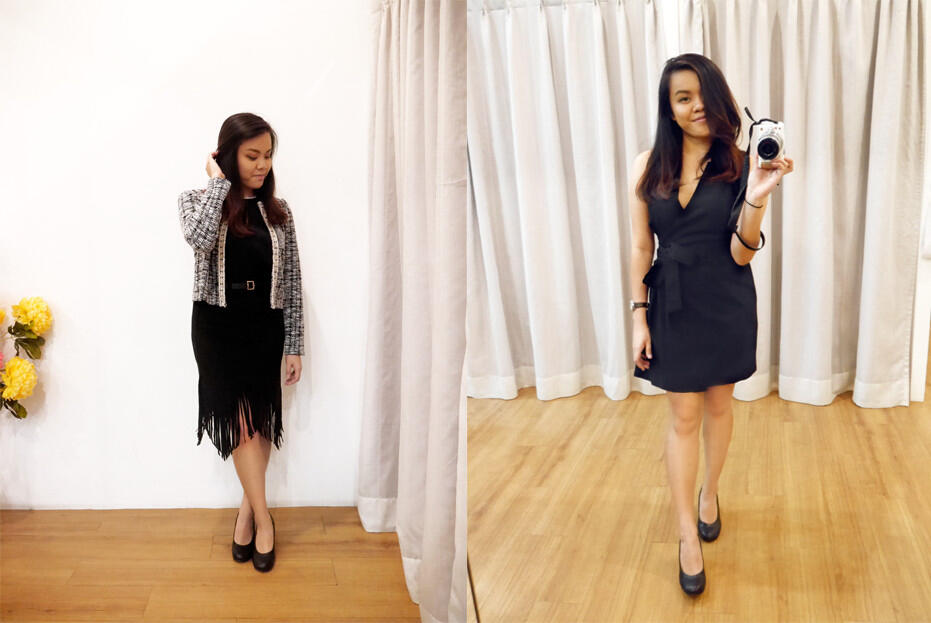 The dress on the right was so fuss-free. I just had to slip it on like a jacket and button it up at the side; throw on a sash, and I'm good to go.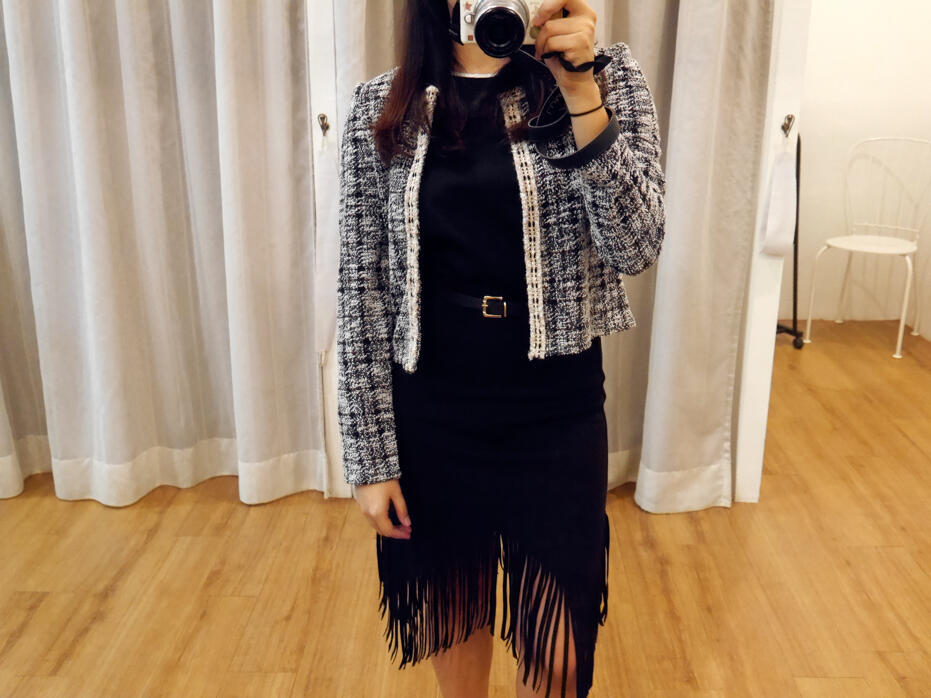 Dinner: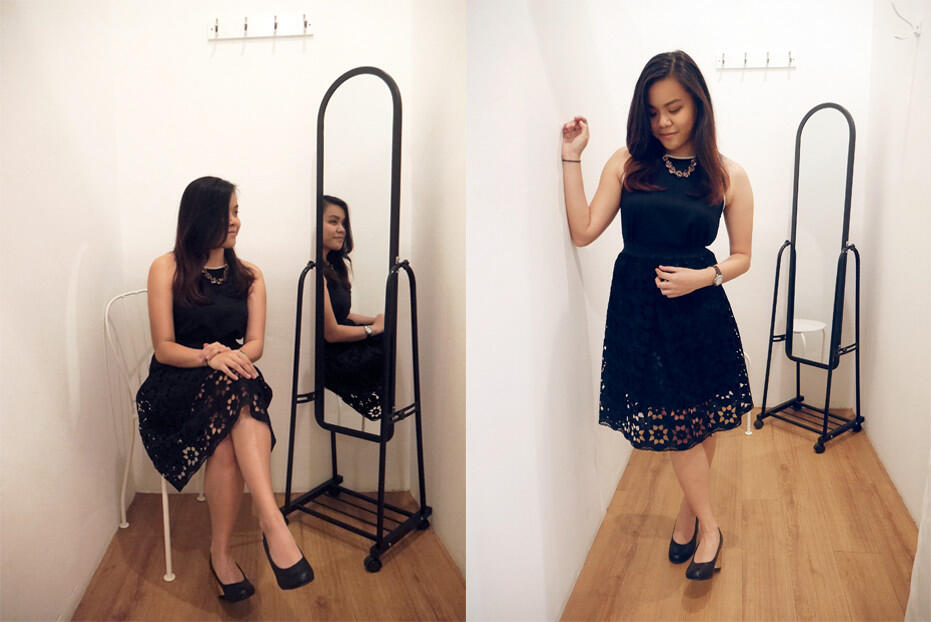 The top I chose for the formal outfit is actually the same as what I'm wearing in my dinner one. Oh, how I love tops that can be paired with anything for different occasions. My friend dubs it the cursed top. These cursed tops save you time from sitting in front of your wardrobe while telling yourself that you have absolutely nothing to match that new skirt from H&M with.
Activewear: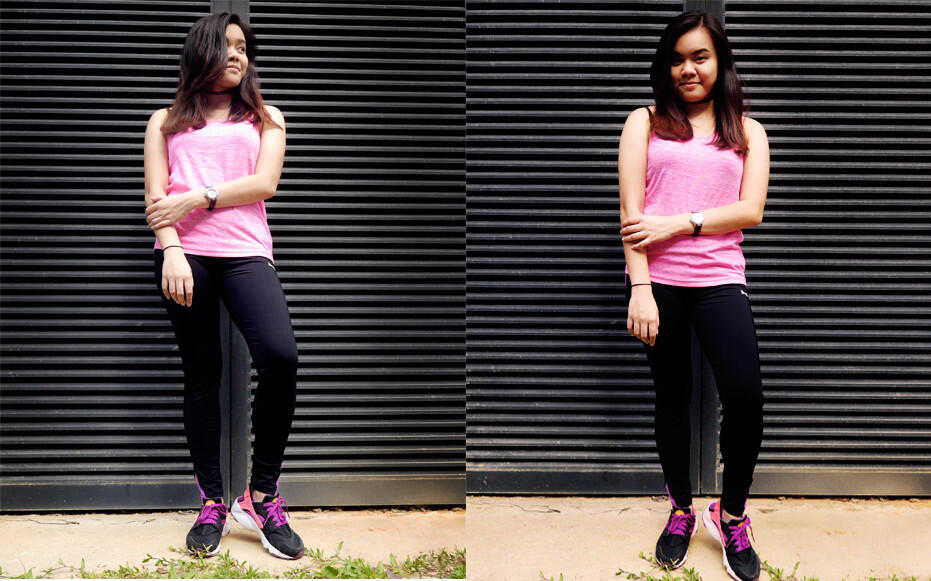 Got the top and bottom from Sports Direct. Honestly, pink is never my colour. I only chose it to match my sneakers.
King: Did you go for a run or something?
Andrew: Hahahahaha
Me: Of course not!
By now, I think everyone in the office knows that exercising isn't my thing… though I think I need to start doing something about it 🙁
1 Mont' Kiara Mall
1, Jalan Kiara
Mont Kiara
50480 Kuala Lumpur
Tel: 03 6203 7688
Website: www.1montkiara.com
Facebook: www.facebook.com/1montkiaramall
Instagram: @1montkiara
+ + + + + + +
The Pestle & Mortar Spring '16 Ante Up launch took place last week at APW Bangsar. First established in 2010 by three friends whose designs are inspired by their experiences growing up, Pestle & Mortar produces apparel with the South East Asian urbanite in mind.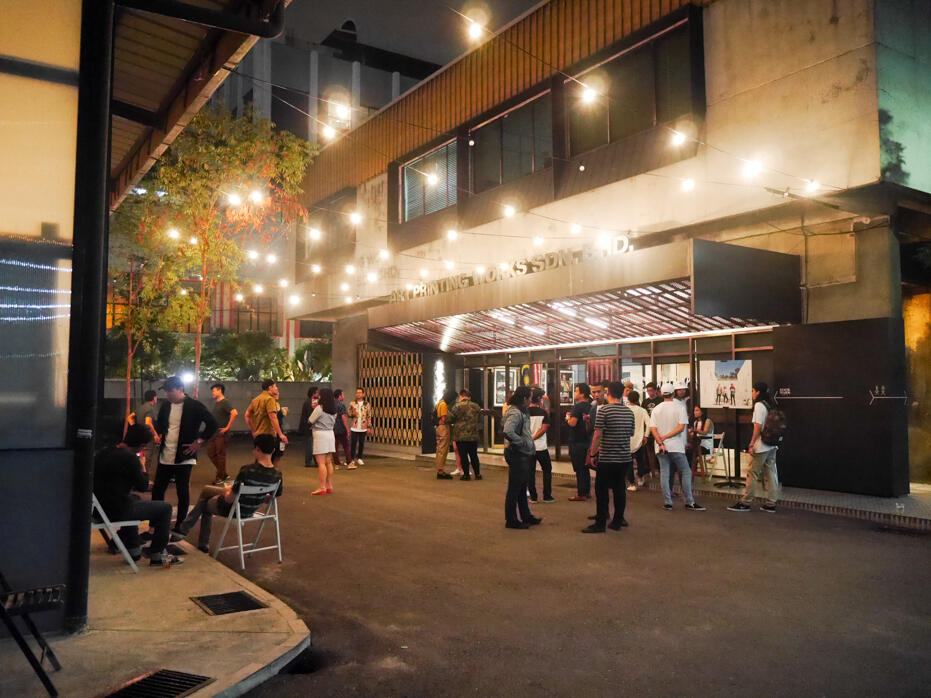 No one told me how pretty the venue looks after nightfall!
I tend to gravitate towards the men's pieces under the label – their T-shirts in XS are great to be pulled of as a shirtdress on lazy days. Pair it with your sneakers and you're all set to go!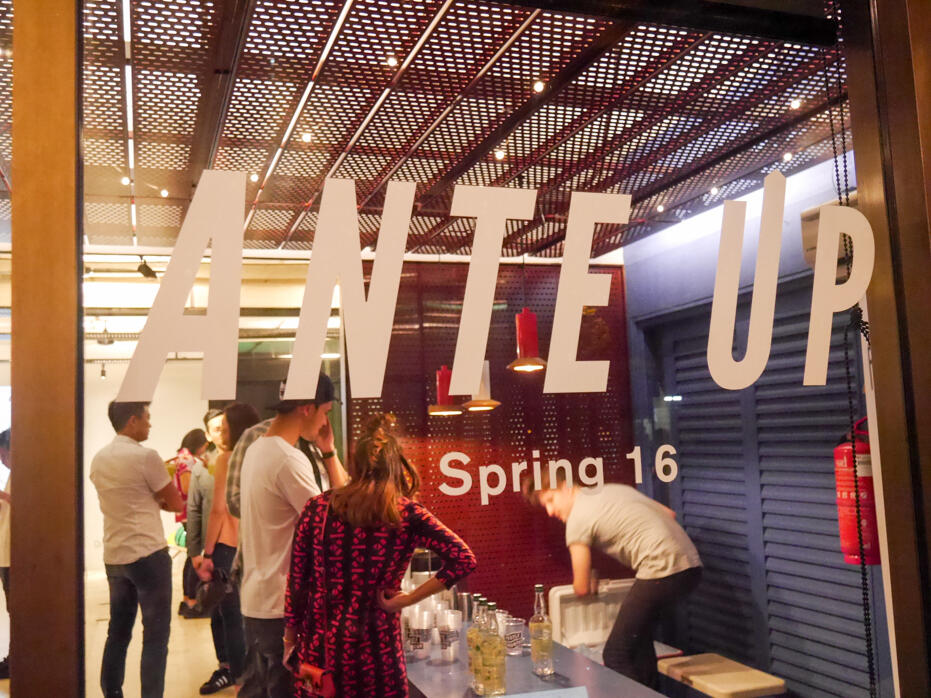 Presenting 36 designs across variations of t-shirts, long and short sleeve shirts, outerwear, a ladies' range of crop tops, sports tops and leggings; there is also a curated line of accessories that includes a snapback, 5-panel cap, bucket hat and tote bags.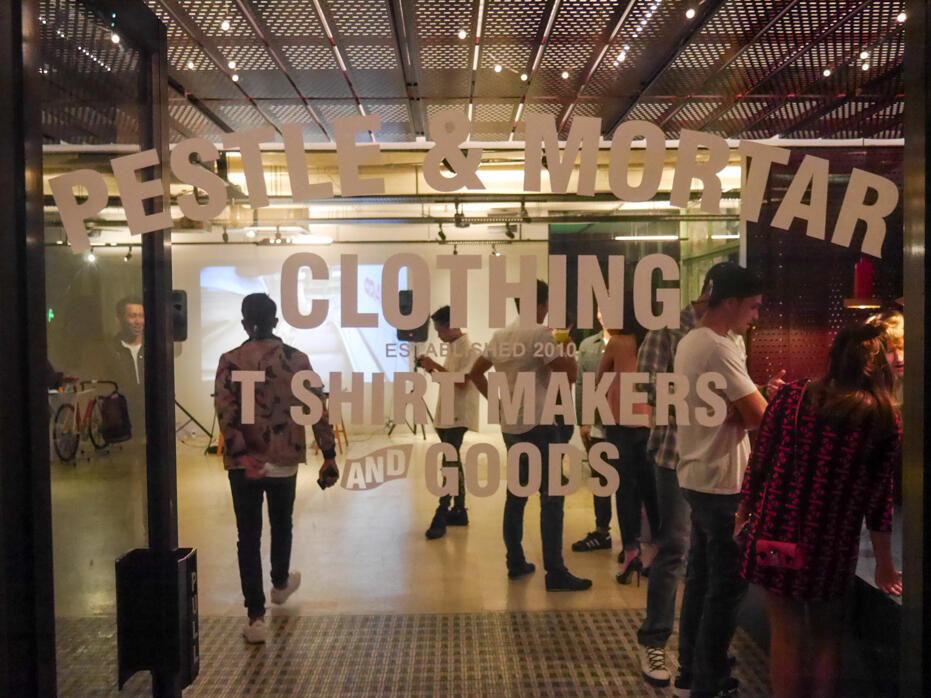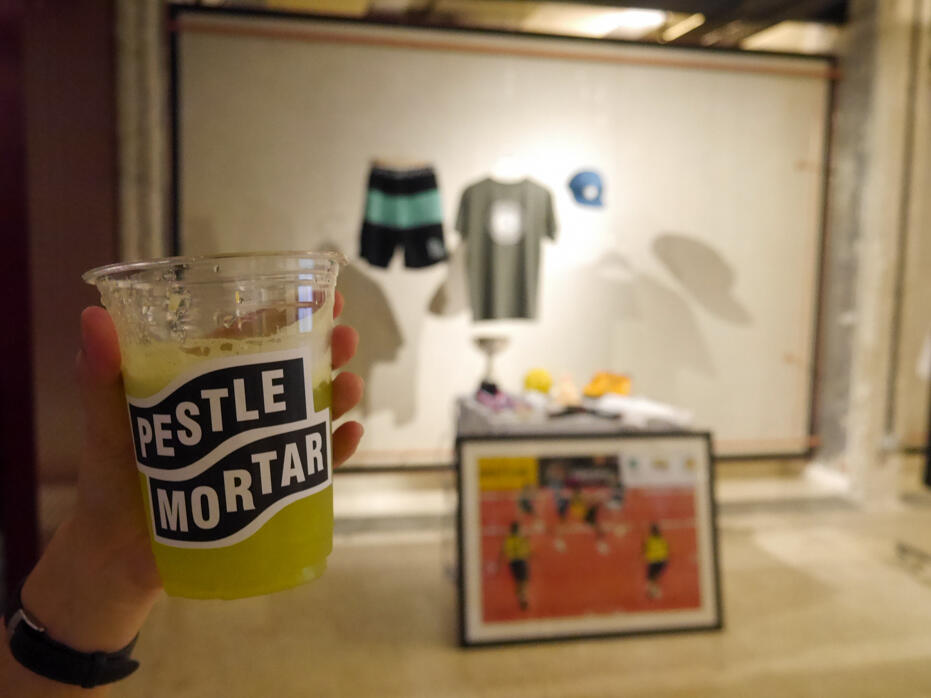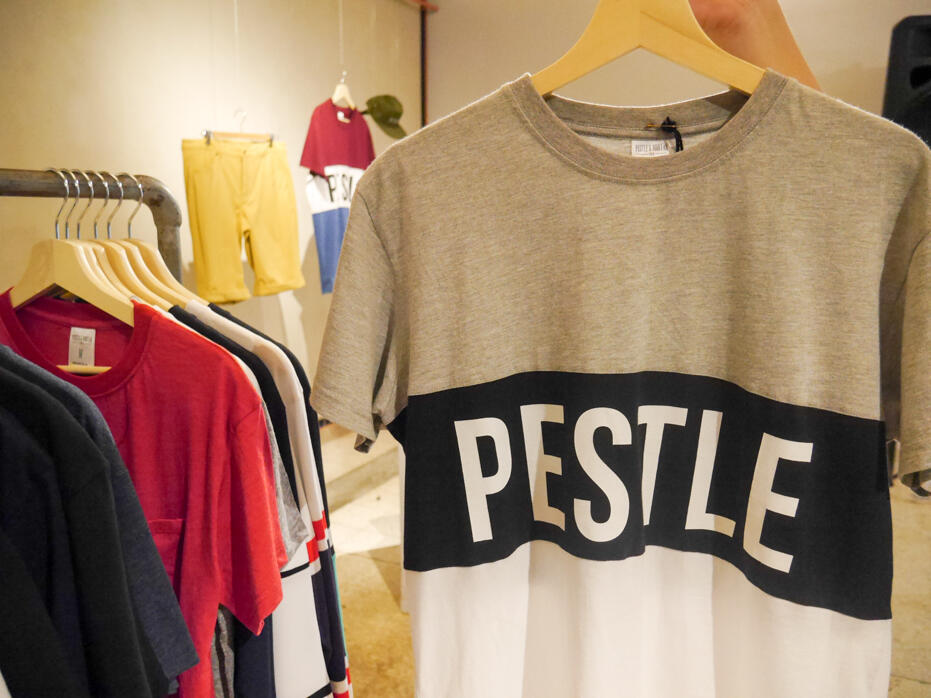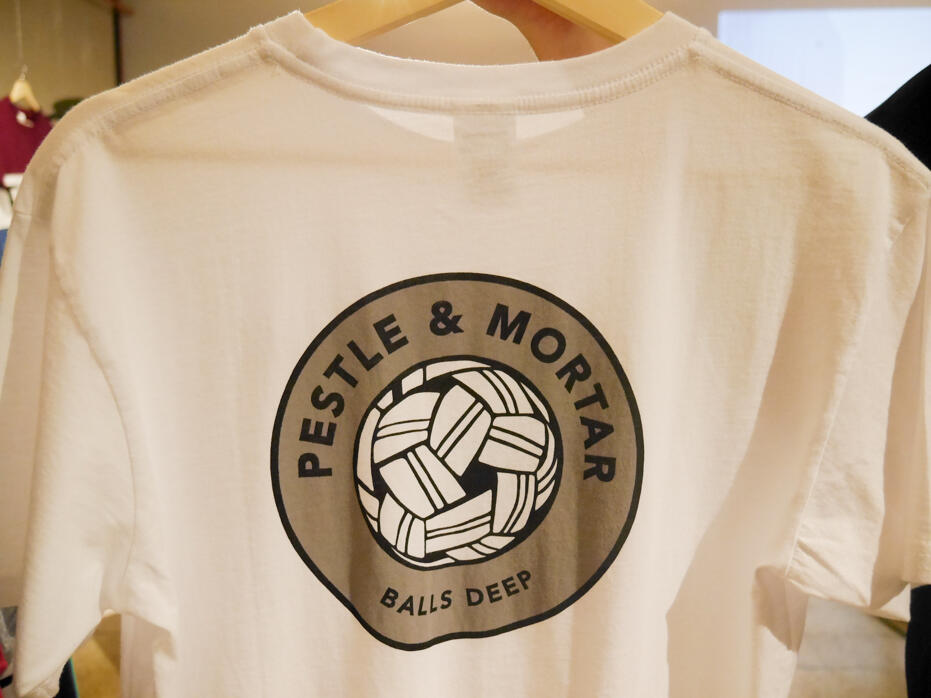 The Balls Deep Tee proudly shows off a South East Asian streak featuring a sepak takraw design, shining the spotlight on a sport played almost exclusively in the region.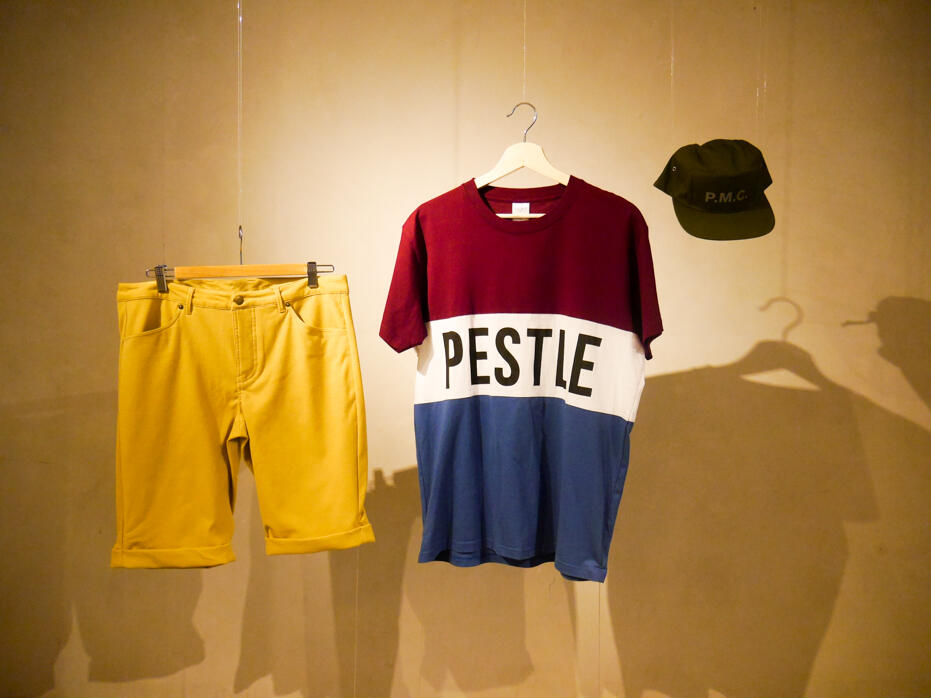 L-R: Statement Tee Maroon and Reflective PMC 5 Panel Olive Green.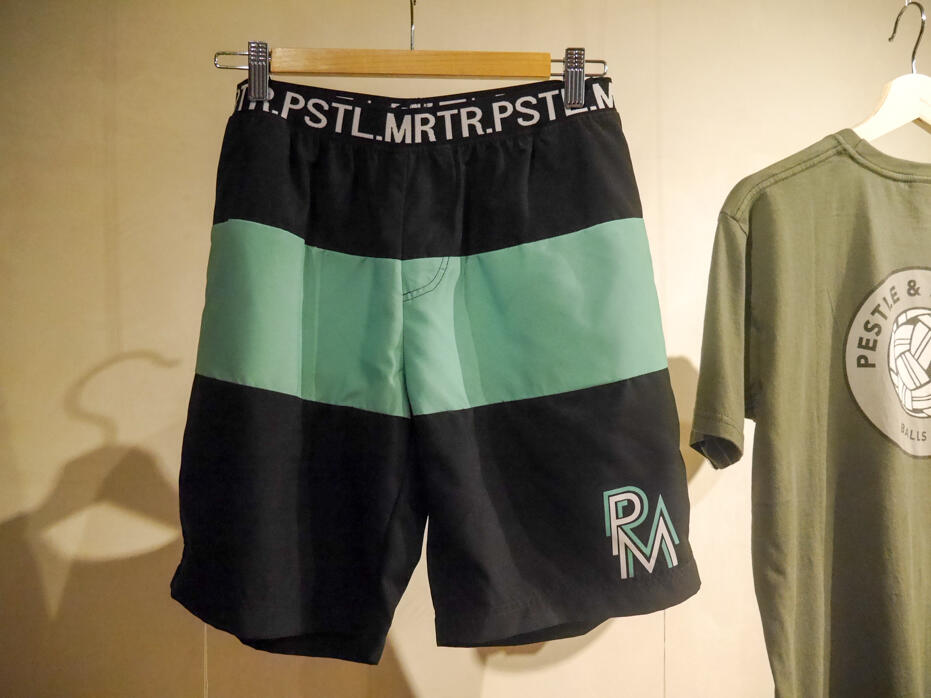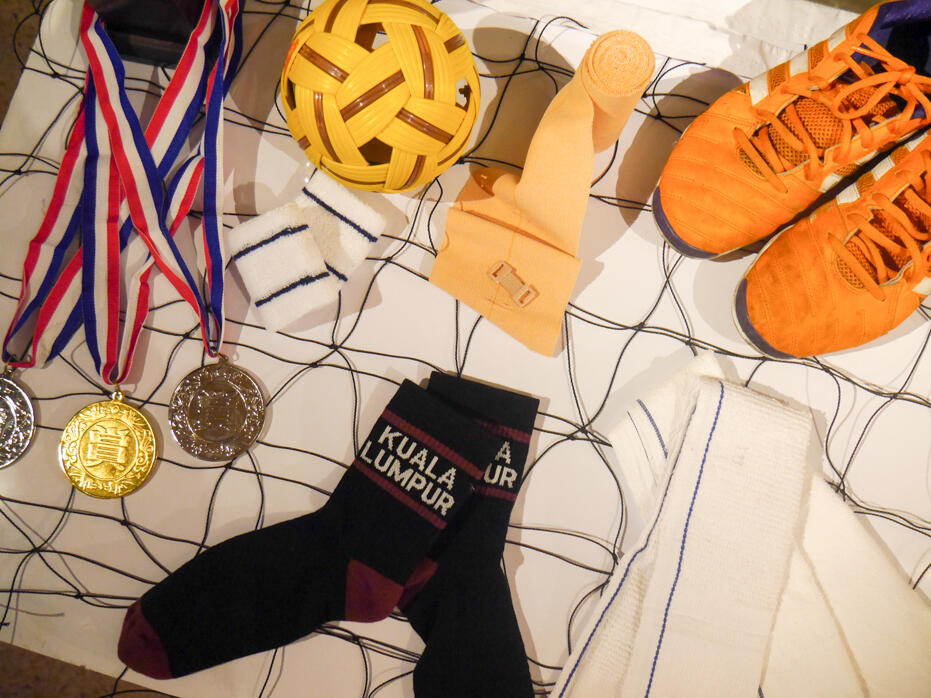 Pestle & Mortar Clothing (Flagship Store)
11, Jalan Telawi 5
Bangsar Baru
59100 Kuala Lumpur
Tel: 03 2201 5585
PMC Penang Chapter
79 Jalan Nagor
George Town
Penang
The collection is also available online and in stores across the nation in several Tangs departmental stores, and Robinsons Gardens Mid Valley.
Website: www.pestlemortarclothing.com
Instagram: @pestlemortarclothing
FB: facebook.com/pestlenmortar
+ + + + + + +
Pure Beauty First Intense Treatment Essence
Ever since I discovered the wonders of Korean beauty/cosmetic products, I've never looked back. It's all thanks to the numerous YouTube videos I've watched before visiting the land of kimchi. I also went a bit loco buying everything that just looks pretty. Korea's product packaging is sooooo on point. It's either minimalist or beyond cute! This is probably one of the reasons why you hear stories of people filling luggage bags with beauty products in Korea.  [You can read Joyce's travel posts on Korea *here*]
Pure Beauty is a brand developed and made in Korea, promising the use of the best natural ingredients supported with the latest in science and technology. In collaboration with CLEO magazine recently, the skincare brand launched its First Intense Treatment Essence in the penthouse of WOLO Hotel.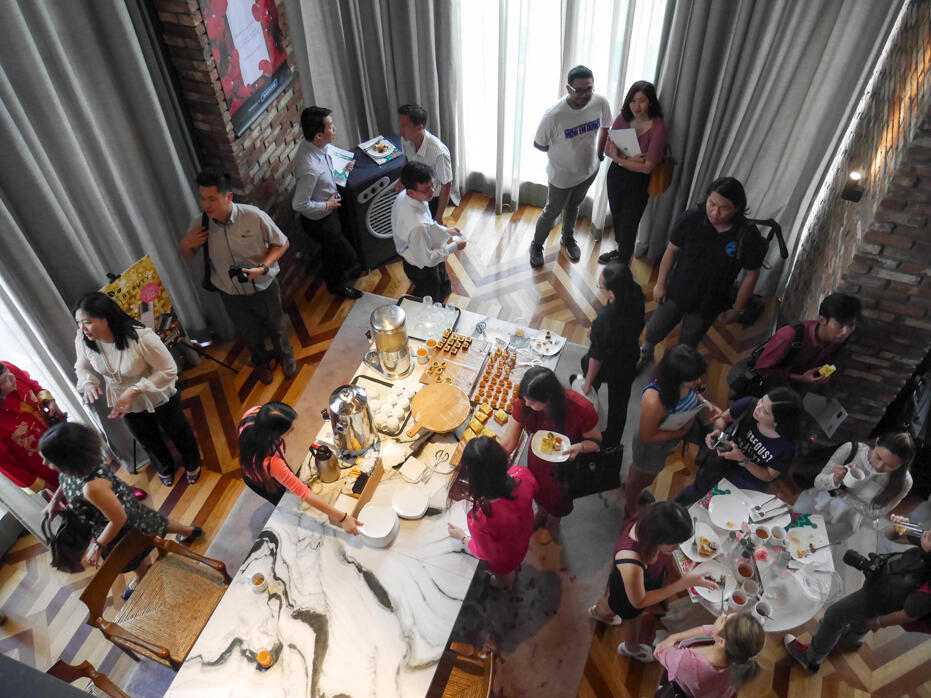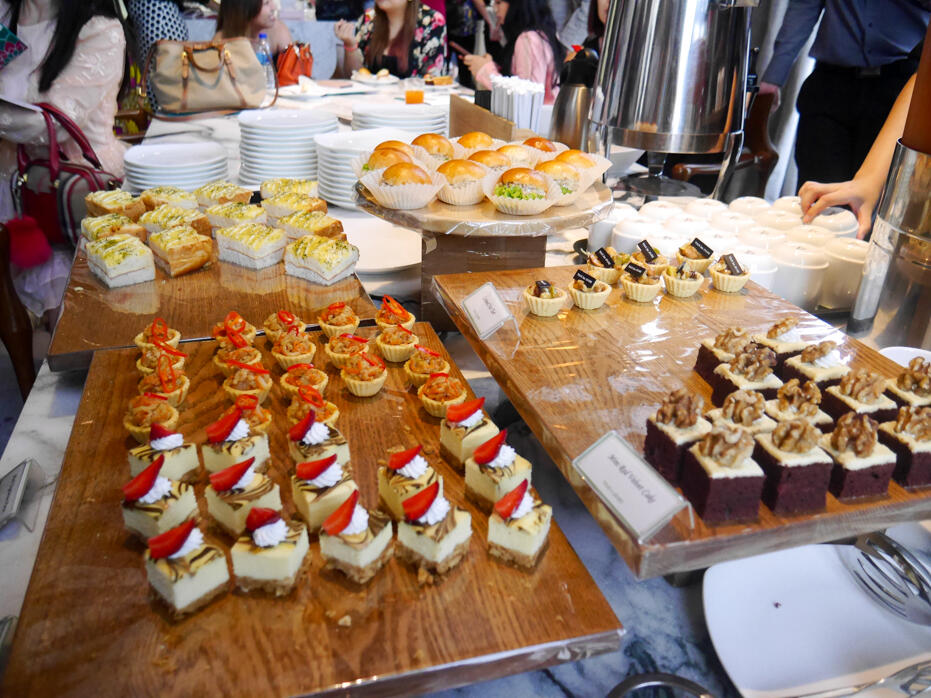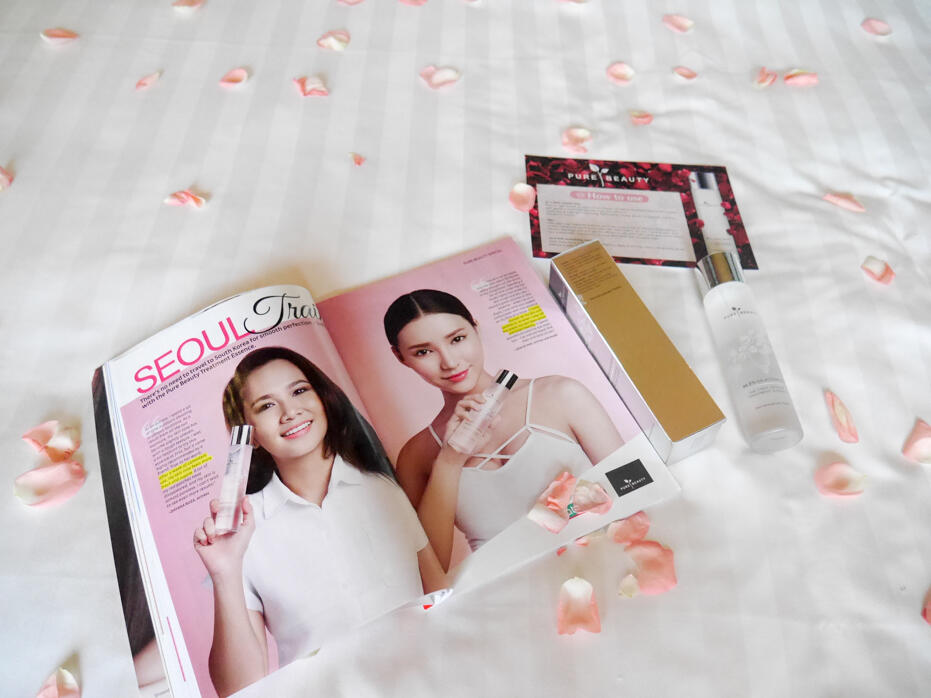 Containing 95.3% Galatomyces (an enriched fermented yeast concentrate containing amino acid, vitamins and enzymes) and enriched with Bulgarian Rose water (restores skin to flawless state, soothes mild sensitive skin, restores hydration); First Intense Treatment Essence is free of parabens, linolin, and alcohol.
It can be applied with a cotton pad after cleansing, followed by the rest of your usual skin regime;
OR
soaking a DIY mask sheet in the essence before leaving it on the face for 15-20 minutes.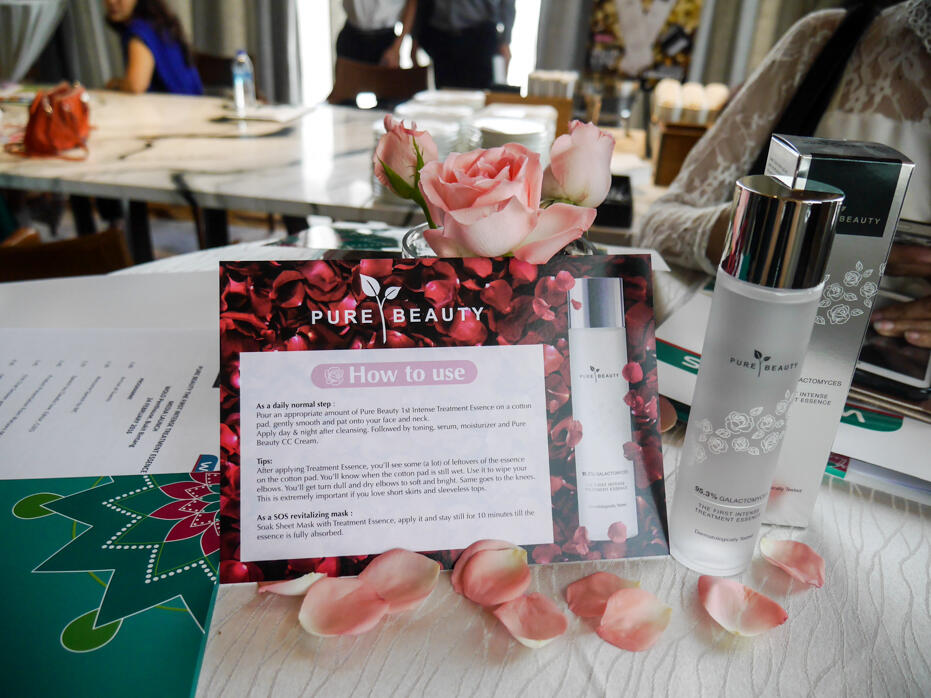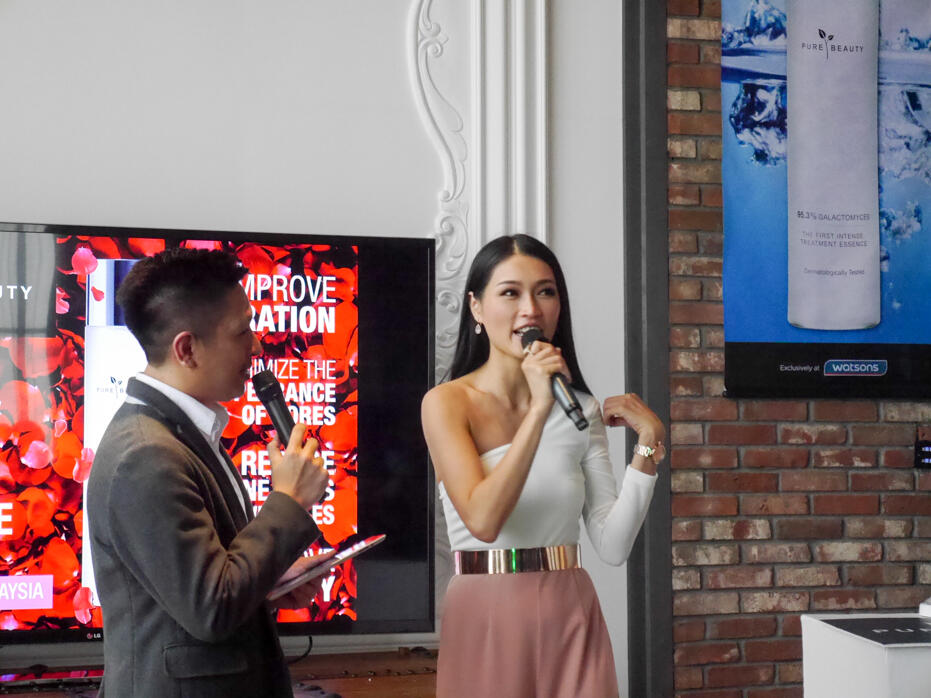 Amber Chia sharing the importance of maintaining a skincare regime despite having a packed schedule.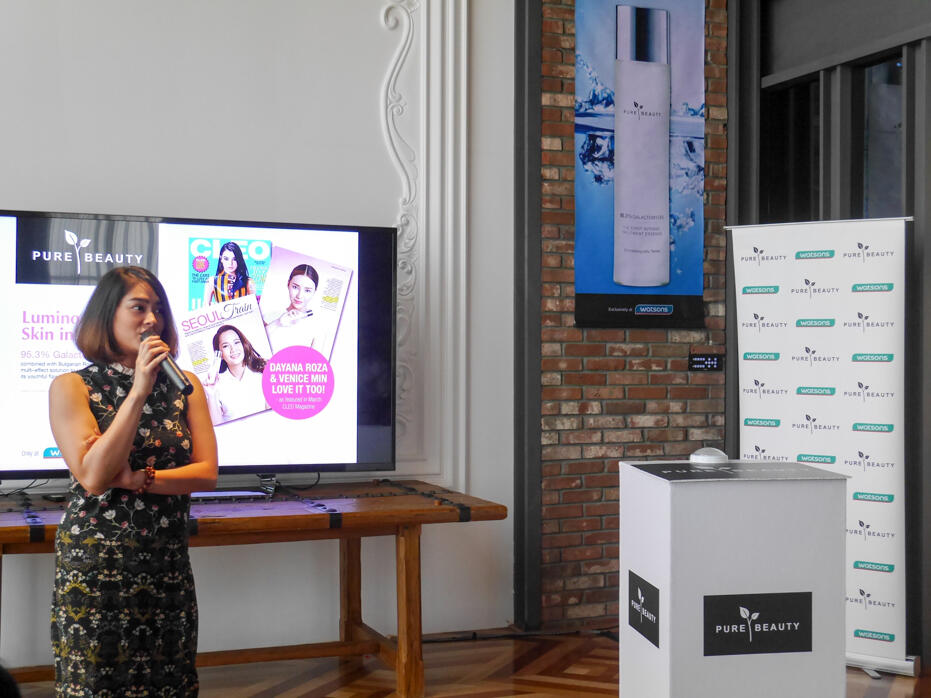 Claudia Low, Editor of CLEO Malaysia.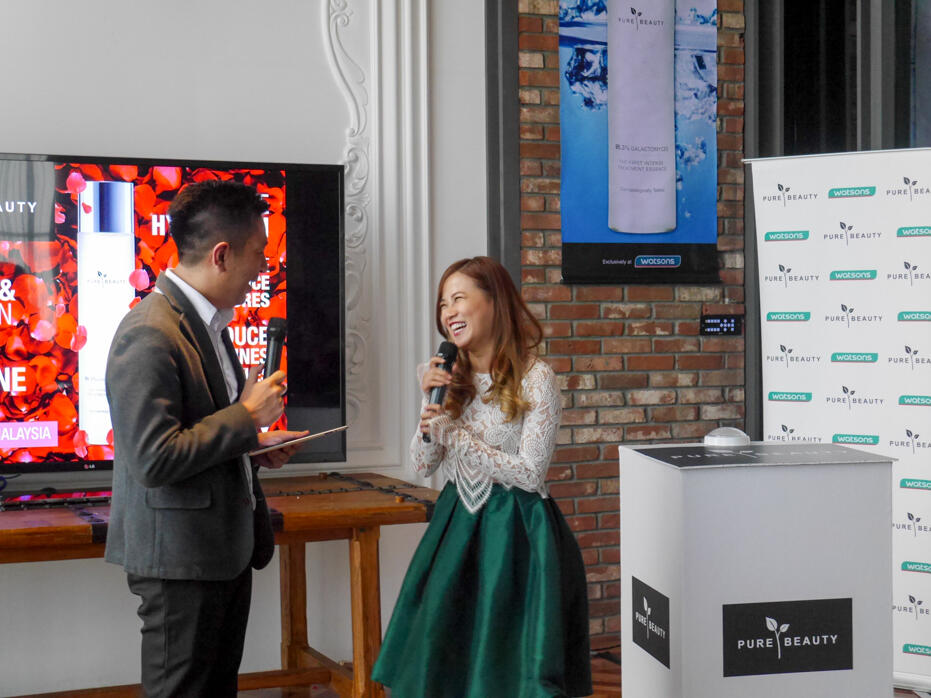 "Always, always remember to put on sunblock!" – Beauty Youtuber Charis Ow
Pure Beauty's First Intense Treatment Essence is available at all Watsons outlet for RM119.90.
Pure Beauty:
Facebook: www.facebook.com/purebeautymalaysia
Watsons:
Website: www.watsons.com.my
Facebook: www.facebook.com/watsonsmalaysia