* written by Baby *
If there's one thing I've done right in my life, it would be investing in really good bras. Ever since I hit puberty and my chest started to grow, Mima (my mother) took it upon herself to be my lingerie guru up until I was 26 years old. She insisted on tagging along whenever I went bra shopping, including following me into the fitting room to fuss over everything from how I should bend over when putting on a bra or how there shouldn't be any overspill. That's how serious she is about greatly maintaining an all natural pair of hooters. With that, I would like to say thank you, Mima. You DO know best!
I was assigned to go for Triumph Malaysia's "Find The One" fitting and naturally, I was excited (as always!) because I'm a long-time fan of Triumph. I had my first Triumph Maximizer when I was 14! And back in June I got the Magic Wire gifted by Joyce. It is still my favourite bra. Big fan!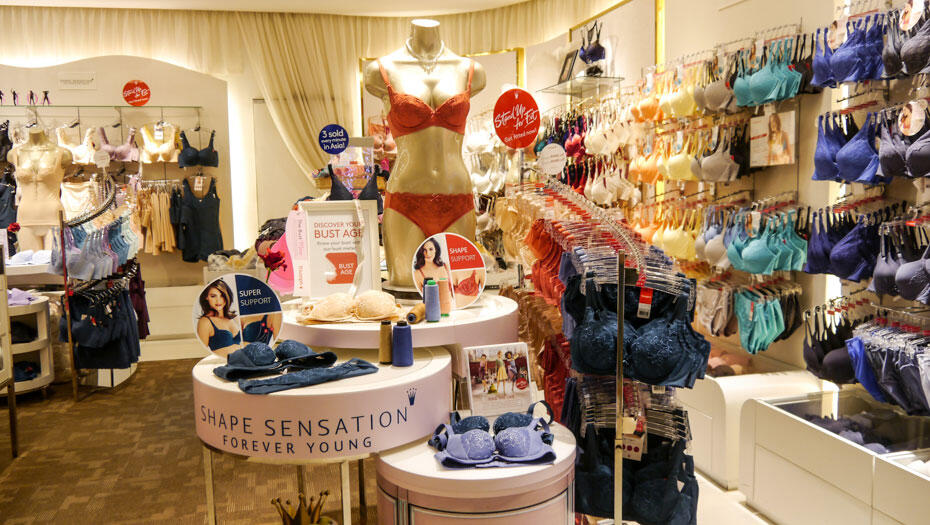 I went to the Triumph boutique in Mid Valley to meet up with Nicole who began me on my "Find The One" experience by taking me on a tour around the boutique. She explained to me about each product and what it does to your body. I was particularly interested in the Forever Young range, designed for support. As we age; loss of tissue and fat, and decreased levels of collagen make our breasts lose their fullness. Our breasts age faster than the rest of our body due to the amount of exposure to hormones and other factors – gravity, UV rays (think twice or more before you decide to go all European at the beach), lifestyle, hormonal changes and genome structures.
There are three stages of breast-ageing:
Stage 1
Your breast will start sagging at the age of 25 because that's when collagen in your body starts to decrease.
Stage 2
Your upper bust starts to lose it's fullness (noooo…) and nipples start to point downwards (ewww…).
Stage 3
Your nipple will begin to move outwards due to the weakening of muscles.
(nature is soooooo unfair!)
Everyone can stop panicking! Triumph has got this covered with the Forever Young range designed specifically for a timeless, youthful look with perfect shape and SUPPORT at every stage of your life. It is guaranteed to give you extreme comfort, superb fit (I can vouch for this), non-slip straps (at last!) and lasting support to provide the assurance that you need. Just take all my money now, Triumph!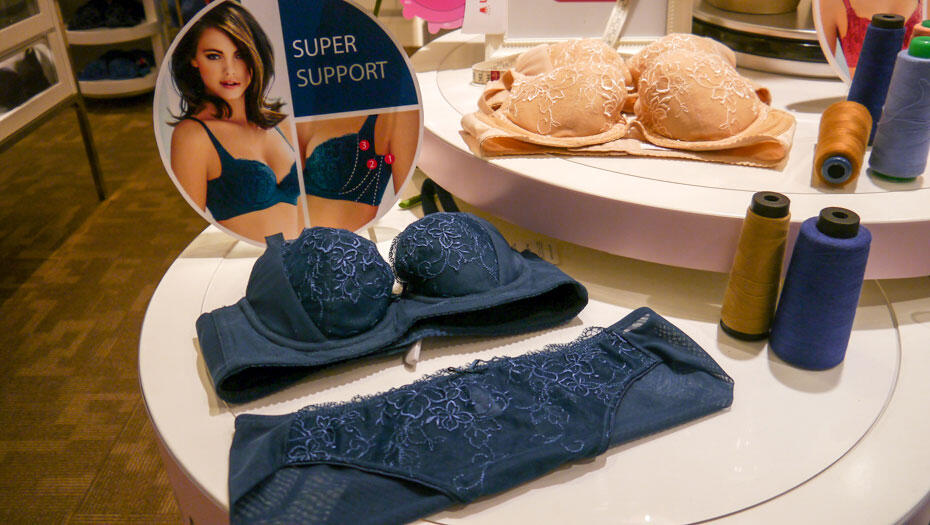 And then, it was time for my fitting where I was introduced to the Master Fitter, Miss Roha. A very nice lady with an extensive knowledge about bras and breasts. She didn't make me feel awkward at all stripping my bra off in front of her. In fact, she made my whole "Find The One" experience a jolly good one. Her humour made it easy and comforting. Do look for her if you want to go for a fitting at Triumph, Mid Valley!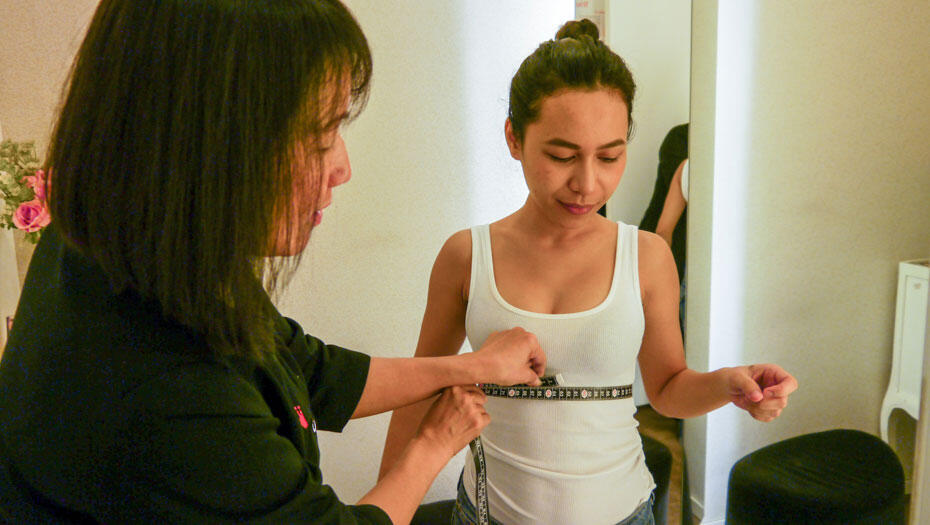 We started with her taking my measurements.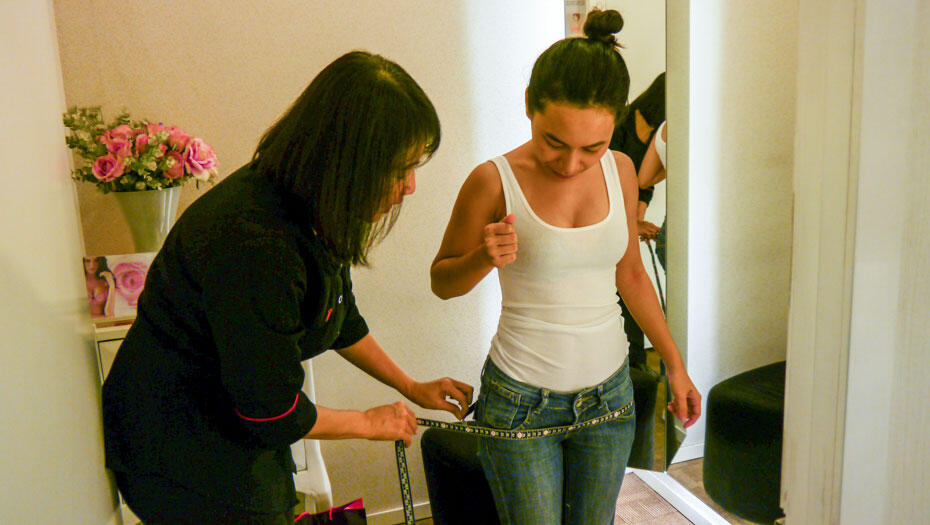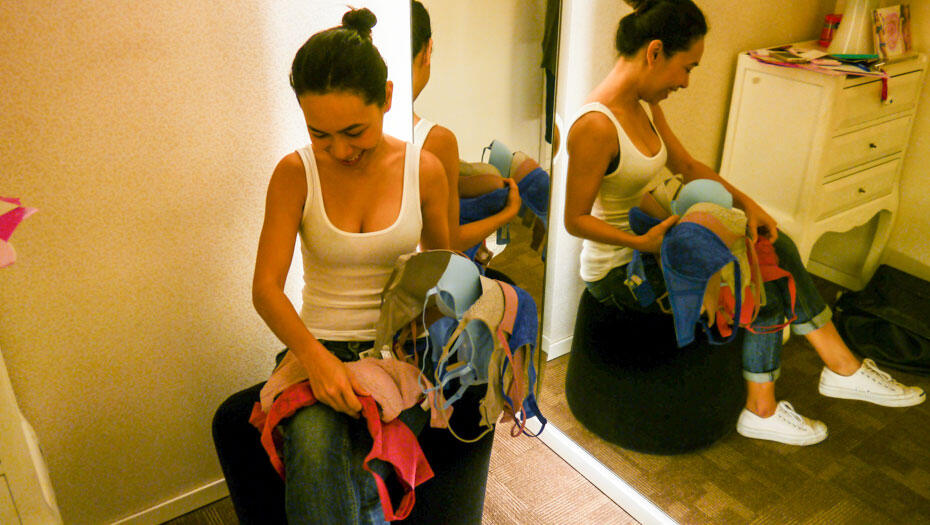 And she chose the bras that best fit me, which as you can see… are a lot!
[On a side(boob) note, I'm wearing my Magic Wire in this picture. Pretty good, huh?]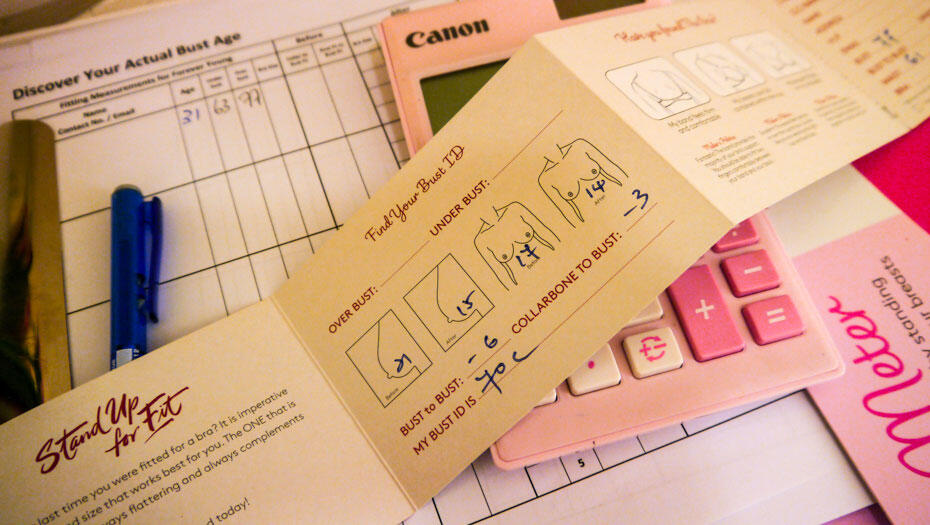 And finally, the result! With the Forever Young bra, I lost 6cm on my bust and my boobies got lifted 3cm! How wonderful! 😀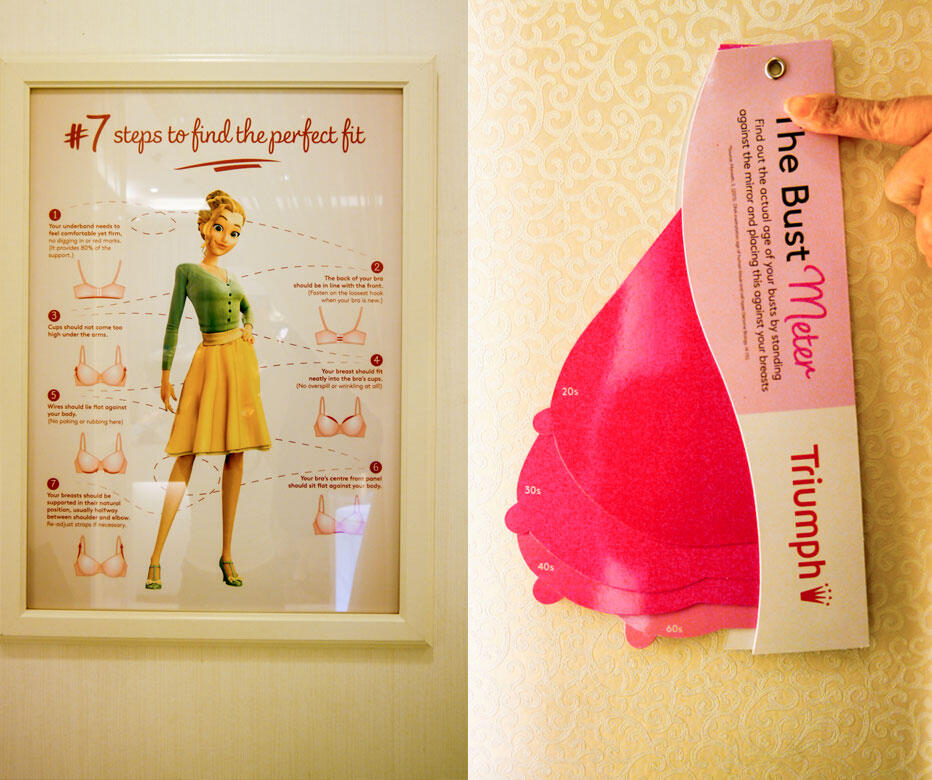 And then Miss Roha took out The Bust Meter. It's a device to discover your bust age. I shuddered for few seconds. Do I really want EVERYONE to know my bust age? It's work, Baby. It's work! So I went ahead with the Bust Meter Challenge. Bring it on!
MR: Hmmm… How old are you?
Baby: I'm 31…
MR: 31??!! That's amazing. You have breasts of a 20-year old. That's very, very good!
I just smiled but in my head I shouted, "Thank you, Mima!"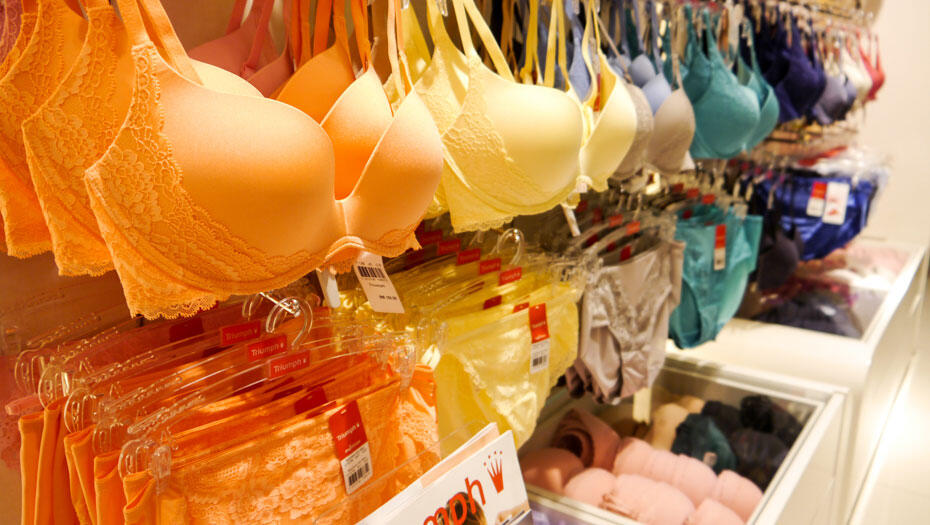 They have recently released their Spring 2015 collection which features happy colours like bright orange, sunny yellow and turquoise.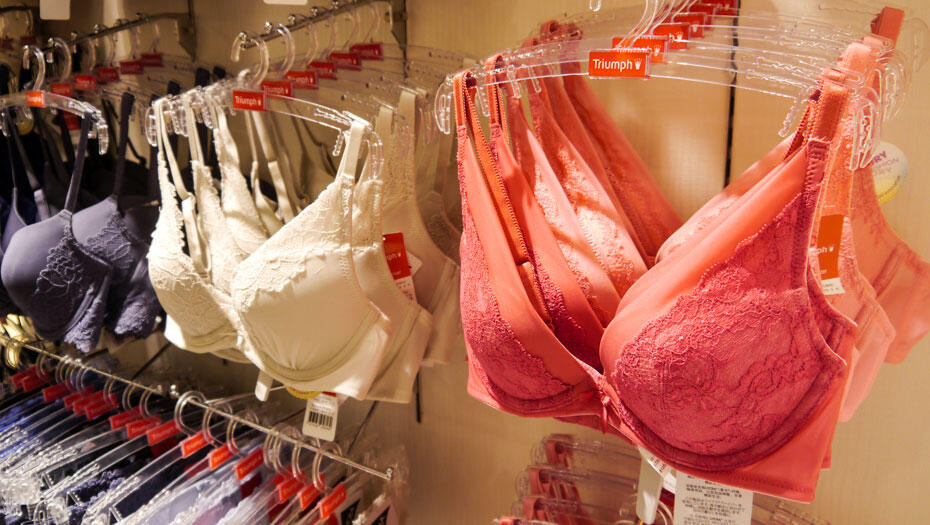 One of my favourites from this release would be this coral pink one!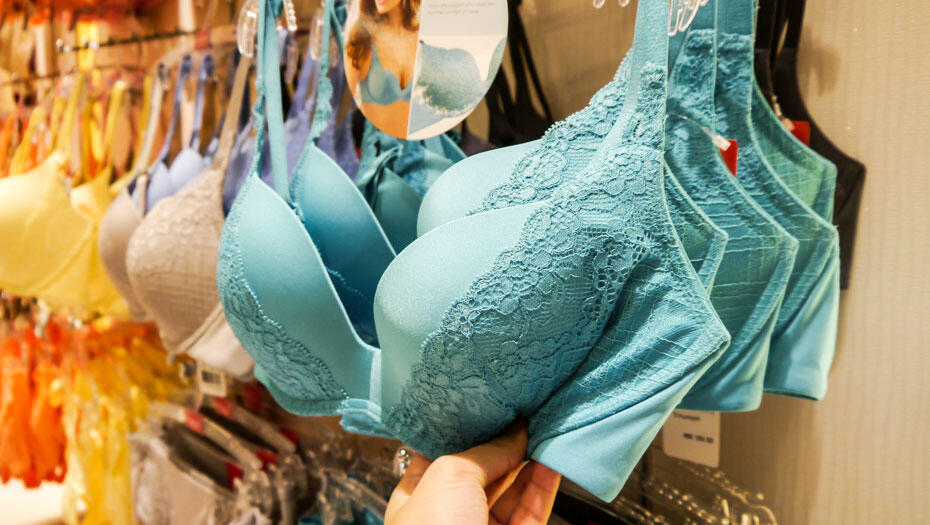 The Magic Wire bra. The holy grail of all bras (well, in my book at least). This piece of magic is made from a silicone that is ultra-light, giving you a feeling of complete freedom but with shape and support of an underwired bra. I think everyone should have one! #Trust
Everyone who cares about their breasts should definitely book a fitting at any Triumph boutique in Malaysia to get their very own "Find The One" experience. I have found mine. Have you? 😉
+ + + + + +
Triumph Boutique
F-083, First Floor,
Mid Valley Megamall,
Persiaran Syed Putra,
Mid Valley City,
48000 Kuala Lumpur,
Malaysia
Tel: +603 2282 0410
Facebook: www.facebook.com/triumphmalaysia
Instagram: @triumphmalaysia