I've previously blogged about loving MJ so much, that someone remembered and approached me about collaborating for the upcoming THRILLER LIVE musical that's coming to KL from London's West End! How fantastic! Thank you! I can't wait to watch it myself!!!
Where do i even start about loving MJ…
He's the only celeb i blogged about when he passed away in 2009.
My fave song is STILL Man In The Mirror and one of my best memories is playing it countless times by myself on the balcony in Bangkok with my arms flung to the sky as i sang along, when i stayed there with Kanch for weeks.
I've continued reading biographies on MJ, and am glad to report that everything i believed to be good about him is TRUE.
Sometimes when i'm out and about and he comes up in conversation, and someone mentions they don't like any MJ songs, i must admit i stare at them and find our newfound friendship taking a rather reluctant turn downhill.
Ok so you get how much i love MJ.
Ahhh i feel my heart just plumping up with love just talking about him!
I am SUPER EXCITED about the musical coming to KL!
What makes THRILLER LIVE even more special is that Malaysia will be the first exclusive country in South East Asia to be staging the show for 2015.
Plus plus plus the choreography was executed by the award-winning MAN IN THE MIRROR director, Gary Lloyd (previously worked with Leona Lewis, Robbie Williams and other world class singers).
I'm so chuffed to announce that
KBF will be giving away 2 PAIRS of VIP tickets!
Each VIP ticket is worth RM471,
so if you win a pair, you substantially win tix worth RM942, almost a thousand ringgit!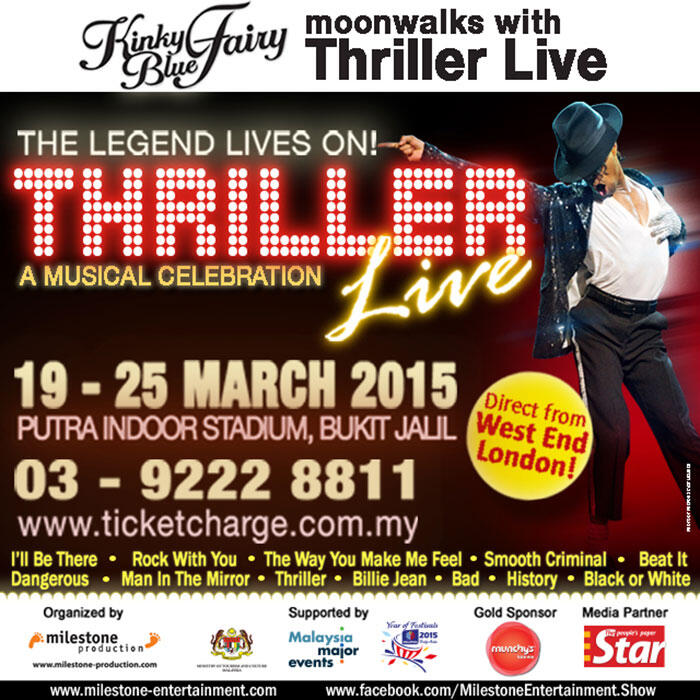 To enter,
1. Repost the image above on your Instagram and/or FB
2. Caption anything you want – why you want to go, your fave MJ song, anything!
3. Hashtag #KBFgiveaway #ThrillerLiveMalaysia
The more you post, the higher your chances of being picked!
Contest deadline: 28th February 2015
+ + + + + + + + + + +  +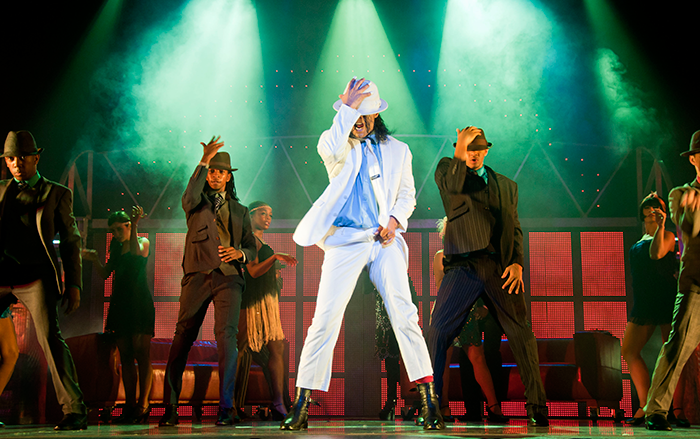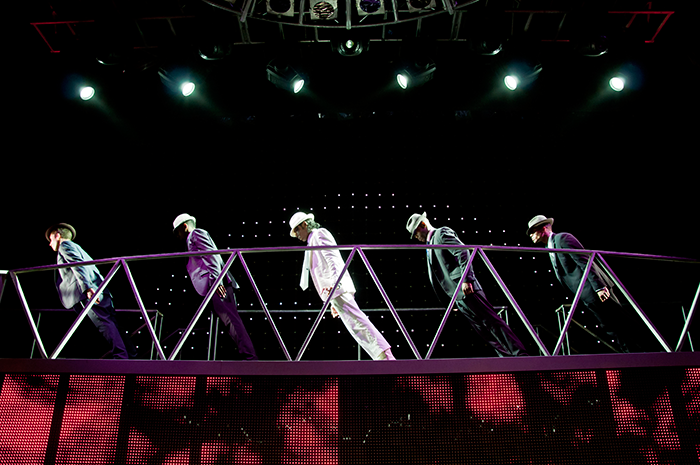 Direct from London's West End, THRILLER LIVE is a spectacular musical created to celebrate the illustrious career of the world's greatest entertainer, Michael Jackson. This sensational high octane production (named after the King of Pop's biggest-selling album Thriller which sold more than 104 million copies) has played for 7 years in the Lyric Theatre in London after opening to sold-out audiences and standing ovations in 2009.
THRILLER LIVE is an amalgamation of eye-popping video footages, myriad of effects, dazzling costumes and high energy choreography; in order to bring to life on stage the sensational dancing and sound of Michael Jackson's greatest hits. The two-hour powerful visual, audio and electrifying musical journey will also feature smash hits such as I Want You Back, I'll Be There, Show You The Way To Go, Can You Feel It, Rock With You, She's Out Of My Life, Beat It, Billie Jean, Earth Song, Thriller and many more! Oh my god… may be one of my best nights everrrr!
As well as becoming a mainstay in London's West End, THRILLER LIVE has toured the world,
played over 3,000 shows globally to 3 million fans with rave reviews and standing ovations,
visited over 28 countries (incl. Germany, Italy, Poland, Denmark, Holland, Belgium, Switzerland, France, Singapore, South Africa, China, Sweden, Finland, Norway, Japan, Brazil).
Brought to Malaysia by Milestone Production, the musical at Putra Indoor Stadium will be the full-scaled production with the entire original set being shipped in from London, along with the performance by 50 West End international performers, musicians and crew.
You might be interested to know, that Milestone Production will be working with several charities, organising dance workshops with the West end dancers, and running a Flashmob Dance Competition.
Find out more by checking out: www.facebook.com/MilestoneEntertainment.Show
More pictures, and info on show times and ticket purchase after the jump!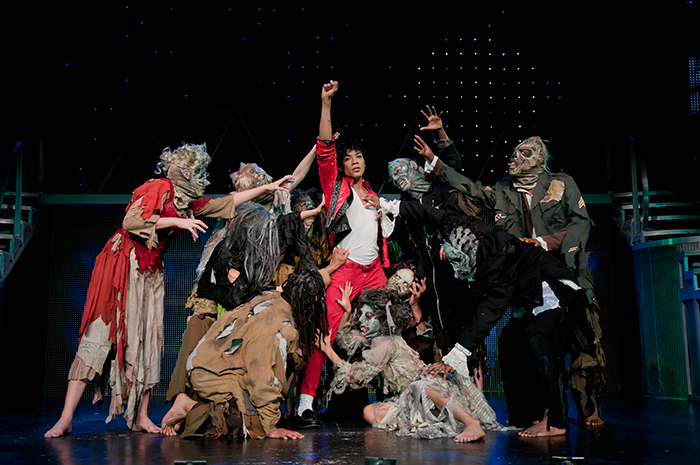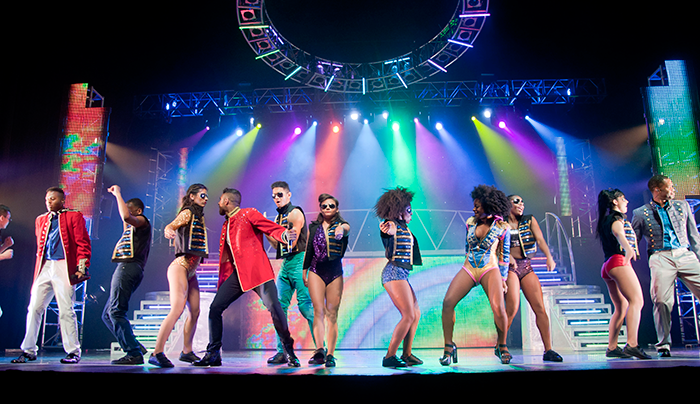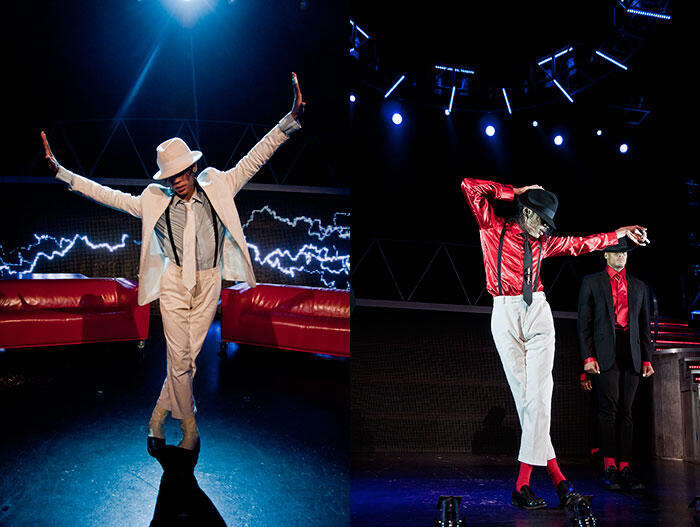 TICKET PRICES
VVIP : RM 538
VIP : RM 468
CAT A : RM 398
CAT B : RM 298
CAT C : RM 168
CAT D : RM 128
Available for purchase at: ticketcharge.com.my
SHOW DATES & TIMES
19 March (Thursday): 8.30pm
20 March (Friday): 8.30pm
21 March (Saturday): 3pm & 8.30pm
22 March (Sunday): 3pm & 8.30pm
24 March (Tuesday): 8.30pm
25 March (Wednesday): 8.30pm
VENUE
Putra Indoor Stadium, Bukit Jalil, Kuala Lumpur
SHOW INFORMATION
www.milestone-entertainment.com
www.facebook.com/milestone.production
www.facebook.com/MilestoneEntertainment.Show
thrillerlive.com