This is gonna be a real picture-heavy post cos i took so many pictures on this ONE day itself!
I only had 3D/3N in Jeju, thinking it would be enough, but it's NOT. I would recommend you to visit Jeju at least ONCE in your life cos it's so breathtakingly beautiful, i was practically screaming in my head by myself the whole time (cos i was traveling alone).
No, but seriously. It's a great place for a holiday with family/friends, cos it's got so much awesome nature! Unless you hate nature. Which would be… strange.
Tips for traveling in Jeju:
– Stay for at least 5 days. A week to 10 days would be best so you don't rush around like cray and still not get enough. I'd suggest staying on the East side of Jeju for half your stay, before moving to the West.
– Get an international driver's license and share a car with 3 more friends (so going in a group of 4 is ideal, cost-wise). Me hiring a taxi for a whole day cost USD150. And you would WANT to have a car cos everything is quite far in between and you'd want to stop by diff spots marked out on a map and take your time without succumbing to that of a tour (plus you might be forced to see stuff you're not interested in). Renting a car to drive costs much less.
– Use Airbnb like i did, and stay with the locals so you get a sweeter experience. I make my choice based on the reviews, so spending 2 mins reading them helps heaps.
I chose these spots to visit that particular day cos they were so kindly marked out on the map for me by a couple of Korean girls staying at the same B&B. I went there with minimal knowledge of which places to visit, but it all worked out well. I think i managed to visit some of the most pretty places on my trip. (I want to go back tho… SO MUCH i have yet to see!)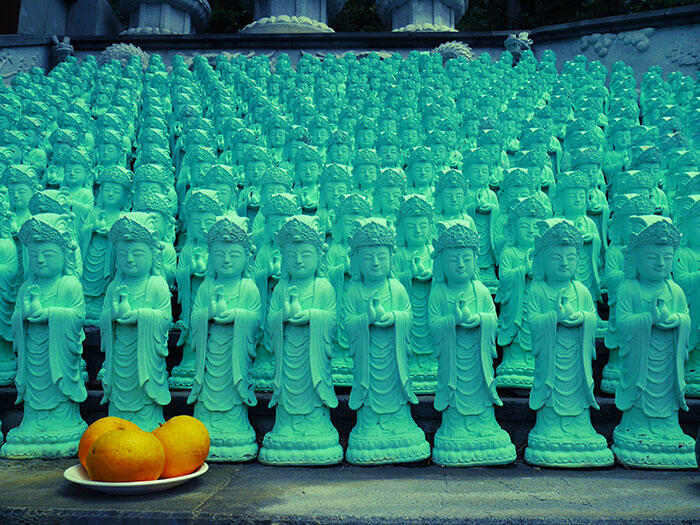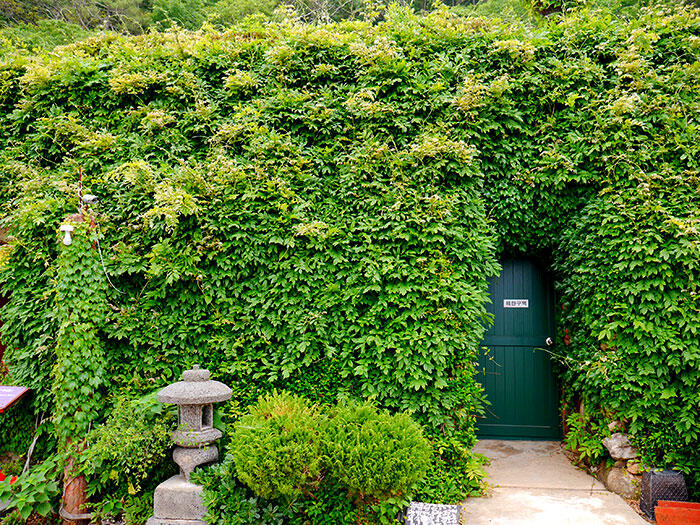 I was picked up from my B&B by a taxi driver called Mr. Kim (many of them go by Kim) and we headed to the temple on Mount Sanbang.
Mount Sanbang is the only mountain on Jeju that doesn't have a crater, and is said to be the top of Mount Halla (a shield volcano in the centre of Jeju and the highest in South Korea). Legend has it that when a hunter tried to shoot a white deer on Mt. Halla, he missed and his arrow hit the mountain and consequently, the Halla spirit instead. Enraged, the Halla spirit ripped the top of its peak to throw at the hunter, where it fell near the coast.
Jeju is filled with legends like this! Love it.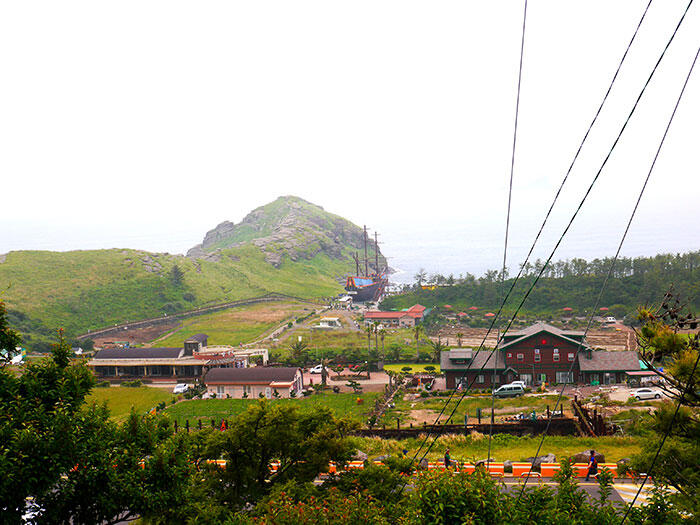 You can see a memorial in the form of a ship just off shore, that was built to commemorate a Dutch sailor who was shipwrecked on the island in the 1600s. He later went home to write the first book (in a European language) on Korea.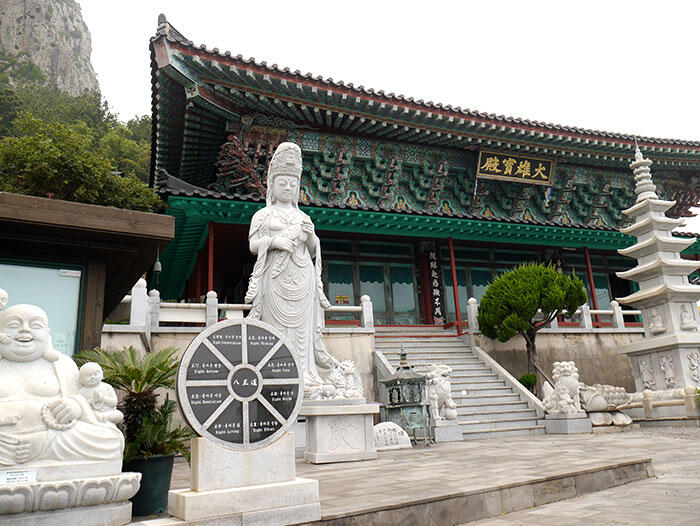 The temple on Mount Sanbang is famous for the only cave shrine in Jeju, which is a short hike further up.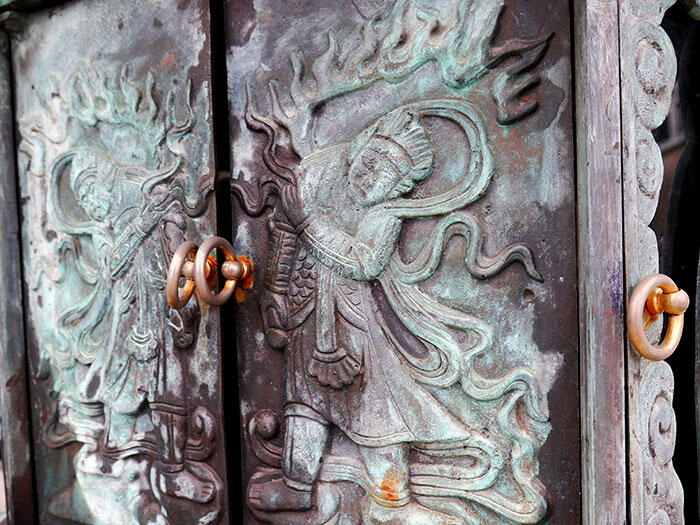 Because i was alone, i would take my time staring and absorbing the details on doors and knobs and walls and paintings and carvings… before wondering if i was taking TOO long and start running down the hill much later on :p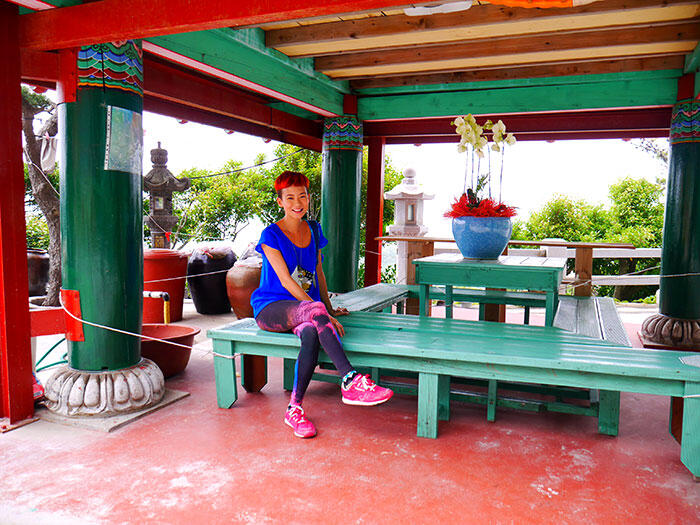 Not a great pic but the only one of me at the temple. I take lots of opportunities to ask strangers to take pictures of me as only some will turn out decent so i gotta include statistics, see.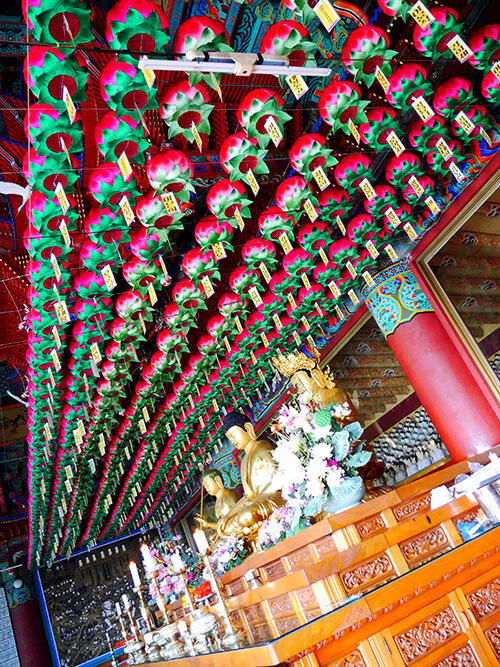 It was really beautiful inside and no one was around. I felt like sitting down for awhile and praying, which i haven't done in so many other temples i've visited… so i went with it and just did.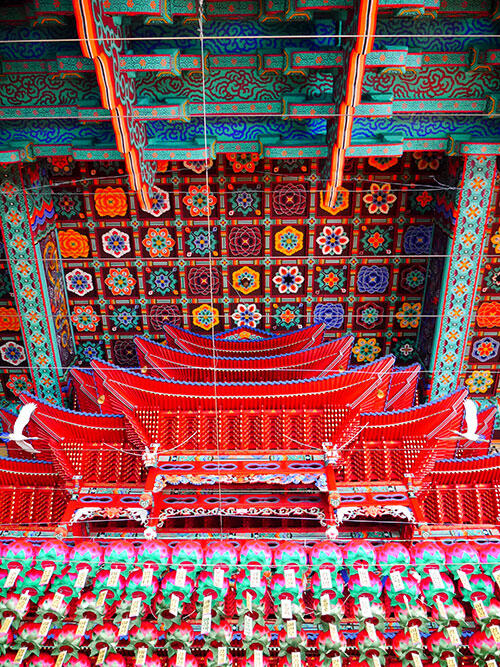 Look how colourful their temples are! I wouldn't mind me some ceilings like that but then i just thought about the extra cost for interior decorating.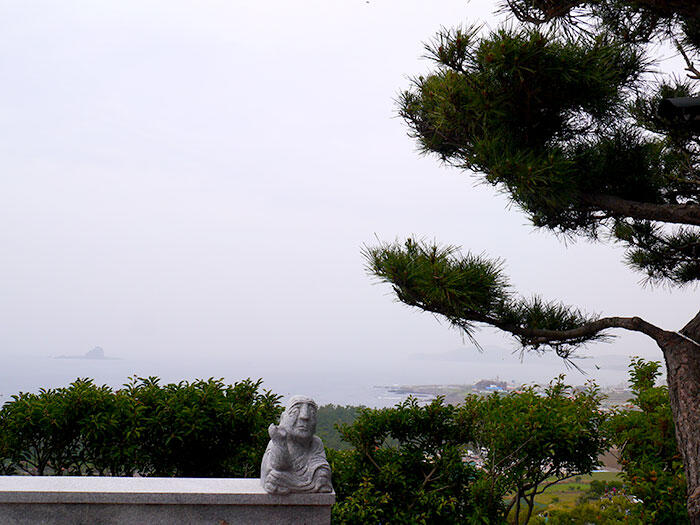 This statue was so sad and cute.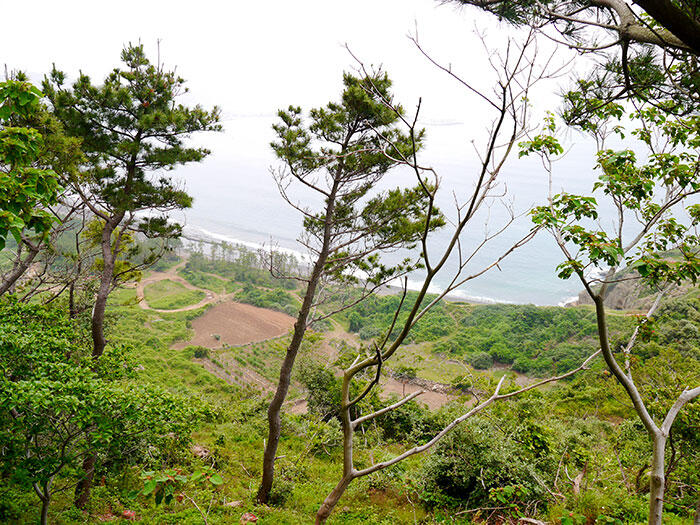 The shore down below! Imagine ROLLING all the way down… (but have superpowers and not be able to get hurt)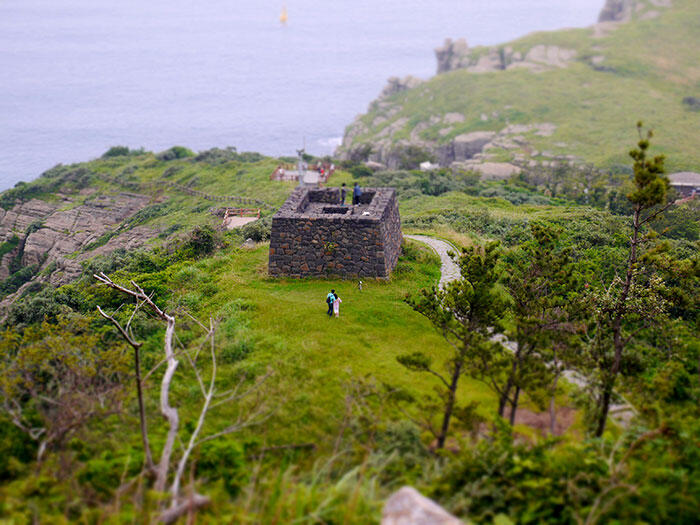 A parent and child taking pictures of themselves with a self-timer on tripod.
Can you see it? It's that tiny white dot just THERE.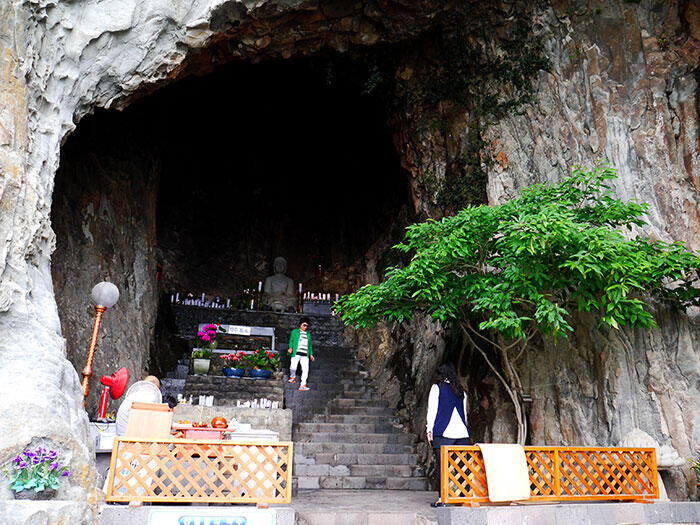 Clear water constantly drips from the top of the cave, which is believed to be the tears of the goddess Sanbandeok who sheds them for the loss of her love (who was a mortal). Visitors are allowed to take sips of it and say prayers for the health of their family. I didn't know you could take sips of it (this is what happens when you research the story AFTER you've visited) and washed my hands instead. Oops.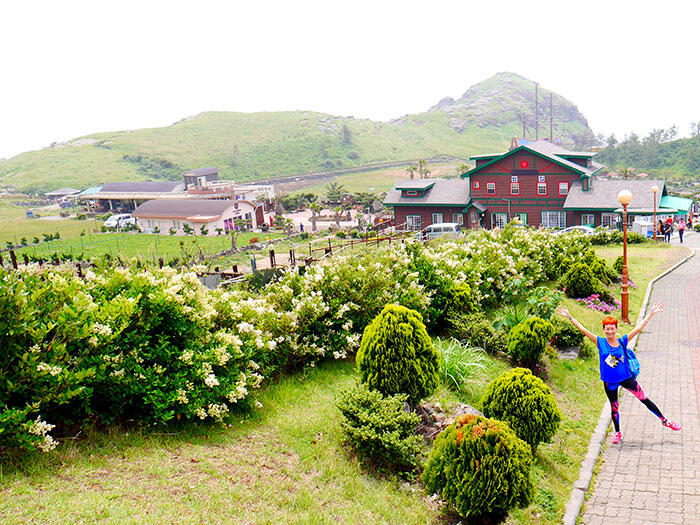 From the temple, i took a scenic walk towards the shore where the driver said he'd be waiting for me.
I bought a tiny coconut cos it was so cute i was thirsty. And i did something i usually don't do while traveling… i didn't ask for the price before buying it and it cost me RM16. Most bloody expensive coconut i've had in my life…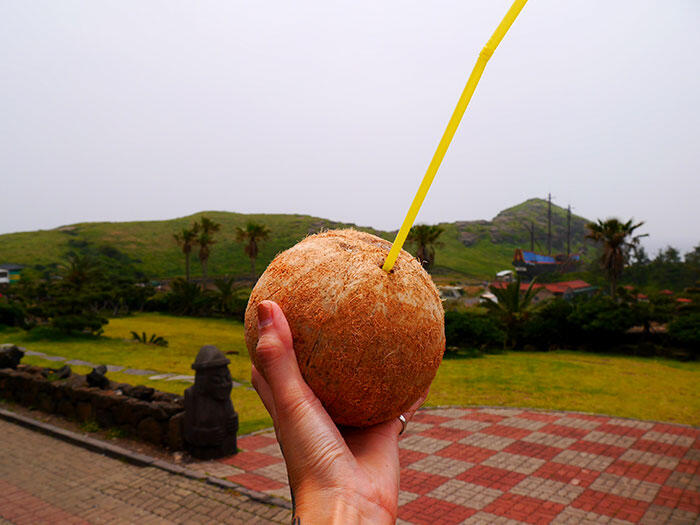 HAD to take a picture of it in my hand. Just to show how big/small it was XD
When i saw my driver, he gestured at me to walk along the coast and said he would meet me on the other side, so i thought okay. Below are the pix from Yongmeori Coast aka Dragon Head Beach cos from far off, it looks like the head of a dragon entering the water.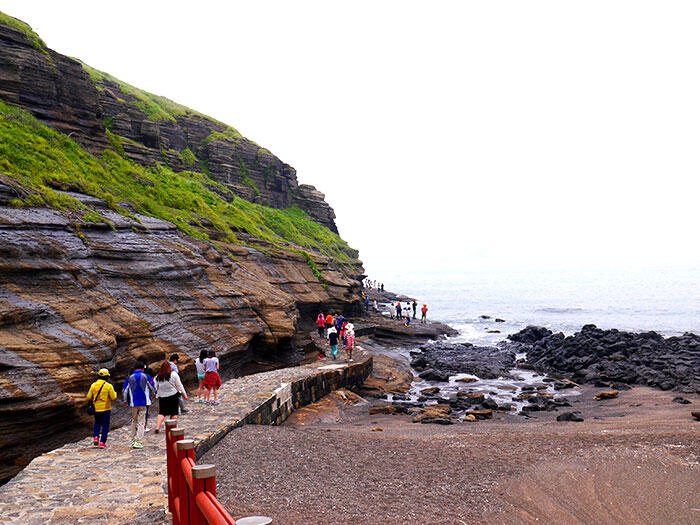 I had no idea how long this beach was, or what it looked like.
And i think… because i had zero expectations, my experience was magnified but how spectacular this coastline was.
I'd say it's one of those places you utterly just HAVE to visit in your life.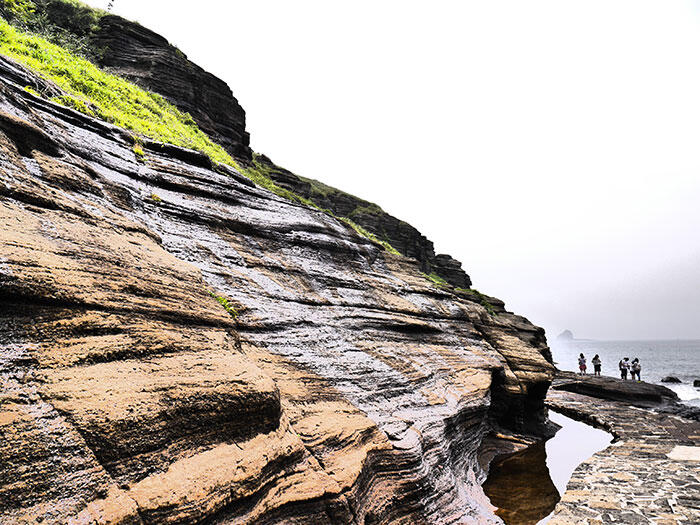 This was just at the beginning of my walk and i was admiring the graceful curves of nature…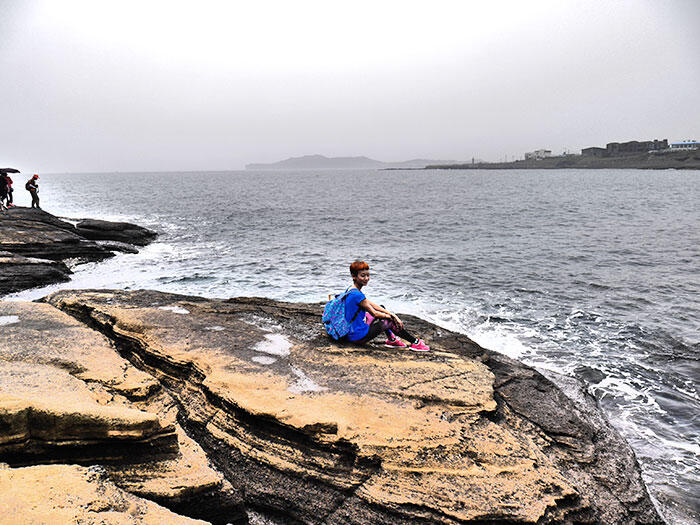 Fairy on a rock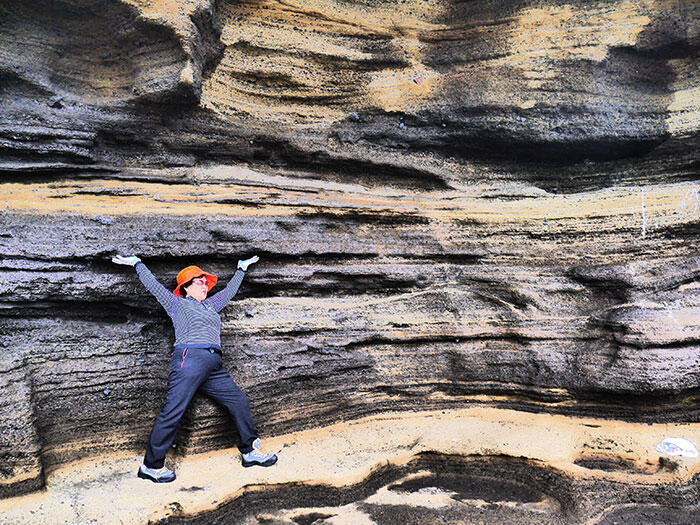 A tourist i quickly snapped. Come on… it's funny!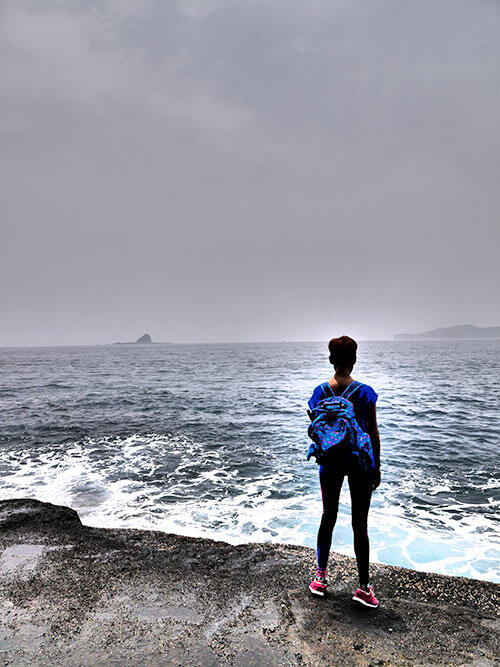 There was a father (who had his little girl with him) who took this picture for me,
and just as i turned around to get my camera back,
i caught sight of his daughter of about 4 or 5 trip over a ledge and scrape her knee.
I exclaimed quite loudly, "OH!!!" (i felt kinda bad cos i did ask him to take his eyes off her)
But the dad glanced down at her was like, "Oh." *macam biasa*
She was bawling away as his wife came up calmly with a plastic bag of medicine and plasters and i was like, "Wow. Parents gotta be so prepared," and quietly slunk off.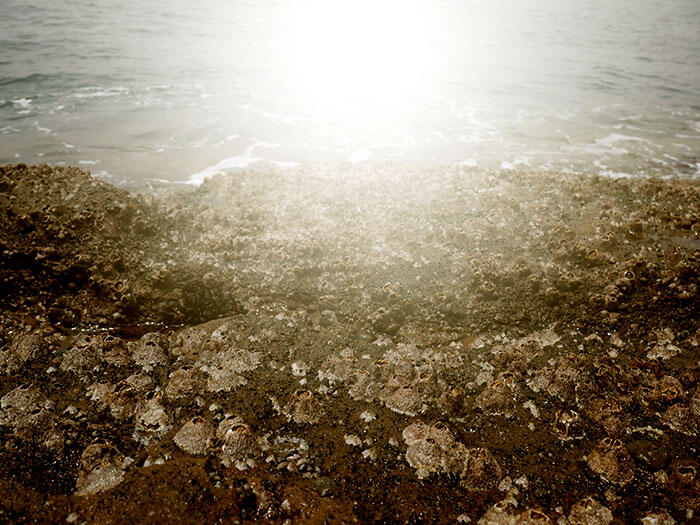 I've always like the word "barnacles"
Imagine if you met someone called Barnacle Lim.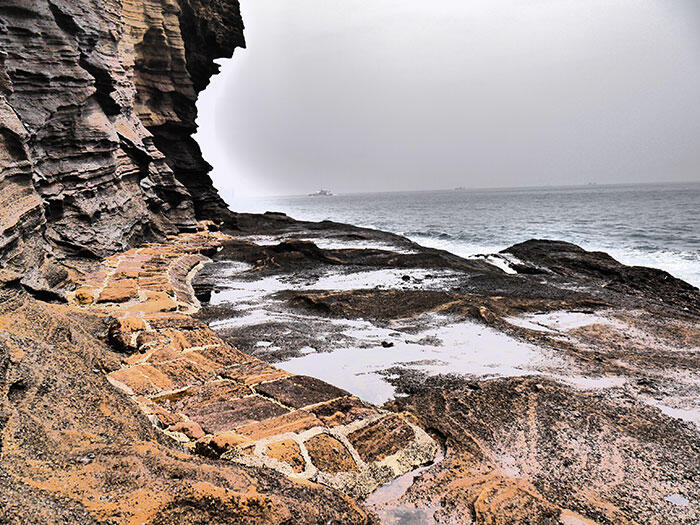 I was just like "Wow…"
Everything was so BIG, the rock formations, the sea, the sky.
I could pretend i was in an alien world! (But wait, our world IS an alien world…)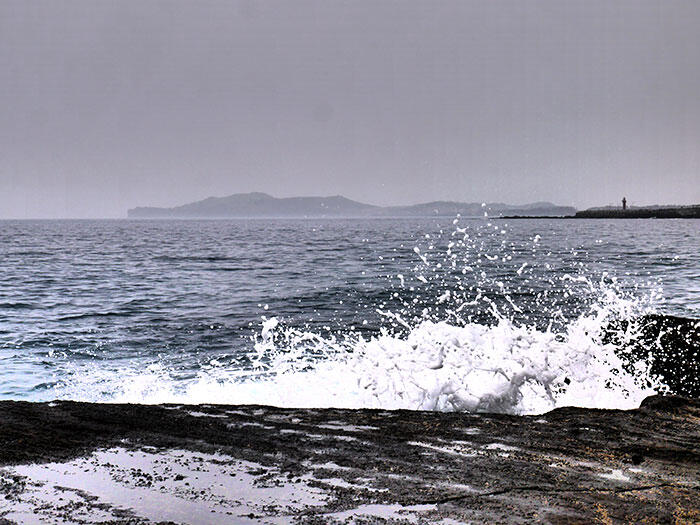 A wave said a big HI to me!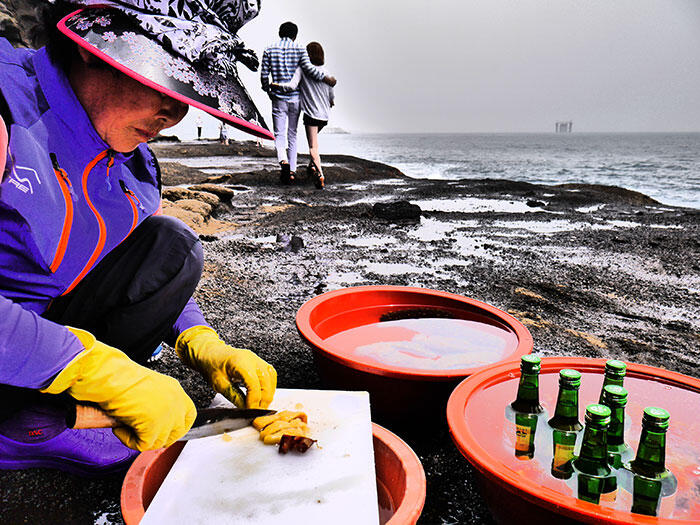 I was so excited and elated to see food being sold on the coast! The perfect thing to perk up my walk! It was about 12pm and i must have been a bit peckish. I suspect the women selling the shellfish are haenyeo (traditional women divers of Jeju that are dwindling in numbers).
The above looks gross but it was SO YUMMY.
Made even BETTER with shoju!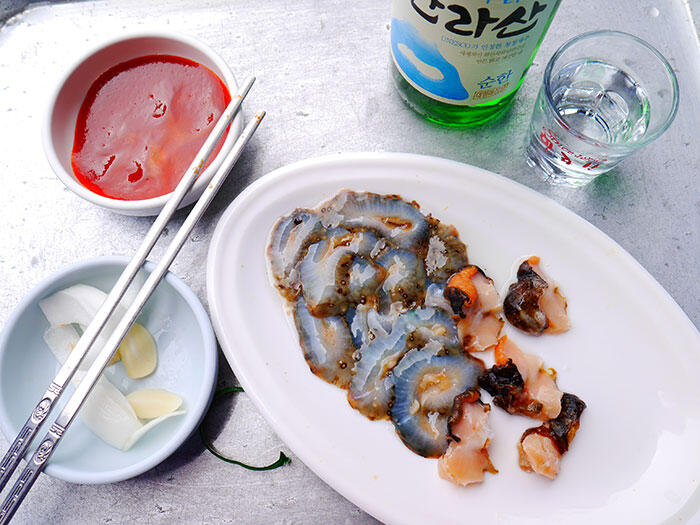 I felt i could still eat some more so i tried something that resembled sea cucumber? It wasn't as nice as the shellfish but i placated myself with the thought that i tried all the different types and had more shots of shoju.
I really had the BEST time,
just sitting there leisurely enjoying raw seafood (one of my favourite foods)
and drinking shoju (one of my favourite hobbies :p)
taking in the view of the ocean and rocks,
watching families with cute Korean children in colourful clothes,
smiling at other people as they watched me curiously…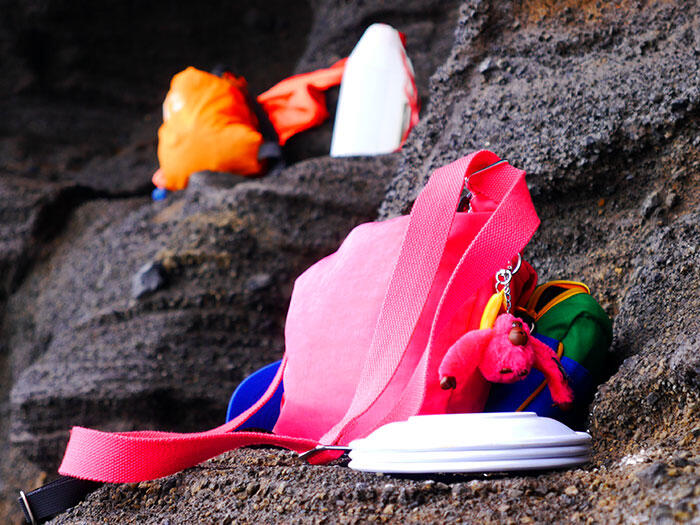 I mentioned in my previous post on Kipling how i spotted so many Kipling monkeys, here's one of them!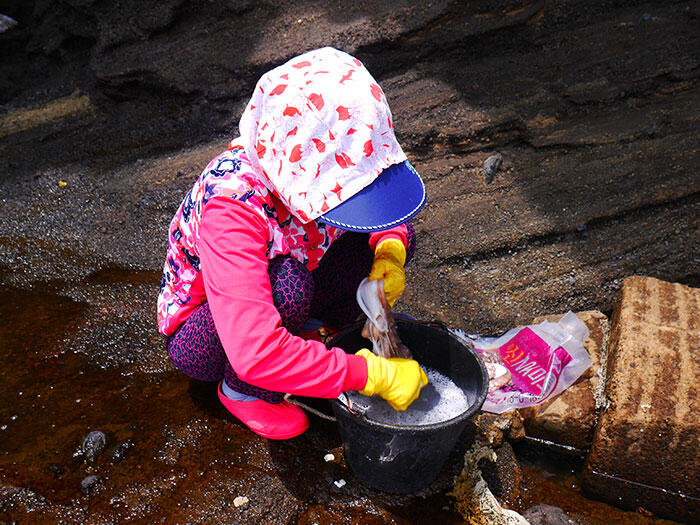 When you travel, you must have no shame. Else you'll miss on a moment (or an adventure).
In this case it was a moment.
I saw one of the (assumed) haenyeo washing something in a bucket and went over to peer down at her.
Don't think she was too pleased but what could she do, i was just looking.
I gestured at her if i could eat some of that too, and i got the firm message NO.
Guess they sell that to restaurants!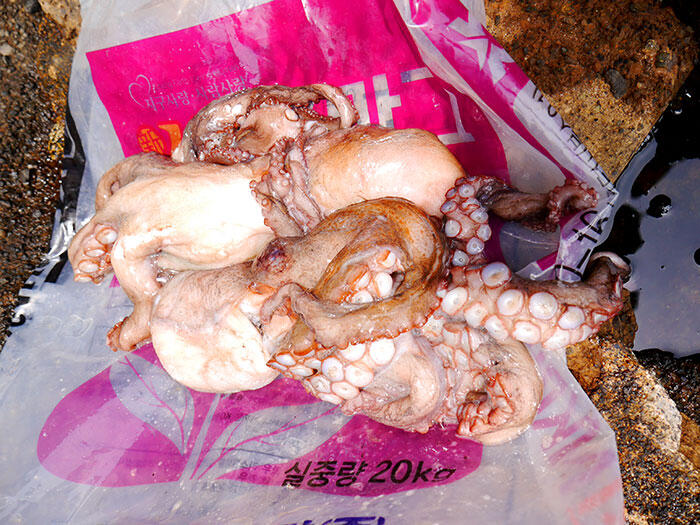 After sitting there long enough, i packed the leftover shoju in my bag (i didn't finish the whole bottle myself la…) as i figured i was tipsy enough and didn't wanna fall headlong into some ravine.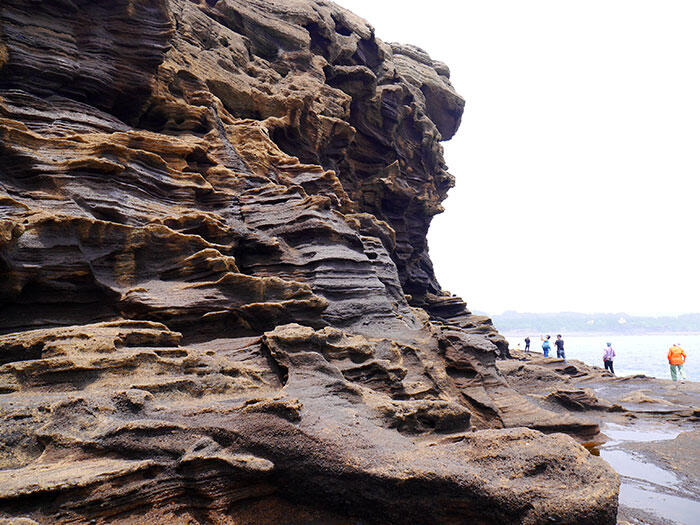 Look how AMAZING it is! Have you seen anything like it IRL!?
I wish i could have spent MORE time there but as it was, Yongmeori was only my second stop for the day and i still had more things to see! So i had to make myself hurry just a BIT more, yet couldn't cos i wanted to spend as much time there as possible! It would have been such a great place to spend at ALL DAY and just sit and draw. Dammit i wanna go back.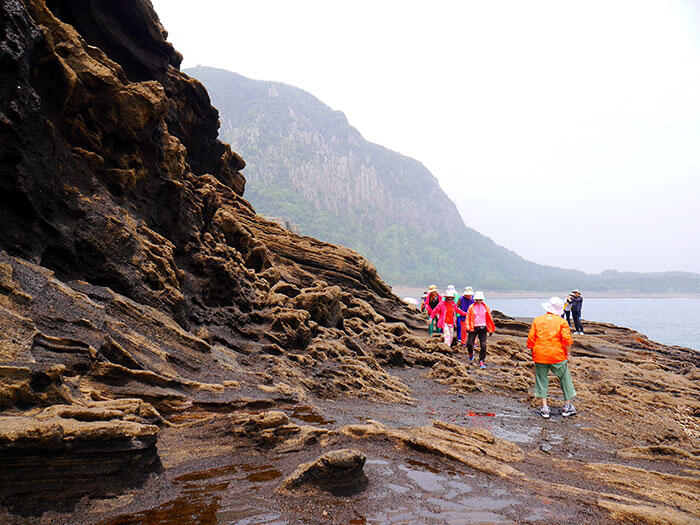 This bunch of elderly ladies were all so colourful! Super cute.
I want my friends and i to be like that when we grow up. Or crazier.
More seafood offerings along the way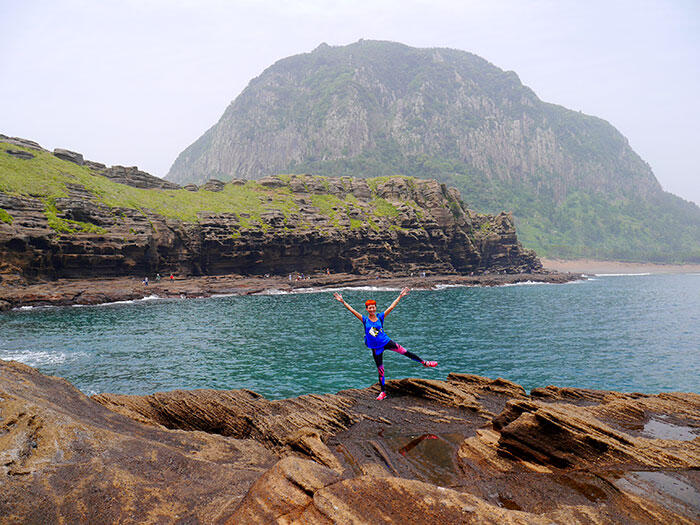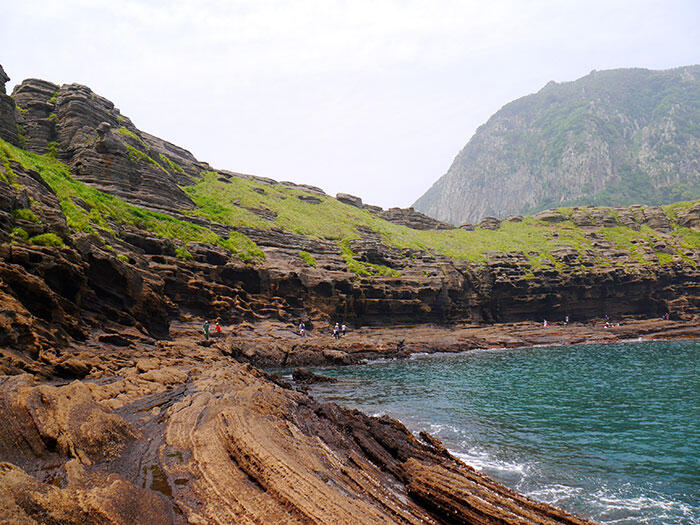 It was around here that i was just FREAKING OUT.
It was so GORGEOUS and SPECTACULAR and i was a bit drunk and admiring everything and taking hundreds of pictures and going, "Oh my goddddd what the fuckkkkkk!!!!"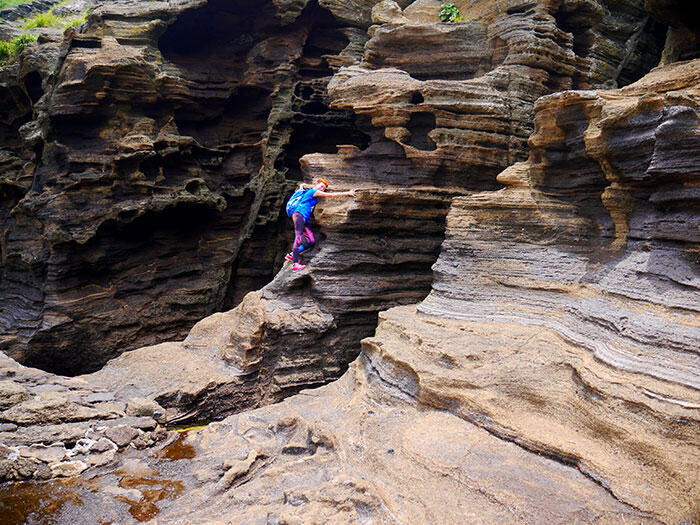 I might have hugged a rock or two.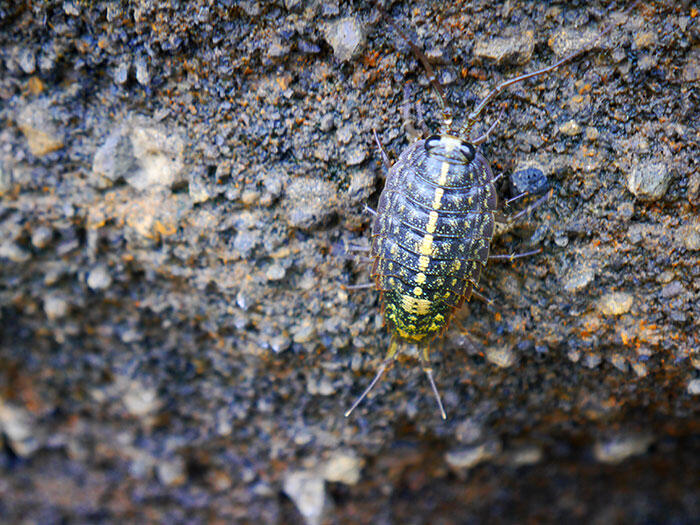 Foreign bug i watched for a bit before it scurried away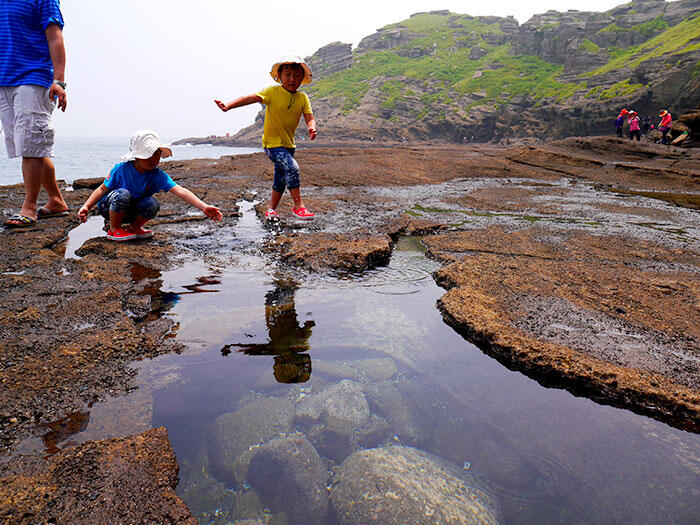 Is it terrible that my first instinct of looking at this pic is to push the kid into the pool?
Maybe this is stuff i shouldn't write out loud.
But it's not just kids, i felt that way about Jia Wei as she walked past the swimming pool in her baju Raya yesterday :p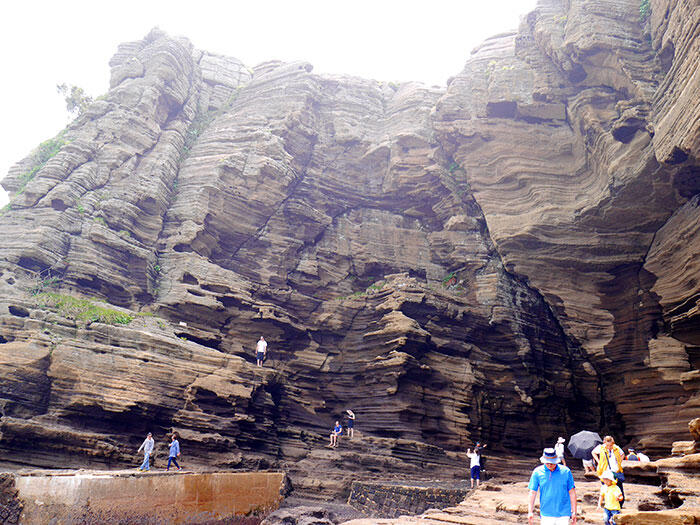 HOW COULD YOU NOT FREAK OUT!?
I think my brain was on overdrive for over an hour there!!!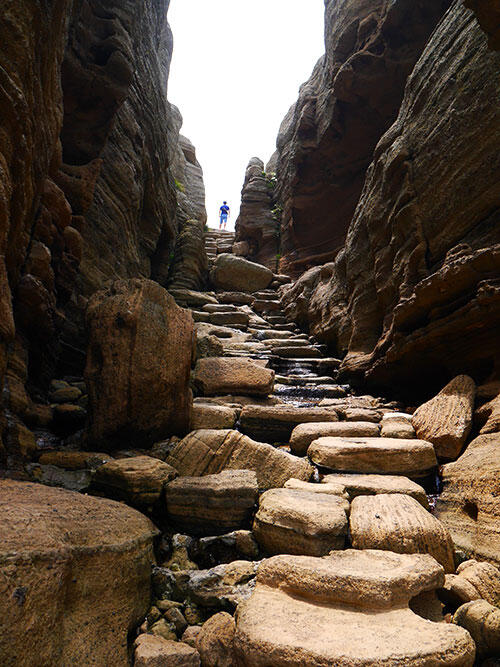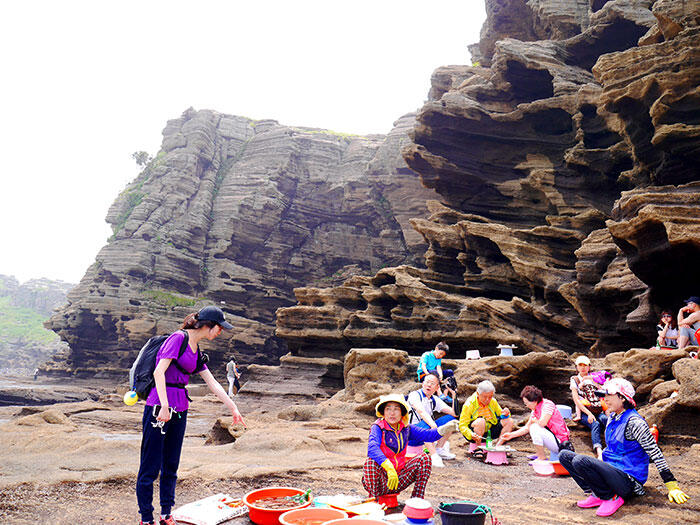 I made friends with another girl traveling alone.
Her name's Nicole and she's Korean but grew up mostly in Canada.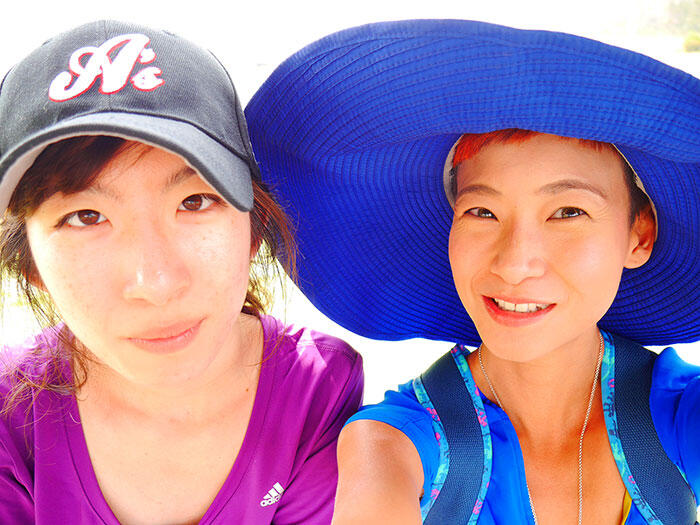 Nicole was heading to Mount Songaksan after Yongmeori coast, which wasn't too far off, and i figured even tho it wasn't in my plan, i could give her a lift and check it out too cos it sounded like a nice place (and company is nice!).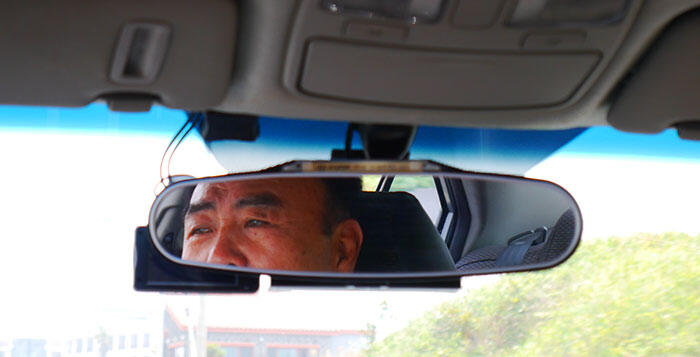 My driver Mr. Kim! He's such a sweetie, telling me stories about his wife and daughter.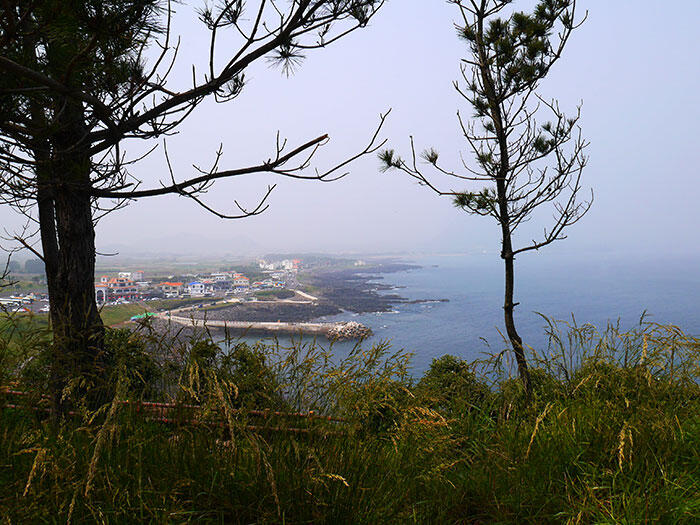 Climbing up Mount Songaksan
Beautiful. Looking back, i didn't think it was that long of a hike… i think the shoju was still kicking.
This is the stuff of animated cartoons yo.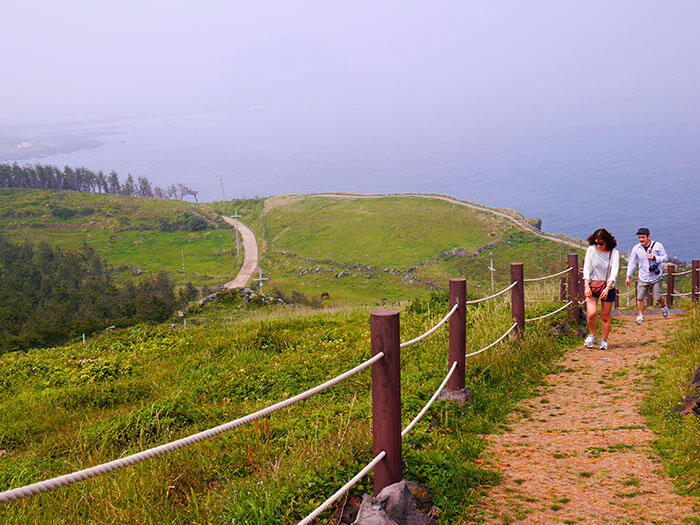 After the climb, Nicole and i descended, hugged and parted ways.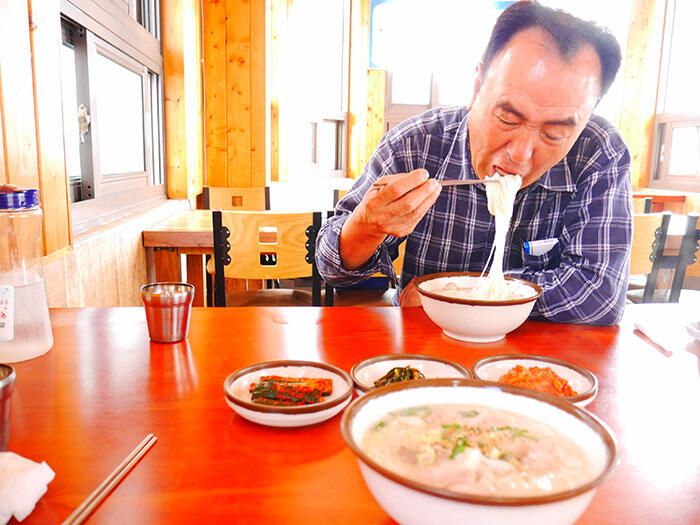 Mr. Kim and i went for lunch at around 2pm, poor guy must have been starving.
I offered to pay for his lunch tho i feel it's memang customary there to do so.
After eating, we headed further West to Jungmun Daepo Haean Columnar-Jointed Lava (Jusangjeollidae).
Wait till you see what they are. So surreal!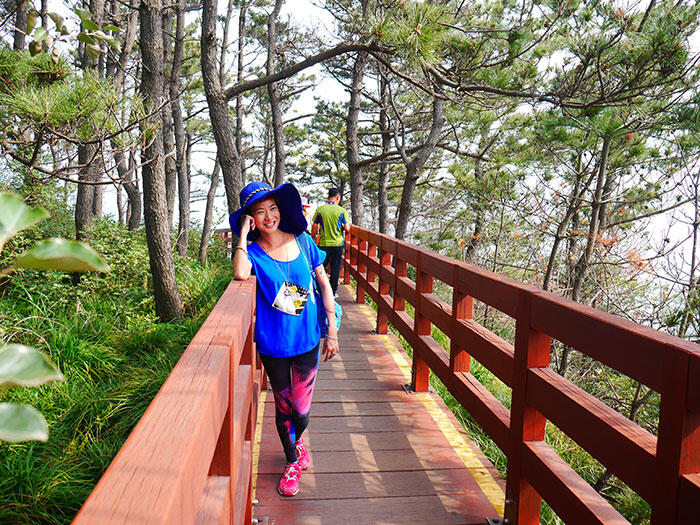 Jungmum has these vertical pillar-shaped rocks in a hexagonal shape that rise out from the sea, and are often composed of basaltic lava. Its formation is the result of a sudden contraction when thick molten lava flows from an active crater and cools rapidly.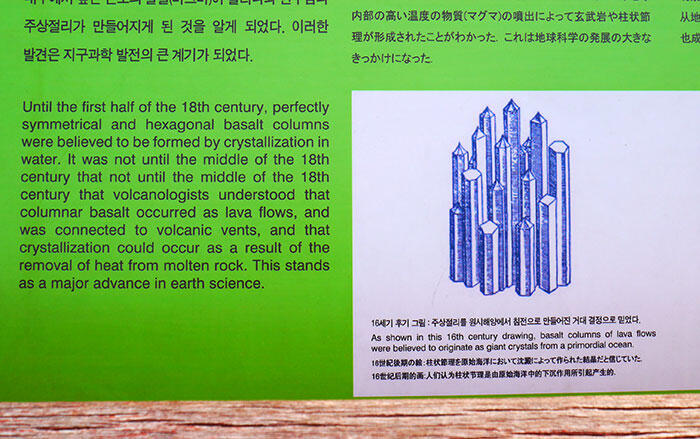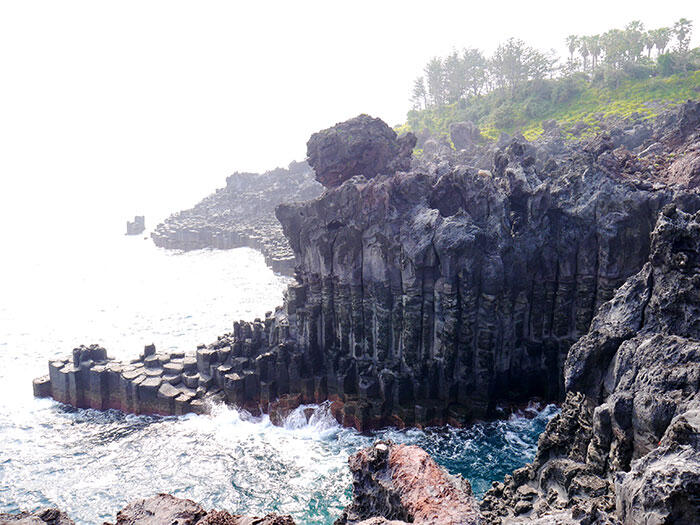 Did you even know this existed? *I* didn't!
And apparently some of my friends too.
When i showed them pictures of my trip, they laughed and said it was definitely carved out and i got duped -_-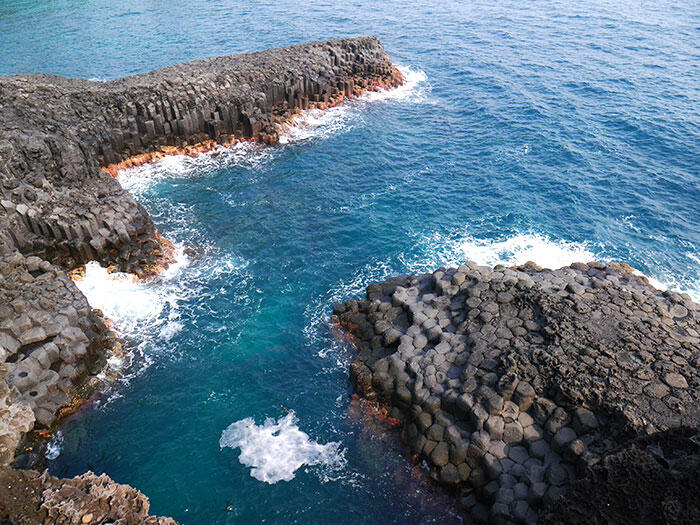 How amazing! Jungmun has basalt columns that are 30m-40m high and 1km wide, making it the largest such formation in Korea.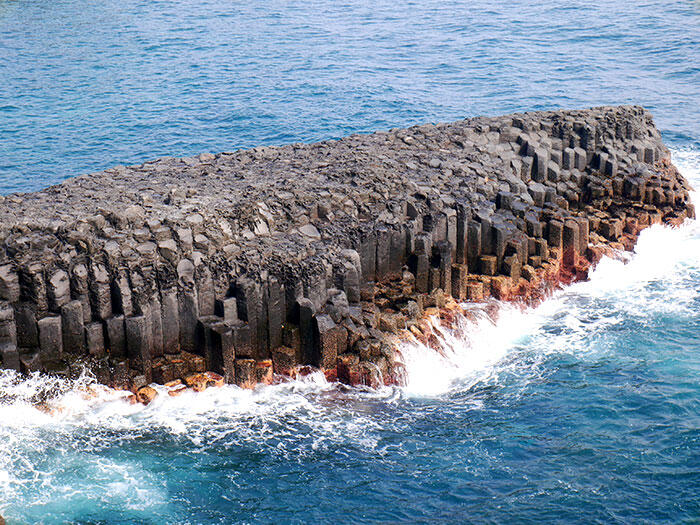 After THAT, i got back into the car, worked our way a tad more West and i hiked up a hill to visit Cheonjyeon waterfalls.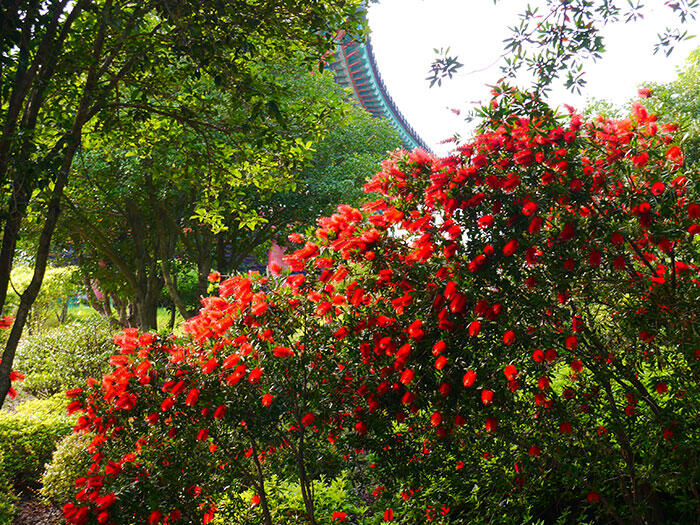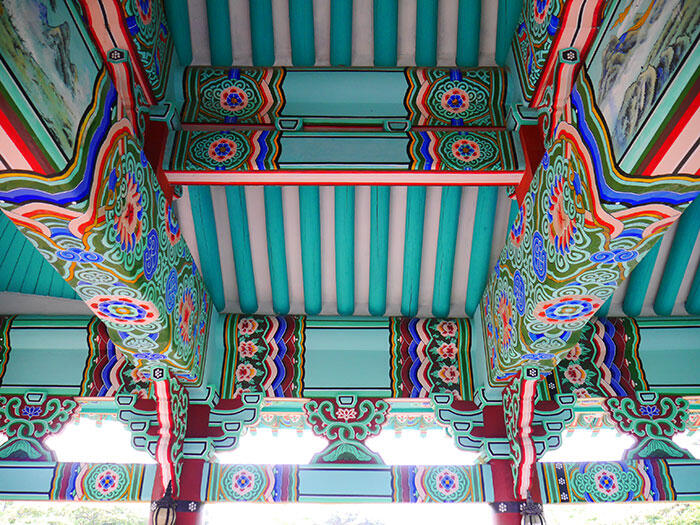 A temple near the waterfalls with colours and patterns i favoured.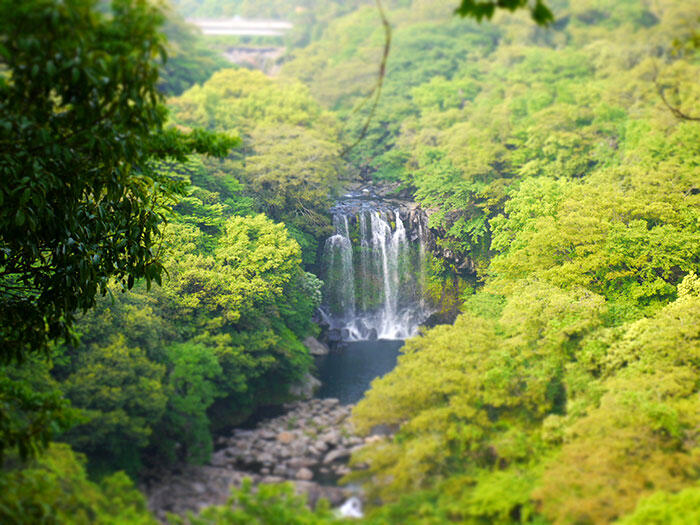 When i caught sight of the waterfall, i was thinking that this had to be the most wonderful day in nature for me.
I had never seen so many new amazing sights all rolled into one!
Doesn't it seem magical! I swear i could feel magic there. I didn't want to move.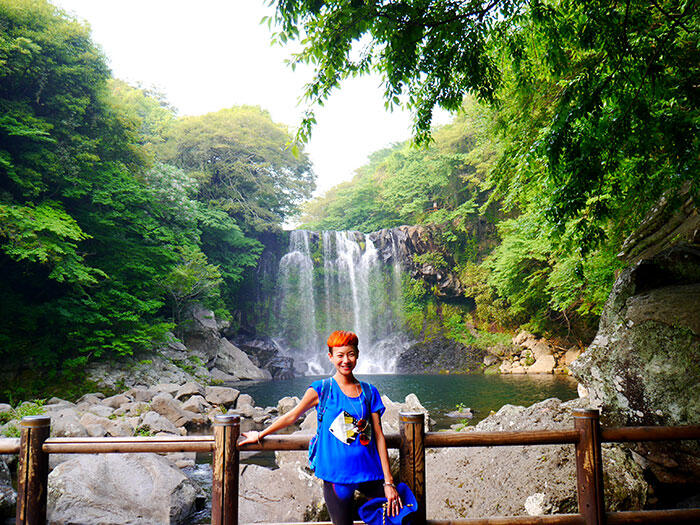 There are three waterfalls (all pictured above) that make up Cheonjyeon.
Then i got into the car (again) and headed for the last stop for the day.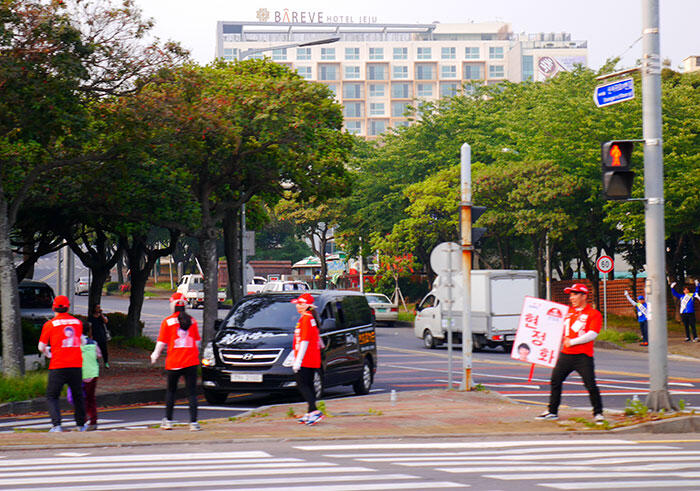 On the way, i saw people dancing in synchronized movements (yup… think a diff version of Gangnam style) along to a van playing loud music, WITH more people dancing in them.
Mr. Kim told me the elections were coming and this was how they got people to vote. For the rest of my trip in Korea, i noticed more "parties" like this of different coloured uniforms and vehicles. I couldn't help thinking how cool it was that they made it so HAPPY instead of serious and zzzzz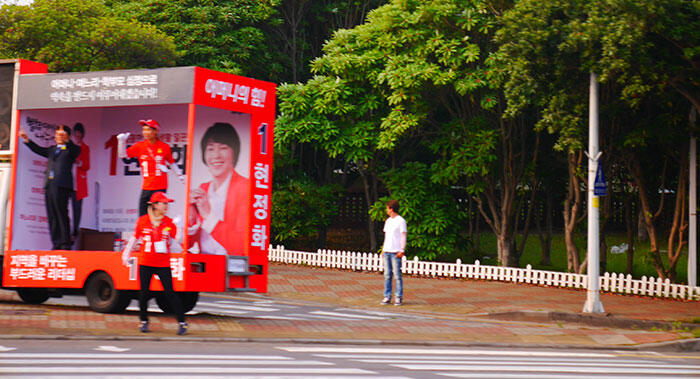 Tho the local guy in white doesn't look like he gives a shiz
My last stop for the day, was Jeongbang waterfalls. At 75ft high, it's said to be the only waterfall in Asia that falls directly into the ocean, and is considered one of the top 10 sights in Jeju.
It was nice spot to play, and the sound of the water crashing was tremendous.
I am so spoilt for waterfalls now after Sri Lanka and Korea.
I guess i need to head to Zimbabwe next.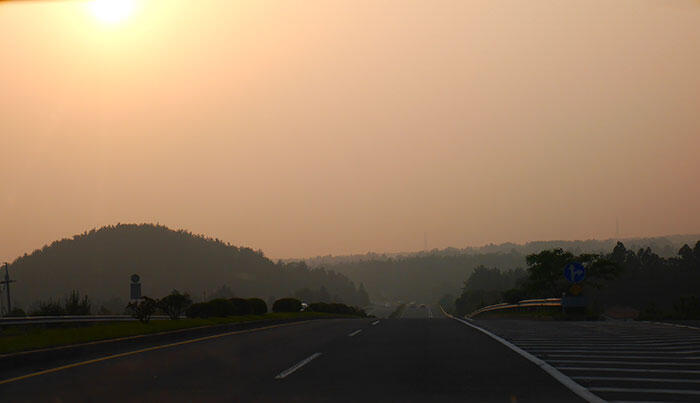 There was an unfamiliar glow about dusk as Mr. Kim drove me the hour-long ride home,
and i was exhausted from all the running around, hiking, and climbing stairs all day.
Mentally, i was still reeling from a high for having one of the best days in my life!
I must have been a bit tired in my head too, from it screaming "WOWWWW" all day long.
Jeju. Is. Fucking. Incredible.
+ + + + + + +
For previous blogposts on Jeju:
* Staying with local Jeju sisters in awesome guesthouse in orchard *
* Jeju: Beach, Spirited Garden, Local Wine *
To kickstart more wanderlust in yourself,
check out the Read About My Travels dropdown on the right sidebar 🙂