Thank you to both my parents who made me, and molded me into the person i am today 🙂
They were supposed to be celebrating in Bali with me but my dad's accident with his back prevented him from flying so… next time. 🙁
I decided to spend my birthday in one of my favourite places in the world and it's been great so far!
Friday night we partied at Danny's villa, called Asa Bali Luxury Villas, 'twas a really nice place!
Whole day Saturday and Sunday was a party at our villa at One Eleven Resorts.
I purposely chose One Eleven cos i had such a great time playing in the beautiful villa grounds last year that i really wanted to get some friends together to play with me too!
Just some quick pix before i have to head out for lunch with Rahul and Clouds.
There are thousands of pictures we snapped so i need a LOT of time to edit them… Below are just a few pix from Sunday (my birthday eve).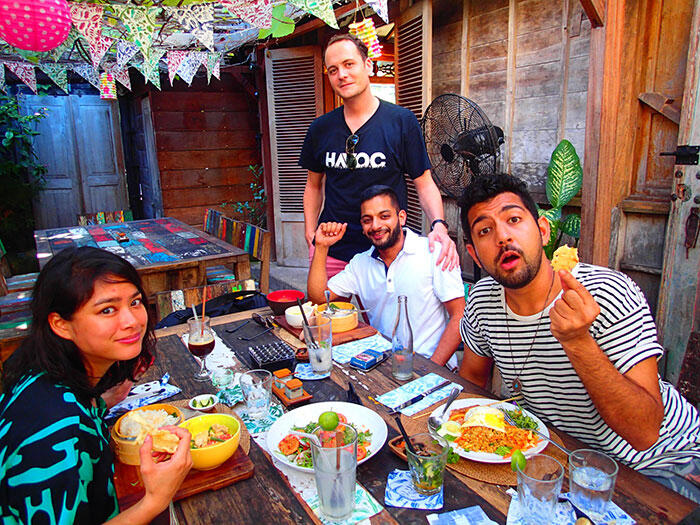 We met up for lunch at Biku. Everyone is looking slightly shattered cos we'd already been partying for 2 days…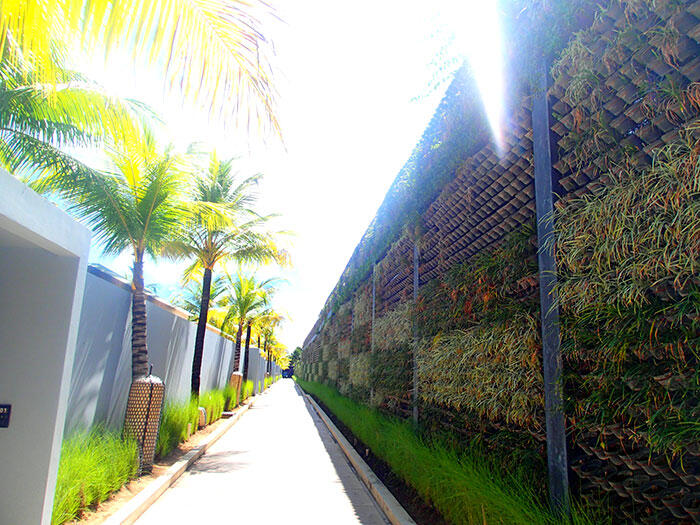 Road to paradise! Rahul fell off the buggy. He was standing on the back and was holding on with one hand, with the other hand carrying a plastic bag of drinks. He said it was so beautiful going down the lane, that he wanted to take a picture and decided to let go with the hand that holding on, to reach for his phone… -_-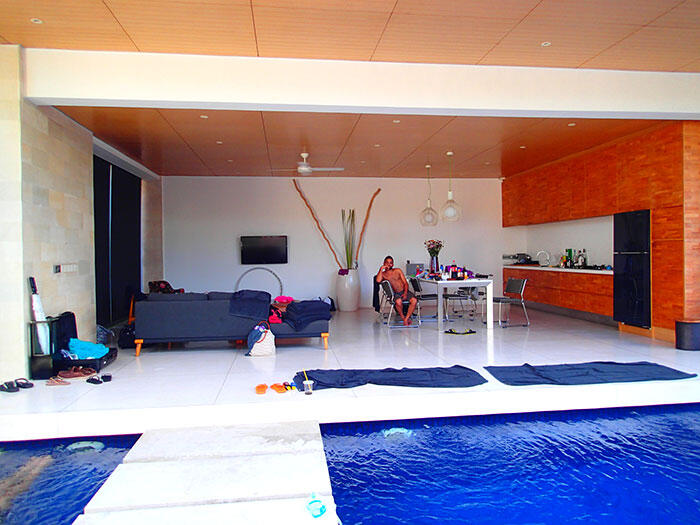 Danny chilling in the kitchen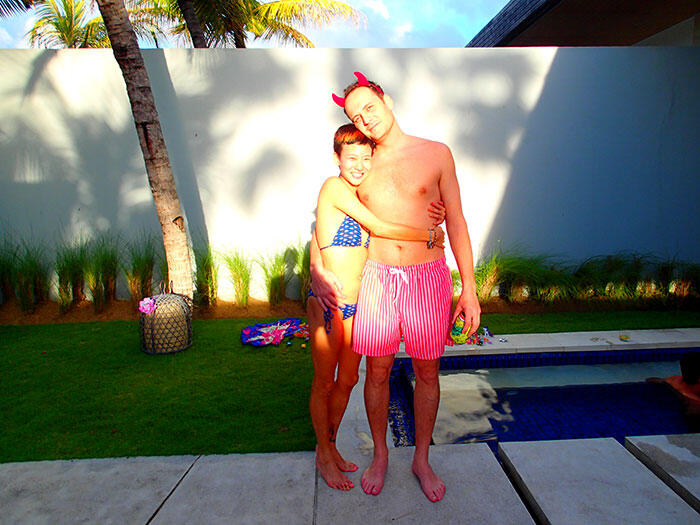 Cloyce!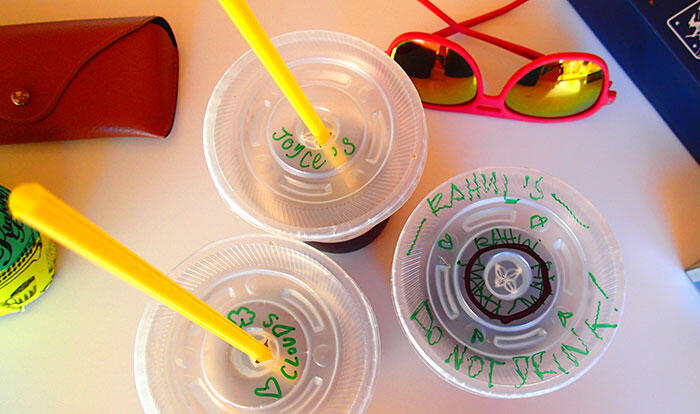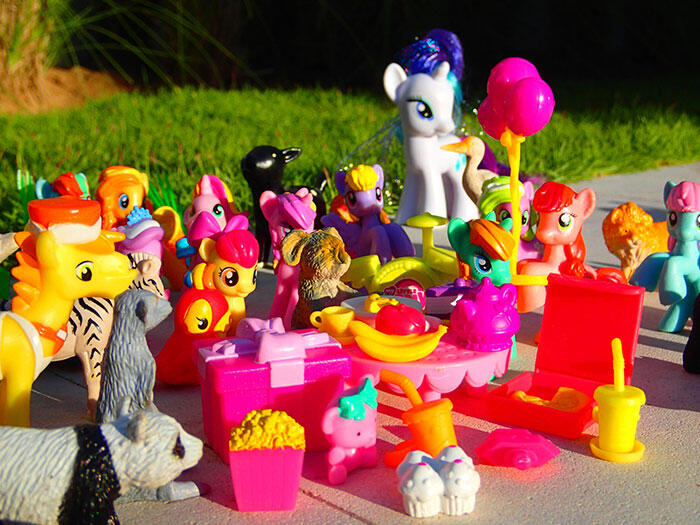 Since Clem named the evil koala Joyce, i figured it was only right she had a birthday party too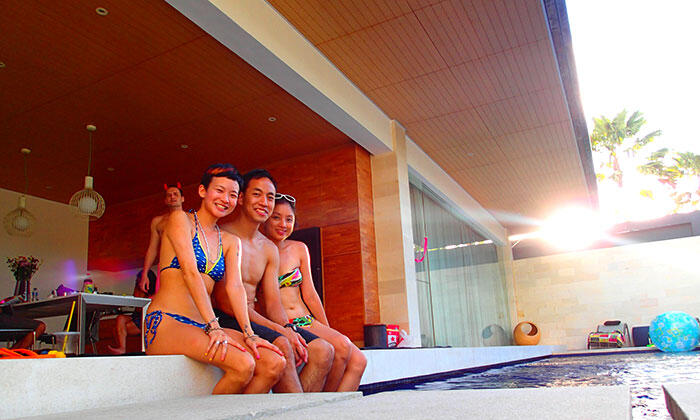 With my brother Nick, and his other half Sonia <3 I'm so glad they came in from Singapore for it!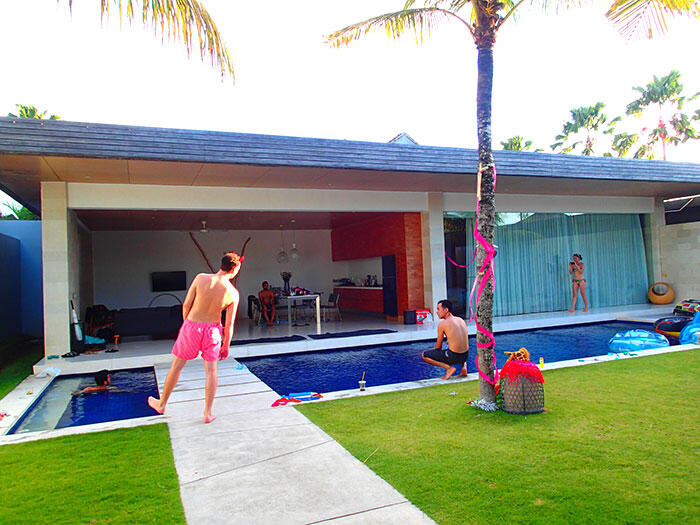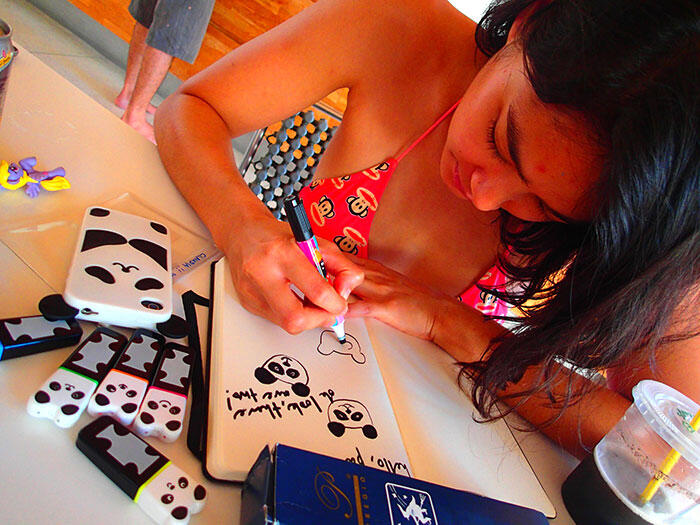 I got Claudia some panda highlighters from London cos they're her favourite animal.
And they go so well with her panda phone cover too.
Then of course, she started drawing pandas in my sketchbook.
By the end of the night, i had different panda comic strips in it 😀
I brought our snorkelling mask and goggles, and chucked christmas tinsel and scarves into the pool to create an underwater playground for us! It was SO TRIPPY.
I love my underwater camera!! It's an Olympus Tough and Clem bought it for me last year and it's the best! I'd totally recommend it to anyone. It can go up to 12 metres deep, and is shock-proof up to 2 metres.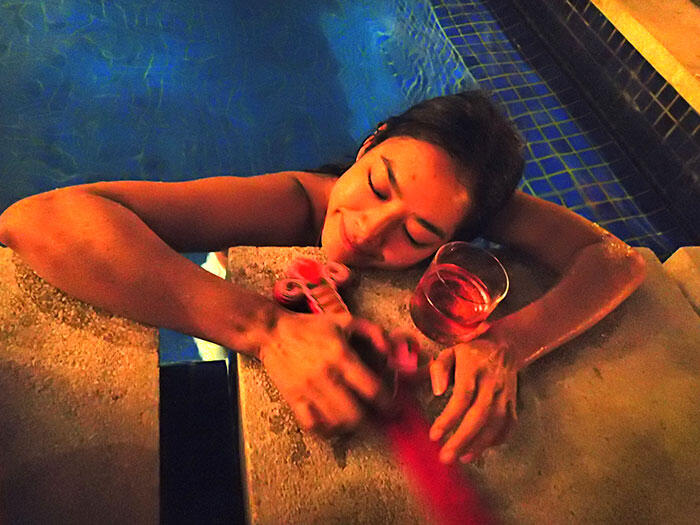 Clouds named her drink Ruby and my toy sword Helena.
Then she didn't wanna drink Ruby cos she would die.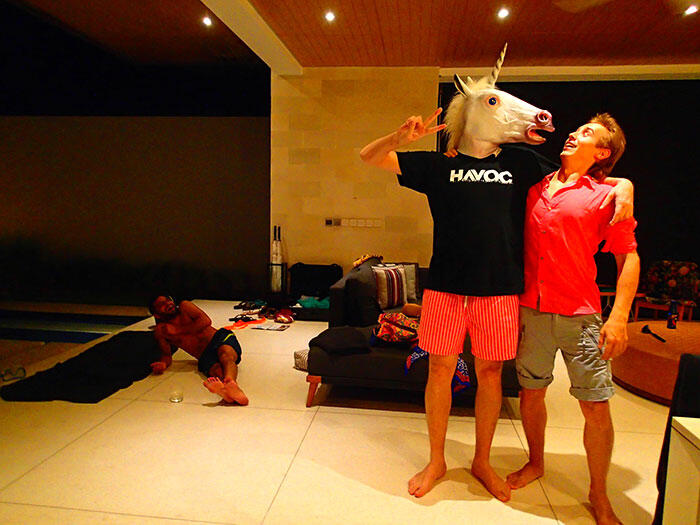 Danny laughing on the floor. Clem freaking Max out.
I met Max in the immigration line cos i ended up standing next to him for a whole hour in queue! So we started talking and i got such a good vibe from him that i impulsively invited him over. He's a Ukrainian poker player who travels the world! He was really sweet to bring me presents too!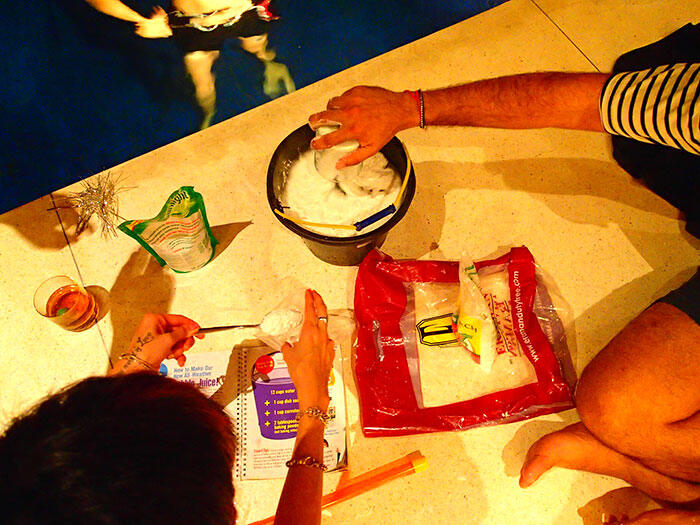 Some serious bubble-making activity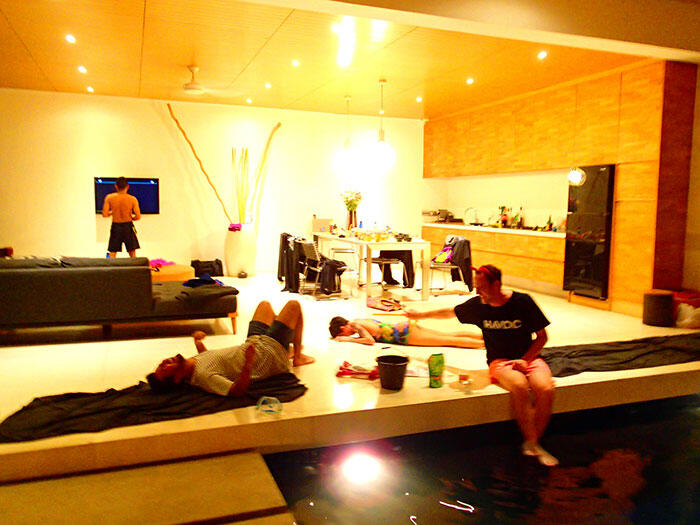 Bubble-making turns into rolling-on-the-floor-laughing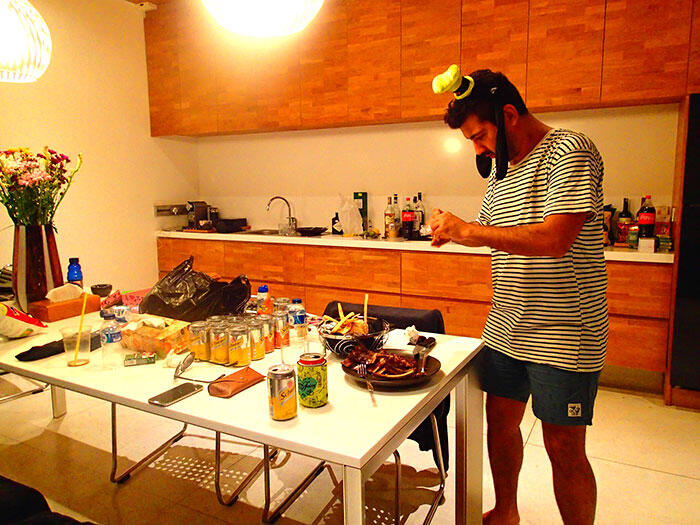 Rahul preparing the Naughty Nuri ribs Steph and Erin brought for us, merci!!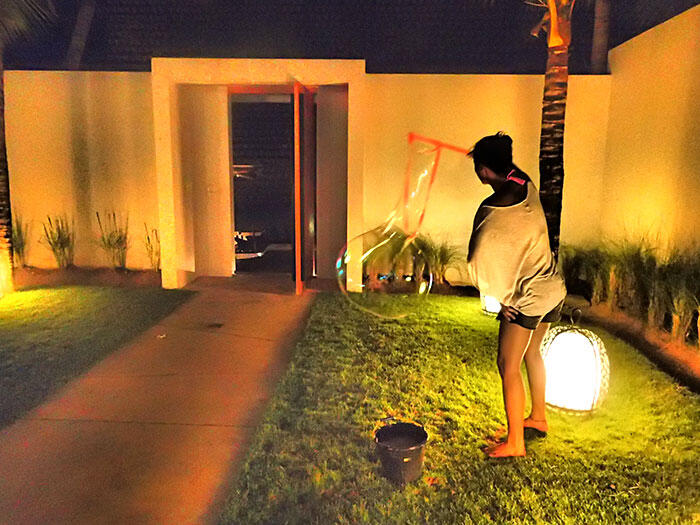 Steph trying out the bubbles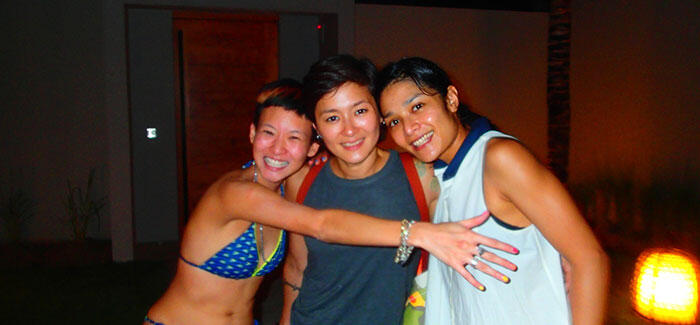 NadSa! Nadia brought her LED hula hoop so we all had two to play with! And lots of other toys too, including two blow up boats for the pool! She's definitely my best toy friend.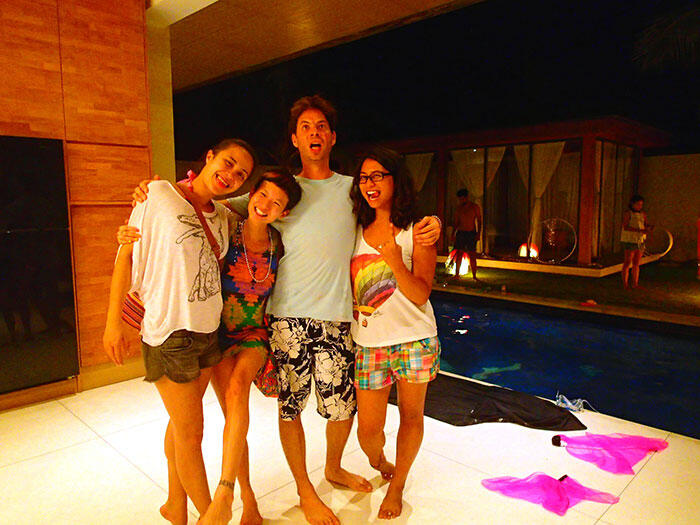 Steph, me, Nick, and Erin (who lives in Bali, lucky thing!)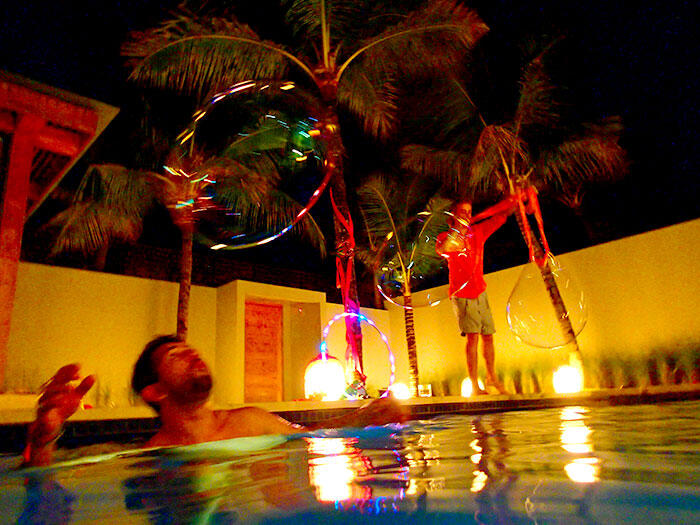 Max ended up being the best bubble blower.
Rahul and Clem: Bubbles are evil! Kill them!!
Max: Bubbles are good!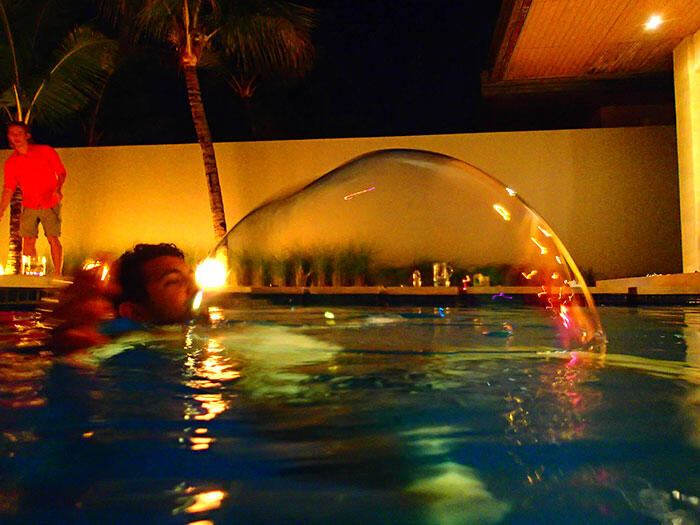 Trying to get into a bubble from underwater but it's hard!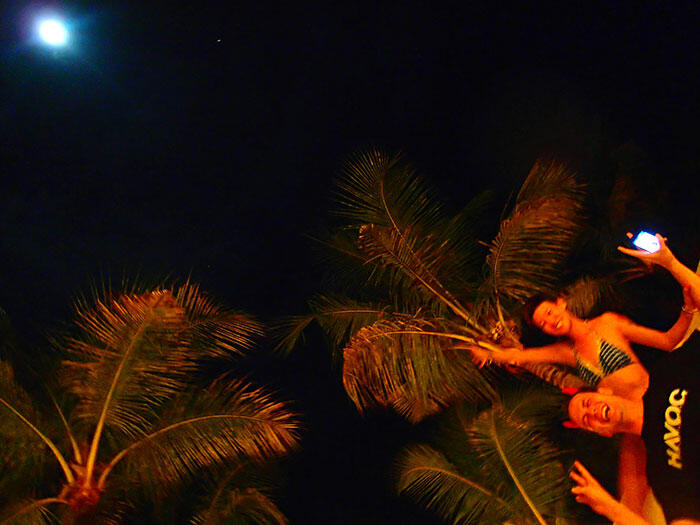 + + + + + + +
A massive thank you to David, Emma and the team at One Eleven for making my birthday so memorable!
Past blogposts on One Eleven Resort:
* Day 1 @ One Eleven Resorts @ Seminyak, Bali *
* Day 2 @ One Eleven Resorts – Playtime! Feb 2013 *