The post before this must be one of my shortest most pathetic blogposts ever… long (or short) enough to be a Tweet, someone said. It's been a marathon month… i've been sprinting from place to place till i sometimes have to REMIND myself that making my heart beat faster is not gonna make ME go any faster, and to stop and take a few deep breaths at times.
Below is stuff i did last Fri + Sat.
I obviously need much catching up on blogging cos it's already Thursday.
+  +  +  +  +  +
Hamleys opens in 1 Utama!
Hamleys, the oldest toy shop in the world, just opened in One Utama last week! I remember going to it when i was in London as a kid and thinking how MASSIVE it was. The toy shop was first founded in 1760 by William Hamley under the initial name of "Noah's Ark". Hamleys sounds much better – your legacy gets to live on!
The launch was last Friday and i managed to arrive just after the ribbon was cut. While walking to the store, Claudia texted me the location and then didn't answer anymore when i asked where exactly in the store she was… i guessed as much she was being distracted and decided to explore it myself!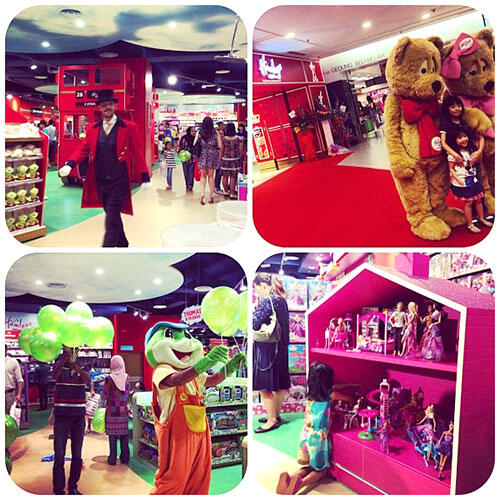 I didn't take that many pictures cos i was too busy checking out every aisle and trying not to lose control like all the children around me. OK well if you follow me on instagram i prollie didn't SOUND in control cos everything was written in CAPS!
God there were so many things i wanted… SO MANY!!! Now that i have an office space, i tell myself that i can keep some of my toys there so Clem doesn't have to freak out at my ever-growing collection of toys at home… but STILL. I can't let myself buy so many at the same time, just like how you won't buy a child a whole bunch of toys at the same time… you gotta give bit by bit!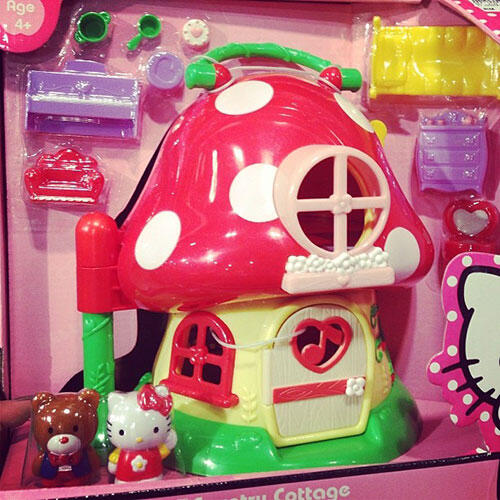 I really like this mushroom house, and i had a Hello Kitty toy that looked a lot like this in the same size when i was a kid. It was the only Hello Kitty toy i had, mind you. I'm not a big Hello Kitty fan :p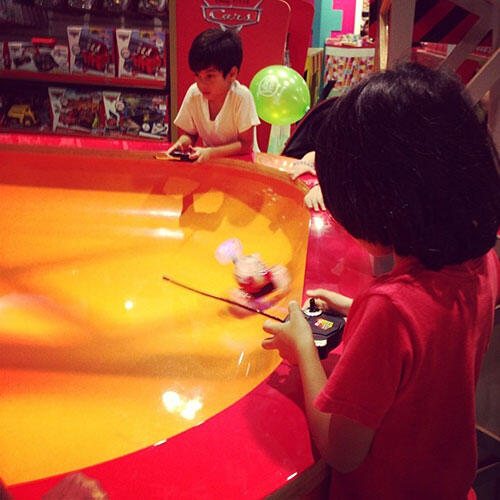 There were so many things to play with around Hamleys… but all these darn kids kept hogging it. I'd stand next to them for awhile (pretending to watch them play in interest, like the adult i am) but really, i was waiting for their parents to call them away so *i* could have my turn. WHERE ARE THE PARENTS?!
I didn't get to play with the one above… but i did get to test out these cool hard sponge-ball guns. (i had to return to the area a second time to try my luck, just sayin'.) I wondered whether i could get it to shoot at Clem so i jokingly asked Claudia to stand at the aiming area so i could try it on her. To my surprise, she meekly walked over with her head down and protected herself with a Gruffalo luggage bag. It did sound a bit hard when it went THWACK against the bag… so decided i'd get it another time.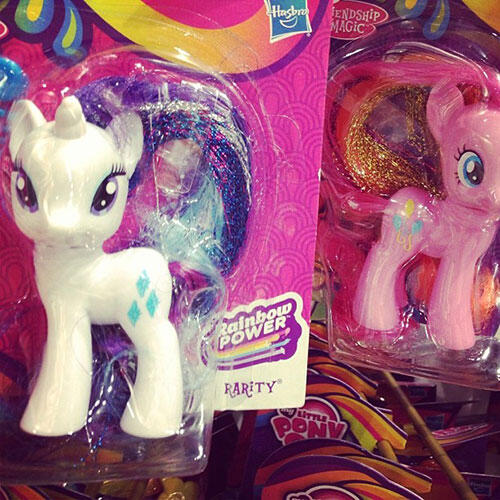 New My Little Ponies with sparkly RAINBOW POWER hair! I bought the white one but the sparkle comes out easily…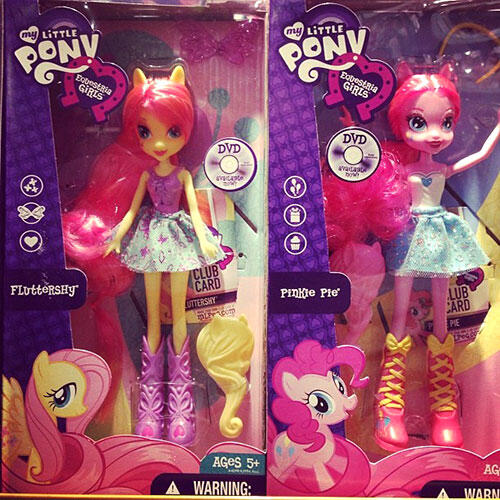 Ok i don't know what is happening. How can a My Little PONY toy suddenly turn into avatars? Weirdddd. Not touching that.
After awhile i realised i was bumping shoulders for shelf-staring space with girls aged 5-8 years old. Considering i fit into 10-12 year old clothes sizes at H&M, i guess i'm not too far off.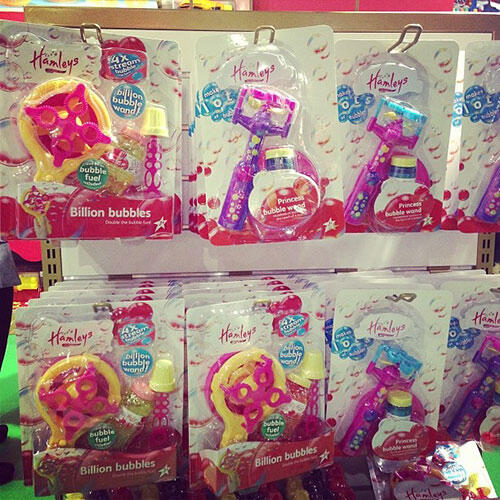 So many bubble guns! I got a new one 😀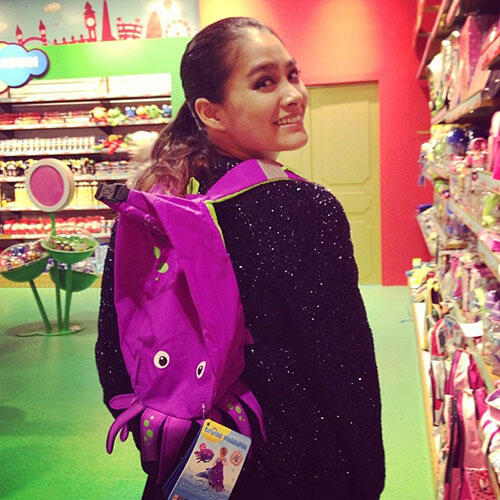 An octopus waterproof bag that Claudia found! We both got one each. My bill ended up being almost RM400… Urm. Okay not gonna think what my CC bill is gonna look like this month what with so much shopping and Christmas and all.
+  +  +  +  +  +
Happy Saturday at Treetophouse!
I picked Steph up at noon last Saturday and we went to Treetophouse kindergarten for a family & friends bazaar. There was a lot of stuff for sale – food, drinks, jewelry, home stuff, books, pets, etc. I got some children's storybooks for myself to read. Aps came up and told her colleagues to egg me on cos i'm a shopaholic. Thanks Aps. I need no egging on.
Principal Aps! Teehee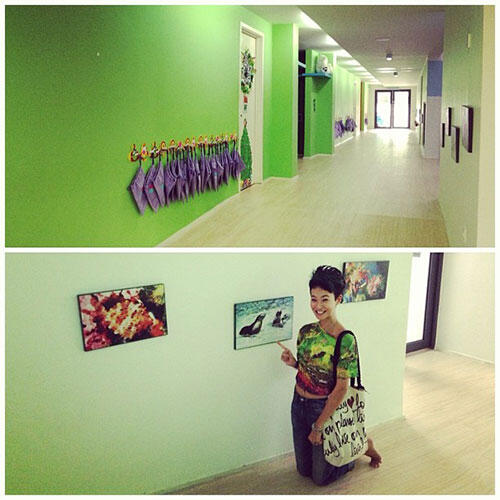 Aps took us on a lil tour around the kindie. It's a really nice place! I approve of the height their pictures are hung on the wall, especially for little people! I'd do the same when i have kids 😀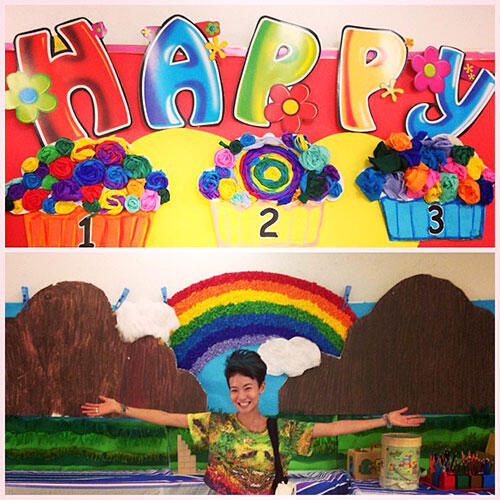 AHHH I love kindergartens!
Such happy places!
Full of colour and art and hope!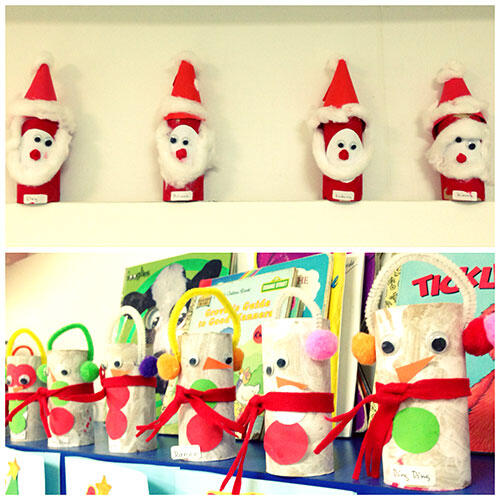 The cock-eyed santa on the right made me laugh ho ho ho.
Kids' things are so cute to look at!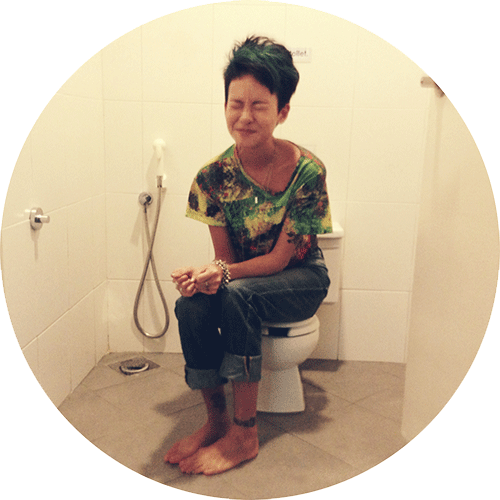 Kid-sized loos!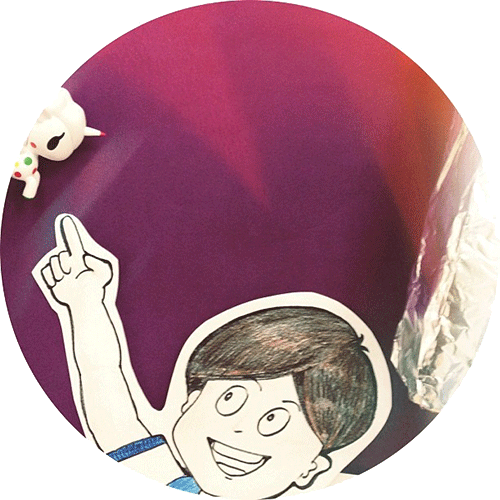 I bought two terrapins at the bazaar cos i remembered that Rudy and i are celebrating our 6th Friend-niversary this week. (I found the blogpost on our 1st Friend-niversary *here*! 😀 😀 :D)
Clem was like, "Who gives pets to people… they're so hard to keep!"
Well, that's why i bought TERRAPINS duh…
+  +  +  +  +  +
Denim & Supply Ralph Lauren
After the bazaar, i had to go Ralph Lauren's Denim & Supply store for the Avicci pre-party and was also dressed up in a D&S outfit. I brought the terrapins with me cos i didn't want to leave them in the car alone, poor things!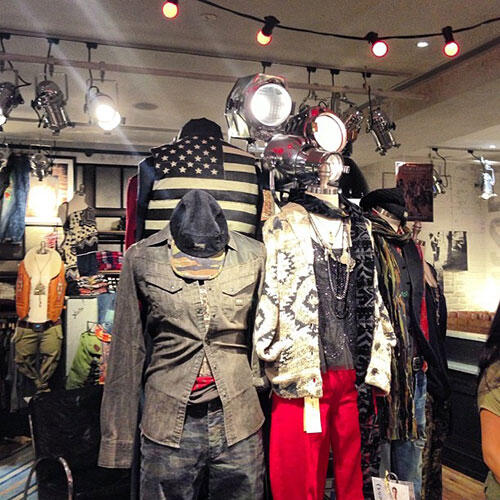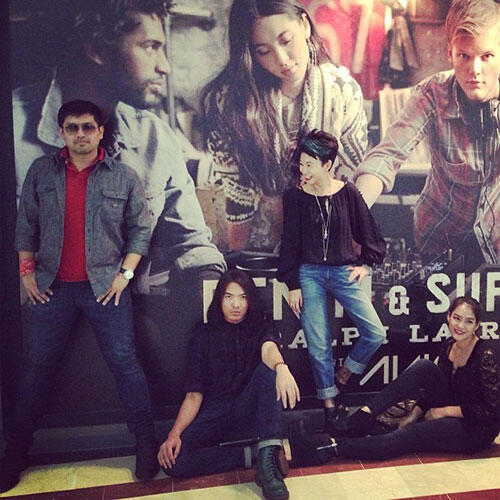 Rubin, Reezal, Claudia and i in Denim & Supply.
We had a little photo shoot session outside the store and it was kinda weird cos we had to pretend people weren't staring… :p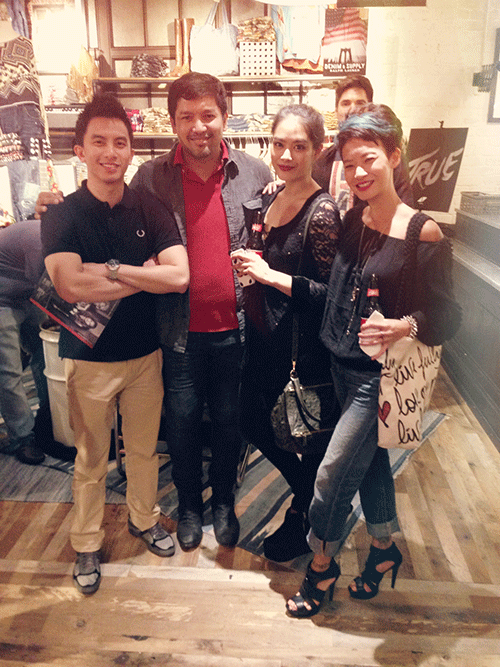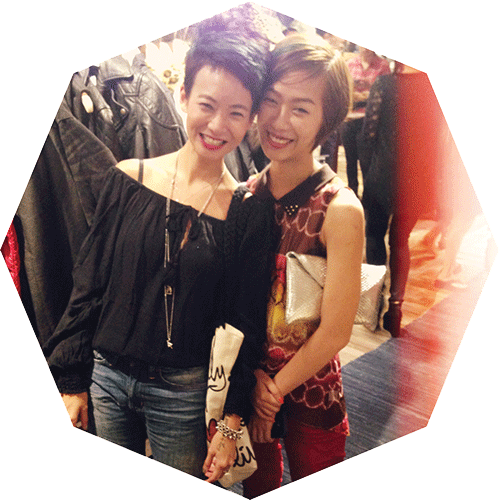 With SweetEe, who works with me in KinkyBlueFairy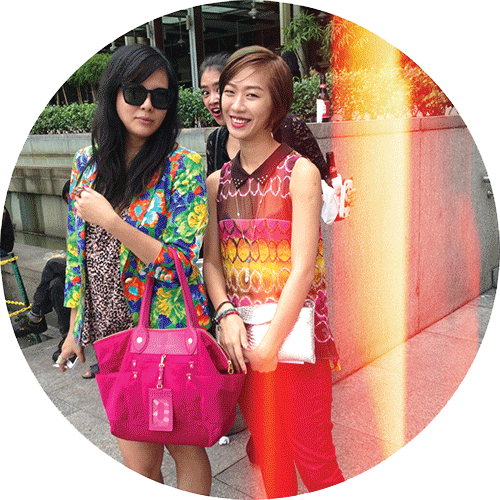 #Cloudbomb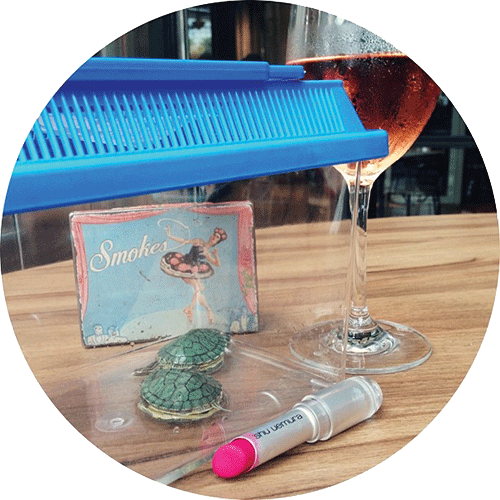 The two terrapins! Rudy christened them Rock and Roll.
He also said, "Next time i'm gonna get you a fucking monkey."
After having a glass of rose at Chinoz, i met up with Clem at Energy Spa in GE Mall where we'd booked ourselves for a MUCH-NEEDED & deserved massage, before heading downstairs to Alexis for dinner.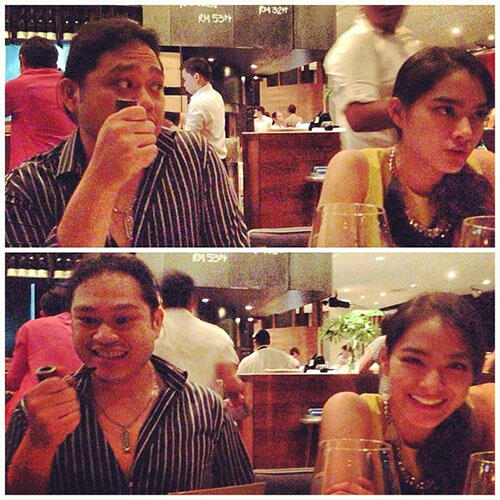 Rudy & Clouds
The first picture is the moment when Rudy discovers there is someone crazier than him.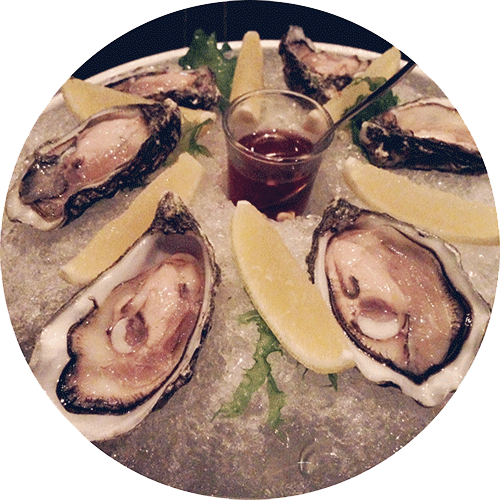 I went for the oysters and a carbonara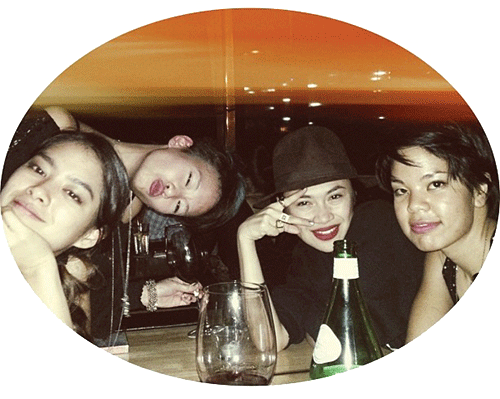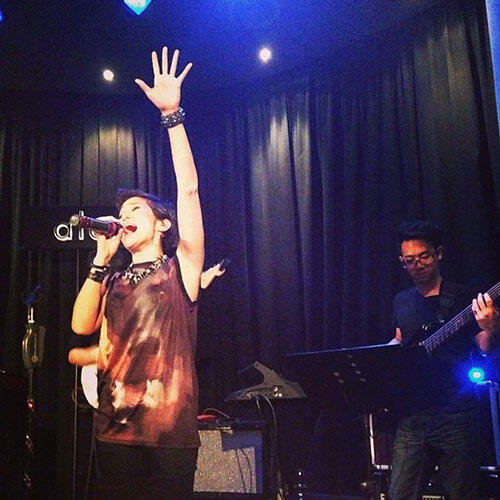 A whole bunch of people i knew where there that night and the place was packed cos Melissa was performing. Read more about her new album MDot and her latest single You And Me *here*!
After that Clem and i went to El Cuarto (i think) before calling it a night.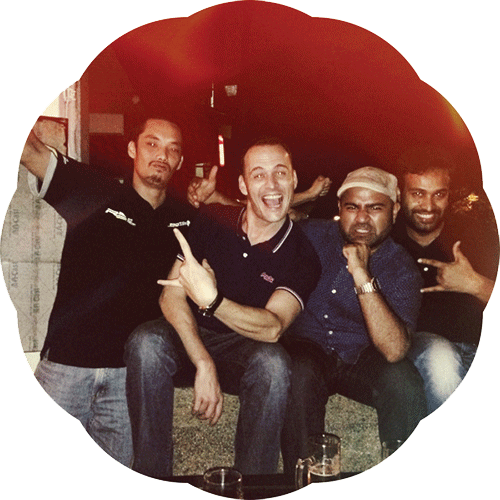 And that. Was my pretty eventful past weekend.