One of my greatest friends Melissa just released her 1st single "You & Me" in September, and launched her much anticipated album "MDot"!
She promises that it will be a new sound with a very real story to tell – One that will reach out to each and every one of you out there. Vectoring through from her last album, MDot weaves a story of the diverse synergy of life ~ encompassing the realization that we never really stand alone as we continue our life journey.
"You & Me" and "MDot" has already got much support from radio stations, online reviews, critics and industry contemporaries.
"I believe that every action and thought affects another whether immediately or in the future, whether directly or indirectly, so, we are all connected, be it in the past or somehow, will be, connected in the future", explains Melissa.
All songs are composed and lyrics written by Melissa, as she returns to Alexis with her band The MSFTS with album co-Producer Paul Morrison as Musical Director and on Drums.
For those who didn't get to attend the album launch, Melissa will be performing at Alexis GE Mall this Saturday and Entry is Free! (We usually pay RM50 to watch her sing at No Black Tie.) It's gonna be a mini album showcase with album songs and covers, and always a fun night. Clem and i usually end up dancing XD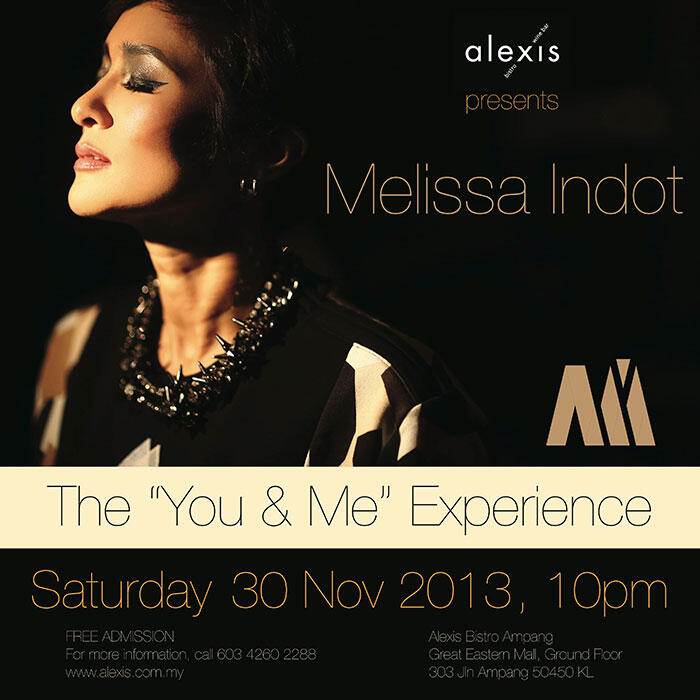 "I am a little pop, a little rock, a little dance, a little retro, a little grunge, a little techno … No single person on this rock we called earth is one-dimensional or even two- dimensional … so why can't we experience them all?"
~ Melissa Indot
Melissa has performed since young, and surprised everybody by enthralling the audience at the Royal Albert Hall in London at the age of 16. At the time, she performed as part of an elite octet, The Queenswood Singers of the Queenswood School Senior Choir. (She went on to lead this Octet the following year.)
After finishing school, she broke into the music scene in the UK in 1997 by debuting her first single "Not in Blue" as part of duo act Confucius Says. They were even featured on the BBC1 National Lottery Programme, televised live to 14 million viewers!
When Melissa returned to Malaysia in 2005, she dived right into performing at events and "Spinging" (a word she coined  = spinning + singing) by adding live performances to her DJ sets (which she just started learning then).
Since then, her first solo album "Eclecticism" won the 2008 Malaysian Music Industry Award (AIM15); and hits from the album like Starlight and This Time were remixed and featured on several Fierce Angel albums, a UK-based dance record label.
Melissa has performed alongside internationally-renowned names like DJ Eric Kupper (US), DJ Sam Young (UK), and DJ tyDi, who was voted Australia's #1 DJ. She's also opened for international heavyweights like Natalie Cole, Sean Kingston and Flo Rida during their concerts in KL.
Watch the video for Melissa's latest single "You & Me", shot by Redd Bullets:
+ + + + + +
Call to make your reservations: 03 4260 2288
NO COVER / FREE ENTRY
Dress code applies: No Shorts & Slippers.
Children under the age of 10 are not allowed in during the performance.
View FB event page *here*
www.melissaindot.com
www.twitter.com/melissaindot
www.popmusesic.com
www.boogalooboo.com
boogalooboo.podomatic.com