Kubz and i were supposed to go for lunch on Wednesday, but he asked whether i wanted to follow him to Dusun on Thursday instead. I checked my schedule, and miraculously – had no meetings/events planned… SO OF COURSE I SAID YES. In fact, i replied 'YES YES YESSSSSSS' in our whatsapp chat. I was so happy packing my suntan oil, pareo, present for Haanim's baby (not a baby anymore..!), my spinner, snacks, book, pastels and sketchbook. At first i had this insane idea of bringing my laptop to work for a couple of hours there. But when push came to shove, i thought, "Really? Do i really want to bring work to Dusun? I go there to ESCAPE, not to bring work!" So i left my work stuff at home. I felt a bit guilty… but stubbornly pushed the emotion aside – cos what's the  point of being a freelancer if i don't pretend Thursdays are Saturdays?!
It's been a long time since i've been to The Dusun, you can read my previous blogposts about it:
*my first time at The Dusun with Clem*
*spending my 28th birthday at The Dusun*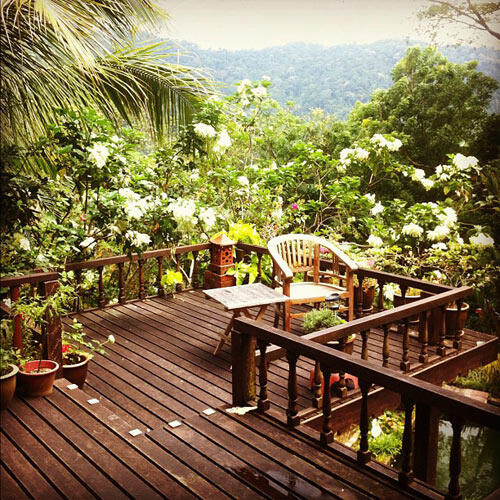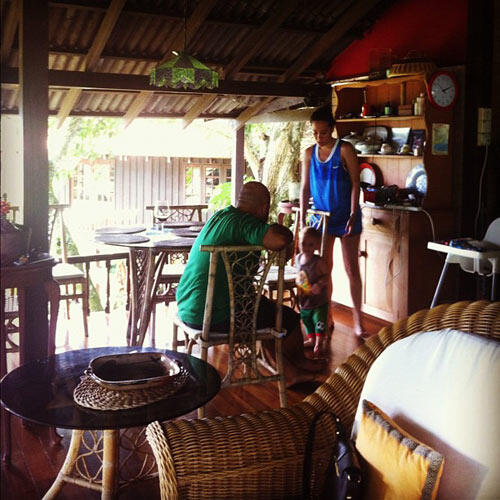 I discovered that Cee is the household chef, and planned to cook us squid pasta for lunch. Kubz and i tried to be as useful as possible and helped chop the garlic and onion. I chopped two onions in the same span of time Kubz did three cloves of garlic. Just sayin. XD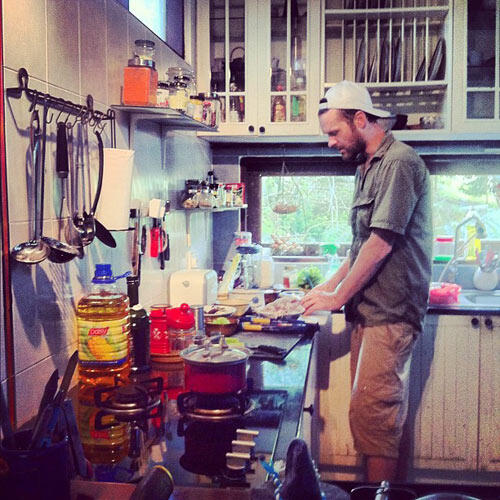 I got to meet Haanim and Cee's baby properly for the first time! He's already a year and a half old, and is called Hansi! He's SO FREAKING CUTE OKAY. Like, not 'i'm polite and i'll say all babies are cute' but 'YOUR BABY IS SO PRECIOUS I WANT TO EAT HIM UP NOW'.
/// sorry took the pic down ///
Hansi wearing the sun hat i brought him. It's got vintage cartoon space kids on it.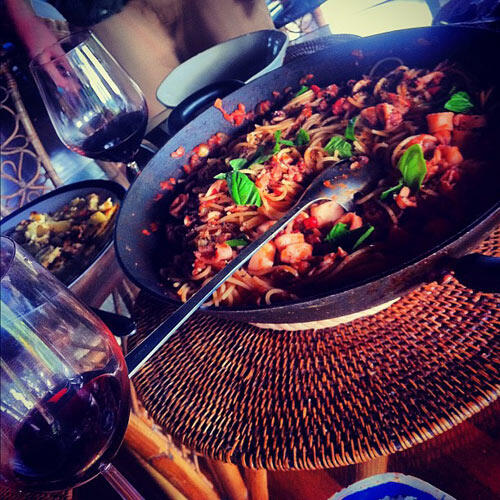 As we all sat down to sexy steaming pasta with our glasses of red wine, Haanim said, "How lucky we are to do this on a Thursday!" And indeed we are… Eleanor and her sister Isobel joined us too so we were in a nice little group of seven. The squid pasta was great… i had two helpings and greedily felt like a third.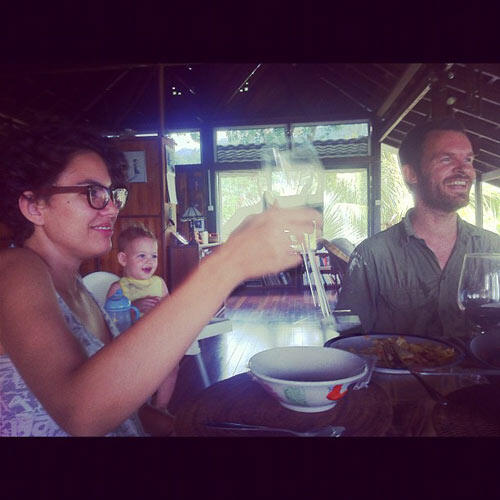 Haanim, Hansi & Cee
GAHHHH Hanging out with Hansi has made me go temporarily baby-crazy. I went home to Clem that night and went, 'I WANT A BABY!' and he was like, "Yeah, but we can't get it in one day!"
Okay we did other stuff that day, like have a look at the new house Haanim and Cee are building for themselves, and the new swimming pool and guesthouses that can sleep two more couples. It's becoming quite a little town! But i just took lots of pictures of Hansi…. >.<
We also went swimming, hung out by the pool and snacked for hours, talking about Fierce Curry House at Urbanscapes. Cee is going to perform on the first day at Urbanscapes too so Hansi might be making his first festival appearance there! Oh my god. I just went back to talking about Hansi didn't i.
The Dusun accepts guests by appointment only. You can check them out:
www.facebook.com/thedusun
www.thedusun.com.my