Ever since Clem's and my first trip to Dusun,
we've been dying to go back with a bunch of friends to enjoy it together with…
The others in the group are very into fishing
(oh i never blogged about our fishing trip :p)
but Clem and i have NEVER CAUGHT ANYTHING
so we're currently more inclined to laying about on the beach or in the forest…
and not burning under the sun on a lake/sea… yet.
Maybe one day when Matt cheats and helps us catch something.
So happened that the weekend we could get a cabin was the weekend right after my birthday,
and what better way to spend it but out of KL!
A cosy group of 4 couples went >
Clem + i
Cammy + Kenny
Serena + Matt
Marcel + Elicia
We said we'll leave at 11am.
But we Clem + i were a lil late.
Stopped by KFC (you have no idea how glad i was for that!!!)
And we all convoyed in 2 cars.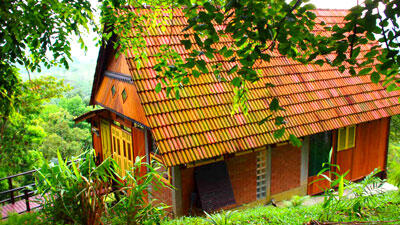 Emas cabin where we stayed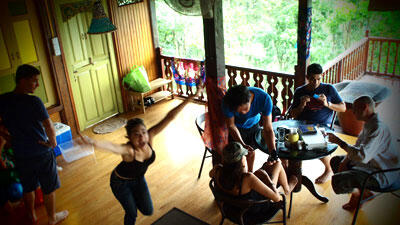 Cammy trying to jump into the picture… forever okay this woman.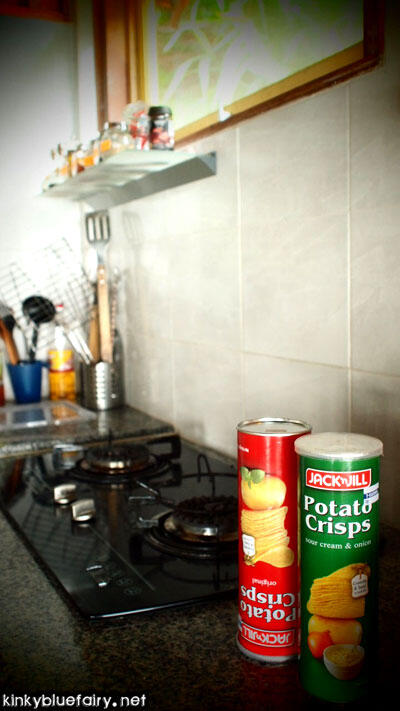 Kitchens are provided in all cabins for us to fend for feed ourselves!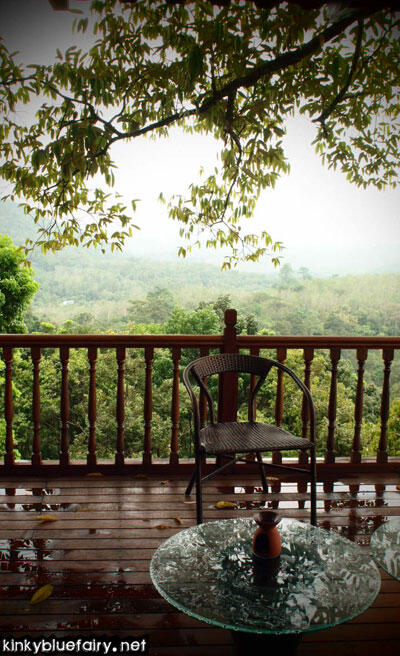 Outdoor terrace – it just rained when we arrived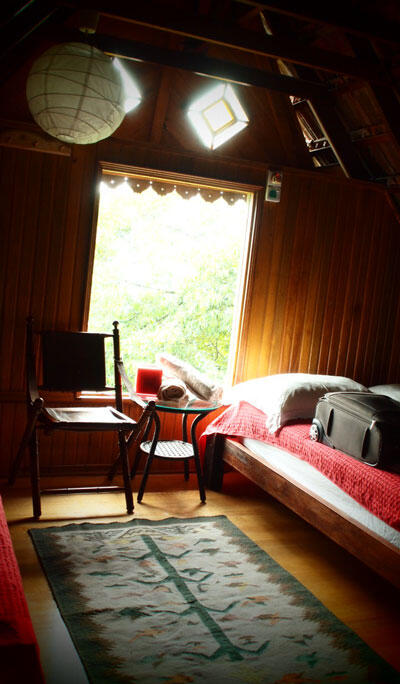 Upstairs bedroom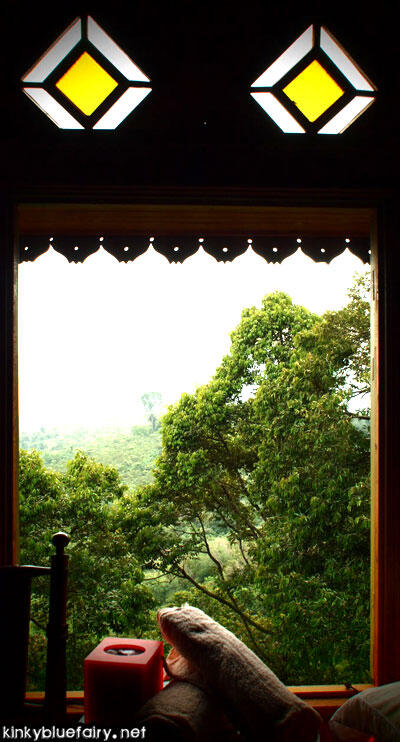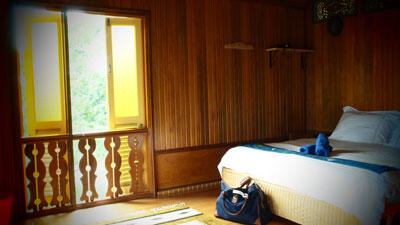 Downstairs bedroom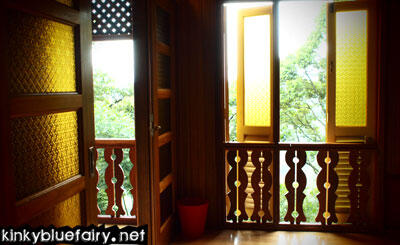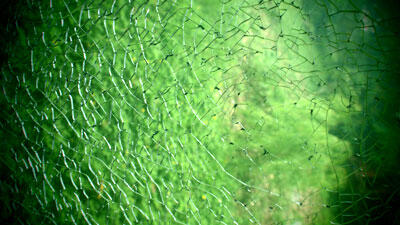 Cracked glass makes pretty glass
Owner Helen was awfully nice to let us have her children's bedroom as an extra room to stay in, cos we were too many for Emas cabin.
Clem and i have pretty much stayed in every room there, "…except my own bedroom!" said Helen.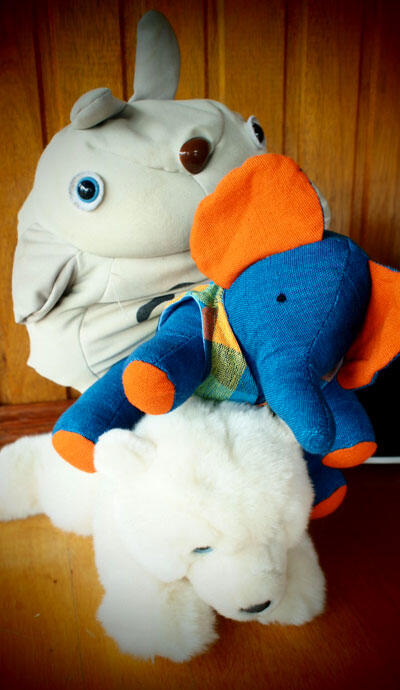 My white bear (still unnamed, it has to come to me alright)
with Cammy's elephant and cock-eyed Totoro on top.
I know she'll get pissed i'm calling her Totoro cock-eyed…
But it looks cock-eyed right?
I look at it and i wanna laugh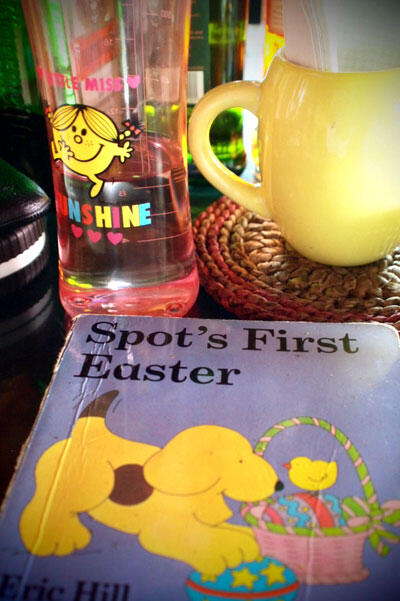 Cammy's lil miss sunshine water tumbler
I completely assumed that the Spot book was hers,
but it belongs in the cabin!
Cammy got me a balloon for our lil party there
C: It's a fairy! Did you notice it? Did you?!
Me: Yes of course i saw… 0_o
C: I looked everywhere for a fairy balloon!
Me: Thank youuuu i love youuuuu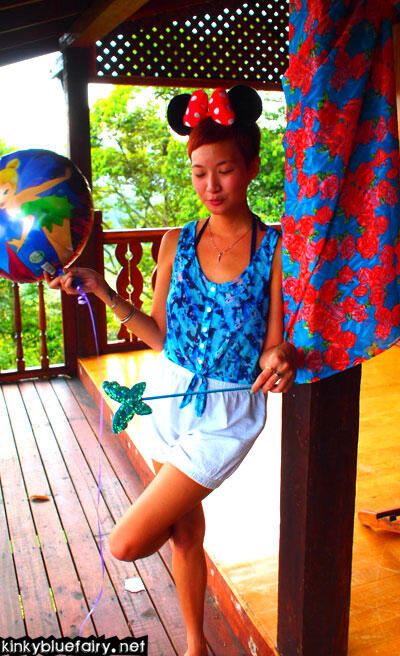 i'm wearing >
tie-dye crop top; minkpink @ thepoplook
white bubble shorts; aa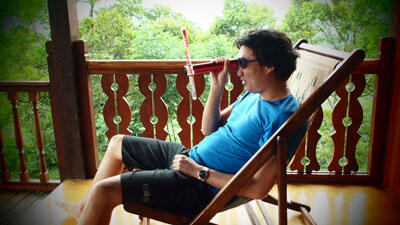 My kaleidoscope is the best souvenir i bought from Amsterdam!!!
Kenny was staring into it for ages…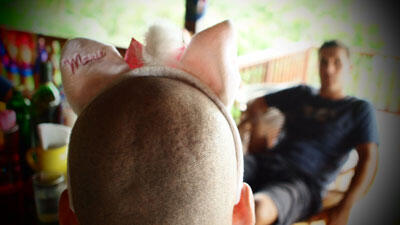 Guess who.
We spent the afternoon playing cards…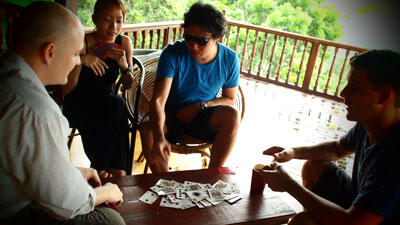 … surfing the iPad for wedding dresses (C + K are getting married in Oct! Partayyyy)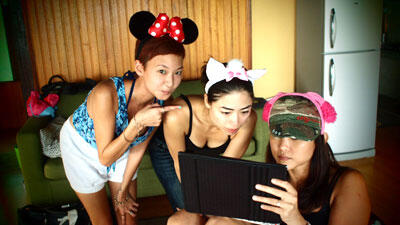 … girls getting massages from respective boyfriends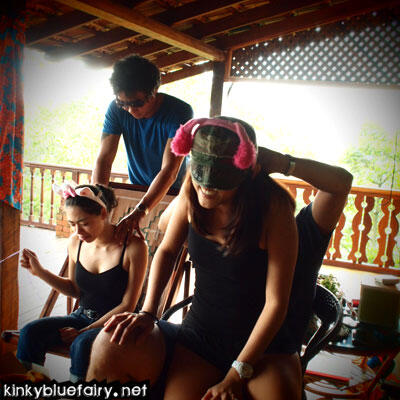 … passing out.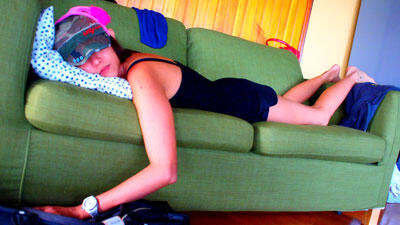 … playing with the main door which opens up on top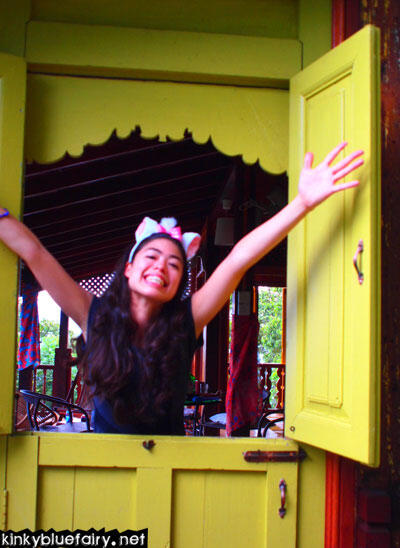 Well. Cammy was the only one so enraptured by the door, really.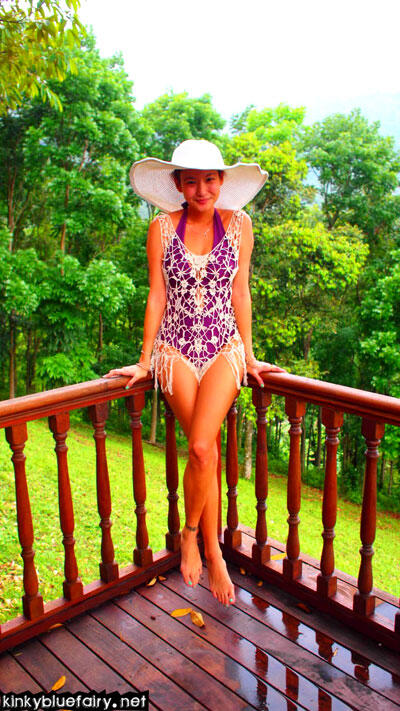 i'm wearing >
hat; eclipse
monokini; kyla ruiz
net dress; present from Cammy + Kenny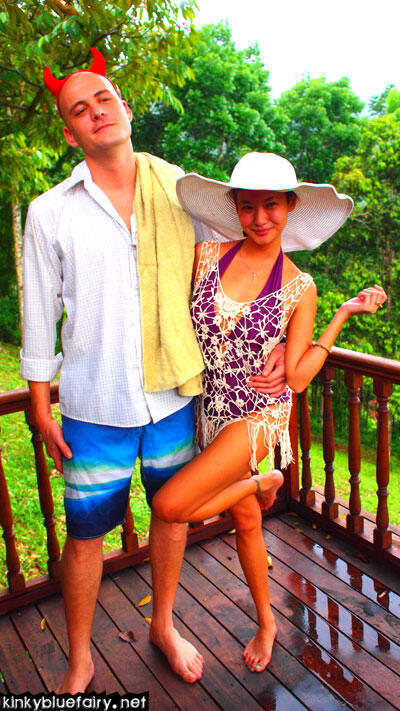 … blowing bubbles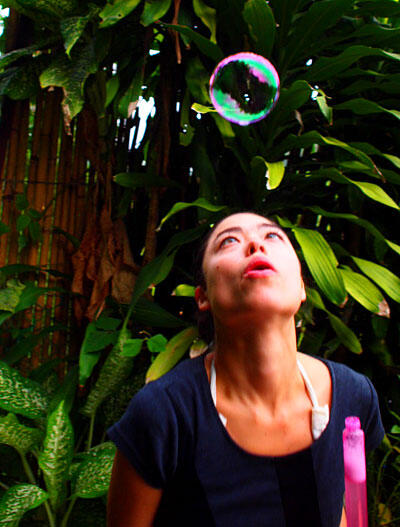 …. playing hide and seek….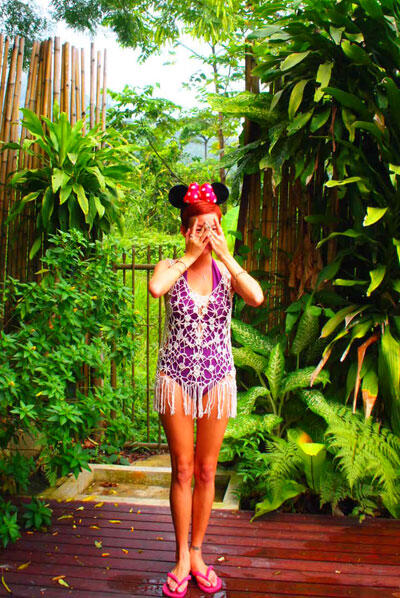 … with myself.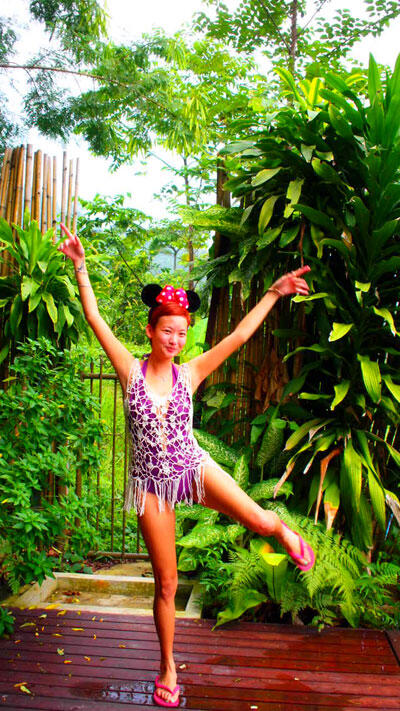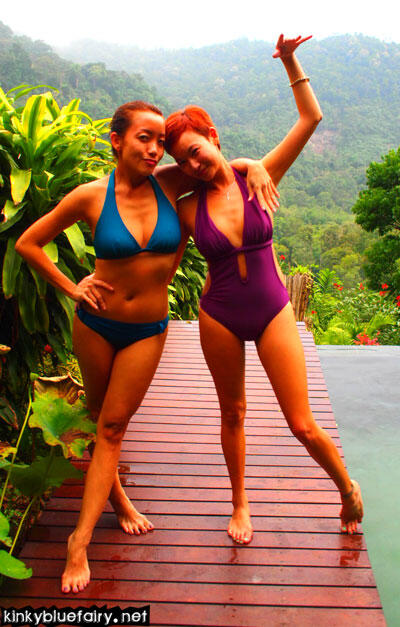 Serena and i both wearing Kyla Ruiz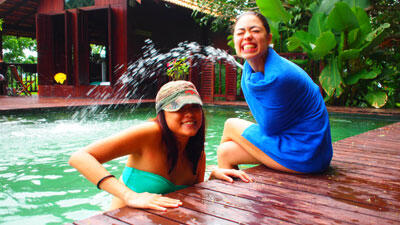 Lots of crazy pictures after that… but i shan't post them,
so here's an innocent one of me holding My Ball.
(I've brought My Ball to as far as Bali!)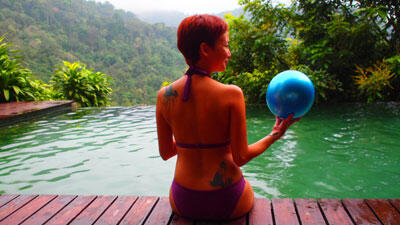 I love it when Matt comes along for our trips
cos he preps all the food instead of me!
He pre-cooked this meaty stew for us.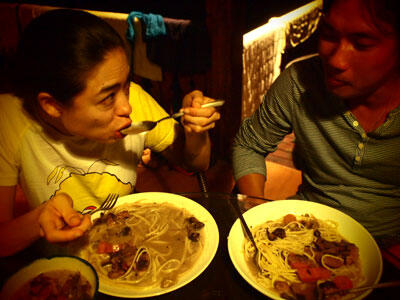 And they surprised me with a cake!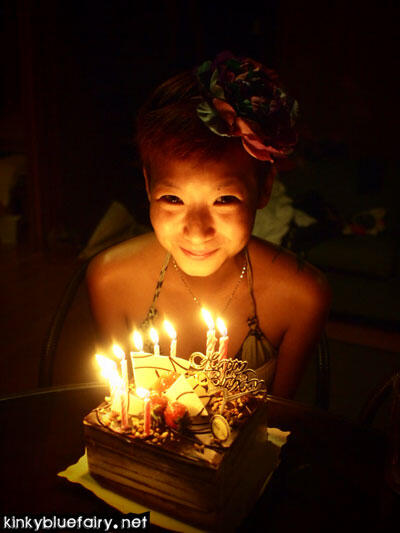 I was thinking how very lucky i am…
how many people in the world get a birthday cake (ok i'm thinking of really rural areas too) and here i am, having 2 more for my birthday!
*hugs self and everyone*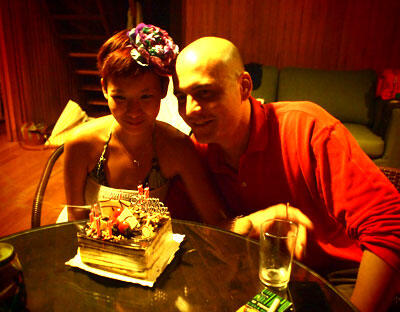 When we went back to the other cabin,
Clem and i had quite a few visitors!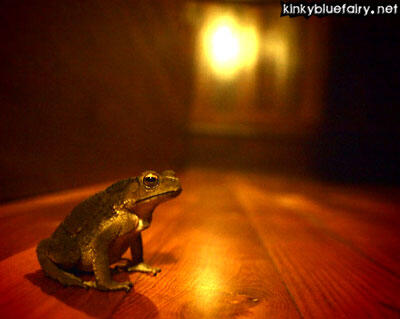 (you can imagine how i was practically hugging the floor to take this picture)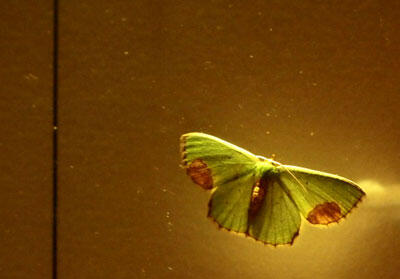 i swear the moths were glowing!
Glowing in the dark!