I really wanted to share these awesome places in Johor with you all… if you are ever in JB, you MUST drop by them cos they're too super fabulous to miss. When Tianna and i arrived on a Friday evening, we were pretty pooped and rested awhile i.e. played with our iPhone/iPad before making our way out to:
1) get a massage
2) visit TGND boutique
3) have dinner at hawker stalls on Jalan Meldrum
Only one out of the three things happened. But it's okay, cos we visited new places that totally made our night!
First place we dropped by was TGND boutique. AKA The Girl Next Door, i first visited it when i was last in Johor 3 years back and totally fell in love with the owner, Beverly. So i really wanted to see her again and visit her shop and buy some pieces.
Ti and i asked the hotel concierge for some basic directions even tho i had my Google maps on my phone. Just to make sure we walked down the shorter road y'know. He told us it's better to take a cab cos it's 'jauh' (far). I was like, "Jauh? My phone says lima minit saja untuk jalan… (only 5 mins to walk)" He cocked his head at us and basically said if he walked, it'd take 5 minutes and if *we* walked, it'd take us 15 minutes  -.-
Us girls were feeling rather indignant after that, "WE can walk!" "Hmph, what an insult!" "What, they think girls don't walk!?" We're the walking kinda girls okay. We were in Europe for months and over there, you have no choice BUT to walk! Most days i'd walk for 6-8 hours a day! 15 minutes… pah!
So we left him scratching his head at why we didn't just take a taxi, and we proceeded to walk to TGND on Jalan Dhoby. On the way we got distracted by a Hindi DVD shop and ended up spending some time in there choosing some movies and A.R. Rahman MP3s (ok that was me) to buy. So perhaps we took longer than 15 minutes, but that's cos girls always manage to find good deals along the way.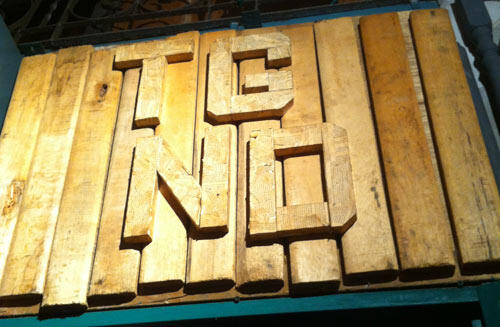 The first time i visited TGND was a different shop lot and B has since moved her shop.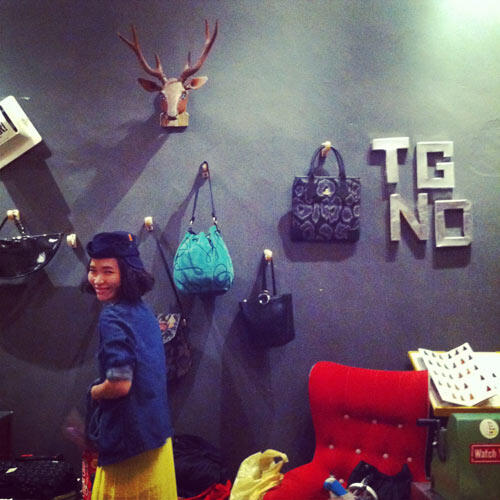 This is Beverly Bee. I say she's got a superhero name and is absolutely adorable.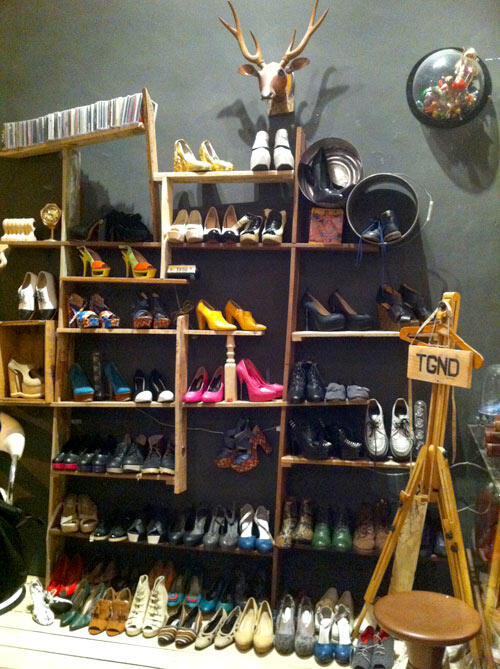 And THIS. Is what i call a downright proper shoe wall. I WANT this in my house! Hello Clem? Take note… 😀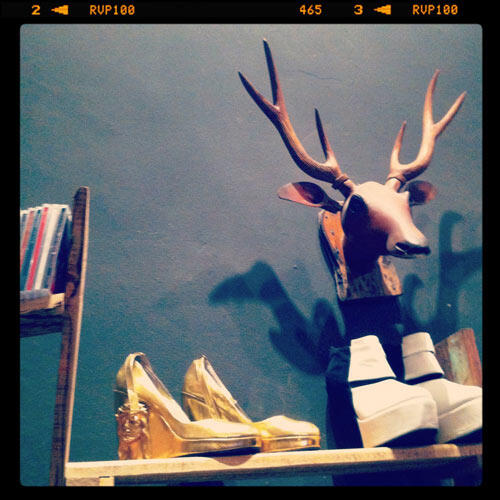 B has awesome crazy taste. Right down my fashion alley.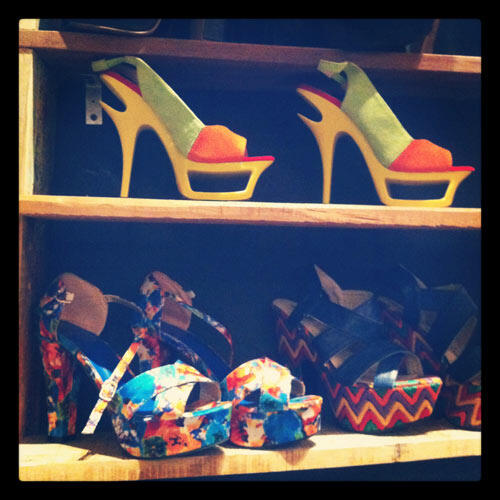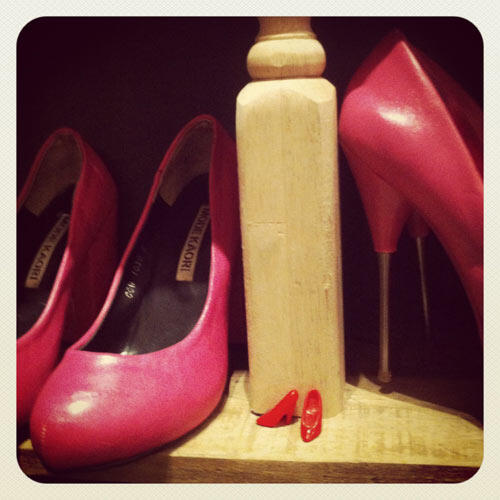 If *i* had a boutique, i'd SO put barbie shoes next to real ones just to make customers do a double take too!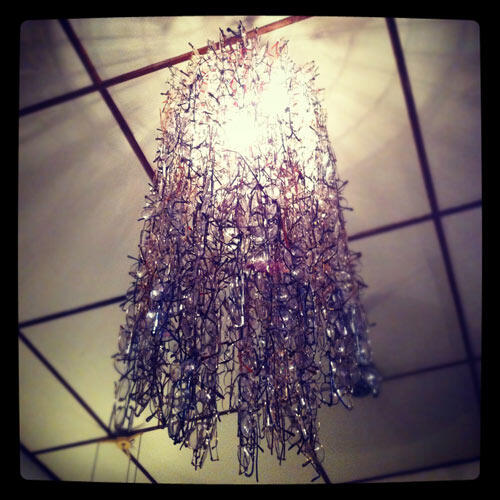 I wouldn't have thought of this tho… Lamp made of spectacles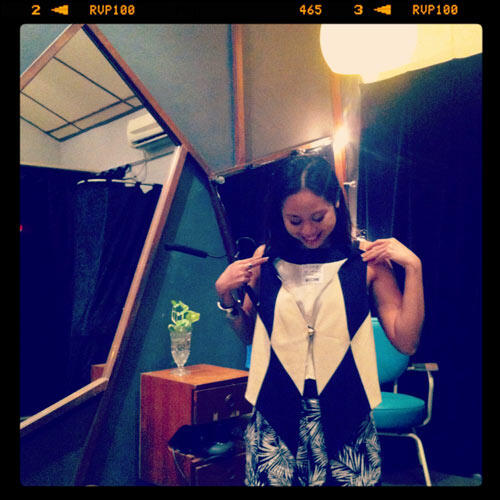 Ti was smitten by this vintage Moschino vest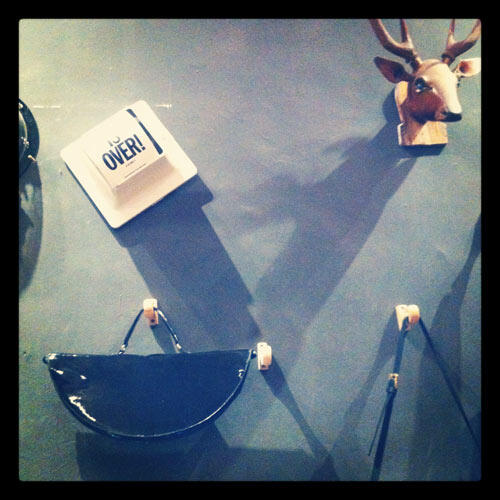 I love the black bag. But B priced it in a way for which i'm sure she just doesn't want people to buy it! I told her so and she laughed. I'm so right.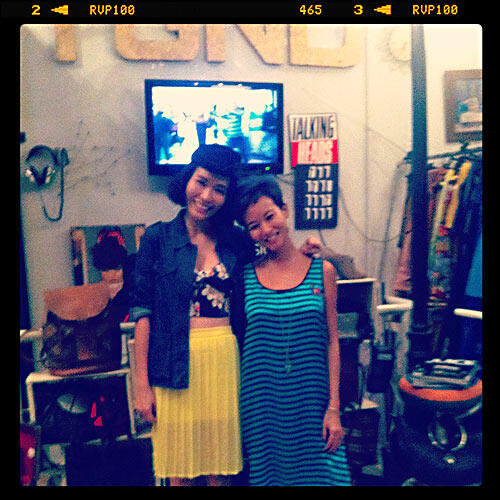 B and me!
Her store also has men's clothing, and a little hair salon in the corner where she does people's hair via appointment. I was so curious how her shop has managed to survive so many years when the ones in KL pop up and die out. Then she said her rent is RM900 and i was like 'WHAT.' Add another zero to the end and that's the rent for KL boutiques. No wonder she can be so comfortable owning a boutique there! She opens it herself every day except Sunday (cos she parties on Saturday wut haha) and lives such a cute little life! I came home telling Clem, "I WANNA MOVE TO JOHOR."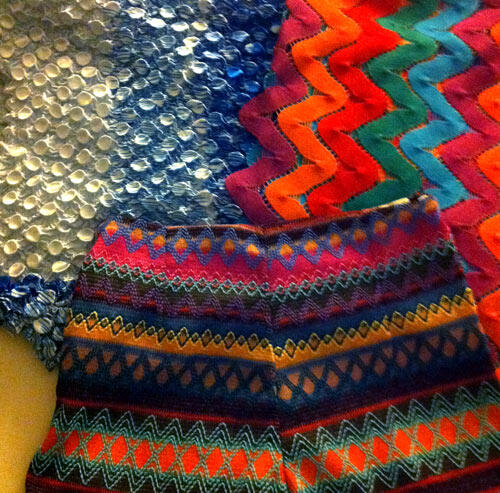 Some crazy colourful pieces from Bee's store. I couldn't resist.
After taking pictures and swiping my credit card twice (-.-) B insisted we drop by the new Roost cafe cos i hadn't been there yet. (Last time i went to Roost was with the Bass Agents in 2009 haha) The old Roost is still there, but there's a second outlet which is much bigger and specializes in personalized salads, frozen yoghurt, coffee, and very cool furniture.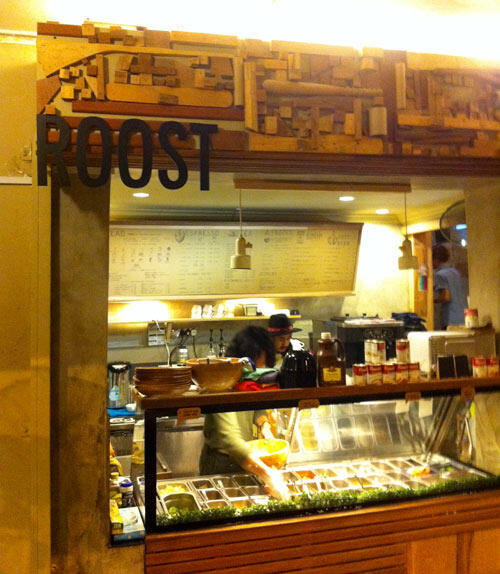 This is the kitchen, which is downstairs and faces the road. You order and pay at the counter before heading upstairs where all the seats are.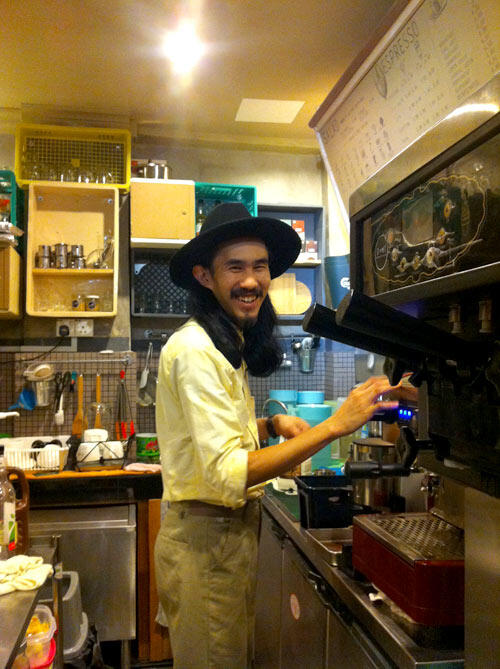 This is Kenny. On a normal day. Working at Roost. I heart his style.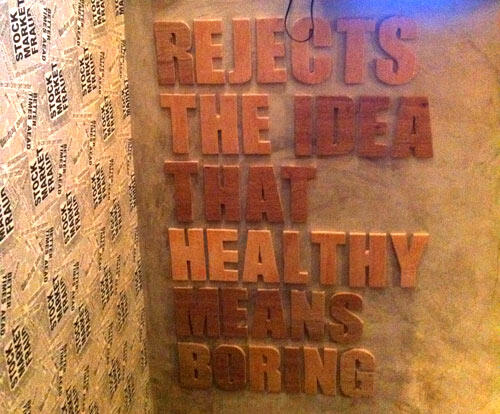 Love that. I feel like a lot of us are into healthy food right now.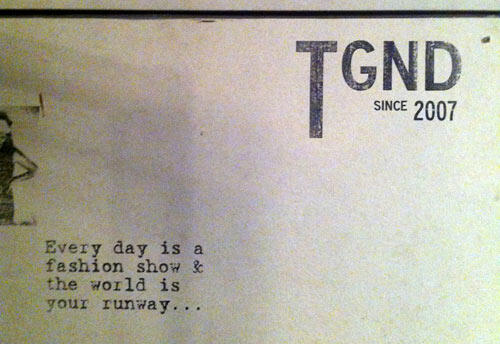 Roost sticks some TGND promos on their walls. Awww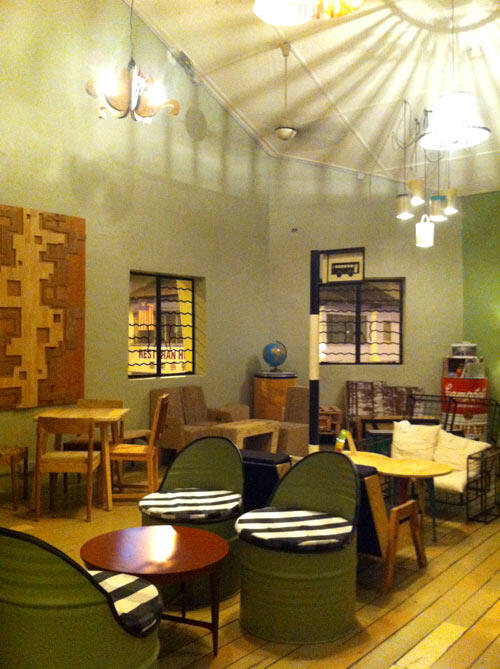 I didn't take a picture of the outside area but here's the inside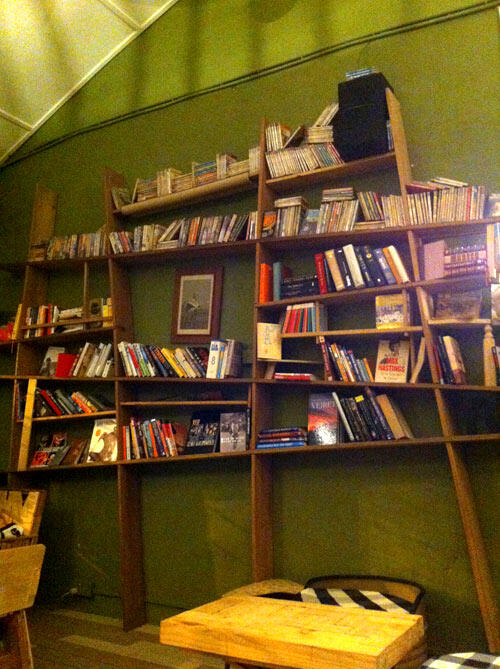 The crooked shelves again! B told me that Roost owner, Sea Wong, made hers and these.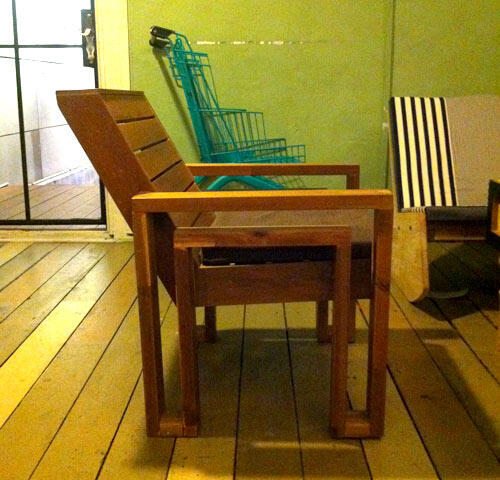 He also made this chair.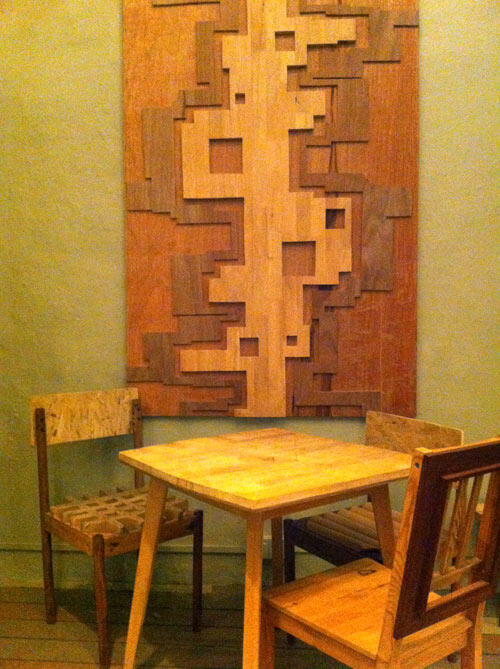 AND this painting thingy and the chairs and table.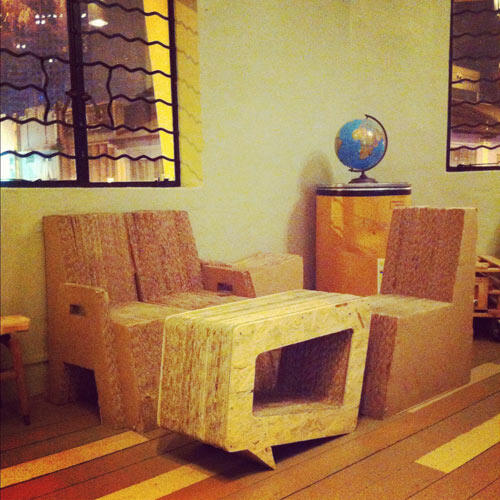 AND this set made out of cardboard and wood.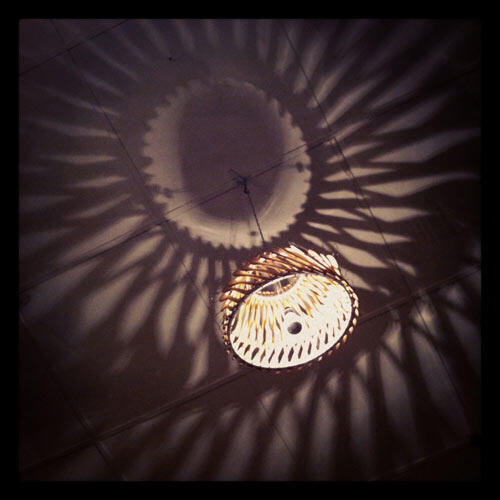 AND this lamp made out of coat hangers.
I was duly impressed. Okay. That's not how i really reacted. I was really like, "He MADE ALL THIS?! Does he sell them? Where? How much? He should sell them! People in KL would SO buy them! *I* would buy them!"
Sea Wong came to join us for awhile and i remember meeting him at our SalahWrong gig years ago.
I asked him whether he had any background in industrial design.
He said no.
Then i asked whether he did interior design.
He said no.
Then i just went straight to the question: "How did you learn how to make all this furniture?"
His answer? "Google la."
0_o WHATTTTTTTTT Can you believe these people! It's so awesome how they spend their time and their lives CREATING things… i tell you it'll be the envy of all creative peeps in KL. You open a business, make all the furniture, create the menu, all your friends work with you. Chill, happy. Man… (i'm so missing Johor right now).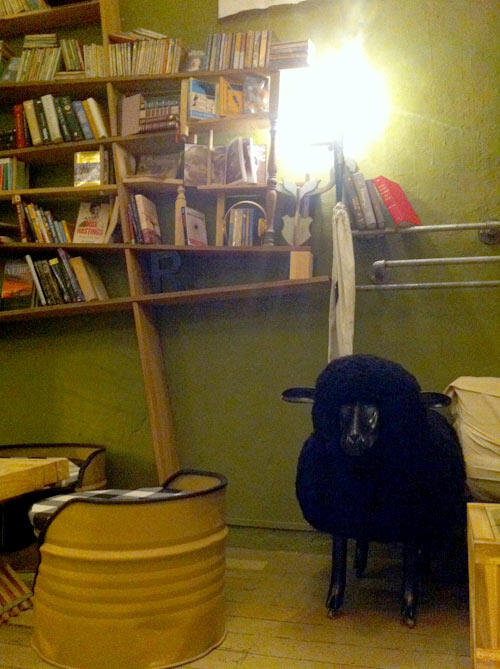 There's a life-sized sheep that Sea Wong picked up from a junk store. It has a white brother which resides in the first Roost cafe. I should bring my reindeer Alfred to meet the sheep. He's kinda lonely in our guest bedroom right now.
There's also a bus stop in the middle of the cafe, which i got Tianna to pose next to. Her initial pose was not very convincing so i yelled, "You're gonna miss the bus! It's coming! Hurry up! You're gonna missssss itttttt!" And then i got my proper pose: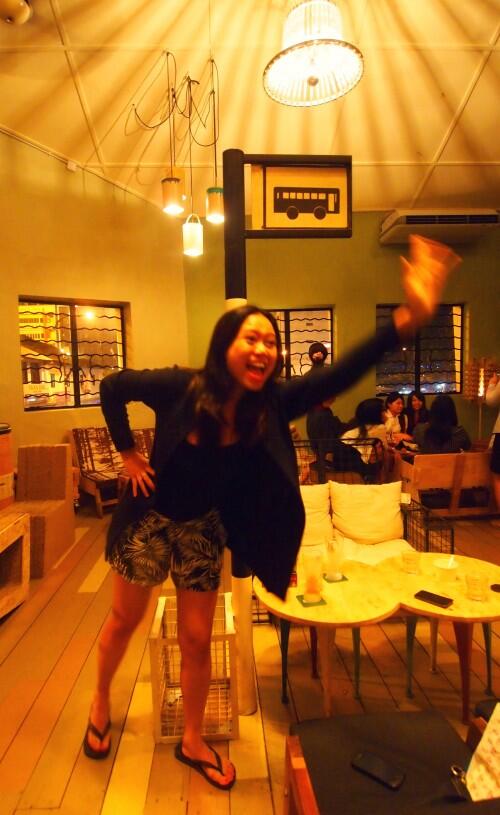 The salad menu. You choose your green base, 4 free toppings, what dressing you want, and additional salmon or meat toppings.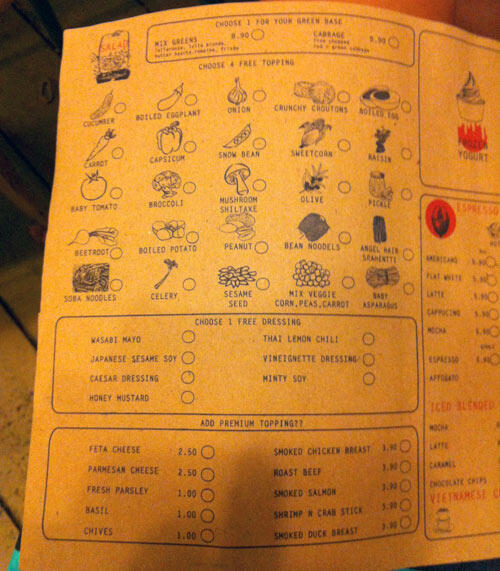 I got a smoked duck breast salad with thai chili dressing. It looks small but was really enough! And yummayyyy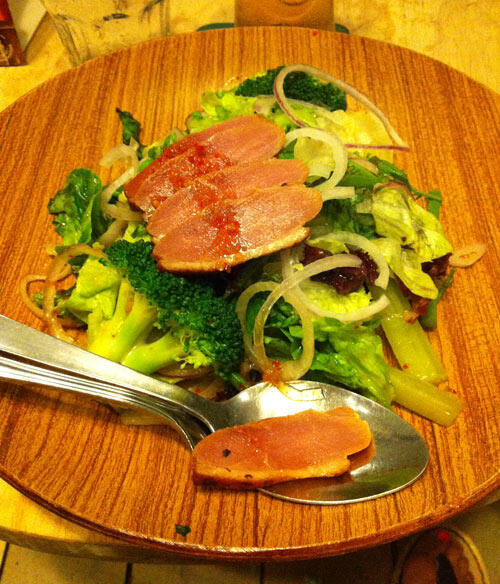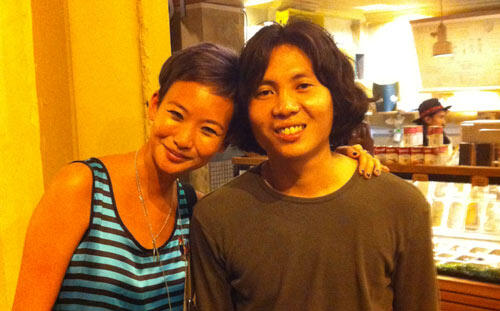 This is Sea Wong!
After having a couple of beers and the salad, B said it was time for our second stop and we were like "Ooh!" and followed behind as she jauntily walked down the little street with her backpack a-bouncing and hat firmly stuck on.
She took us to My Little Corner salon + restaurant and introduced us to Elvis, whom i initially thought was the waiter but turns out owns the place too.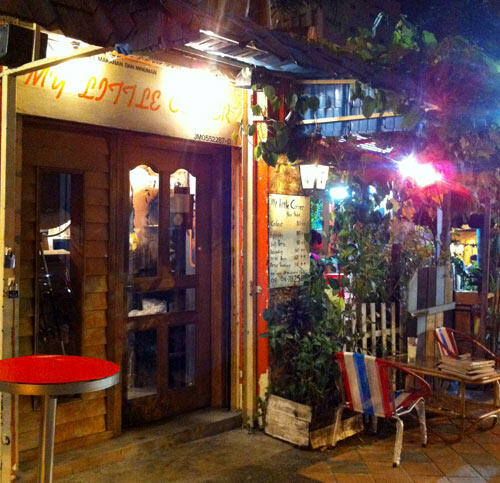 It's decorated like you're in Thailand! I felt like i walked into a different land the moment i stepped in. They serve Thai dishes, and Thai beer/drinks!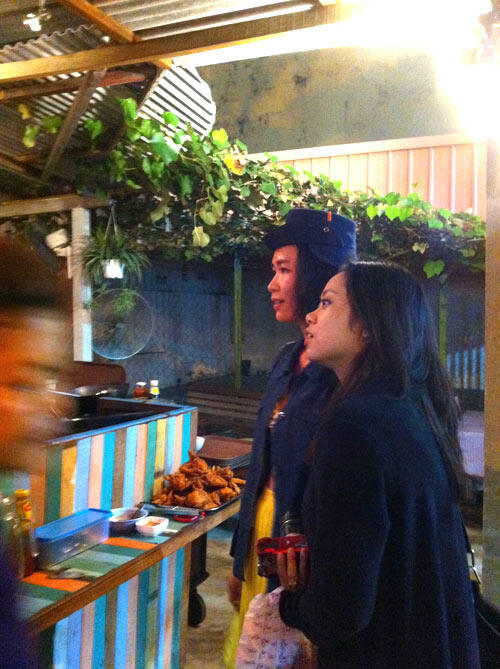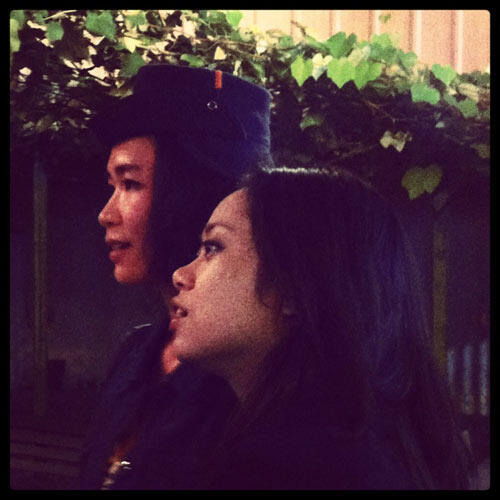 Unfortunately i only took one (partial) picture of the restaurant cos i got completely distracted when i wandered outside to get pictures of its exterior…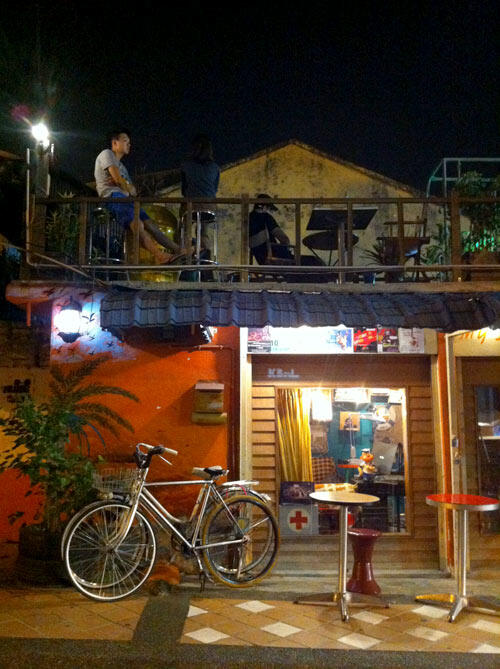 My Little Corner has a little sky deck to chill out on!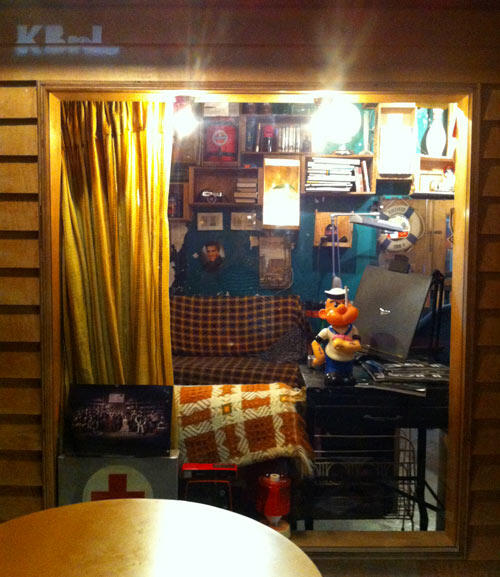 The window looked into a little room that looked so interesting… i went inside, took one look and RAN back to the restaurant where i yelled, "Tianna! You HAVE TO COME AND LOOK AT THIS!" and ran back. Super tak maintain in JB.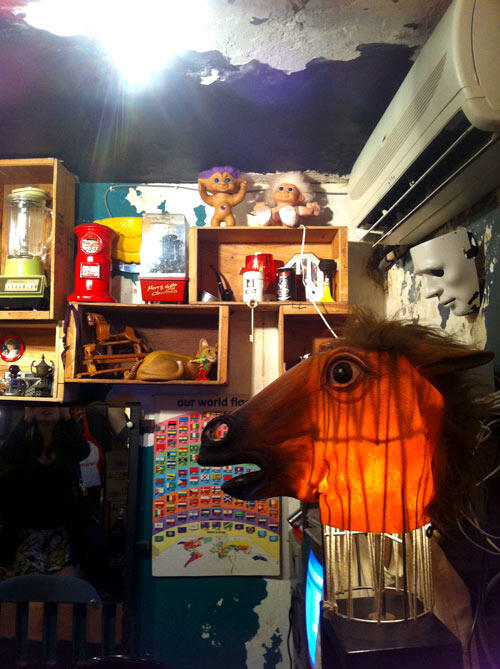 The room is filled with Elvis' stuff he collects… and below you can see his parents' wedding picture. It truly is HIS little corner!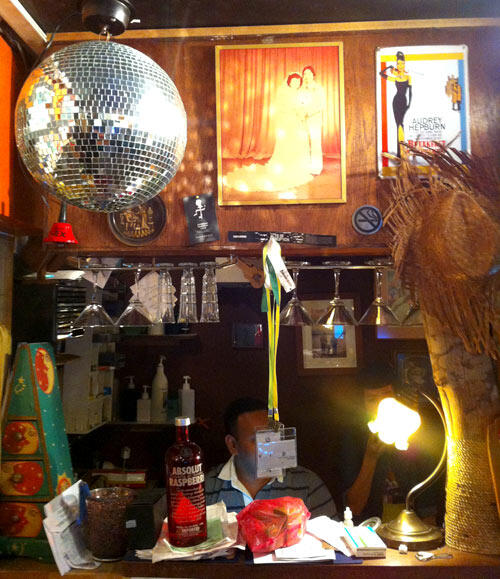 We spent a long time in that room talking to Mahathir (a new friend we made) and just hanging out. Till we realized it was getting late (and i had to wake up at 6:30am the next morning -_-).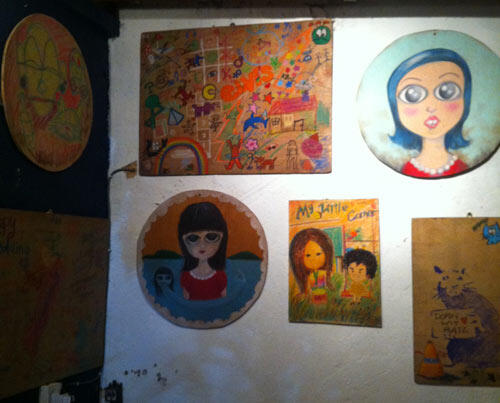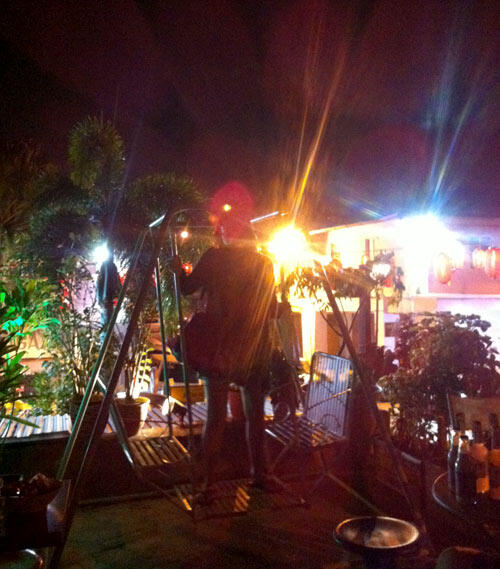 We quickly checked out the upstairs deck, which ended up taking longer than expected cos we played on the swing for awhile… and finally walked home, which turned out to be uphill. I so don't remember it being downhill when we walked THERE.
And that's the end of my post! Aren't these lovely places!? I'm so impressed by how they pretty much built a community of their own in one neighborhood. They told me, "In KL you have everything, it's all done for you – restaurants, bars. Here we have nothing so we gotta do it ourselves!"
I love it! This post is dedicated to you peeps in JB. I love how they all dress up in their individual style, like cartoon characters. Awesome. I LOVE YOU GUYS! <3