A few weeks back, AhHoong asked whether anyone was free to teman him down to JB for the Recharge gig.
Seeing i'm free, i said OK! 
We left on Friday afternoon, right after an interview Jezmine, Eka and i had with NST
Oh before i go into my post bout Johor,
there was this incident when journalist Syida was asking us about fashion faux pas.
One that i mentioned was Crocs.
She asked why, and i launched into:
– how i think it's one of the ugliest shoes ever made
– it's form over function when it comes to crocs
– how it doesn't flatter any body type in any form whatsoever
– i'd rather eat babies than wear crocs
Ok i didn't say the last line but you know what i mean la.
Eka joined me on our vehement dislike for Crocs…
at which at the end of it, Syida said, "I have 3 pairs of Crocs."
*cricket silence*
I turned to Eka and muttered, "We're going to have the worst write up ever!"
Eep >.<
Anyway, after interview + shoot, i rushed thru Friday prayer traffic,
packed in 7 minutes, and jumped into AhHoong's Harrier.
ConHan decided to join last minute too.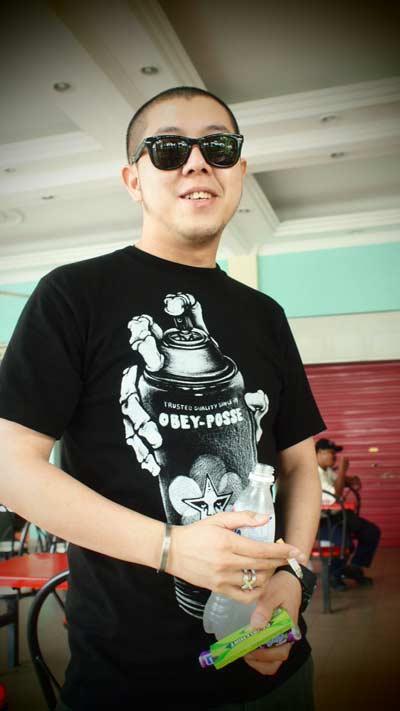 AhHoong was wearing these pair of shoes called ALIFE
"What's Alife? Never heard of it before… but it must be cool if you're wearing them 
"
"Can't get from here," he said matter-of-factly
Street label whore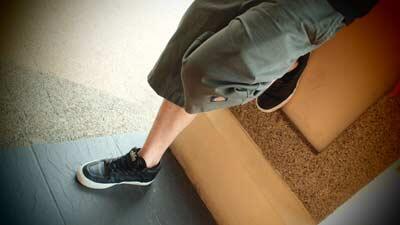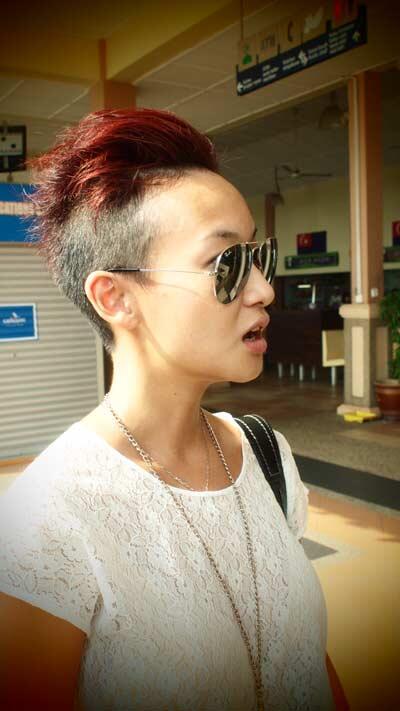 We crashed AhHoong's room at Mutiara
and i unbashedly admit that i was excited about having train tracks as our room view
"Okay, now we KNOW we're in Johor!"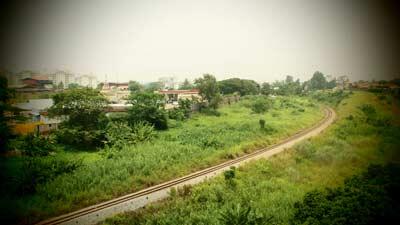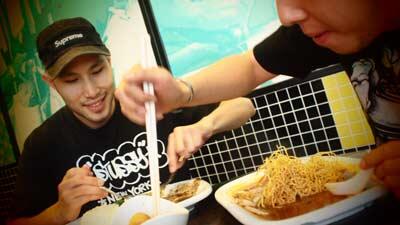 ConHan + AhHoong, dinner time
Recharge was at a club which name i just cannot remember
But i do remember the name was so jeng it made me laugh :p
I was quite impressed with the crowd tho…
some people were wearing Bass Agents caps and jackets and stuff.
Me: Wahhh… I osowan to make Kinkybluefairy merchandise!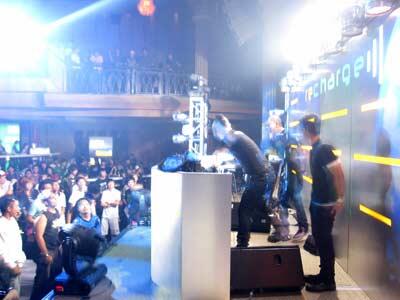 Harri aka Proteus taking to the decks after the Bass Agents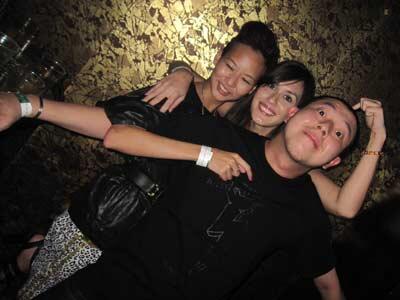 me, Kylie=Trouble emceed the event, AhHoong/DozyDidjital
Have met Kylie=Trouble thru NurMeiLing before,
and must say that after spending the whole night yapping to her,
i easily came up with the name Kylie=Trouble for her.
Cos the woman is trouble. In a good way 

(Disclaimer: depends what you see as good)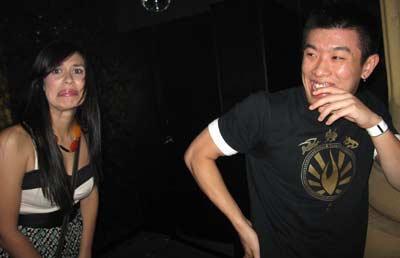 Kylie=Trouble + Ken
It's been damn long since i've had to layan hard dance…
and although had heaps fun at the event,
must admit that at end of the night i told the boys i couldn't take it,
and i had to play my happy music back in the hotel room.
Which i did.
Played Submarines, Florence & The Machine, Ting Tings, Temptations,
Amina, Temper Trap and whole bunch of others.
So now you know, after the Bass Agents spin their hard dance,
they kena forced to listen to fairy music HAHA
Next day, i took the guys to Roost Cafe which i'd been to before.
Yay for Google Maps on the Berry.
We'd never have been able to find it that fast otherwise.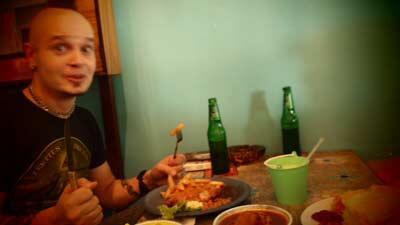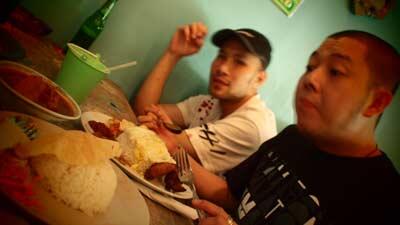 During lunch, they asked Harri about all sorts of topics in Finland
Wedding la (cos he's getting married)
Weather
Underground dance scene
Religion
AhHoong to me: You stopped going to church? What happened?
"Barcode happened," i joked.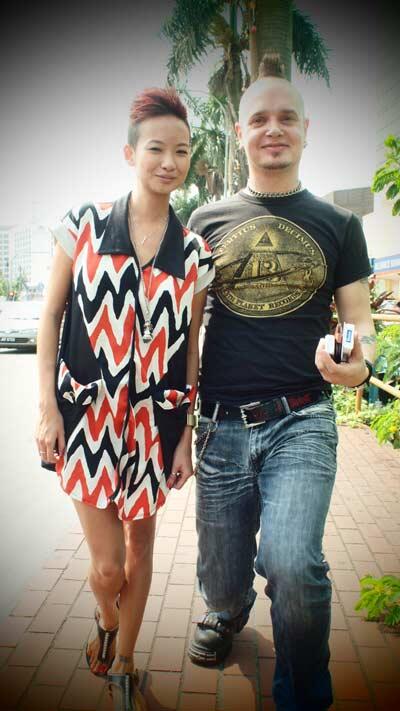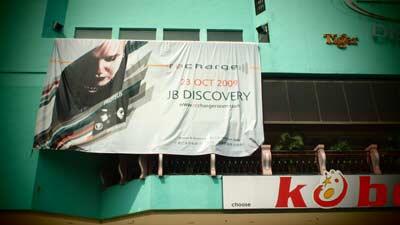 + + + + +
I went to the Blue Cube outlet @ The Curve the other day to activate my xpax line.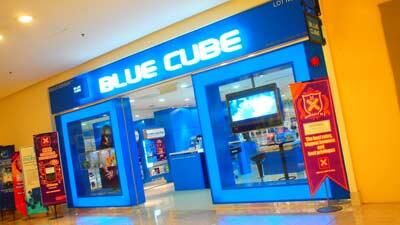 So hard to miss, it's right next to MPH on the 1st floor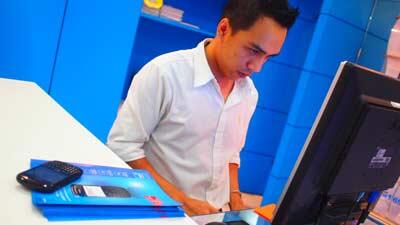 Very friendly and efficient Ben who helped me sort everything out.
I can be such a dunce at these things, so i just passed the phone to him and let him do everything.
All i had to do was decide which prepaid package i wanted to go for.
Instead of the RM1 a day package, i opted for RM2.50 a day,
so i can get my push mail as well (which is highly important for me!).
So after some simple calculation, it comes up to roughly RM75 a month,
for unlimited data.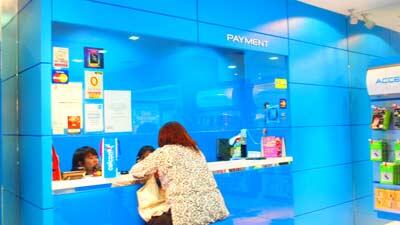 Get your own BlackBerry access at only RM998 when you reload RM50 at any Blue Cube outlets.
No hidden clauses or upfront payments. RM998 is all you need to pay when you reload RM50 to enjoy the offer.
(Promo valid till 15 November)
For more, check out www.xpax.com.my/blackberry.
.