I've just got back from Singapore, where Marina Bay Sands hosted media and bloggers from Malaysia, Philippines and Australia for 3 days. I usually don't take up media trips unless i REALLY want to go for them… and in this case, when i read the invite stating we were being treated to a 'gastronomic experience', i immediately replied YES.
My desire to devour all their good food (aka greed) got the better of me. But i learnt so much more than just how much i could put into my body for 3 days… i got to see how they run their entire F&B operation on an underground floor, met some of their most famous chefs, and even got cooking demos (and you know i love cooking!) in two of the most expensive restaurants there. It was like an educational school trip… except it involved lots of FOOD and DRINKS and how the MBS manages 10,000 staff. Really amazing!
My next few posts will be on my experience there (with some Myanmar blogposts i hope to slip in between for variety's sake), so be prepared to view lots of evil food pictures. My clothes are hating me right now (especially my pants), but the inside of my tummy is yelling for moreeeeee. Blogging has spoilt me for life.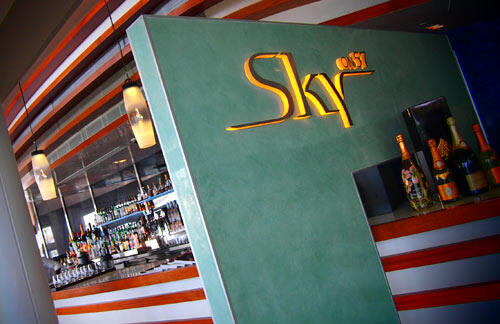 On our first day at MBS, we were ushered to have evening drinks at Sky on 57, one of the few restaurants sitting right on the tippity-top of Marina Bay Sands.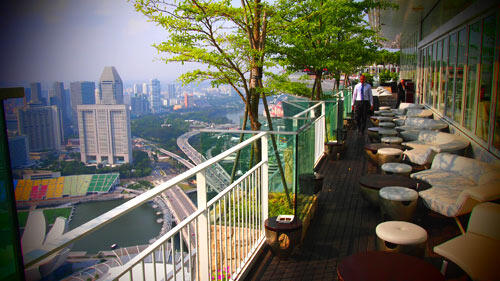 Sky on 57's Terrace Bar goes around the end of the restaurant, and has a brilliant panoramic view of the Singapore skyline and bay.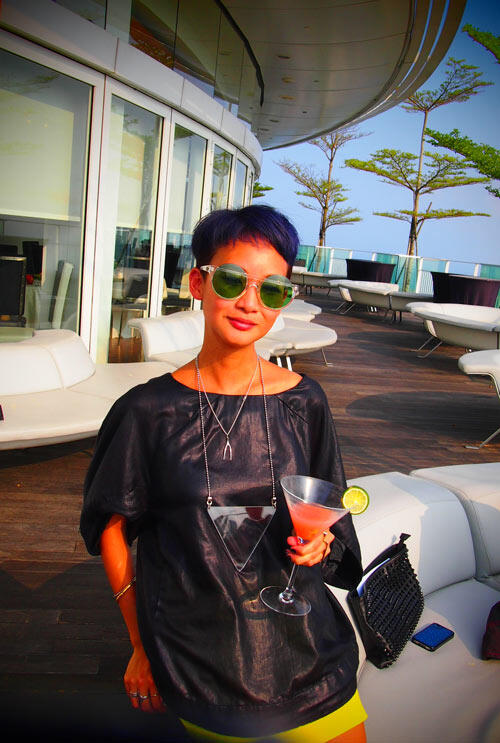 I'm drinking the Pink Gin Asiana – a concoction of gin, creme de framboise, dita lychee, fresh guava puree and lime juice.
We also got to try some finger food which was incredibly yum. To the point i can almost taste it in my mouth as I'm staring at the picture and aim to have it the next time i'm there!!!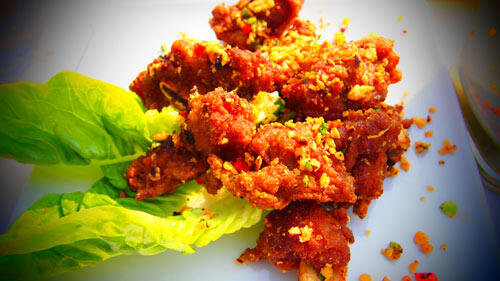 This was my favourite snack that afternoon – wok-fried Australian beef short ribs in salt and pepper. Sky on 57 restaurant manager, Damo Rayan, made it sound so simple when he described how they were cooked, and it tasted so good i'm inclined to have a go at preparing it for myself at home… but i'm sure i won't succeed in getting the exact same result. Sad.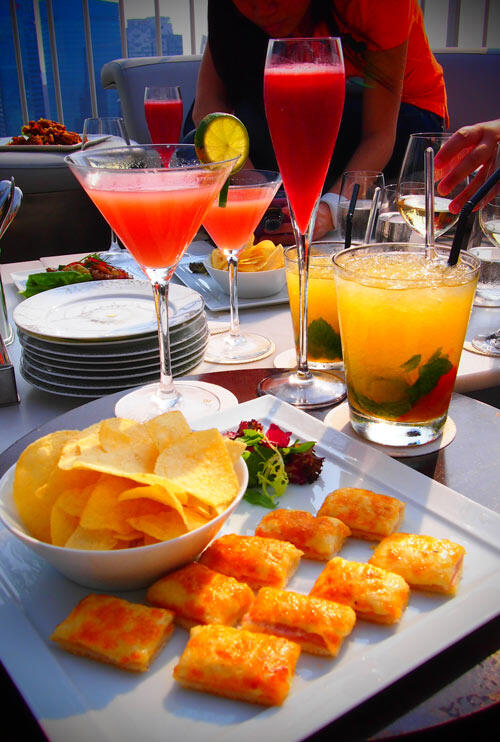 The croque monsieur flew off the plates really quick. It's easy to love these puffs filled with classic French ham with Gruyère cheese. They're one of Clem's favourite foods and i wished he was there to taste it too!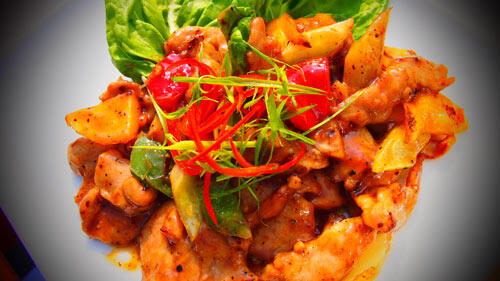 For something with a little gravy, we sank our teeth into wok fried US Kurobuta pork fillet in black pepper sauce.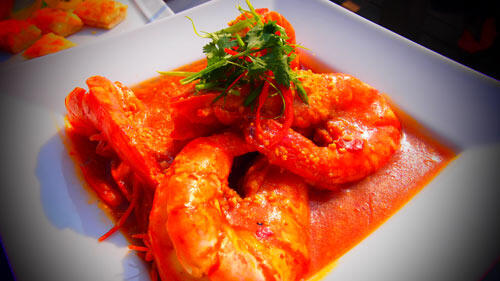 And finished off our 'evening snack' by eating sautéed king prawns in Singapore-style chili sauce.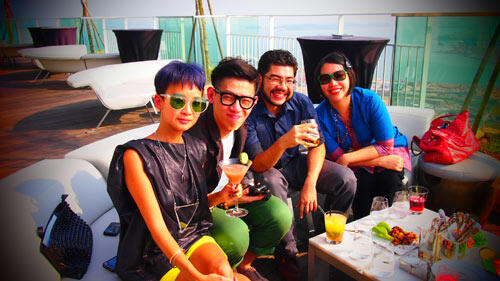 At times like this i can't say work is hard.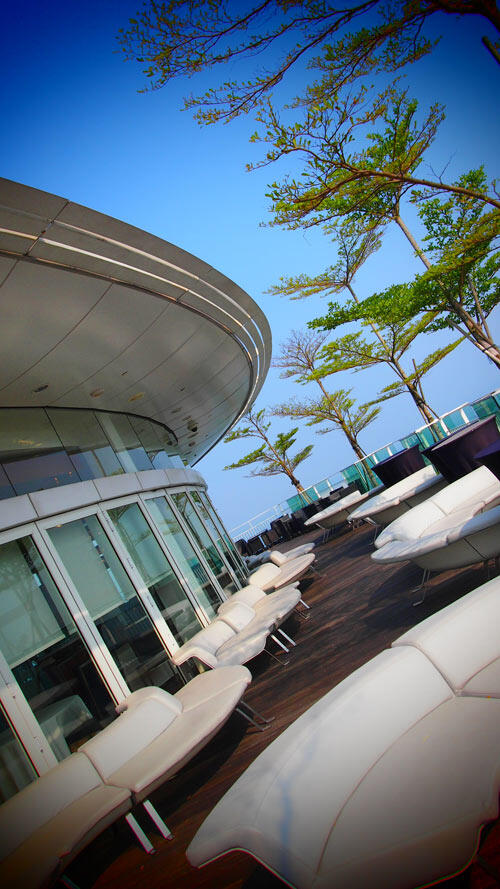 Sky on 57 is certainly a prime place to chill with a huge group of friends with lots of drinks and food. The great view is a major plus, and i appreciated their playlist as well – a few songs are played at some of my favourite luxe terraces in Bali and Phuket. (i memorized the playlist cos i *cough* copied one of the resorts' entire playlists from their provided iPods into my mac, heh.)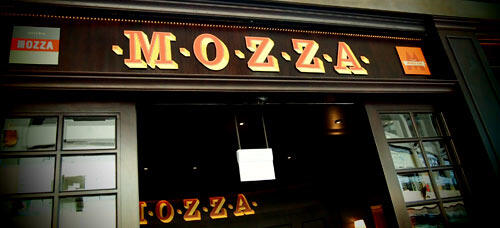 We had a schedule to keep to! So after wolfing down the last bits of our cocktails and food, we made our way through The Shoppes at Marina Bay Sands to Osteria Mozza. Created by celebrity chefs Mario Batali, Joe Bastianich, and Nancy Silverton; the restaurant's free-standing fresh mozzarella bar is one of its main attention-grabbers. Imported bufala mozzarella, burrata and burricotta cheese is prepared daily; and one can pick from their extensive menu of artisanal salumi, fresh homemade pastas, seafood and meat dishes cooked on a wood-burning grill.
But before delving into the prospect of dinner, our attention was brought to Osteria Mozza's Amaro Bar, where the Italian tradition of aperitivi is doted upon. To have an aperitivo is to spend some time enjoying great cocktails, talking to friends, nibbling on little bites, and anticipating your palate for dinner. It's something we do in the evenings anyway – after work, welcoming some drinks, before we start getting hungry for some real food!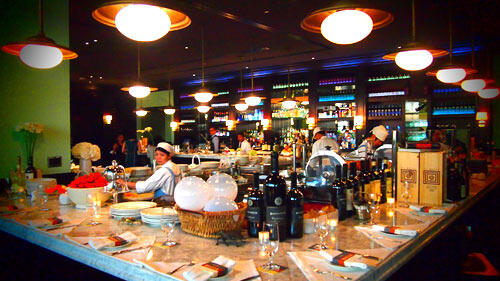 I love the ambience of the place, it's got warm lighting in a classy and comfy setting, with lots of interior detail around to look at.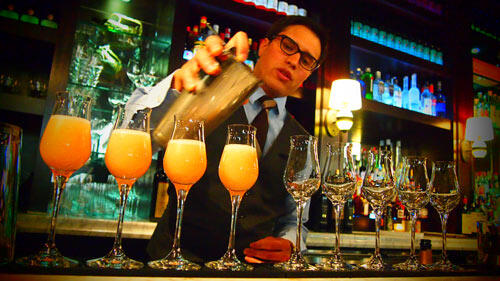 Bar Manager Lucas Swallows entertained us that evening, telling us stories about how he started as a mixologist in the US and how close-knit the cocktail community there is. He made us all beautiful Bellini cocktails of Prosecco and peach puree, while i snacked on some ricotta cheese.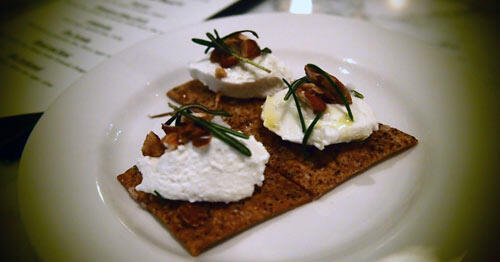 I don't mean to rave so much about the tiny ricotta cheese snack… but i can't help it! I took a bite and stared at John with wide have-you-tried-this eyes. I'm a big fan of cheeses and eat copious amounts that i stock up at home, and this was absolutely tasty and melt-in-your-mouth. I am dying inside while blogging this.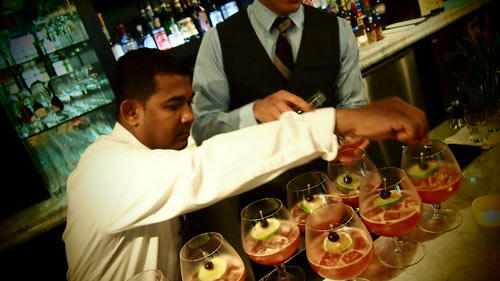 Lucas also insisted we try Amaro Bar's version of the Singapore Sling. He expressed how excited he was when he first came to Singapore to try the famous cocktail at its home bar, but was somewhat disappointed by how the nuances of the flavours weren't balanced, and how the pineapple juice overpowered the whole drink. After some research on the history of how the cocktail even came to Singapore's shores, he decided to pay homage to the original iconic cocktail and now serves Singapore Sling 1913 – a beautiful blend of dry gin, cherry brandy, D.O.M. Benedictine, bitters, lime and soda.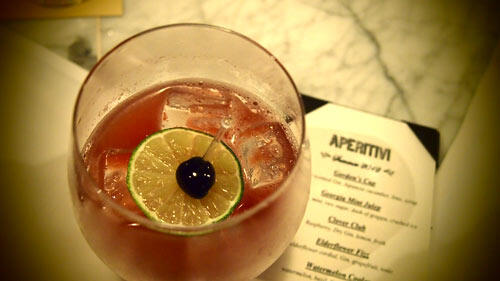 The cocktails were all mind-numbingly wonderful. It was like a party of gorgeous liquids in my mouth and i wish oh-so-bad that i had a bar just like this right where i live…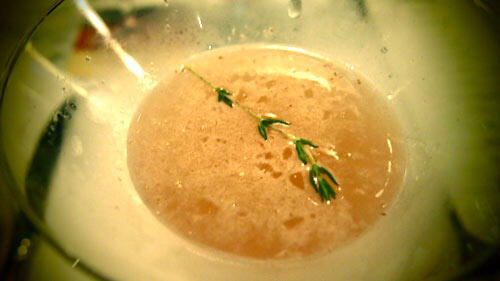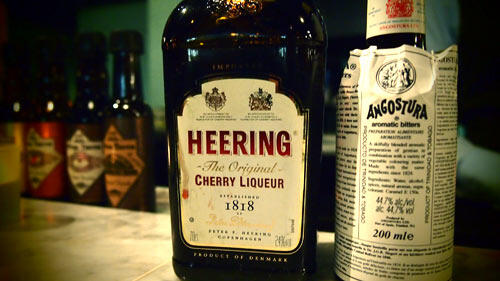 Right next door to Osteria Mozza, is Pizzeria Mozza – run by the same three celebrity chefs – and focuses on pizza of course! They also have a very extensive Italian wine bar/list that will impress any drink geek.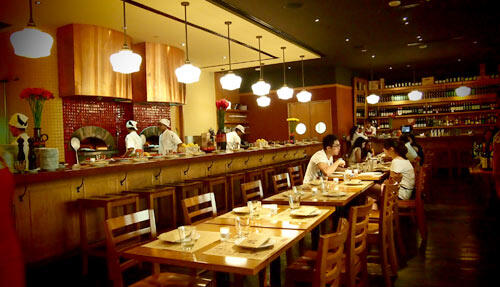 It's not my style to post a pic of the menu, but it being pizza and they having so many types of pizzas, it's actually fun to read all the toppings they throw on here!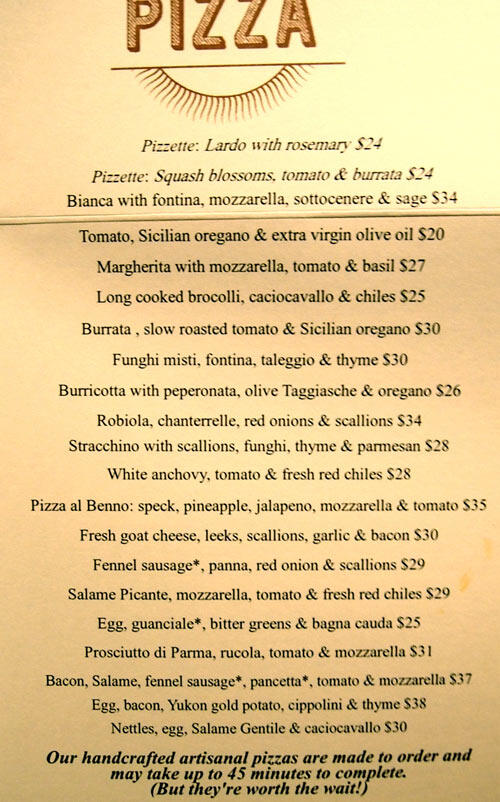 Did reading that make your tummy rumble or what?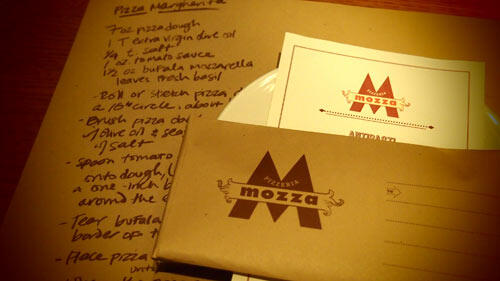 We got to sit in Pizzeria Mozza's private dining room, which seated 15 of us very comfortably. I reckon it's a great room for private dinner parties. All our dining mats were different, and our cutlery came in an envelope complete with popular Italian humorous beliefs.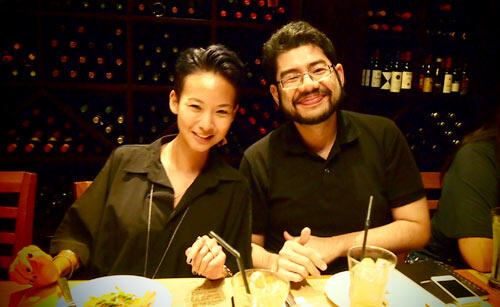 I've known John from our old Freeform days when he was editor of KLue, and i of TIC.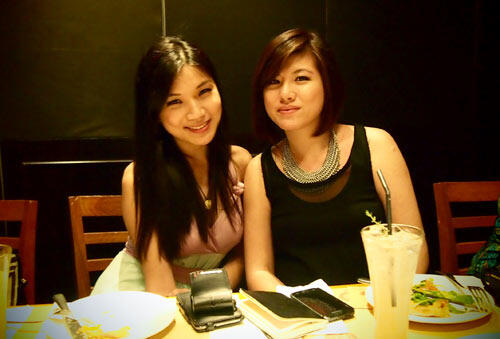 I managed to really get to know Sue Lynn and Eiling, two bloggers from KL.
I've never personally met another human being who can eat as much as Sue Lynn. I thought my friends and i can eat… boy, can this girl EAT. Even John was like, "wah…" and all our jaws dropped when she went for thirds/fourths at another restaurant.
As for Eiling, she really seems to know her whiskey and cigars, and even got me to try a cigar even tho i tried turning her down four times. She's certainly an insistent person! She also introduced me to a Japanese whiskey when we were hanging out at Ku De Ta, which i really liked.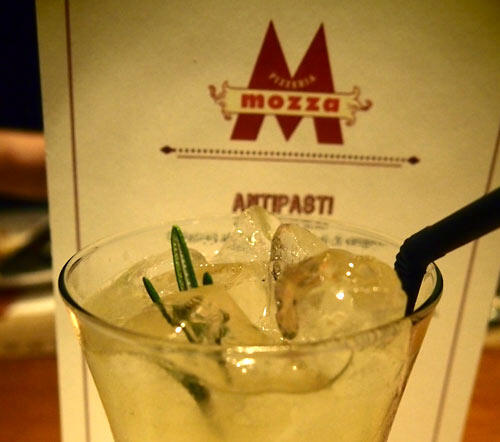 We had authentic Italian soda to go with our meal, and started with some antipasti before the pizza.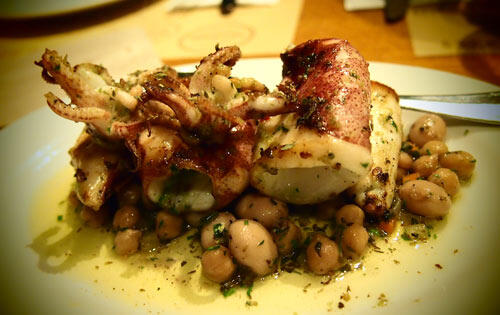 Calamari al forgo with fagioli & oregano. Spingy and fresh with a tangy sauce. I could have eaten more but held myself back… needed space for other dishes!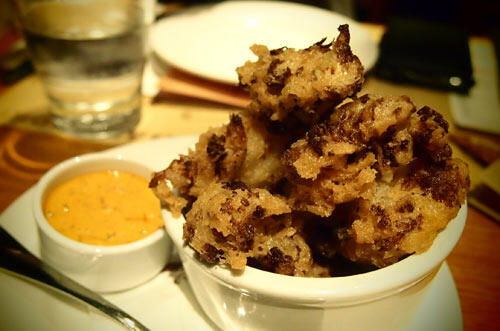 Cauliflower fritti – the batter was so light and crispy on the outside, it seemed to break before entering my mouth!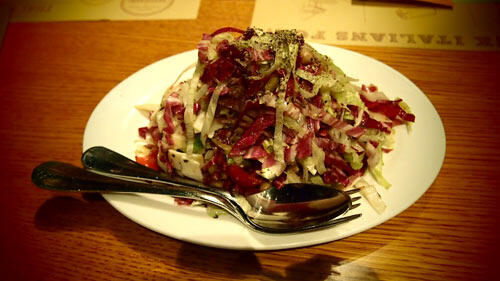 Nancy's famous chopped salad with radicchio, salame, aged provolone, ceci & pepperoncini. Really fresh and i welcomed the salad gladly!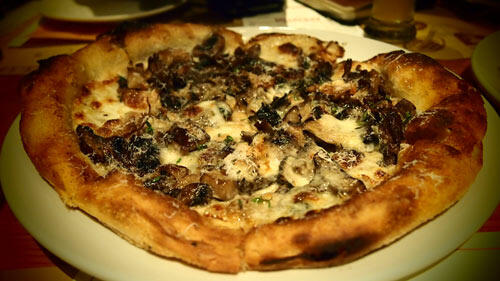 Funghi mist with fontina, taleggio & thyme pizza!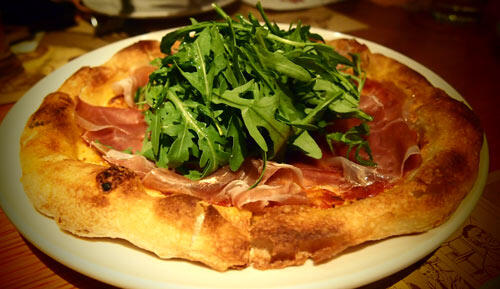 Prosciutto di Parma with rocket, tomato & mozzarella pizza!
Golly gee… i can't even choose between the two pizzas on which is my favourite! They were both really good in different ways! The mushrooms in the former were big and juicy and went so great with the cheeses; and as for the parma one, i'm a BIG fan of parma and rocket so i love it too! Oh, and i ate all my crust. I usually never eat pizza crust if it's too awful and thick, but these had thin crispy ones.
Not forgetting the dessert, which was surprisingly (or should i just NOT be surprised at the standard of food here anymore?!) mind-blowing.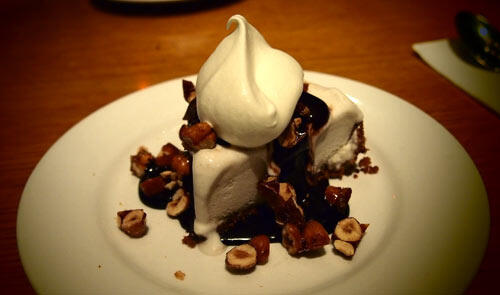 Banana gelato pie with hot fudge, candied hazelnuts and a dollop of cream. Another thing i wish was within ordering distance of my house.
Marina Bay Sands, what have you done to me! I just wished i LIVED in Singapore just so all this food is more accessible to me! Now i feel bad for my own city and swear i'll be on a rampage to find something that will ease my tastebuds in a similar way.
At night, we took a walk along the marina, which we probably all needed to digest all the food -_-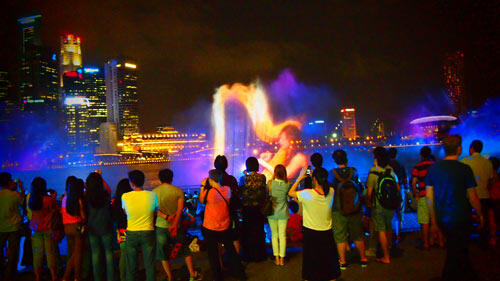 Passed by the daily water and light show that is free for public.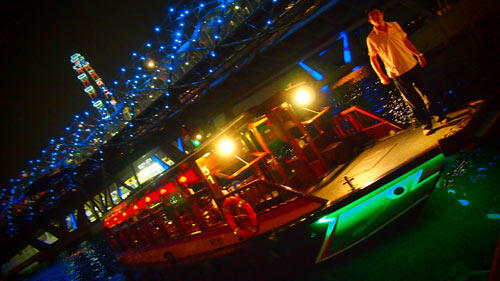 We went to take the River Cruise from Marina Bay Sands to Clarke Quay and back.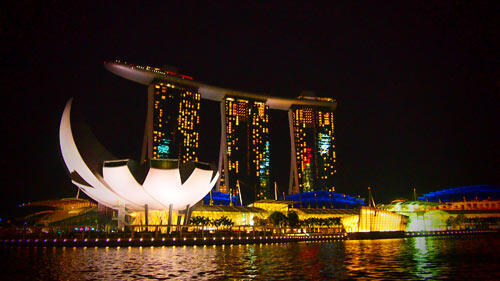 I couldn't believe how PRETTY Marina Bay Sands looks from the water! I'm so used to seeing bits of the top of the building from the roads, or being IN the building itself; and never thought it'd be this magnificent from this angle.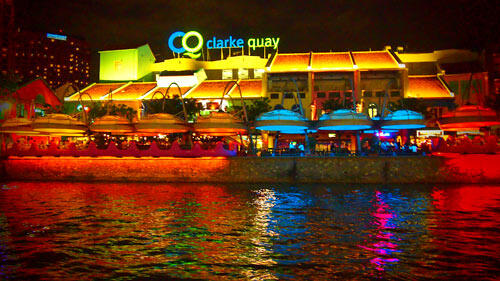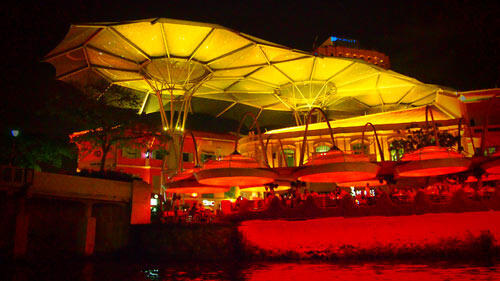 Did that post make you hungry? I'm freaking STARVING after editing and writing all that!
To find out more about Marina Bay Sands, and book a room, visit www.marinabaysands.com! You can also follow them on twitter @marinabaysands.
Related posts:
My rockstar stay in Marina Bay Sands in 2011
Avalon Day 2 at Marina Bay Sands 2010