'Twas my first time in China, and i thought it ironic:
1. i was going with a French family.
2. i couldn't speak a single word of Mandarin to save any of us. 
Okay so i know a grand total of six words in Mandarin – 'no', 'thank you' and 'i don't know'.
Knowledge of 3 Mandarin phrases in China = Super Fail. *covers face with hands*
Random notes about Shanghai:
1. I LOVE THE FOOD
The one thing i was most excited about was being able to eat different types of Chinese food – Shanghainese, Hunan, Si Chuan – loved them all. So different from Malaysian Chinese dishes, and spicier too. I was really lucky to pick up an issue of TimeOut there, which happened to have a feature on Cheap Eats. The TimeOut team basically combed thru the city selecting the best places with a varied selection of yummy and affordable food. That issue became my bible when i was there and i carried it around EVERYWHERE. More posts to come JUST ABOUT FOOD later!
2. Taxi/MRT fare is cheap
Before i went to Shanghai, people were telling me that it's expensive and i was expecting something like Copenhagen. So far, no other place beats Copenhagen in terms of price where a pack of gum in a 24-hour costs RM5. The way i judge whether a city is expensive is by observing prices of their petrol/transport, food, alcohol :p, rent, and basic amenities like mineral water, gum, etc. I don't think Shanghai is expensive… getting around was incredibly cheap, with MRT/subway tickets costing RMB3 (RM1.50) a trip; and cab fares usually around RMB12-25 (RM6-13).
3. It's really clean.
The roads were exceptionally clean, probably due to the World Expo going on. Occasionally i'd come across some smears of shit (sorry but there's no kinder way to put it) on the pavement and i'd gingerly hop over it, inwardly screaming for my shoes.
4. Good luck finding someone who speaks English.
I probably came across one person daily who spoke English. Waiters, taxi drivers, store attendants, all don't speak English. Most of the time, one person in a restaurant could speak English if you're lucky. If i went to a Western restaurant there was no problem at all. All the Chinese people were really nice to us (but i told Clem i bet it's because he's white) because the ONE time i was alone and smilingly tried buying something in the pharmacy, the girl rolled her eyes at me and refused to try and understand my gestures. 
5. The city is massive.
I never thought of Shanghai as an ultra megalopolis till i went there. See for yourself! >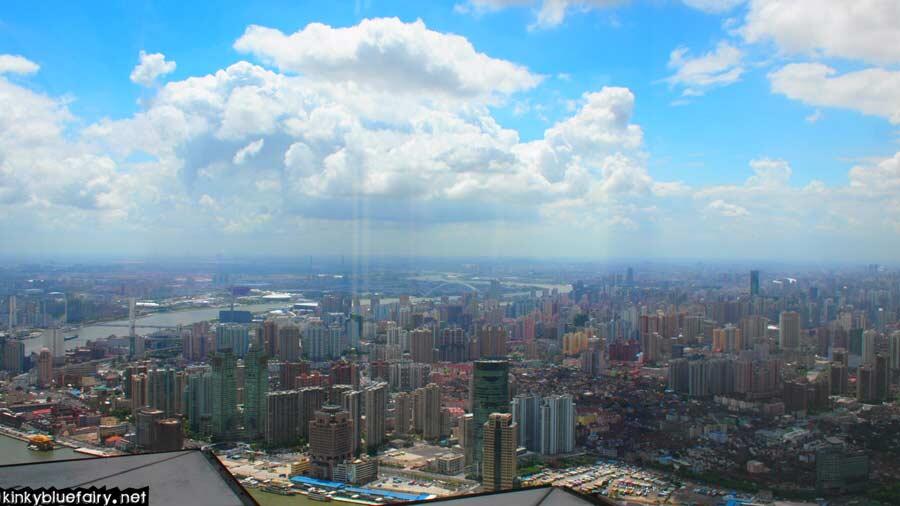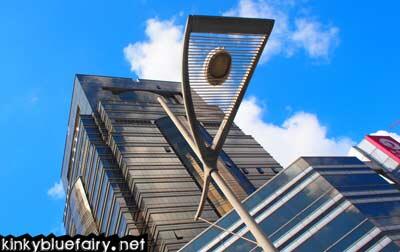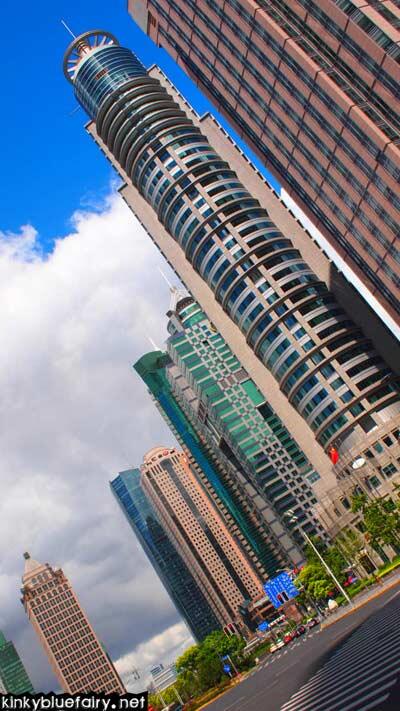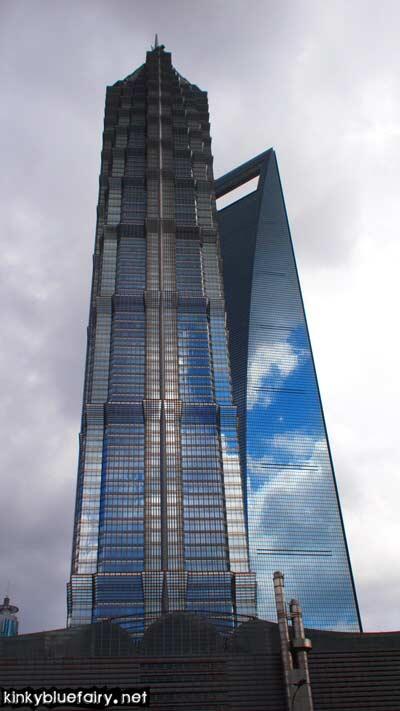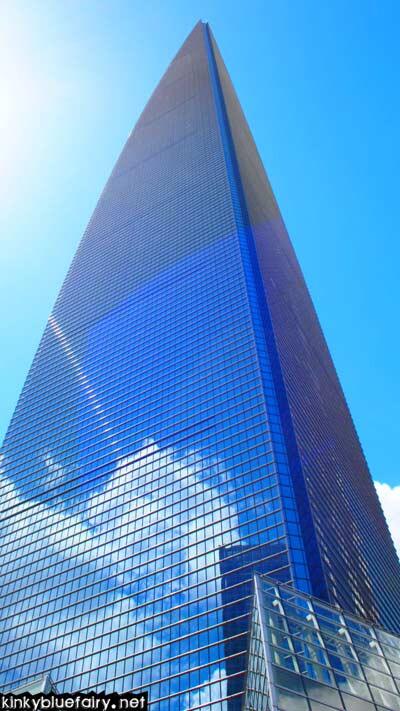 [Pix above taken by Clem, have to give credit, nanti the fellow say i steal his pics -_-]
We went to Cloud 9, a bar on the 87th floor of the Grand Hyatt with a spectacular 360 degrees view.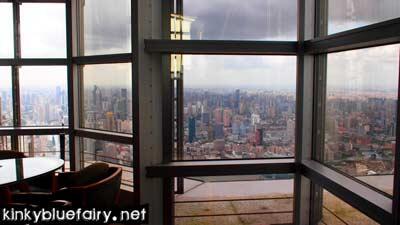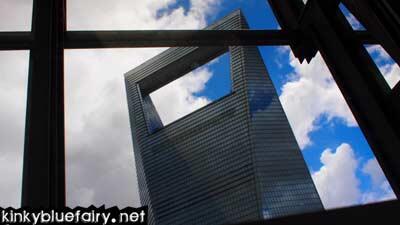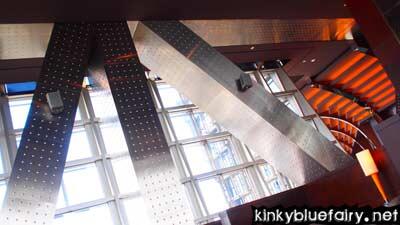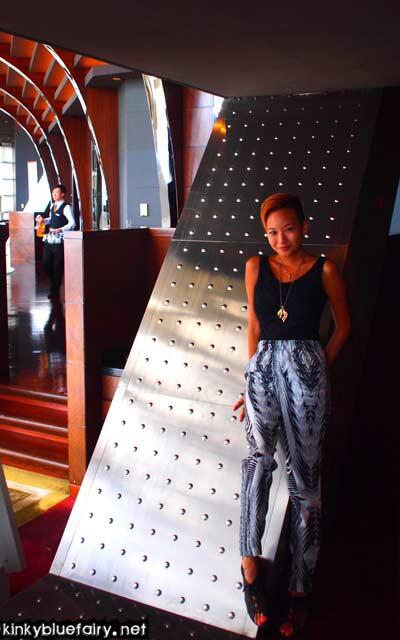 i'm wearing >
top; gift from mum
pants; h&m
shoes; kg
scarf; flea market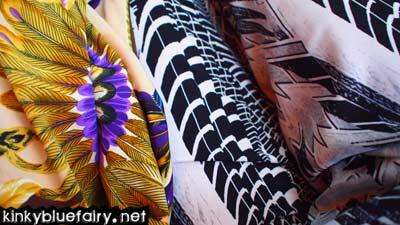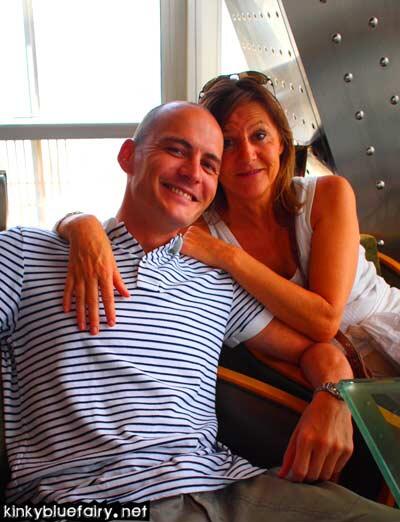 Clem + his mummy Dom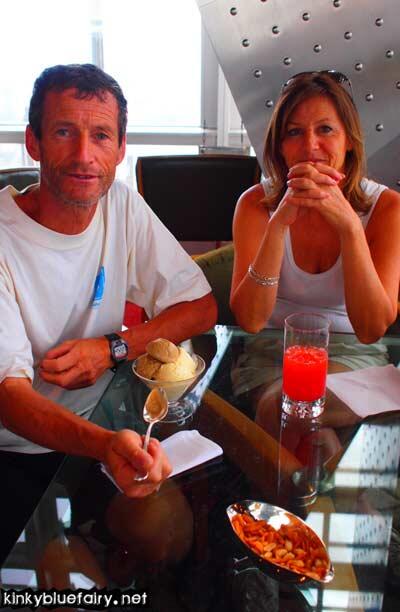 Serge + Dom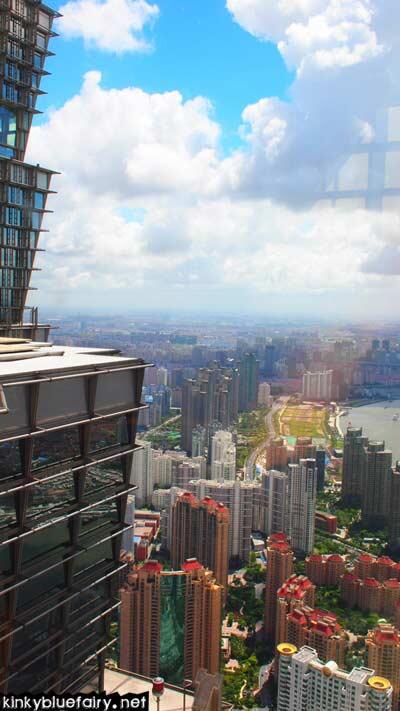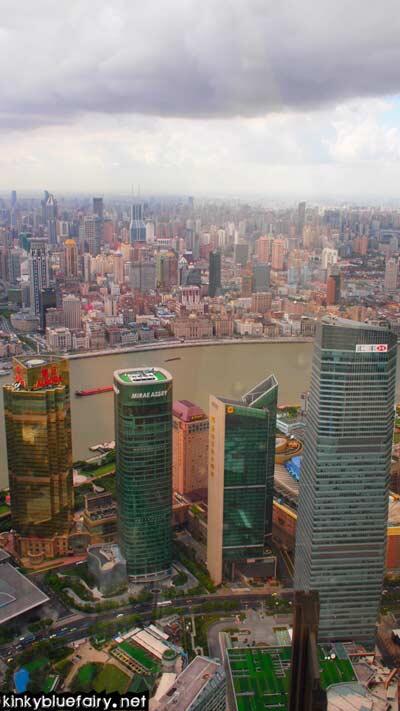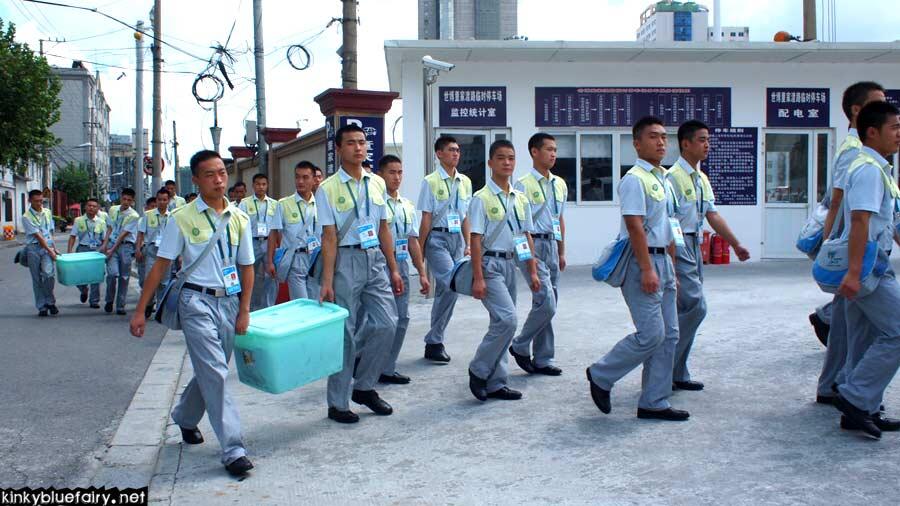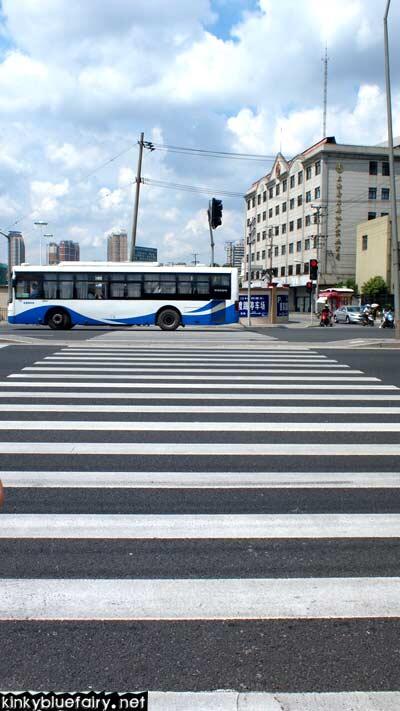 We also took long walks around the less commercial areas,
which were my favourite!
Lanes where no tourists ventured,
filled with colour,
locals going about doing their daily thing,
and clothes hanging everywhere.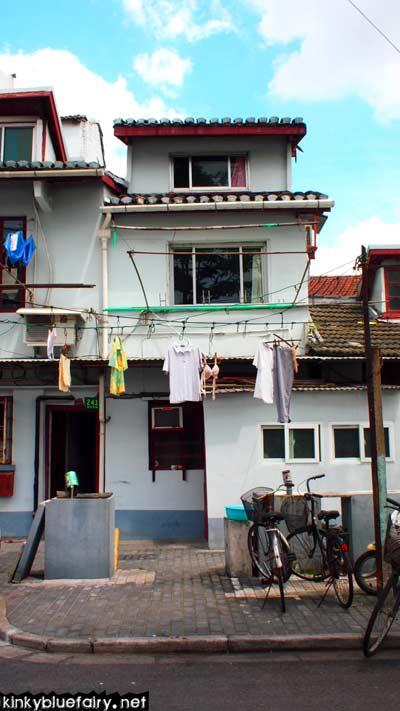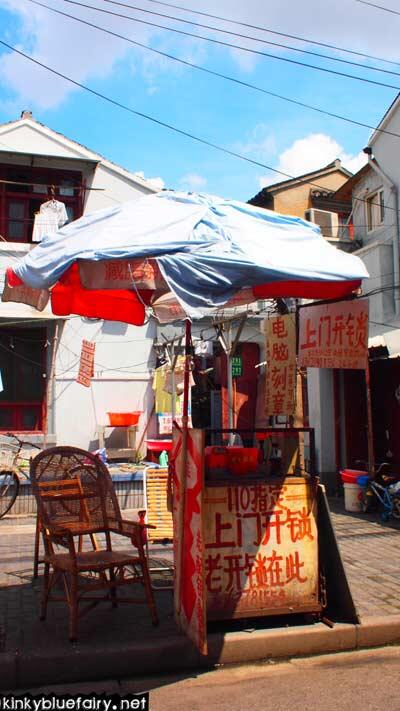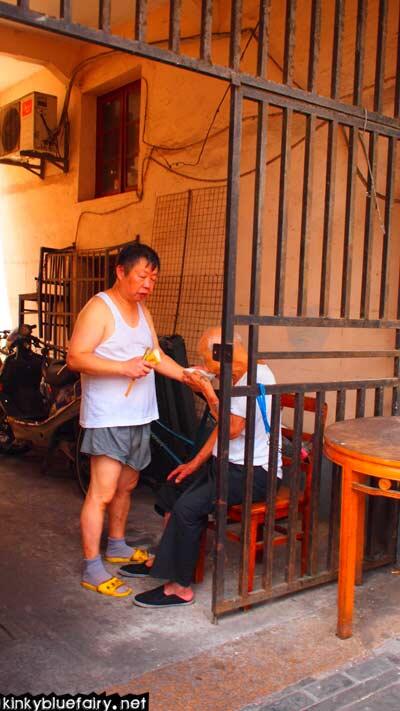 People taking care of their old, and young.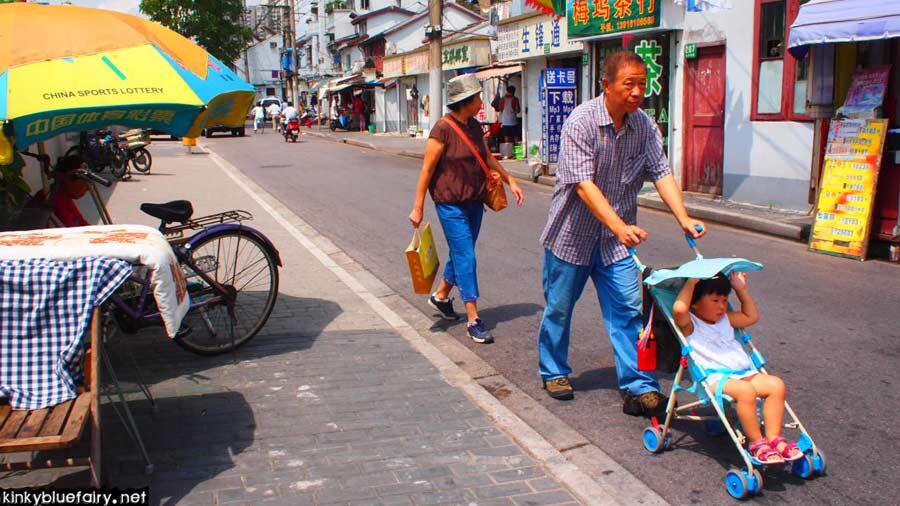 [click for larger view]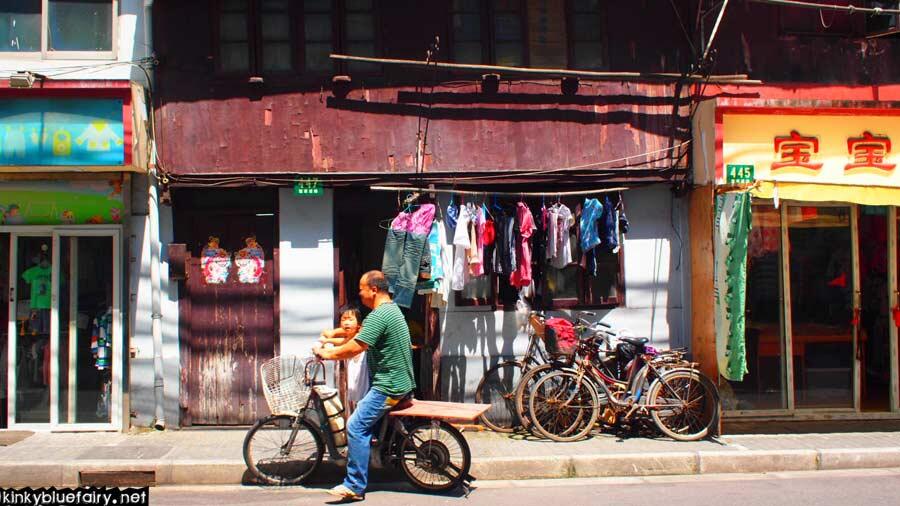 [click for larger view]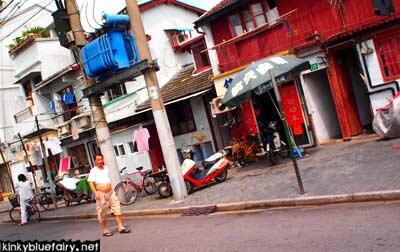 Saw quite a few men (like the one above) who liked to walk around with their shirts hiked up above their tummies.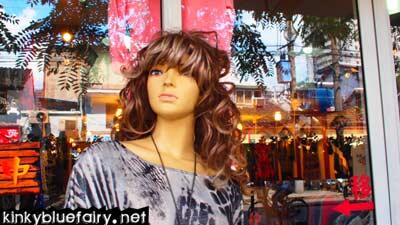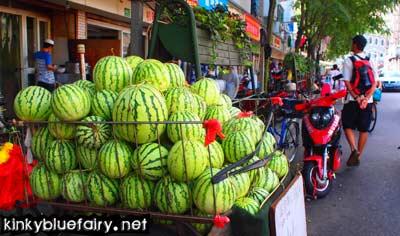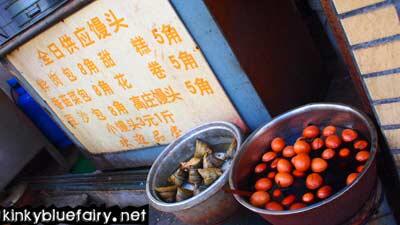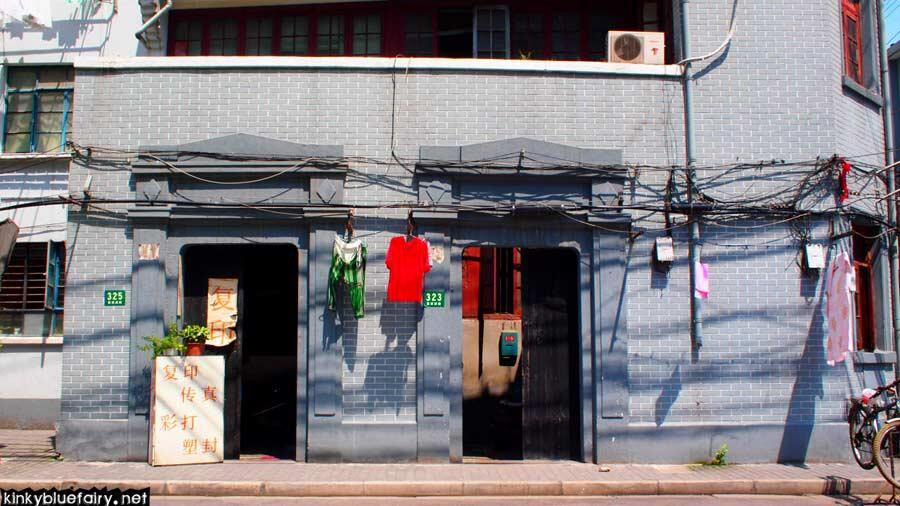 [click for larger view]
I really like the picture above for some reason.
The red and green garments sticking out yet blending in with its surroundings.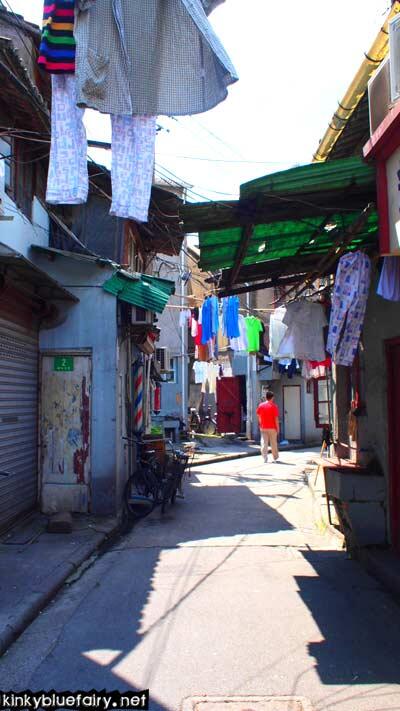 I wasn't joking when i said clothes hung everywhere.
On strings tightened from one building to another,
on telephone wires,
below low rafters and roofs,
over shop entrances,
on chairs and parked bicycles,
heck, i even saw someone's bed comforters hanging on the highway divider (wish i took a picture of that now!).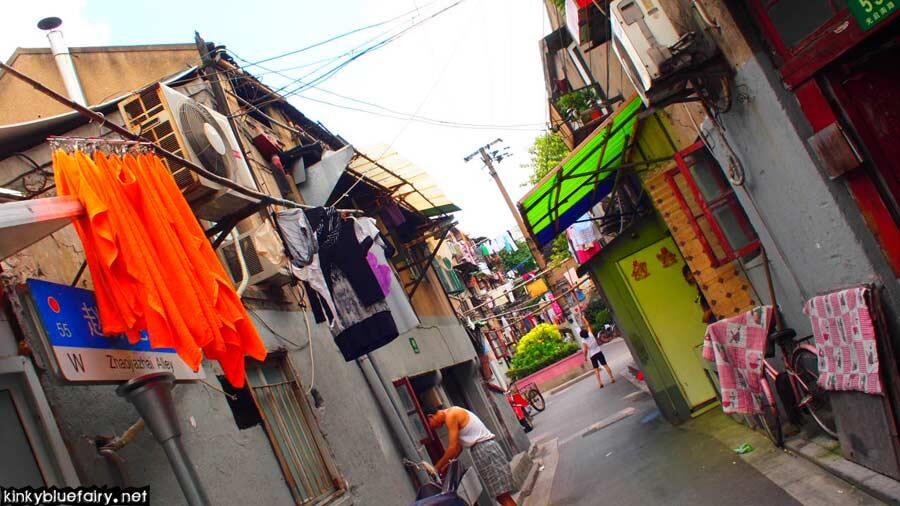 [click for larger view]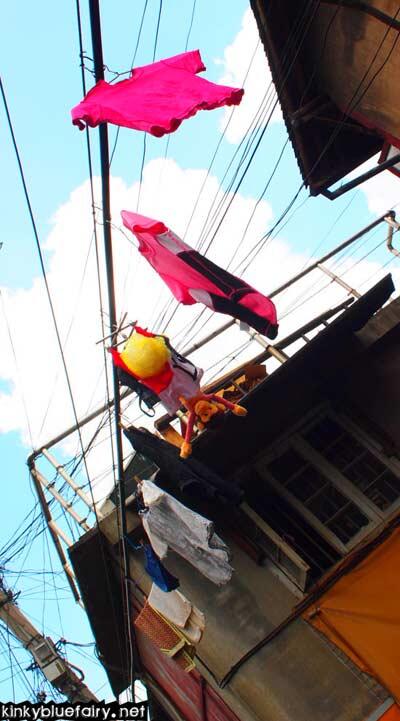 Spot the monkey!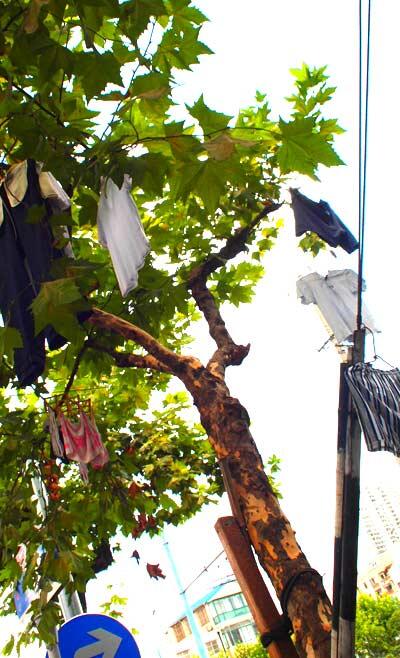 They even go so far as to hang clothes in trees.