One thing that really made my trip was the FOOD, like i mentioned earlier.
I didn't use to be this enthusiastic about food,
but either my appreciation for good food has increased drastically,
or i've just become more greedy.
I hope it's the former 
This is a post for me to remember all the stuff i ate in Shanghai (with some tak halal pics to boot)
So if you don't like to look at pictures of pork,
or don't like food (i can never be friends with people who don't LOVE FOOD and DRINK)
then you can close this window kthxbai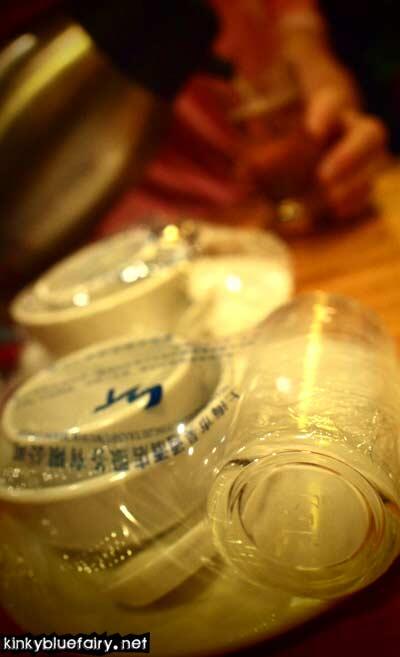 Some restaurants in Shanghai have each person's eating utensils and plates wrapped in plastic by a dish-cleaning company.
Haven't seen that before!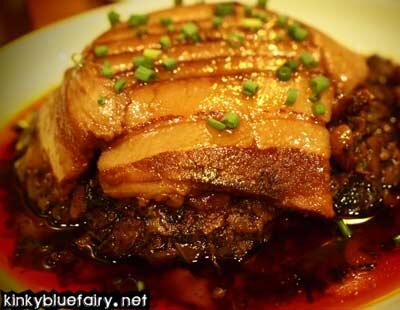 First few days i spent there were also spent pigging out on pork fat.
Clem doesn't eat any fat, but even he said this was really good after trying it!
On the few occasions when i split up from Clem and his family to wander about by myself,
i'd take the opportunity to eat Hunan food cos it's spicy (and they don't eat spicy food too much).
I tried Guyi, as it was recommended on a few site and magazines including SmartShanghai - the online guide i used most.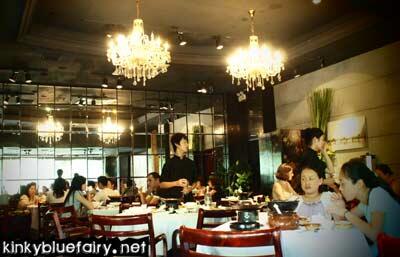 Some people stared at lil me having lunch by myself,
but i just tucked myself into my book and food heeee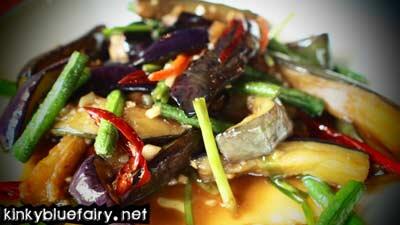 Ordered a veggie, and chili pork knuckle which was SUPER yum.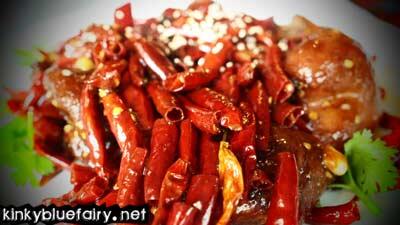 I know it looks like ONLY chili in the picture,
but all the pork knuckle is buried underneath.
I couldn't finish the dishes, so got it packed and planned to give it away to a poor person while walking around that afternoon.
You know how you can't find something when you really want to, even though you always see it around when you don't?
Yeah. At the time i was scouting real hard for a poor person to give my nice leftover food to, i couldn't find a single one!
Hmm how bout that man? Nope... he doesn't look that poor and might be insulted
Hmm that lady... nope she's sweeping the road and might throw the food in her bin -_-
So i ended up carrying the food all day long 

And on the day before and after, i saw many-a poor people sitting around.
Guyi
89 Fumin Lu, off Julu Lu
Jing'an District
+ + +
Another day, Clem and i went to try Simon's Test Kitchen,
one of the places stated in TimeOut to have a great selection that was value for money.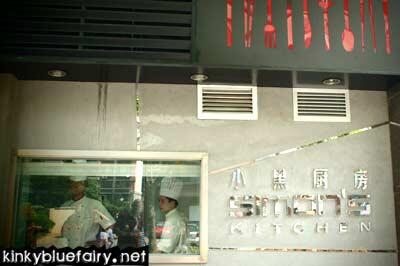 One of the two chefs who own it is called Simon,
and it's called Test Kitchen cos they're trying out their dishes while hunting for the perfect location for their proper restaurant.
[source: enjoyshanghai.com]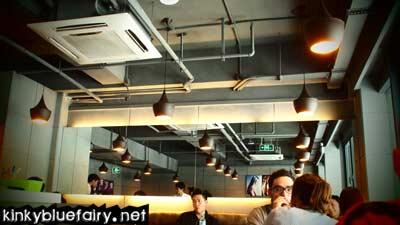 I really liked the vibe there.
It was modern and cosy due to its small size.
We were really lucky to get a table during lunch hour.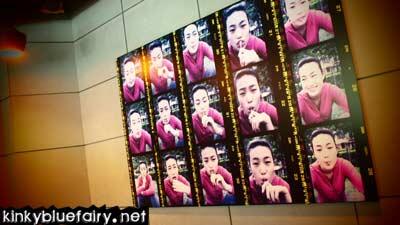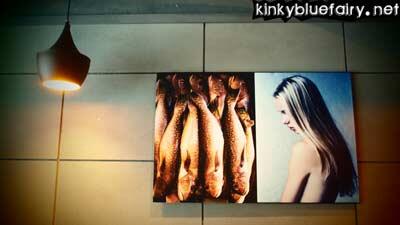 All the dishes are small and cheap,
so they're easy to share and taste as much as we could!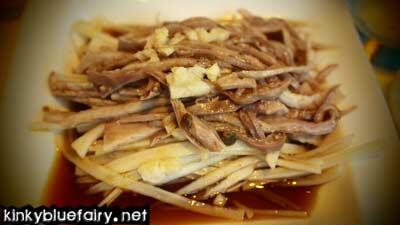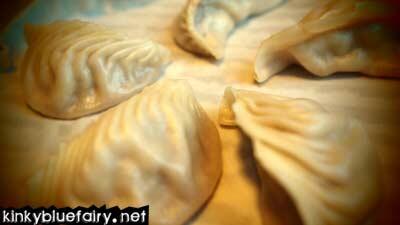 The crab + pork xiao long bao was out of this world.
One of the best i've EVER had cos the dumpling skin was SO thin yet steady,
and the filling was moist and rich and awrhhhh just writing this is reminding me how it tastes in my mouth and am physically salivating now!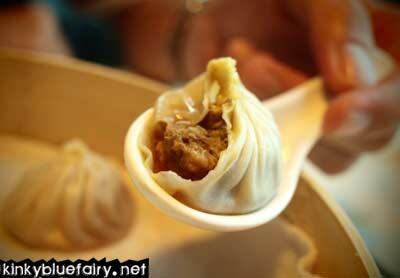 We also ordered another serving of xiao long bao (just pork), beef tendon soup, a starter, fried pork + fried rice, and a couple of drinks.
Total bill was less than RM50 for Clem and i.
Daymn.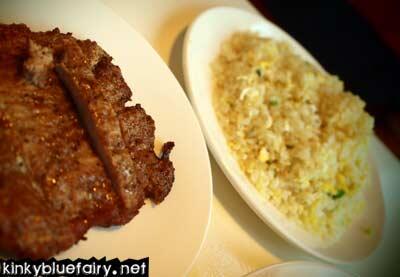 Simon's Test Kitchen
The Point Jingan Building
561 Anyuan Lu, off Jiaozhou Lu
Metro: Changshou Lu
+ + +
One evening after walking around the French Concession area (which i'm not going to post pictures of cos it's quite touristy)
we went to try Whisk, this cafe famous for its chocolate offerings.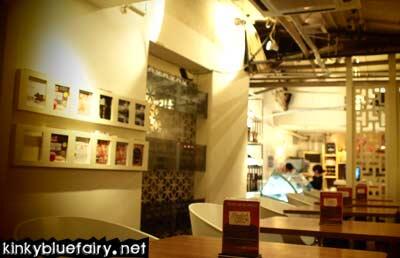 We'd just come from a Vietnamese meal (i know, it does sound like all we did was eat!)
so we just shared a chocolate creme brulee and a choc coffee each.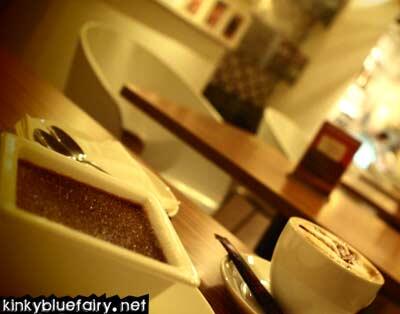 Place was warm and smelt yummy,
saw some people ordering food which looked like massive portions
but really didn't have enough tummy space to handle that!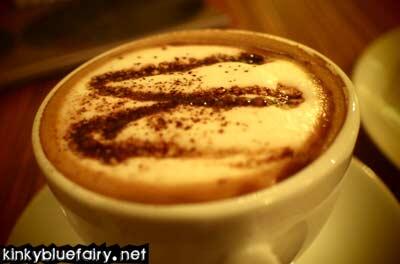 Whisk
1250 Huaihai Lu
(French Concession area)
+ + +
I stopped by Citizen one afternoon to read my book a bit,
and have some coffee and apple pie + ice cream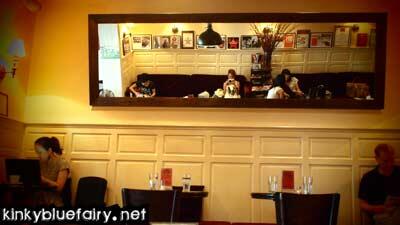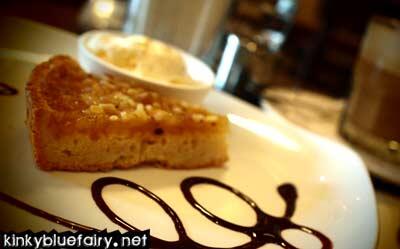 Citizen
222 Jinxian Lu
Metro: Shanxi Road Station
+ + +
Clem said he liked how he didn't have to do anything this trip.
His parents would plan where to walk and sight-see,
and i'd plan where to eat.
One of the occasions i forgot to refer on whether there was an English menu was this Shanghainese restaurant we went to.
We sat down and waited for one of the bustling waitresses to take our order,
before a very friendly customer who spoke English and was watching us said that we weren't going to get any food that way.
We had to order and pay at the counter,
before getting our food.
Unfortunately for us, the menu was in Chinese so we pointed at a few pictures (so sad right!)
and looked around at what other people were eating to order the same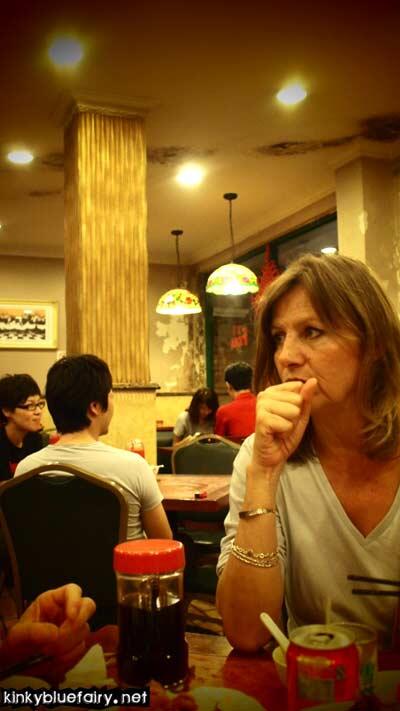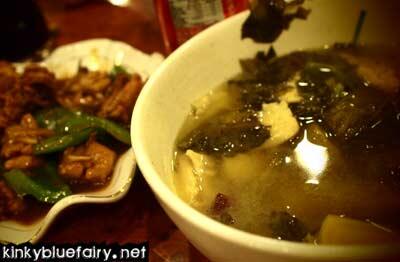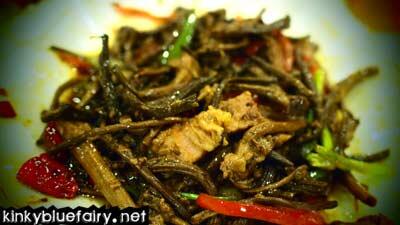 Our favourite dish that night was this strange concoction of stewed mushrooms.
When it arrived, i didn't think much of it, but once i scooped some in my mouth, i was sold.
It's got a twangy herbal taste that is really pleasant...
Too bad NONE of us know what it's called!
+ + +
Yet ANOTHER restaurant we went to on a separate night only had a menu in Chinese.
This time, there were no plentiful of tables next to us as the room was tiny (Clem's mummy said it was like sitting in a train)
so we pointed out the leftover dishes on the table next to us while Serge went downstairs to peep at what other people were eating and order via pointing.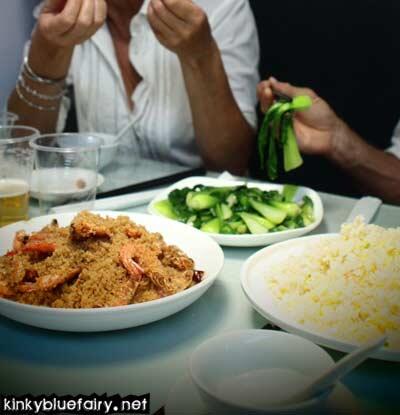 Food was really good too, despite it being a random encounter.
I initially planned to go to the restaurant next door, but it had an hour's waiting list, so we abandoned that idea.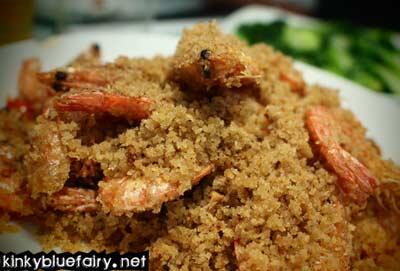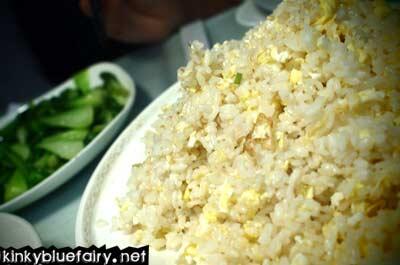 + + +
To appease the white man, we went to have breakfast at a place that served Western stuff.
Kin - part streetwear shop, part cafe - sounded promising.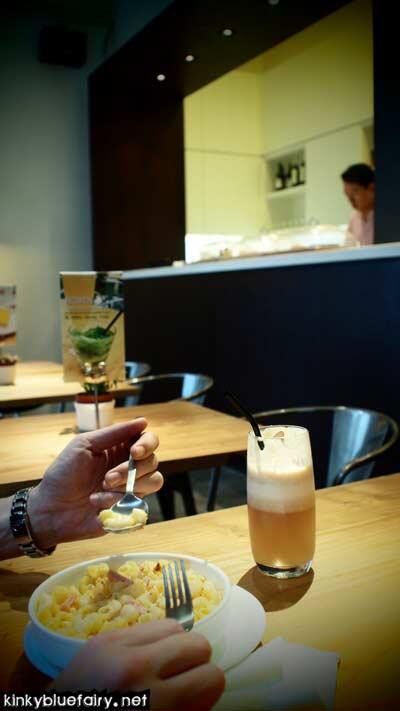 Clem had mac + cheese, and a ham + cheese toastie
The pear juice was sublime.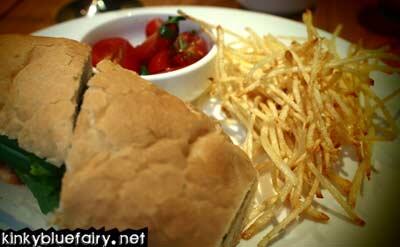 I went for the pork belly sandwich with a fresh tomato salad and crispy thin fries.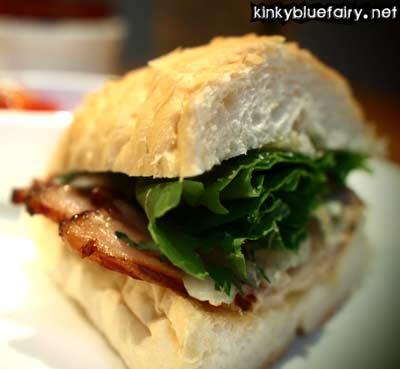 Damn writing this post has got me awfully hungry!
In fact in the middle of it i called someone to ask, "DO YOU WANT TO GO EAT!?"
I'm sorry if you're reading this in the office and it does the same to you mwahahaha