I just got back from the Isle of Wight festival and i must say – it was the most amazing music experience of my life.
I didn't get drunk, i didn't even get tipsy.
It was just the music that got me high high high.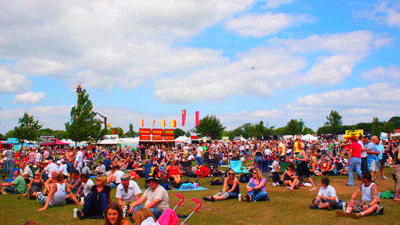 Most of the weekend was spent with tens of thousands of people
lounging in the sun to Friendly Fires,
dancing with my arms in the air to Vampire Weekend and The Courteeners,
rocking and pumping fists while dancing to Blondie and The Strokes,
looking on in interest at Paloma Faith and Marina & The Diamonds,
thinking Pink was mad fun with her circus acts,
and singing along to legendary lyrics half the people on the planet probably know.
At one point of time (while Paul McCartney was singing 'Yesterday' to be exact), i didn't even move.
Standing there, i couldn't believe how i was hearing such an iconic song of all time,
a song i've heard over and over again throughout my life,
being sung by him RIGHT IN FRONT OF ME.
Standing there, i drank in every word and note,
memorizing, savouring.
Standing there, i thought about how lucky i was,
just to be standing there!
I thought about how lucky i am to have experienced the festival,
the music… and how many people would be as lucky.
I thought about the money that allowed me to spend the summer here,
the blog that earned me the money,
and… you, my blog readers.
I actually thought about my readers and gave thanks,
cos if it weren't for your reading this,
i really wouldn't be able to be here.
(Fairy math > readers = advertisers = $ = Joyce in Europe :p)
So i just wanted to say thank you.
And i appreciate all that i have and am so lucky!
Gosh i'm just reading what i wrote and thinking
WOW HOW LOVED UP DID THAT WEEKEND OF MUSIC MAKE ME?!
I'm still reeling over from the fantastic performances i saw…
and am gonna pass out now cos it's past 2am
and i'm exhausted from the hours we spent traveling back to London.
Will blog bout the festival in a bit!