Last Saturday night, i was crazy full from a family dinner and extremely tired,
so Clem went out for some drinks with his friends,
and came back around 2.
"Look what i found!" 
 he held up an item.
"What's that… a golf ball?"
"Yeah!"
"Ooh-kay… where did you find it?"
He found it on the ground and decided to take it home 
"I SEE. So you decide to take this golf ball home because it's really special..?"
He then proceeded to tell me the marvels of a golf ball.
So there we were,
in the middle of the night,
him waving the golf ball around,
and me feeling NOW I KNOW HOW MY FRIENDS FEEL WHEN I TALK CRAZY
After the fiasco,
he left the golf ball on the table by the door.
The next morning,
i woke up early to run some last minute CGYT errands,
and caught sight of the ball before i left.
I picked it up,
showed it to him remember what you brought home last night?
laughed,
and left.
Later at Palate Palette,
i couldn't help telling my friends about Clem's marvelous golf ball
(cos it was too funny)
and i knew they'd totally get it.
When he arrived,
he told me people practically pounced on him,
asking about his golf ball (LOL)
And of all surprises,
he actually brought it out.
ClaudiaOnCrack asked him what its name was,
and Clem confidently replied Wilson.
Apsahahah helped him draw a face on Wilson,
so he'd be more smiley. 
(This all went on while i was playing with SarChan so i knew nothing btw)
Later that day,
we accidentally lost Wilson,
and spent 2 drunk hours trying to find him -_-
I asked random strangers whether they'd seen him.
"Have you seen Wilson? We've LOST him!"
"What does he look like?"
"Oh he's a golf ball… our pet golf ball."
"… no we haven't seen a golf ball…"
"Aww okay thanks! *dashes off*"
I even made an announcement on the mike.
Jimmy told me he thought he saw Wilson go downstairs,
so i went down to look for him 
We finally found him behind the sofa.
(Though we're highly suspicious Jimmy and his friends knew he was there all along
cos it was Jimmy who moved the sofa away.
You sent me on a wild ball chase didn't you!)
Anyway Wilson's safe at home now.
He sits on the dressing table,
amongst other rocks Clem collected.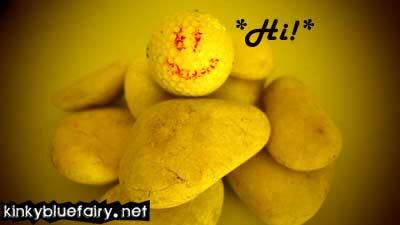 I told him about Baba's Rock (story for another day) that sits on my dressing table at home,
and how maybe i can bring it to be friends with his rocks.
"I don't know," he said, "Maybe they don't want to be friends with him."
"Why NOT? Because he's a black rock? You can't be racist with rocks!" i screeched
Hmph.