This will be my last post on Cebu 
Past Cebu posts if you missed it:
Hilton Resort & Spa Cebu
Day 1: Getting used to the place
Day 2: Tourist spots
Cheesie and i decided to spend the whole day exploring the beaches off the main island of Cebu
so we hired a boat from the Hilton to take us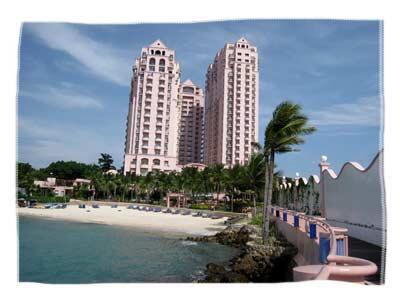 View of the hotel from the jetty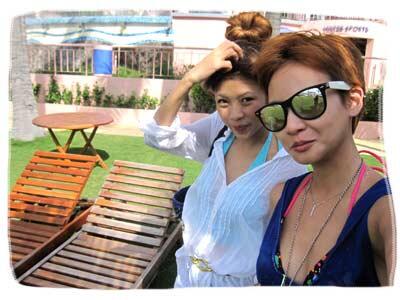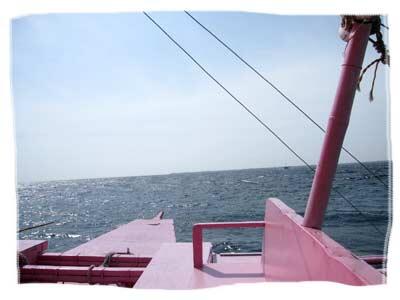 We had very few people on the boat – the driver with his 2 boys, and a lady from the Hilton.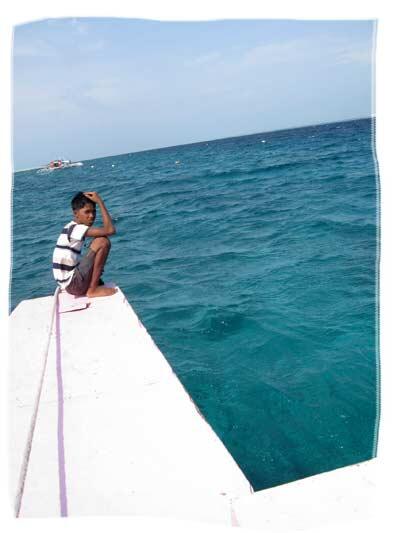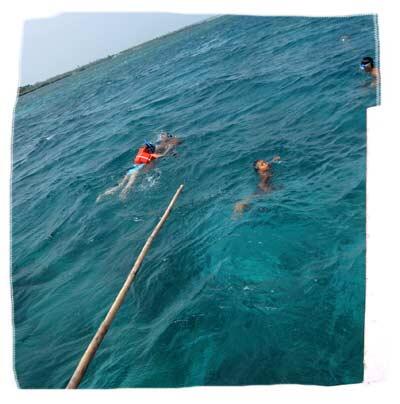 First stop we went was a spot to snorkel
I generally don't like using the fins and life jacket
(cos i really love the water and prefer having nothing clinging to me when i snorkel)
But the waves were really choppy there!
It wasn't calm waters like the beaches in Malaysia or Thailand where you can casually float about and look at fish.
It was more like trying to stay alive while peeking underwater and the waves kept on getting into my pipe.
After looking down, i thought fuck that, fish are fish and i've seen more colourful ones,
so i got back on to the boat to drink my beer.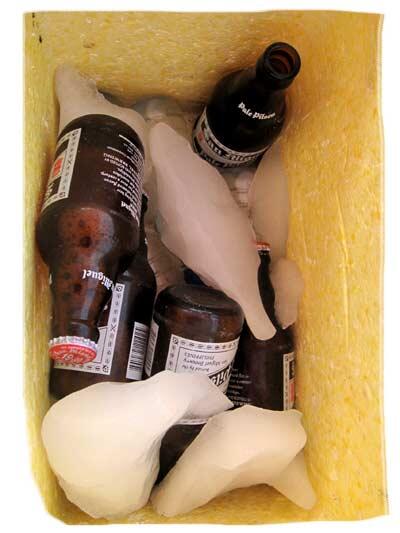 Cheesie doesn't drink, so er yeah, all that was for me
(though i did give one of the beers to the boatboy)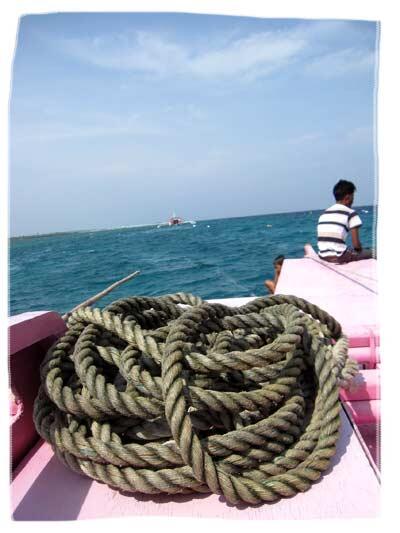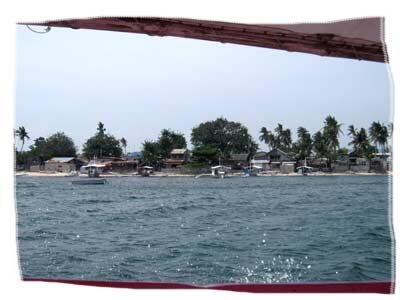 We reached the island we were going to chill out on,
and the word to describe it would be idyllic.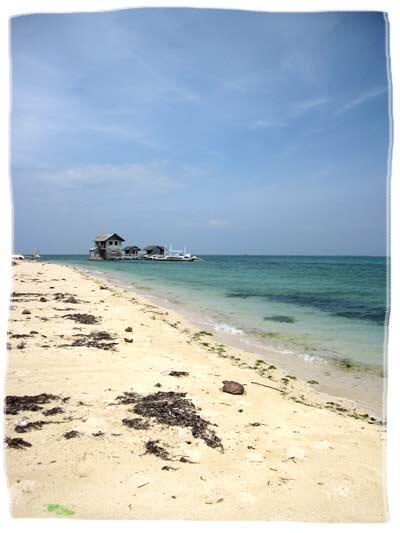 It was so beautiful, there was no way anyone could take a bad photo of it!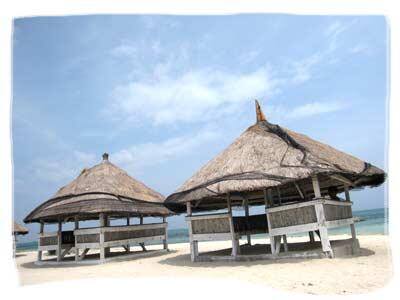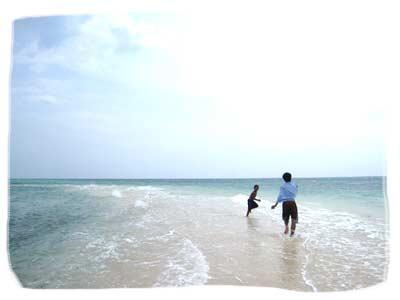 I loved the stretch of shallow water where we could run around in!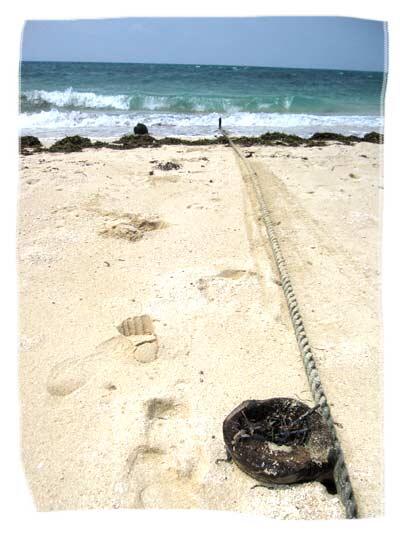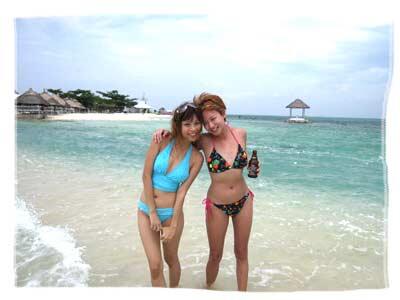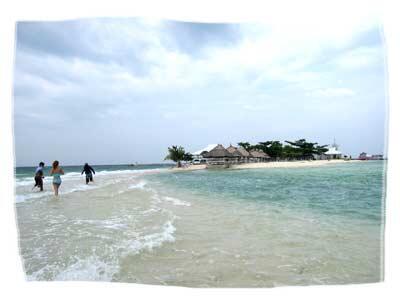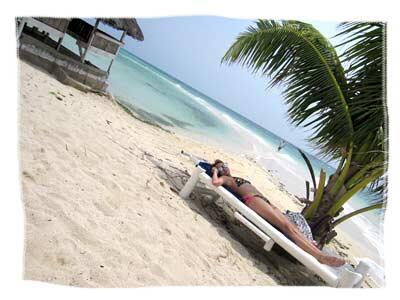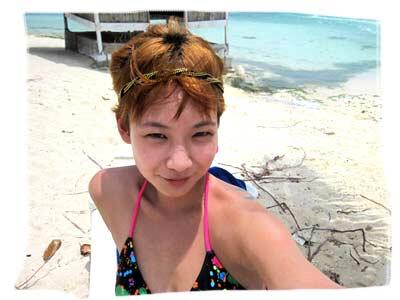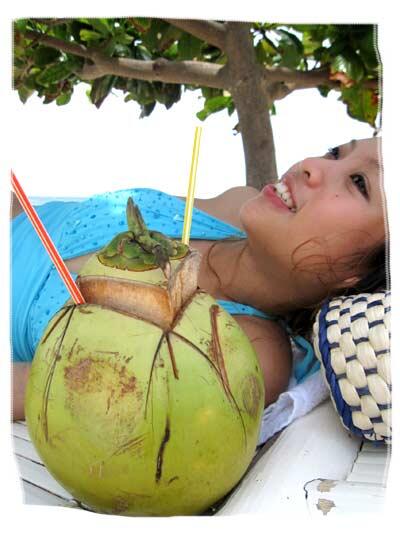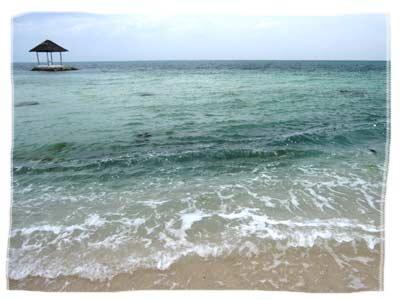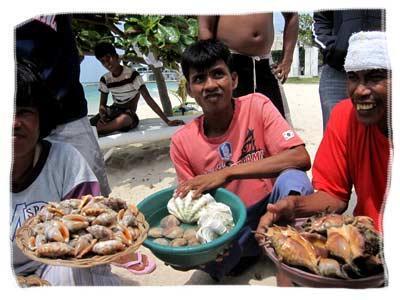 All these locals came to sell us fresh shellfish which they'd then BBQ for us,
but the Hiton lady said they're really expensive and to bargain it down.
Trust me i tried, but it was really expensive!
The lowest they would go was RM20 for a couple of each type just so Cheesie and i could try it,
(which was very little),
"… and very expensive seeing they just plucked it free from the ocean!" i indignantly told Cheesie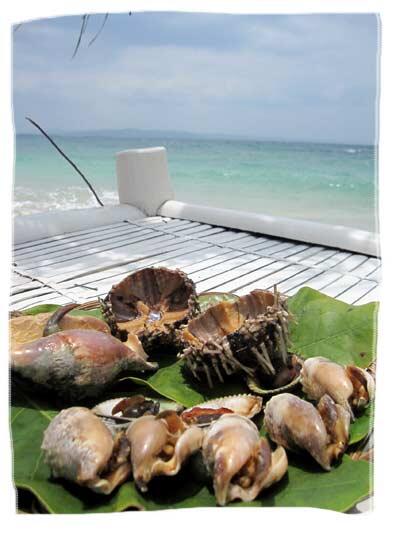 That's what we shared for RM20
It's damn little okay, just looks decent cos the shells are big!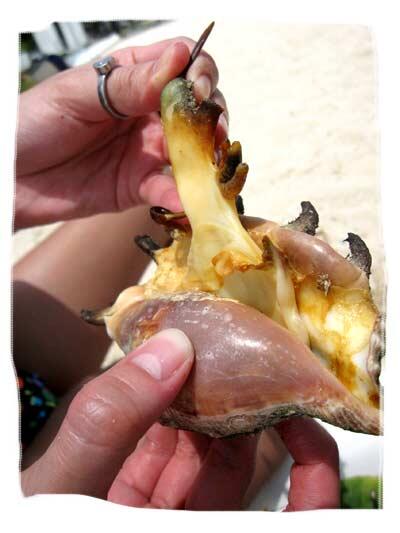 You have to slowly pull it out by its claw,
then tada! Gobble the whole thing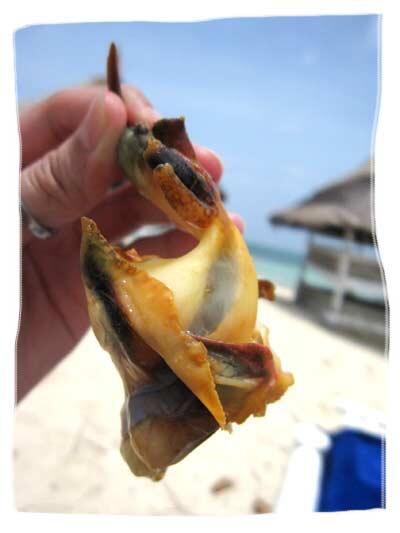 We got to try some rather huge shellfish,
which was a first for us.
They BBQ-ed it with no sauce nothing,
but because it was SO FRESH, it tasted damn good!
"I wish it wasn't so expensive… then we could just buy a lot and eat it!" said Cheesie.
"I know right, not that i've tasted some, i just wanna eat MORE!"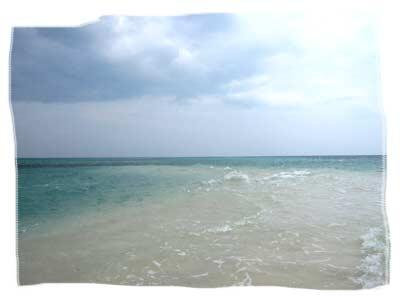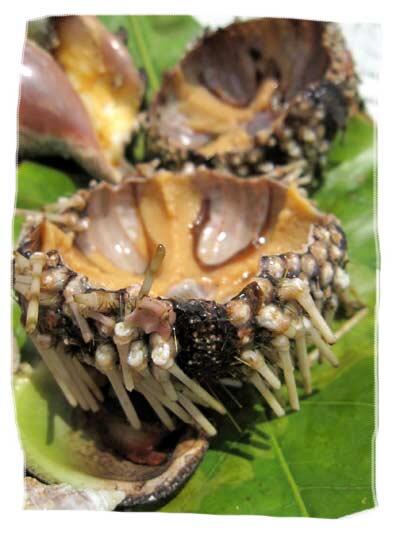 I got to try fresh sea urchin tho,
which i was really excited about ever since
watching how people eat it raw after chopping it open on Discovery.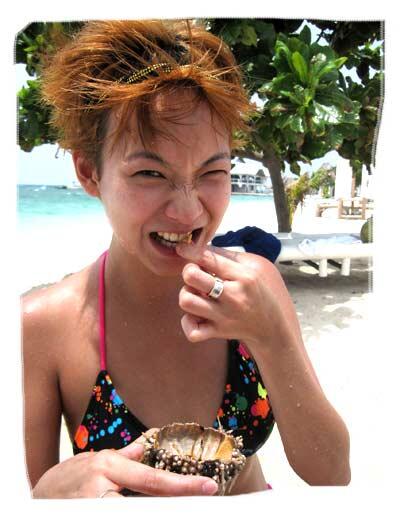 And i may be making that face but i loved it.
It tasted like the sea version of foie gras
– was soft and gooey, but was really nice.
Someone mentioned it's got really high cholesterol.
Figures.
Everything that tastes awfully good is bad for you!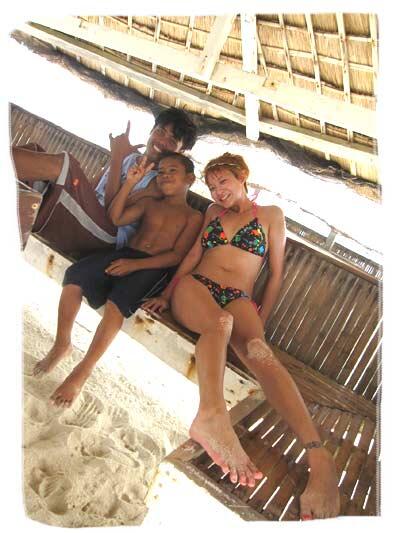 The two boat boys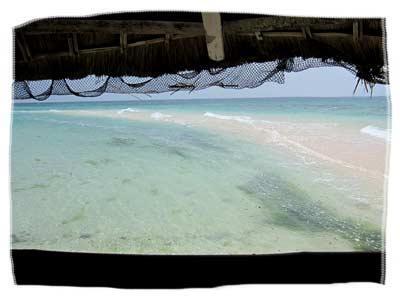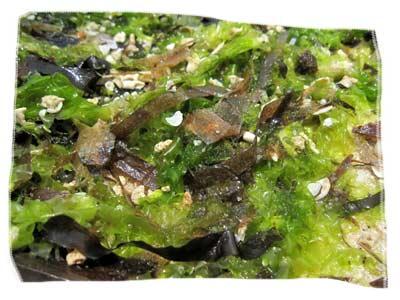 Lots of seaweed on various parts of the beach,
but someone came by to rake it all up and bury it.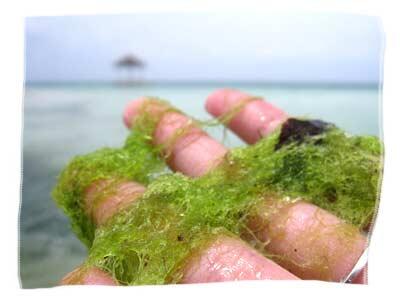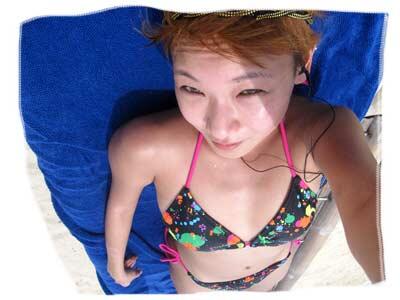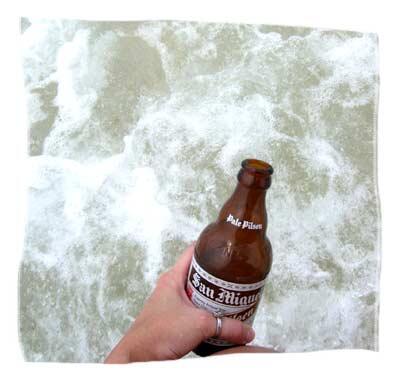 We then went for a huge seafood lunch
(paid app. RM70 per person)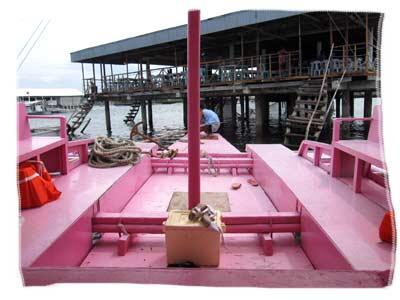 But it was like a freaking buffet they set out in front of the both of us!
Crabs, shellfish, calamari rings, vegetables, huge fish –
we whacked it all 

Cheesie may not drink a lot,
but i'm sure glad the woman knows how to put the food away with me!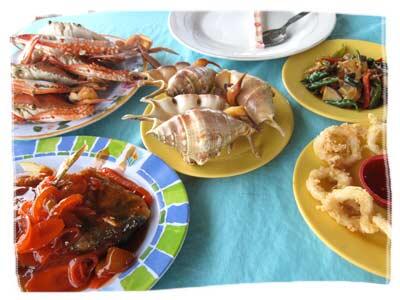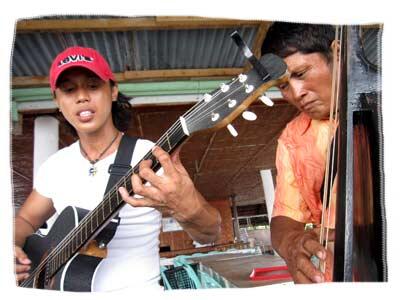 One thing that isn't overrated in Philippines are their mangoes.
I mean, Malaysian mangoes are really sweet and juicy,
but Filipino mangoes have a distinctive taste and texture
that somehow puts it a bar above ours.
Seriously.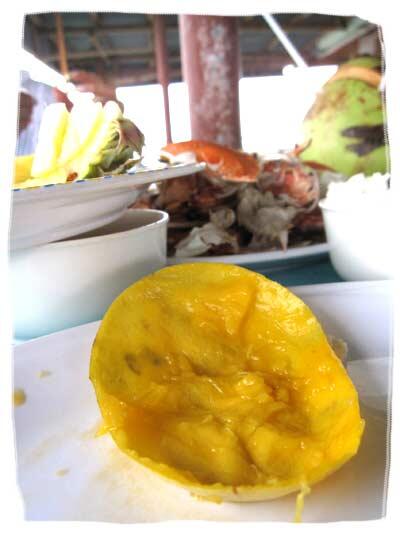 I mean, look at this, i wanted to take a picture of the mangoe BEFORE i ate it,
but got too carried away in excitement.
So you just get a picture of the eaten mangoe.  Sorry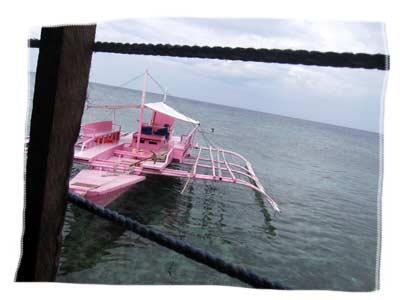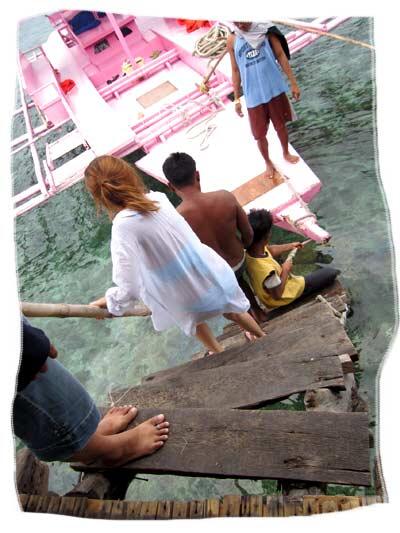 * * *
This trip was made possible by Malaysia Airlines.
It's the only airline available to fly from Malaysia to Cebu, Philippines; with 2 flights a week.