I wasn't really sure what i wanted to do for my birthday, because i was gonna be in Australia for so many weeks beforehand, and felt i might want to just decompress after the trip.
Also, 34 isn't a particularly spectacular figure. 33 is kinda cool cos it's a double digit, 35 is the half mark into the 3rd decade, but 34 is neither here nor there. I was open to the idea of just going with the flow and having a really quiet one. 3-4 days before my bday, which fell on a Friday, i decided to text a bunch of people to have dinner at Ad Hog cos i thought i'd really like to get lots of hugs from friends that day 😀
Jun insisted on making dinner for my birthday eve, and i opted for Chinese food where we also had Mama, Uncle Mark and Aunt G over.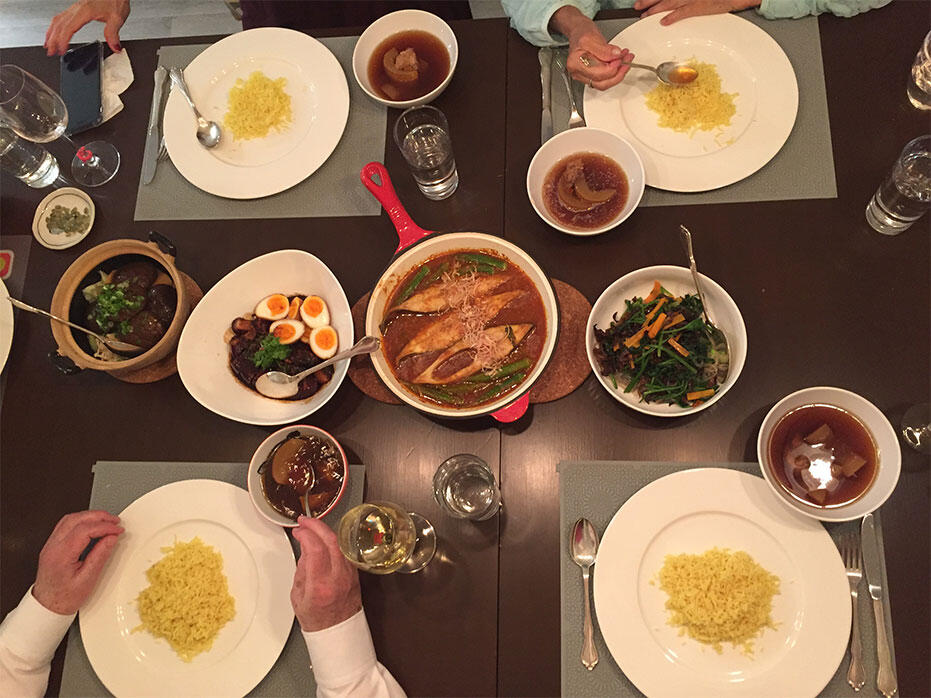 He cooked spicy assam fish (his mum's recipe, sowh damn good), veggies, braised mushrooms, soup, and his grannie's recipe of fatty pork + egg.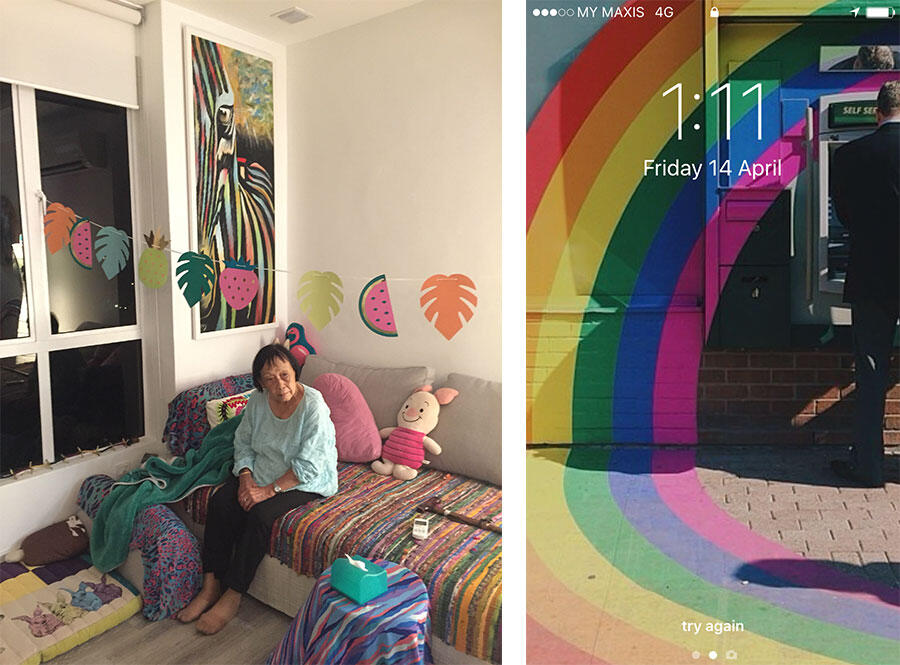 Mama taking a break after eating.
I kept catching 11:11 and 1:11 when checking the time only every few hours. I took it as a good sign the angels are with me.
On my actual birthday, it auspiciously fell on the same day as Malayalee New Year / Vishu, Baisakhi, Tamil New Year, AND Good Friday. Dhanya invited me to her family home to sample her mum's annual vegetarian feast. I couldn't think of a better meal i'd have loved to have for lunch and immediately said YES. The memory of her mum's mango chutney rings in my mind months after it's passed through my mouth, and she only cooks it once a year! And that is, if i'm lucky enough to be invited cos each of her 3 daughters only invites a few friends.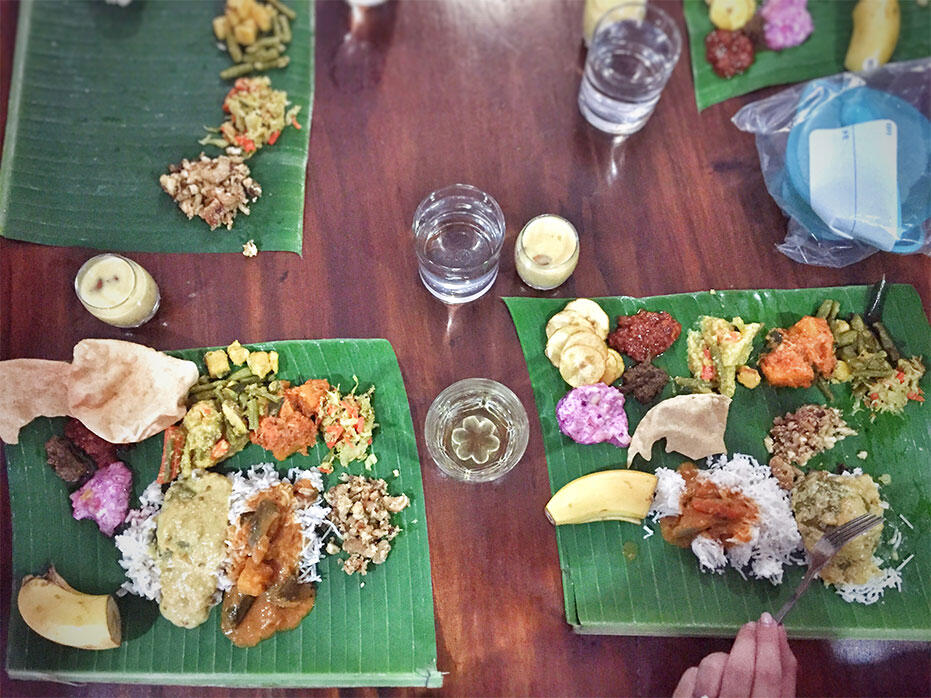 My banana leaf on the right. I continuously topped up on various dishes and rice as i went along… and slowly ate what must have been two helpings of everything and was SO satisfied and stuffed after.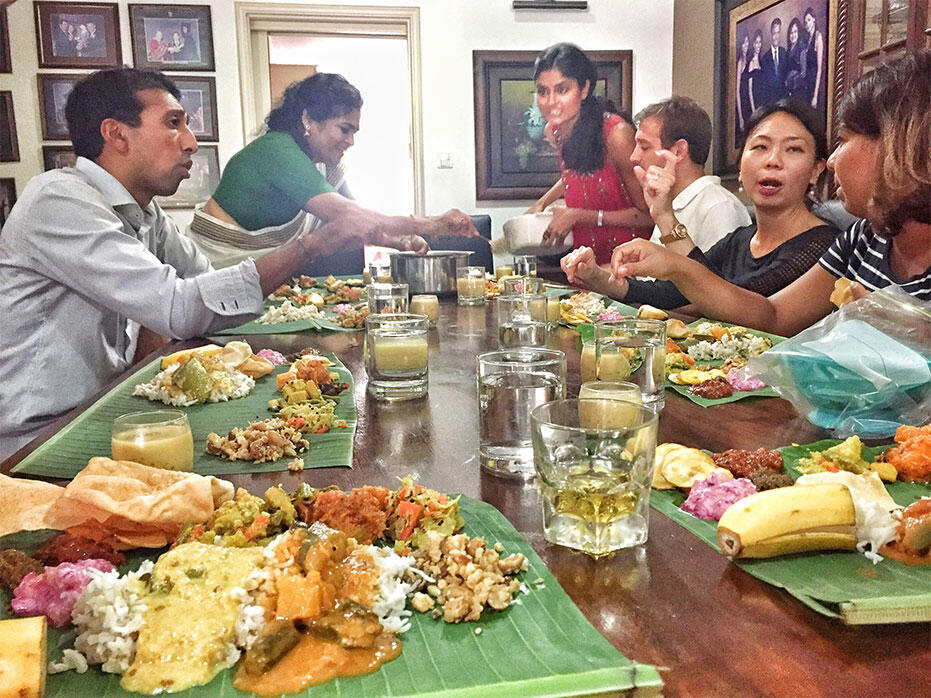 Steph, me, Tianna and Dhivya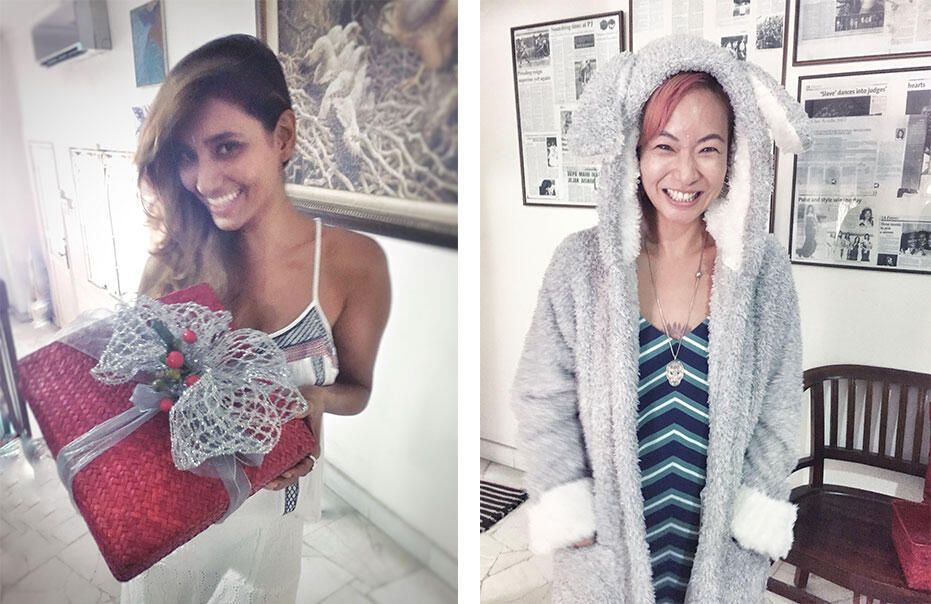 Dhanya gave me a bunny robe! Perfect post-pool robe.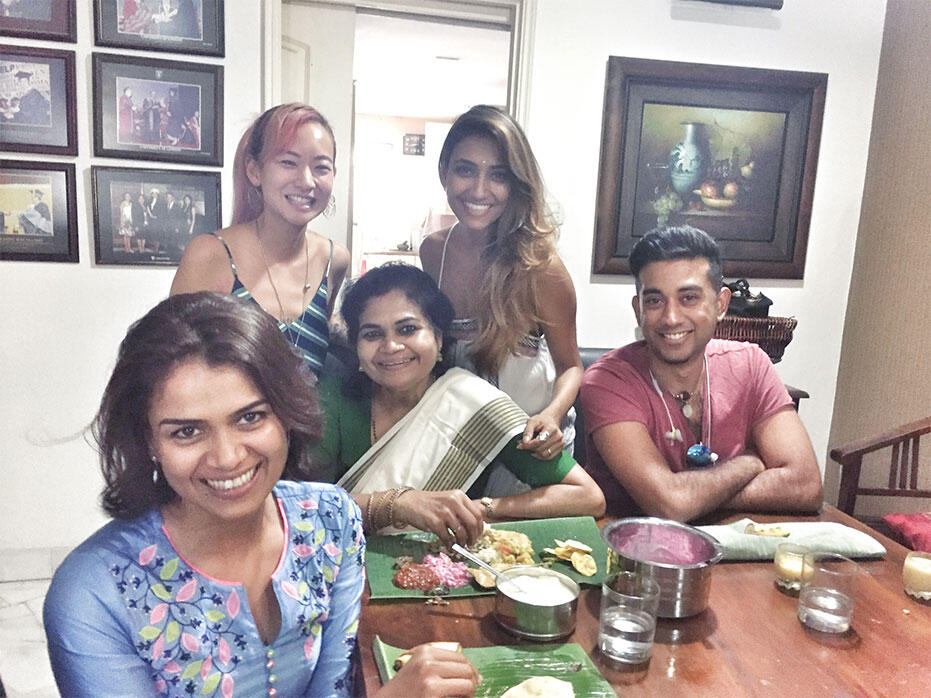 Aunty Letha hand-chopped all the vegetables for the various dishes by herself till the wee hours of the morning, and learnt how to cook them when she was living with her relatives in India for a year. Every dish is bursting with flavours that all merge together when eaten mixed up or separately, and i told her i'm not going to touch another banana leaf meal for ages so the taste of hers will linger affectionately in my memory XD
+ + + + + + + +
That night we had dinner at Ad Hog.
I chose it cos it's a cosy private place tucked in a nondescript factory area of Kota Damansara run by a couple called Sam and Kah Yen for 7 years, that serves hearty delicious food personally cooked by Sam (including pork knuckle, quesadillas, siew yoke, fish, salad, roast chicken, beef, calamari), sells beer and doesn't charge corkage.
Actually i didn't choose it, i stole Jun's idea cos he's celebrated his birthday there 3 years running, and the more i thought about it, the better i felt about doing something there. We could play our own music, bring all the drinks we wanted, have yummy food and move around to socialize without worrying about disturbing other patrons.
We'd previously brought my parents and other friends there to whack the siew yoke / crackling roast pork (the best i can currently find in town) which has to be pre-ordered from Sam. I love their simple yet succulent salads that balance all that meat out, and their starters are equally enticing esp. the enchiladas.
I told everyone dinner at 7:30pm but didn't expect anyone to be on time and rocked up myself at 7:40pm. Alet, Deep and Murat were already seated at the table, early cos Alet said numerous times he had a meeting at 9:30pm.
When Kenny and Cammy arrived with a bottle of whiskey, Alet's eyes grew bigger and said, "Oh, i think i'm gonna cancel my meeting la." LOL
I told all parents in the whatsapp invite that children are welcome cos no smoking was allowed inside, but none of the parents did save Alex and Chuck who brought Bien. All the other parents found sitters/parents to do a favour, and came with their hands in the air going, "We only get the children back tomorrow!!! It's TIME TO PARTY!!!"
When you reach your 30s, the ones who party the hardest are the parents. They probably need it to 'balance out'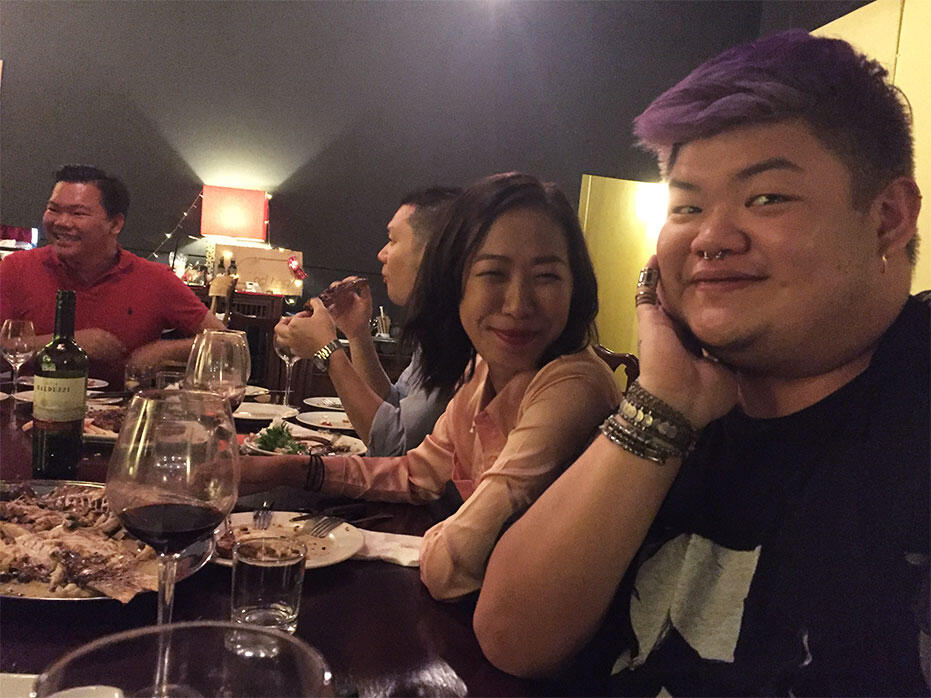 Chak, Tai Yong, Sweet Ee and Joe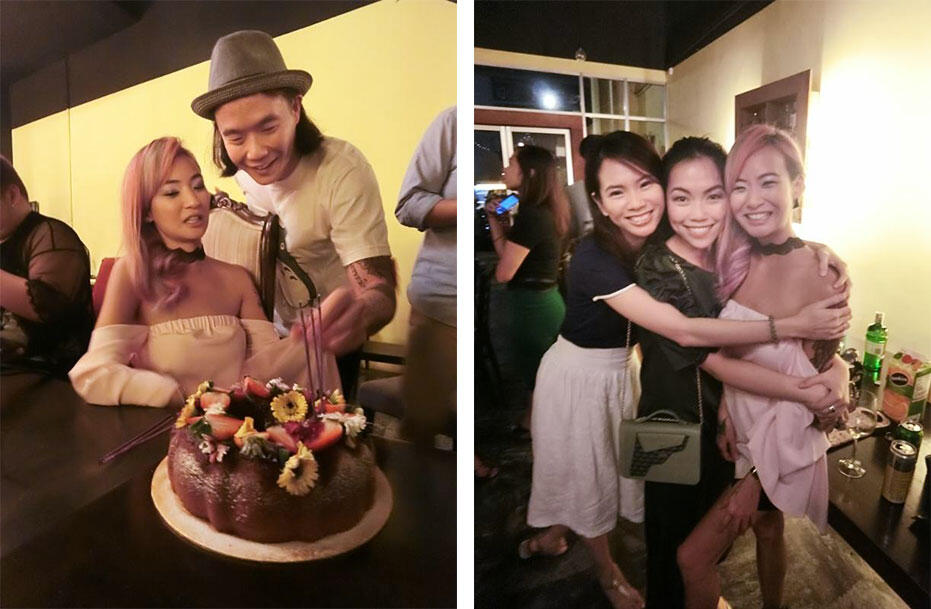 Jun got me one of my fave cakes from Tray (butter cake topped with edible flowers and fruit).
Thank you Centro for doing my birthday curls! I did feel extra pretty in it, am glad i made the trip to get it done!
R: Mei Sze, May Sze and i <3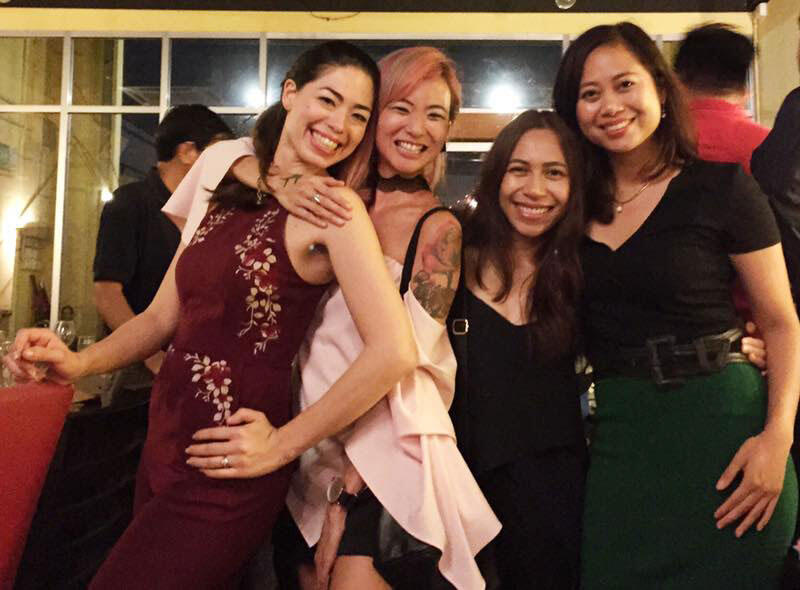 Cammy, me, Baby, Tianna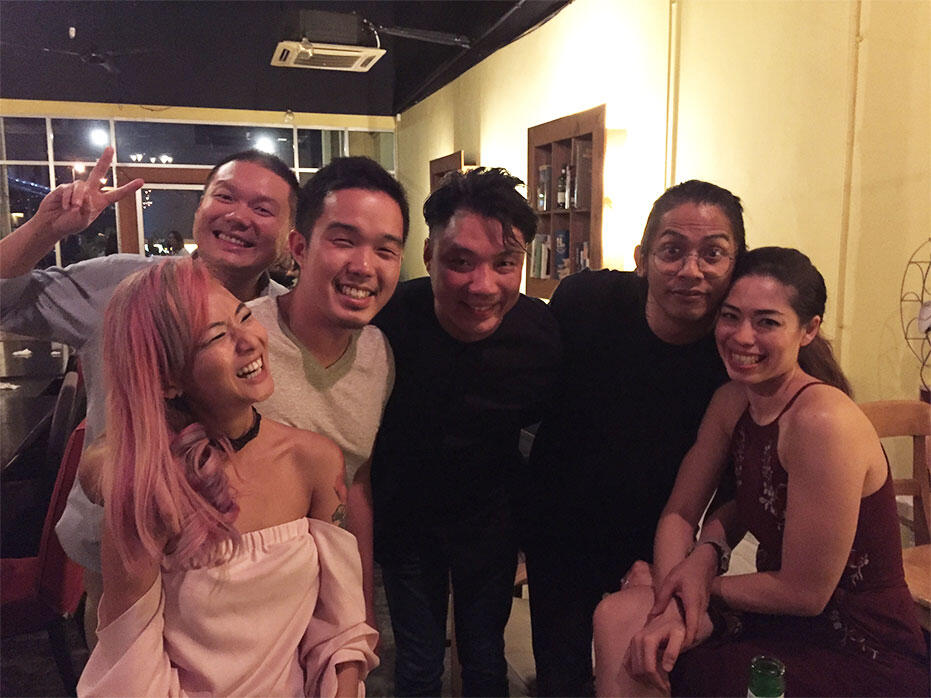 Tai Yong, Aaron, Kenny, Alet, Cammy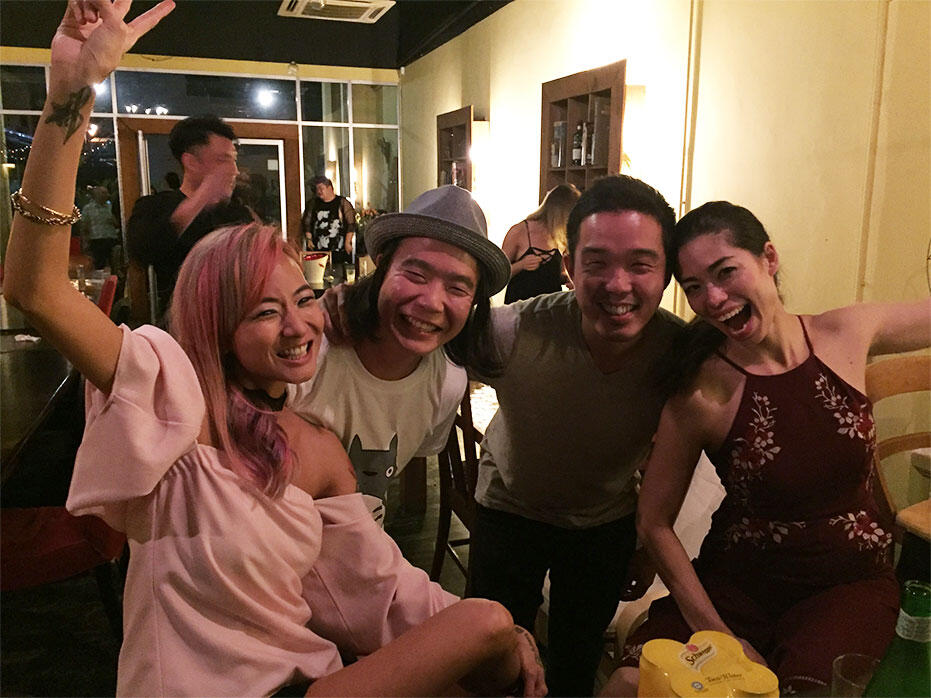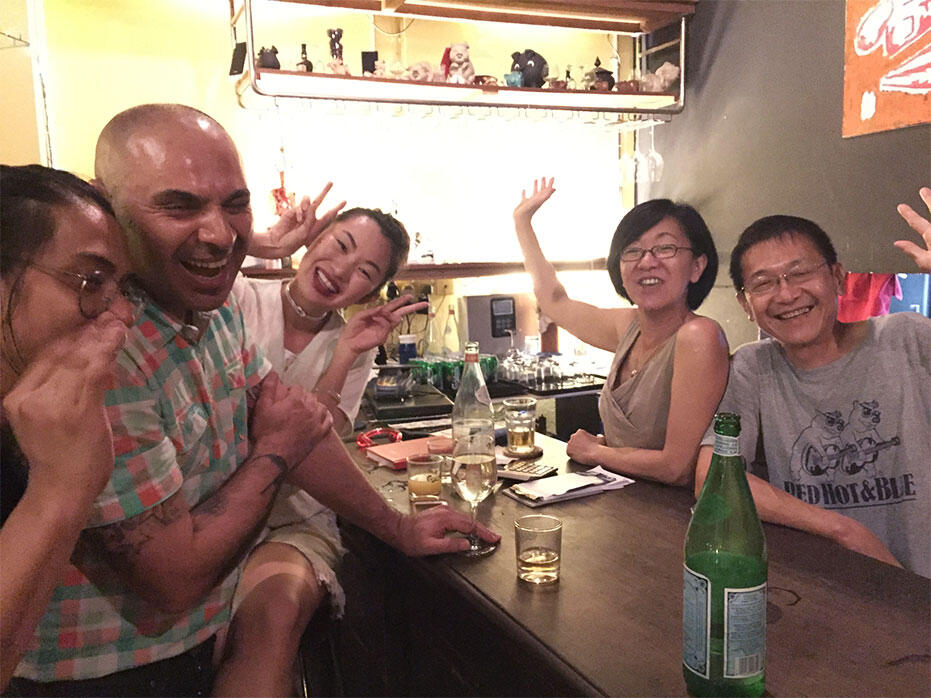 Alet, Murat, Shermaine, Kar Yen, Sam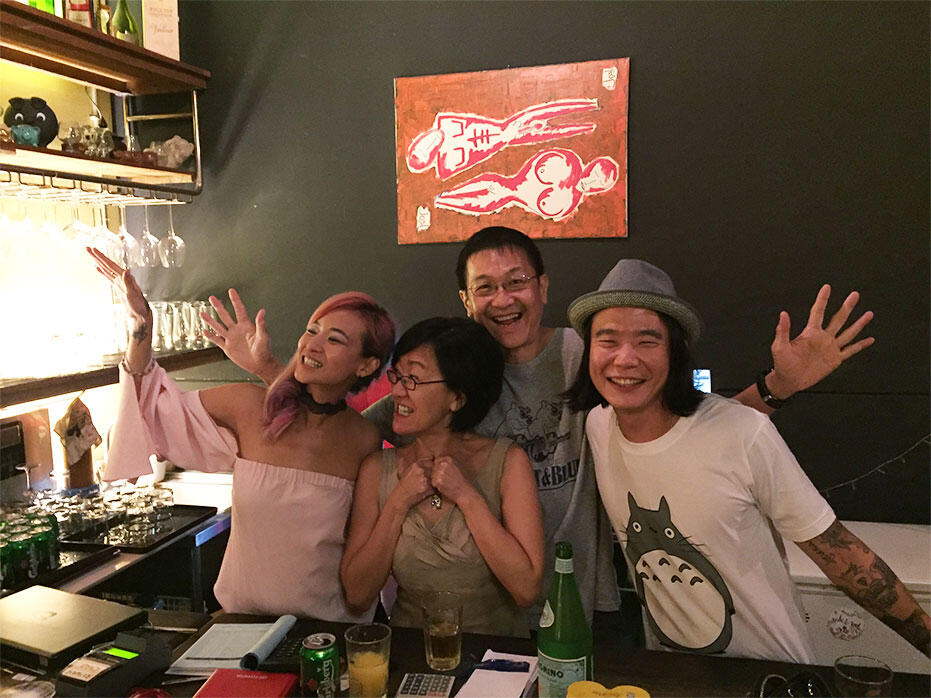 Me, Kah Yen, Sam and Jun

Claudia so sibuk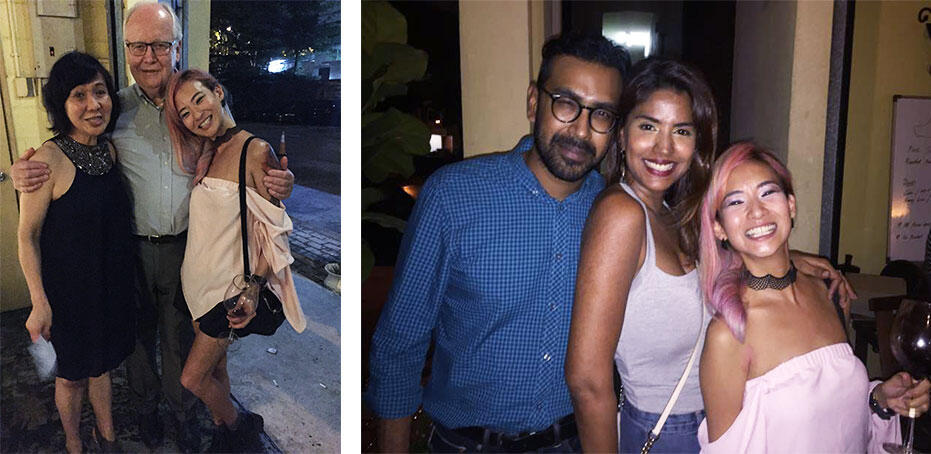 Aunt G, Uncle Mark and i!
Edwin, Veena & fairy. Veena spoke for a while to my dad without realising he was my dad haha. God knows what she said.
+ + + + +
That weekend, Serena and Matt offered to take me out for Japanese BBQ dinner since they couldn't make it to Ad Hog. We all met up at Cammy & Kenny's place after all this messaging cos some weren't quite sure whether they just wanted to santai at home (me included!). But we all went in the end!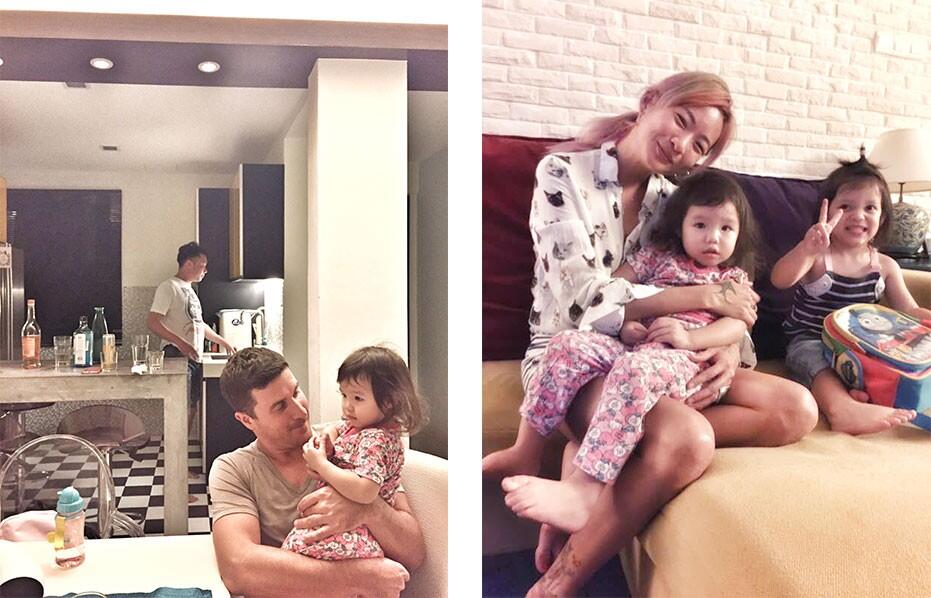 Kenny, Matt and Mei Mei.
Me, Mei Mei and Chloe.
Maddison has grown to be quite the determined and cheeky little girl. Well, so is Chloe. When one of them puts their mind to something, there's no stopping them. Girls are my favourite!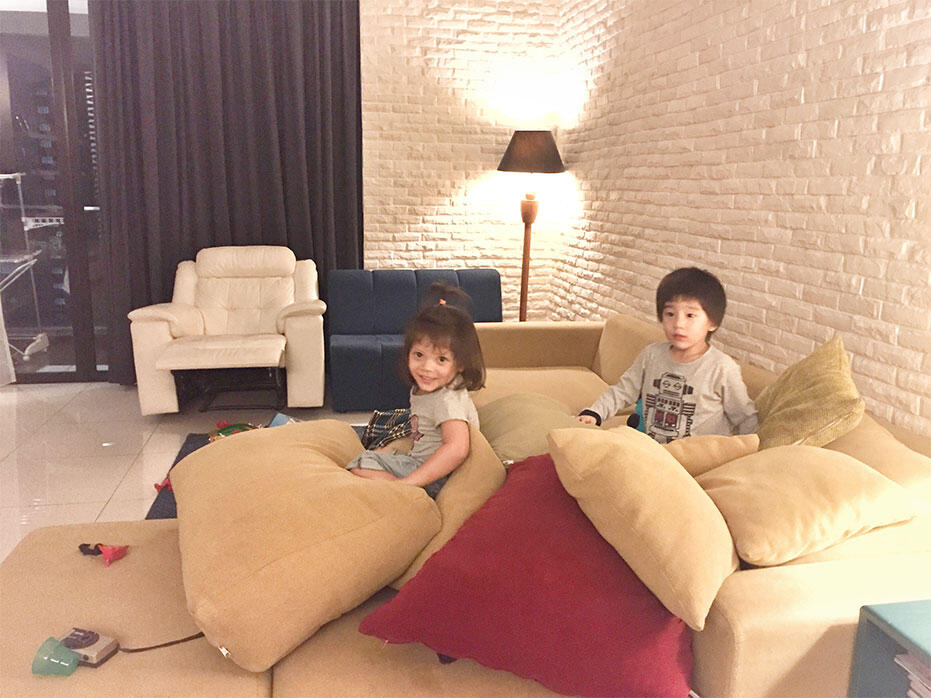 Cameron and i have been having this love/hate relationship since he was born. There are some months he's my friend + hugs me + is sweet to me, there are (mostly) others he refuses to acknowledge me + pinches me + hits me. That night i tried to play with Chloe and him in their make-shift tent and he socked me right in the face! Lucky him he's a little boy so i can't very well punch him back….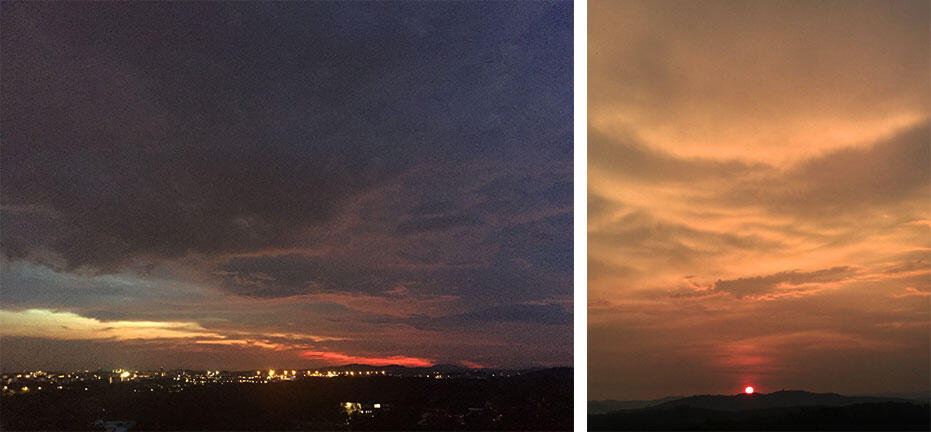 Sunsets during my birthday from #casafairy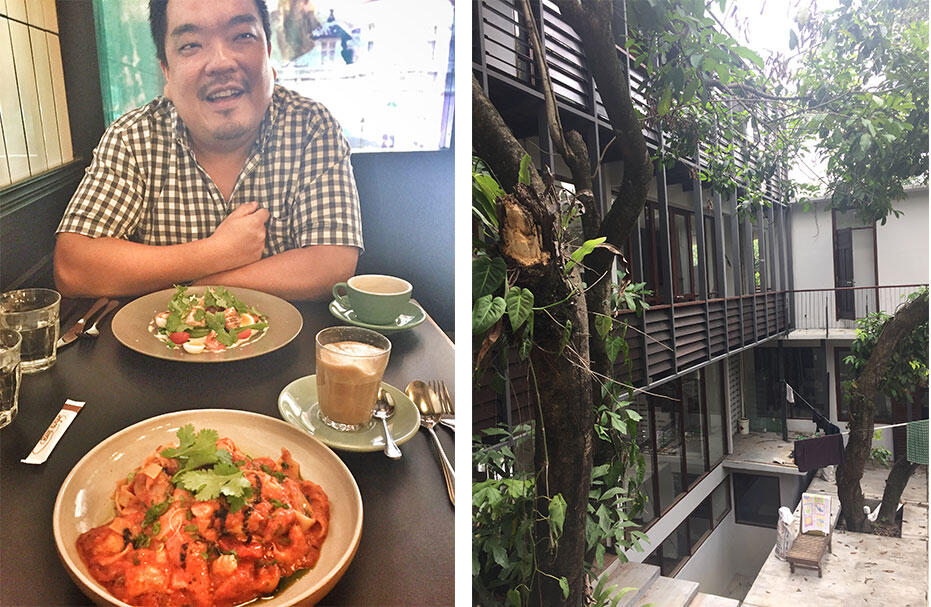 The Monday after my bday weekend, Cho Wei and i did our annual lunch meet up, where we went to Sitka. I had pasta cos i felt like i needed to eat more recently (i've lost weight due to stress and increase of acid) and he had a salad (so proud of him!).
I've been told to relax and put on more weight, so i've tried to put a buffer time in between meetings out and work so i'm not always keeping to a tight schedule. Cho wanted to go view his new house and i've only seen pictures, so we went for a little kai kai and it was so fun! I need to do this more this year… have time to just hang out impulsively with friends and family and not always think about all the shit i gotta do that minute/hour/day!