When brow embroidery became a new trend in beauty years ago, i wasn't sold on it. The downtime of 2 weeks for unnaturally dark eyebrows seemed too much to bear, and i didn't find its results desirable either. It looked like someone had painted on their eyebrows with a marker pen… that's not my idea of how i want my brows to look!
Word of a new and better eyebrow enhancing technique started going around, where eyebrows would be filled in by tattooing single hairs, making it look natural. I was intrigued and wanted it. When Browhaus opened up the opportunity for me to experience it to blog about it, i was all yes yes yessssssss!!!
For years my sparse eyebrows have plagued me.
Lack of time or energy to fill them in on certain days had ex-bosses asking if i was sick. -_-
It's my Chinese brows.
I don't have much bodily hair so if i don't draw them in, people think i'm pale / unwell!
And then there were the times i drew them in a little too hurriedly causing unbalanced brows *cringe*
Thoughts of not having to fill in my eyebrows for two years = save time, and i will look pretty in my sleep and no-makeup days!
In the couple of days leading up to the appointment, i was kinda excited.
It was like getting a tattoo but not.
My eyebrows were gonna be drawn in via vegetable dye inserted into little cuts made into my skin to look like actual hairs.
I'll explain the steps throughout this blogpost, but here are the final results: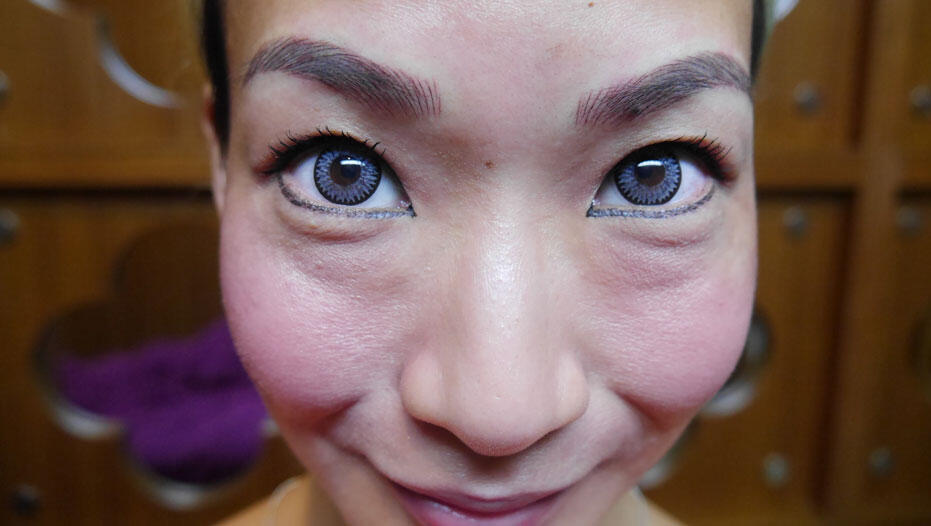 TAda! My new brows!
All the hairs you see on the inner brow are fake… nicely drawn in!
Brow Resurrection is a signature semi-permanent treatment at Browhaus that boasts a more detailed and natural stroke. Involving 5 years of dedicated research to perfect; this patented technique is exclusive to Browhaus and achieves brows that are 3 times finer than normal brow enhancement techniques.
Brow Resurrection uses a range of needlepoints- 1, 12, or 15 – for flexibility and customization depending on each person's preference for type of eyebrows they want.
Browhaus found a way to reduce the depth of the tool insertion, which makes the procedure less traumatic on the skin with shorter recovery period. Even though the depth of the cut is shallower, the dye will still be able to penetrate at an optimal depth to effectively create each strand of hair.
The whole procedure takes around 1.5 hours (30 mins consultation and shaping, 20 mins for numbing cream to set in, and 30-40 mins for brow resurrection tattooing). I got Rachel to come with me to snap some pix.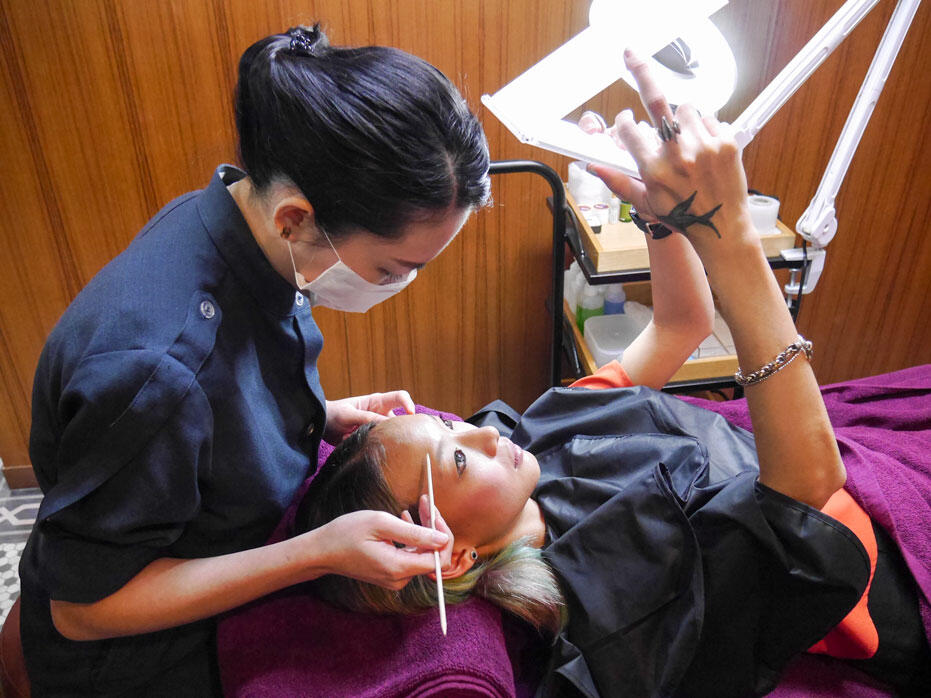 Consultation with their Brow Architect, Sharon, starts with discussing the brow shape i wanted – which is thicker, fuller and not too curved.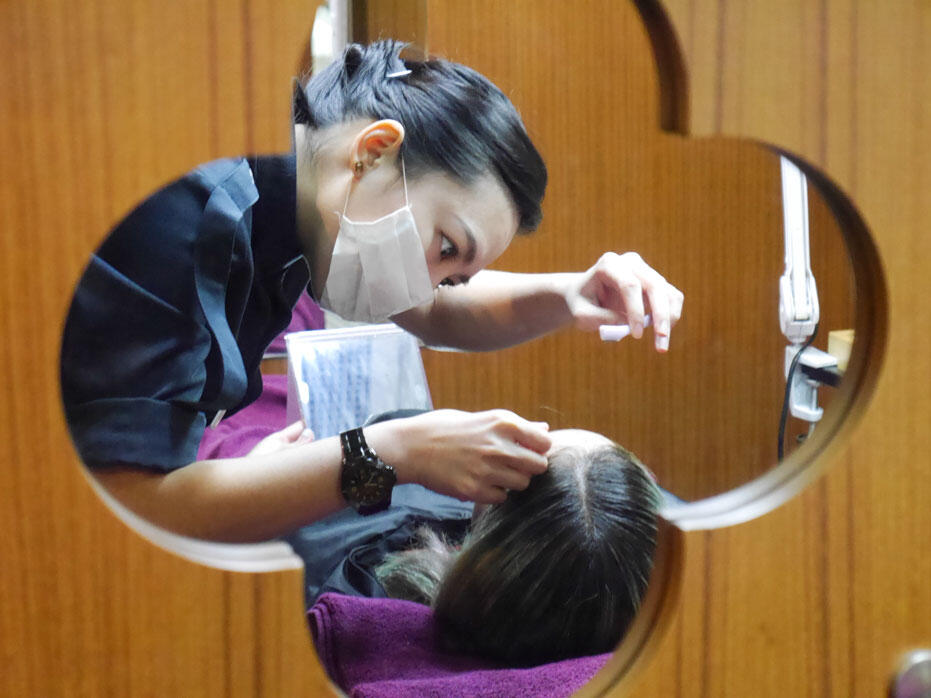 Sharon told me she regularly attends special training in Singapore by Browhaus… and when i asked her how long she's been doing brows, she said 7 years!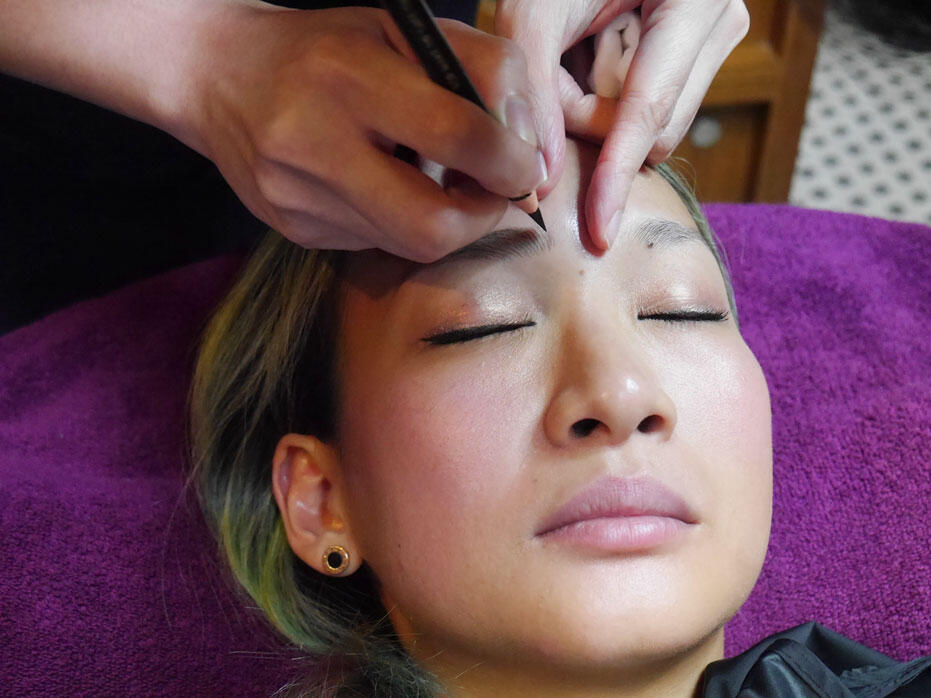 Brow Architect Sharon tuses a pointy eyebrow pencil to deftly draw in my brows to make sure i'm completely happy with the exact shape before starting the treatment.
This took a lot longer than i expected cos i'm super anal and ok find a bit OCD. I was staring and staring at my brows to make sure they were completely balanced on all sides, observing them under the best light angle, shutting my eyes and then opening them again to get another look, telling poor patient her that one of my eyebrows is higher than the other, and to make up for it.
Thank god for Rachel there cos i totes trust her to give me an honest opinion when i was getting googley-eyed from it.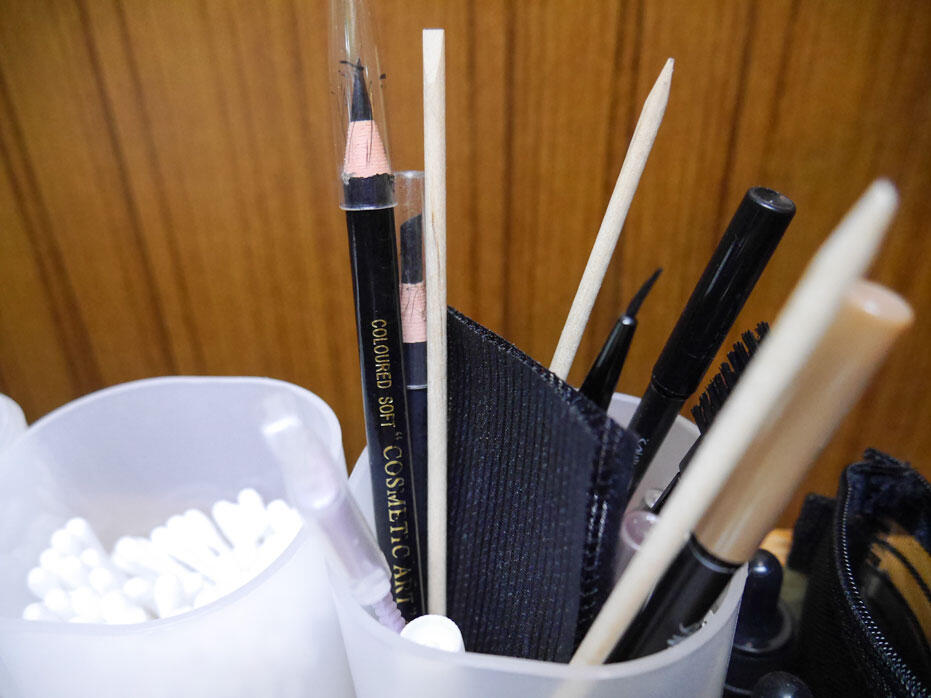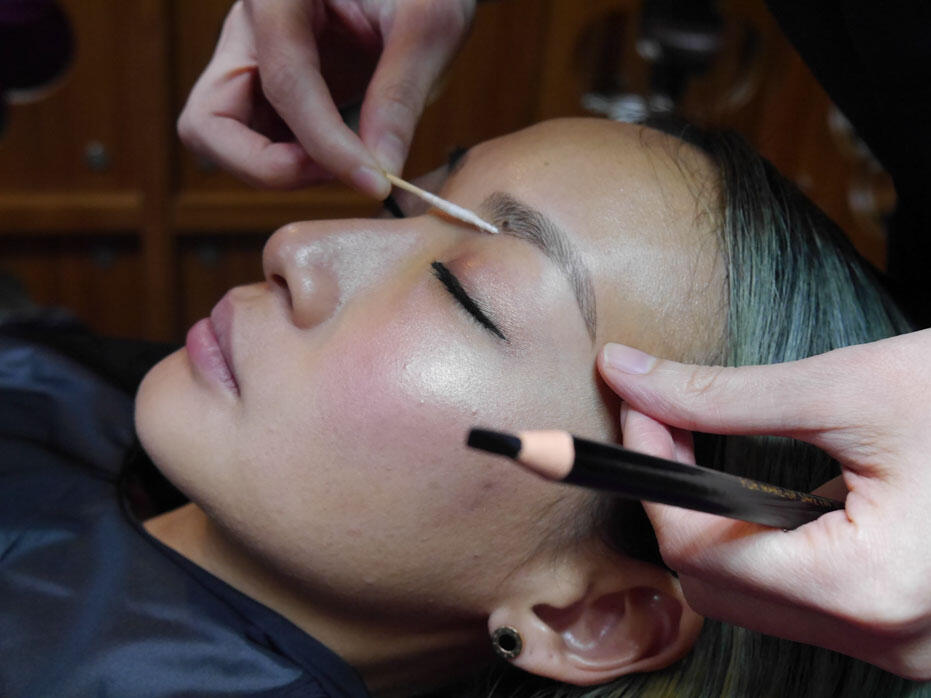 I was advised to sit up to observe the shape as well, cos the way my eyebrow muscles relax when i'm lying down vs. being upright are different.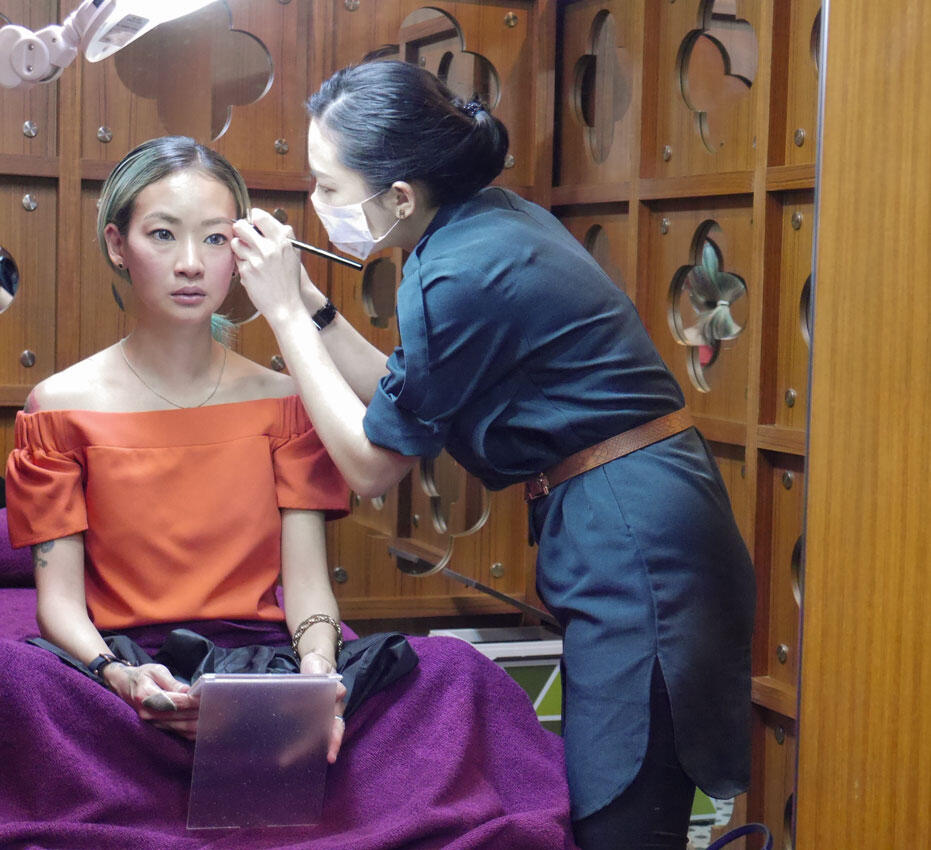 Once i was finally satisfied with the shape right down to every single hair at the curve of my brow, Sharon applied numbing cream.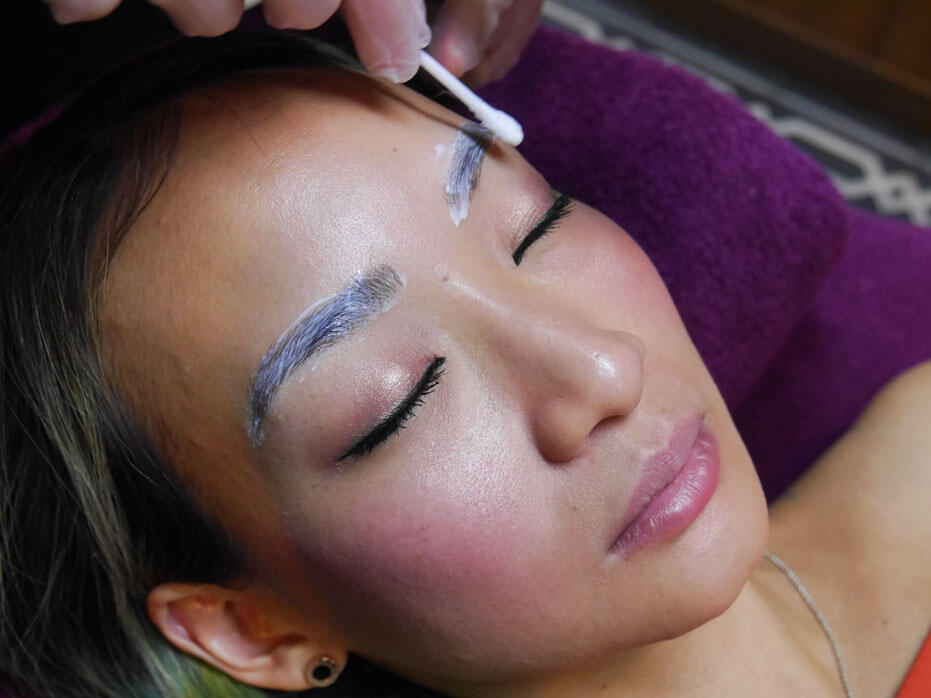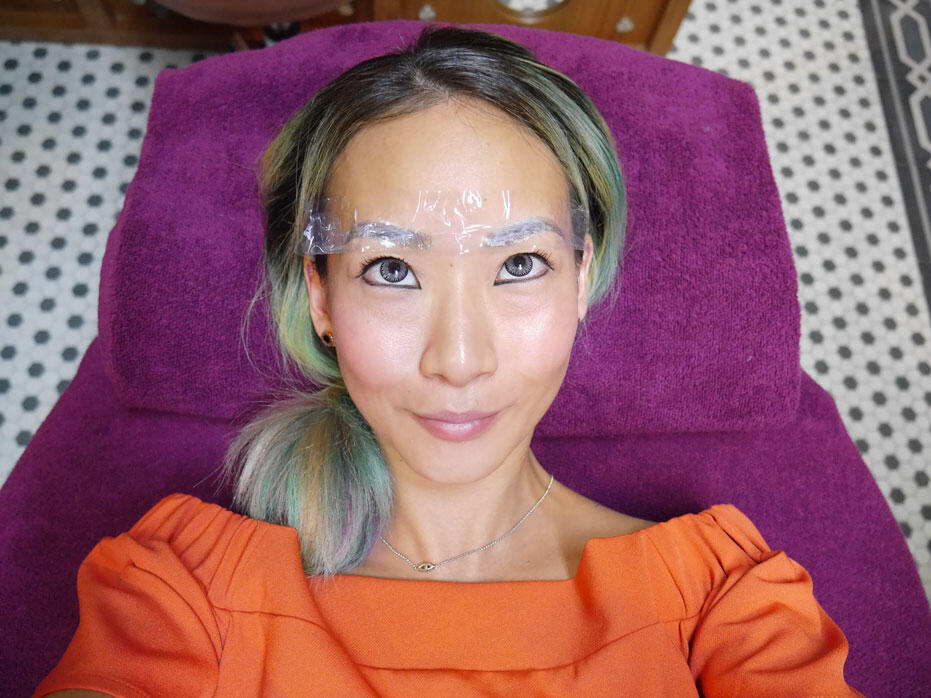 While the numbing cream went to work, we discussed the colour of the brows i wanted.
Browhaus has 6 shades of brow dyes to suit diff skin tones / preferences. It's advised to choose a slightly darker tone compared to your initial preference as the dye will lighten after a few days.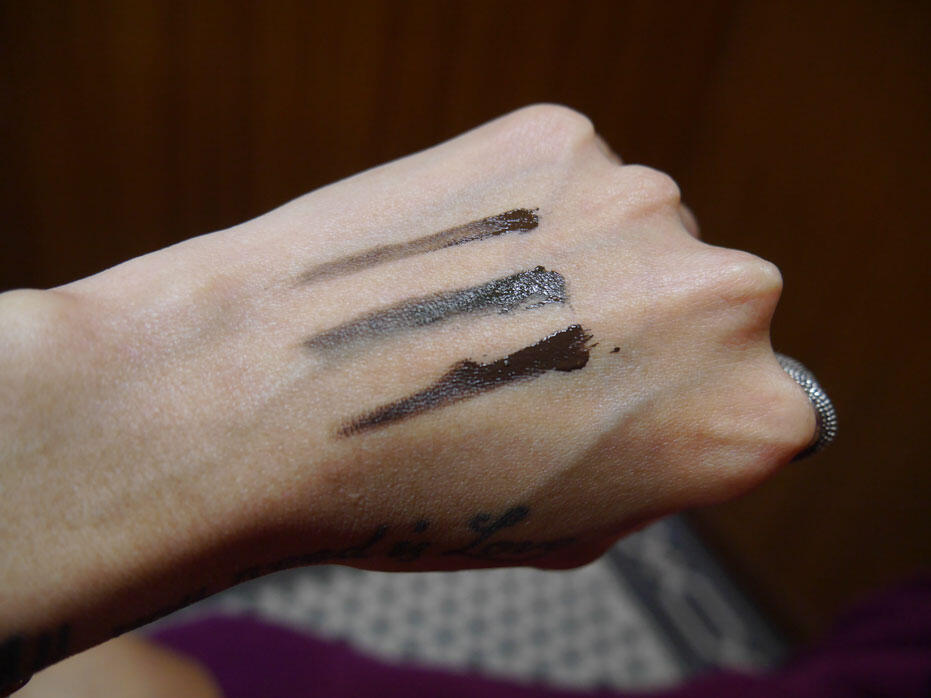 I went with a dark brown.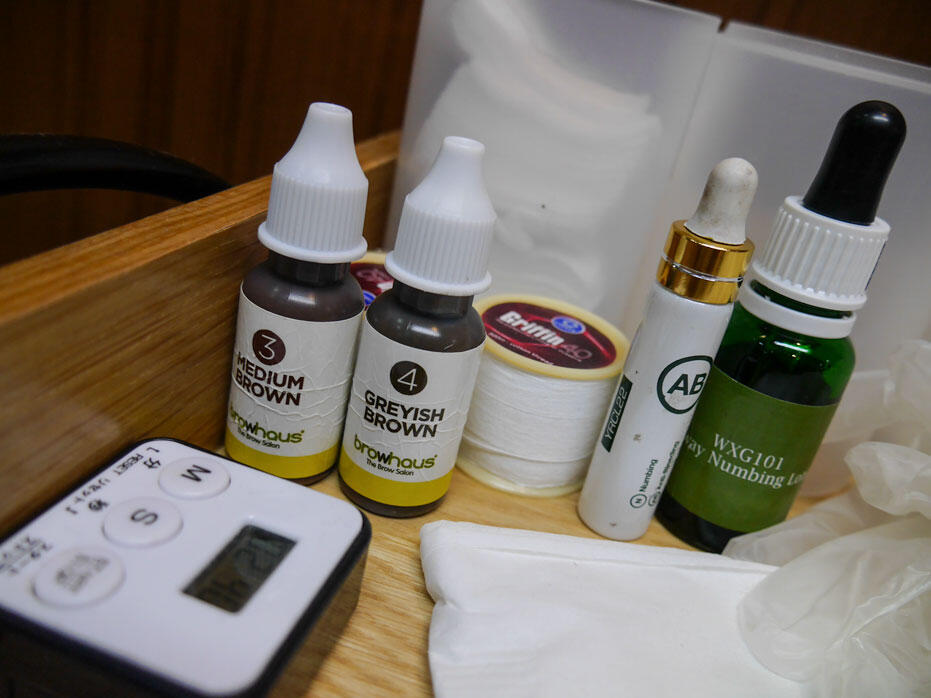 Browhaus' vegetable-based dyes were developed in France and widely implemented in Japan. These organic dyes will not discolour to ensure a lasting definition.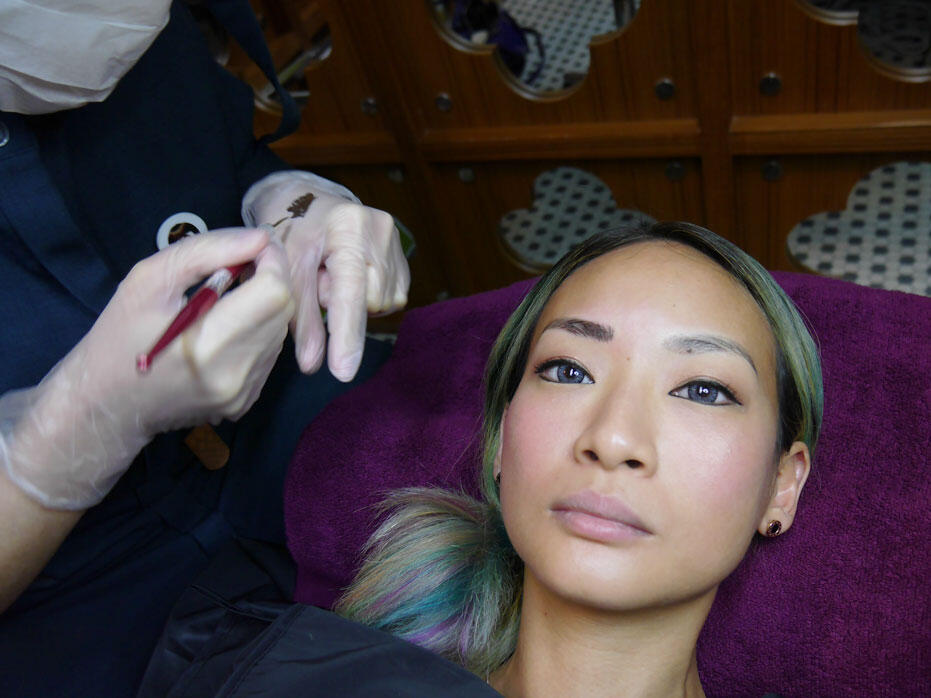 Unlike conventional embroidery which simply weaves in parallel hairs, Browhaus uses a sophisticated cloning technique because everyone's brow bone structure, hair growth and density varies; which is why the conventional embroidery technique wouldn't look as natural.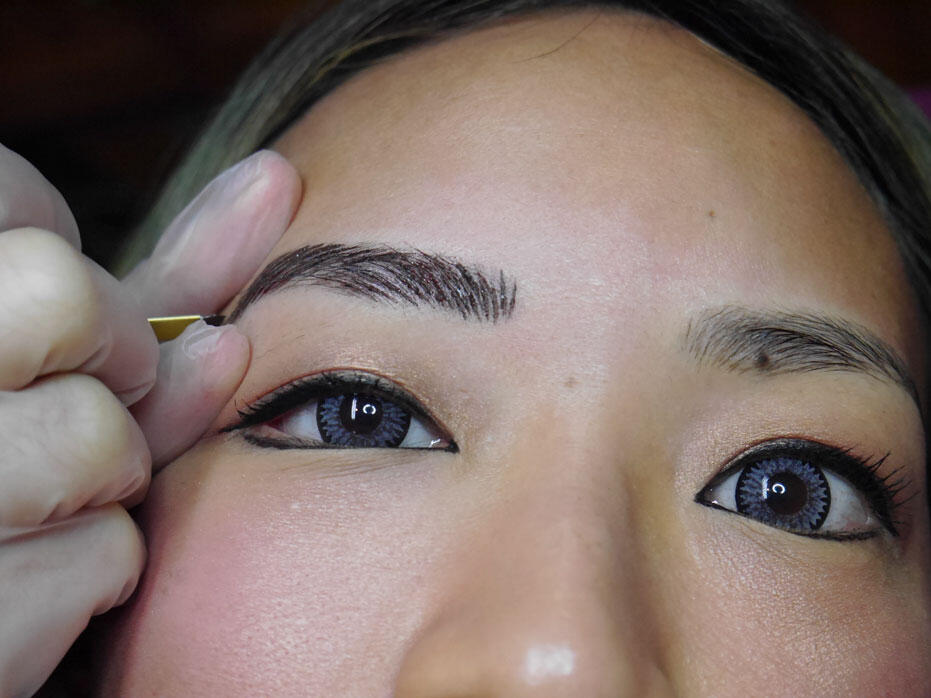 I felt nothing, not a bit of pain. That numbing cream worked swell. In fact i might have taken a nap for most the time.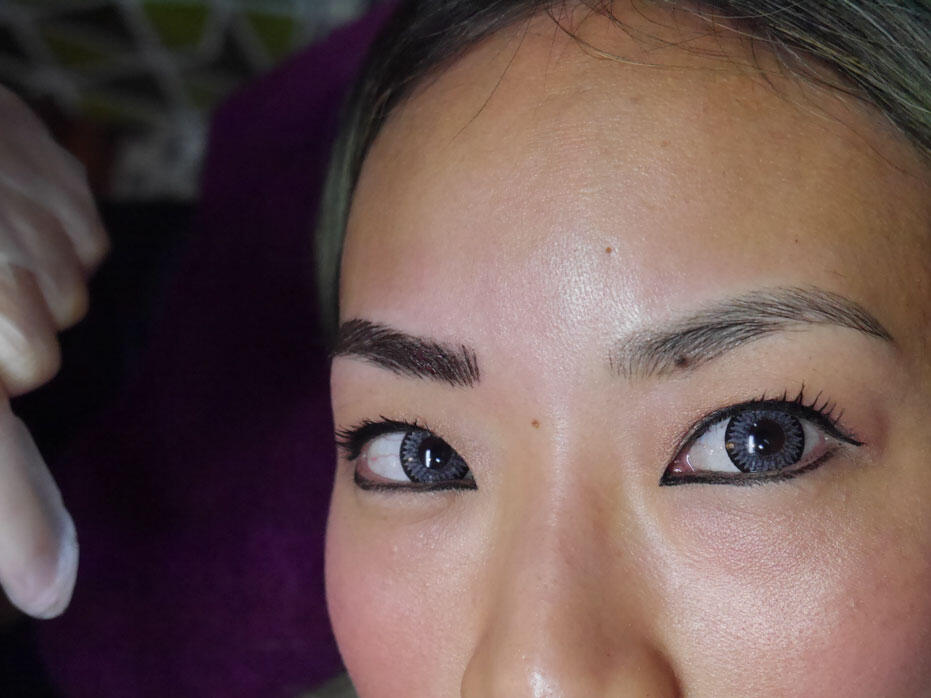 Brow Resurrection uses a special flow technique where brow strands are created in the same flow as natural brows to produce a 3D visual effect that blends in naturally with original brow strands.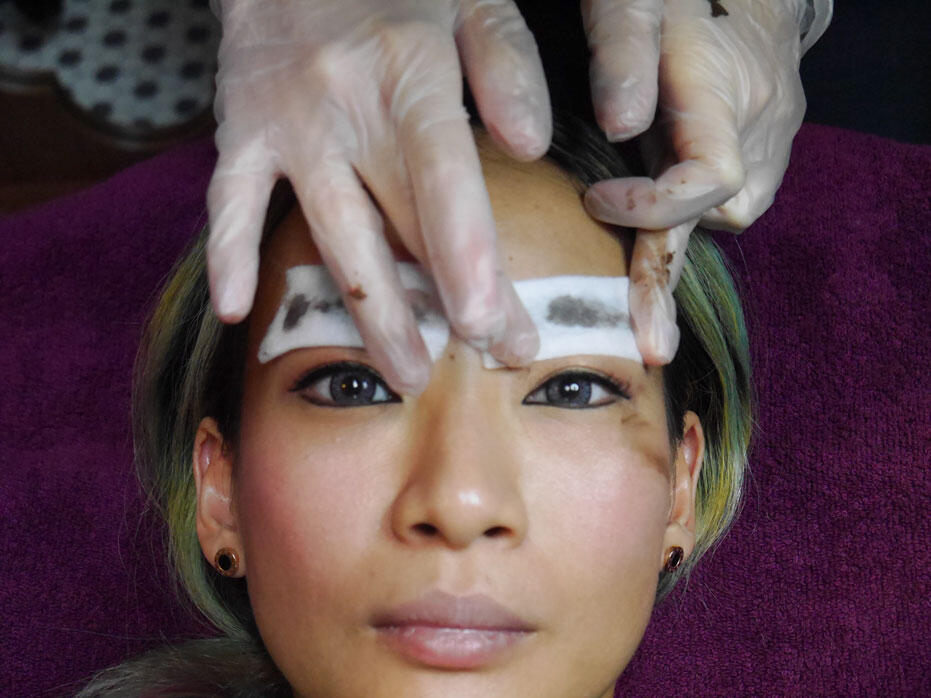 After it was done, my brows were cleaned up so i could bounce asap.
Before and After!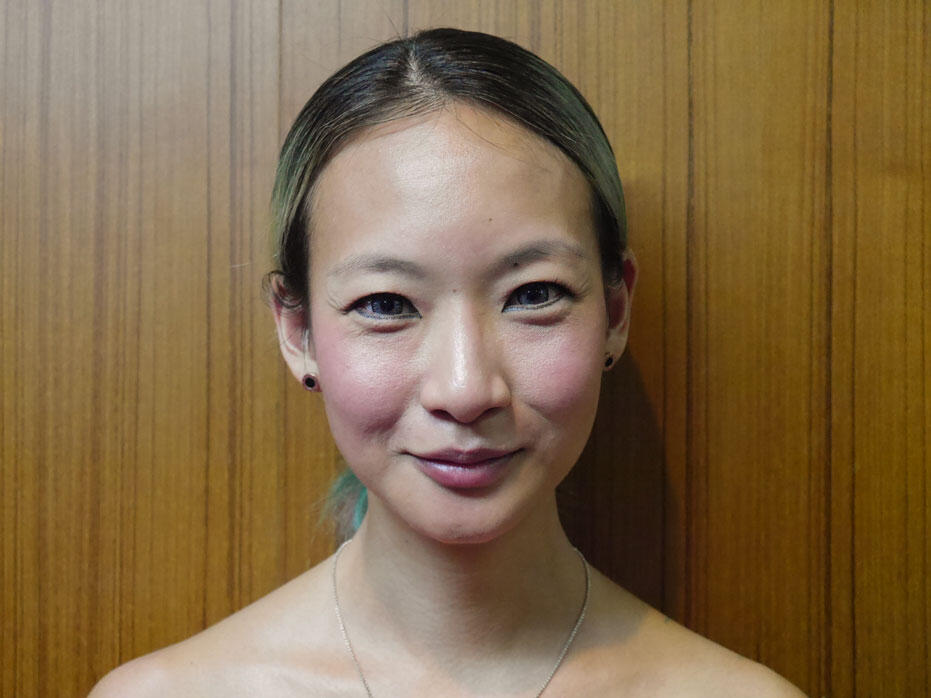 Before – man, look at those sad barely-there brows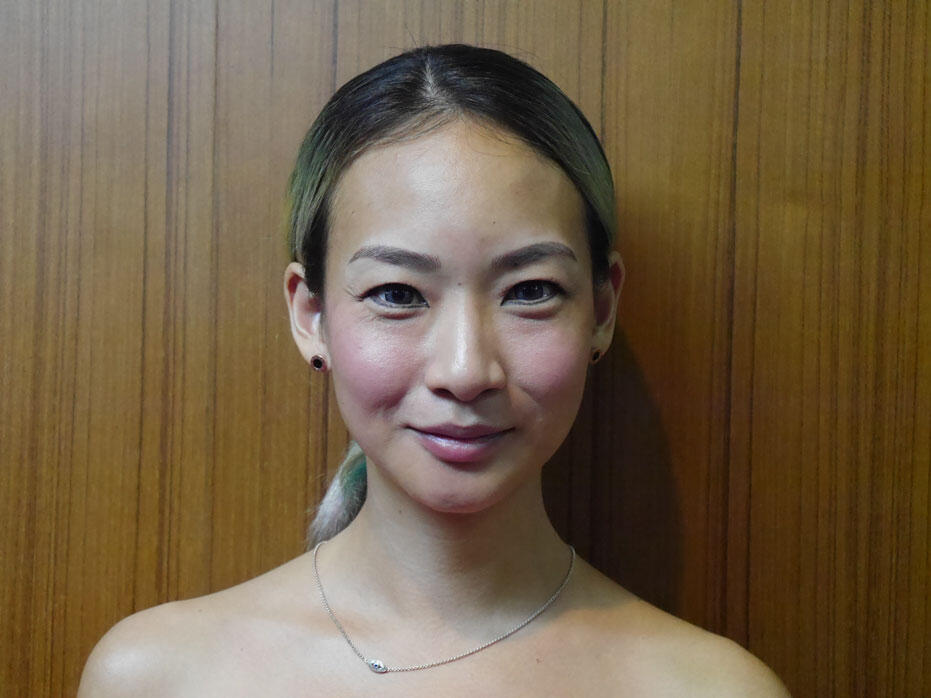 What a difference right after! Since then, i've only used my eyebrow pencil/powder when i'm applying heavier make up for an event.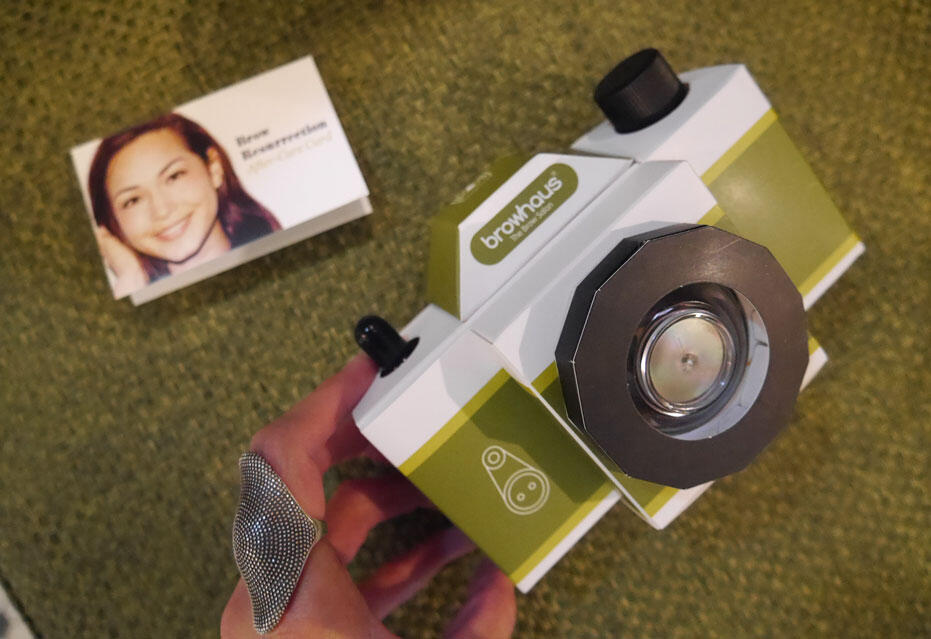 I got a Browhaus After-Care Kit that came in the shape of a cute camera. Inside is:
– Build (10ml of post-treatment care builder with in-built growth factors to repair and regenerate skin cells)
– Fix (15ml of anti-scarring balm with Vitamin A, D and Lanolin to heal skin wounds).
Post-care treatment:
– i had to apply Build and Fix every morn and night
– no direct contact of brows with water for 7 days
– no sweating for 2 weeks
– do not pick or peel at brows
– avoid direct sun exposure
– avoid make up and skincare products around treatment area till fully-healed
I balked when i heard i couldn't work out for 2 weeks, "What!? My trainers are never gonna believe it…"
Dahlah i had been so busy i was skipping workouts and going once a week, i could just imagine how BS it sounded when i say, "I can't come in cos i just did my eyebrows and i can't sweat for two weeks." 0_o
On a positive note, i lost muscle and weight by not working out and became skinny for KLFW XD
The hardest bit was not being able to wash my brows for 7 days, what with 2 weddings i was going for the same week. I ended up coming home drunk and slowly washing my eyeshadow off with oil cleanser, and then above my eyebrows (forehead area) with milk cleanser.
I would strongly recommend timing your treatment so you don't have anywhere to go / have to wear heavy make-up for a week post-treatment!
But this… made it worth it…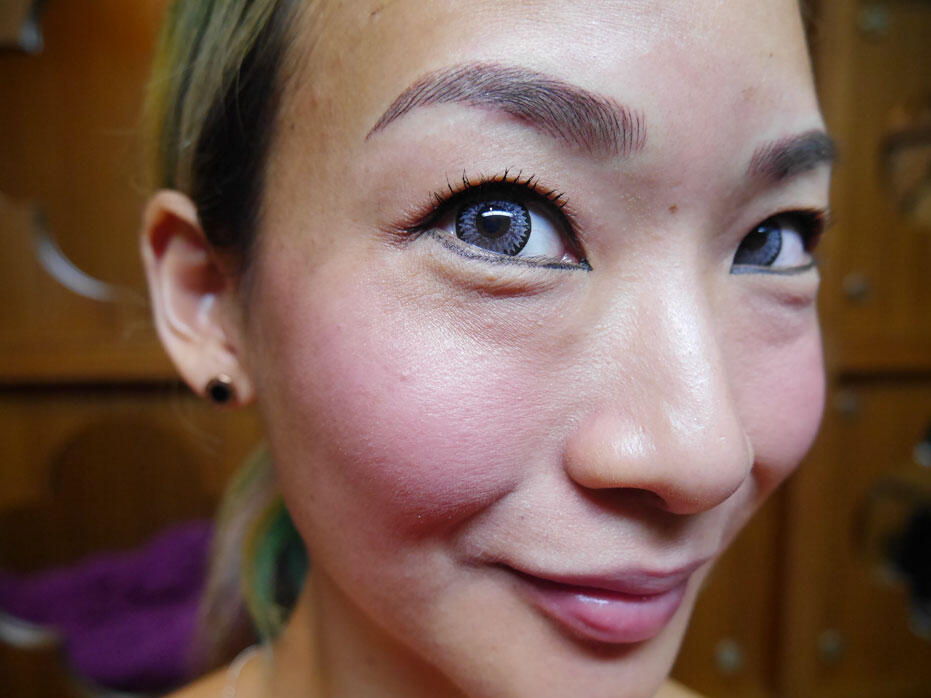 Don't they look amazing, i was soooo pleased with them for days after!
Then i got used to it and the novelty wore off haha
I need to return for a Tune Up (touch up) within 1-3 months. Sharon the Brow Architect will then assess the results of my treatment and maintain/fill them in once more.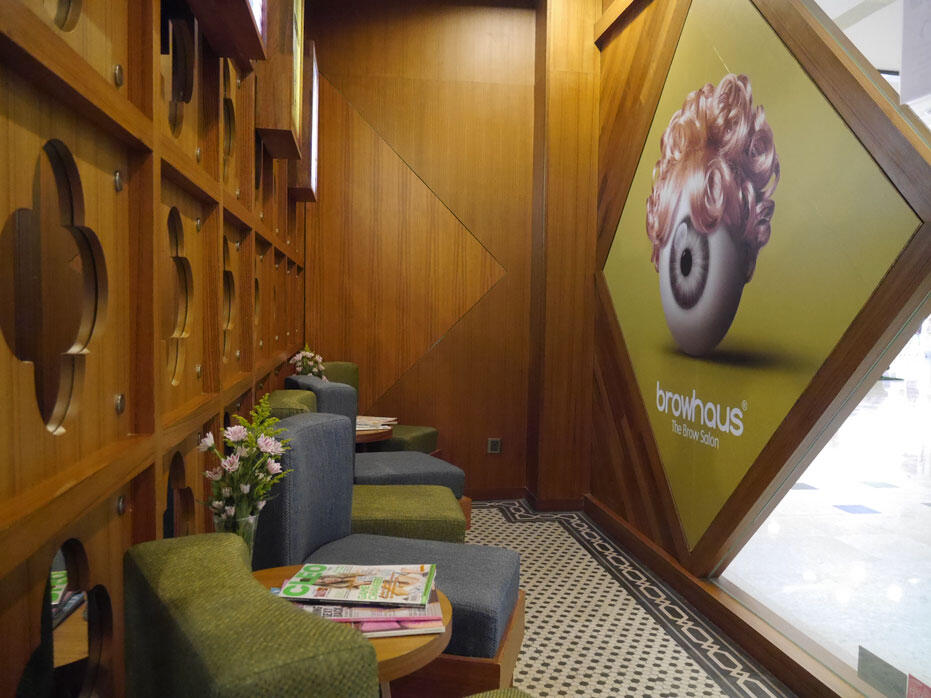 Pix of their outlet at The Curve. They have another at Avenue K. And over 40 outlets in 10 cities like Singapore (where its founder is from), HK, Beijing, Jakarta, London, and NYC.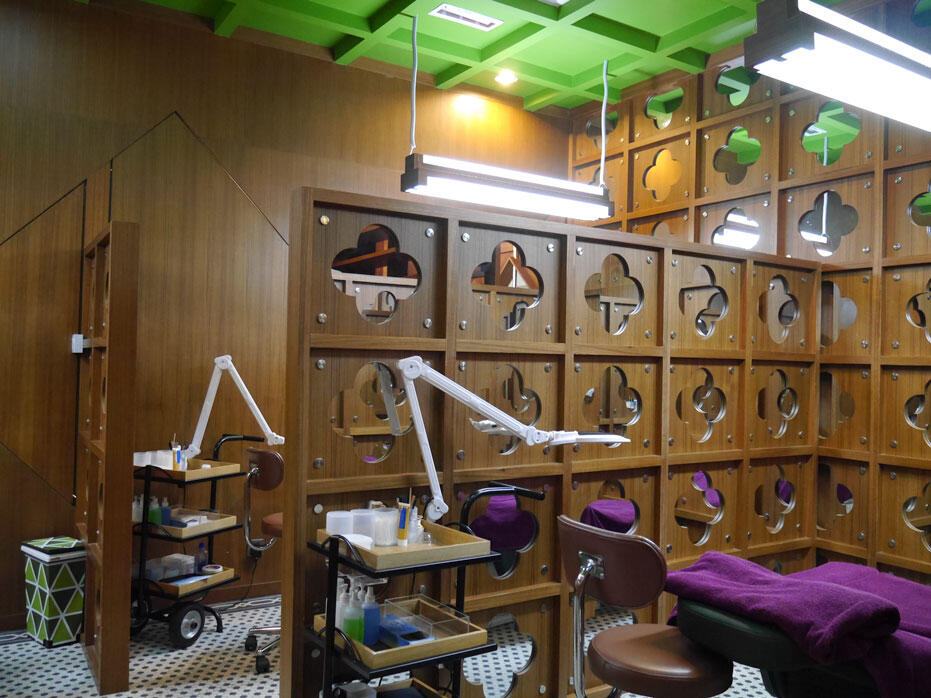 All the rooms offer privacy without being claustrophobic, and the interior is pretty funky.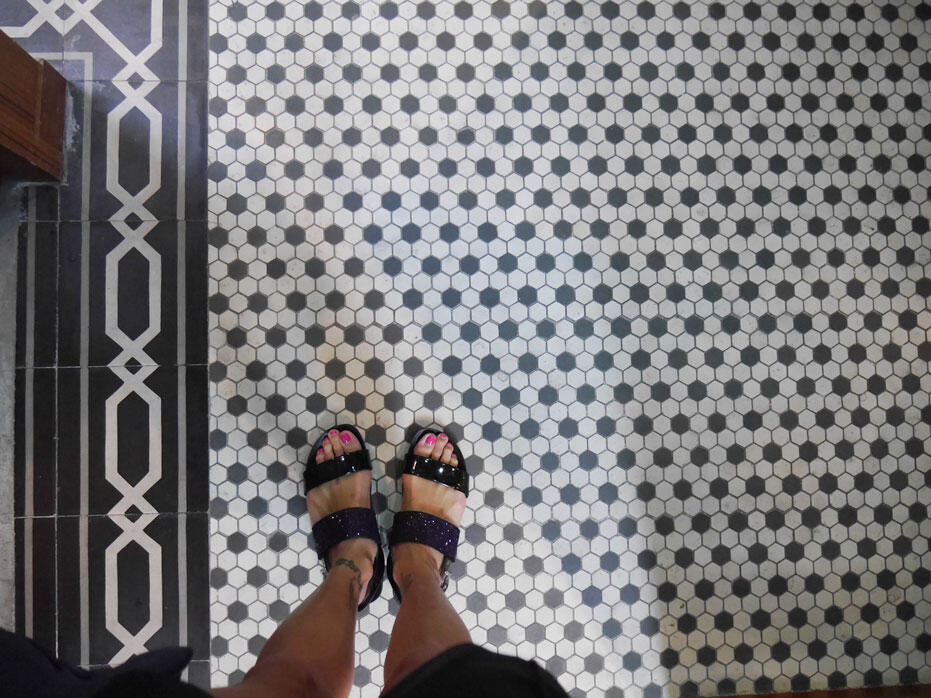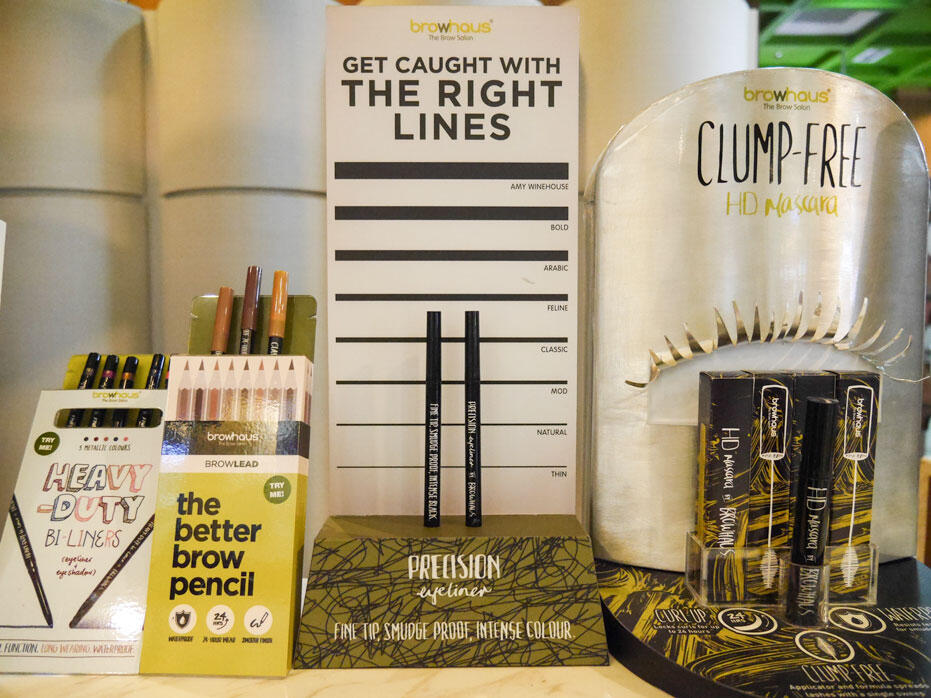 Browhaus also carries their own line of make-up products which can be purchased in stores >
? Heavy-Duty Bi-Liners (RM 23.58) – A dual function gel eyeliner and eye shadow that is waterproof and provides 24 hours wear [I bought this and it's amazing for the price]
? Browhaus Brow Lead (RM 33.02) – A longwearing, waterproof and smooth finish eyebrow pencil with a spoolie tip for easy blending application
? Browhaus Precision Eyeliner (RM 33.02) – A smudge-proof, felt tip pen liner. Available in intense black or deep brown.
? Browhaus HD Mascara (RM 33.02) – A waterproof, clump free and 24 hours long holding power mascara.
I was enamoured by how reasonable the prices were, and bought a Bi-Liner in grey to try. I'm using it some days in a week when i feel like having a grey under eye line.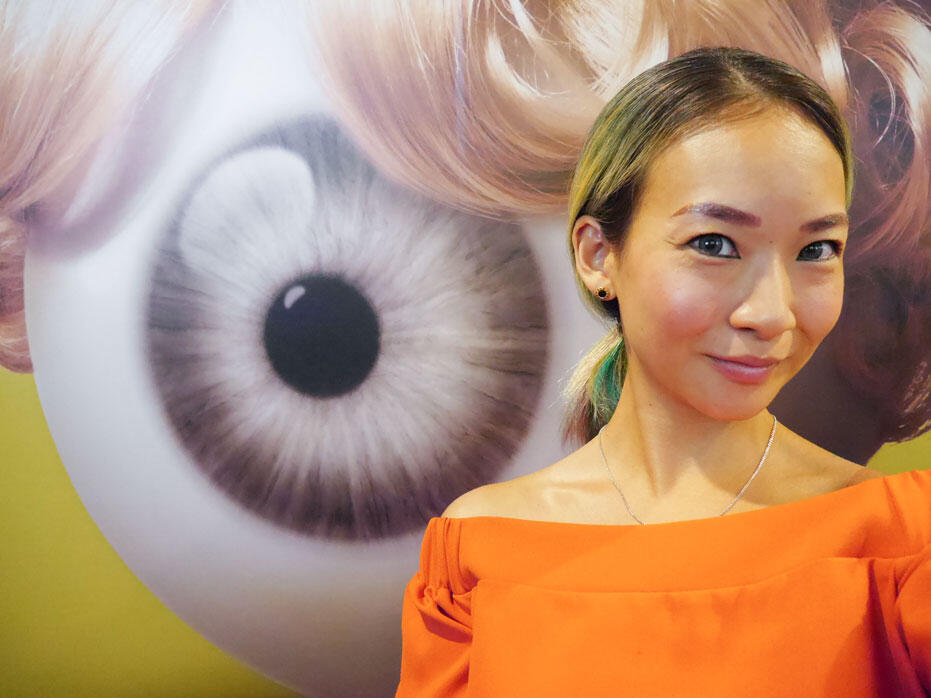 Thanks for mah brows Sharon & Browhaus!!!
The Brow Resurrection procedure i did was Brow Resurrection Define/Bold (2.4) at RM 2,500 for 1 Full session + 1 Tune Up. The Tune Up session has to be done within 6 months of first treatment, and the results should last up to 2 years.
There is another version of Brow Resurrection called Brow Resurrection Natural (2.5).
– Uses finer, lighter strokes for more natural-looking brows
– Takes only an hour for the entire treatment
– Short downtime (only 3-5 days)
It is not as lasting as a BR Define treatment due to the finer, lighter strokes used for more natural-looking brows, but you can 6x Tune Up sessions over a period of 2 years. Price is RM 4,200 for 7 sessions (1 Full session + 6 Tune Ups).
Brow Resurrection Natural (2.5) vs Brow Resurrection Bold (2.4) 
WHAT IS THE DIFFERENCE BETWEEN BROW RESURRECTION DEFINE & BROW RESURRECTION NATURAL?
Brow Resurrection Natural is a finer and lighter version of Brow Resurrection Define. Brow Resurrection Natural also requires a shorter downtime after treatment, compared to Brow Resurrection Define.
HOW LONG CAN BROW RESURRECTION DEFINE LAST?
With proper care and use of our after-care products, Brow Resurrection Define may last up to 2 years.
HOW LONG CAN BROW RESURRECTION NATURAL LAST?
With proper care and use of our after-care products, the first session of Brow Resurrection Natural may last up to 3 months.
With the first tune up done within 3 months and subsequent touch ups done every 4 to 5 months, Brow Resurrection Natural may last up to 2 years.
You may also refer here: www.browhaus.com/letsfaceit/brow-resurrection/faq/
Full list of Browhaus products and prices: www.browhaus.com/my
At current, Browhaus is offering a Brow Resurrection Natural (2.5) Trial at RM450 (does not include tune-ups).
+ + + + + + +
Website: www.browhaus.com/my
Facebook: www.facebook.com/browhausmy
Instagram: @browhausmy
Browhaus The Curve
Lot 120B, First Floor, the Curve
No 6, Jalan PJU 7/3, Mutiara Damansara
47810, Petaling Jaya, Selangor
Tel: +603-77315-110 / +603-77321-105
Opening Hours: Mon-Sun: 10am-9pm
Browhaus Avenue K
Lot L1-1A Avenue K Shopping Mall
156, Jalan Ampang
50450 Kuala Lumpur, Malaysia
Tel: +603-21611-250
Opening Hours: Mon-Sun: 10am-10pm