A few weeks ago, i had the pleasure of meeting a very extraordinary human being one unexpected afternoon.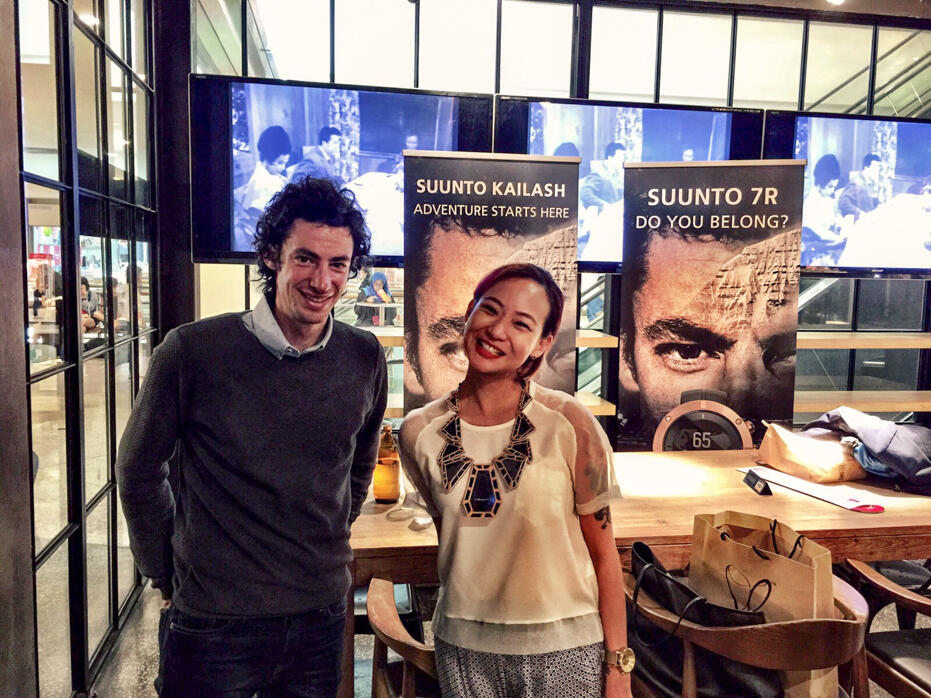 Look at our shy pose! Tee hee.
This is Kilian Jornet, a Catalan who is National Geographic's Adventurer of the Year for 2014. Wearing many running hats (trail runner, ultra runner, sky runner, ski mountaineer), he is "a six-time champion of the long-distance running Skyrunner World Series and has won some of the most prestigious ultramarathons, including the Ultra-Trail du Mont-Blanc, Grand Raid, the Western States Endurance Run and the Hardrock Hundred Mile Endurance Run.
Jornet holds the fastest known time for the ascent and descent of Matterhorn, Mont Blanc and Denali." [source]
I managed to make his acquaintance thanks to Suunto.
Before this summer, i didn't even know what Suunto was. And it's quite an interesting story about how it's earned a place on my selectively-curated dressing table.
When i was away in Europe in July, I was asked whether i wanted to receive this Suunto watch. I glanced over the email quickly to judge whether i would actually use it, and read that it could be used to measure exercise like running, so i said yes cos i was planning to start running more.
The watch got sent to my office, i got overwhelmed with work, and then didn't use it till i was talking to Jun, who's into trail running. I'd never even heard about trail running before. My introduction to an inkling of its existence happened like so:
Jun: Oh i went for a run today.
Me: Oh nice, how far did you run?
Jun: 30km
I was thinking, "Isn't that kinda far for a Sunday jog…" before promptly feeling extra lazy for just watching popcorn time all afternoon.
Then he told me about ultra races.
Me: How long is the race?
Jun: 100km
Again i'm thinking, "People do that?? Run 100km… that's FAR!" *imagines a third of the distance between KL and Penang*
And you can't even reach the char koay teow.
One day, i noticed his watch looked similar to my yet-unused watch.
"Oh! I think i have the same watch as you."
"A Suunto?"
"Yes… i think it's the same one."
"Which one is it? Is it the new one?"
"Erm… i don't know…"
"What colour is it?"
"Lime green."
"OH! It must be the new one!"
Okkkk calm down. I didn't know this watch was such a big deal.
I even went online to search up more about its origin.
"Suunto was born in 1936 when Finnish orienteer and engineer Tuomas Vohlonen invented the mass production method for the liquid-filled compass. Since then, Suunto has been at the forefront of design and innovation for sports watches, dive computers and sports instruments used by adventurers all over the globe. From the highest mountains to the deepest oceans, Suunto physically and mentally equips outdoor adventurers to conquer new territory.
Suunto's headquarters and manufacturing plant is in Vantaa, Finland. Employing more than 400 people worldwide, Suunto products are sold in over 100 countries."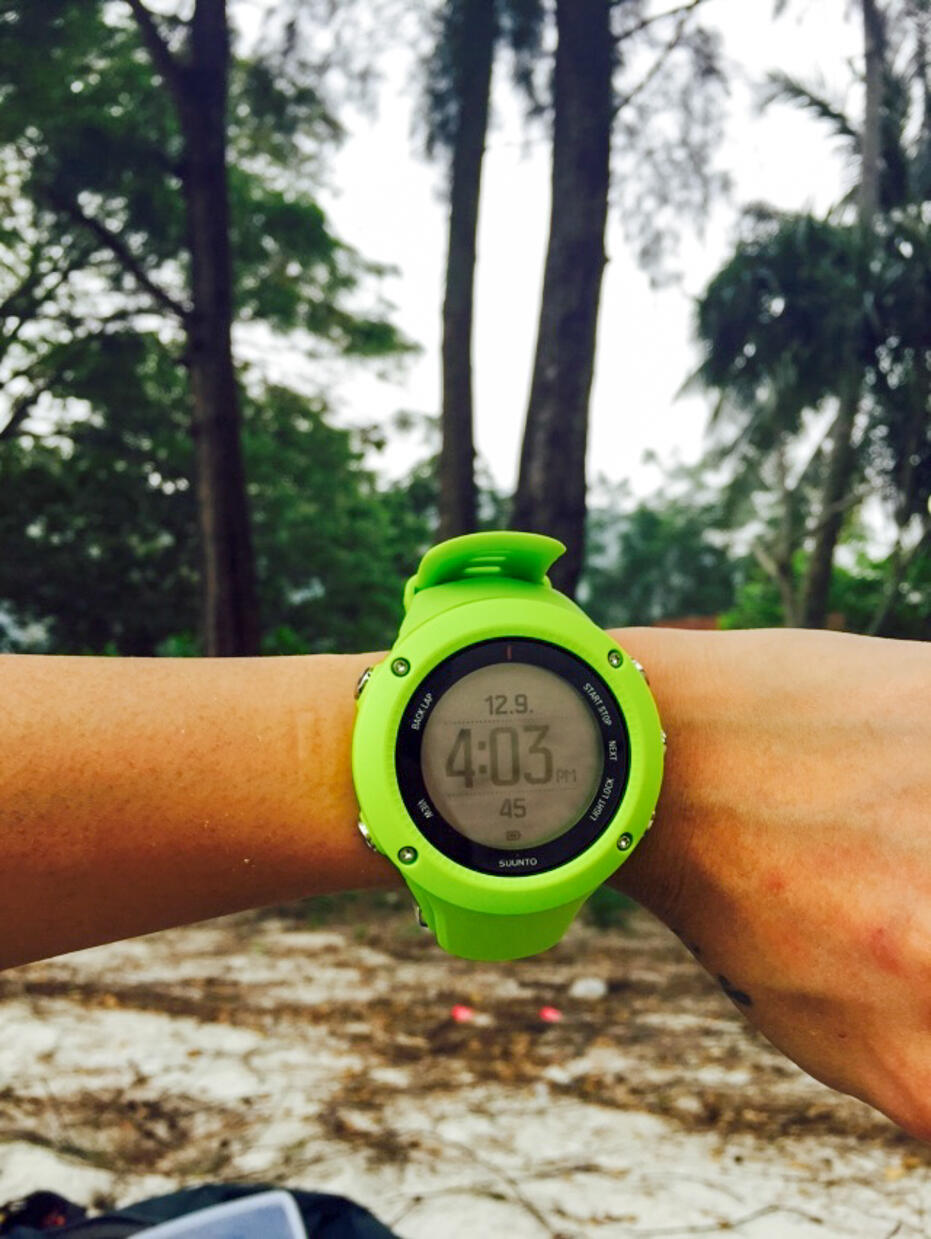 So this is the watch i got, the Suunto Ambit3. I finally started using it since i found someone who could set it up for me haha.
Hey, the watch is so canggih i still haven't figured out all its features yet 0_o
So far i've just used it to measure my distance, time, ascent and descent on hikes. It can be used for running, swimming, cycling and multisport training.
I noticed what looked like a fancy lanyard tag inside the box and was told it was to measure my heart rate, which i didn't see the point of at the time. Can you see how noob i am with exercise..?
THEN, when i was doing my detox at Pure Health early last week, Wendy told me that i needed to increase my low heart rate level cardio (my fave… not) which was the only way i could lower my body fat percentage which has increased by 2% in the past 6 months *thinks of all the food i stuffed myself with in Portugal*. She measured that for my height and weight, low cardio for me would be somewhere in between 115 and 150. I stared at the numbers thinking how am i gonna know what's the right rate i'm going at?, when DING DING DING i remembered i HAVE a heart rate monitor!
Of course, Suunto wouldn't call it a heart rate monitor.
For the watch, it's referred to as the Smart Sensor– which records and stores heart rate (HR), and transfers the data wirelessly to my Ambit3 watch or the Suunto Movescount App that's already set up on my laptop.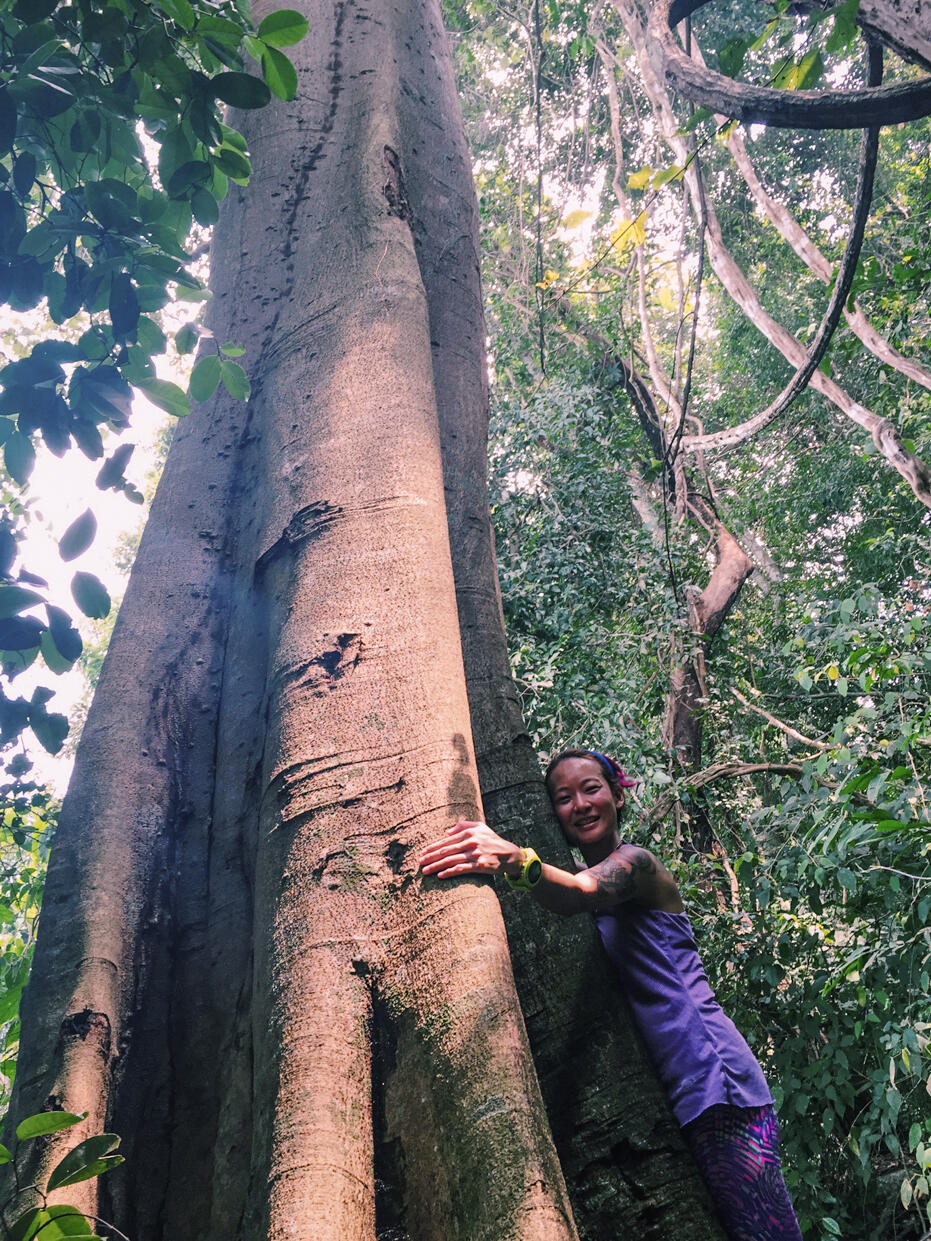 This is the first time i wore it out at Penang National Park! Took a break to make friends with a tree.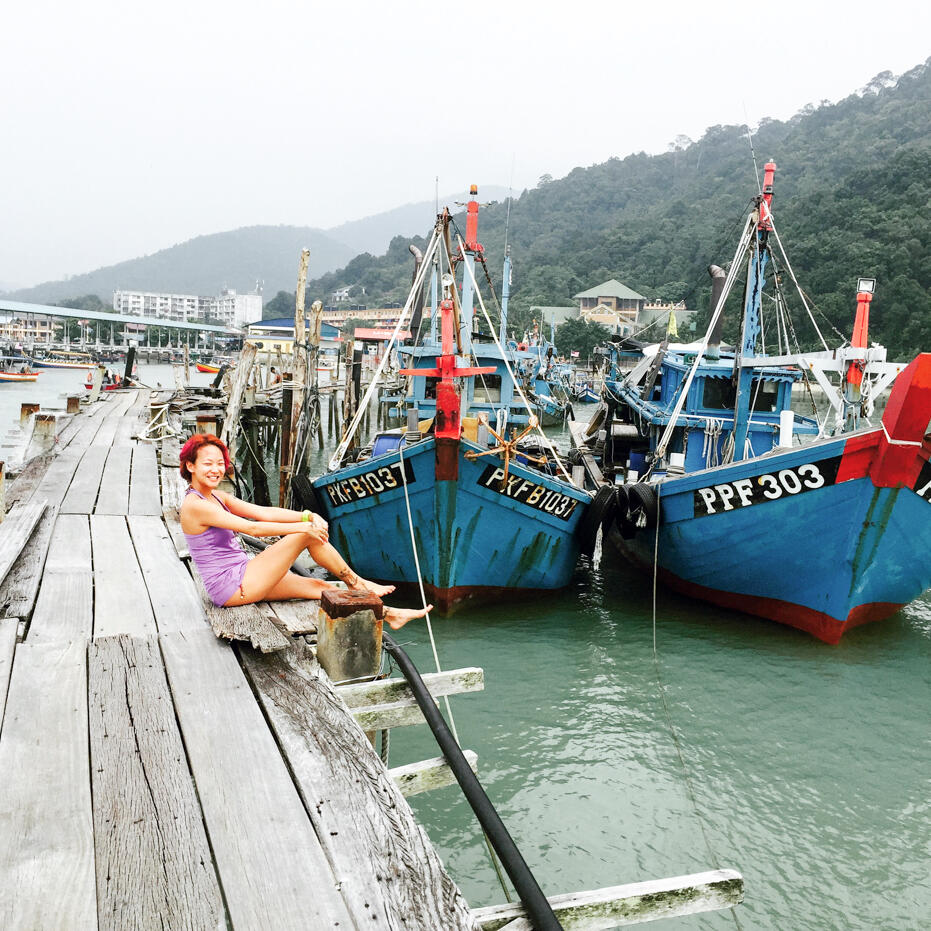 This is just a nice pic of me with boats so i want to post it haha.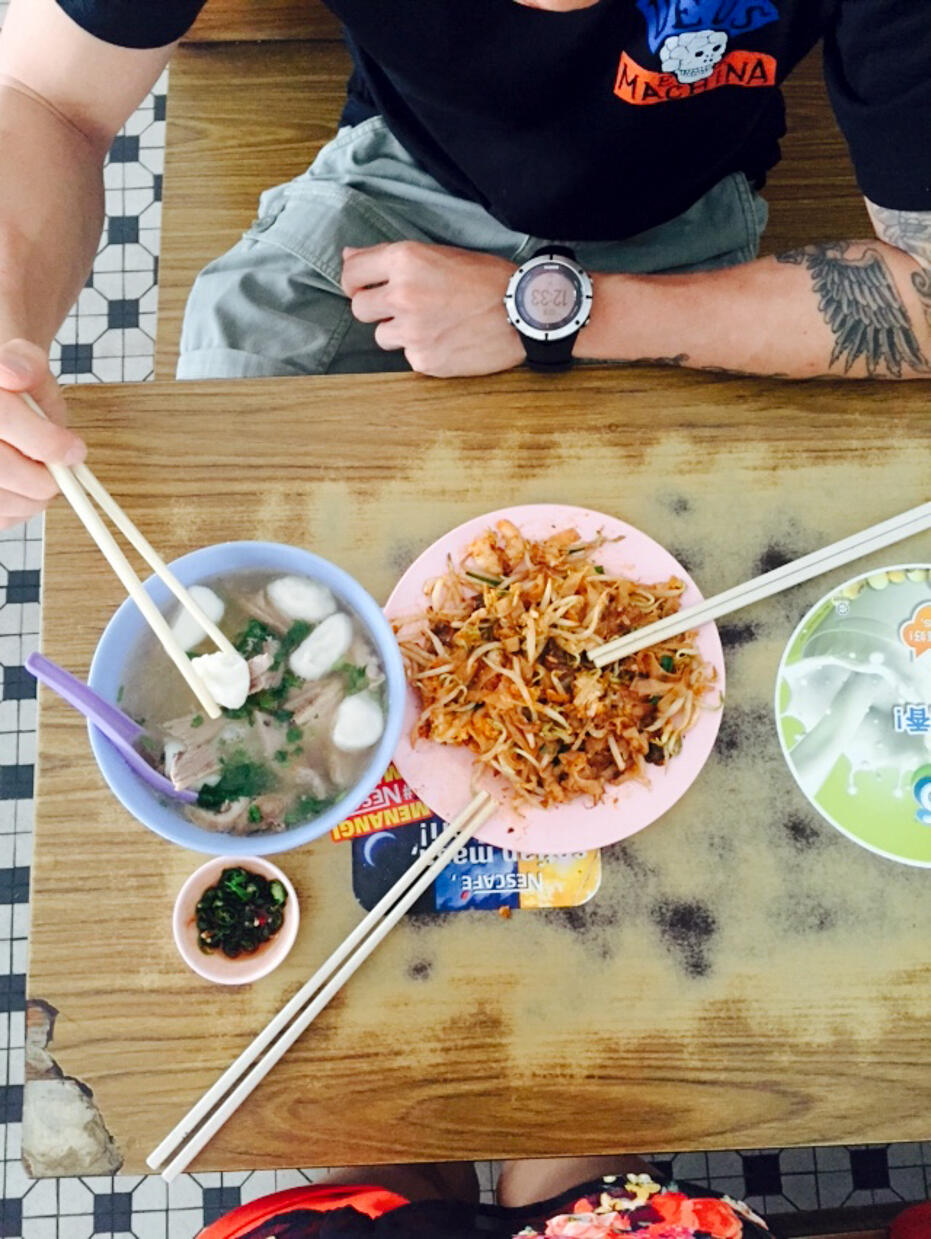 Above is how we canceled out the hiking by eating lots of hawker food.
Jun is wearing a black Suunto.
So fast forward a few weeks, Jun suddenly messages me excitedly about how his hero Kilian Jornet was in KL cos he saw him update a pic of Malaysian food.
I was like, "Who?"
Apparently Kilian is the guy who inspired him to start running.
It came back to me later on that Jun even whatsapped me previously about having a dream about running with Kilian.
Kilian had been flown in by Suunto and was gonna be at Mid Valley the next day to meet his fans.
I put two and two together and thought, well, i could try to see if we could get a meet up with this superhuman living legend.
An email was sent to Shireen (who was the PR who reached out to me about the watch) simply trying to see if we could have dinner or something with him, and she immediately replied saying SURE, we could have tea with him before he went to catch his flight.
Just to show you how people queued up to get his autograph on a weekday afternoon…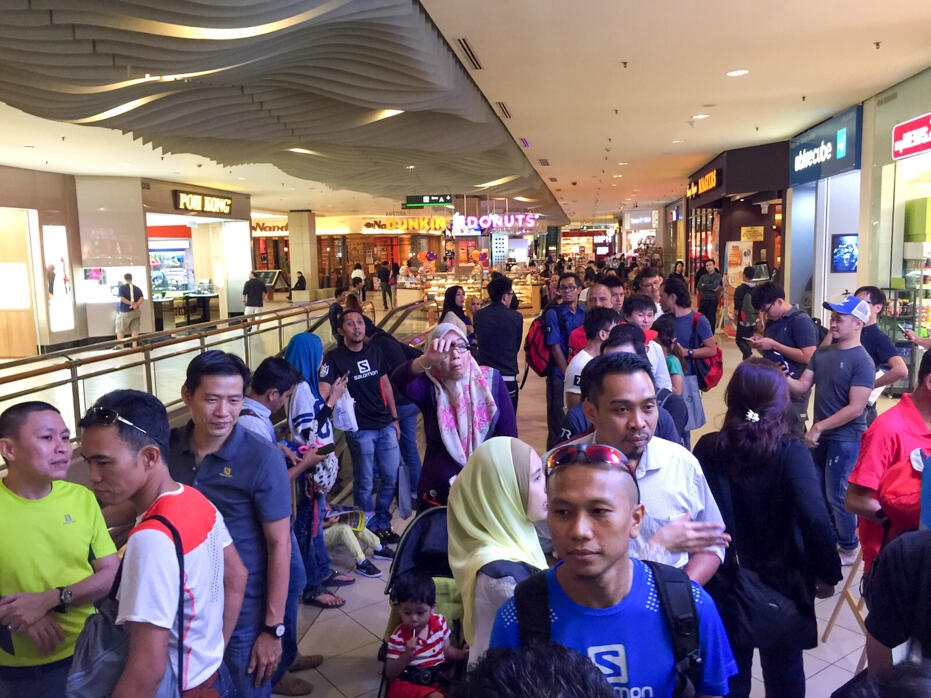 I didn't take these pix, i headed to meet up at the scheduled time cos i was so busy!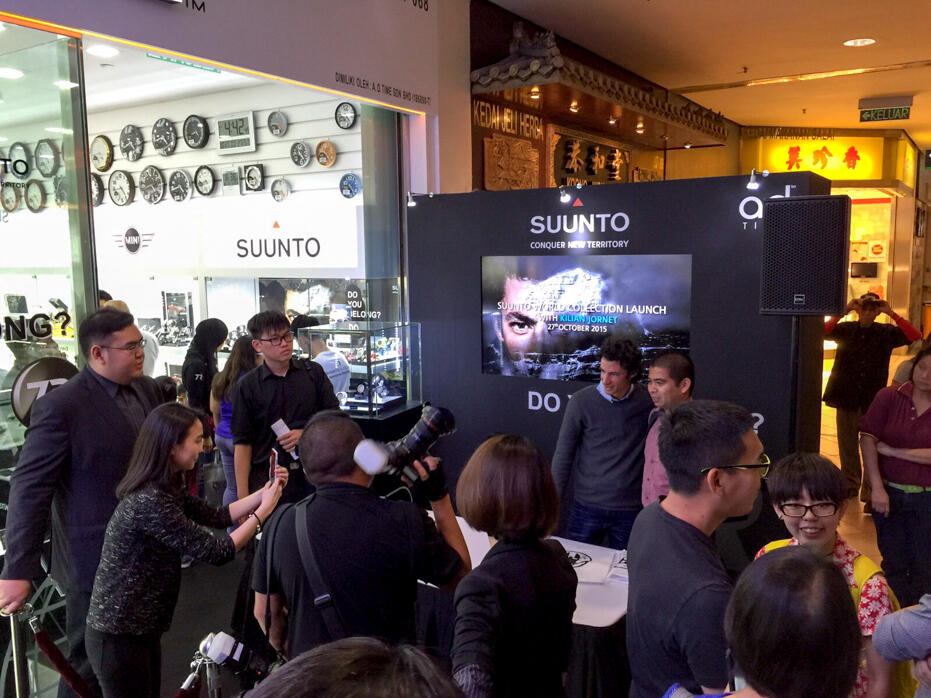 Jun semangat went to get Kilian a pair of adidas kampung, the Malaysian version of mountaineering shoes which our local guys at Kinabalu would wear. He wanted to get Kilian's girlfriend, Emelie Forsberg, a gift too so i proffered a batik from iKaartini.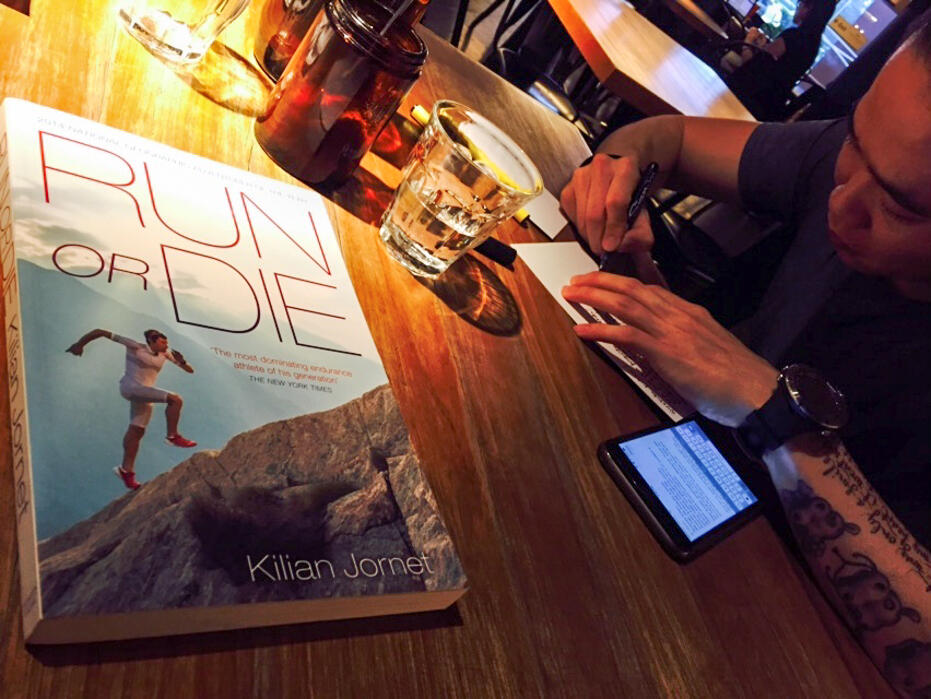 Jun shared with me a few lines in Spanish and its translation he planned to write in a card for Kilian.
Me: Did you write him a poem!?
Him: No… it's a phrase i like from a song.
Ok that's really sweet (or really stalkerish, depending how you look at it).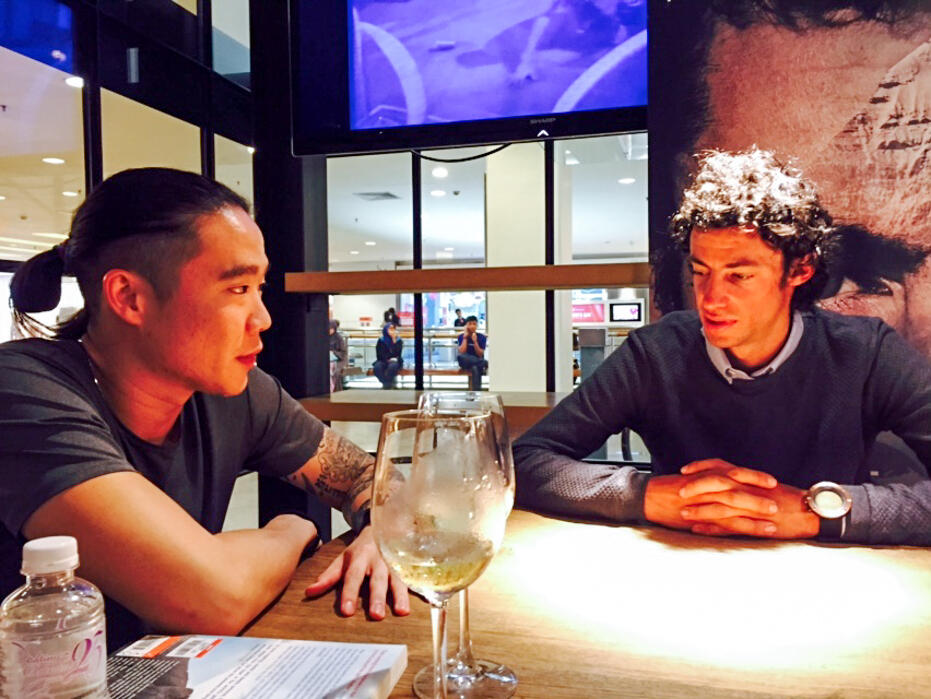 Kilian turned out to be a very sweet and humble guy despite the seemingly godly status the rest of the running world heralds him of.
I just read an article about him in this month's AsiaTrailMag, of which he graces the cover.
Having grown up in the Pyrenees mountains, he competed in his first 12km cross-country ski race at age 3. Seriously, who is this guy? I think i was eating books and sand at age 3.
By age 25, he had won a list of races he'd set out to complete.
To give you an idea of his speed, Kilian completed a 180km trail in Corsica in 32 hours and 32 minutes.
I took longer than that to get over my hangover from It's The Ship.
In the same year, he ran 265.kkm in California in 38 hours and 32 minutes.
I was going to stop but this is the last one – in 2010, he ran 800km (WHAT THE…) in 8 days across the Pyrenees.
Being a non-runner, i let Jun and Kilian get on with their conversation on running, and learnt that Kilian's favourite races are the Ultra Trail Mont Blanc (UTMB), Zegama, Diagonale des Fours, Tromso and Hardrock.
His next personal project (which everyone has been waiting and watching for) is his attempt to set a new record ascending and descending Mount Everest in the summer of 2016. Now it's making me rethink the goals i've set for myself next year…. 0_o
Kilian hopes to return to Asia for the Mt. Kinabalu Climbathon which he enjoys a lot, as well as the Fuji Mountain Race which he has yet to try.
As for running recovery tips, Kilian's key to a good recovery is a lot of rest and sleep; and his secret to speed is his lack of need to carry much during his long runs (think light and fast) as he's trained and conditioned his body to adapt and live off his surroundings.
Besides running, we chatted about food (haha, that always bonds) and traveling. I think we had a good hour plus with him! What a gracious sweetie he is! I found him so inspiring (he definitely made me feel like pushing off to fly my feet over the mountains!).
Thank you Suunto for being a brand that evokes such inspiration and passion.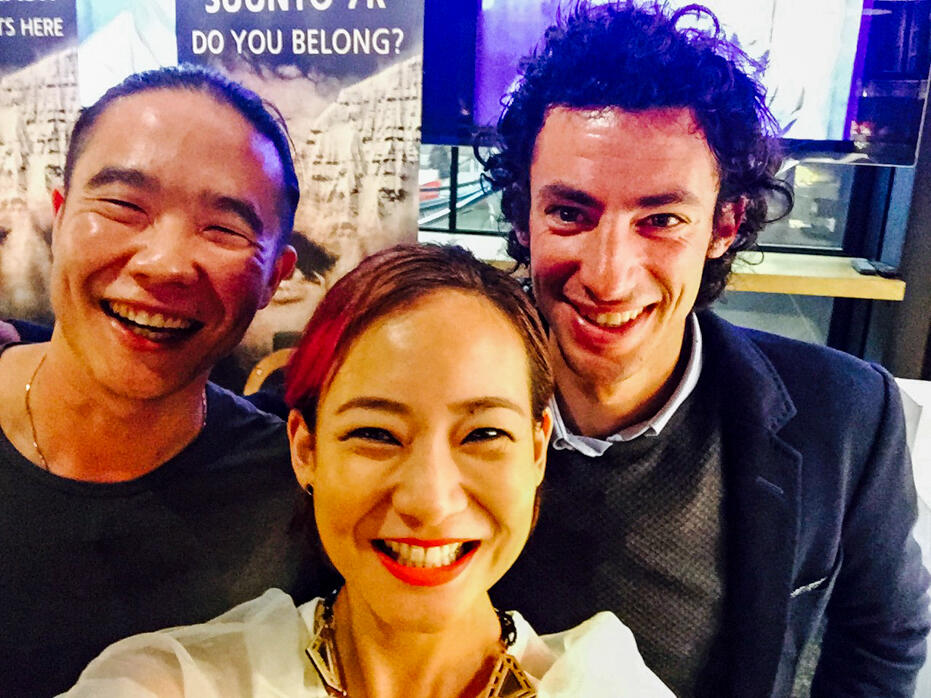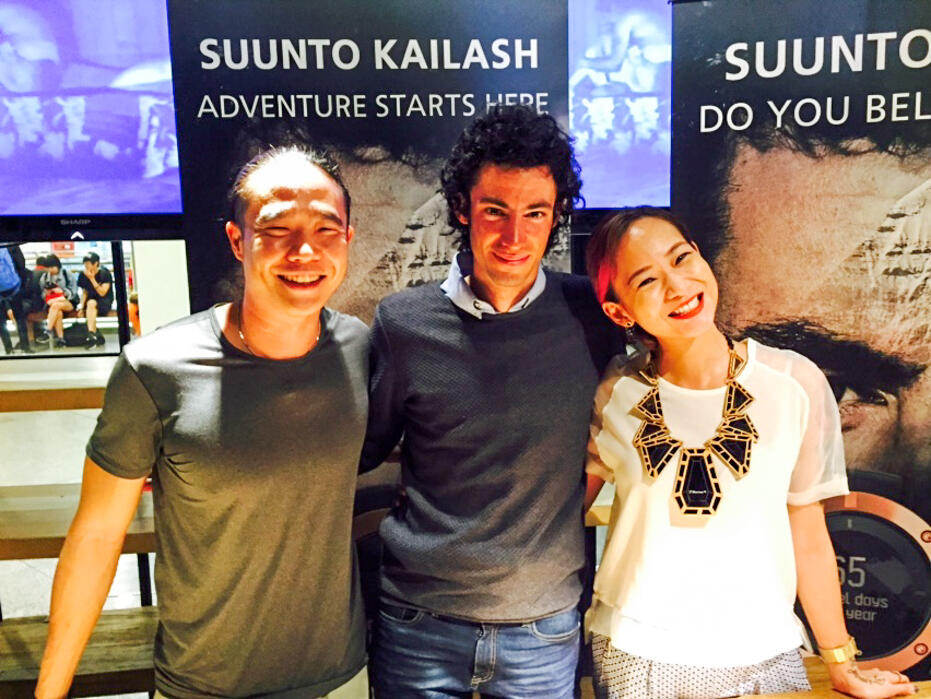 More about Suunto:
www.suunto.com
www.facebook.com/suunto.my
More about Kilian here:
IG: @kilianjornet
Facebook: www.facebook.com/kilianjornet