* written on 21st August 2014 *
I had one of the most riveting conversations with a kindred spirit this afternoon.
When I was in Seminyak, Bali; I thought of a friend I have living here – Rachel. We're not very close, despite having known each other by being at the same parties almost a decade back. But I felt like I could talk to the girl. So I whatsapped her to meet up, and she took me to her fave hang out spot on Jalan Laksamana in Oberoi, called La Favela. An unassuming hidey hole from the oustide, you enter via a wooden walkway filled with lights and foliage into an unknowingly massive establishment.
It was like a hidden wonderland of a restaurant and bar, divided into many oddly-shaped sections filled with antiquities and oddities of a time from long ago. Chandeliers, lots of plants and flowers and trees everywhere, a pond in the middle under the sky, a bathroom with a lounge area and art all over the walls (and there are many walls!).
The place was packed, and it was a Monday night. We managed to find a table where we had a bottle of red wine. A couple of people stopped by the table separately to say hi to Rachel and chat. They both worked at La Favela – Luigi and Iman.
Next day, I rushed through my work so i could have Rachel come over in the evening to enjoy the pool villa and chill with me. In the middle of our conversation, she mentioned that Iman, who was the resident art director at La Favela, was dropping by to pass something.
We went downstairs to meet him and TS Suites is such a mighty space we had trouble finding him. We finally found each other in the courtyard and he shyly held up a rolled up canvas to me.
I was like, "Whatttttt" and put my beer down on the ground to open it slowly with both hands.
It was an art piece… of me! In blue! I was just so shocked and delighted… noone had ever painted a pic of me before! Wait, has anyone? *scanned bad memory* Well not that I can recall!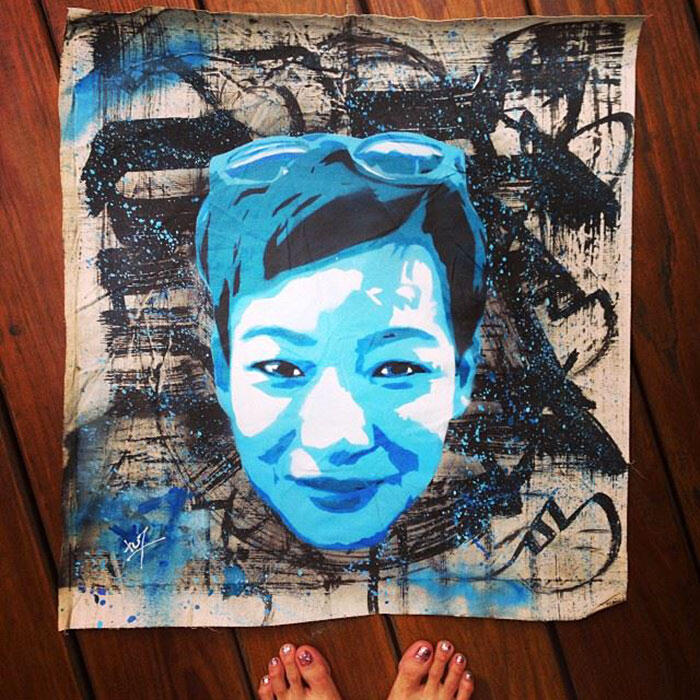 It's awesome and definitely going up on a prominent wall in my upcoming home. I gave Iman a big hug and thanked him. But I think I said "oh my god" more than "thank you". He then left cos he was going elsewhere, and I still couldn't believe how someone was so sweet to just do a picture of me like that!
Rachel was all I don't know what fairy magic dust you sprinkled on him, he won't even do one of us, and he just met you briefly yesterday.
I was just so taken aback in happiness! I even hugged myself and swayed my body from left to right cos I was buzzing from feeling so good! My heart totally expanded from the love!
When I realised that I was to stay in Bali for another day cos I accidentally bought my flight for 24 hours later, I was thinking if there was anyone I'd like to meet and I thought of Iman. I mean, I barely spoke to the guy and he gave me such a cool present, I wanted to get to know him better.
So I planned to work that night and in the morning, then see him for lunch and return to work in the afternoon and evening before my flight. We decided on La Favela cos it was where he said he's most comfortable and I agreed, wanting to see what it looked like in the daytime and try the food.
The place looked even more awesome in the presence of sunlight and I realised how many details I'd missed seeing.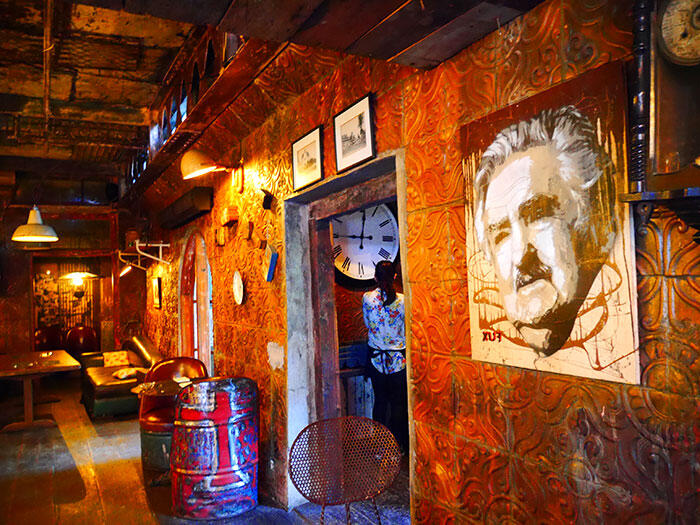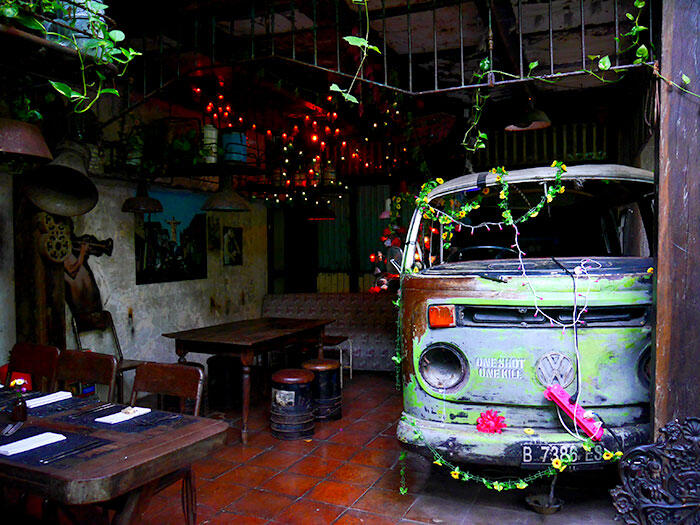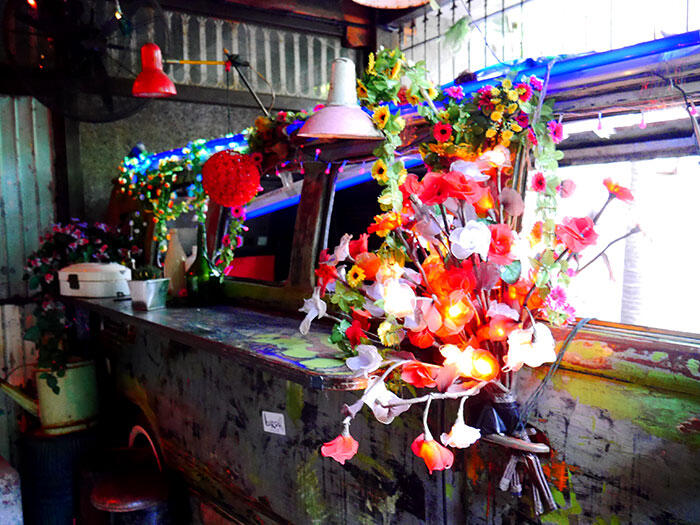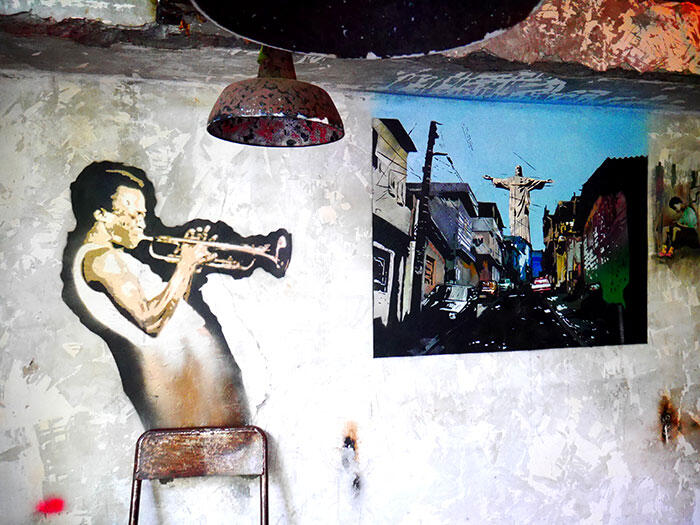 One of the first pieces Iman did for La Favela.
Iman introduced me to his boss, and the chef Marco, who spoiled us by sending out more food in addition to the tuna carpaccio and salad I ordered.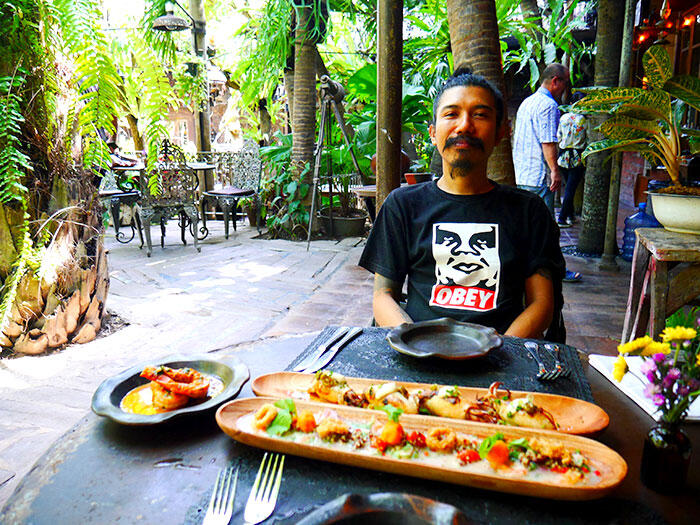 Ah the food was really good! I ate till i couldn't stuff myself anymore.
I'd totally recommend you to eat there!
When we sat down at a table in the garden, Iman said, "I have a present for you," and I was like, "Whattttt" and he produced another rolled up canvas.
It was one of a tiny My Little Pony, that I'd given to him as a token which was already in my bag when he'd surprised me the day before. I was like, "Oh Imannnn nooooo!!!"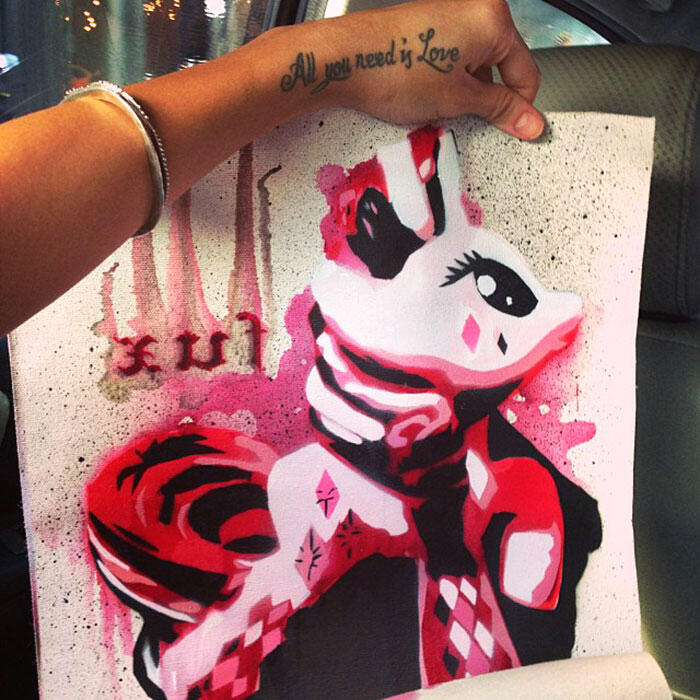 What have I done to deserve such love! #HeartExpandsEvenMore
I showed him the tattoo I have of Rainbow Dash on my ankle to exemplify just how MUCH I LOVE the magical ponies, and he said that the tiny colourful things have inspired him.
I feel like it usually takes a while to delve into meaningful conversation when you first talk to someone new, but for us, we dived right in.
We spoke about lovers from our past lives,
lucid dreaming, past life regression,
creative work and phases we've experimented with,
past relationships, running away from home,
having premonitions about Bali,
serving prison time ("you're such a bad boy!" I exclaimed),
clearing spiritual blocks that prevented growth,
and other stories involving Balinese princesses, wolves, doppelgängers,
and experiences of a spiritual realm.
There were so many moments when i had goosebumps all over my face and body!
Iman himself is such an interesting person (obviously) who seems to have lived different lives in one lifetime. In a way, he has, cos he formerly had another identity before legally recreating himself a new one.
What makes him so fascinating is his openness about journeying through life and embracing every experience along the way. He tells his stories in an honest and unpretentious manner with humourous resignation thrown in for those with a less-than-happy ending.
He used to be an assistant chef in Singapore, quite by accident, when someone didn't turn up for work one day. Offering to cook a dish or two, the head chef tasted it, liked it and appointed him new assistant chef.
Most of his life was spent in the music industry, when he took on the moniker Electrofux for 20 years. When he had transitioned into putting his art on the streets (after being inspired by his late friend and fellow artist Quint), he turned his nickname around, and Xuf came to be. Xuf had been brandishing the public walls of Bali with his stencil art when it got noticed by the boss of La Favela, who hired him to be its resident artist.
Some people say that Iman sold out by shifting to work on an establishment's walls instead of the street, but the beautiful reality is that he's created a world for himself where he's paid to experiment with art, every single day. He gets to work on whatever he wants, and all his bills for materials are covered for by the restaurant (which i know can cost a lot). He gets to do what he loves daily and get paid for it. How cool is that! That's pretty much an artist's dream. He could make a fortune selling his art to people but he's not bothered.
"I don't earn much but I don't need it. Money can be found anywhere. What I want is to work on my art."
I started a sentence with, "Have you watched…"
"Exit Throught The Gift Shop?"
"Yes! Oh my god that's what i was gonna say!"
"It's my bedtime story."
We also spoke about the environmental issues of the island, and i learnt how much waste is trapped on the beaches of Sanur. It's true if you think about it, so many empty plastic bottles, bags and trash are churned from the workings of a booming tourist industry; one has to wonder – where does all the trash go? Bring your own shopping bags and water tumblers when you come to Bali. As Iman put it, "One person using one plastic bag doesn't sound like much, but 10,000 people…"
I found so many things he said that resonated with my beliefs and interests, and piped up,  "Hey, we're both Arien!" His birthday is on 5th April and mine's on the 14th.
"Stubborn and determined," he said.
"Yup… stubborn for sure," I replied.
Ariens are so typical, we all get along and all the Ariens I know are creative, mostly outgoing, stubborn and headstrong when we want something.
Iman and I met up at 1:40pm, and when I checked the time after we were done with lunch and chatting, it was almost 4pm! Time flew cos the conversation ran easy. I think we could have continued for a lot longer if i didn't say i had to leave soon so i'd have ample time to get back to the hotel to get my luggage and head to the airport!
We left the table and he brought me up some stairs, "You get to go what most people who come here don't!"
"Coooool!" I was excited!
Like a kid exploring hidden places!
Oh my, La Favela is so much bigger than i imagined!
Below is a room where the boss keeps all these chandeliers he collects, and i was smitten.
Absolutely smitten. I love chandeliers and he's got such a great collection! #NAK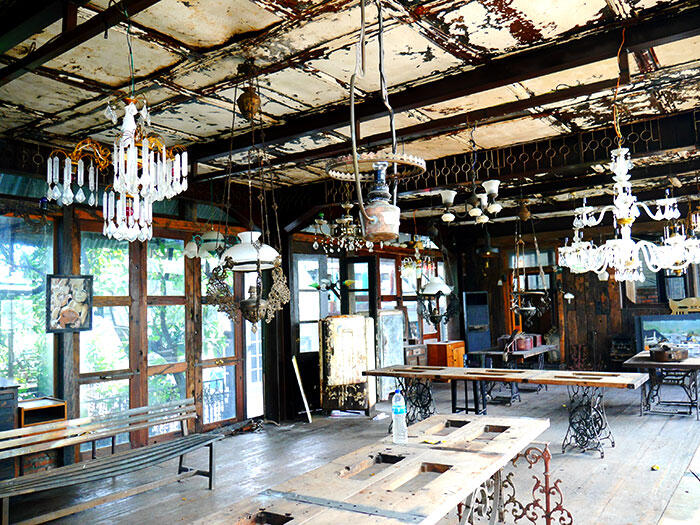 This was another room filled with antique treasures he's found in Indonesia…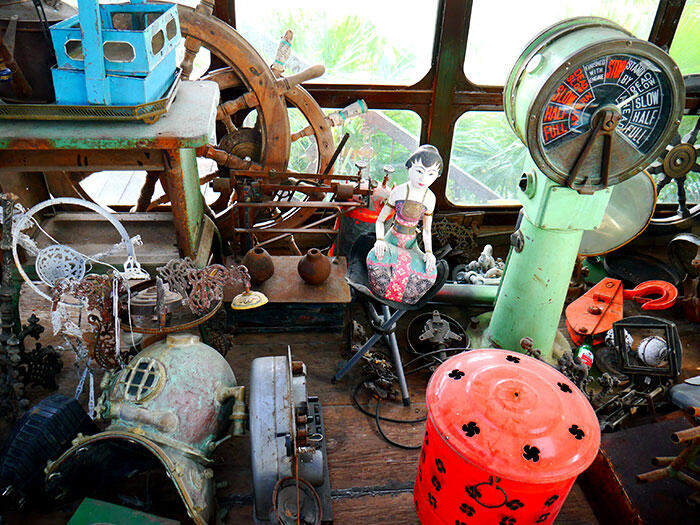 These are just a couple of pictures i took when there's so much MORE to see!
It was like being in the best ATTIC EVER.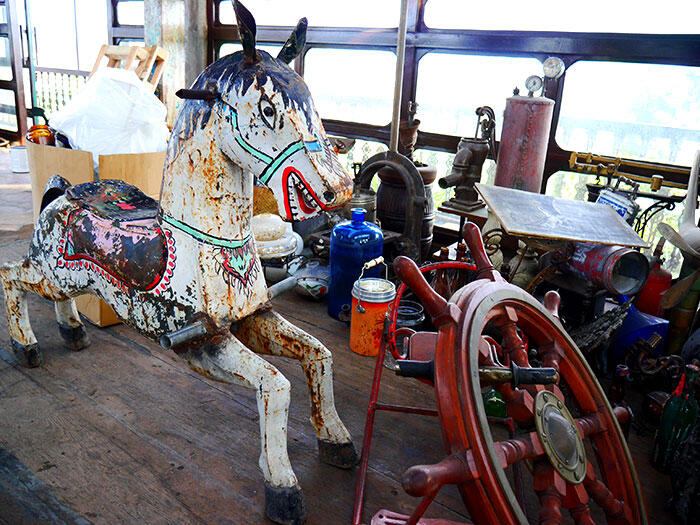 We walked through more large rooms, some being renovated, some filled with random objects, lamps and all types of junk lying around. The place was massive!
At the far end of a wall, on one of the highest floors, were some narrow wooden steps that led up to Iman's studio. I thought it so cute his space had to be at the furthest corner of the whole place. Hiding out like a squirrel.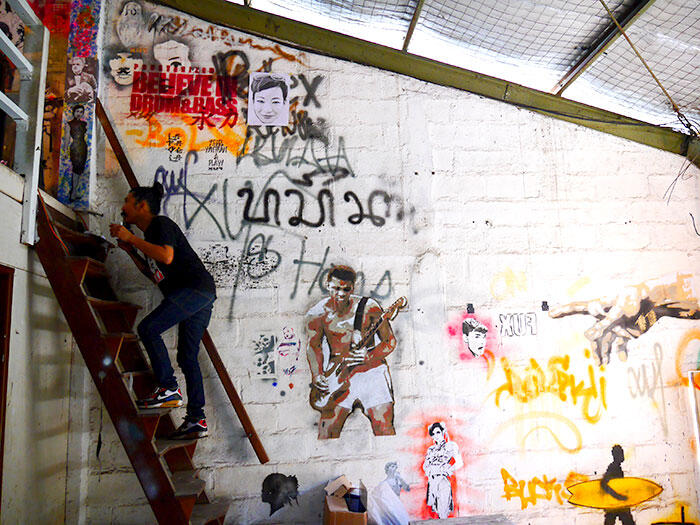 I didn't know what to expect, but i think it really was everything i felt it was gonna be – judging from what i knew so far about Iman! There were spray paint cans and papers everywhere, art on the walls, cardboard, little metal weights, a surfboard, more images than my eye could conceive in such a short span of time… There was just so MUCH to see!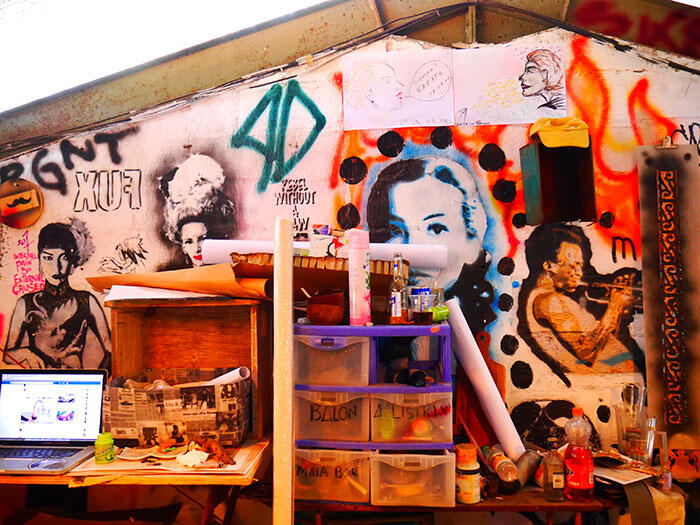 I was so curious as to how he carried out the process of stencil art and he showed me.
Looking back, i just thought of something really kismet! >
Two weeks ago, when I planned to do a painting of Rahul for his birthday, I had an image in my head of how I wanted to project his face with layers of three colours, like stencil art. I thought about how cool it'd look, and went out to buy extra canvas. I was busy busy busy with work, till the day I'd planned to do it (last minute, the night before his birthday party obviously) and realised… I have NO IDEA how to! And because I was so consumed with work, I didn't make time to research it. So I screwed the idea and ended up doing a sketch with oil paint on the sides. It was the best I could come up with after not picking up a paintbrush for years.
Maybe it's cos i had this desire to know how it was done, and the vibrations i sent out ended up drawing me to Iman… 🙂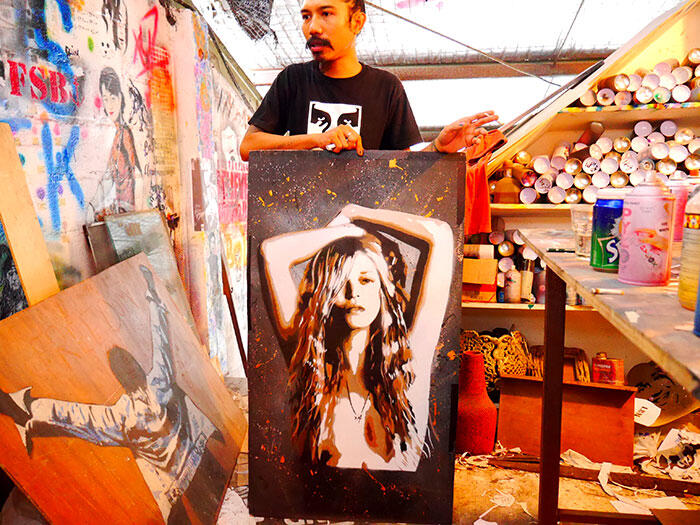 Kate Moss.
I was shown a cool piece on a skateboard, and he admitted to how he used to skate till he injured his ligaments twice so he had to retire.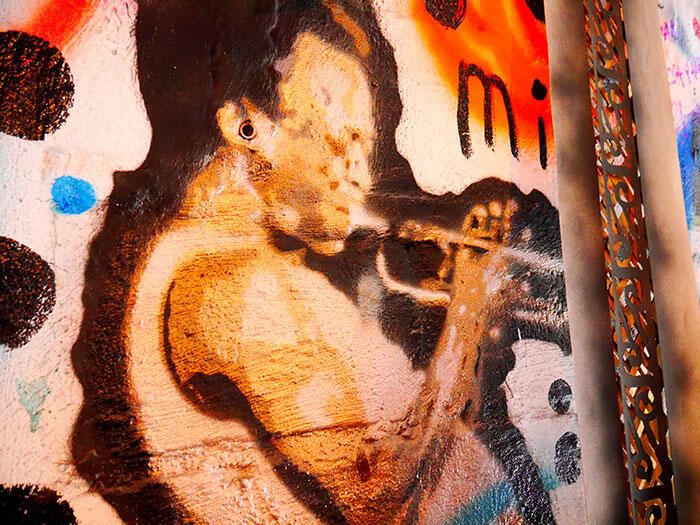 Some of his art is positioned on the wall such that its uneven textures complement the image.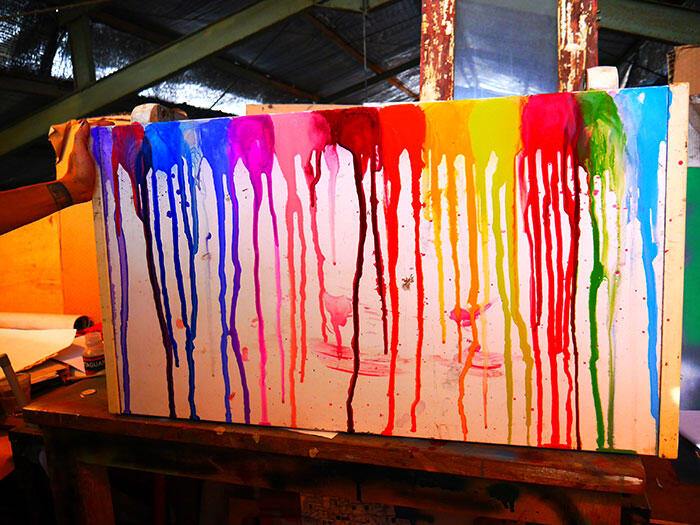 A fridge door he's experimenting with. I'm loving the rainbow drips!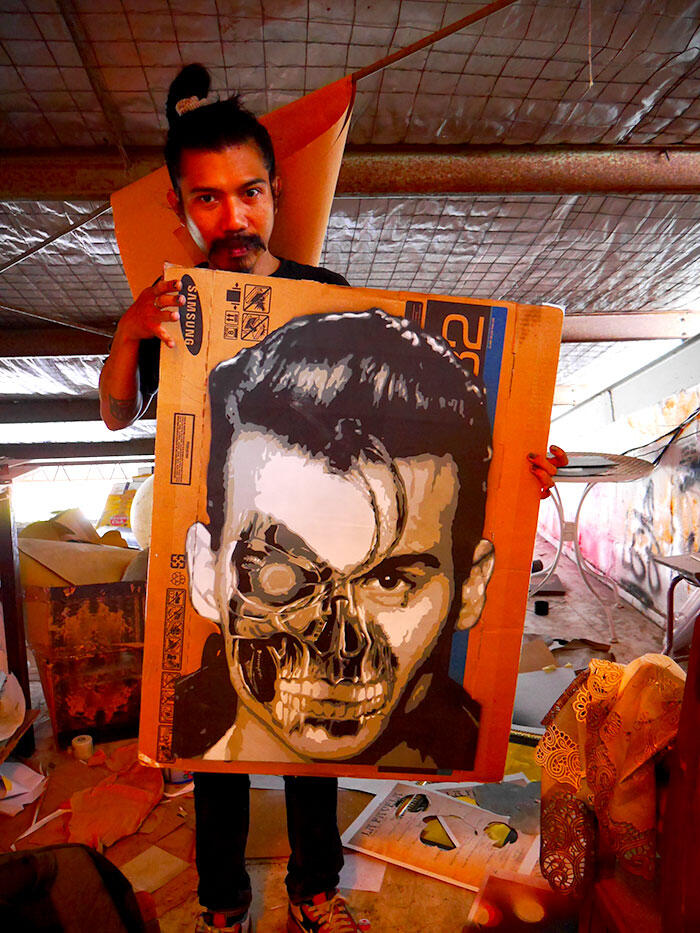 One of his more awesome pieces of work – Johnny Depp done in ten layers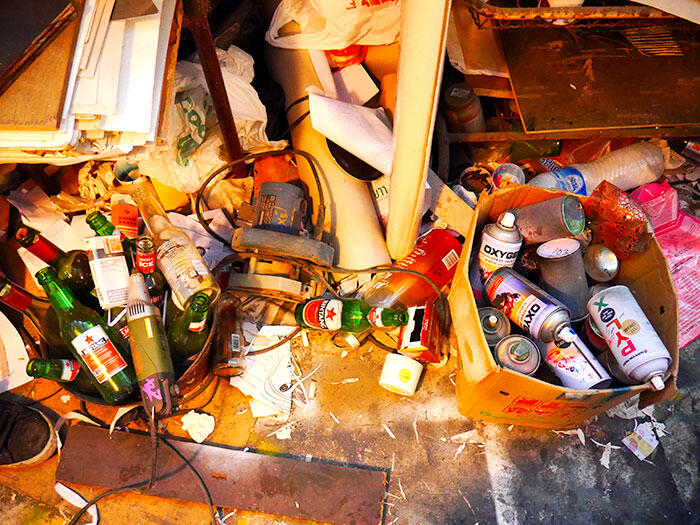 Remnants of work – empty Bintang and spray paint cans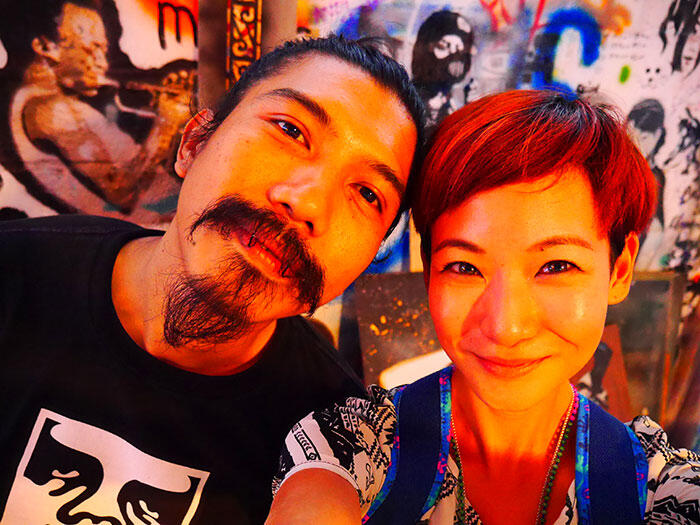 Iman & i!
Thanks for honouring me with your artwork, i hope i can do a fraction of the same back with my blog.
+ + + + + +
Check out Iman's website: www.xxxuuufff.com
FB page: www.facebook.com/pages/XUF/243926819069440
Related article:
* interview with Quint and Xuf by KUBAN *