This week has been challenging in the sense that i've barely even had time to feed myself properly (which is bad) but it's okay cos i rarely do this.
Monday: i had lunch at 2pm, dinner at 10pm then worked till 2am
Tuesday: i had lunch at 3:30pm (i felt so faint i made a beeline to food and nothing else), dinner at 8:30pm, then slept at 3am (my fault for going out till late)
Wednesday: i had half a noodle soup at a 10am meeting, then snacked on slices from half a zucchini at 1:30pm while driving to a shoot. Quite sad right. I just really didn't have the time to eat!!! Luckily Adam was so nice to get a group of us food from the Bangsar Ramadhan market for dinner which i dug into like an animal at 8pm.
I am so tired that i was in bed by 10pm! But i'm still awake… blogging this post cos i know tomorrow is another jam-packed day, so i better do this now before it adds on to my ever-growing To-Blog List.
Today was by far the most tiring but FUNNEST SHOOT EVAAAAAA!!!
Photographer Vincent Paul Yong was to shoot me for a Levi's campaign,
and i picked Jump Street Asia as the location cos i thought mid-air shots would be so cool.
Plus just BEING on a trampoline is so much fun… the last time i was on one was 4 years ago in Surrey with Yishyene!
Jump Street Asia is the first trampoline park in Malaysia, and is right behind the Robert Bosch building down the road from Jaya One in PJ. It's in a massive warehouse and has lots of different trampoline activity areas like Dodgeball, Basketball, Free Jumping Areas, The Foam Pit, The Cage, and The Wall. Find out more on www.jumpstreetasia.com.
Thanks so much to Duncan for granting us permission to shoot,
giving us a personal lesson and providing his staff to take real good care of us!!!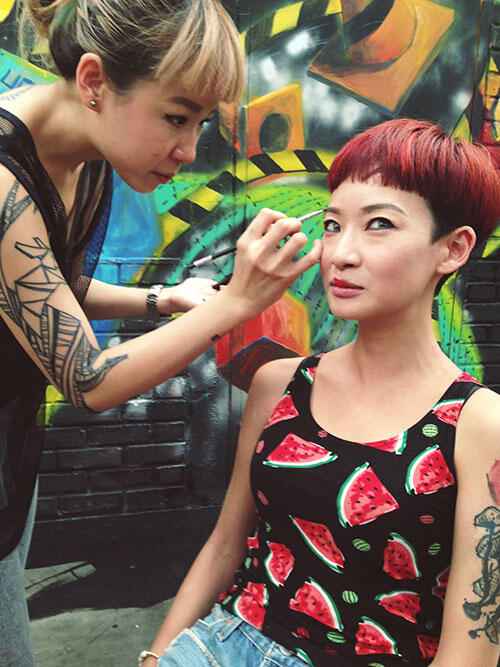 Laine Wong did my make up. Check out her new tattoo done last week by Julian Oh.
Incidentally Adam got one from Julian yesterday too so i saw two new works of his in one day!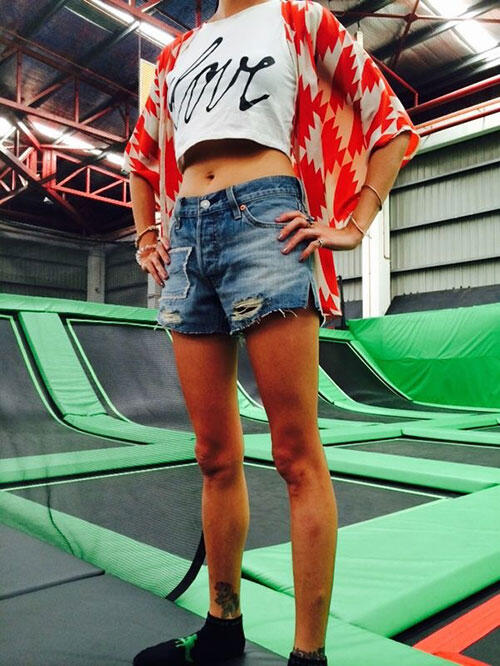 I'm wearing a pair of shorts from Levi's newest collection!
It's really soft and was super comfy the entire time i was jumping.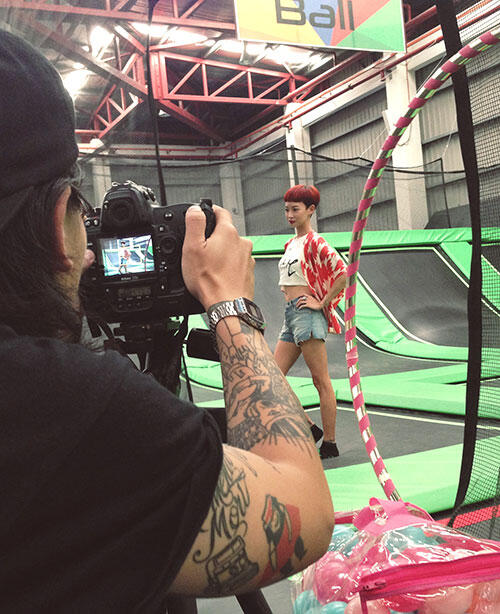 Starting off with some still shots… Click to see the rest of the pix!
I heard from Baby and Sandra that you have to stretch before jumping cos you CAN hurt yourself if you're careless. This would be a BAD time to hurt myself so i took heed!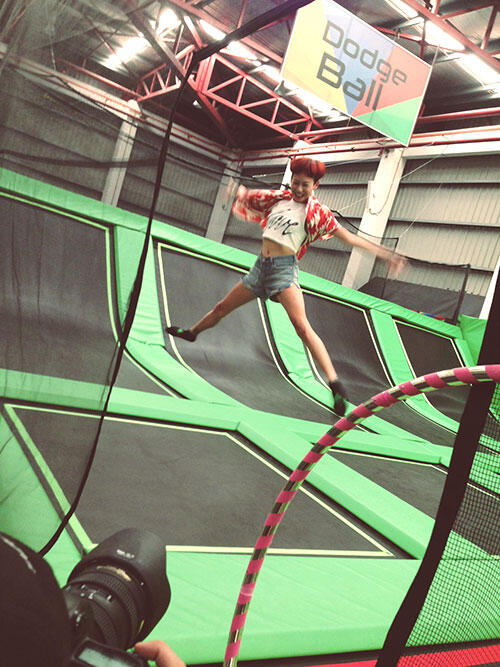 Before we started shooting, Duncan and one of his referees taught us the basics of jumping –
how to stop,
how to bounce on our bums and back up,
how to turn around,
how to go higher, etc.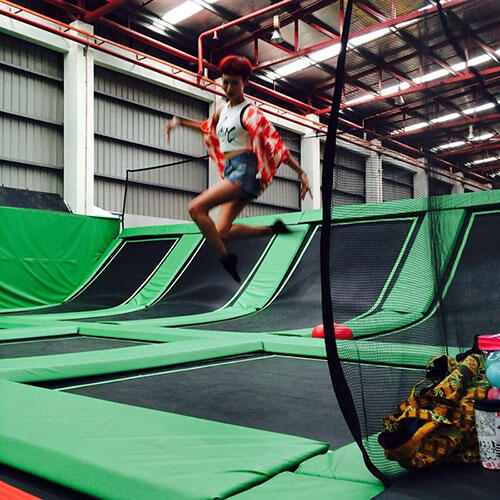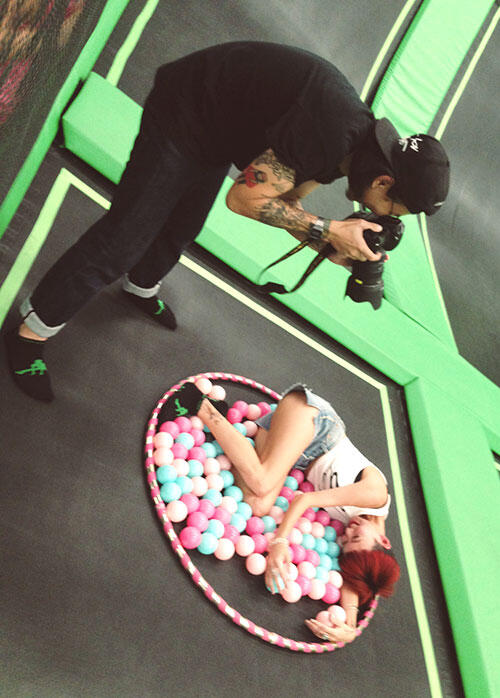 I brought my balls with me thinking we MIGHT fling them into the air for a shot but it just didn't seem very safe so we did this instead. No matter! I never thought i'd be HUGGING MY BALLS for work and was so HAPPY just being able to do something i do for fun at home. (Just clarifying, i only did it once, or twice. It's not like i hug my balls every day…)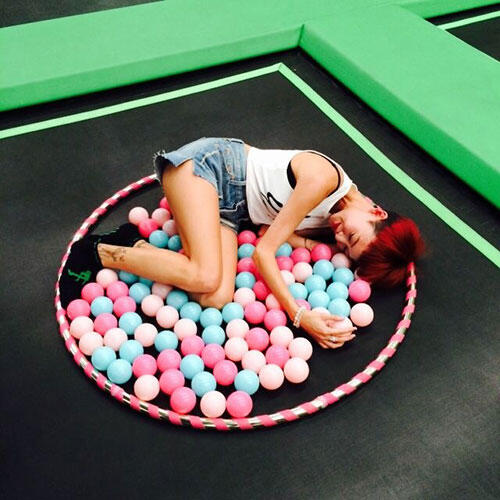 If only i could stay there forever and ever… just my hoop, my balls and i.
Ok i just thought of other toys and things i'm missing. And friends. But my balls are all my friends.
Ok I should just shut up. Think the tiredness is getting to me!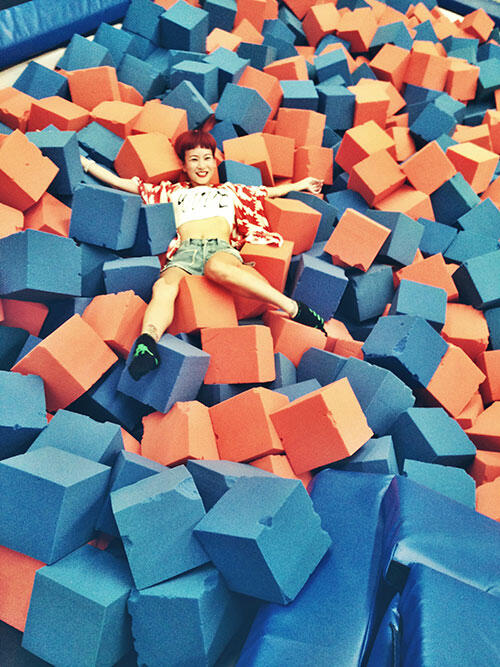 This is the foam pit where you bounce yourself into a sea of super soft foam!
All i can say is positioning oneself on this foam for a shot that looks good took a lot of jigsaw puzzle work, jumping, crawling off foam, and sweating!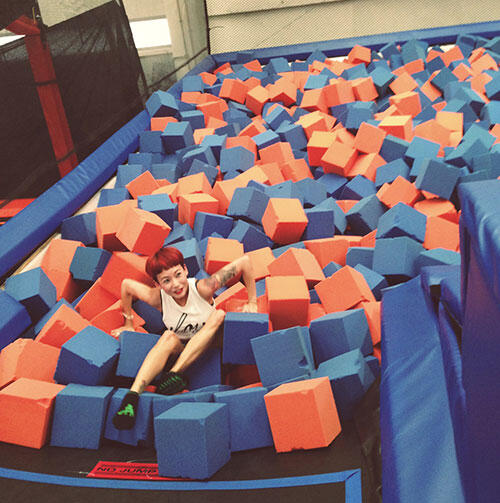 Luckily for me Laine was around to constantly dab all the sweat off my forehead.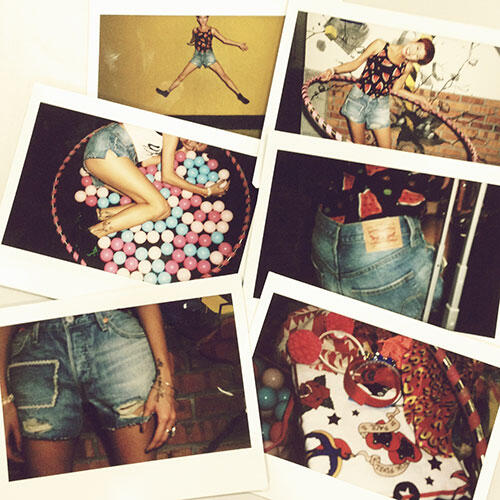 I was trying to channel my inner model (she's in there somewhere) to pose as gracefully as i could…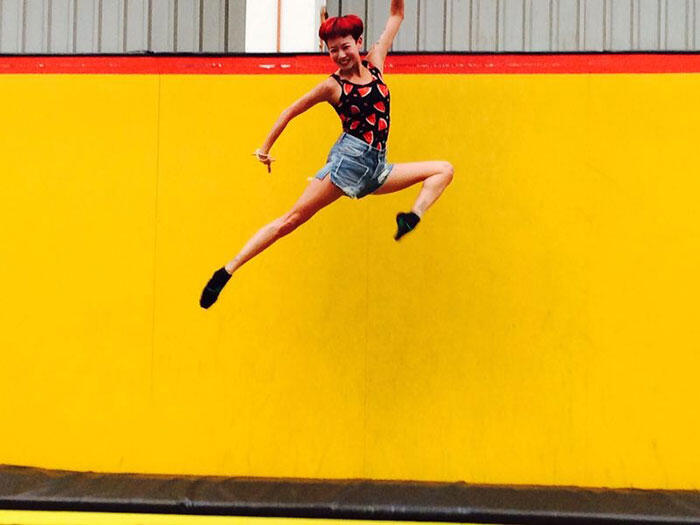 [Pic from Baby's iphone]
I tried to remember to lengthen my limbs,
stretch out my toes and fingertips,
Vince would remind me to lift my chin up,
i would try to bounce in the same spot so the lens focus wouldn't be off,
and remember my better face angles and try to work them,
all the above… simultaneously.
It wasn't as easy as i thought!
I wish i could have gone even HIGHER so i would have more time to stretch out a really diff pose, but i didn't wanna bounce myself off the trampoline. Now this just makes me wanna go back and practice hmph. #takpuas
There are lots of other pictures but i should save the surprise for when they're finally released.
I took a vid of some gymnasts practicing on The Wall >>>
There's a short instavid of me jumping *here*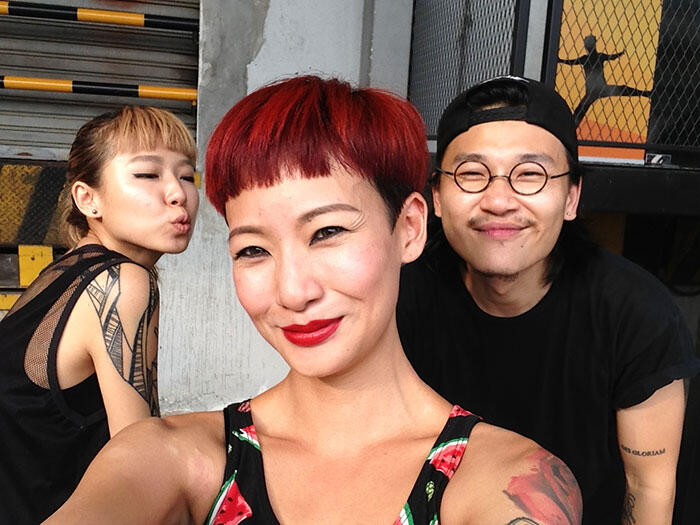 With Laine and Vince <3
Didi and Baby/Faridah were there too <3
Thanks for the great work today guys!!!
+ + + + + + + + + + + + + + + +
www.facebook.com/JumpStreetAsia
www.jumpstreetasia.com