When i went to Koh Samui for a holiday, i thought it'd be the perfect time to send Stacey, my car, to Regal Valet for some TLC…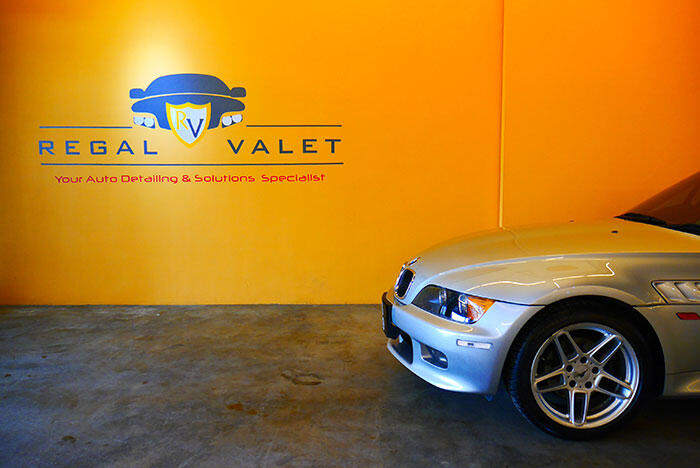 I know about Regal Valet cos it's by Soo Jin, and he's Azwin's cousin who used to fetch me home from school a few times when i missed my bus :p He stayed across my house when we grew up, and i used to see him washing and polishing his car all. the. time.
I used to think, "Man… this guy is OBSESSED with his car…" And then my brother started doing it too and i assumed maybe all guys are like this.
What i thought is kinda cool, is that Soo Jin ended up making his obsessive passion into a business… by launching Regal Valet in TTDI, and more recently, in Bangsar (after you do the U-turn on Jalan Maarof, where Zinc and Bazarro used to be).
He had the idea of having a one-stop solutions specialist for cars, and it became a reality once he discovered a big enough customer base who appreciated and sought quality products and services.
His company caters not only for Auto-Detailing Solutions but other auto-related areas including AutoSkin Design, Bodyworks & Re-spraying, Automotive Tinting & Protective Films, Restoration Projects, and Auto-Repairs.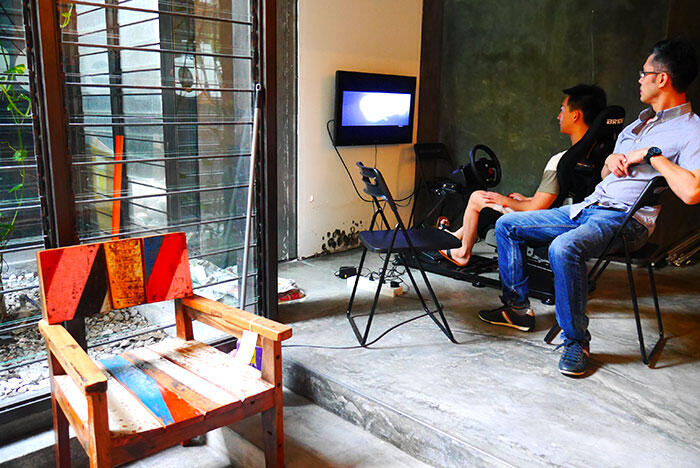 That's Marcus and Soo Jin playing GTA in the Bangsar outlet.
I guess it's a place guys hang out, talk about cars and play GTA… :p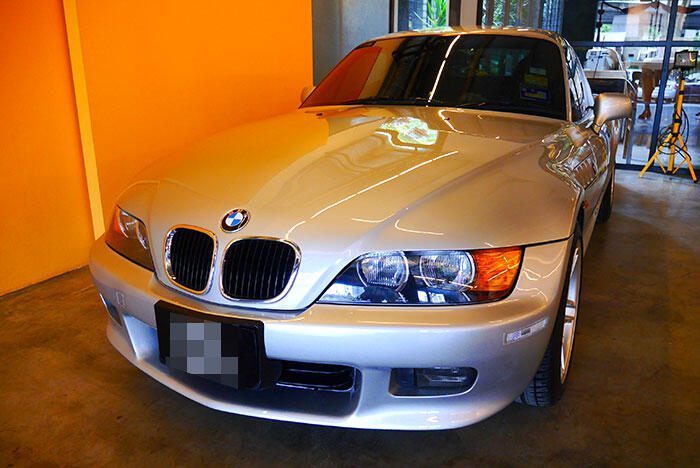 Look at mah car! So pretty and shiny when i went to pick her up!!!
A week later, i sent this picture of my new bunny companion i bought from Ginger (in BV) to one of my group chats. Kenny replied, "Wow! Look at your car seats!"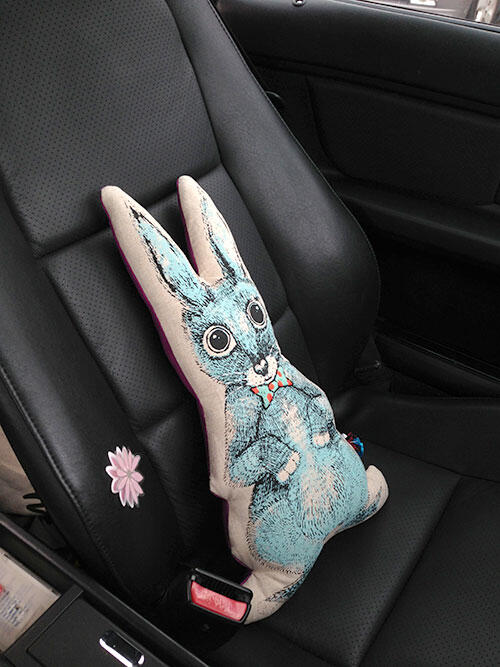 My bunny is quite upset for having attention detracted from him.
Total cost for what they did to Stacey this round was RM600 (paintwork recovery) + RM 400 (interior detailing). They have maintenance programs for a year which runs by every quarter, bi-monthly and monthly.
Some of my friends mentioned that it's more expensive compared to other places who offer the same thing, so i thought i'd do Soo Jin the favour of posting here WHY Regal Valet charges more and provides a differentiation compared with other car detailers in the market:
Top 10 Points of Regal Valet Experience for signature Restoration – Paintwork Recovery + Interior Detailing Program: 
Vehicle is rinse thoroughly with plenty of water so that particles fall off the surface before washing.
A 2-bucket grit guard – wash mitt system is utilized to rinse the vehicle down to prevent paintwork from damaging and developing from paintwork imperfections like swirl marks, scratches etc. Swirl marks and scratches caused damage to the paintwork and it will not reflect light, hence the car will look dull and old. The bucket for the body of the vehicle is only used to wash the body while the rims would be a separate bucket.
Decontamination process is carried out to remove gradual accumulation of various surface contaminants such as road tar spots and grime that are too firmly bonded to be removed by normal washing alone.
All edges, plastic and rubber parts of vehicle are taped with painters tape to avoid from burning caused by the foam pads during the paintwork recovery process.
High–quality industrial materials from Germany that complies with automotive standards are utilized to remove surface imperfections permanently on modern ceramic/hard clear-coat. A flat surface of clear- coat that is free from paintwork imperfections tend to automatically shine and provide great reflection.
Selections of quality paintwork protection programs are offered – Natural carnauba waxes/synthetic seals are used to protect clear-coat from external environments that cause oxidation, fading, cracking etc. Aside from protection, any selection of protection programs offers an ultra slick finish, deep warm gloss and mirror effect finish.
Interior is detailed to perfection – leather seats are cleaned and conditioned to prevent induced cracking. Dashboard and door panels are nourished and protected to prevent from scorching sun that will cause fading in the long run. All car mats are cleaned to remove heavy dust.
Super fluffy micro-fiber cloth is used to buff and wipe the surface of the clear-coat to prevent it from further development of paintwork imperfections. Our micro-fiber clothes are renewed on a periodic basis and what is used for a specific purpose stays on the particular part. For eg, cloths for mirrors are only used for mirrors etc.
For every detailing session, the dusty doorjambs will be cleaned, rims will be polished to new, engine bay and compartment will be cleaned and detailed for a more effective healthy running engine, and exhaust tail pipes will be shined.
Now that the restoration – paintwork recovery work is completed, its time to maintain your previous vehicle. Remember to give it a good wash once in every week and the paintwork protection program is crucial to be performed at least once every quarter as the protection on the vehicle acts as a sacrificial barrier to fight external environments. Hence, it's fairly important that you return to us for a good maintenance and paintwork protection program.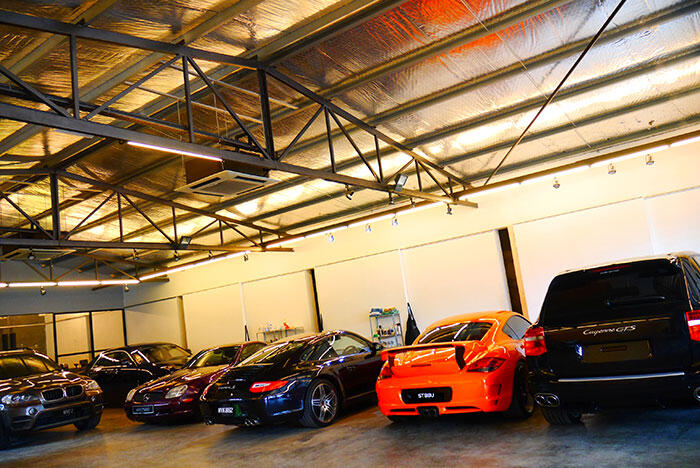 They must be doing it wonderfully cos i saw many fancy customers' cars in there…
They also have a Pick up/Delivery Service where you have the convenience of picking up the phone and scheduling for a detailing service without having to bring it to their locations. (They even provide flatbed tow truck services that will go to your doorstep.)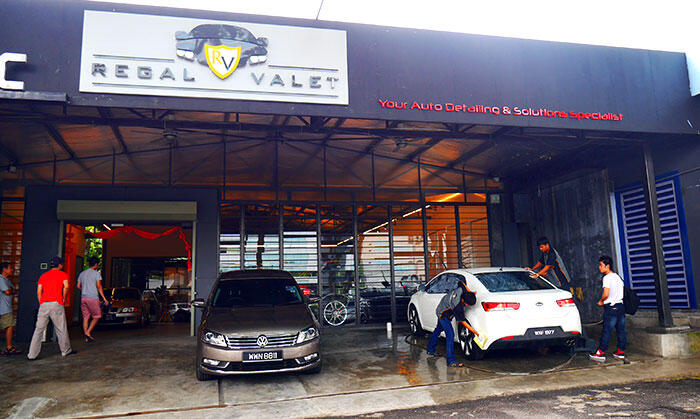 Regal Valet is at:
Lot 2805
Jalan Damansara
Kampung Sungai Penchala
60000 KL
61 Jalan Maarof
Bukit Bandaraya
Bangsar 59000
Kuala Lumpur
Subang – 9, Jalan SS13/3E
Subang Industrial Estate
47500 Subang Jaya
(Opposite MST Golf)
Latest outlet – Regal Valet @ Mofaz Racing Damansara
Lot 2805, Jalan Damansara
60000 Kuala Lumpur
Above Lotus Showroom
Tel:
03-22821282 (Bangsar)
03-77323627 (TTDI)
03-56366800 (Subang Jaya)
Website: www.regalvalet.my
LIKE: www.facebook.com/RegalValet
FOLLOW: instagram.com/regalvalet
FOLLOW: twitter.com/regalvalet