My parents recently obtained a Dyson pet groomer, and it is attached to their existing Dyson vacuum cleaner in order to use it…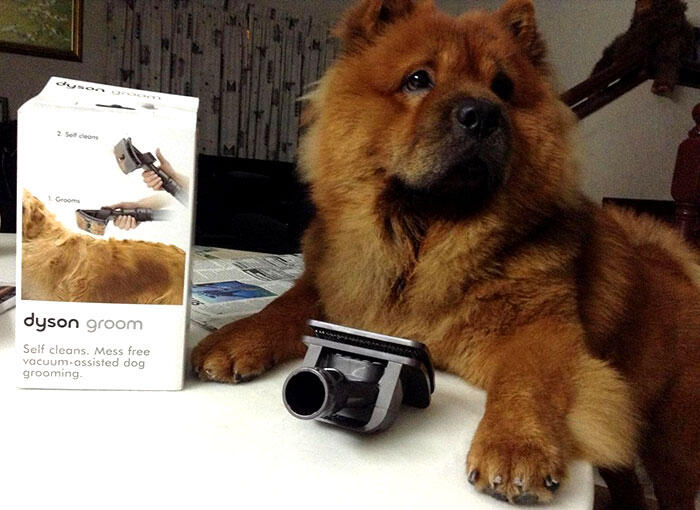 My mum posted that pic on FB stating Caeser could be the new Dyson ambassador. -_-
I recently introduced two new Dyson machines into my own household, and i never thought i'd get so excited over a VACUUM CLEANER before. But these aren't just ANY vacuum cleaners… they are the holy grail of them all.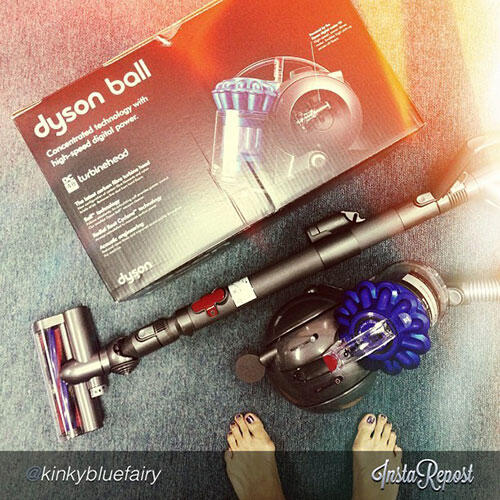 Behold the Dyson Ball™ DC48! The smallest and quietest vacuum cleaner ever!
The other Dyson machine we got is the Dyson Hard DC57 Cordless Vacuum – specially for hard surface floors, cos it vacuums dirt AND wipes grime simultaneously.
I brought both home on the same day, and i would have never guessed (nor put my money on) who ended up using it first… Clem!
In our almost-four years of being together, i think i've seen him clean the floor… ONCE.
Twice, if i'm being generous.
We were hanging out at home after Friday night dinner and drinks, when he spots the new DC57 i've put in a corner, and enthusiastically starts cleaning the floor. At 2 in the morning.
I even posted an Instavid of him using it cos it was such a… rare sight.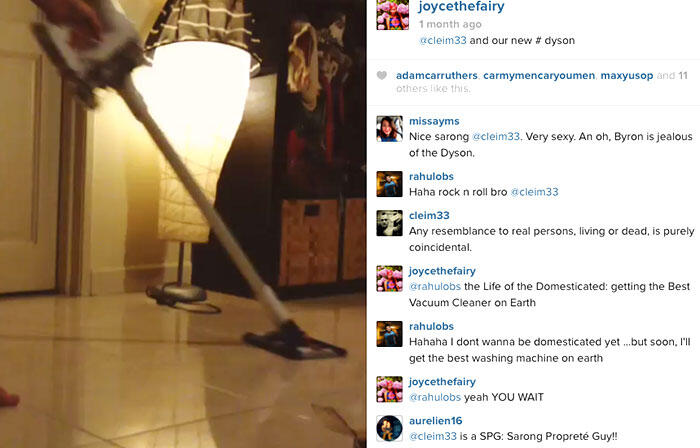 Like something i read on Instagram: "Show me a Dyson and i'll show you i can clean." (i found it while randomly going through #dyson hashtags on IG just to see what people say and post about Dyson)
Actually, the first and foremost action plan i wanted to put the Dyson Ball to, was to vacuum our mattress! I recently contracted terrible allergies since early this year and went to the hospital four times. Discovered i'm allergic to dust (-_- amongst other things) so i was very keen to get that vacuum on to my bed ASAP.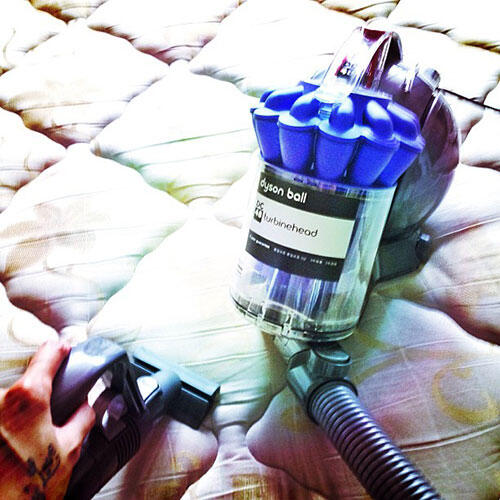 There is all sorts of ickiness in your bed… and one of the Dyson's USPs is that it manages to capture microscopic particles as tiny as pollen, mold spores, and bacteria. I've known of this ever since a Dyson salesperson came to my house when i was ten-years-old… cos I never did get that close up video of dust mites outta my head. (Extra points that all Dyson uprights and canister vacuums are certified Asthma and Allergy Friendly™.)
If you notice, there is no vacuum bag in the Dyson Ball, cos it doesn't need one. Three layers of filtration ensure that all dust and dirt is captured into the filter bin, which is easily emptied into the trash can. This also means i don't have to buy replacement bags and filters, cos all it uses is a lifetime washable filter. #WIN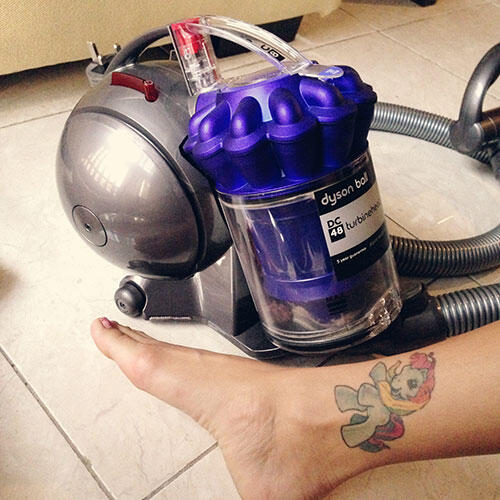 Look how small and cute it is! (My feet are size 5 btw) It's effortless for me to use cos it's less than 5kg and it manoeuvres around the furniture and along with me easily. The whole point of Dyson is to have a cleaner that is compact, has powerful suction power, and can be disassembled easily (so you can keep it somewhere hidden. The Ball can be detached from everything else).
The first time i used it, i tried not to refer to the manual cos Dyson is supposed to be designed in such a way that it's easy to recognise the buttons and switches for usage. I have to admit that its design is implemented so well into the machine that i took a while spotting the right buttons!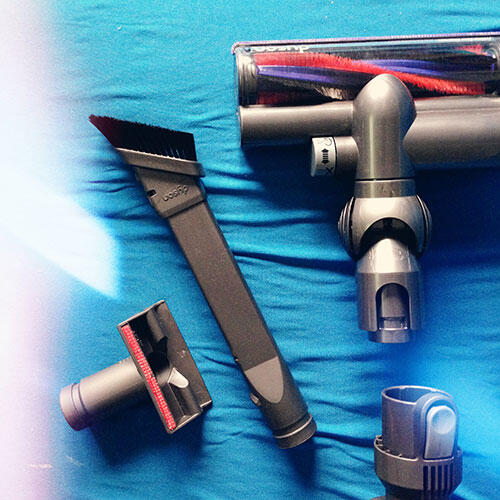 Extra heads included for hard-to-reach spots and high places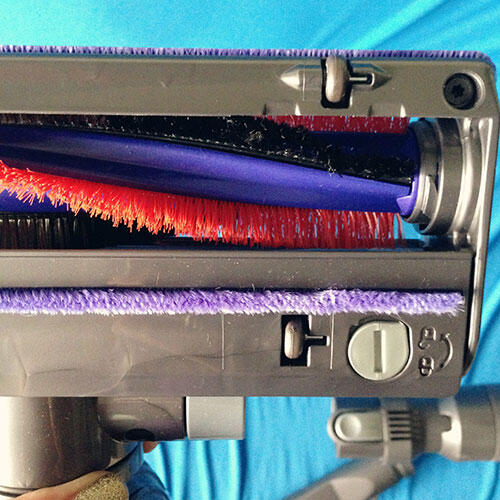 The cleaner head has nylon brushes and carbon fiber filaments to remove fine dust from hard surface floors, and ground-in dirt from carpets. A dust-capture channel also prevents dirt from escaping back to the floor, while increasing pick-ups.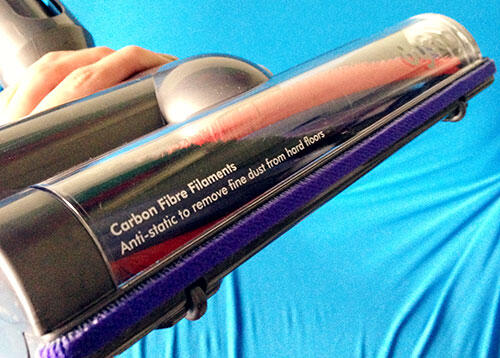 The cleaner head moves around and adjusts automatically on different floor types, which caught me by surprise at first.
This is the Dyson Hard DC57, the one that Clem was using in the beginning of my post: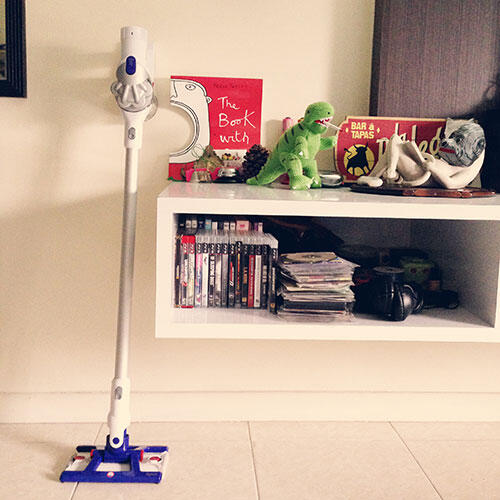 It's cordless, lightweight, and specially-engineered using dual suction channels and a wet wipe – so i can save time on vacuuming and mopping with its 2-in-1 function. Very convenient when i'm rushing to cook and make sure the house looks decent before guests come!
"The DC57 doesn't require a vacuum bag as well. It also uses lithium-ion battery that delivers 15 minutes of fade free performance. For stubborn dirt, there is a boost setting for 6 minutes of high intensity cleaning.
It has double-edge cleaner head that combines suction and wiping to remove dust and grime at the same time. The dual suction channels provide suction before and after each wipe, ensuring 100% cleanliness in every wipe.
The double-edge cleaner head can be removed, adding a crevice and combination tool for up top, down below, hard to reach and in between spaces to be cleaned. The wand can be removed for cleaning cars and worktops."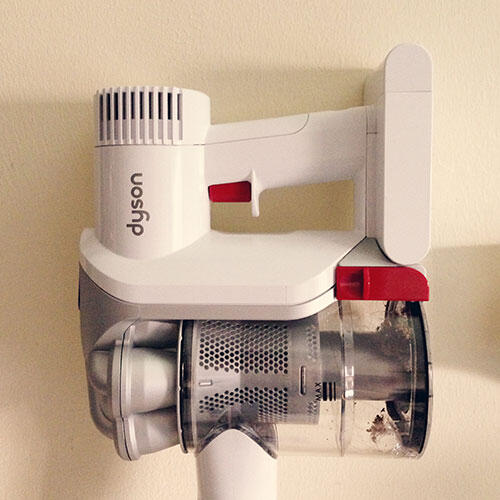 I'm quite precious about expensive machines and appliances, and try my best to take care of them properly (e.g. juicer, blender). Then i saw this vid of the Dyson Hard…
I guess it's a real hardy piece of product after all!
Here's a vid for the latest Dyson cordless vacuum – the DC59:
And the vid for the Dyson Ball DC49:
Ok one last vid cos it looked so fun! It's shot in JB cos the Dyson factory is actually based there:
The freaky thing is… now i can't stop surfing the web for other Dyson products i want… like maybe one of their super famous bladeless fans, or the handheld DC34…
To find out which store near you stocks the Dyson product you want, check out: www.dyson.my
I think Dyson would make a great present for parents/family, or even for yourself for Christmas/CNY cleaning 😀 😀 😀 Plus plus plusssss you can get 15% off till end of this year!
+ + + + + + + + +
Dyson Trade-in Programme till 31st Dec 2013:
You can bring your old vacuum cleaners and fans to any participating outlet and trade-in for a new Dyson product for a 15% discount for all Dyson products. The old vacuum cleaners and fans that are traded-in will be sent for recycling, and proceeds from the recycled products will go to charity.
The sustainable recycling programme will donate to 6 charity homes this year – Rumah Hope, Rumah Orang-Orang Tua Seri Setia, Asrama Cahaya, Taman Megah Handicapped and Disabled Children's Home, SPCA and Shalom Health Services.
Visit www.visionary.com.my for participating outlets.
+ + + + + + + + +
www.twitter.com/dyson
www.facebook.com/dysonmalaysia
Related blogpost:
Dyson Introduction Event @ White Box, Publika