* written by SweetEe *
Originating from the UK, Dyson has achieved many awards for its innovative designs. Over the years, they've pushed boundaries to produce some amazing machines, one of their most recognisable inventions being THAT bladeless fan and their spectacular vacuum cleaners.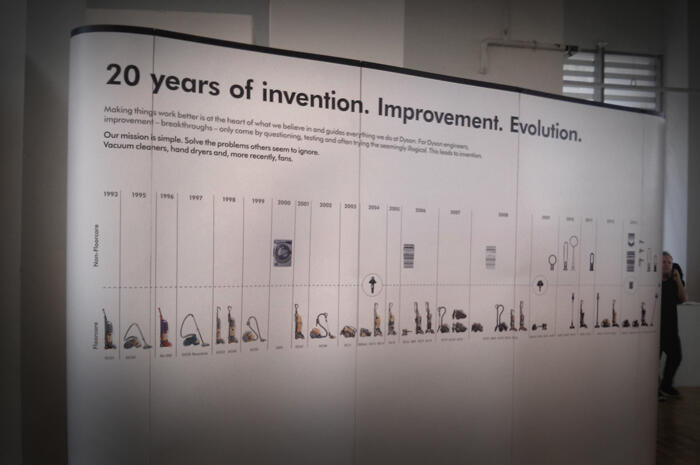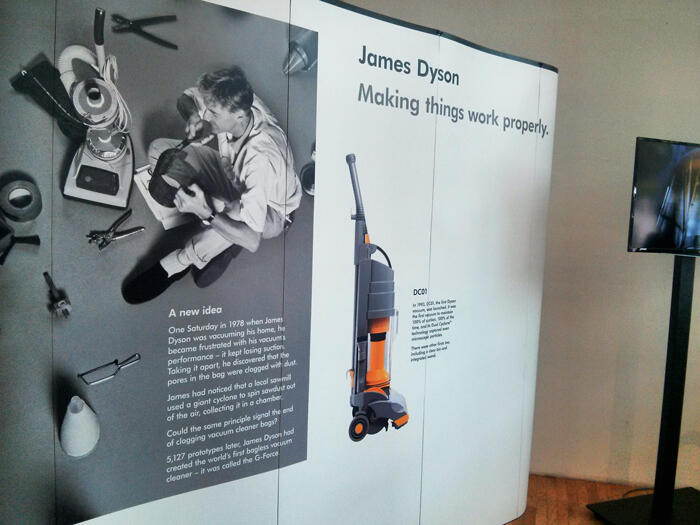 What's so special about Dyson's vacuum cleaners?
1. Inspired by the compact living conditions in Japan, the Dyson team were eager to design a vacuum cleaner which could easily fit in a tiny apartment. After years of trial and failure, they finally came out with vacuum cleaners that are compact, have powerful suction power, and can be disassembled easily (so you can keep it somewhere hidden. No clutter around during a house party!).
2. Most household Dyson vacuum cleaners weigh less than 5kg; making it compact, light, and great for women!
3. Every single motor and part is designed and produced by Dyson. The Cyclone technology (used in Dyson vacuum cleaners) is result from 5 years and 5127 prototypes since James Dyson introduced the first Dyson vacuum cleaner. From that point, more than 200 Dyson engineers around the world have been refining the technology, ensuring maximum suction and comfortable function.
4. All Dyson vacuum cleaners don't require vacuum bags. The filter bin stores all the dirt and dust, which you easily remove from the machine with a coin, to empty into your bin.
Read More to update yourself on what makes the Dyson Ball™ DC48, Dyson Hard DC57 Cordless Vacuum, and Dyson Bladeless Fan so awesome!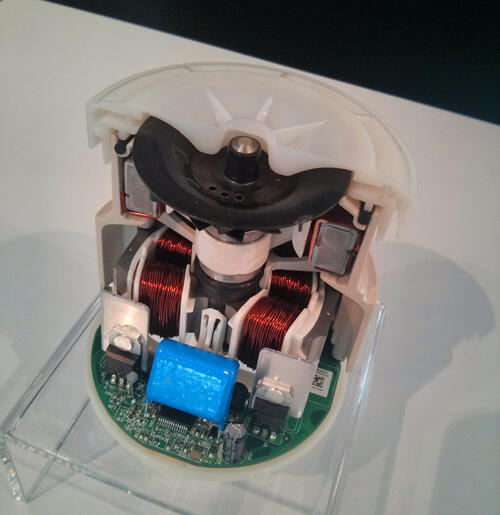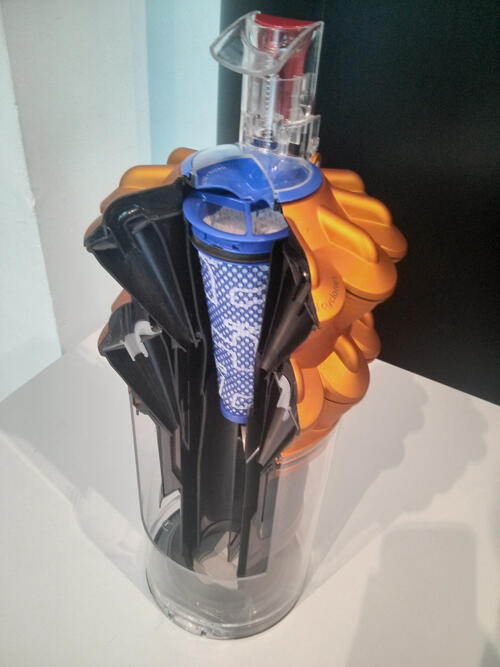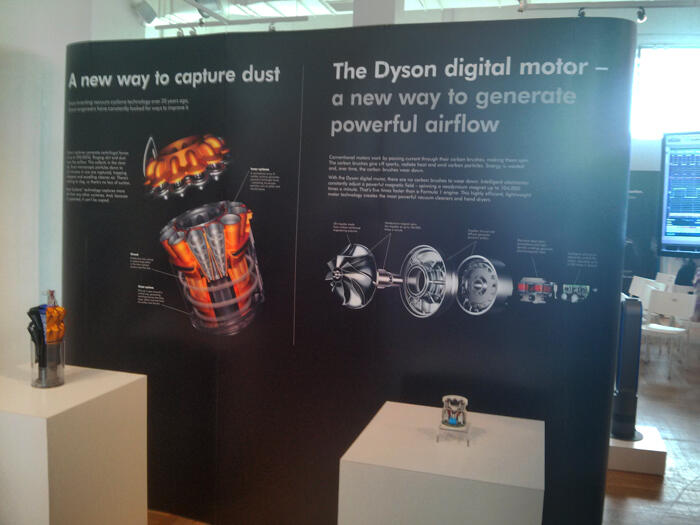 The crazy filtration system of Dyson's filter bin.
This one has three layers of filtration, ensuring that all dust and dirt is captured!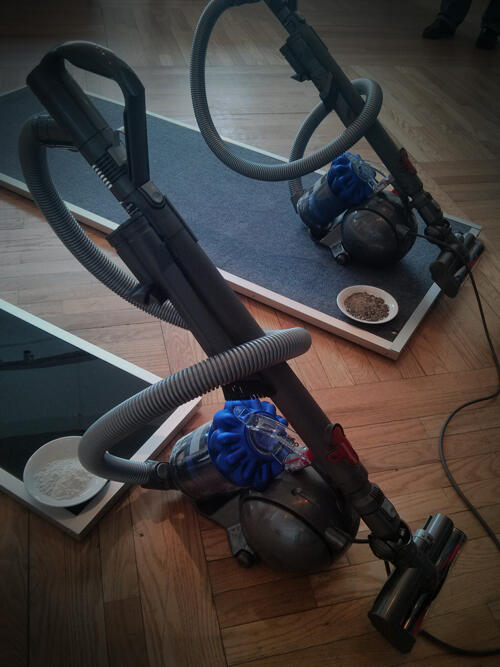 This is the Dyson DC48. This vacuum cleaner (or should i say, vacuum monster) is smaller, lighter, and quieter than most vacuum cleaners in the market, yet it is also one of the most powerful ones for household. It's currently Dyson's smallest, quietest Ball™ vacuum cleaner yet.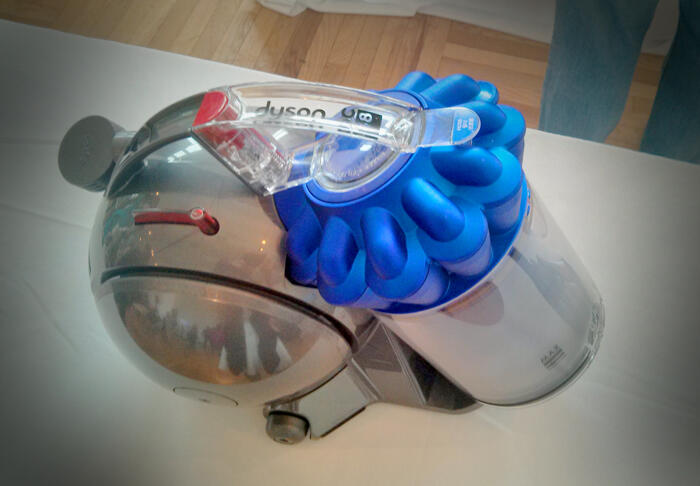 The Ball™ design allows the vacuum cleaner to move around furniture and obstacles easily. Since the motor and most components are inside the ball, it gives the cleaner a low centre of gravity and greater stability.
The engineers in Dyson put much thought into the cleaner heads and floor tools as well.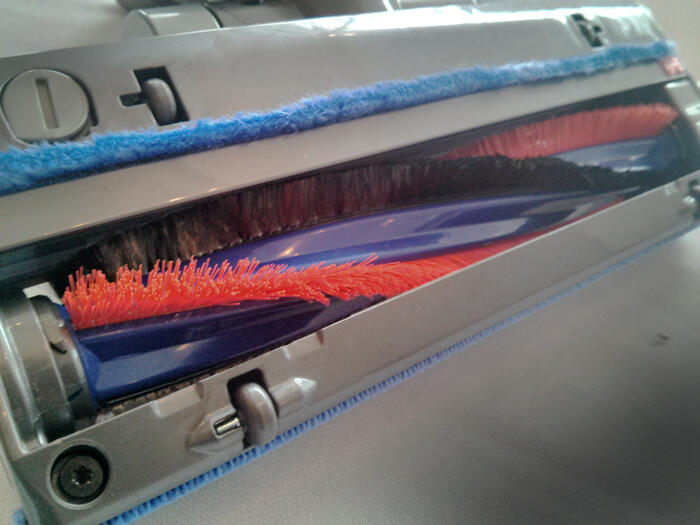 Dyson's cleaner heads are designed to adjust automatically on different floor types, or can be controlled with the handle (no need of bending down and hurting your back anymore!).
Moreover, the two new configurations used in the brush bar – nylon brushes, and carbon fiber filaments – removes fine dust from hard surface floors, and ground-in dirt from carpets. A dusk capture channel also prevents dirt from escaping back to the floor, while increasing pick-ups.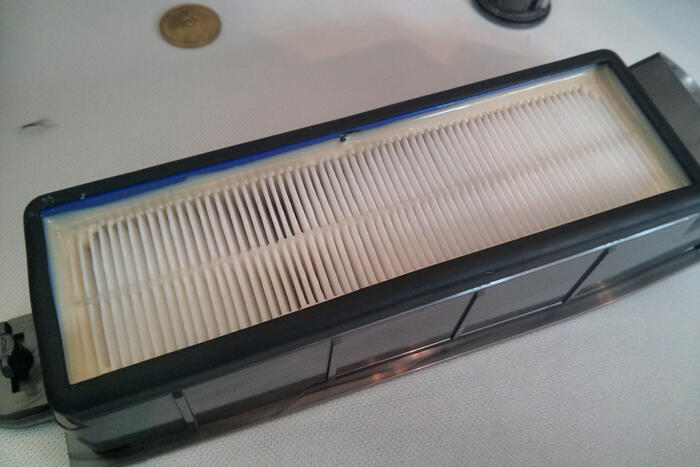 The last filtering system of the cleaner which is placed inside the Ball.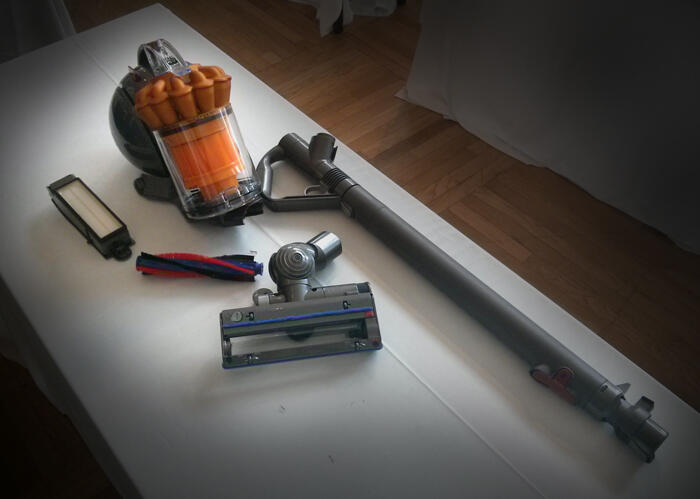 The DC48 after being disassembled.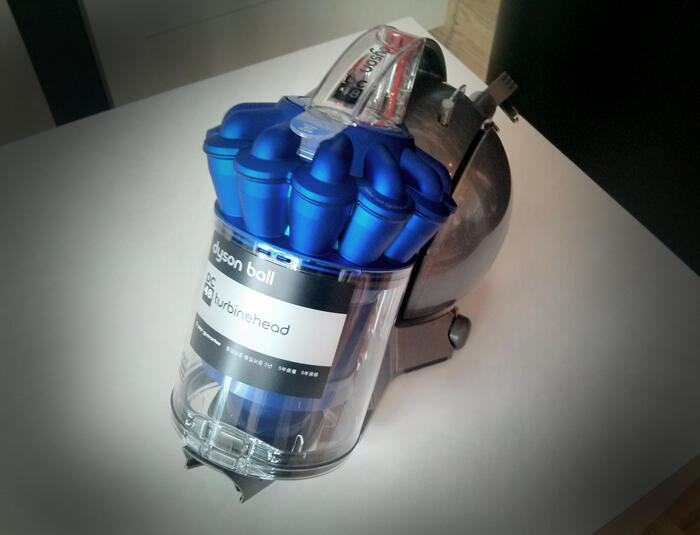 This container acts both as a filtering system and a trigger-bin emptying system.
With three layers of filtering, it ensures that even the tiniest bit of dust doesn't escape. There's also a fourth filter at the end of the suction process, ensuring that no dust escapes back to the floor. The trigger-bin emptying system has a 0.5-litre capacity, and with a click of the red button – all dirt, dust and waste can be emptied directly into the bin.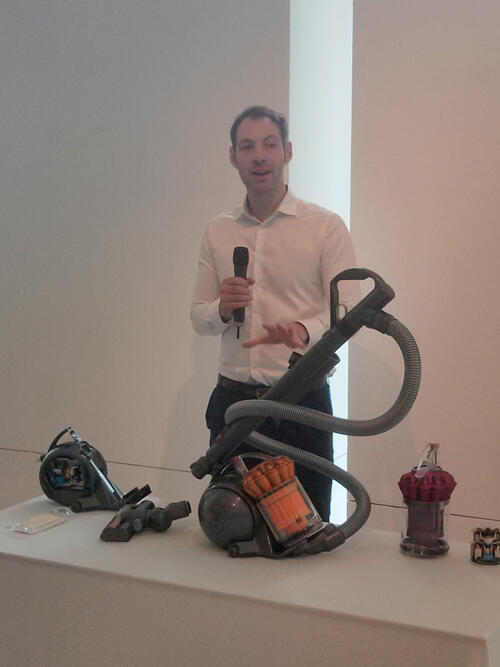 An engineer from Dyson's UK headquarters explaining about the DC48.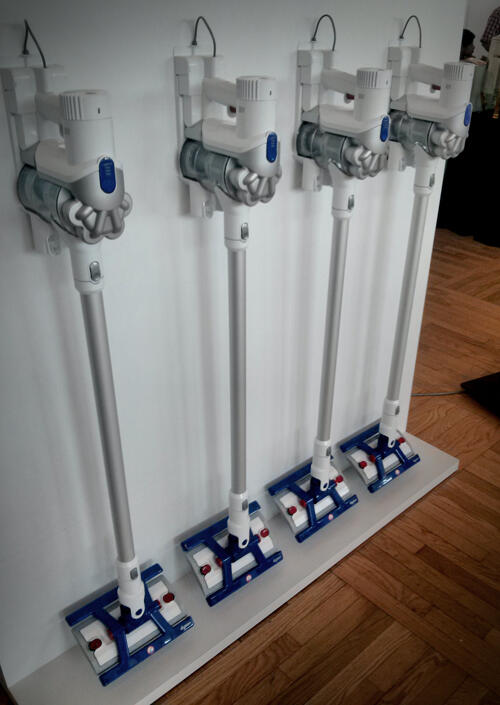 Mopping after vacuuming is never anyone's favourite activity, especially with having to rinse the mop every now and then. It's also hard to ensure our floors are truly clean after using the same batch of water to rinse the mop.
The Dyson Hard DC57 is cordless, lightweight, and specially engineered using dual suction channels and a wet wipe. Currently, it's the only cordless vacuum cleaner with a powerful suction and a wet wipe out there.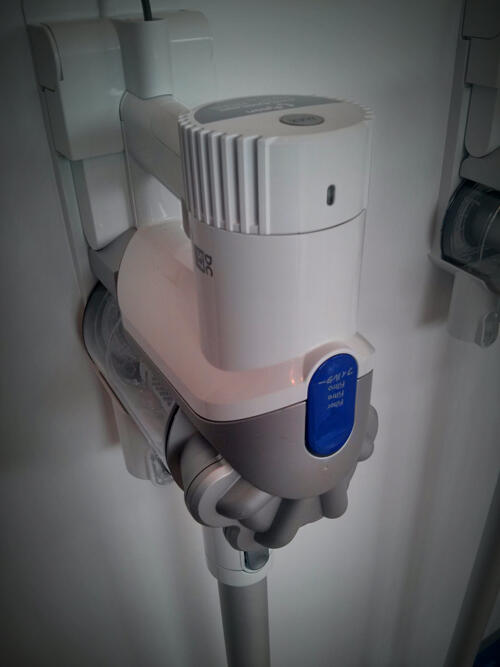 The DC57 doesn't require a vacuum bag as well. It also uses lithium-ion battery that delivers 15 minutes of fade free performance. For stubborn dirt, there is a boost setting for 6 minutes of high intensity cleaning.
It has double-edge cleaner head that combines suction and wiping to remove dust and grime at the same time. The dual suction channels provide suction before and after each wipe, ensuring 100% cleanliness in every wipe. The double-edge cleaner head can be removed, adding a crevice and combination tool for up top, down below, hard to reach and in between spaces to be cleaned. The wand can be removed for cleaning cars and worktops.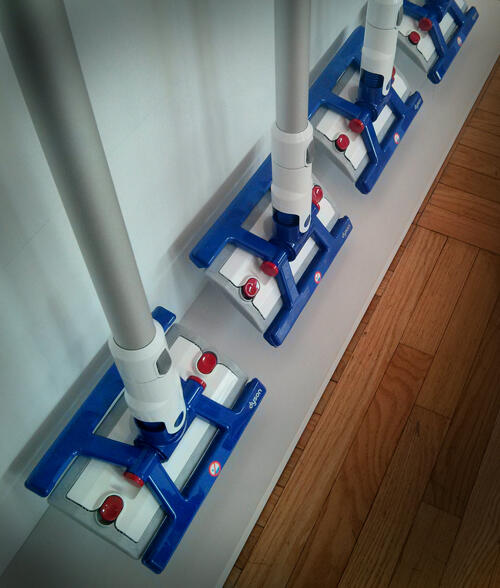 The wipes used for DC57 are developed by engineers in Dyson and collaborating scientists.
Two different wipes are available: Hard Floor and Wood Nourishing. Each wipe is designed for different floor surfaces and different tasks, but the machine is also compatible with industry standard sized wipes found in most stores.
The last product i want to feature is the famous bladeless fan, one of Dyson's proudest inventions.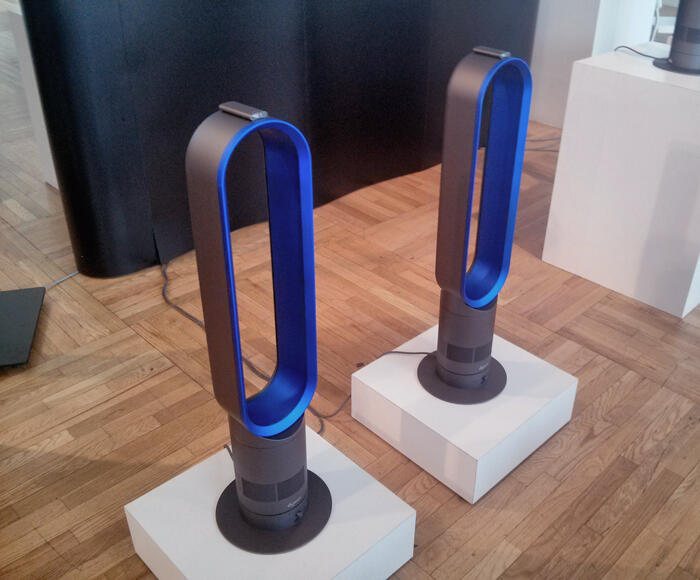 What differentiates Dyson's bladeless fans from others would definitely be the patented Air Multiplier™ technology. Unlike conventional fans that spins the blade fast to distribute air, Dyson's technology amplifies surrounding air, giving an uninterrupted stream of smooth air.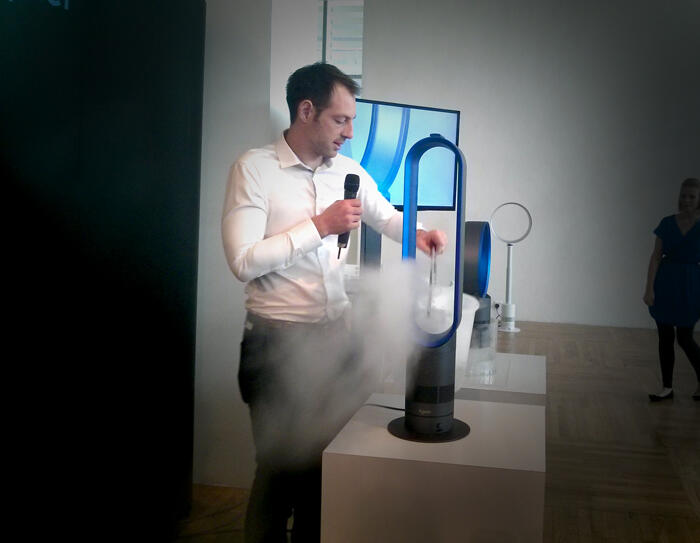 There was a demonstration done to show us how the Air Multiplier™ works. The engineer placed a bucket of dry ice soaked in water at the back of the fan, and without a second's delay, smoke from the dry ice was drawn in and distributed out through the fan. The Air Multiplier technology used in the bladeless fan draws air from around and behind the fan through the physical processes of inducement and entrainment.
The benefits of the bladeless fan are obvious.
It's safe for kids (hey no blades to be worried anymore!), easy to clean,  and it's way cooler than conventional fans!
All Dyson's products can be found in major electronical stores especially Harvey Norman. If you wonder why there are only a handful of distributors selling Dyson's products, it's because they choose their distributors meticulously. Each distributor of Dyson can personally help you with your Dyson products if there is any problem, so you don't have to worry about many things such as how to contact the manufacturer and so on.
Find out more in their website and Facebook as well!
www.facebook.com/dysonmalaysia