There is one MAIN reason you don't usually see me wear jeans…
and it's because i feel kinda constricted when i wear them.
My main fashion motto is 'comfort', and i can't bear the thought of
having to run around or eat a big meal in something that restricts that!
I'm always dashing about,
getting in and out of the car,
bending and squatting to inspect stock,
sitting down and getting up,
dancing and partying,
just MOVING a lot y'know!?
My MAIN belief that jeans can be uncomfortable
were expelled when i tried on a new pair of jeans two weeks ago.
These jeans are SO AWESOME and felt so LIGHT,
i could dance in them all day long!
WHICH I DID.
It was the FUNNEST shoot i've ever done cos i brought my own music, toys and things to dance to!
I'm so IMPRESSED by how comfy these jeans are (it's the new Levi's® Revel, which SweetEe wrote about in early Sept) and my ability to dance, twist and jump in the Revel jeans just showed me what brilliant technology goes into fashion these days.
It's not just about allowing movement, but the Revel jeans also makes my bum look perkier and my legs look like i'm a giraffe. I swear on fairies if you just TRY them on, you'll be able to see what i MEAN!
The birth of Revel was spurred by Levi's® quest to find the "perfect jeans", and the most revolutionary fact that i keep hearing about is its new Liquid Shaping Technology that has been fused into the denim. This somehow gets the denim to lift strategic areas (read: hips and bum) while its four-way stretch memory fabric retains the shape of the denim without making it go out of shape. Even the way they've got their seams and pockets sewn are strategically placed to successfully elongate the body.
Teamed with contour finishing, what you get is a pair of jeans that is engineered to shape, lift, lengthen and flatter your body; no matter what body type you are!
Their video above perfectly sums up how Levi's® Revel jeans are a new standard in women's denimwear. No other denim will feel the same way to anyone who tries it after this… no one!
I checked out the Levi's® Revel website to view the collection and ended up playing this game… and I never play games!
(Ok, almost never, the only game i tried playing a tad was My Little Pony but other than that i steered clear of Candy Crush, Fruit Ninja, Farm-plant-whatever-and-get-points… i never even bothered TRYING it before cos i'm afraid i'd get addicted and end up wasting time i'm supposed to spend working)
This Levi's® Revel in Revel game kinda sucked me into it bit by bit  >.<
Now i'm at 3000 points and gotta wait till tomorrow to get more points!
It's the PRIZE that's totally getting me… hence the reason i'm fending myself on WHY i'm playing this in the first place… this is an investment of my time 😀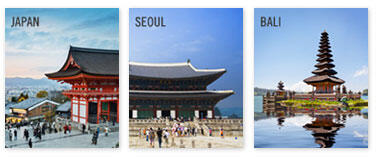 To emphasize on how Levi's Revel is like a woman's best friend,
Levi's is giving away Revel Retreat holidays to Tokyo, Seoul and Bali
for YOU AND A GROUP OF YOUR BEST FRIENDS.
And honestly… isn't that why we all work, so we can go off on holidays and HAVE FUN?!
You even get to pick which destination you want to go to should you win!
*T&C apply, diff destinations allow diff number of friends you can bring. Click *here* to see how many!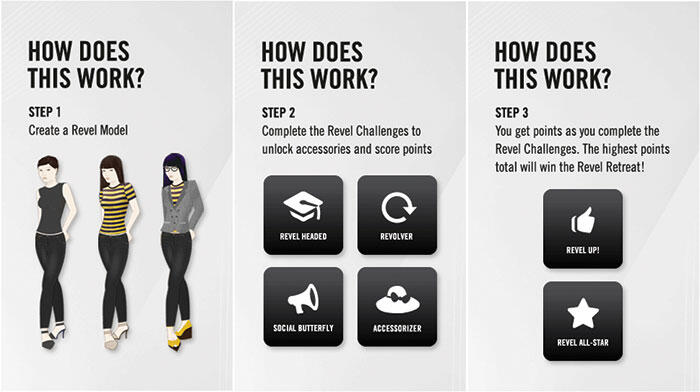 I made a Revel Model avatar of myself… and admittedly spent more time than necessary picking out my outfit :p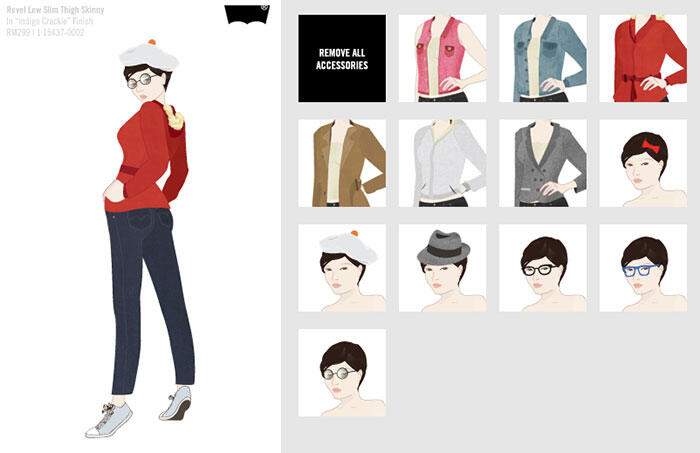 Then i did simple challenges like >
– unlocking Item Pack (for more outfit choices) – bing! 500 points!
– shared it on my Facebook and Twitter – bing! another 500 points
– answered 2 trivia questions – got 1000 points!
I can even keep track of the points i have yet to get (appears as grey buttons) on my personal profile: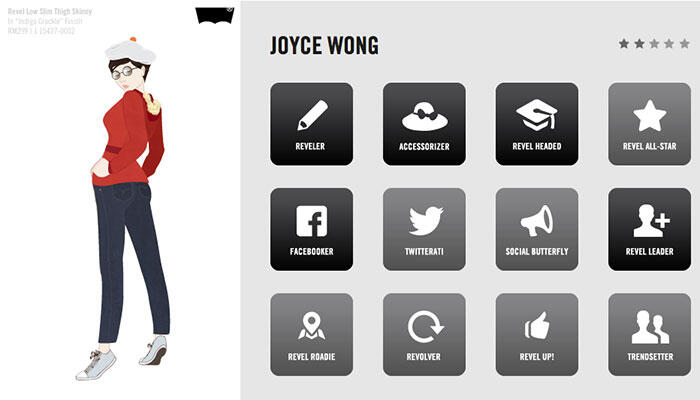 Along the way to the big win, i can also automatically win Levi's® merchandise for every milestone in points i reach! >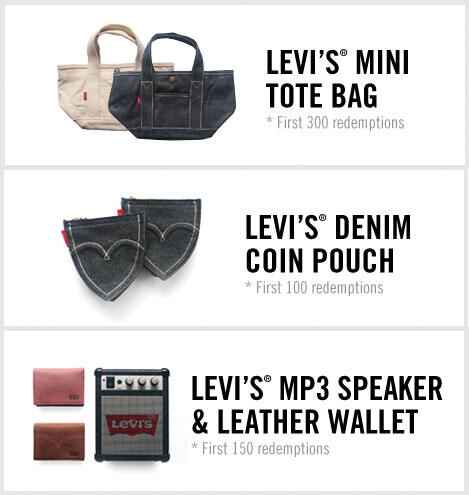 There are easy links to follow in the game on how to collect MORE points to get to that holiday destination! >

The three challenges above can actually be done in ONE place…
by visiting one of the Levi's® Revel Roadshows this Oct & Nov.
Click on *this link* to see when the Levi's® Revel Roadshow is coming to your city.
There, you can
– try on the new Revel jeans for yourself (psst, 10,000 points right there)
– get a picture taken in the 360° Photobooth (i've never done that before!)
– find out your Curve ID (are you a Slight, Bold, or Demi Curve?)
The Levi's® Revel Roadshow will be at Mid Valley on 23 – 27 October 2013
I'll be there on 26th October at 11am
And i'm inviting you to come DANCE with me!
Let your body to the talking!
Come join me to dance, chat, camwhore, and hang out!
If you liked my dance video then you know we're gonna have some fun!
Plus you'll receive Levi's goodie bags that are specially for KBF readers too 😀
Email me at joyce@kinkybluefairy.com to RSVP with me!
Make sure you wear Levi's® jeans and come in the theme of the colour blue! (cos i'm the KinkyBLUEfairy ma…)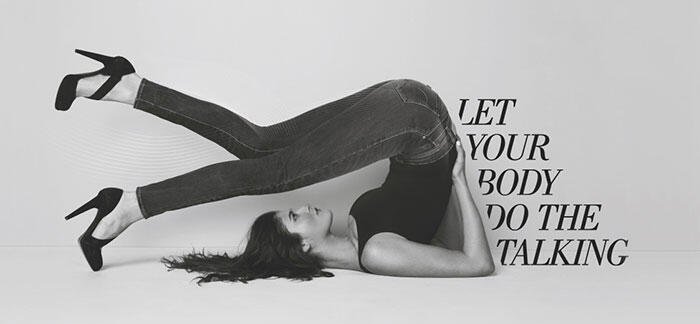 For more Revel-related updates,
LIKE Levi's® official Facebook page facebook.com/LEVIS
FOLLOW Levi's® Twitter account twitter.com/LevisMY